Welcome to Four Score Living where we believe you can achieve and maintain a healthy lifestyle through 80/20 living - and that includes a balanced diet. Today we're sharing a collection of keto meals.
We've rounded up some of the best easy keto meals, keto meal recipes, and easy low carb meals! From keto chicken fried steak to keto cheesecake, to keto sides —we've got you covered.
All of these easy keto recipes are simple to make and they are packed full of healthy fats and protein. These easy low carb recipes are flavorful and filling.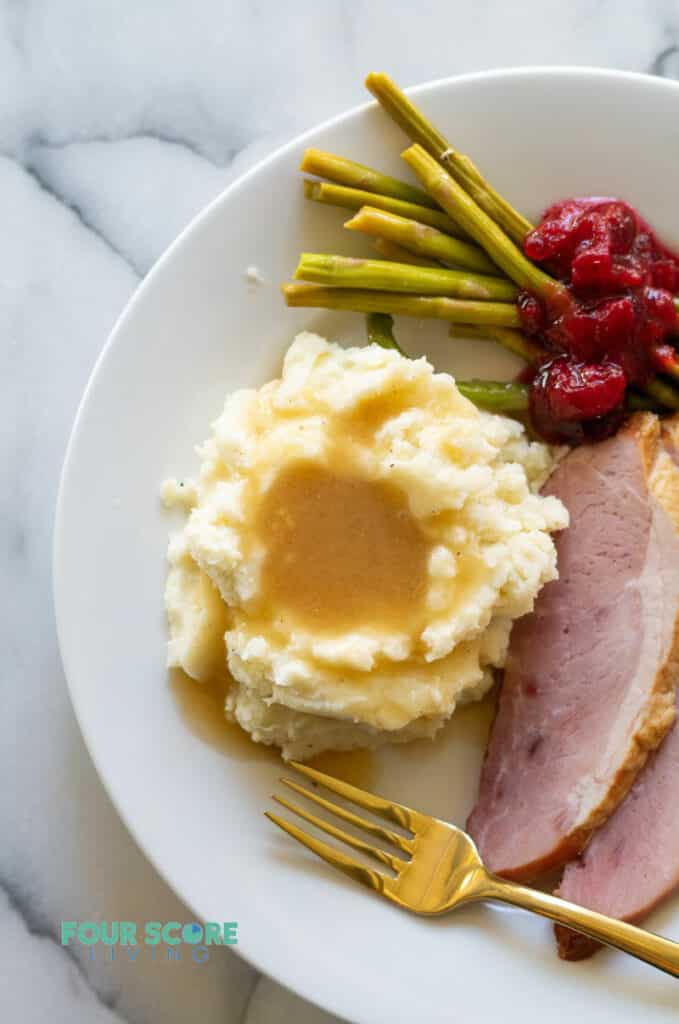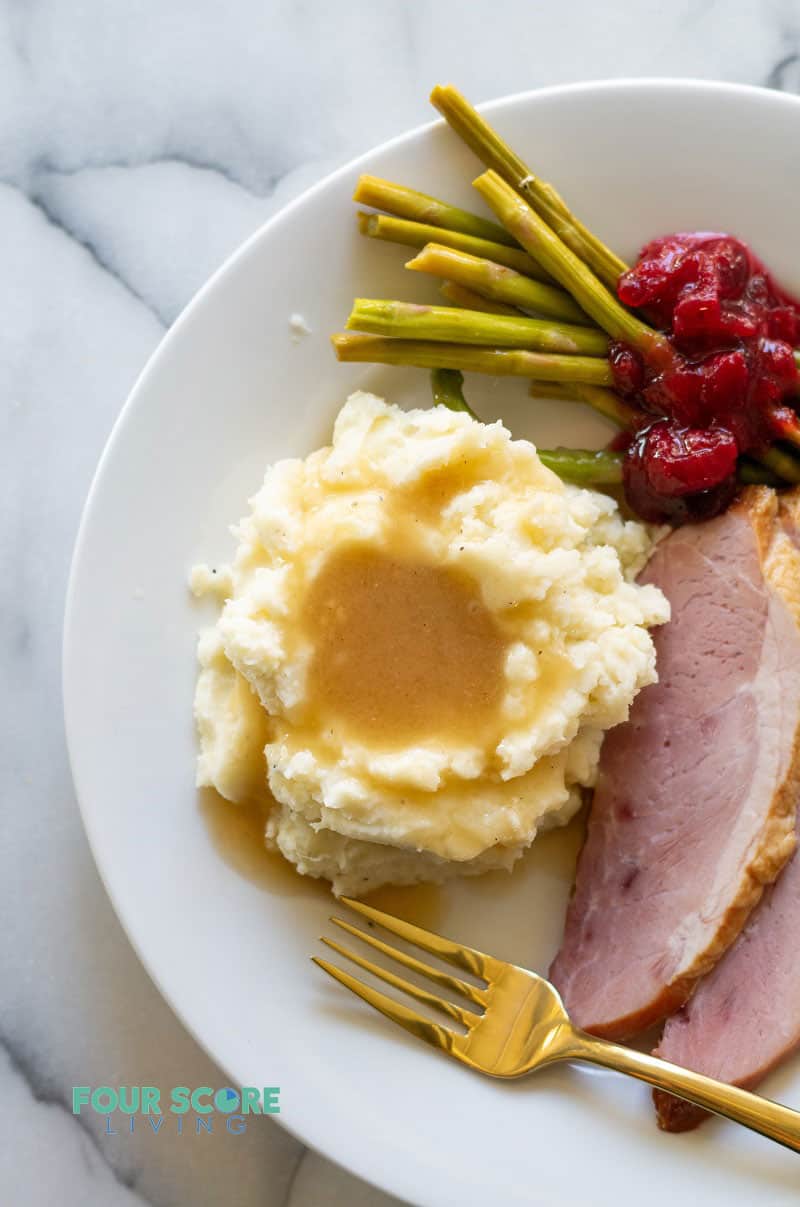 Easy Keto Meals
Marry Me Chicken – One of our favorites! Creamy, tangy, savory and delicious, this easy Marry Me Chicken recipe is super simple to make and quite scrumptious. We LOVE make up a big batch of mashed cauliflower and spooning the savory sauce over it. It's easy keto meals for the win.
Keto Pizza - There might not be anything better than a Keto Pizza topped with spicy pepperoni and Italian herbs and cheeses. Make your own pizza that's better than takeout with this simple keto fathead pizza dough recipe. That's why it's on our list of keto meals.
Keto Meatloaf - A no-fail Low Carb Meatloaf Recipe that's easy to make, packed with flavor, and comforting any night of the week. For easy low carb meals, you might like this Carne Asada.
Chicken Bacon Ranch Casserole - You'll love Keto Chicken Bacon Ranch Casserole. It's the ultimate cheesy, rich, comfort food that your whole family will enjoy. It's super simple which is why it's on our list of easy keto meals.
Keto Chicken Fried Steak - Coated in a crispy Parmesan and pork rind crust and smothered in sausage gravy, you won't believe how filling and delectable this chicken fried steak is. It's the perfect keto meal.
Keto Chicken Fajitas - Keto Fajitas are a simple and easy way to create a flavorful, high protein, low carb dinner. This chicken is marinated in a delicious blend of spices, lime and seasonings. It's one of our favorite keto meals.
If you're looking for some sides to serve with these easy keto meals, might we suggest our keto cornbread? It's fantastic with a big slab of butter served alongside some veggies.
Keto Chicken Salad - Keto Chicken Salad is a staple in our house and it make an easy keto meal. Enjoy it with a fork, on top of a salad, or as lettuce wraps. I also love making avocado boats with chicken salad. If you're in a hurry, scoop some into a sliced keto roll for a quick sandwich.
If you want more veggie recipe ideas, check out or post on Keto Vegetables.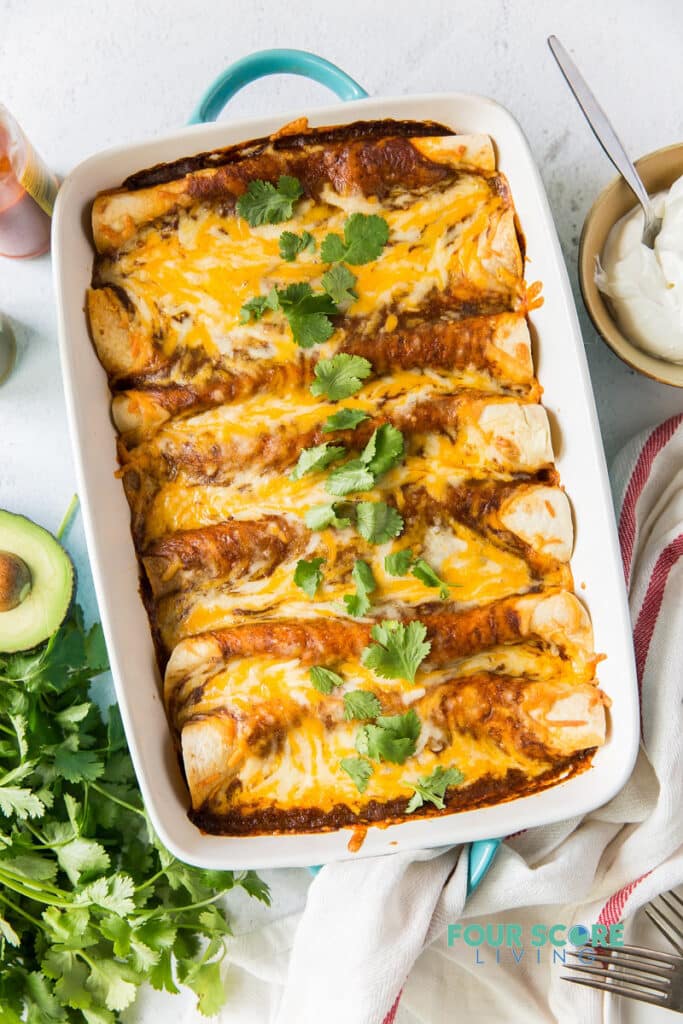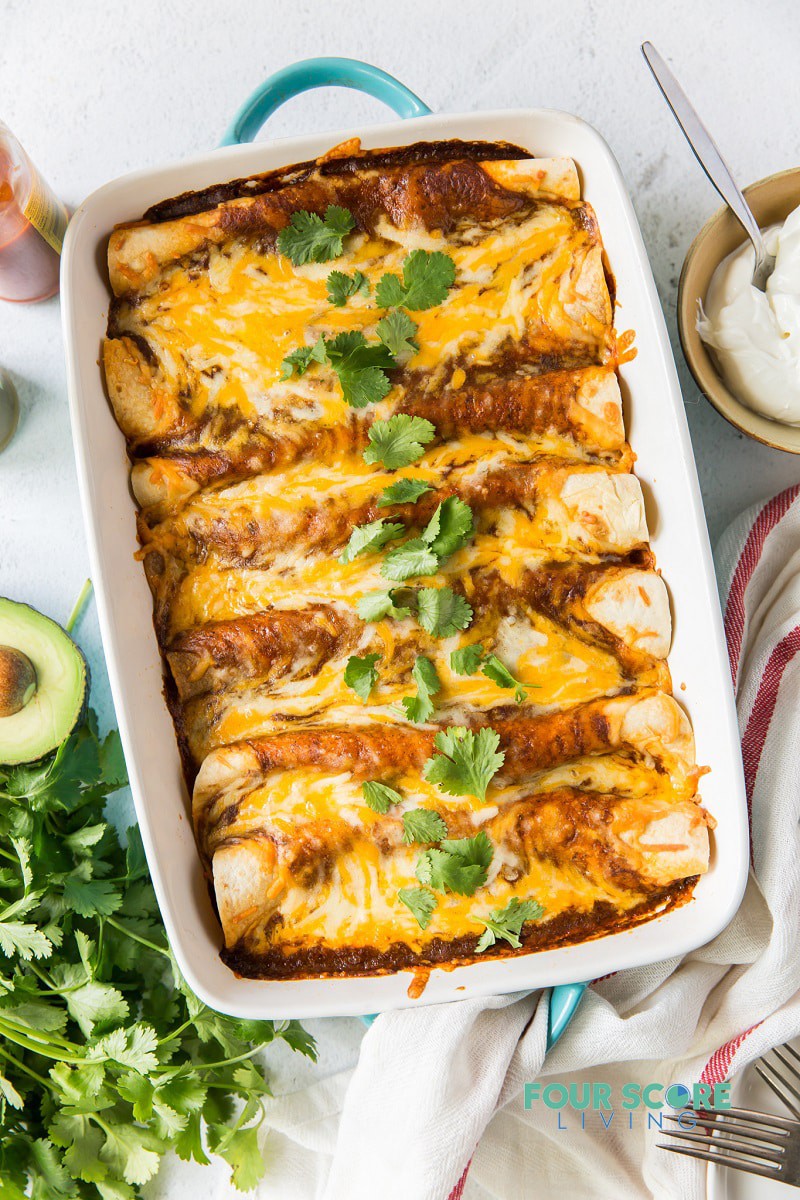 Low Carb Meals
Keto Chicken Enchiladas - Keto Enchiladas with chicken, melty cheese, and a mildly spicy, savory sauce will quickly become a family favorite meal. We like to make ours in these Keto Tortillas. Finish your chicken enchiladas with your favorite toppings – we like this keto queso and keto salsa.
Low Carb Chicken Taco Soup – Super simple to make and uses minimal ingredients! Top this delightful keto chicken taco soup with your favorite toppings. We like to top it with sour cream, cheese, and sliced jalapenos for a comforting meal. Add some keto cheese chips or keto tortilla chips on the side.
Keto Mozzarella Sticks - One of our favorite easy keto meals! Baked or fried, these keto mozzarella sticks will satisfy your craving for a crunchy, cheesy snack. There are only six ingredients in this keto cheese sticks recipe and you can serve them with veggies for a complete meal.
Keto Buffalo Chicken Dip – This keto buffalo dip is insanely delicious. It's loaded with lots of healthy fats and protein and it's great as a meal or an appetizer. This recipe only uses a handful of ingredients and it's easy to make.
Keto Chicken Wings – Keto recipes don't get any easier than this keto chicken wings recipe. These little tasty chicken wings are super flavorful and filling. Just a note, they can get messy. Dip them in different sauces or some keto BBQ sauce, and enjoy!
Keto Taco Soup - This keto soup recipe is naturally dairy-free but I've included instructions on what to add to make a creamy keto taco soup.
Keto Taco Pie - Keto Taco pie is a family friendly and delicious weeknight meal. This easy low carb recipe will soon make it on your regular keto meals list.
Keto Taco Casserole - A family favorite. Make this meaty, cheesy, low carb taco casserole any time you're in the mood for an easy to make, filling, and delicious keto meal.
Keto Chili - One of our staple keto meals! A simple, filling keto chili recipe that's full of spices, healthy protein, and is ready in less than thirty minutes.
Keto Eggplant Parmesan - A classic Italian style comfort dish, Keto Eggplant Parmesan is saucy, cheesy, and delicious and that's why it's on our list of favorite keto meals.
Keto Gumbo - Keto Gumbo has all the bold and distinctive flavors of this famous Creole dish, but with a few adjustments to make it keto-friendly.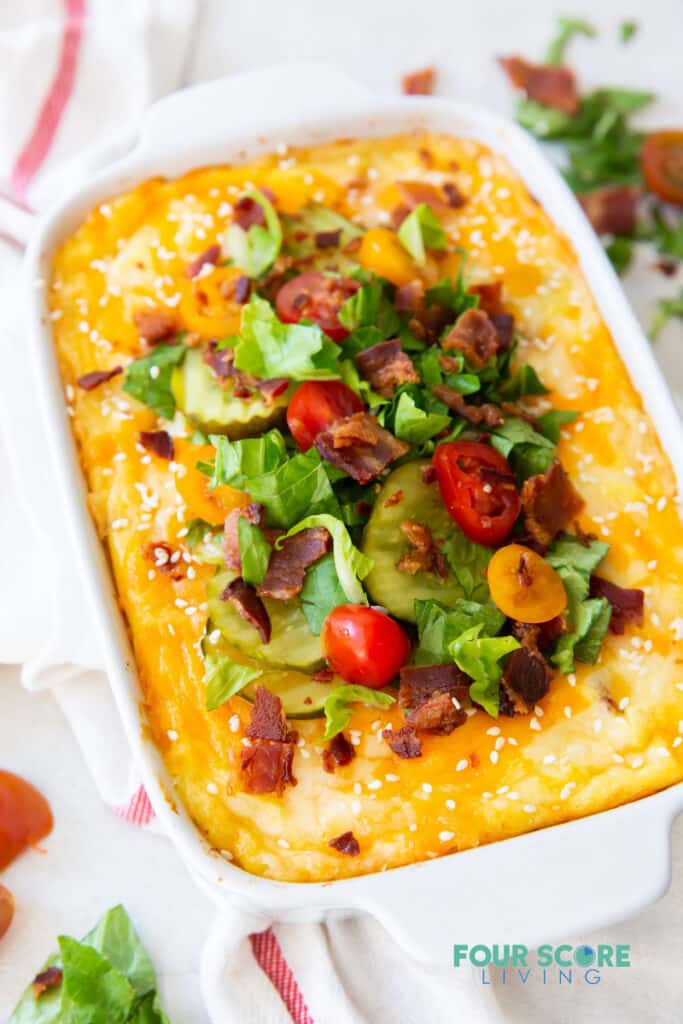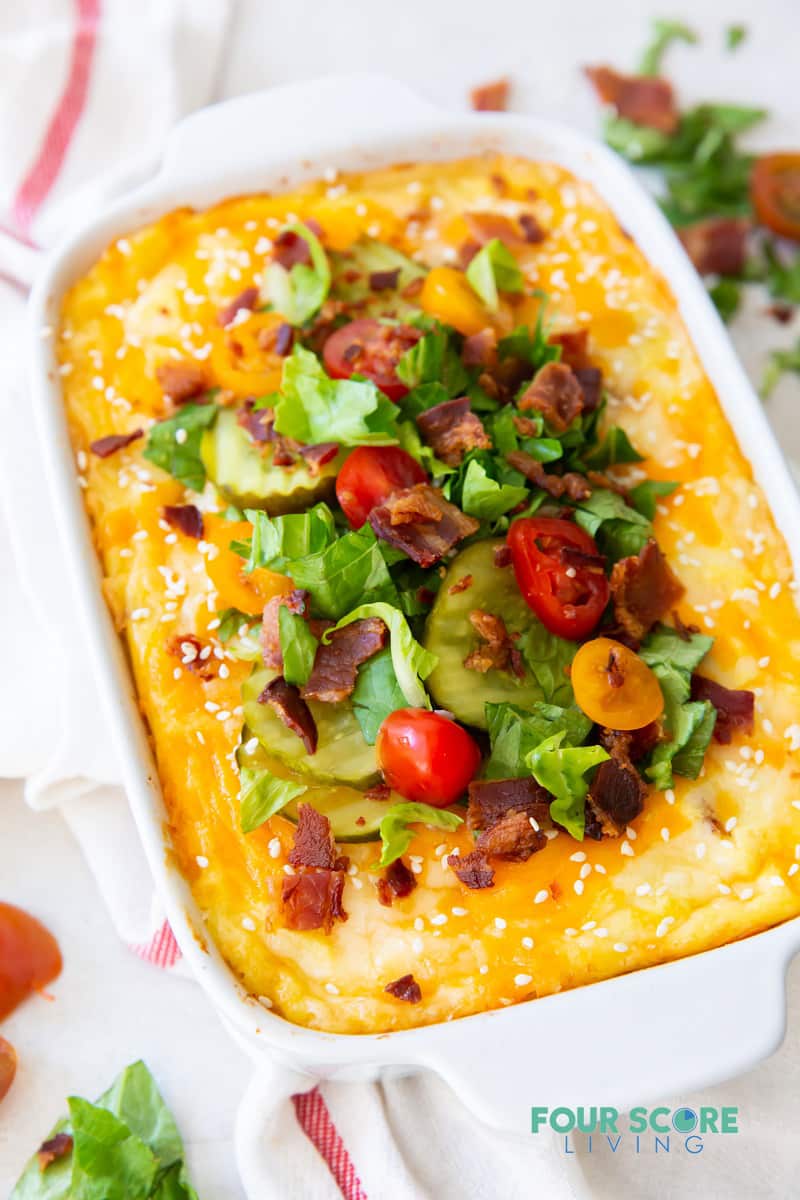 Sides for Keto Meals
Keto Coleslaw - Coleslaw is a versatile crunchy salad with a simple sweet and creamy dressing. This easy side dish goes great with BBQ and is perfect for pot lucks or meal prep.
Keto Broccoli Salad - Broccoli salad is the low carb salad you'll want to make and eat all year long. Especially popular with BBQ style meals and parties, everyone will love this sweet and savory cold broccoli dish.
Keto Tortillas - Keto tortillas are thin, pliable, and easy to make with just 8 simple ingredients. Enjoy these low carb tortillas in enchiladas or with your favorite taco fillings.
Keto Dinner Rolls - Simple to make, and the perfect bread-like texture, you're going to love how easy this rolls recipe pulls together. Only eight ingredients and a few simple steps until you are enjoying these amazing low carb rolls.
Keto Stuffing - Low carb stuffing using almond flour that is bursting with flavor and simple to make. This keto stuffing recipe has a vegetarian option, vegan option, and a dairy-free option.
Keto Cornbread - A corn-free low carb cornbread that's tender, flavorful and it actually tastes like cornbread. For anyone who is missing a good cornbread you're going to love how easy and delightful this recipe is.
Keto Spinach Dip - A simple keto spinach dip recipe that's ready in minutes. Although it's not considered part of this list of keto meals, you're going to love how quickly this low carb spinach dip comes together. With only seven ingredients this keto spinach dip is healthy and satisfying and it's perfect topped on most keto meals protein.
For more sides ideas check out our article on keto side dishes.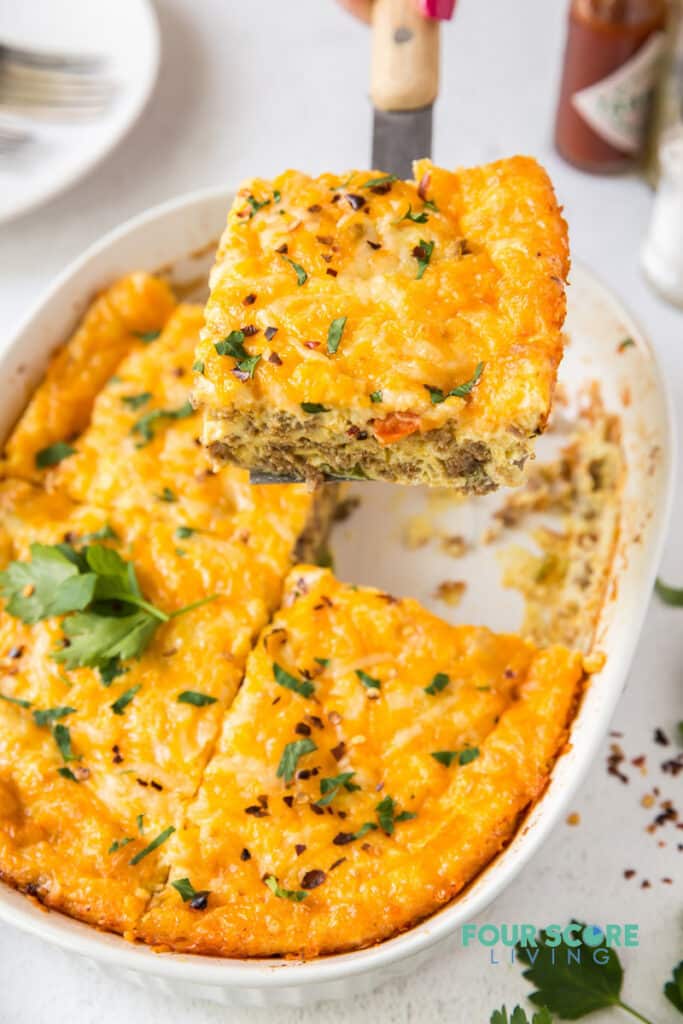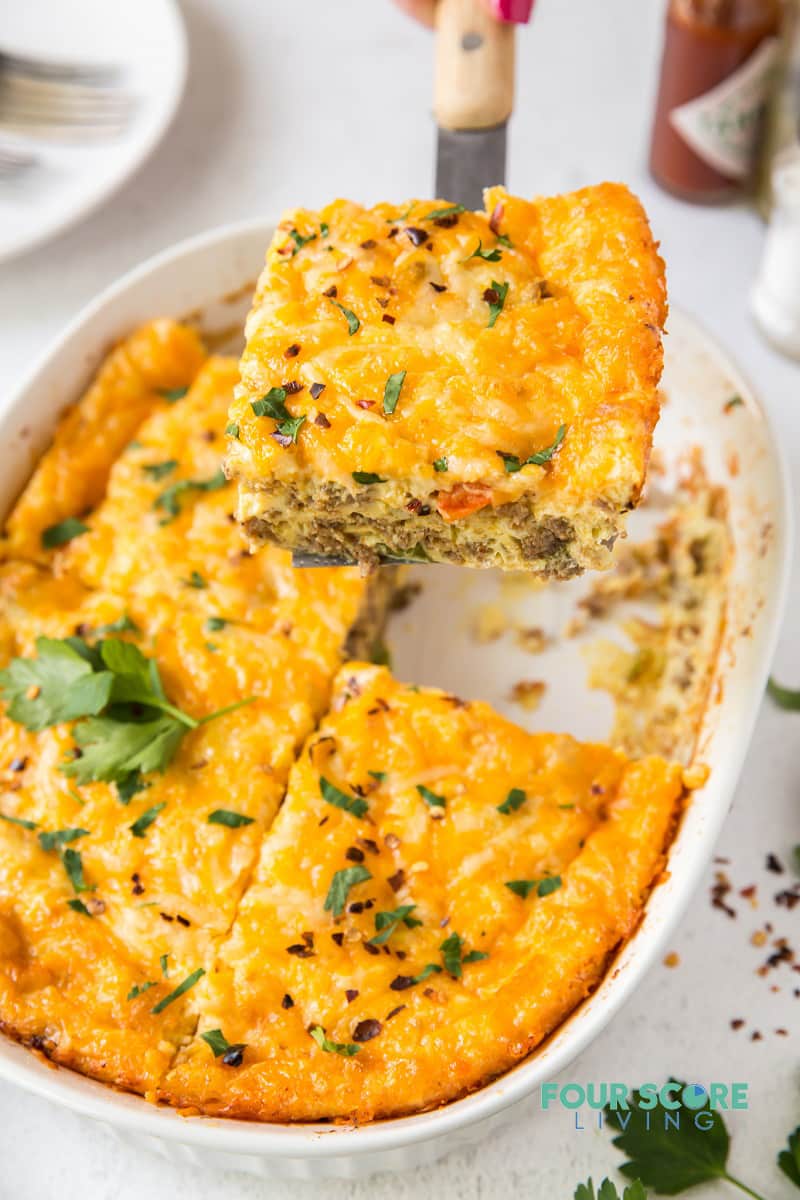 Keto Meals Breakfast
Keto Quiche - Crustless Keto Quiche is a low carb, filling egg dish that is as delicious as it is impressive. This recipe is versatile enough to suit any flavor preferences and perfect for a family meal or a special event.
Keto Breakfast Casserole - Keto Breakfast Casserole is a hearty, savory dish packed with protein, veggies, and melty cheese to keep you full and happy all day long. It's simple to make and it uses minimal ingredients. It's one of our favorite keto meals for breakfast.
Almond Flour Crepes - Easy to make Almond Flour Crepes are light and delicious and ready for your favorite fillings.
Keto Chocolate Muffins - These Keto Chocolate Muffins are scrumptious and packed with healthy fats and protein. It's one of our favorite grab and go keto meals that we enjoy for breakfast.
Keto Donuts - A tender keto cinnamon sugar donut using almond flour that is simple to make and bakes up quickly. You're going to love these low carb almond flour donuts. They are healthy and use minimal ingredients.
Keto Energy Bites - When you need an afternoon pick-me-up or a great post-workout snack, keto energy balls are the way to go. These keto chocolate energy bites are filled with protein, caffeine, and healthy fats to keep you satisfied and boost your energy.
Keto Coffee Cake - A piece of classic coffee cake is the perfect accompaniment to your morning cup of coffee. This keto coffee cake recipe is not only decadent, but it's paleo, gluten-free, and dairy-free too.
Keto Chocolate Zucchini Muffins - Easy Keto Chocolate Zucchini Muffins! A tender and decadent chocolate muffin recipe made with zucchini and almond flour. These sweet keto muffins are the perfect gluten-free, dairy-free treat that you can enjoy any time of day.
Keto Zucchini Bread - You can make tender keto zucchini bread in a few simple steps. This low carb zucchini bread is tender and just sweet enough for breakfast, dessert, or a nutritious snack.
Keto Blueberry Muffins - These muffins are simple to make, and ready to enjoy in less than thirty minutes. A fresh-baked, tender, blueberry keto muffin recipe that's sugar-free, dairy-free, gluten-free and satisfying.
Keto Pumpkin Muffins - Tender, scrumptious, and nutritious, these Low Carb Pumpkin Muffins are ridiculously easy to make, gluten-free, grain-free, sugar-free and dairy-free making them perfect.
Keto Granola - Delicious on its own, or served on top of a unsweetened full-fat yogurt, this Chocolate Keto Granola is tasty and filling.
Noatmeal - A healthy Low Carb Oatmeal that's ready in minutes. You can top this noatmeal keto oatmeal with your favorite low carb toppings and enjoy. This low carb oatmeal recipe is easy to make and filling.
Keto Pancakes - This recipe is simple to make, a tried-and-true Keto Pancake Recipe, and can be made right away, or stored for future use. Dairy-free, and refined-sugar free, these Low Carb Pancakes are fluffy and the perfect start to any morning.
Keto Muffins - Keto Chocolate Chip Muffins that are simple to make, and ready to enjoy in less than thirty minutes. A fresh-baked, tender, chocolatey keto muffin recipe that's sugar-free, dairy-free, gluten-free and satisfying.
Check out our post on Keto Snacks for in between keto meal options.
Did you make any of these keto meals? If so, please leave a comment on the keto diet recipe page letting us know what you thought.
What is Keto?
Keto is shorthand for the word ketogenic in ketogenic diet. While keto really refers to burning fat for fuel, it is most popularly used in reference to the keto diet (see below for more information). Some people feel better on a keto, low carb diet, or a moderately low carb diet. The amount of carbohydrates you consume will vary depending on your insulin tolerance and activity level.
Here are the average numbers of carbohydrates to consume for each diet type (depending on which resource you reference):
Keto diet – Under 25g net carbs per day
Low carb diet – 25g - 50g net carbs per day
Moderate low carb diet – 50g - 100g net carbs per day
It usually takes 3 days for your body to enter ketosis, but it can vary by person. Not everyone counts net carbs – some people count all carbs. Just a note that the keto diet isn't right for everyone. Please follow a lifestyle that works best for you.
We hope you enjoyed reading this article. Please help us out by leaving a quick review and star ★ rating below.
LET'S GET SOCIAL, you can follow Four Score Living on Pinterest. You can also leave a comment below if you have any questions.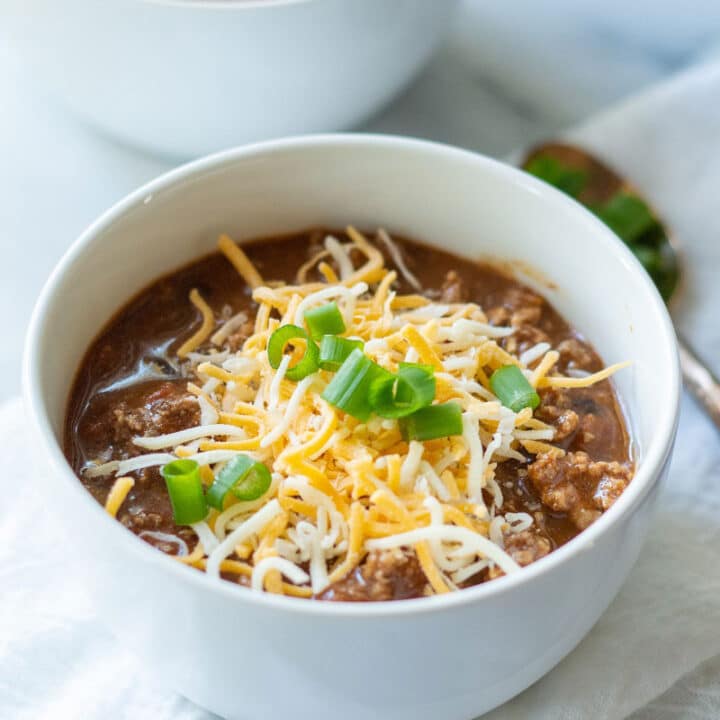 Keto Meals: Chili
A collection of the BEST keto meals! We've rounded up some of the best easy keto meals, keto meal recipes, and easy low carb meals! From keto chicken fried steak to keto cheesecake, to keto sides — we've got you covered.
Ingredients
2 tablespoons olive oil
1 yellow onion, diced
1 bell pepper, diced
1 lb. ground beef
1 lb. ground turkey
3 tablespoons cumin
3 tablespoons chili powder
2 teaspoons salt
1 teaspoon cayenne pepper
1 teaspoon paprika
1 (15 ounce) can diced tomatoes
2 cups beef broth (or veggie)
Instructions
Add oil, onions and bell peppers to a large cooking pot or dutch oven. Cook until the onions are tender.
Add ground beef and ground turkey, using a spatula to break up the meat as it cooks.
Continue to cook until both the beef and turkey are cooked and no pink is showing.
Add the spices, tomatoes, and broth.
Bring to a boil, then reduce the heat and simmer for 10 minutes.
Serve hot with your favorite keto chili toppings.
Notes
You can use ½ ground beef and half ground turkey like I did here, or use any combination of ground meats that adds up to two pounds.
Optional low carb toppings include: Sour cream, diced avocado, shredded cheese, green onions, and salsa.
Nutrition Information:
Yield:

8
Serving Size:

1 cup
Amount Per Serving:
Calories:

336
Total Fat:

21g
Saturated Fat:

7g
Trans Fat:

1g
Unsaturated Fat:

12g
Cholesterol:

111mg
Sodium:

970mg
Carbohydrates:

6g
Net Carbohydrates:

4g
Fiber:

2g
Sugar:

2g
Protein:

32g
The nutrition information for this recipe is an approximate total per serving. Please double check the nutrition information for your exact ingredients and brands.
Keto Meals Post