Keto Broccoli salad is the low carb salad you'll want to make and eat all year long.
Broccoli Salad is especially popular with BBQ style meals and parties. Everyone will love this sweet and savory cold keto broccoli dish.
You can top this Keto Broccoli Salad with any protein for a complete and filling meal. Looking for another great cold salad? Try this Keto Coleslaw next.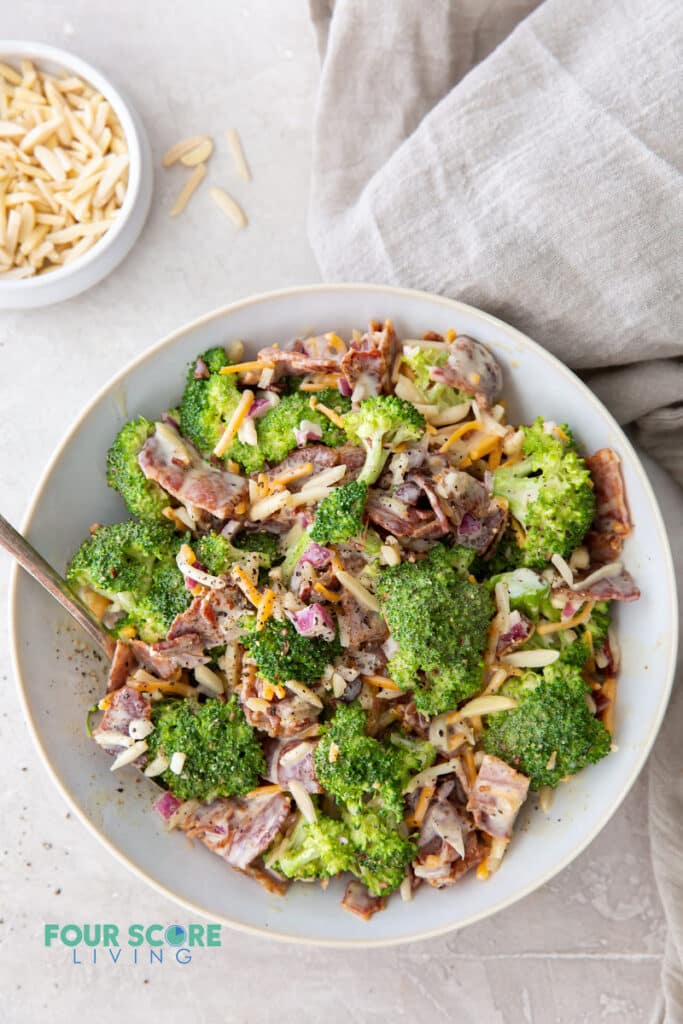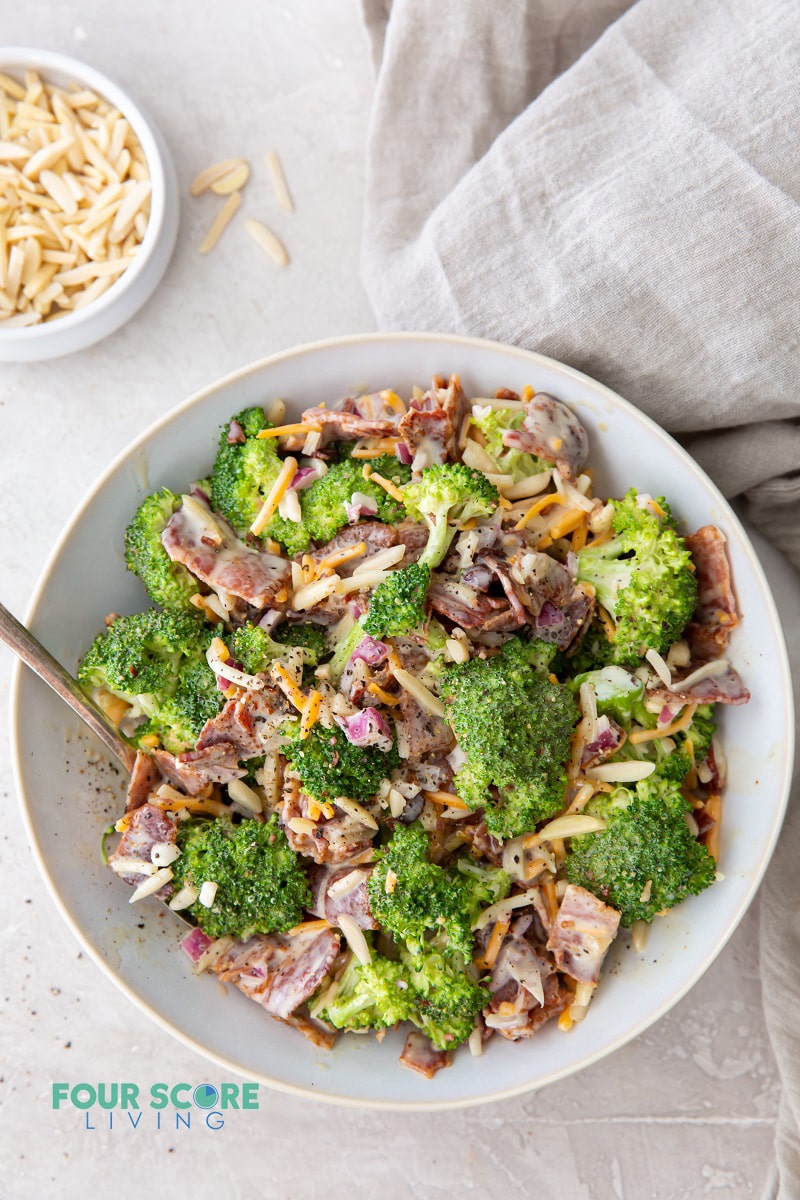 KETO BROCCOLI SALAD RECIPE
I've always loved this sweet and creamy broccoli salad that is often served at Barbecues. Making a Keto version of this party favorite is easy to do and it tastes amazing.
Bring together healthy broccoli florets, a creamy sweet and tangy dressing, and some crunchy, flavorful add-ins, and you have the perfect recipe for a satisfying, keto, low carb salad.
Keto broccoli salad is great for meal prep, weekday lunches or dinners, or any time you want a healthy keto side dish. The flavors in this keto broccoli salad are similar the our sugar free salad dressing, but with bacon!
If you love broccoli, you may want to try this Air Fryer Broccoli next. For another amazing vegetable side dish, try our Keto Cauliflower Mac and Cheese next.
WHY THIS KETO RECIPE IS AMAZING
Almost No Cooking - The only part of this recipe that needs to be cooked is the bacon, so you can mix up the salad in very little time.
Crunchy, Creamy, Sweet, Savory - All of the flavors and textures are accounted for in this recipe, making this keto broccoli salad irresistable.
Hearty and Filling - This isn't your normal light and leafy salad. This salad has substance and is filling enough to eat as a meal.
Great for Sharing - Make a keto broccoli salad the next time you're asked to bring a dish to pass. It's pefect for potlucks and parties.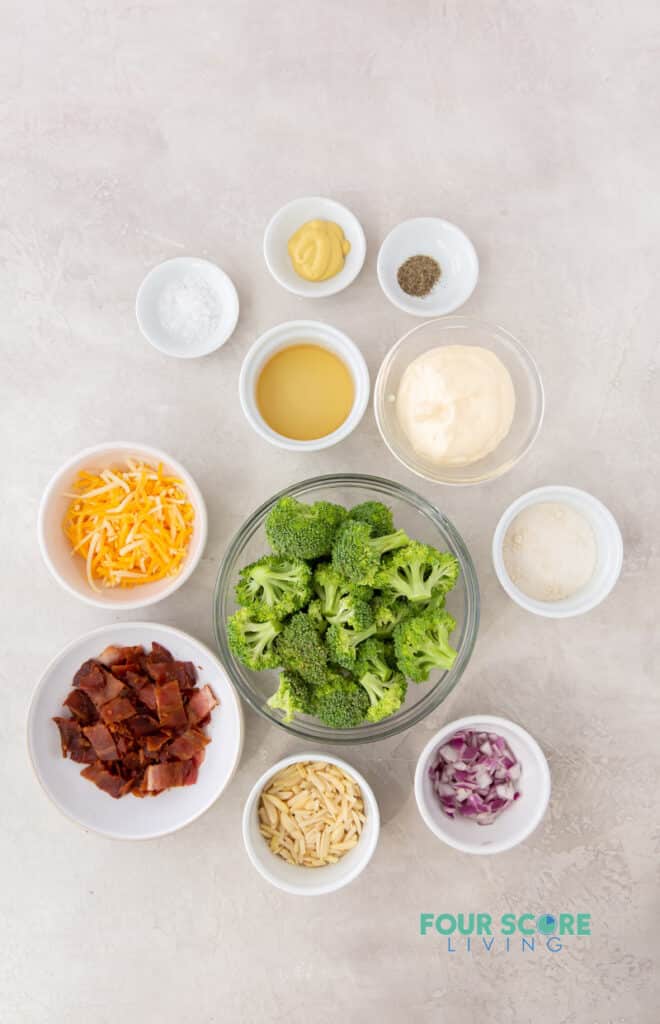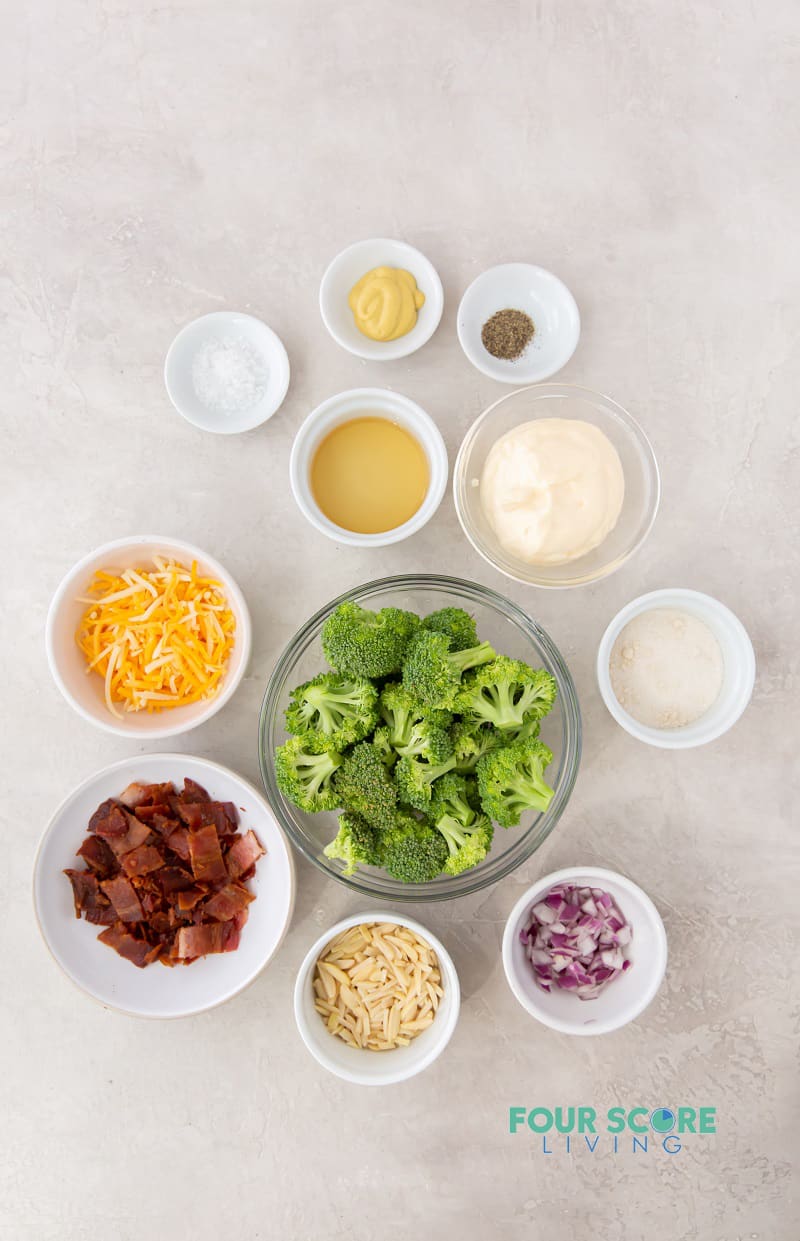 INGREDIENTS IN KETO BROCCOLI SALAD
Broccoli - You'll need about 3-4 cups of broccoli, cut into small florets. There's no need to blanch or cook the broccoli, just rinse it well.
Sharp Colby Jack Cheese - Shredded cheese adds great textrure and flavor to the salad. Cheddar cheese works well too. Use block cheese and shred it yourself to avoid any additives in bagged shredded cheese.
Bacon- Keto friendly bacon is a must have for me, but leave it out if you don't eat meat or pork. It adds a smoky, meaty flavor.
Slivered Almonds - Toast your almonds to get the most flavor and crunch from them. It's really simple to toast almonds, and I'll tell you exactly how below.
Red Onion - Diced red onion gives a bit of a bite to this mix. Onions do add carbs, but I think they are worth it in this recipe.
Mayonnaise - This is the base to the cole slaw dressing. It's creamy, rich, and perfect for adding all of the other flavors into. To keep this recipe keto, choose full fat mayo rather than low fat.
Granulated Sweetener - We used Swerve, but any granulated sweetener you like will work here.
Apple Cider Vinegar - Vinegar balances the sweetness from your low carb sweetener nicely.
Dijon Mustard - I love the flavor that dijon brings, it's just the right amount of tangy and savory for this sugar free dressing.
Salt - Broccoli doesn't come already seasoned. A pinch of salt will help.
Black Pepper - For a bright, mild kick of heat.
If you have any questions, please leave a comment below and I will get back to you.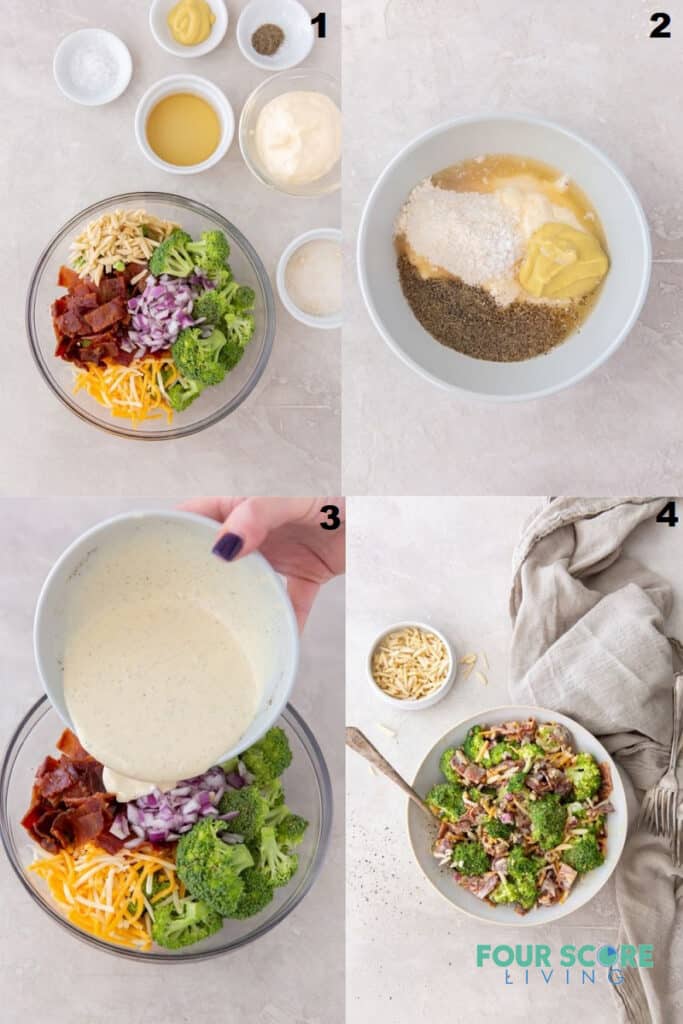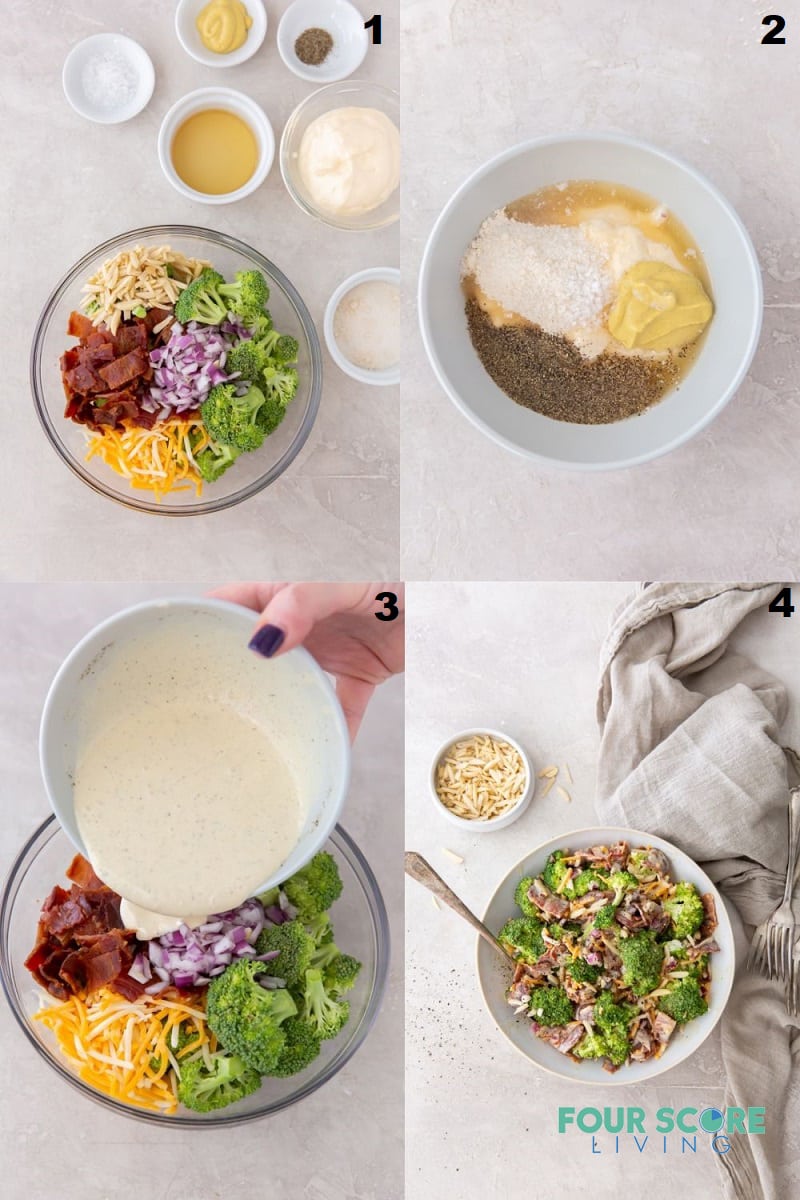 HOW TO MAKE KETO BROCCOLI SALAD
Combine broccoli florets, cheese, bacon, almonds, and onion in a large bowl.
In a separate bowl, whisk together mayo, sweetener, vinegar, mustard, salt, and pepper until smooth and well-combined.
Pour dressing over broccoli combination and toss or stir well.
Broccoli salad may be served immediately, but for best flavor refrigerate for at least one hour before serving.
These numbered steps match the numbered photos above and are for illustration purposes. For the complete list of ingredients and instructions, please see the recipe below.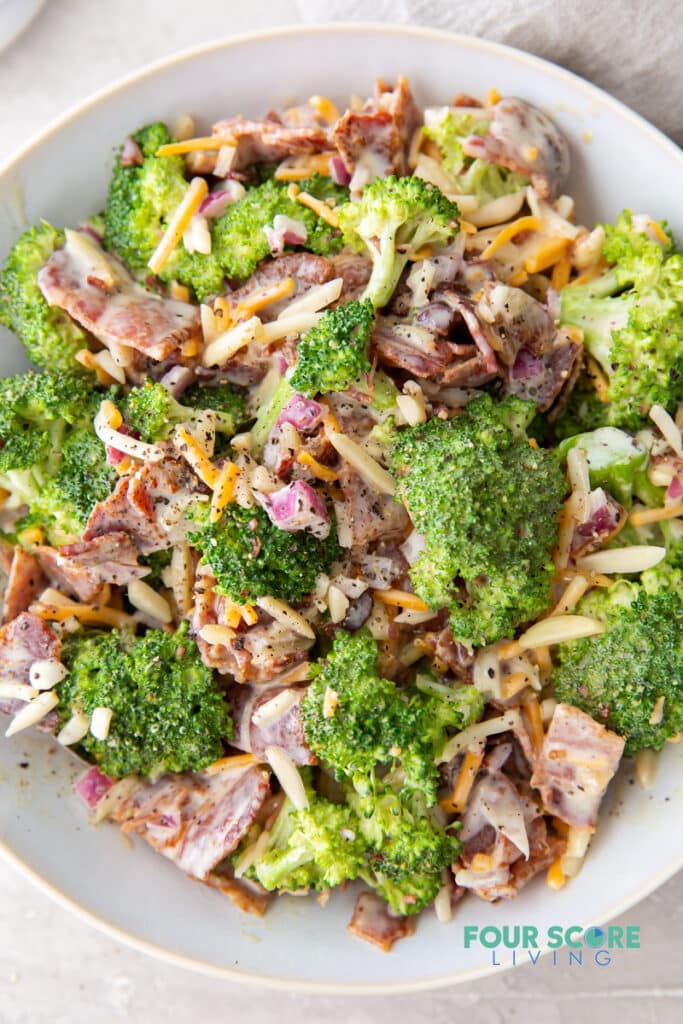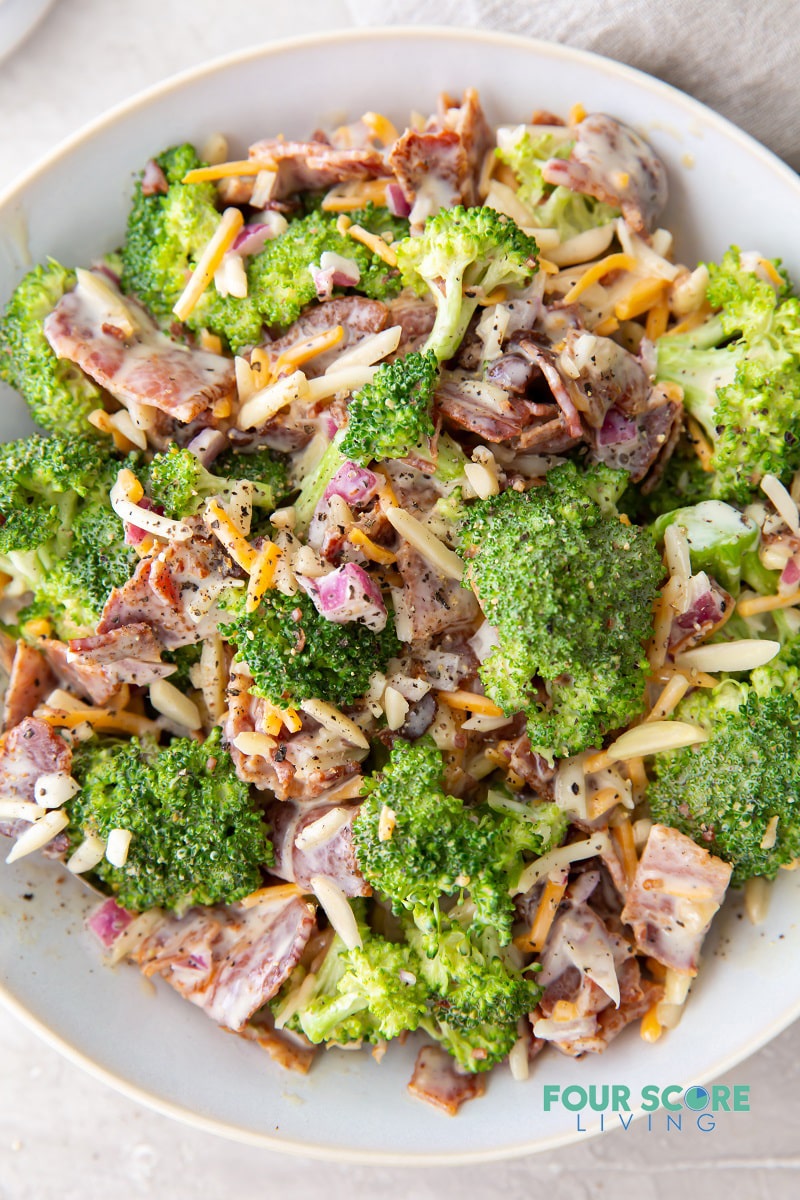 KETO BROCCOLI SALAD TIPS
Use pre-cooked bacon to save time and get this salad made even faster.
Leave the bacon out to create a vegetarian keto broccoli salad.
Swap out the almonds for your favorite type of nut or seeds.
Mix in cooked ham or chicken to make this salad a full meal.
Make sure to cut the broccoli into pieces small enough that they won't need to be cut when eating.
WHAT TO SERVE WITH KETO BROCCOLI SALAD
This cold salad is delicious with all of your high-protein meals. Try serving it at a pot-luck, outdoor barbecue, or holiday meal for family. Any of these entrees will be perfect:
HOW DO I MAKE BROCCOLI SALAD KETO?
Broccoli salad is almost keto already! There is just one change that needs to be made to make it sugar free and low carb.
The biggest difference between a traditional broccoli salad and this recipe for keto broccoli salad is the sweetener. Instead of sugar we are using a sugar free sweetener to make this salad low carb.
The mayonnaise, bacon and cheese in this keto broccoli salad are a great way to add fat and flavor into broccoli salad.
LOW CARB BROCCOLI COLE SLAW
Not interested in making this recipe with broccoli florets? Grab a bag of broccoli slaw at the store instead.
You'll get all of the flavor and nutrients of broccoli, but in thin slices that come from the broccoli stalks.
The keto-friendly sweet dressing for this broccoli salad would be delicious with traditional cabbage cole slaw too.
VEGETABLES TO ADD TO BROCCOLI SALAD
Try adding one of more of these low carb vegetables to add variety and nutrients to keto broccoli salad:
Cauliflower florets
Blanched green beans
Zucchini
Chopped Kale
Shredded red or green cabbage
Avocado
Asparagus
Add any other vegetables that you have in your fridge!
OTHER KETO BROCCOLI SALAD ADD INS
Try adding different nuts or seeds to this salad for even more protein and crunch.
Walnuts, pecans, pumpkin seeds (pepitas) or sunflower seeds are all delicious in this keto salad.
CAN I MAKE KETO BROCCOLI SALAD AHEAD OF TIME?
This is one of those recipes that gets better the longer it sits in the fridge. You can absolutely make a keto broccoli salad 2-3 days prior to eating it.
Just give it a stir before serving. If it is watery at all, drain off some of the liquid, and add a tablespoon more of mayonaise to make it nice and creamy again.
KETO BROCCOLI SALAD FOR MEAL PREP
I love using this recipe to make keto broccoli salad lunches for the week!
Place a serving of broccoli salad into your meal prep container, and top with shredded or grilled chicken, diced ham, or even grilled shrimp.
You'll have a filling and satisfying lunch ready to go.
IS BROCCOLI SALAD KETO?
The ingredients in this salad are all keto friendly. Each serving of this recipe has about 4 grams net carbs. See the recipe card below for more nutrition details.
Broccoli on its own has about 2 net carbs per 1 cup serving, it's high in fiber and very filling.
Traditionally, the dressing for broccoli salad is made with sugar or sometimes honey, both of which are not keto friendly. We're making adjustments to the recipe to make this broccoli salad ket friendly and sugar free.
ARE ONIONS KETO?
Many keto dieters avoid both red onions and white onions due to their carb count. There are natural sugars in onions, but if eaten in moderation, onions are a flavorful, delicious vegetable to enjoy on keto.
If you need to reduce the carbs in this recipe to fit your macros, try using green onions in place of the red ones.
HOW TO TOAST SLIVERED ALMONDS
You can buy slivered almonds already toasted, but if yours are not, it's easy to do it yourself. Simply place the almonds in a dry frying pan over medium heat.
Stir continuously and cook until almonds start to brown and become fragrant. Allow the almonds to cool before adding to the salad.
HOW LONG IS BROCCOLI SALAD GOOD FOR?
You'll want to eat your keto broccoli salad within 3 days of making it. The flavor is best within 2 days. Be sure to keep it in an airtight container in the refrigerator during this time.
Because this salad is made with mayonnaise, it's important to keep it cold at all times. If serving in a warm environment be sure to keep it on ice, and don't leave it out for more than 2 hours.
HOW CAN I TELL IF BROCCOLI IS BAD?
The best way to tell if broccoli has gone bad is to look at it and give it a smell. If it smells off or looks strange, you should discard it.
DO I NEED TO COOK THE BROCCOLI FOR BROCCOLI SALAD?
It is not necessary to cook, blanch, or do anything to the broccoli before adding it to the salad. It's my favorite part about this keto recipe!
However, some might prefer their broccoli to be softer. In that case, you can quickly blanch and cool the broccoli before adding it to the recipe.
CAN I MAKE KETO BROCCOLI SALAD WITH FROZEN BROCCOLI?
You can use frozen broccoli to make this salad, but I really don't recommend it. Frozen broccoli has already been partially cooked, so the texture of it will be softer than you want for a fresh salad like this one.
We hope you enjoyed reading this article. Please help us out by leaving a quick review and star ★ rating below.
LET'S GET SOCIAL, you can follow Four Score Living on Pinterest. You can also leave a comment below if you have any questions.
Did you make this Keto Broccoli Salad? Please leave a comment below letting me know what you thought.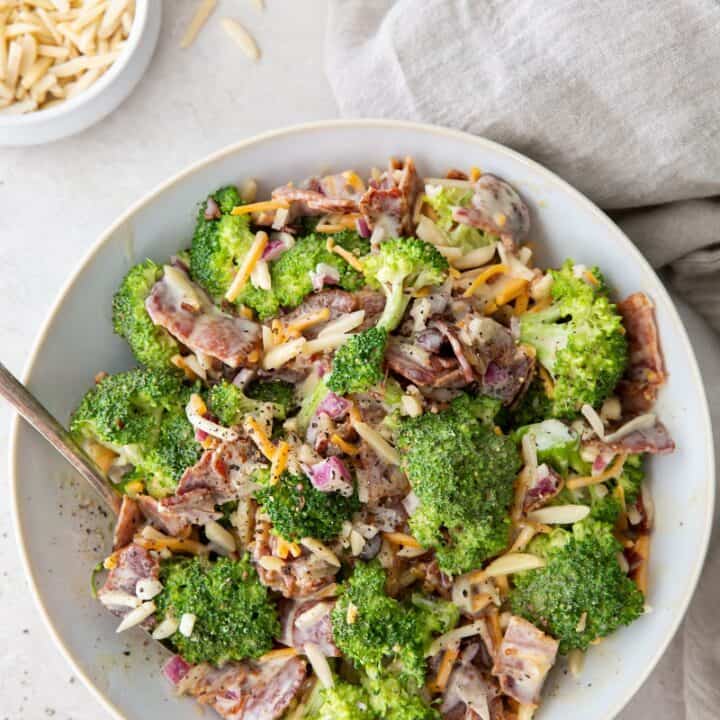 Keto Broccoli Salad
Total Time:
1 hour
5 minutes
Keto Broccoli salad is the low carb salad you'll want to make and eat all year long. Especially popular with BBQ style meals and parties, everyone will love this sweet and savory cold broccoli dish.
Ingredients
1 head (3-4 cups) broccoli, cut into florets
½ cup sharp Colby jack cheese, shredded
½ cup cooked bacon, crumbled (about 8 strips)
¼ cup slivered almonds, toasted
3T red onion, diced
Dressing
⅔ cup mayonnaise
2 tablespoons granulated sweetener (we used Swerve)
2 tablespoons apple cider vinegar
1 tablespoon Dijon mustard
½ tsp salt
¼ tsp ground black pepper
Instructions
Combine broccoli florets, cheese, bacon, almonds, and onion in a large bowl.
In a separate, small bowl, whisk together mayo, Swerve, vinegar, mustard, salt, and pepper until smooth and well-combined.
Pour dressing over broccoli combination and toss or stir well.
Broccoli salad may be served immediately, but for best flavor refrigerate for at least one hour before serving.
Toss this keto broccoli salad thoroughly again before serving.
Notes
Substitute cauliflower florets or broccoli slaw for all or some of the broccoli.
Make this salad up to 3 days ahead of time, by storing it in the fridge in an airtight container.
Add additional keto friendly vegetables to this salad to add nutrients and texture.
Leave out the bacon to make this a vegetarian salad.
Nutrition Information:
Yield:

6
Serving Size:

1
Amount Per Serving:
Calories:

429
Total Fat:

39g
Saturated Fat:

9g
Trans Fat:

0g
Unsaturated Fat:

29g
Cholesterol:

39mg
Sodium:

889mg
Carbohydrates:

6g
Net Carbohydrates:

4g
Fiber:

2g
Sugar:

5g
Protein:

10g
The nutrition information for this recipe is an approximate total per serving. Please double check the nutrition information for your exact ingredients and brands.