We've rounded up some of the best keto ground beef recipes and low carb ground beef! From keto casseroles to keto mains —we've got you covered.
Welcome to Four Score Living where we believe you can achieve and maintain a healthy lifestyle through 80/20 living - and that includes a balanced diet. We're sharing a collection of easy keto ground beef recipes.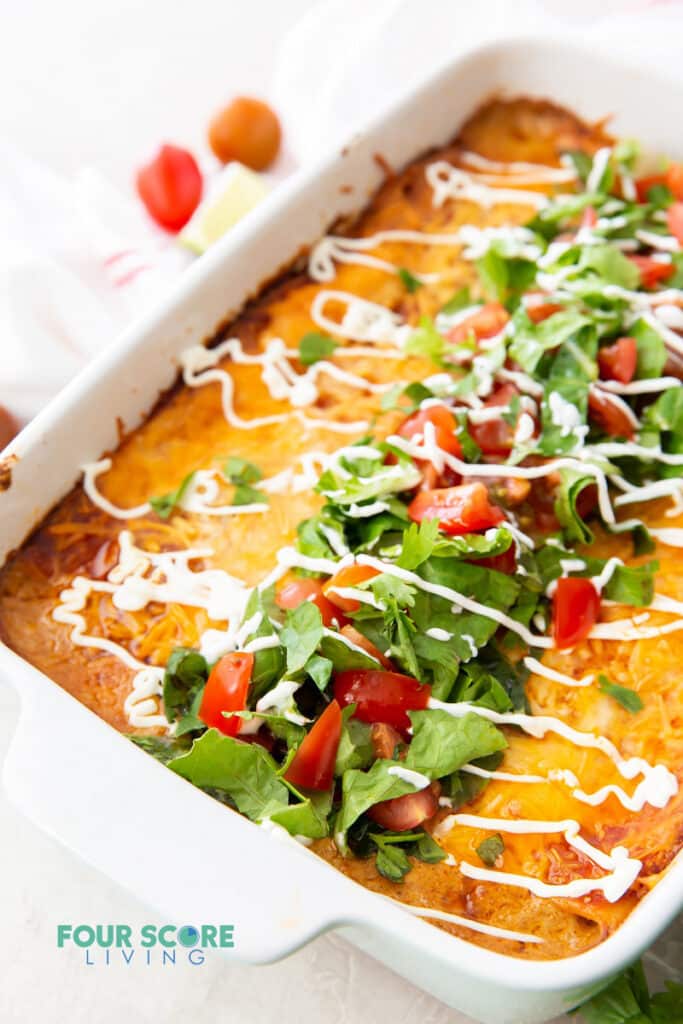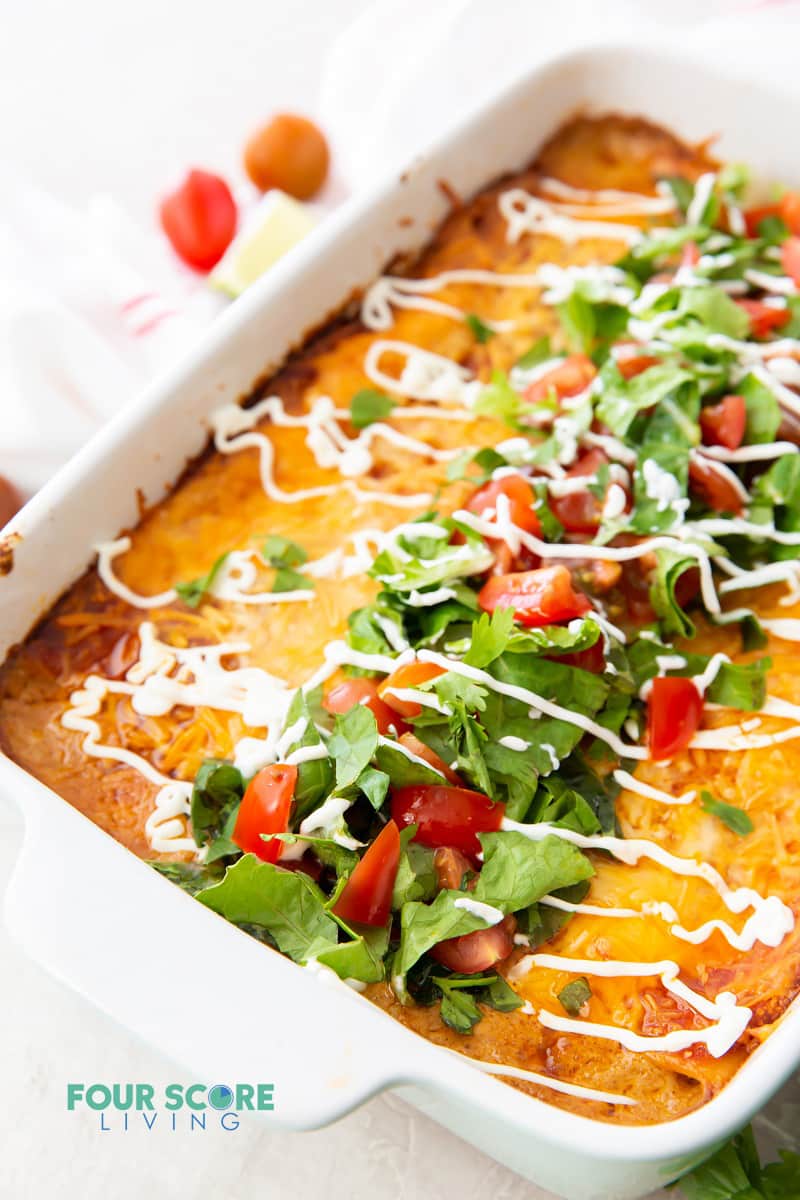 If you're looking for keto dinner ideas, or simply wanting to try some new keto recipes using ground beef, you're in the right place. We're sharing some of the best keto ground beef recipes.
Easy Keto Ground Beef Recipes
Keto Meatloaf - A no-fail Low Carb Meatloaf Recipe that's easy to make, packed with flavor, and comforting any night of the week. For more easy low carb dinners you might like this Carne Asada.
Keto Taco Casserole - Keto Taco Casserole is a family favorite. Make this meaty, cheesy, low carb taco casserole any time you're in the mood for an easy to make, filling, and delicious meal. Do you love tacos? You're really going to love this recipe, as well as my Keto Enchiladas and my Keto Taco Soup.
Keto Cheeseburger Casserole - A meaty, cheesy, satisfying, and topped with everything you'd expect on a deluxe cheeseburger. Enjoy this easy to make keto casserole that the whole family will love.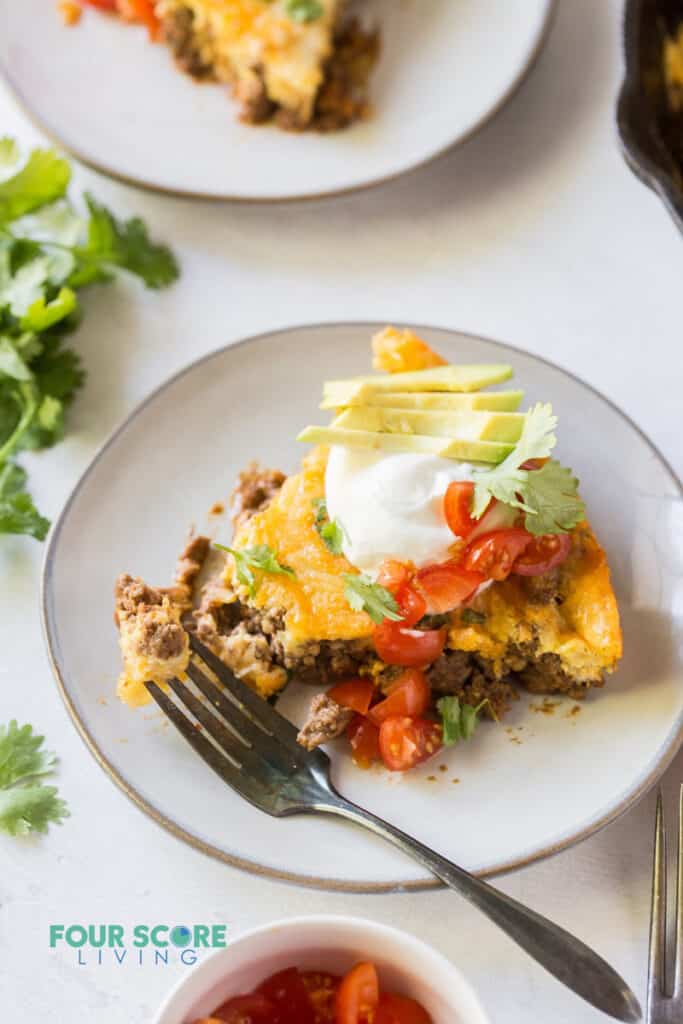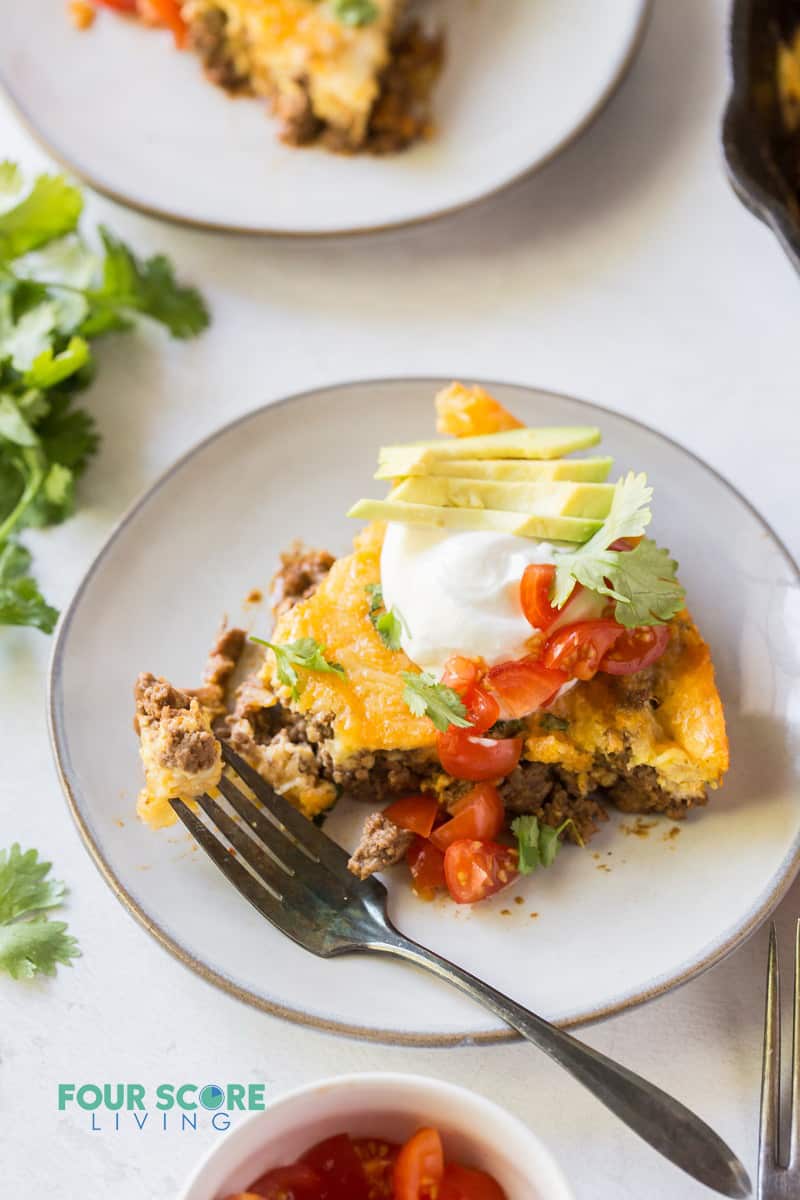 Keto Taco Pie - Make Keto Taco pie for a family friendly and delicious weeknight meal. This easy low carb recipe will soon make it on your regular dinner plan rotation. Don't forget the sour cream, salsa, and guac!
Keto Beef Enchiladas - Keto Enchiladas with ground beef, melty cheese, and a mildly spicy, savory sauce will quickly become a family favorite meal. We love enjoying enchiladas with keto salsa.
Keto Taco Soup - This keto soup recipe is naturally dairy-free but I've included instructions on what to add to make a creamy keto taco soup. Add some cheese and sliced avocado to the top for some extra healthy fats.
Keto Chili - Chili is a great meal choice year round, and one of our favorite keto ground beef recipes. We love serving ours with keto cornbread.
Keto Meatballs - These keto meatballs are super simple to make and they make a great meal or appetizer.
Keto Big Mac Salad - A delicious version of the classic big mac sandwich, this Big Mac Salad is comfort in a bowl. It offers all of the flavors of a traditional big mac but in a healthy low-carb recipe without the bun. This gluten free, keto big mac salad is packed with protein and ready in just 15 minutes.
If you make any of these keto ground beef recipes please leave a comment below letting us know what you thought of the recipe.
Low Carb Ground Beef Recipes
More low carb ground beef recipes from some of our favorite bloggers.
Spicy Southwest Whole30 Stuffed Peppers loaded with savory ground beef, wholesome spinach, and sweet pine nuts. This recipe is naturally low in carb and high in flavor.
This low carb inside out egg roll recipe is keto and low carb friendly. Make this quick dinner in only 20 minutes. It's basically egg roll in a bowl.
These Keto Stuffed Peppers are made the classic way with ground beef, tomato, garlic, onion and spices topped with melty cheese. They are a simple keto ground beef recipe.
Meatloaf Muffins - These Keto Meatloaf Muffins are basically perfectly portioned low carb meatloaf muffins, ideal for Keto meal prep lunches.
These Low Carb Big Mac Bites are a keto recipe for mini bunless burgers that make a great low carb appetizer or game day food that everyone will love.
Quick recipe for keto bacon cheeseburger casserole. Now with a NEW cooking video. Grain free, low carb and gluten free slice of cheesy heaven.
These low carb sloppy joe stuffed peppers are a great alternative to the sickeningly sweet canned version of a childhood classic. By stuffing the filling into peppers instead of on a sandwich bun, they are low carb and gluten free.
Low Carb Sour Cream Beef Bake - This is a super simple low carb ground beef recipe that takes you down to the basics. It uses minimal ingredients and is full of flavor.
Low Carb Goulash - Fragrant garlic and onions, perfectly seasoned tomato sauce, filling ground beef and cabbage; this keto ground beef recipe is perfect in every way.
This Low Carb Meatball Casserole Recipe is absolutely fabulous in every way imaginable! You really can't mess up this recipe in any way.
This Keto Ground Beef Casserole is the perfect comfort dish. Easy to make and hearty, you'll love every single bite of this easy keto recipe.
Looking for side dishes to go with your keto ground beef recipes? Check out our article on keto side dishes.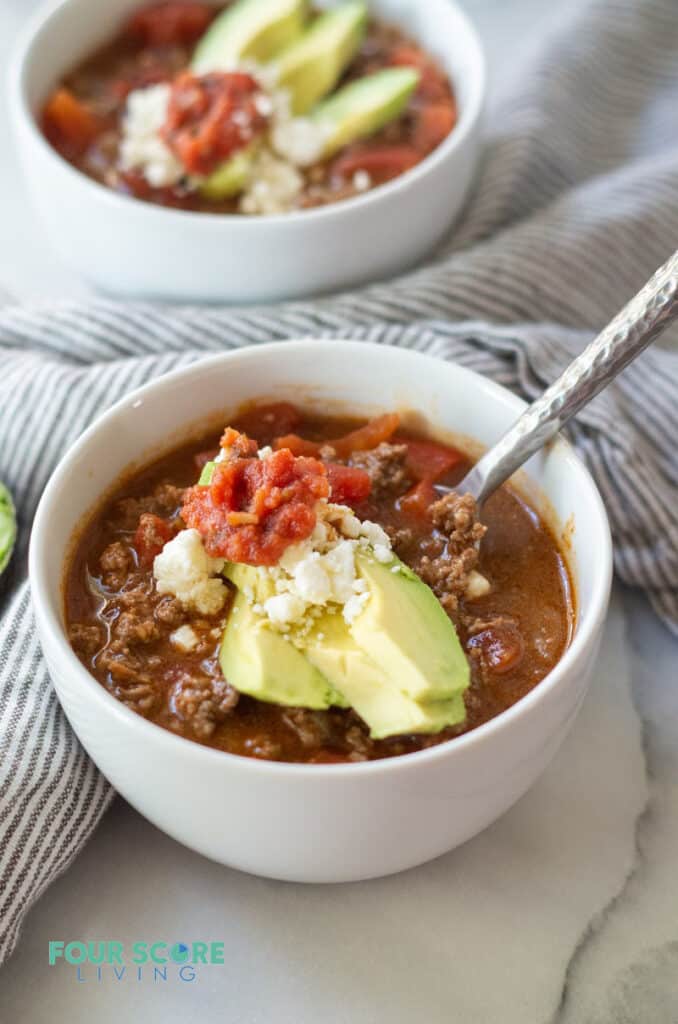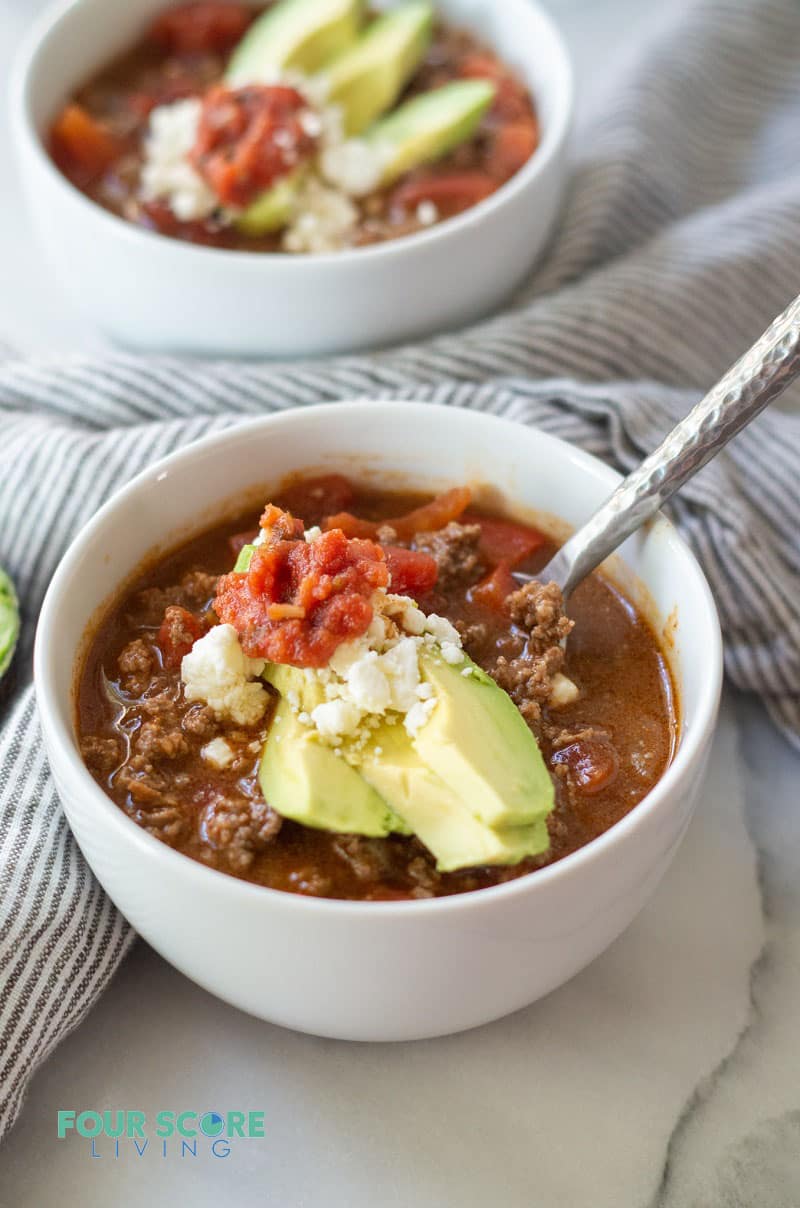 Keto Ground Beef Recipes - Ground Beef Fat Rations
When it comes to ground beef, there are a few different types of ground beef - basically how much fat content is in the beef. Since the keto diet is a high fat diet, you can use any fat content ground beef. If you use a leaner ground beef, consider adding healthy fats to your meal.
How to tell if ground beef has gone bad?
Check the color - Fresh ground beef should be red due to freshness and limited contact with oxygen.
Check the Texture - Ground beef isn't sticky and it should break apart easily. If it's slimy or sticky, throw it out.
Smell it - This is probably the easiest and quickest way to see if ground beef is still good. If it's smells off, throw it out.
Expiration Date - While some things can still be good for a few days after expiration date, like milk, I wouldn't change it with ground beef.
Tips for Working with Ground Beef
Taking small steps can make all the difference when you're preparing ground beef. Use these tips to maximize the taste and quality of your favorite meals, so that every bite is delicious from start to finish.
Minimize handling - Ground beef tends to loose moisture when being handled. Handle the ground beef as little as possible. If you over mix it, you'll end up with a firm, compact texture after cooking - which is why some burgers and casseroles are dry.
Seasoning - There's almost never enough seasoning. Don't be shy with those seasonings and spices.
Salt After - If you're making burgers, add salt after cooking. Salting before cooking can draw moisture and juices out of the ground beef.
Watch the heat - If the heat is too high, you may overcook your beef on the outside while the inside remains undercooked.
Safe Storage - Refrigerate leftovers within 2 hours, and be sure to eat leftovers within 2 to 3 days.
Sanitize - Always wash hands and sanitize cutting boards, countertops and utensils with hot water and soap to prevent potential cross contamination of other foods.
Internal Temperature - Cook ground beef to 160˚ F to ensure that any harmful bacteria are eliminated. Bacteria is introduced into meat during the grinding process.
We also have more easy keto recipes. We also have a post on keto meals you might like.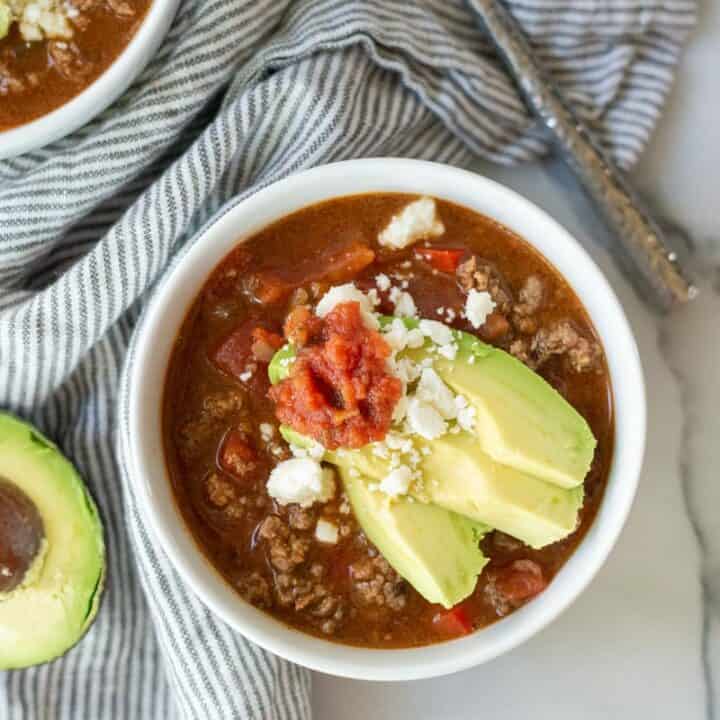 60+ Keto Ground Beef Recipes: Beef Taco Soup
We've rounded up some of the best keto ground beef recipes and low carb ground beef! From keto casseroles to keto mains —we've got you covered. We're sharing a collection of easy keto ground beef recipes.
Ingredients
1 onion, diced
1 red bell pepper, diced
1 lb. ground beef
1 (15 ounce) can diced tomatoes
1 cup broth (chicken or beef)
Instructions
Add oil, onions, and bell pepper to a large cooking pot and cook over medium heat until the onions are cooked and translucent.
Add the ground beef, breaking it apart with a wooden spoon or spatula as it cooks. Continue to cook the beef until it's brown and cooked through.
Add the diced tomatoes, broth, and taco seasoning, and bring it to a boil.
Cover and simmer for 15 minutes.
Turn off the stove, remove the cooking pot from the heat, and serve this keto soup hot with toppings.
Nutrition Information:
Yield:

4
Serving Size:

2 cups
Amount Per Serving:
Calories:

380
Total Fat:

21g
Saturated Fat:

8g
Trans Fat:

1g
Unsaturated Fat:

10g
Cholesterol:

103mg
Sodium:

784mg
Carbohydrates:

9g
Net Carbohydrates:

5g
Fiber:

4g
Sugar:

2g
Protein:

33g
The nutrition information for this recipe is an approximate total per serving. Please double check the nutrition information for your exact ingredients and brands.
Keto Ground Beef Recipes
Looking for more ideas? Check out our post on Keto Crockpot Recipes.