Here is a bright and delicious keto taco salad recipe to rock your meal-planning world. This low-carb taco salad is a quick and easy one-pot dish bursting with bold flavor.
You'll love that this keto Mexican salad is the perfect and healthy keto meal that's great as a lunch or dinner option. The whole family will enjoy it (whether they're on a keto diet or not).
No need to make separate meals! It's made with wholesome ingredients that are as healthy as they are tasty.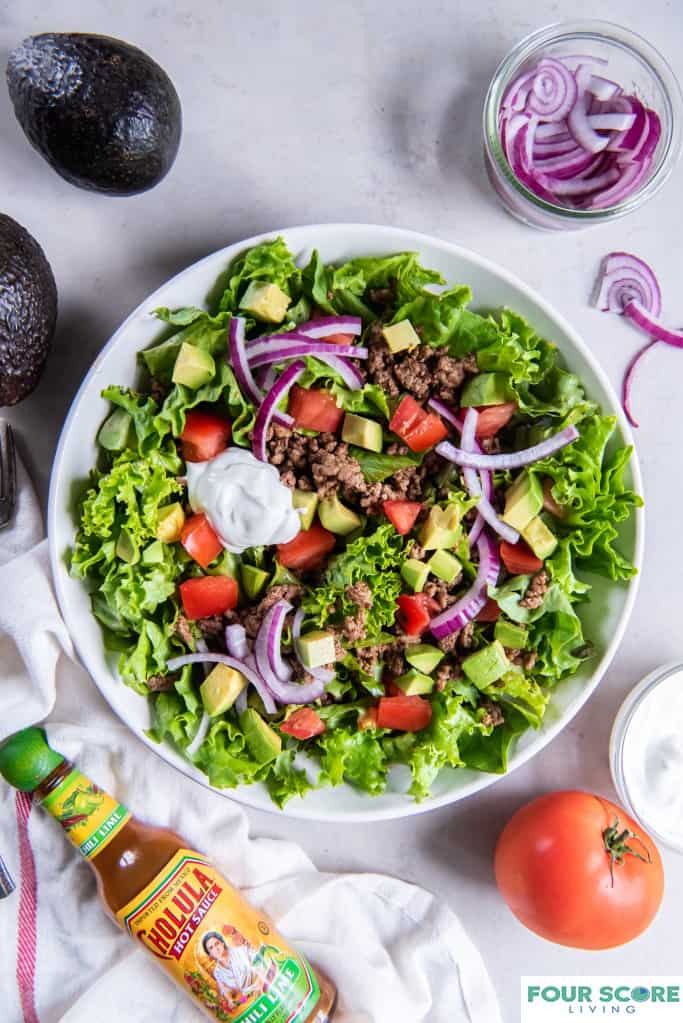 Why you'll love this Keto Taco Bowl
Ready in 20 minutes: Life can get busy, and having a meal ready in just 20 minutes is a game-changer. This easy keto taco salad offers the perfect solution for those days when you're short on time but still want a delicious and satisfying meal.
Quick clean up, one pot meal: Nobody enjoys spending extra time cleaning up after cooking. With this recipe, you'll appreciate the minimal mess since it's prepared using only one pot. That means less time scrubbing dishes and more time enjoying your keto taco salad bowl.
A healthier take on tacos: If you're following a keto lifestyle and don't want to miss out on taco Tuesday or simply looking for a healthier option, this low carb taco bowl is a winner. It provides all the bold flavors of traditional tacos without the carb-heavy tortillas.
Easily customizable: This easy taco salad recipe is a versatile canvas that allows you to get creative with toppings and ingredients. From adjusting the spice level to adding extra veggies or choosing different protein sources, you're in control.
Flavorful and filling: Despite being a healthier choice, this keto taco bowl doesn't compromise on taste or satiety. If you love Mexican food – this is for you!
Family-friendly: The whole family will love this keto taco bowl – it's a real crowd-pleaser.
Great for meal prep: Need lunches or dinners for the week ahead? This keto taco bowl is a fantastic candidate for meal prep.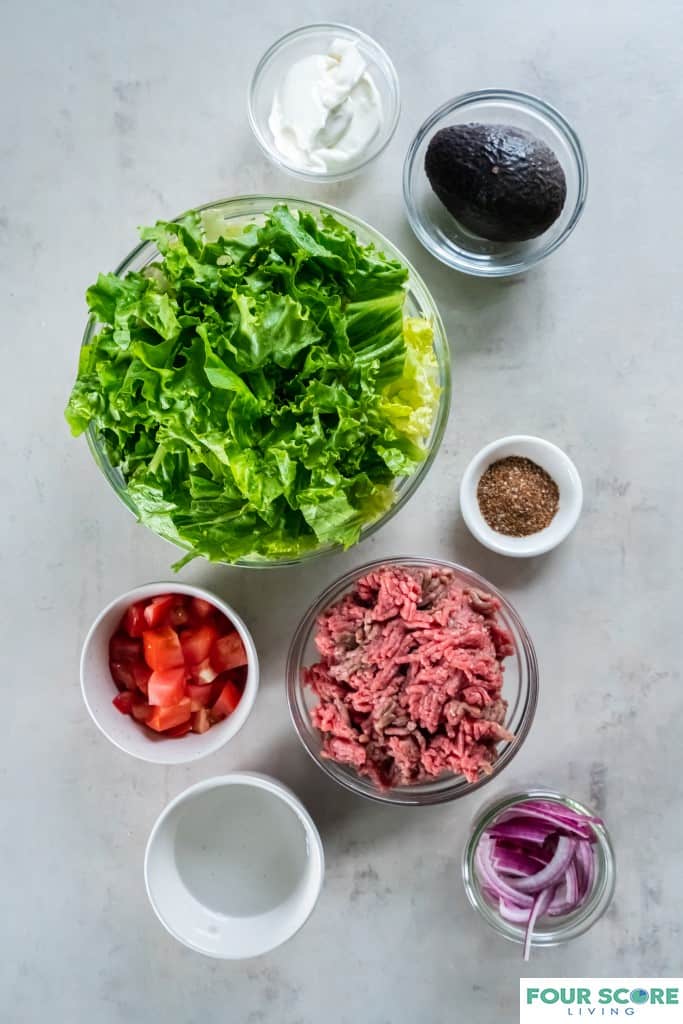 Ingredients in our Keto Taco Salad recipe
Ground beef: Choose good quality lean ground beef. If you prefer, you can also use another ground meat like turkey, ground chicken, or a meat substitute like tofu or tempeh for a vegetarian version of this dish.
Taco seasoning: An easy and great option is to use keto friendly store-bought taco seasoning packets or make your own homemade taco seasoning blend using spices like chili powder, cumin, paprika, garlic powder, onion powder, and a pinch of cayenne pepper.
Romaine lettuce: It's great for its crispiness and mild flavor, but you can use other lettuce types like iceberg lettuce or mixed fresh greens if you prefer. Fresh greens such as arugula add a spicy kick and an extra nutritional boost.
Tomatoes: Choose ripe, firm tomatoes for the best flavor. Roma tomatoes are great for salads because of their lower moisture content. They provide vibrant color and they don't create a "soggy" salad.
Avocado: Creamy avocado is the star of this recipe.
Red onion: These add a mild sweetness, and slight tangy flavor to the salad. You can also use white onions if you prefer them.
Sour cream: Greek yogurt can be used as an alternative.
Hot sauce(Optional): Use your favorite hot sauce to add heat to this dish
Cheddar Cheese (optional): You can add any shredded cheese (Monterey Jack, or Mexican blend) for extra richness.
If you have any questions about this easy keto taco salad recipe, please leave a comment below and we will get back to you.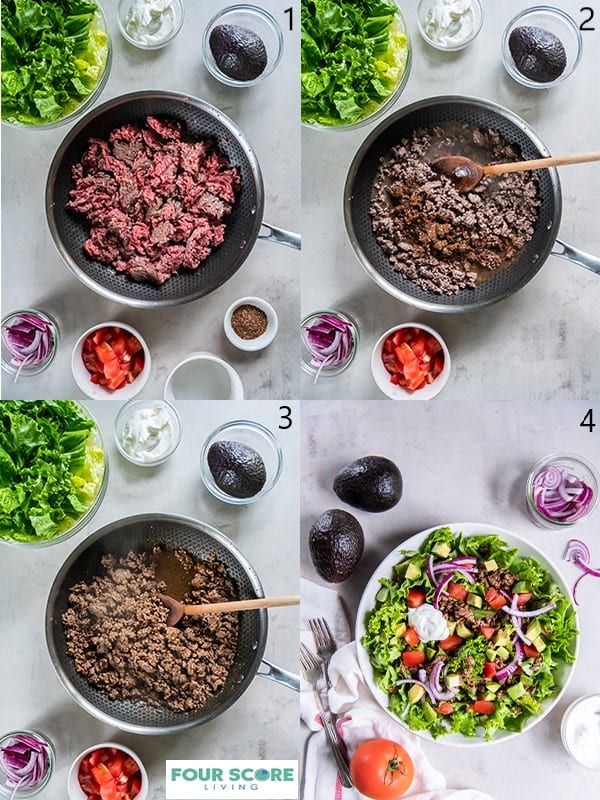 How to make this Low Carb Taco Salad
Cook the ground beef. Brown the beef in a large non-stick pan set over medium-high heat, breaking it up with a spoon, until browned and cooked through with no pink. Add the taco seasoning and water, cooking for another 4-5 minutes, until the liquid has mostly evaporated. Allow it to cool slightly.
Finish the salad. Divide the lettuce between 4 salad bowls then top evenly with cooked taco beef, tomato, avocado, and onions. Garnish with sour cream, cheese, and hot sauce, if desired, and serve. You can also make this in a large salad bowl.
For the complete list of ingredients and instructions, please see the printable recipe card below.
Different toppings for your Keto Taco Salad
Here are a couple of fun ideas for easy toppings for your healthy taco salad recipe:
Keto guacamole: Instead of pieces of avocado, consider adding a dollop of creamy keto-friendly guacamole. The richness and zesty kick of guacamole will harmonize beautifully with the other flavors in the salad.
Keto Tortilla Chips: Crumble some chips for a true Taco salad. You can make your own with our Keto Tortilla Chips recipe.
Salsa: Swap out the traditional diced tomatoes for a vibrant Keto salsa. Whether it's mild, medium, or hot, salsa can add a tangy and refreshing flavor.
Jalapenos: Slice up some Jalapenos instead of using hot sauce.
Crumbled bacon: Sprinkle over some crispy bacon crumbles for a crunch and smoky flavor.
Blue cheese crumbles: This will make the low carb salad extra rich with a pungent, sharp, and earthy taste.
A squeeze of fresh lime: A squeeze of fresh lime juice can brighten up the salad and enhance the other flavors in this dish.
Fresh cilantro: Sprinkle chopped cilantro or other herbs like Italian parsley.
Sugar-free salad dressings: If you're looking to mix it up, experiment with sugar-free salad dressings.
Alternative proteins: Switch up your protein source by using ground turkey, chicken, leftover steak, or chorizo sausage. Each protein brings its own unique taste and texture, allowing you to create a variety of flavor profiles.
Feel free to try your favorite taco toppings.
Best tips for making a Low Carb Taco Bowl
Here are a couple of tips for making the best low carb taco bowl!
Opt for grass-fed beef: When possible, choose grass-fed beef for your taco bowl. It's a healthier option, as it's often higher in omega-3 fatty acids and contains fewer harmful additives.
Mind the oil content: While browning the beef, pay attention to the oil content. If there's a substantial amount of oil released during cooking, consider draining it before adding the taco seasoning. This prevents it from becoming too greasy.
Make this Keto Taco Salad dairy free: Substitute the sour cream and shredded cheese with plant based alternatives to create a diary free, gluten free, and keto friendly meal. Make sure to read labels on dairy free alternative products to ensure they are lower in carbs. The article best and worst non-dairy cheese brands for keto rates the carbs and ingredients of plant based cheeses.
Select crispy, crunchy lettuce: Choose crisp lettuce, such as romaine or iceberg. This type of lettuce delivers a satisfying crunch and also provides a great vehicle for holding the other ingredients.
Control portion sizes: Keep an eye on portion sizes, especially with ingredients that may contain hidden carbs, like tomatoes and onions.
Add in colorful veggies: Bell peppers, radishes, cherry tomatoes, and cucumber are great options that add both crunch and color.
Use healthy fats: Pairing sliced avocado with a drizzle of olive oil enhances the nutritional profile of each of these savory ingredients.
Mindful cheese choices: Choose high-quality cheese and consider varieties like sharp cheddar or pepper jack. So good!
Experiment with herbs and spices: Play around with different herbs and spices to elevate the flavors in your taco bowl. Fresh cilantro, chopped green onions, and a sprinkle of smoked paprika can add complexity without adding carbs.
Homemade dressings: Making your own dressing helps control what's going into your body.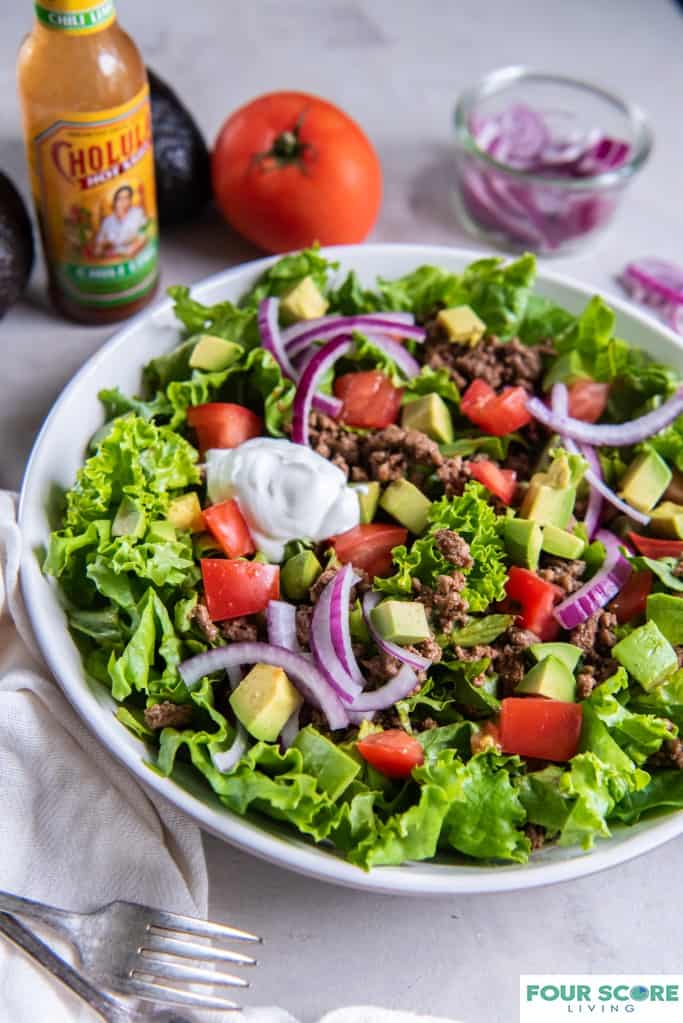 How to best store your Keto Taco Bowl
Ensuring your keto taco bowl remains fresh and delicious requires proper storage. Here's how to store your components to maintain optimal flavor and texture:
Separate components: To extend the shelf life of your low carb taco bowl, store the components separately. This helps prevent ingredients from becoming soggy or losing their individual flavors.
Beef storage: Place the cooked taco meat in its own airtight container. When ready to enjoy, reheat it on the stove or in the microwave until warmed through. This ensures the beef maintains its savory taste and satisfying texture.
Veggie storage: Keep the lettuce, tomatoes, and onions in a separate container to preserve their freshness. This way, you can enjoy the crispness of the lettuce and the vibrant flavors of the tomatoes and onions.
Avocado and sour cream: Add avocado and sour cream just before eating for the best taste and texture. Fresh avocado tends to brown over time, so it's ideal to slice it and add it to your taco bowl right before you sit down to enjoy it.
Airtight containers: Store each component in airtight containers. This prevents exposure to air and helps maintain the quality of the ingredients.
Storage duration: Your assembled keto taco bowl can be stored in the refrigerator for up to 3 days. Beyond this time frame, the textures and overall quality of the ingredients will begin to diminish.
Avoid freezing: While some ingredients can be frozen individually, a fully assembled taco bowl doesn't freeze well. The textures and flavors of the ingredients for this Keto Taco Salad will be altered after thawing. Salad does not do well in the freezer.
Individual bowl assembly: If you anticipate having leftovers or for meal prep, consider assembling individual portions instead of one large bowl. This way, you can simply take out the components you need for each meal, reducing the risk of wasting ingredients.
Carbs in Taco Salad
A traditional ground beef taco salad has approximately 19 grams of carbs and 16 g net carbs. Most of the carbs come from the fried tortilla chips mixed in the salad or the taco shell the salad is served in. This won't work for your keto diet. Our Keto Taco Salad has only 6 net carbs per serving, with a serving size to satisfy!
Other delicious Keto Mexican inspired dishes
Keto Fajitas - simple and easy way to create a flavorful, high protein, low carb dinner.
Keto Enchiladas - with ground beef, melty cheese, and a mildly spicy, savory sauce.
Keto Enchilada Sauce - savory and packed full of authentic flavor with mild spice.
Keto Tortillas - thin, pliable, and easy to make with just 8 simple ingredients.
Keto Taco Soup - A flavorful, healthy keto taco soup that uses only a handful of ingredients.
We hope you enjoyed reading this article. Please help us out by leaving a quick review and star ★ rating below.
LET'S GET SOCIAL, you can follow Four Score Living on Pinterest. You can also leave a comment below if you have any questions.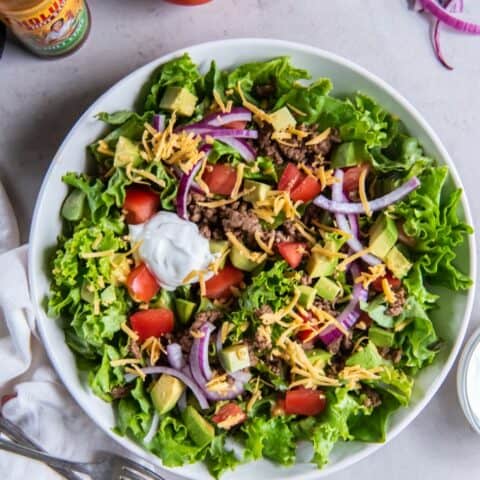 Keto Taco Salad
Quick, easy, and healthy, you will love this low-carb taco
salad. A versatile one-pot dish that is full of flavor to please a crowd and become your family's new favorite. Bring on Taco Tuesday!
Ingredients
1 pound ground beef
3 teaspoons taco seasoning
½ cup water
6 cups romaine lettuce, chopped
½ cup tomatoes, diced
1 avocado, diced
½ cup red onion, sliced
Sour cream, for garnish
Shredded cheese (optional)
Hot sauce (optional)
Instructions
Brown the beef in a large nonstick pan set over medium-high heat, breaking it up with a spoon, until browned and cooked through with no pink. Add the taco seasoning and water, cooking for another 4-5 minutes, until the liquid has mostly evaporated. Allow it to cool slightly.
Divide the lettuce between 4 salad bowls, then top evenly with taco beef, tomato, avocado, and onions. Garnish with sour cream, shredded cheese, and hot sauce, if desired, and serve.
Notes
Opt for the freshest ingredients, as well as good quality meat and cheese for the best final product.
Store the ingredients separately for meal prep or leftovers to maintain the integrity of the texture and flavor.
This dish can be doubled or tripled to feed a crowd.
Nutrition Information:
Yield:

4
Serving Size:

1
Amount Per Serving:
Calories:

431
Total Fat:

28g
Saturated Fat:

9g
Trans Fat:

1g
Unsaturated Fat:

15g
Cholesterol:

103mg
Sodium:

271mg
Carbohydrates:

12g
Net Carbohydrates:

6g
Fiber:

6g
Sugar:

3g
Protein:

33g
The nutrition information for this recipe is an approximate total per serving. Please double check the nutrition information for your exact ingredients and brands.