Tender, scrumptious, and nutritious, these Low Carb Pumpkin Muffins are ridiculously easy to make, gluten-free, grain-free, sugar-free and dairy-free making them a perfect breakfast on the go.
You are going to love these sugar free pumpkin muffins. They are so customizable, that we have included seven different variations for you to try this pumpkin season.
If you like these keto pumpkin muffins you're going to want to check out my Keto Chocolate Chip Muffins.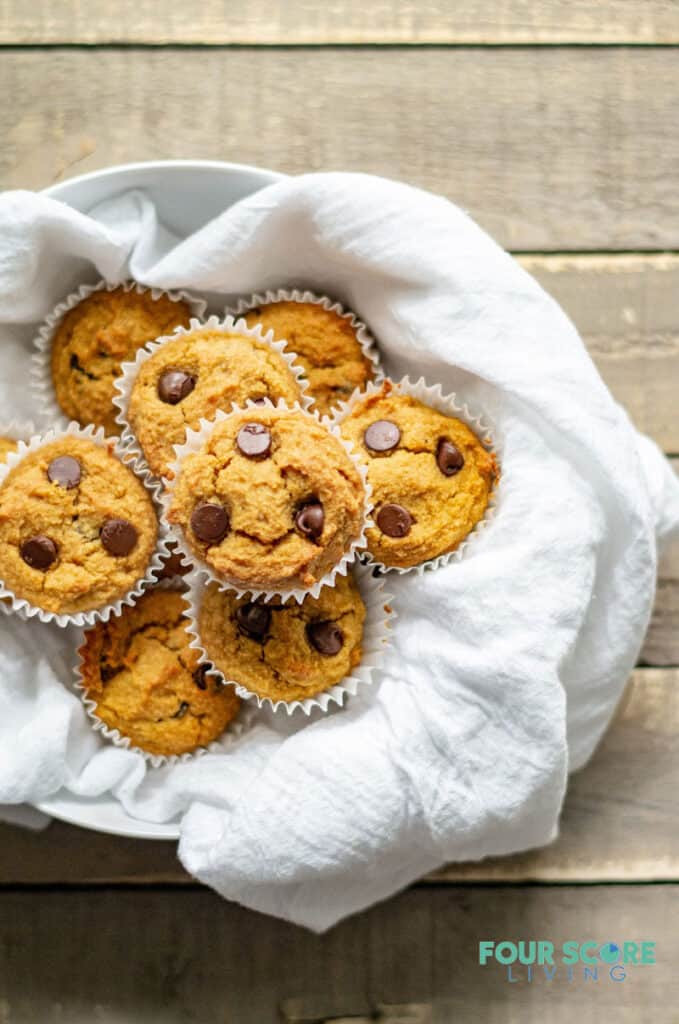 For another healthy and filling breakfast you'll want to make my Keto Pancakes.
For more breakfast keto recipes, check out my Keto Breakfasts.
Low Carb Pumpkin Muffins
Whether you want to call them Low Carb Pumpkin Muffins, or Keto Pumpkin Muffins, these sugar-free pumpkin muffins are loaded with pumpkin puree and sugar-free chocolate chips and they are super filling.
This low carb pumpkin muffin recipe takes less then 10 minutes to whip up and only 22 minutes to bake.
You're going to love how easy these healthy pumpkin muffins are to make!
With so many pumpkin recipes being shared during pumpkin season, I saved them for this fall hoping to talk you into adding them into your breakfast rotation.
I named these keto muffins Low Carb Pumpkin Muffins instead of Low Carb Pumpkin Spice Muffins because the pumpkin spice is optional.
Not everyone likes pumpkin spice but they like the added benefits of pumpkin in their baked goods. You can choose to add in the pumpkin spice or leave it out of these muffins.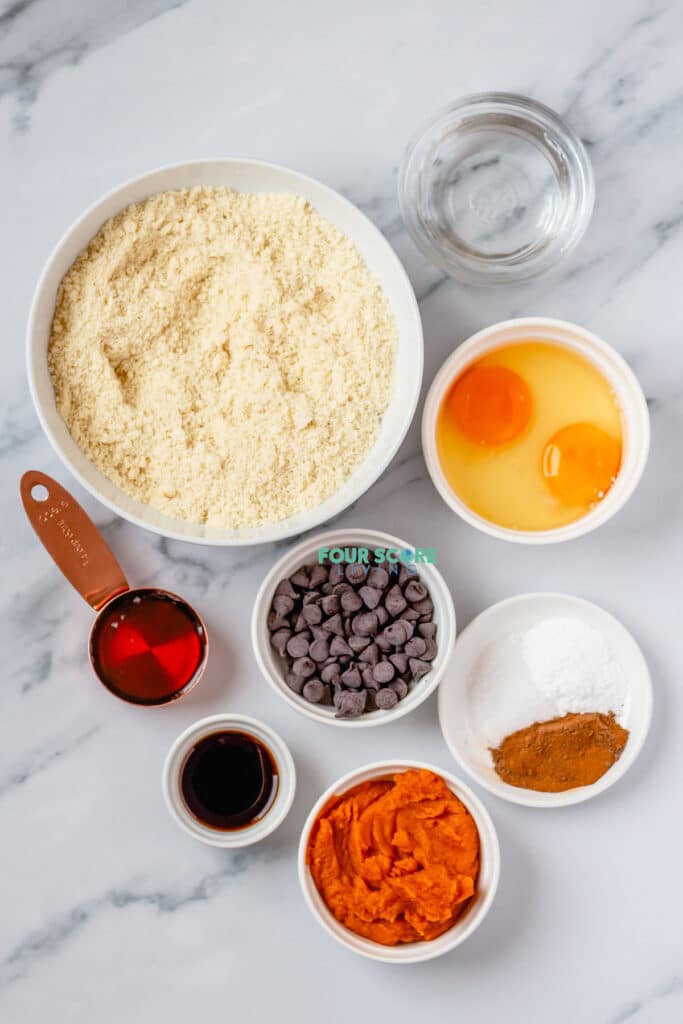 Keto Pumpkin Muffins
These low carb pumpkin muffins are considered to be keto because of the low net carb count.
The carbs in these easy keto pumpkin muffins come from the almond flour and the pumpkin.
The sugars used in this muffin recipe are alcohol sugars and don't count towards the total net carbs, perfect fit to your keto lifestyle.
Just make sure to use a sugar free sweetener and sugar-free chocolate chips.
Are chocolate chips keto?
If the chocolate chips are dark chocolate, high cocoa with no sugar, or they use a sugar free sweetener they are accepted on the keto diet.
Many food bloggers and recipe developers use Lily's chocolate chips. If you don't want to use chocolate chips you can leave them out or use cacao nibs.
When you first make this low carb pumpkin muffin recipe I recommend you make it as-is, with no substitutions, before you start changing it up.
I recommend this with every recipe so you can learn how the recipe works before you modify it.
For another healthy and flavorful muffin you'll want to check out these Keto Cinnamon Collagen Muffins.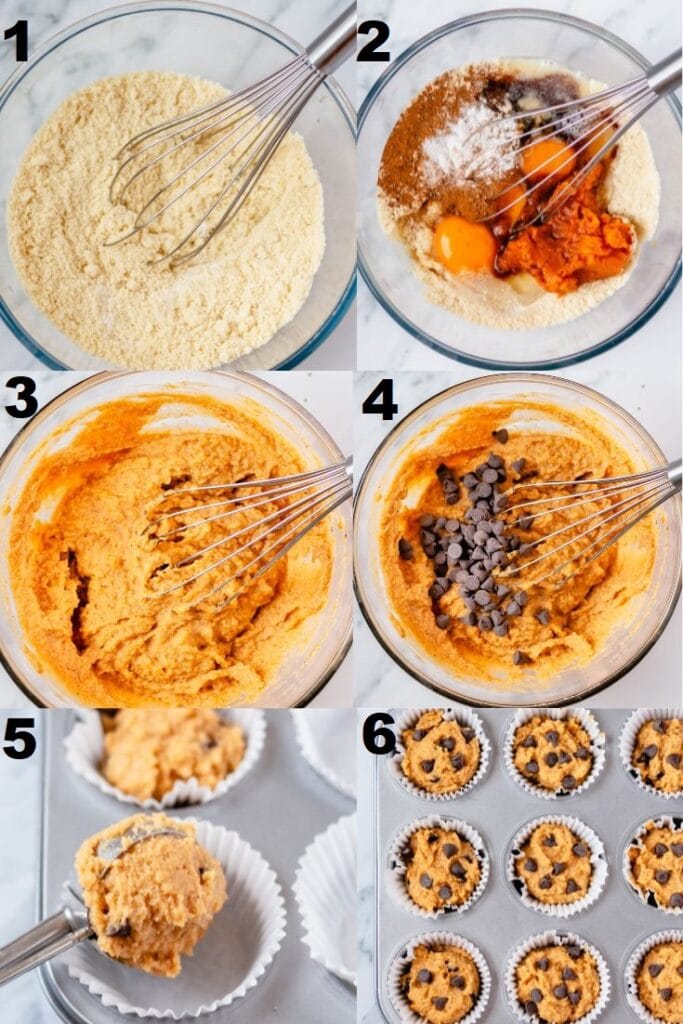 How to make keto pumpkin muffins
In a large mixing bowl, whisk the dry ingredients - almond flour, salt, and baking soda.
Add in wet ingredients - coconut oil, sugar-free maple syrup, eggs, pumpkin puree, and vanilla extract and if desired, add in pumpkin spice.
Mix until well combined.
If desired, add in sugar free chocolate chips or sugar free chopped chocolate.
Stir until evenly incorporated.
Spoon pumpkin muffin batter evenly into your paper liners and bake as directed.
These numbered steps match the numbered photos above and are for illustration purposes. For the complete list of ingredients and instructions, please see the printable recipe card below.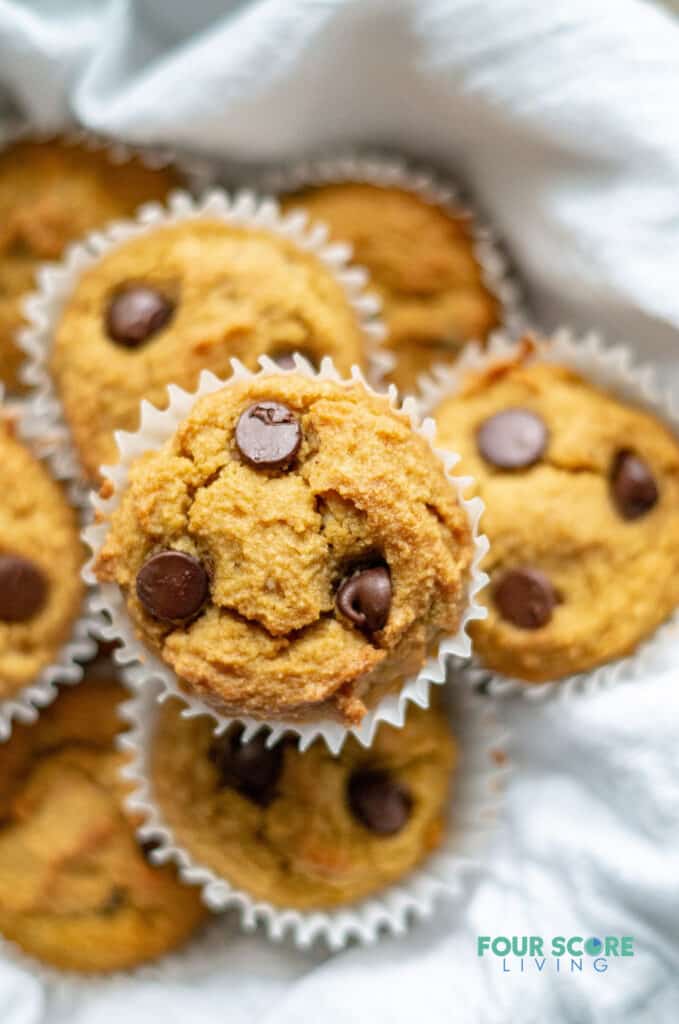 Tips for working with almond flour
One thing to note about using almond flour when making these keto pumpkin muffins is that it is NOT a 1-to-1 for gluten-free flour. It has a lot more protein and fat, and less starch, so it reacts differently in recipes.
It's best stored in the refrigerator or freezer if you're not going to use it up in a week or two.
Always bring Almond meal or flour to room temperature before baking with it. If you use it cold, it'll absorb more of the liquid and your batter will be thicker than it should be.
And remember, because it's made from almonds, it can go rancid, so keep track of when you opened the bag.
Almond meal and almond flour are not the same thing, they are processed differently and almond meal includes the almond skins.
This almond flour pumpkin muffin recipe works with both almond flour and almond meal.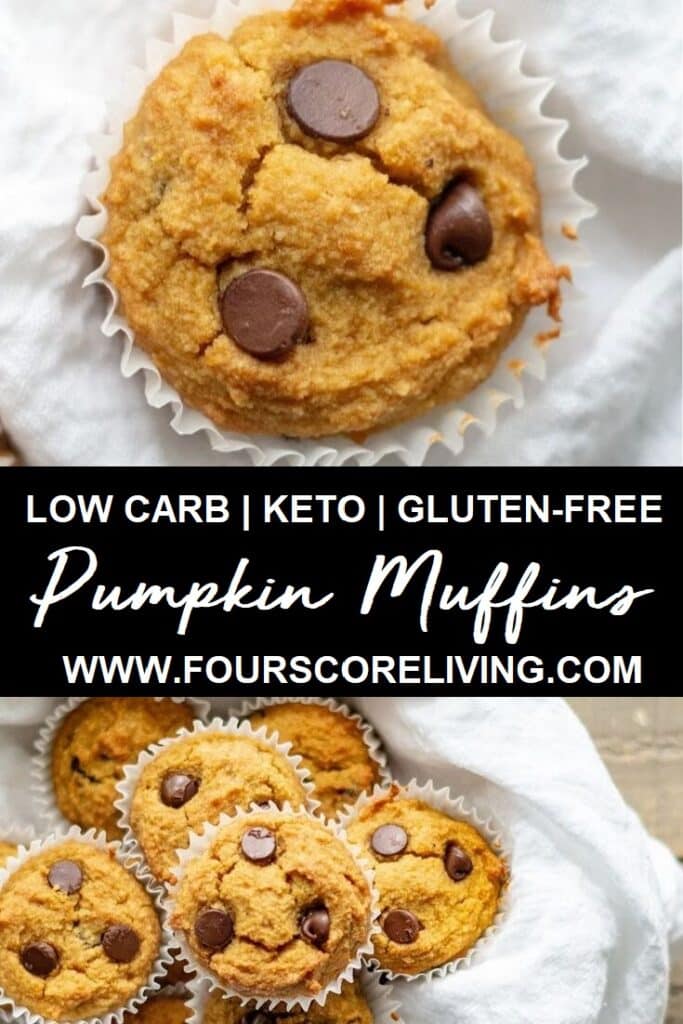 Can I use an egg replacer?
I haven't tried using an egg replacer in this sugar-free pumpkin muffin recipe because of the amount of eggs that it calls for.
I have had others comment on similar recipes that chia egg and flax egg worked well, but the muffins didn't rise as much.
What can I use instead of Sugar-Free Maple Flavored Syrup?
You can use your sugar free syrup of choice in this almond flour pumpkin muffin recipe. Just note that the flavor will be different.
Maple flavored syrup tends to be mild in flavor while still adding a touch of sweetness. I haven't tried Swerve in this recipe yet but when I do I will come back and update this post.
How to store keto pumpkin muffins
You can store these keto pumpkin muffins in a container at room temperature for up to 3 days or you can refrigerate them for up to 5 days.
These almond flour pumpkin muffins are delicious at room temperature but they are also good reheated.
Can I freeze keto pumpkin muffins
Yes, you can freeze these keto pumpkin muffins for up to 3 months in an airtight container. You can either pull them out one at a time, or you can defrost multiple muffins when you're ready to enjoy them.
Tips for the Best Almond Flour Pumpkin Muffins
Fill liners almost to the top - almond flour does not rise as much as wheat flour. We wouldn't want you to miss out on the muffin top.
Pumpkin puree - do not use pumpkin pie filling as it is loaded with sugar.
Allow to cool - letting these almond flour pumpkin muffins cool results in the best texture.
Toothpick test - use a toothpick to insert in the middle of a pumpkin muffin. If it comes out clean, they are ready to be removed. If it does not, give a few more minutes and test again.
Sugar Free Pumpkin Muffins variations
Pumpkin seeds - for all of you pumpkin lovers out there. Sprinkle pumpkin seeds on top of each muffin just before popping into the oven. You will use pepitas, a variety of pumpkin seed that does not have a shell.
Nuts - add chopped walnuts, pecans, macadamia or hazelnuts to your keto pumpkin muffin batter to up the nutrition.
Cinnamon - if you're not a huge fan of pumpkin spice, leave it out or only use ground cinnamon.
Crumb topping - make a simple crumb topping to take your keto pumpkin muffin recipe to another level. 4 - 6 tablespoons of butter, ½ cup almond flour and ½ cup granulated swerve brown sugar are all you need. You can also add your pumpkin spice goodness to the crumb topping as well.
Cranberries - nothing says the holidays are around the corner like pumpkin and cranberries. 1 cup of fresh cranberries has 7.6 g of net carbs, so adding a few cranberries to each muffin will not affect your keto diet.
Cream cheese swirl - swirls of cream cheese topping baked right into the batter. Simply mix 6 ounces of room temperature cream cheese with 3 tablespoons of a powered keto sweetener (monk fruit, erythritol) and add 1 teaspoon of vanilla extract. Fill the muffin liners ¾ of the way with your pumpkin muffin mixture, then add your cream cheese mix. Use a toothpick to swirl the two together.
Zucchini - add ½ cup of shredded zucchini to the batter for more healthy ingredients. Squeeze the shredded zucchini in a paper towel before adding to remove extra liquid. Adding zucchini will lengthen the baking time.
More Keto Muffin Recipes:
Keto Blueberry Muffins - Simple to make, and perfectly sweet, you're going to love these keto muffins that are bursting with blueberries.
Keto Chocolate Muffins - One of our favorite muffins! Full of rich cocoa, keto chocolate chips, and healthy fats and protein, these muffins will be a favorite of yours too.
Keto Chocolate Chip Muffins - With only a handful of easy to find ingredients, these keto muffins are a staple in our house. These muffins have the perfect touch of sweetness, while still being low carb.
While not a muffin, unless you count them a muffin with a hole in the center, these Keto Donuts are also a favorite of ours.
We hope you enjoyed reading this article. Please help us out by leaving a quick review and star ★ rating below.
LET'S GET SOCIAL, you can follow Four Score Living on Pinterest. You can also leave a comment below if you have any questions.
Did you make these low carb pumpkin muffins? Please leave a starred rating and a comment below letting me know what you thought.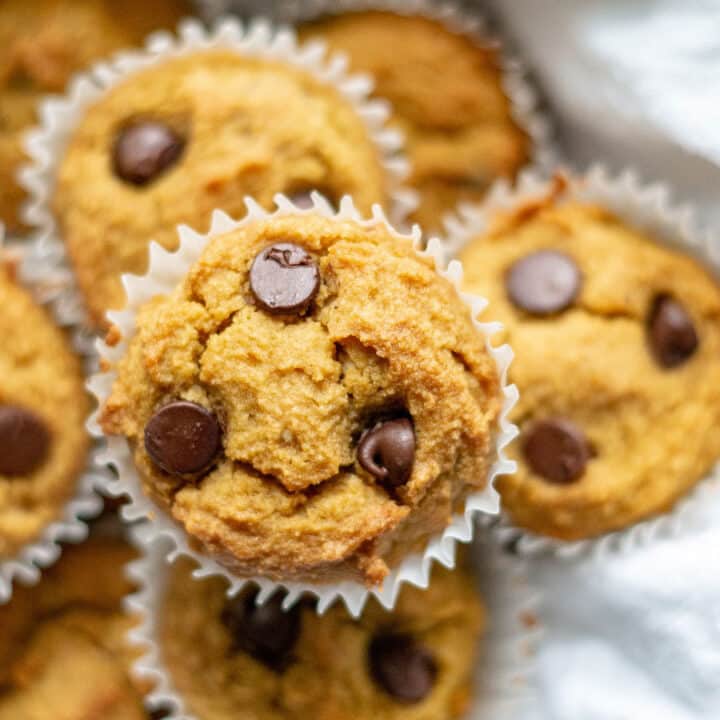 Low Carb Pumpkin Muffins
Tender, scrumptious, and nutritious, these Low Pumpkin Muffins are ridiculously easy to make, gluten-free, grain-free, sugar-free and dairy-free making them perfect.
Ingredients
¼ teaspoon salt
½ teaspoon baking powder
2 large eggs, room temperature
1 teaspoon gluten-free vanilla extract
1 teaspoon pumpkin spice (optional)
Instructions
Preheat oven to 350°F (180°C). Line a cupcake pan with 12 paper liners; set aside.
In a large mixing bowl, whisk almond flour, salt, and baking powder.
Add in coconut oil, sugar-free maple flavored syrup, eggs, pumpkin, and vanilla extract and mix until well combined.
If desired, add in pumpkin spice.
Stir in the sugar-free chocolate chips.
Spoon batter evenly into your paper liners.
Bake for 22-24 minutes or until the center is set.
Remove from the oven and let cool for 5-10 minutes before serving.
Store in an airtight container at room temperature.
Recommended Products
As an Amazon Associate and member of other affiliate programs, I earn from qualifying purchases. They never cost you extra.
Nutrition Information:
Yield:

12
Serving Size:

1 muffin
Amount Per Serving:
Calories:

231
Total Fat:

18g
Saturated Fat:

7g
Trans Fat:

0g
Unsaturated Fat:

10g
Cholesterol:

31mg
Sodium:

110mg
Carbohydrates:

12g
Net Carbohydrates:

5g
Fiber:

7g
Sugar:

5g
Protein:

7g
The nutrition information for this recipe is an approximate total per serving. Please double check the nutrition information for your exact ingredients and brands.