Keto Coleslaw is a versatile crunchy salad with a simple sweet and creamy dressing.
This easy side dish goes great with BBQ and is perfect for pot lucks or meal prep. This low carb coleslaw is high in fat and has the perfect crunch to accompany any dish.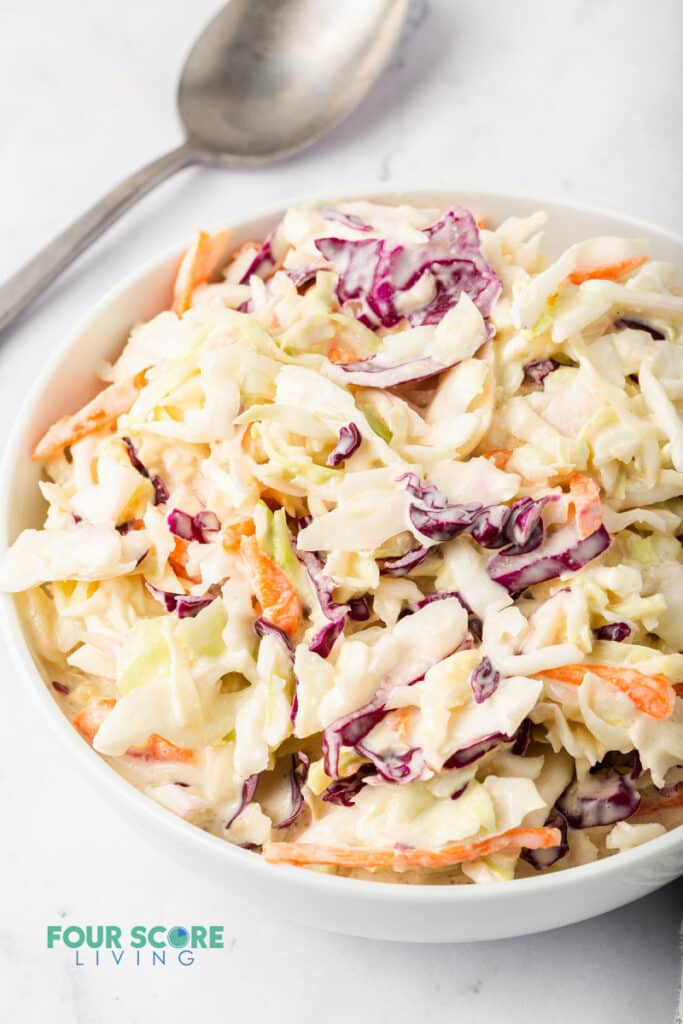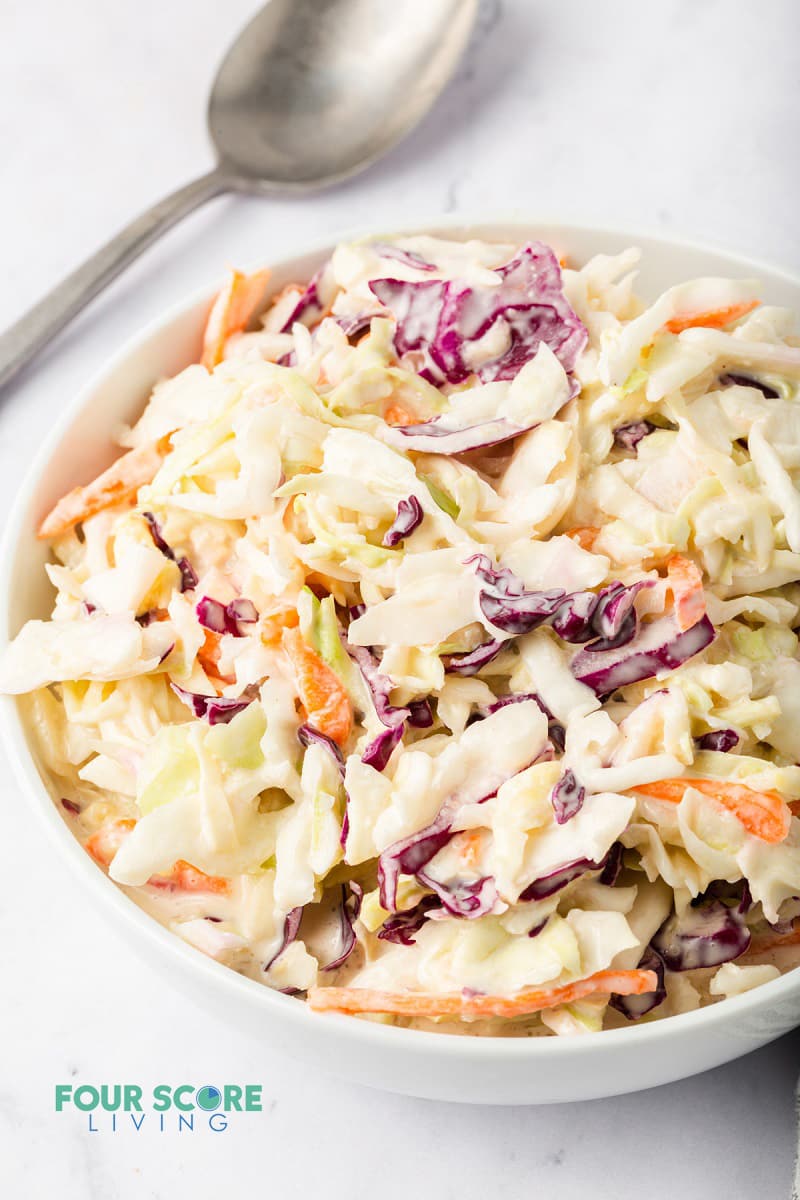 Looking for another cold salad to make? Try this Keto Broccoli Salad.
KETO COLESLAW RECIPE
I love a nice side of cool, creamy, coleslaw with an outdoor meal, a fish dinner, or just as a quick lunch with some protein on top.
This recipe for low carb Keto Coleslaw has a traditional flavor and has just 7 simple ingredients. The whole salad comes together quickly in just one bowl.
This is a great recipe to keep in your back pocket for impromptu backyard parties.
You probably have all of the ingredients at home already, just pick up a bag of shredded cabbage and you're ready to go.
I love using bagged coleslaw mix as a time saver for this recipe. It saves me from needing to shred a head of cabbage myself, and it typically includes carrots and red cabbage too for a great pop of color.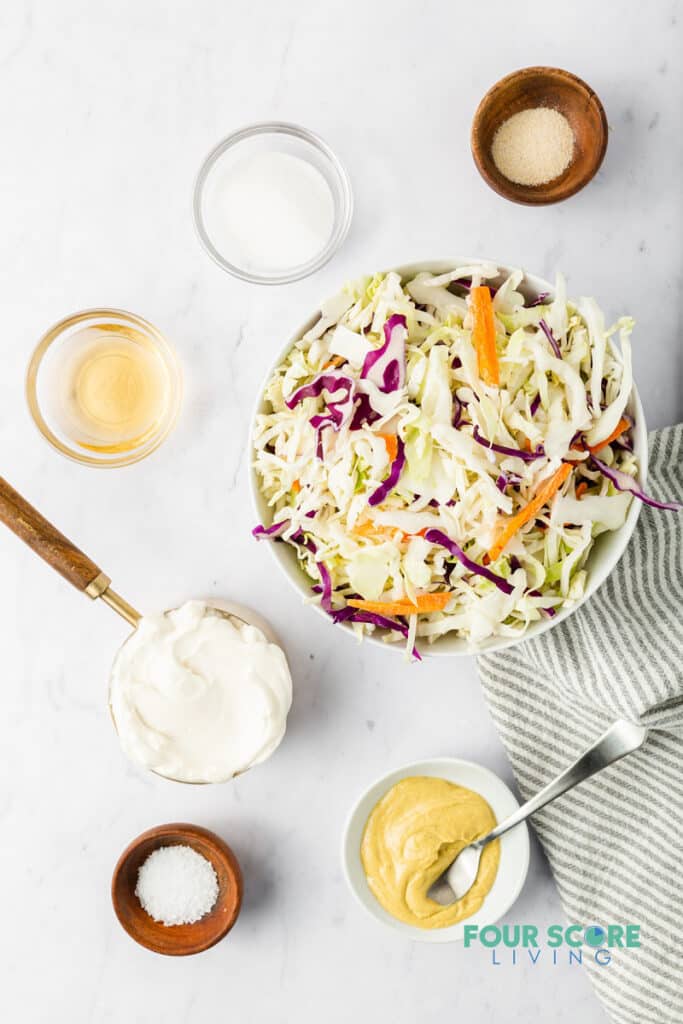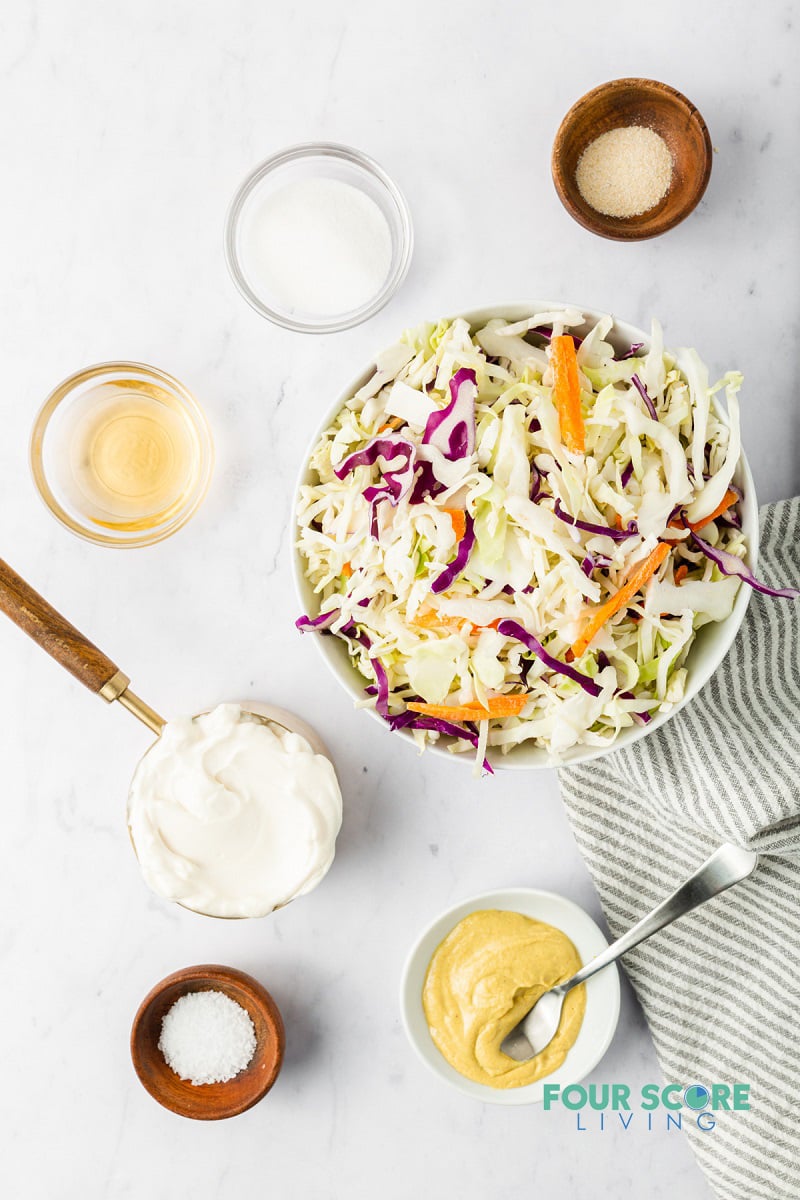 INGREDIENTS IN KETO COLESLAW
Mayonnaise - I prefer a regular mayonnaise for this recipe, but substitute your favorite if you have different dietary needs. Vegan mayo or low-fat mayo will work the same.
Dijon Mustard - I love the savory, lightly spicy flavor of Dijon mustard. It adds a necessary depth to the flavor of our coleslaw.
Apple Cider Vinegar - Vinegar thins out the dressing and gives a bright tang.
Sweetener – I prefer to use a granulated sweetener like swerve to ensure it is a sugar free coleslaw.
Kosher Salt - To season the cabbage and balance the sweetness.
Onion Powder - This is my secret ingredient! The onion powder gives a warm, sweet flavor that really brings the other flavors together.
Coleslaw Mix - one 16-ounce bag of coleslaw mix is perfect for this recipe. Alternately, you'll need about 16oz of shredded cabbage.
If you have any questions about this creamy keto coleslaw, please leave a comment below and I will get back to you.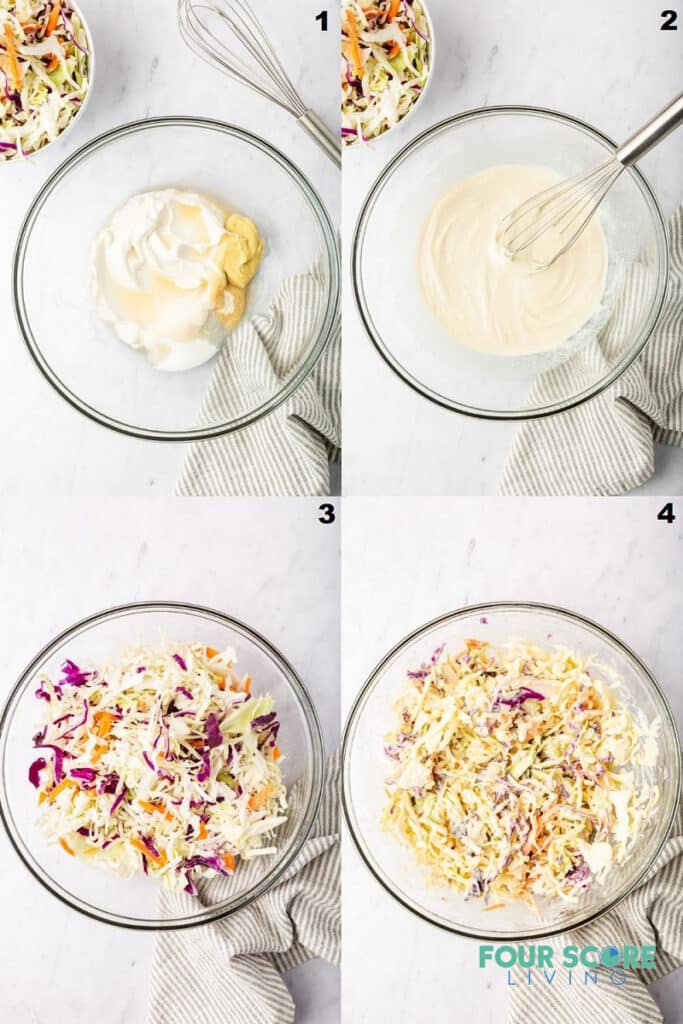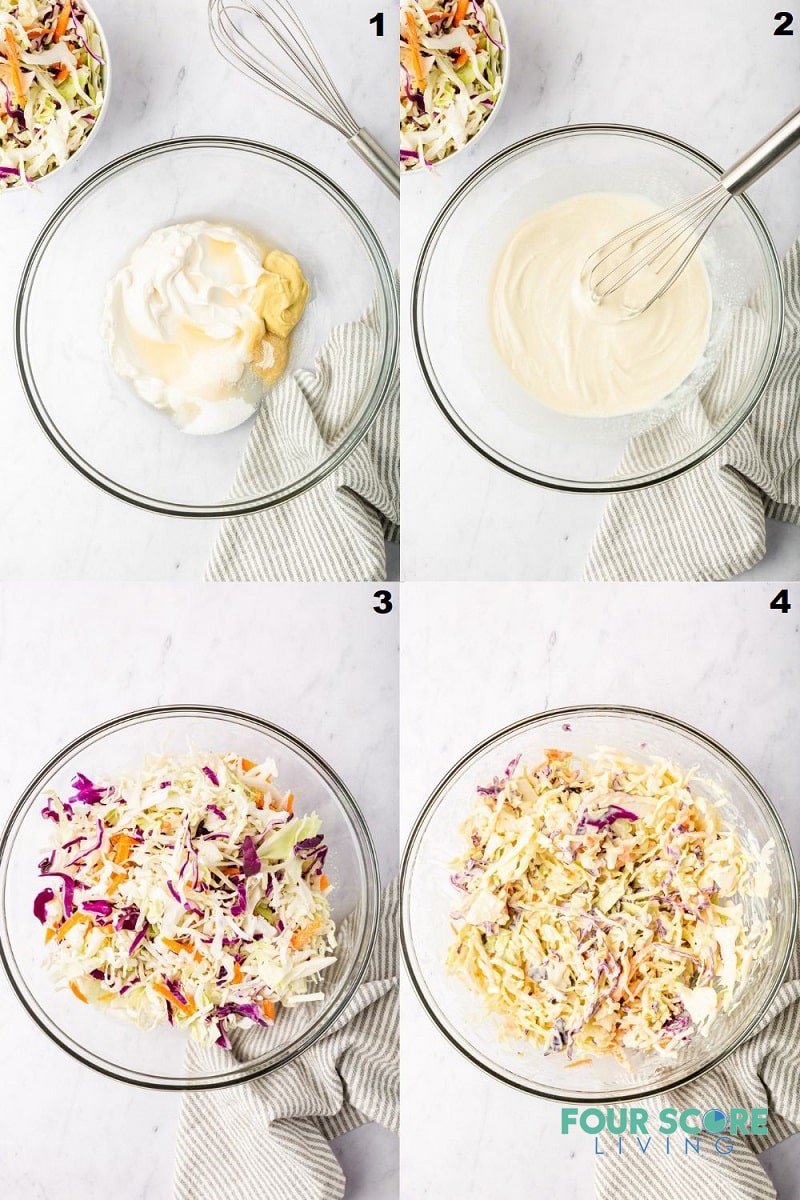 HOW TO MAKE KETO COLESLAW
In a large bowl, stir together mayonnaise, mustard, sweeter, vinegar, salt, and onion powder.
Whisk together until well combined.
Add the coleslaw mix.
Toss the cabbage and dressing together to coat.
These numbered steps match the numbered photos above and are for illustration purposes.
For the complete list of ingredients and instructions, please see the recipe below.
Do I have to use a mix to make coleslaw?
No, you can purchase a couple of different types of cabbage and shred them with a food processor, grater or a sharp knife. If you want to lower the carb count, leave the shredded carrots out.
Also, the dressing portion of this recipe is awesome tossed with other veggies and shredded broccoli, also sometimes called broccoli slaw.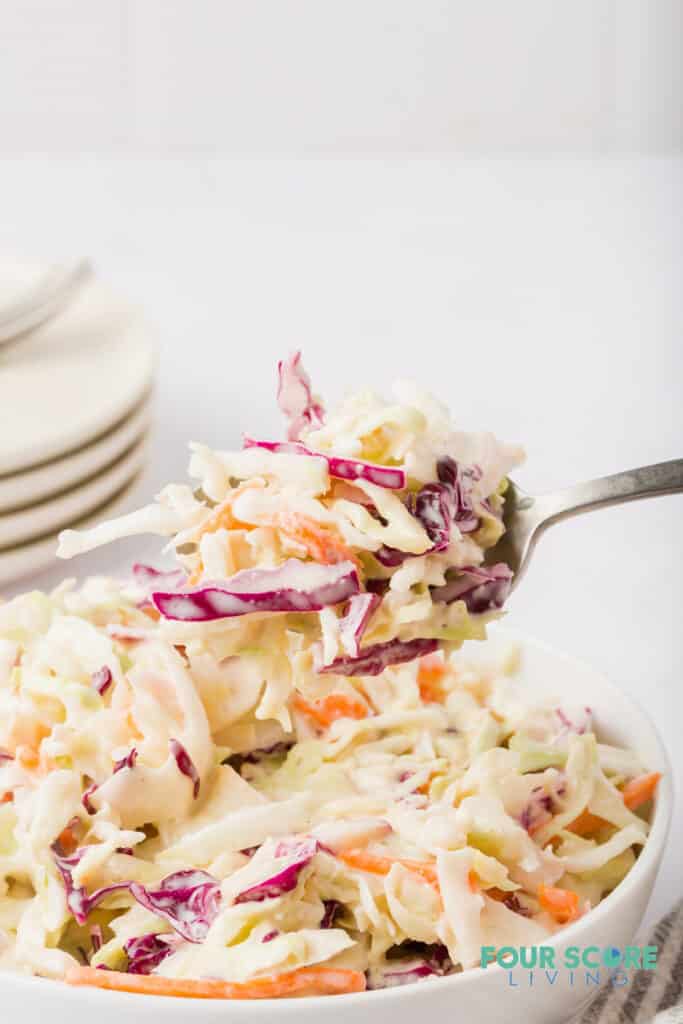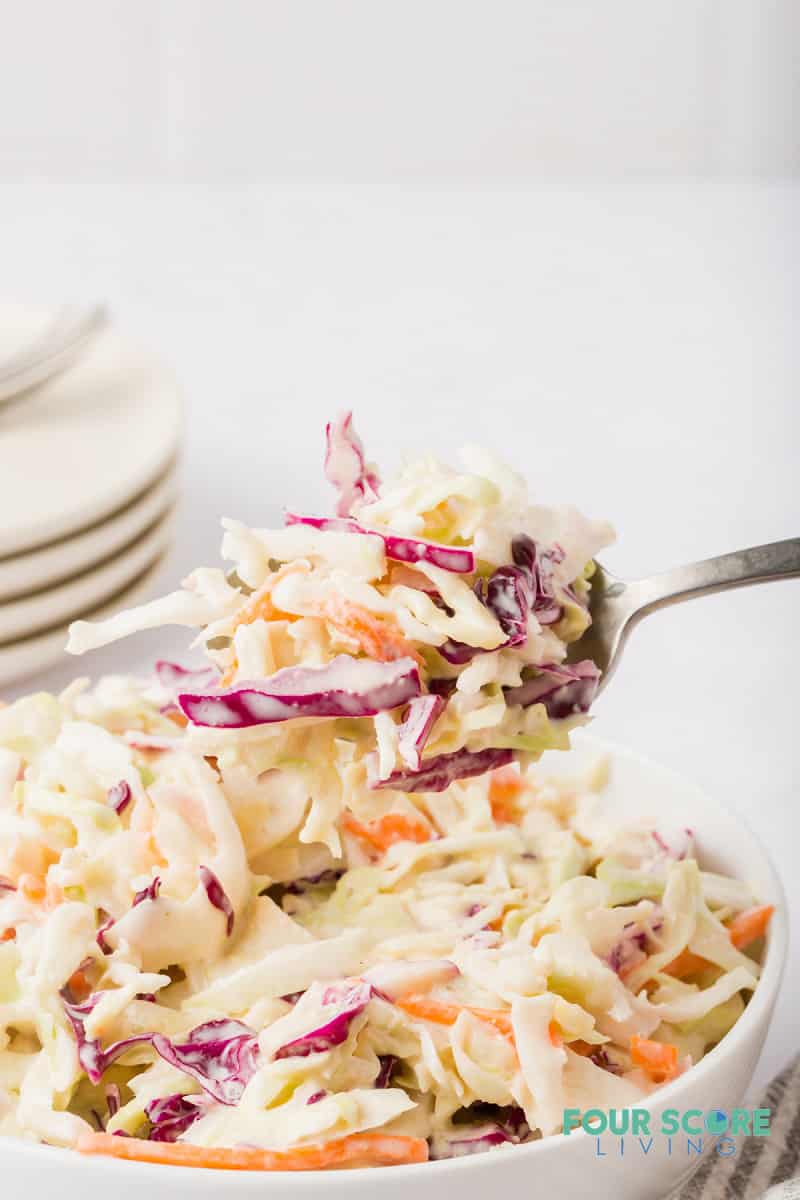 WHAT MAYO TO USE WHEN MAKING COLESLAW
I tested this spinach dip recipe with regular mayo, light mayo, avocado oil mayo, and coconut oil mayo.
All were delicious but yielded slightly different results. The important thing to do is not use a mayo that might be flavored or have added sugars.
Regular full fat mayonnaise - this was my favorite. It had the best flavor and texture overall.
Low fat mayonnaise - the flavor was equally satisfying.
Avocado oil mayonnaise - I really like this version. It had a unique tangy flavor.
Coconut oil mayonnaise - This version wasn't my favorite. You couldn't taste the coconut but it had a vinegar zing to it.
COLESLAW WITH HONEY
This recipe is easily adapted for taste. Instead of a keto friendly sweetener, use 2 tablespoons of honey.
HOW TO STORE KETO COLESLAW
This salad needs about 1 hour in the refrigerator before serving to let all of the flavors combine.
I like to serve this salad the same day I make it, however you can store it in the fridge for up to two days.
Keep in mind that the longer it sits in the fridge, the more the cabbage will wilt down and absorb the ingredients, changing the texture.
It's much crunchier fresh!
If you're looking to make this low carb coleslaw recipe ahead of time, I suggest mixing up the dressing and storing that in the fridge.
WHAT TO SERVE WITH KETO COLESLAW?
This keto coleslaw salad is delicious with any sort of grilled meat, or any BBQ style meal.
We love to serve this low carb coleslaw as a side dish alongside chicken dishes. It's also amazing on top of fish tacos.
It's also perfect with Keto Pork Chops and Keto Cornbread. For another side option, you could add any of these keto vegetables.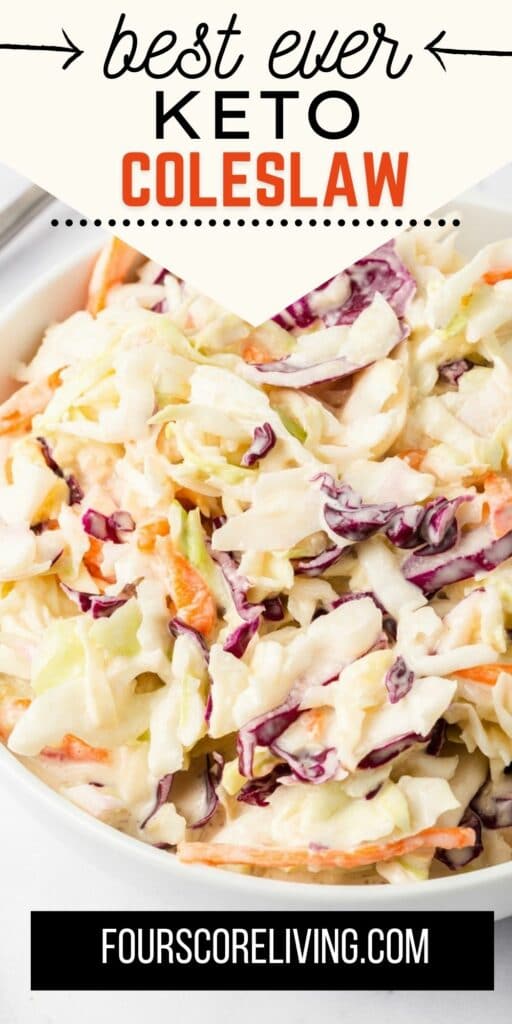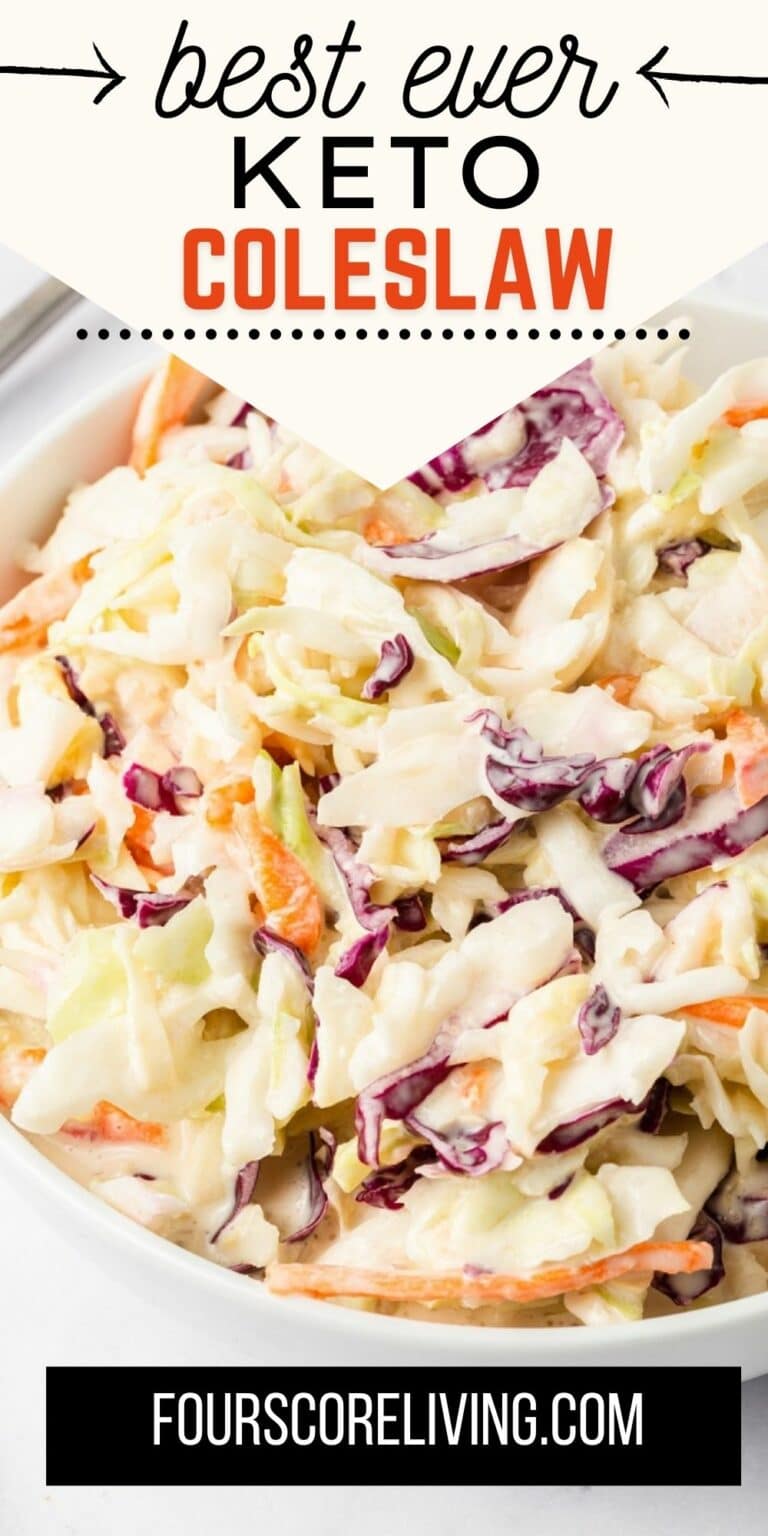 KETO DINNERS TO SERVE WITH COLESLAW
Marry Me Chicken – One of our favorites! Creamy, tangy, savory and delicious, this easy Marry Me Chicken recipe is super simple to make and quite scrumptious. We LOVE make up a big batch of mashed cauliflower and spooning the savory sauce over it. It's easy keto meals for the win.
Keto Meatloaf - A no-fail Low Carb Meatloaf Recipe that's easy to make, packed with flavor, and comforting any night of the week. For easy low carb meals, you might like this Carne Asada.
Keto Chicken Wings – Keto recipes don't get any easier than this keto chicken wings recipe. These little tasty chicken wings are super flavorful and filling. Just a note, they can get messy. Dip them in different sauces or some keto BBQ sauce, and enjoy!
Keto Eggplant Parmesan - A classic Italian style comfort dish, Keto Eggplant Parmesan is saucy, cheesy, and delicious and that's why it's on our list of favorite keto meals.
IS COLE SLAW DRESSING KETO?
Traditional Coleslaw dressing isn't keto because it calls for granulated sugar. It's easy to swap out the sugar for a sweetener.
I prefer to make keto coleslaw dressing from scratch because it really is very simple to make.
We hope you enjoyed reading this article. Please help us out by leaving a quick review and star ★ rating below.
LET'S GET SOCIAL, you can follow Four Score Living on Pinterest. You can also leave a comment below if you have any questions.
Did you make this Keto Coleslaw recipe? Please leave a comment below letting us know what you thought.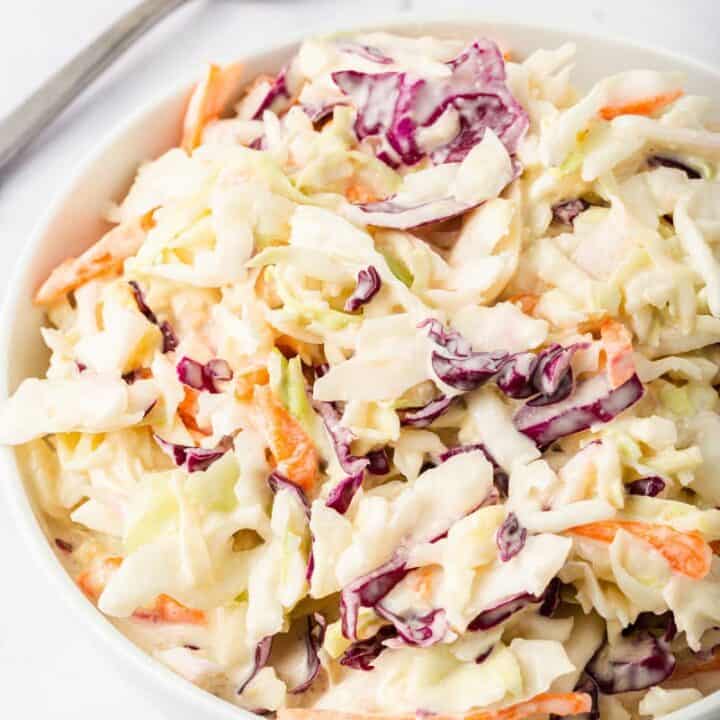 Keto Coleslaw
Total Time:
1 hour
5 minutes
Keto Coleslaw is a versatile crunchy salad with a simple sweet and creamy dressing. It's simple to make and it only calls for 7 easy-to-find ingredients.
Ingredients
1 cup mayonnaise
2 tablespoons Dijon mustard
1 teaspoon kosher salt
1 teaspoon onion powder
Instructions
In a large bowl, stir together the mayonnaise, mustard, vinegar, sweetener, salt, and onion powder.
Add the coleslaw mix and toss to coat.
Cover and refrigerate for an hour.
Mix again before serving.
Store in an airtight container in the refrigerator for up to 2 days.
Notes
Keto Coleslaw is best served the same day you make it, but can be stored up to two days.
This recipe is excellent for potluck style meals. Double it if serving a larger crowd.
Recommended Products
As an Amazon Associate and member of other affiliate programs, I earn from qualifying purchases. They never cost you extra.
Nutrition Information:
Yield:

8
Serving Size:

1
Amount Per Serving:
Calories:

282
Total Fat:

27g
Saturated Fat:

4g
Trans Fat:

0g
Unsaturated Fat:

22g
Cholesterol:

16mg
Sodium:

559mg
Carbohydrates:

6g
Net Carbohydrates:

4g
Fiber:

2g
Sugar:

6g
Protein:

1g
The nutrition information for this recipe is an approximate total per serving. Please double check the nutrition information for your exact ingredients and brands.