We've rounded up some of the best keto snacks and low carb snacks! From cheeses, crunchy snacks, and snack bars, to keto snacks to buy, keto sweet snacks, keto diet snacks, keto snack ideas, easy keto snacks, and healthy keto snacks.
There are a lot of naturally keto friendly snacks that you can enjoy. Whether you are making keto snack recipes at home, or you're purchasing keto snacks from the store, there is something for everyone.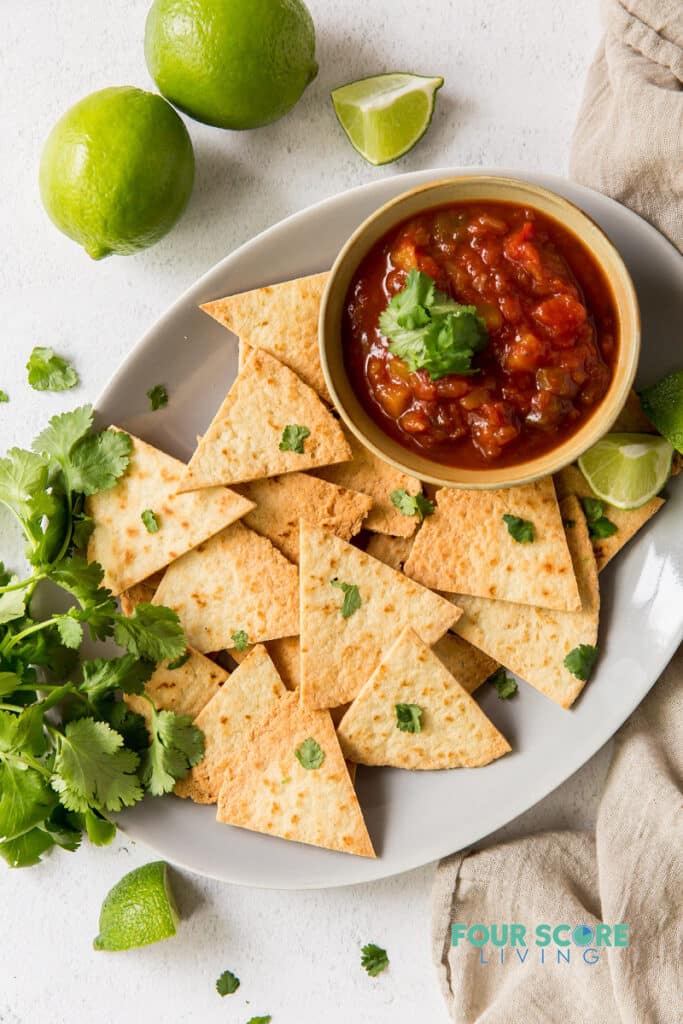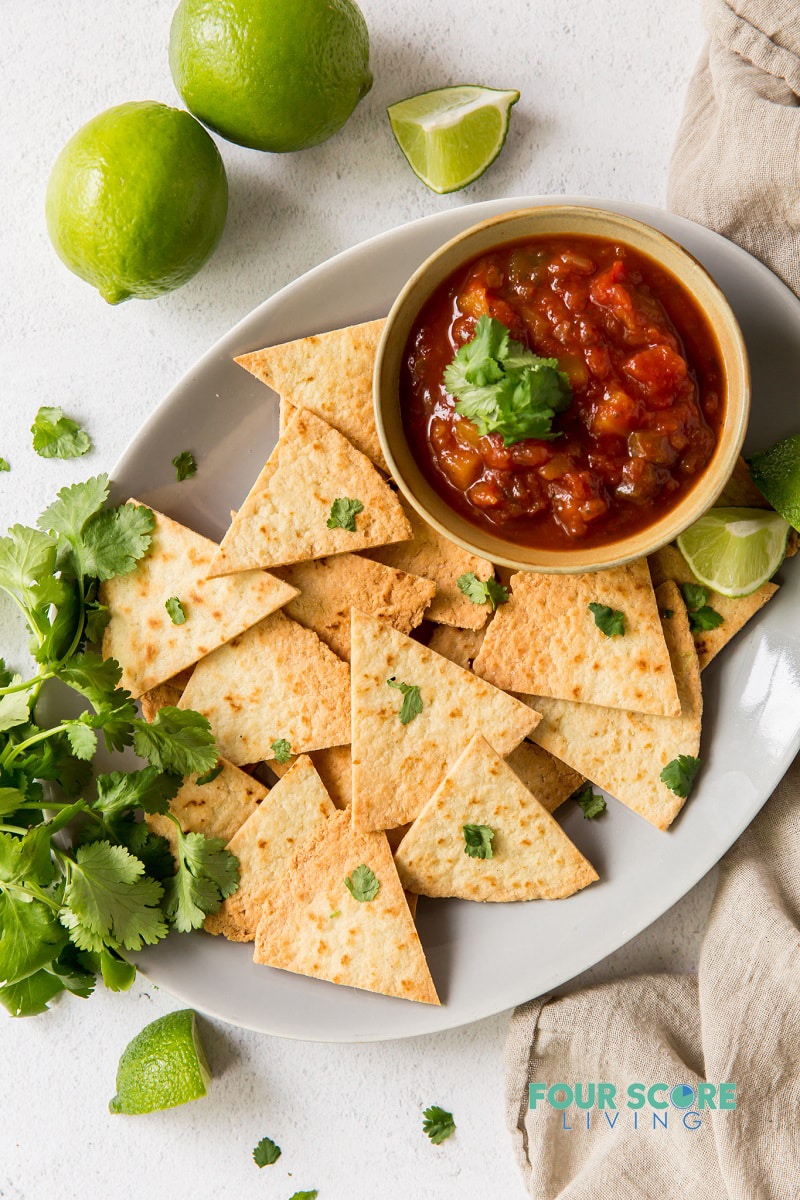 What are the best keto snacks?
When eating a keto diet or low carb diet, one of the questions often asked are around keto snacks. People want to know what are the best keto snacks that will keep them full.
While some people like to keep snacking to a minimum, others like to have a keto snacks on hand, to grab for when hunger strikes.
We've done our best to round up a variety of keto snack options for you. We've included some links to keto snacks that we like to buy, for packing lunches and picnics.
We've also included a range of keto snacks that you can make, with sweet and savory options.
If you don't see something you're looking for, let us know in the comments below and we will do our best to find a recipe or keto snack product for you. Thanks for stopping by.
Keto Friendly Snacks
We're going to start with some simple keto snacks that you can keep on hand and a few keto snack ideas and recipes, that are simple to make.
Cheese - Cheese is one of the most consumed foods on the keto diet and it's an easy keto snack idea. You can buy blocks of cheese and cut them into cubes, or buy cheese that's already in servings - string cheese and baby bells are two of our favorites. Tillamook sells individually wrapped one ounce cheese rectangles, for a quick grab and go keto snack.
Jerky - While many manufacturers use sugar to help flavor jerky, there are plenty that don't. There are quite a few keto friendly snacks on the market, and sugar free jerky is one of them. Look for sugar-free, paleo, and/or keto on the packaging. Always check labels to make sure that no sugar was added.
Nuts and Seed - Nuts and seeds are high in healthy fats and protein and they make for some of the best keto snacks. We recommend measuring out a serving, as it's easy to chomp away on nuts and seeds until you're full.
Deli Meats - We're not the biggest fan of eating deli meats for keto snacks, but it's an easy option that is high in protein. Wrap some deli meat around an avocado slice, or spread on some cream cheese to get more fat in.
Celery - Celery is a low carb, low calorie keto snack and you can add your fats with nut butters, seed butter, or cream cheese. We've dipped celery in keto queso on occasion. We've also used celery as a dipper in keto buffalo chicken dip.
Keto Chips - There are a few different keto chips on the market, but we like making our chips at home. These keto tortilla chips are a reader favorite.
Pork Rinds - There are so many flavors of pork rinds! You need to be careful though, a few of the flavors have added sugar. Pork rinds are a super low carb or zero carb keto snack, and you get that satisfying crunch that people often crave when snacking.
Keto Trail Mix - Similar to nuts, but with some extra fun stuff, you can make keto train mix for your keto snack. Mix any nuts and seeds, and throw in some sugar free chocolate chips for an easy keto trail mix.
Nut Butters - Nut butters make easy keto snacks and they are satisfying and filling. Make sure you buy a no sugar added nut butter, or make the nut butter from scratch at home.
Pickles - If you're looking for something salty, with a little bit of a crunch, pickles are a great option. They can help with keto flu, as well. We love wrapping a piece of turkey around a pickle for a quick keto snack.
Avocado - High in fat and super filling, avocado makes a great keto snack. We'll enjoy it as-is, mixed with some tuna, or we'll mix up some easy guacamole.
Hard Boiled Eggs - Hard boiled eggs make a great high protein snack. Although they don't have much fat, they will keep you full. You can also enjoy keto deviled eggs.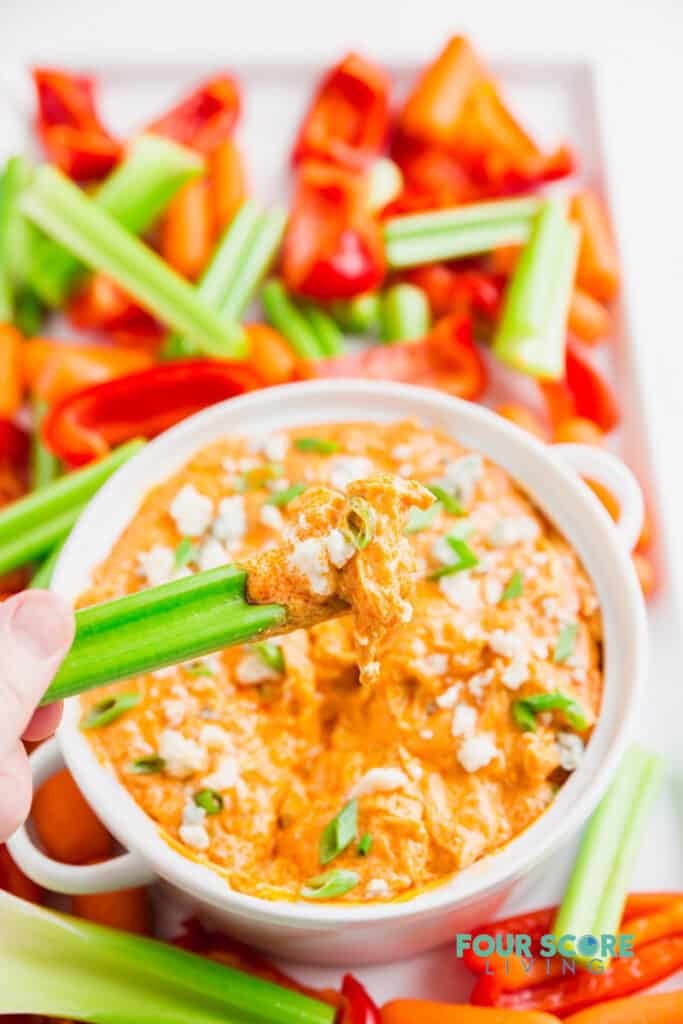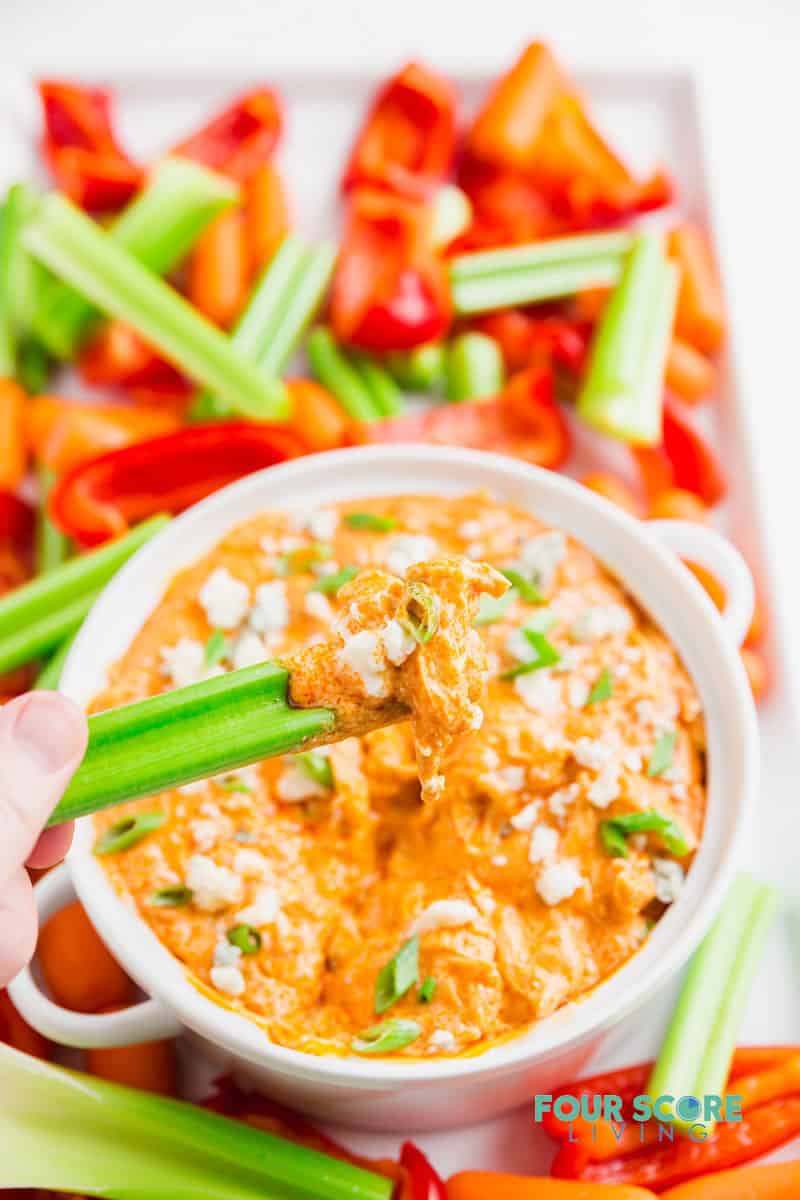 Best Keto Snacks to Buy
We shared a few keto snacks to buy, above, but the supply of store bought keto snacks has increased a ton the past few years - the keto diet continues to gain followers.
Why? Snacks Low-Carb Keto Cheese Crackers - We love these crunchy, cheesy, buttery keto crackers and we think they are worth every penny.
Catalina Crunch - Makes a keto friendly snack mix. We haven't tried them ourselves, but we've hear great things about them.
Simple Truth (a Kroger brand) - Makes some great keto snacks, including keto cheese crisps. If you're looking for a quick cracker like keto snack, or you need something to dip into keto spinach dip, they are highly recommended.
Beef Jerky - Jacklinks makes a zero sugar added beef jerky that our kids love. They sell them in 1 oz. packages, making it an easy grab and go keto snack. Caveman and Chomps also sell a zero sugar beef jerky and beef sticks that are keto friendly snacks.
Pork Rinds - We mentioned pork rinds above. The cheapest pork rinds we've found have been at the dollar store. For a fancier pork rind, we look to our favorite pork rind brand, Southern Recipe. Mission makes a simple pork rind that's also relatively cheap and easy to find.
Crackers - There are LOTS of keto crackers you can buy. Here are a few that you might like:
Why? Snacks Low-Carb Keto Cheese Crackers
Inno Foods Keto Crackers
High Key Almond Flour Crackers
Flackers Flaxseed Crackers
Julian Bakery Keto Crackers
Keto Naturals Almond Flour Crackers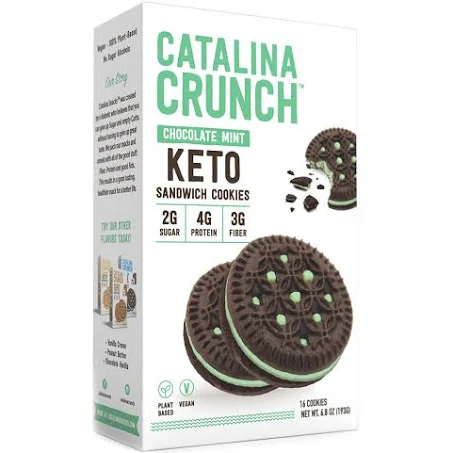 Keto Sweet Snacks
Catalina Crunch - In addition to some of their other snacks, they make cookies. If you need a keto sweet snack, these might be your thing. They have a chocolate mint cookie that is pretty tasty.
High Key - Makes keto mini cookies and crackers, and a variety of keto friendly snacks. Although cookies might not be considered a keto snack, if you're looking for keto sweet snacks, they are an option.
Perfect Keto - Makes keto bars. There's a variety of flavors and they are pretty good for keto diet snacks.
Kiss My Keto - If you love gummy bears, and my kids do, than you'll want to check these out. Although their more of a keto sweet snack, they'd be great mixed in with some nuts or seeds, for a keto trail mix of sorts.
Sugar Free Chocolate Chips - We love grabbing a few sugar free chocolate chips every once in a while. Lily's is our favorite brand, but you can enjoy your favorite. Also, most high cocoa chocolate tends to be lower in carbs.
We love enjoying keto cheesecake for a keto sweet snack. It's loaded with healthy fats and protein and it will keep you full until dinner. It's a great dessert-snack option.
Cookies can be good keto sweet snacks as well. Some of our go-to's are keto peanut butter cookies and keto cream cheese cookies.
Almond flour waffles are also a filling keto snack option, and they make great leftovers for a quick grab and go keto snack.
For another almond flour keto snack option, try these almond flour scones.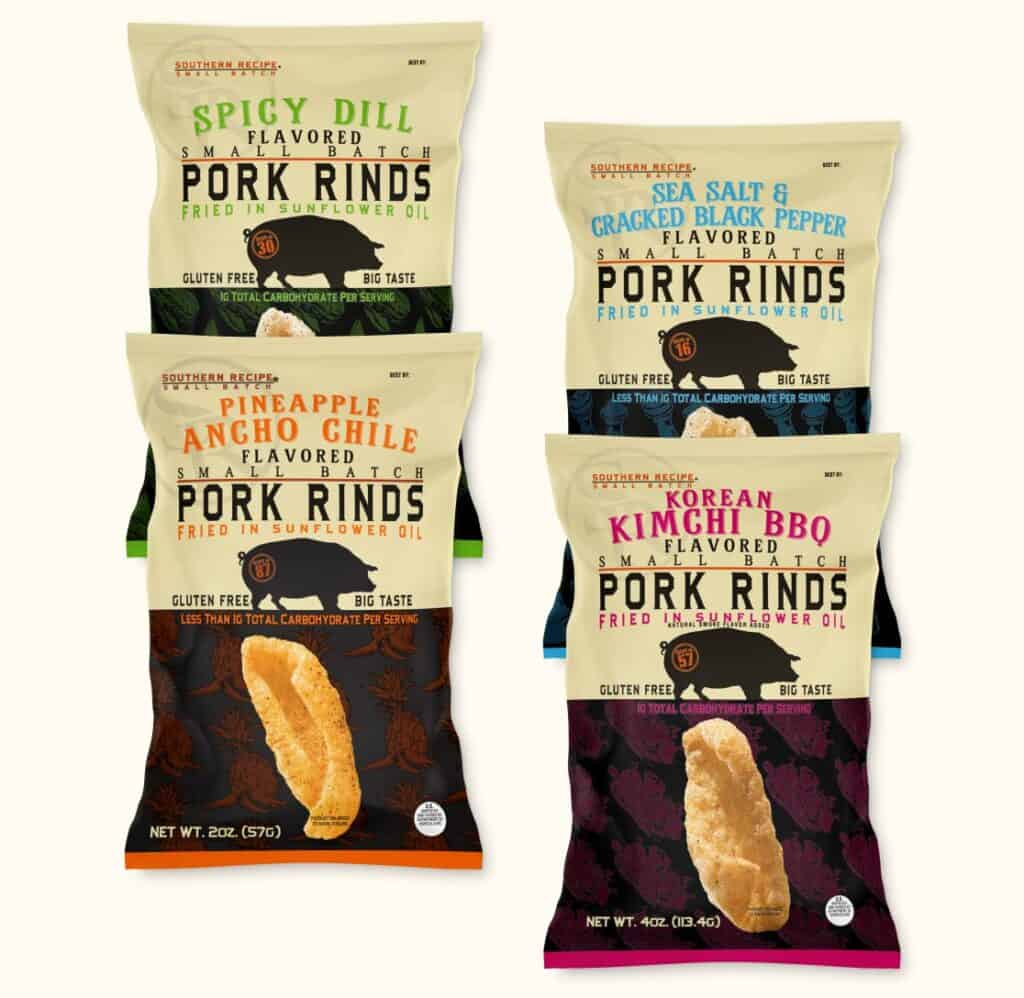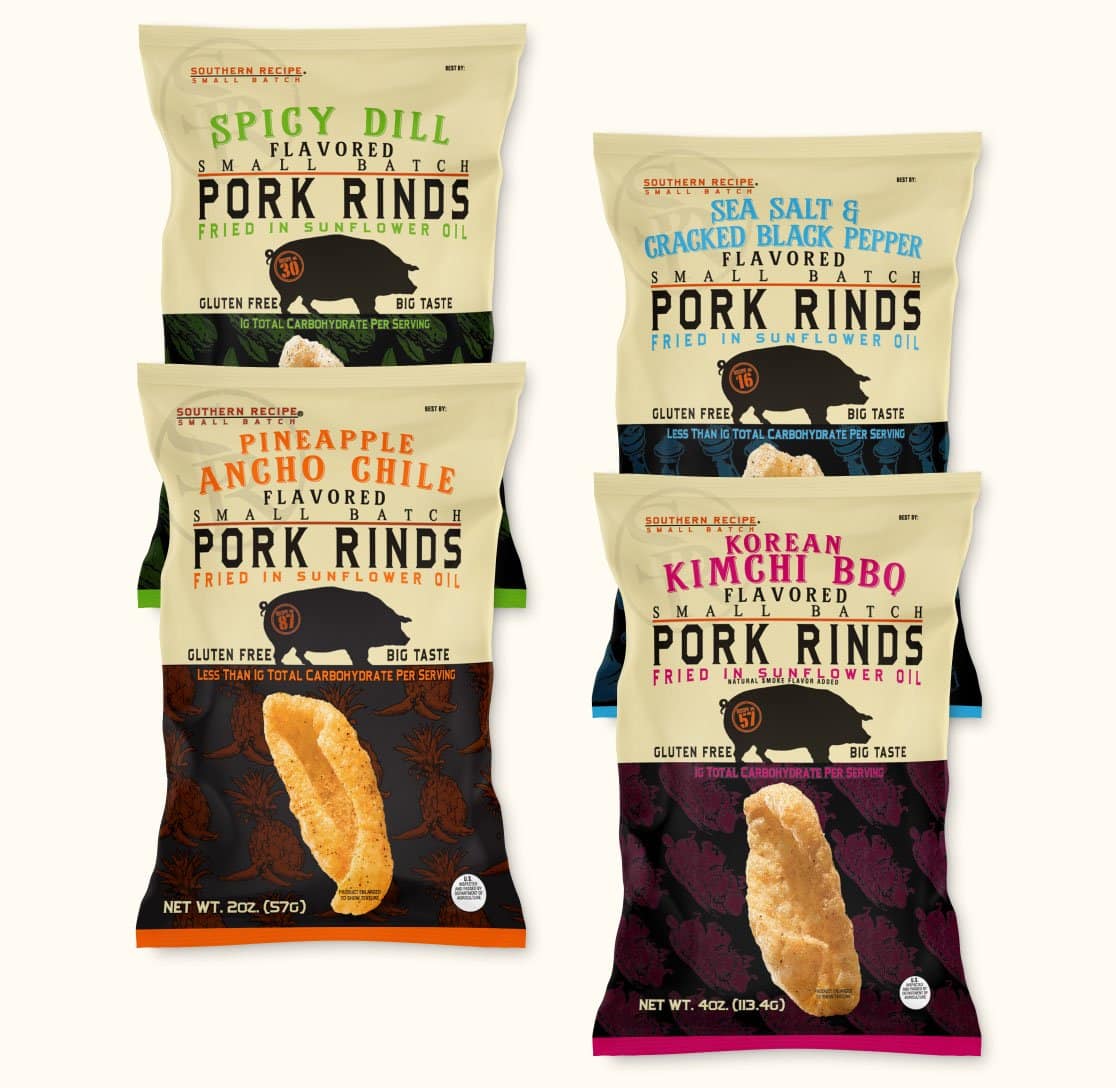 Keto Snack Recipes
Keto Cheese Chips - Only 2 ingredients, simple to make, and perfect for dipping. Finding great chips to eat with your favorite dips just got a little bit easier with this recipe.
Keto Deviled Eggs - Keto deviled eggs are the perfect keto appetizer or keto party snack. This high protein, easy-to-make finger food is perfect for any special occasion, BBQ, or potluck.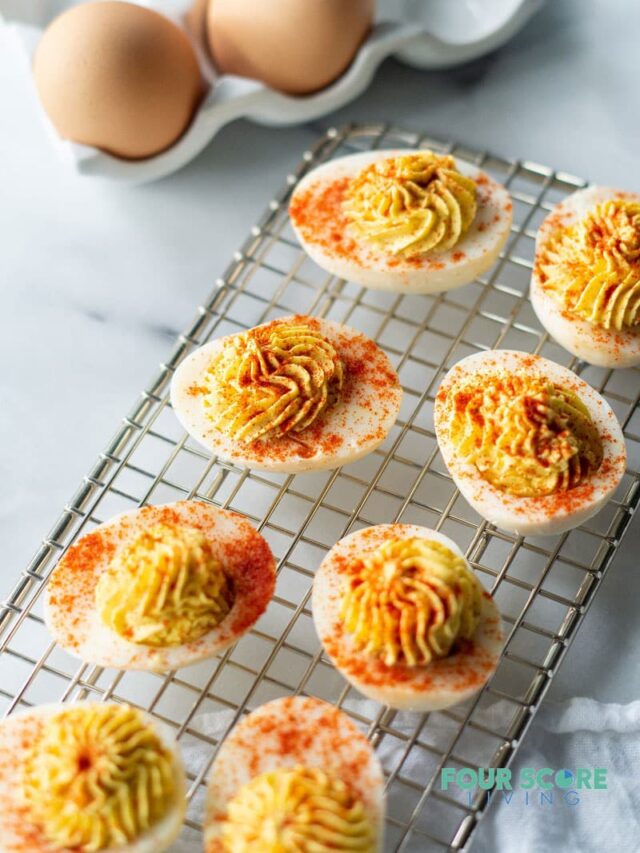 Keto Crackers - You're going to love this recipe for Keto friendly crackers. They can be served with cheese and meats, used for dipping, or enjoyed all on their own for a satisfying, crunchy snack.
Keto Berry Smoothie - Packed with protein and antioxidants, this Keto Berry Smoothie is the perfect low carb breakfast or afternoon snack.
Keto Avocado Smoothie - This keto smoothie is made with only four ingredients and has the perfect combination of healthy fats and protein to keep you satisfied and energized.
Almond Flour Blueberry Muffins - Super filling, low carb, and delicious, these make the perfect keto snack option.
Keto Banana Bread - Readers are loving this keto banana bread as a keto snack option. You can make mini loaves and freeze them for a quick grab and go keto snack.
Instant Pot Artichokes - We love low carb veggies for a keto snack option and these super simple artichokes are one of our favorites.
Keto Bread - For a quick and simple keto snack, spread some butter on a slice of tender and crumbly keto bread.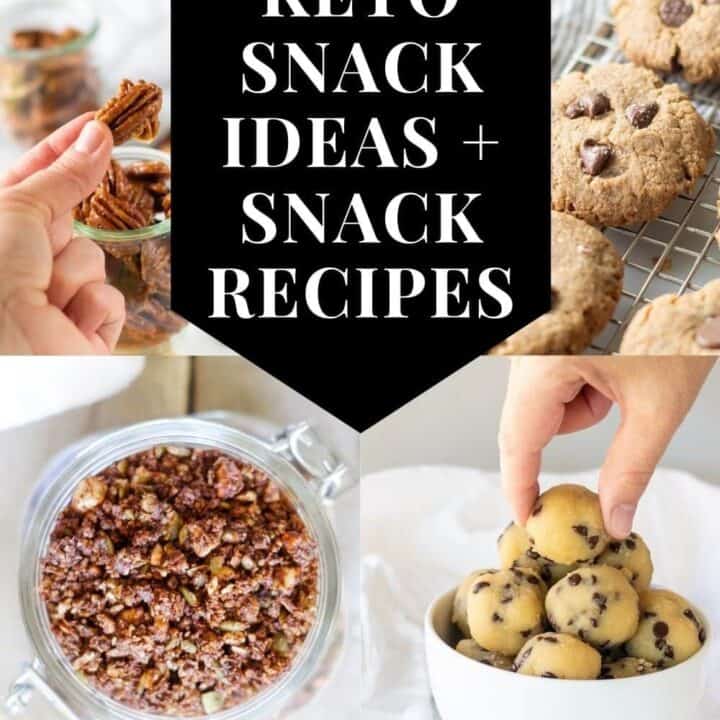 60+ Best Keto Snacks
We hope you find something you like in our list of keto snacks. We've included a recipe for cheese chips that are only 2 ingredients, simple to make, and perfect for dipping.
Ingredients
2 cups (8 oz.) shredded cheddar cheese
¼ tsp cayenne pepper, black pepper, paprika, curry powder, or your seasoning of choice
Instructions
Preheat the oven to 400 degrees F.
Add shredded cheese in small heaps on a baking sheet lined with parchment paper. Make sure to leave enough room in between them so they aren't touching.
Sprinkle seasoning on top and bake for 7-10 minutes, checking after 5 minutes for doneness.
Remove from the oven and let cool for 5 minutes before transferring to a cooling rack.
Allow to cool completely on a cooling rack before enjoying.
Notes
You can substitute parmesan cheese for all of some of the cheddar cheese.
This recipe makes 32 chips if each pile of cheese is 1 tablespoon. Different amounts of cheese will make different sized chips and a different number of them.
Nutrition Information:
Yield:

3
Serving Size:

1
Amount Per Serving:
Calories:

83
Total Fat:

7g
Saturated Fat:

4g
Trans Fat:

0g
Unsaturated Fat:

2g
Cholesterol:

19mg
Sodium:

251mg
Carbohydrates:

2g
Net Carbohydrates:

1g
Fiber:

1g
Sugar:

0g
Protein:

5g
The nutrition information for this recipe is an approximate total per serving. Please double check the nutrition information for your exact ingredients and brands.
We hope you like this collection if keto snacks. These are some of the best keto snacks, and keto snack ideas.
Keto Snacks