Start your day with a refreshing avocado smoothie.
This keto smoothie is made with only four ingredients and has the perfect combination of healthy fats and protein to keep you satisfied and energized.
For more low carb recipe ideas check out my Keto Recipes section.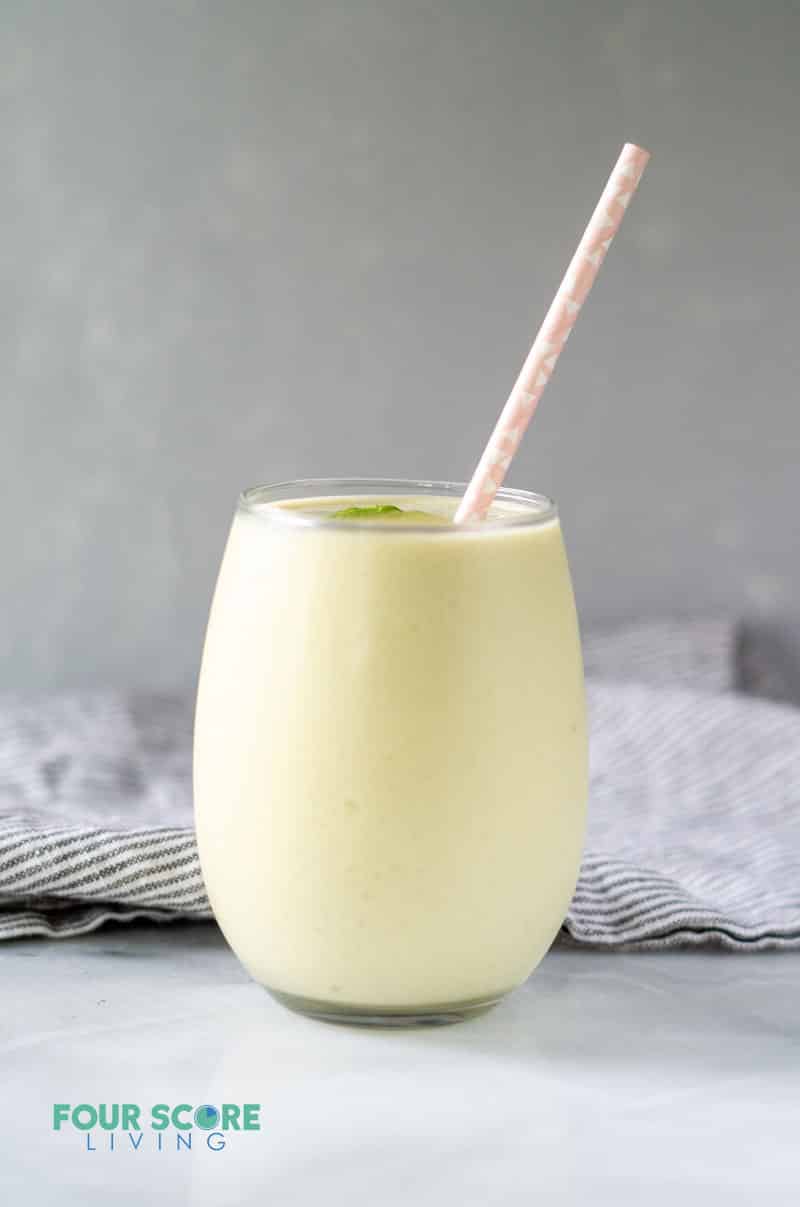 If you like making thirst quenching keto drinks at home you will love Keto Lemonade too.
Keto Avocado Smoothie
A smoothie is a great breakfast or snack option and this avocado smoothie is both tasty and nutritious. It's smooth and creamy with a finish that is thick and luscious, but not too heavy.
While it may seem odd to add avocado to your smoothie, believe me when I tell you that it makes all the difference.
Don't be afraid of the taste - a scoop of keto-friendly vanilla protein powder masks the flavor of the avocado, so you're left with a decadent drink that tastes like a vanilla milkshake.
The only other ingredients you'll need for this low carb smoothie are almond milk and some ice.
In only 5 minutes you'll be on your way to enjoying cool drink that is chock-full of fiber and essential vitamins.
Is avocado keto?
With zero cholesterol, avocados are a wonderful source of healthy fat, making them ideal additions to a keto lifestyle.
They also contain a multitude of vitamins and minerals and are low in carbohydrates.
One whole avocado contains 12 grams of carbohydrates on average. You'll use half of an avocado in this recipe, bringing the total carb count to less than 15 grams.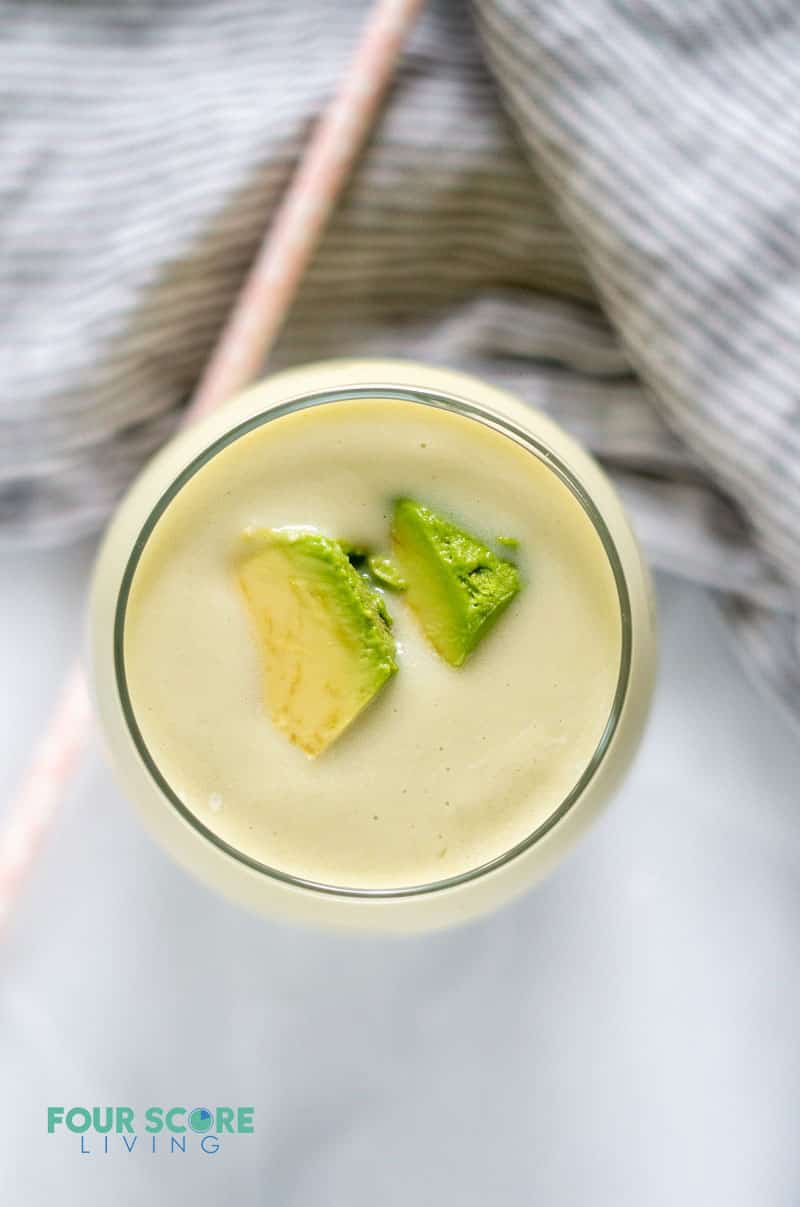 What can I substitute for keto protein powder?
If you don't want to use protein powder in your smoothie, you can replace it with 1.5 teaspoons of your favorite low-carb sweetener.
I recommend adding ½ teaspoon of vanilla extract as well for flavor.
Keto Milk Options
Since cow's milk contains lactose, just one cup of it packs 12 grams of carbohydrates. Luckily there are several plant-based milk options that are low carb and keto friendly.
I like to use unsweetened almond milk in this keto smoothie. You could also use cashew milk, or if you're nut-free, you could use coconut milk, hemp milk, or flax milk.
I recommend choosing a full-fat, unsweetened milk so that you can control the carb count and flavors in your smoothie.
How to Make an Avocado Smoothie
Place avocado, protein powder, milk, and ice in a blender and pulse for 10-20 seconds to combine.
Top with your favorite keto friendly toppings, if desired.
Serve cold and enjoy.
These numbered steps are for illustration purposes. For the complete list of ingredients and instructions, please see the recipe below.
This is such an easy smoothie recipe thanks to its minimal list of required ingredients.
It takes no more than 5 minutes from start to finish to prepare, so it'll save you time and effort on busy mornings or days when you want a healthy snack.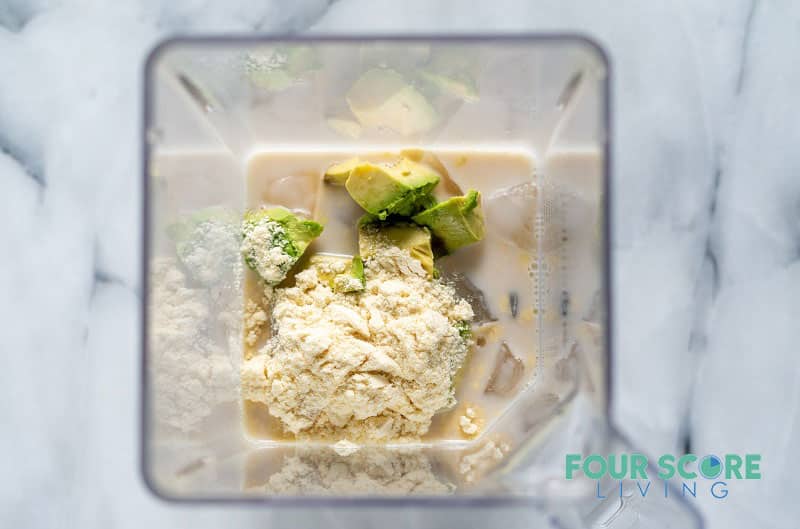 Feel free to add more or less ice to your blender depending on your preferred smoothie texture and taste. If you like a creamier, more frozen smoothie, you can also use frozen avocado.
How to Freeze Avocado
Freezing avocado is an easy way reduce meal prep time and ensure that you always have it on hand.
To freeze an avocado, slice it in half and remove the pit. Use a spoon to scoop the avocado halves from the skin, then place them into a large freezer safe zip lock bag or other air-tight container.
If you're using a freezer bag, press out all of the air before closing it.
When you're ready to make your low carb avocado smoothie, simply grab a frozen avocado half and pop it into your blender with the rest of the ingredients.
In minutes you'll be ready to enjoy this creamy, healthy keto treat.
Toppings for Smoothies
If you want to add a little extra flair to your smoothie, you can top it with more avocado, Keto Whipped Cream, or hemp hearts.
You could also make a smoothie type bowl. This matcha bowl is one of our favorites.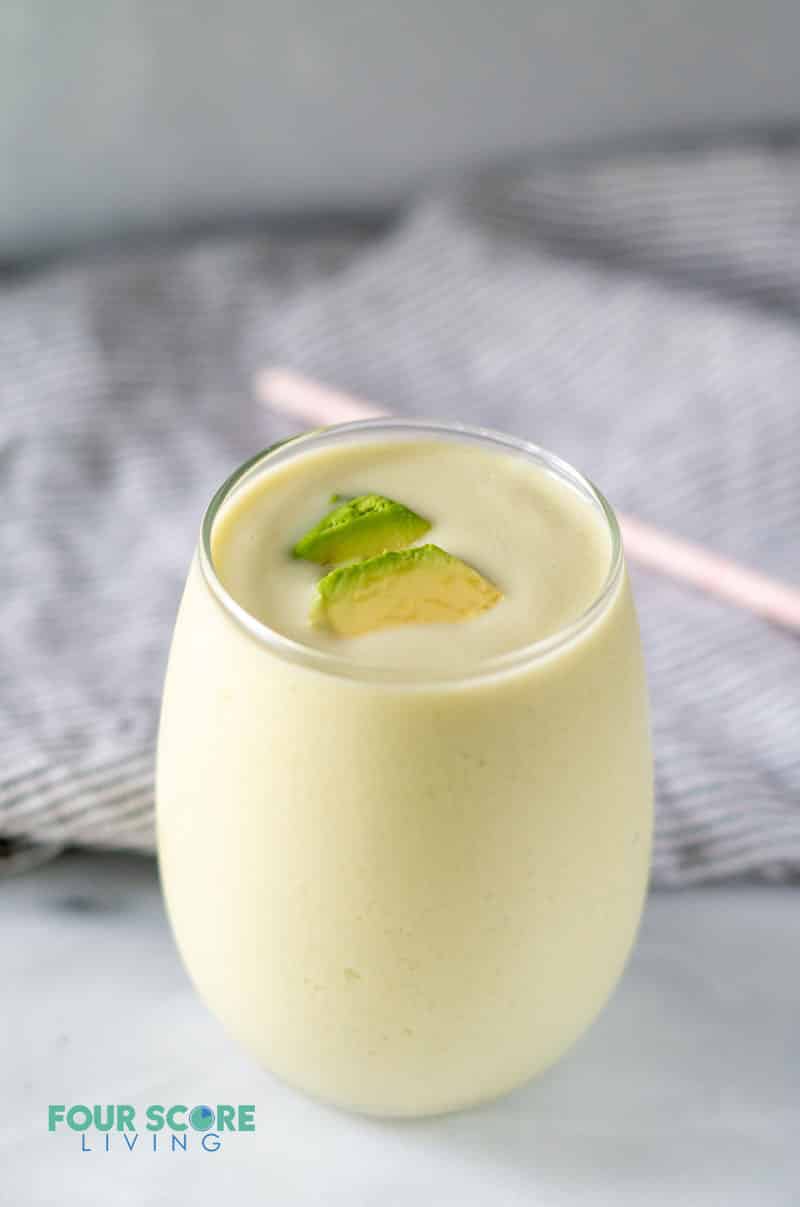 Looking for another smoothie recipe. Try this Vegan Matcha Smoothie next. This Banana Juice is also simple to make.
We hope you love this recipe as much as we did! Please help us out by leaving a quick review and star ★ rating below.
LET'S GET SOCIAL, you can follow Four Score Living on Pinterest. You can also leave a comment below if you have any questions.
Did you make this smoothie recipe? Please let me know how you liked it by leaving a comment below.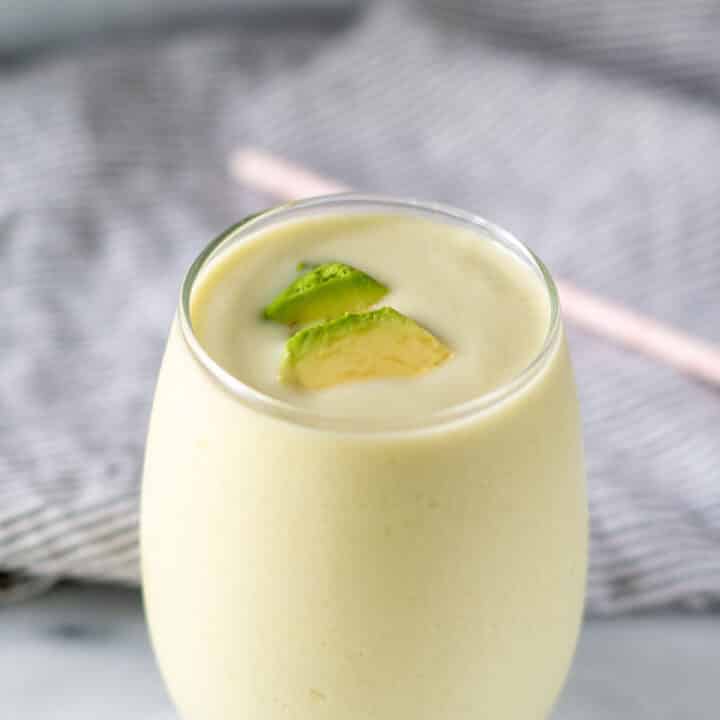 Keto Avocado Smoothie
Start your day with a refreshing avocado smoothie. This keto smoothie is made with only four ingredients and has the perfect combination of healthy fats and protein to keep you satisfied and energized. 
Ingredients
½ avocado
1 cup unsweetened almond milk (or milk of choice)
1 cup of ice
1 scoop keto friendly vanilla flavored protein powder
Instructions
Place all ingredients in a blender and pulse for 10-20 seconds.
If desired, top with additional sliced avocado, keto whipped cream, or hemp hearts.
Serve cold.
Notes
If you don't want to use protein powder, add in 1.5 teaspoons of your favorite sugar-free sweetener and ½ teaspoon vanilla.
Add more or less ice to preference.
You can use frozen or fresh avocado in this avocado smoothie recipe.
Nutrition Information:
Yield:

1
Serving Size:

1 smoothie
Amount Per Serving:
Calories:

315
Total Fat:

18g
Saturated Fat:

3g
Trans Fat:

0g
Unsaturated Fat:

14g
Cholesterol:

5mg
Sodium:

62mg
Carbohydrates:

12g
Net Carbohydrates:

4g
Fiber:

8g
Sugar:

1g
Protein:

28g
The nutrition information for this recipe is an approximate total per serving. Please double check the nutrition information for your exact ingredients and brands.
This smoothie was included in this post about Breakfast Drinks.