Avocado Crema is a creamy, zesty, healthy, and delicious Mexican sauce that makes the perfect taco topping.
This easy recipe requires no cooking and is ready in just a few minutes. Fresh avocado, lime juice, and cilantro play together in this creamy dip that you'll want to eat with a spoon!
Wrapped up in fresh tortillas with grilled shrimp, or dolloped on top of keto enchiladas, Avocado Crema is always amazing.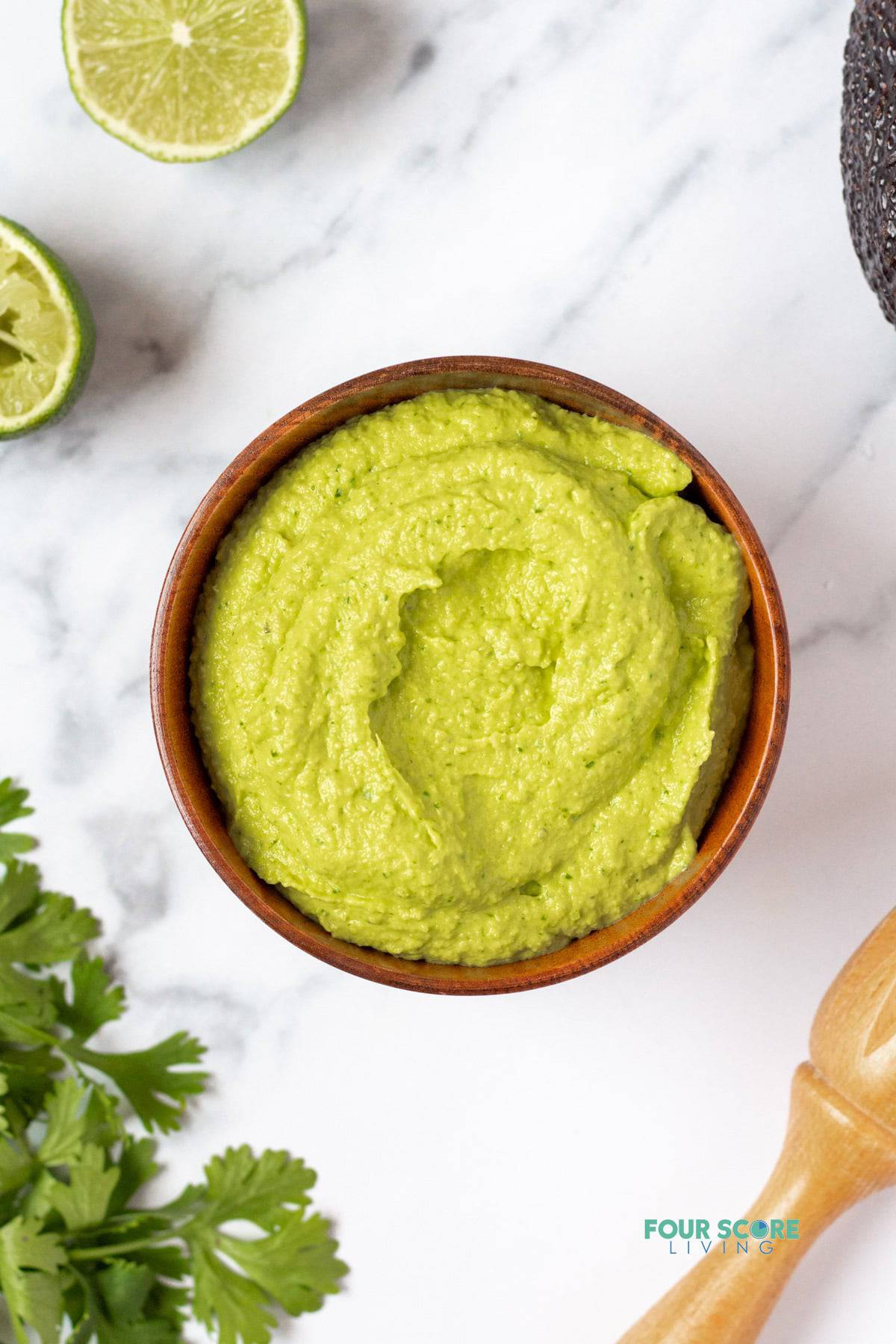 WHY YOU WILL LOVE THIS AVOCADO CREMA RECIPE
Fresh, Healthy Ingredients: This is one dip that you can feel good about indulging in. Healthy fats from the avocado mix with fresh lime and lemon juice and the perfect amount of sour cream and cilantro to make an avocado crema free from artificial ingredients.
Keto, Paleo-friendly, and Gluten-Free: It's a safe taco topping for almost any diet. You can easily make this recipe vegan and dairy-free too with a simple swap.
Easy to Make: This fresh avocado crema recipe doesn't need to be cooked, and it comes together in seconds with the help of a food processor.
WHAT IS AVOCADO CREMA?
In Mexican cuisine, crema is a creamy sauce, typically made with heavy cream, sour cream, and lime juice. It's delicious on fish tacos or drizzled over a crunchy cabbage slaw.
This recipe adds silky smooth avocado to the mix, making a thicker, heartier crema that is super satisfying and flavorful.
You are going to love the zest and flavor that this sauce adds to every bite of your favorite Mexican meals.
IS AVOCADO CREMA THE SAME AS GUACAMOLE?
Not quite, although the two are similar in some ways.
Guacamole is a mashed avocado dip or spread that is a combination of avocado, lime juice, garlic, diced jalapeno, and sometimes tomato, onion, and cilantro too.
Avocado crema is a bit more simple, with fewer ingredients. The addition of sour cream makes it creamy, and the diced vegetables are left out, as they would affect the texture of this topping too much.
Both of these Mexican sauces are delicious and can be used in similar ways, such as a taco topping or enjoyed with tortilla chips.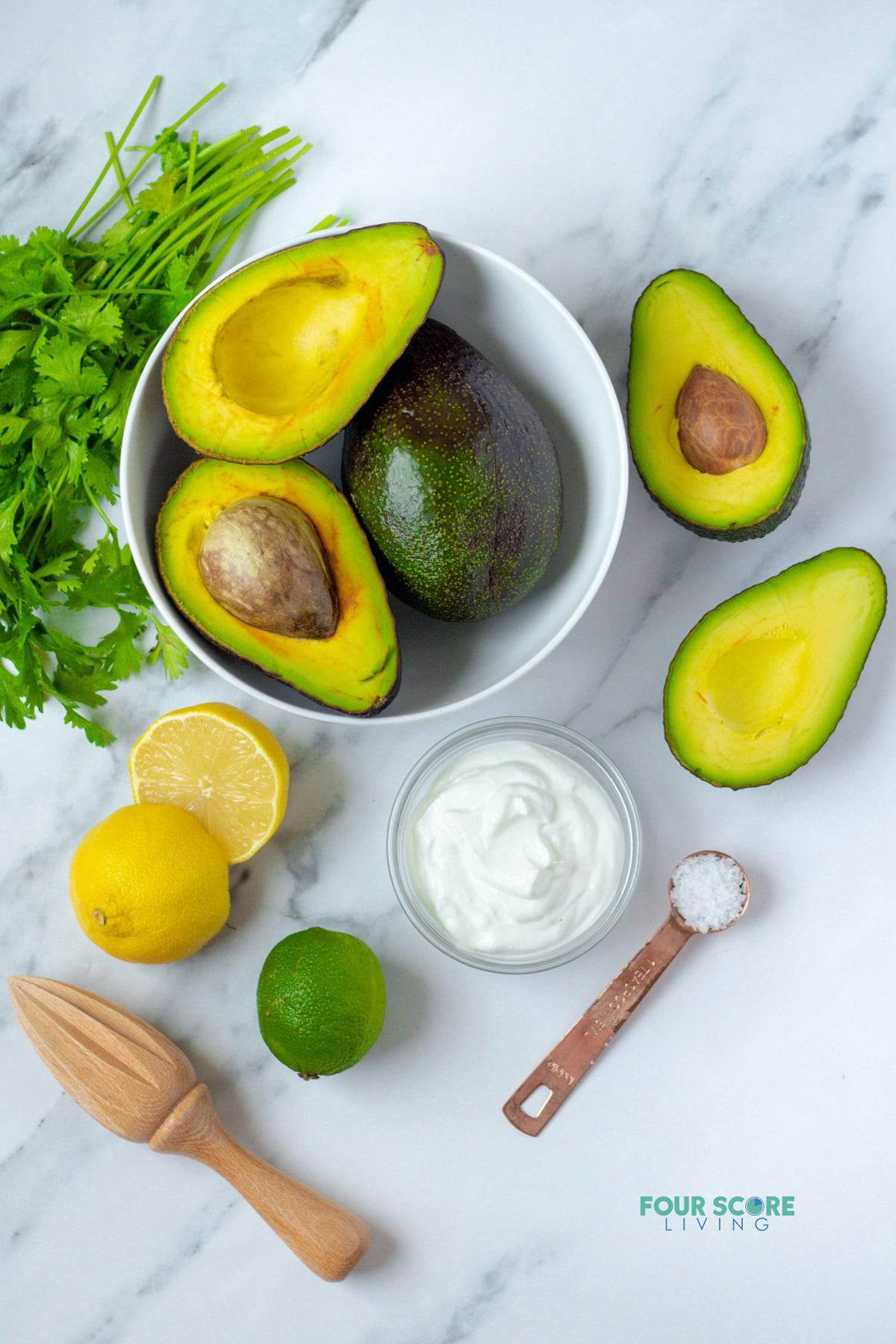 INGREDIENTS IN AVOCADO CREMA
Avocados: You'll need three large, ripe avocados for this recipe. Avocado is the star of this recipe!
Cilantro: Fresh cilantro adds an earthy, authentic flavor to avocado crema.
Sour Cream: Just a few tablespoons make this recipe perfectly creamy.
Salt: To season the crema perfectly.
Lime and lemon: Juice one of each. You should end up with about two tablespoons of lemon juice and two tablespoons of lime juice.
If you have any questions, please leave a comment below and I will get back to you.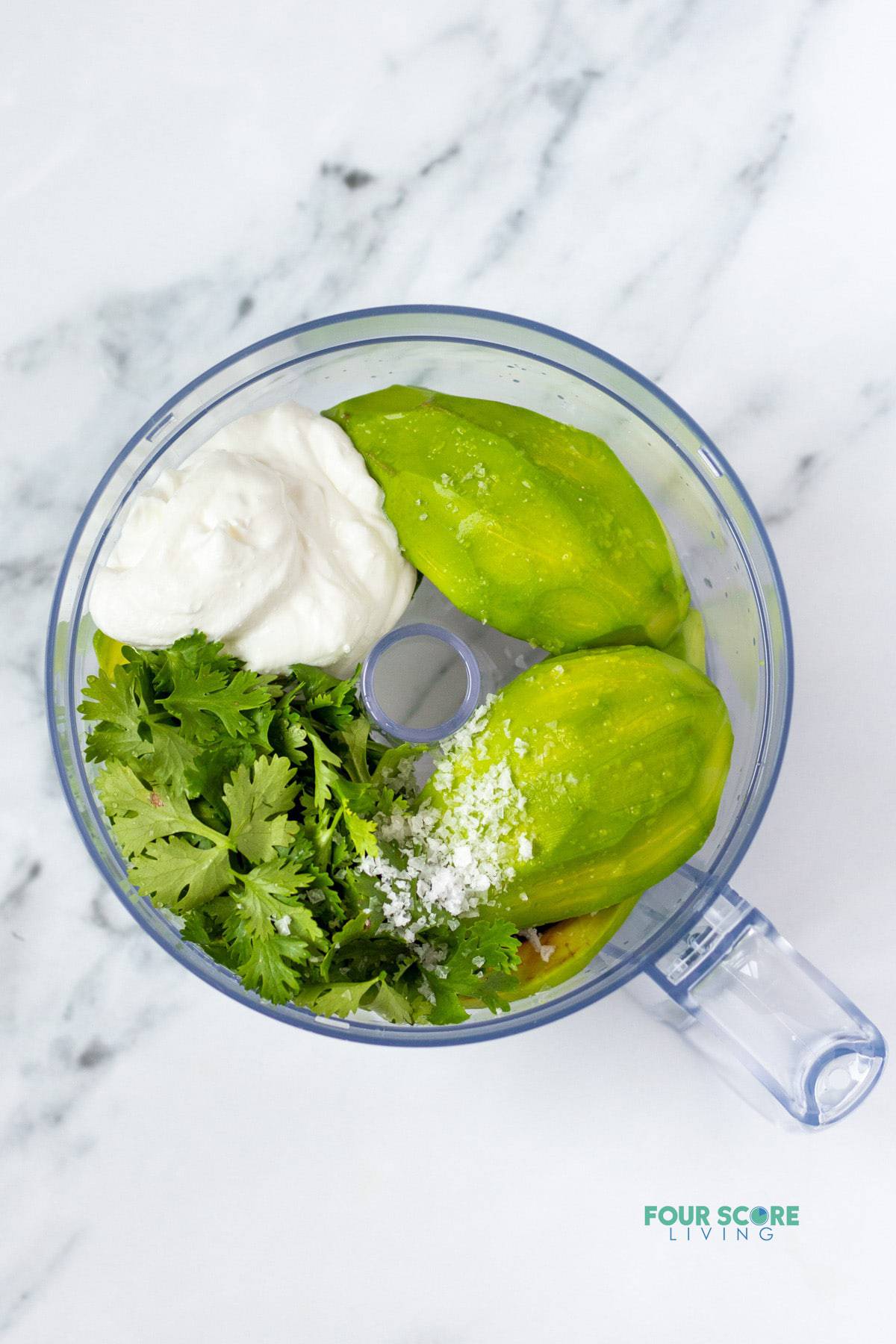 HOW TO MAKE AVOCADO CREMA
Remove the skin and pit from the avocados, and place in the bowl of a food processor with salt, cilantro, sour cream, lime juice, and lemon juice.
Process until smooth.
These numbered steps are for illustration purposes. For the complete list of ingredients and instructions, please see the recipe below.
WHAT TO SERVE WITH AVOCADO CREMA
This tasty, creamy dip is delicious in so many ways.
As a dip: Put out a big bowl of avocado crema, along with fresh Homemade Salsa and Keto Queso Dip. Add some low-carb tortilla chips, cheese chips, and veggie sticks and you have an appetizer platter fit for taco night!
As a topping: A spoonful (or two) of avocado crema is delicious on all of your favorite Mexican meals. Try it on Chicken Fajitas, Keto Taco Casserole, Chipotle Chili, or Keto Enchiladas.
For extra flavor: Serve this with grilled pork chops or steaks, Instant Pot chicken, or carne asada. Crema with avocado is also tasty on top of salads, like this shrimp and avocado taco salad, or spread on your favorite sandwiches.
Mix it in: Swap out mayonnaise for this creamy substitute in your favorite Tuna Salad or Chicken Salad recipes.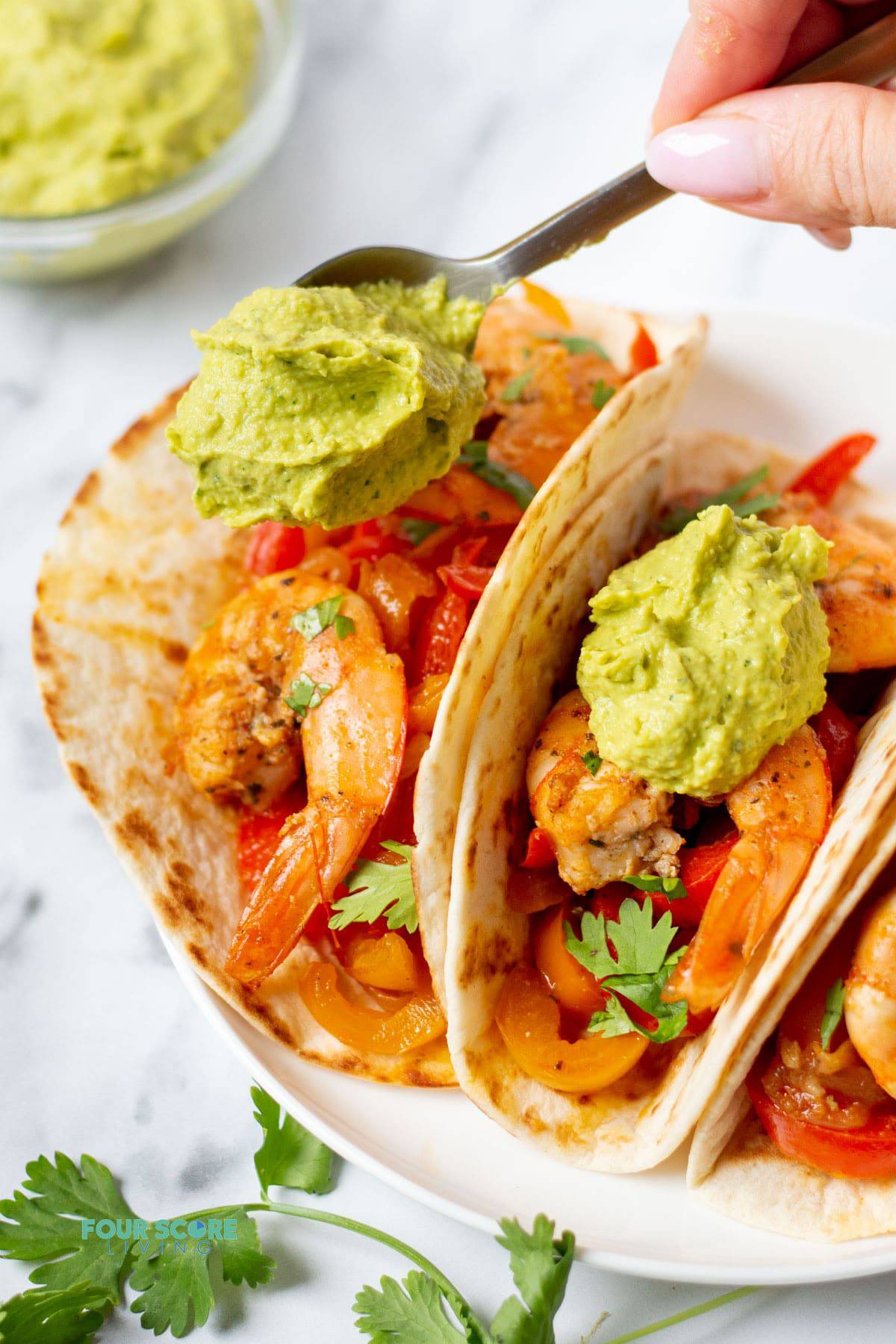 STORING AVOCADO CREMA
You can store this sauce in the fridge in an airtight container for up to 5 days. The citrus in the recipe should help to keep the color of the avocado bright, but don't be concerned if it turns brown over time.
Placing a piece of plastic wrap directly on the surface of the crema will keep air from getting to it, and help to keep it fresh and green too.
You might be wondering, can I make avocado crema ahead of time? Yes, I recommend that you do! The flavor intensifies as the avocado crema sits in the fridge, so it gets tastier and tastier each day!
CAN I MAKE THIS WITHOUT A FOOD PROCESSOR?
Instead of a food processor, blend the avocado cilantro crema ingredients together with a high-powered blender. If the mixture is too thick to blend this way, add a small amount of water to help it along.
ADJUSTING THE CONSISTENCY OF AVOCADO CREMA
You can see from the photos here that my version of avocado crema is pretty thick. I like it that way! You can thin crema out if you prefer it that way by adding a small amount of water or milk.
A thinner consistency of this avocado crema can be stored in and served from a squeeze bottle, which is super convenient if you're setting up a DIY taco bar!
HOW CAN I TELL IF MY AVOCADOS ARE RIPE?
A ripe avocado will give a bit if you gently squeeze it. The peel will be black or dark brown rather than green. You will also be able to gently remove the stem end from an avocado when it's ripe.
You'll know that your avocado is too ripe if it's extra mushy, or starting to turn brown inside. The trick is to use your avocados when they are somewhere between under and overripe.
Don't try to make avocado crema with underripe avocados. They won't blend up creamy.
VEGAN AVOCADO CREMA
This recipe is easy to make vegan! Simply substitute vegan sour cream or your favorite dairy-free Greek Yogurt for the sour cream in this recipe.
WHAT IF I DON'T LIKE CILANTRO?
I find it very interesting that some people really hate the taste of cilantro. The way I understand it, some of us are genetically predisposed to think the leaves taste like soap! If you're one of those people, simply leave the cilantro out, or replace it with flat-leaf parsley instead.
OTHER INGREDIENTS FOR AVOCADO CREMA
These ingredients are not required, but could be added to make this crema even tastier!
Garlic - Try mashing one fresh or roasted garlic clove into the mix to give this sauce a warm, earthy flavor.
Spice - If you like your Mexican food spicy, you can add a dash of tabasco, a pinch of ground cayenne pepper, or a small amount of roasted poblano peppers into the food processor.
Zest - for extra citrus flavor, include up to a teaspoon of lime and/or lemon zest along with the juice.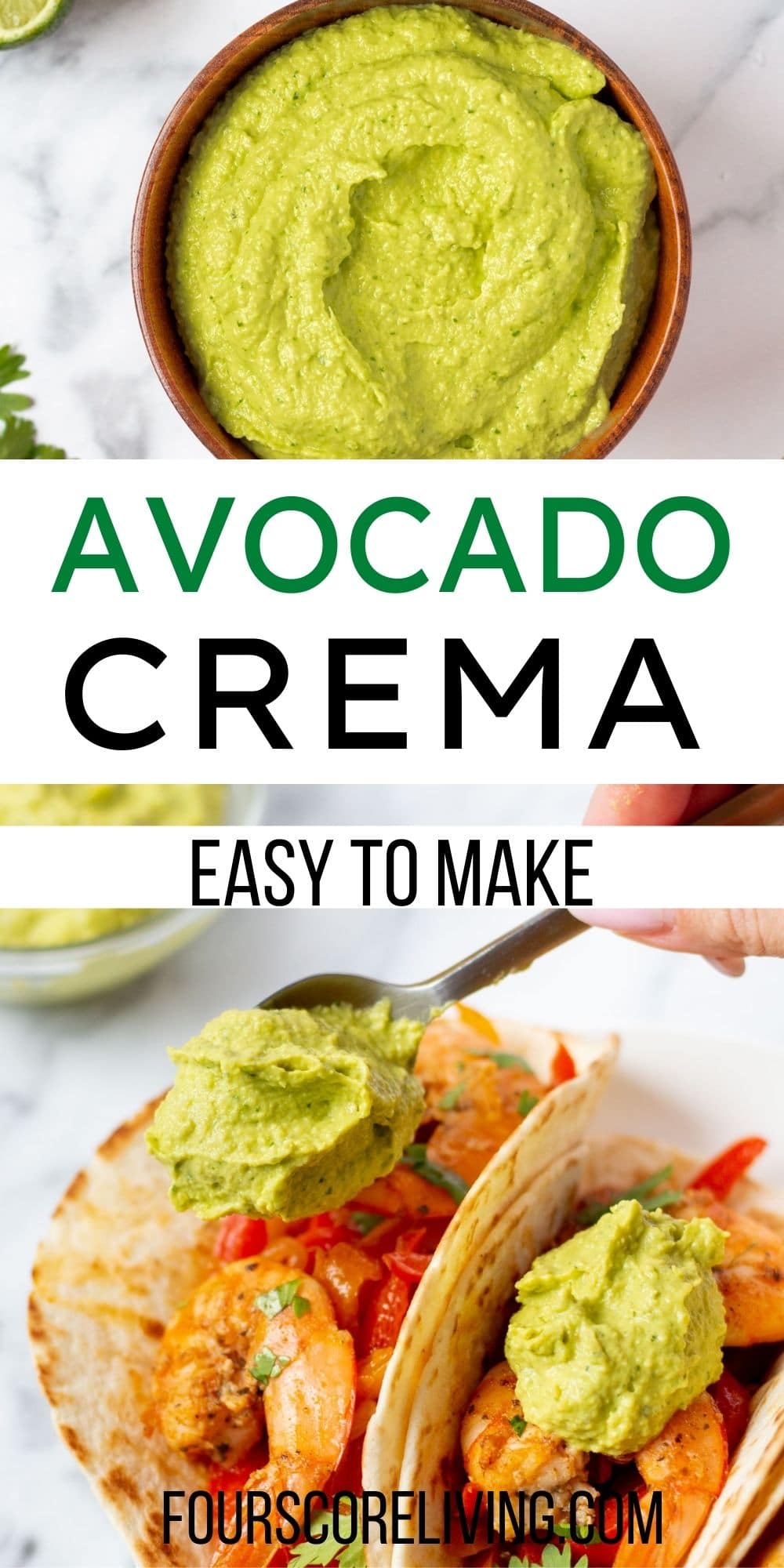 MORE DELICIOUS LOW CARB RECIPES TO TRY
Four Score Living is about enjoying healthy food and treats in moderation! So many of our recipes are low carb and/or Keto-friendly. Try some of these low-carb dinner ideas that the whole family will love.
Hearty Keto Jambalaya is an exciting and different meal packed with shrimp, chicken, sausage, and veggies in a flavorful spiced broth.
Switch up a typical pasta night with our recipe for Low Carb Meatballs, served with zucchini noodles.
My favorite easy casserole for a weeknight dinner is this Keto Chicken Bacon Ranch Casserole with cauliflower.
Did you make this Avocado Crema? Please leave a comment below letting me know what you thought!
Products We Keep Stocked:
Fine Gluten-Free Ground Almond Flour
LET'S GET SOCIAL, you can follow Four Score Living on Pinterest. You can also leave a comment below if you have any questions.
Did you make this avocado crema recipe? Let us know what you served it with.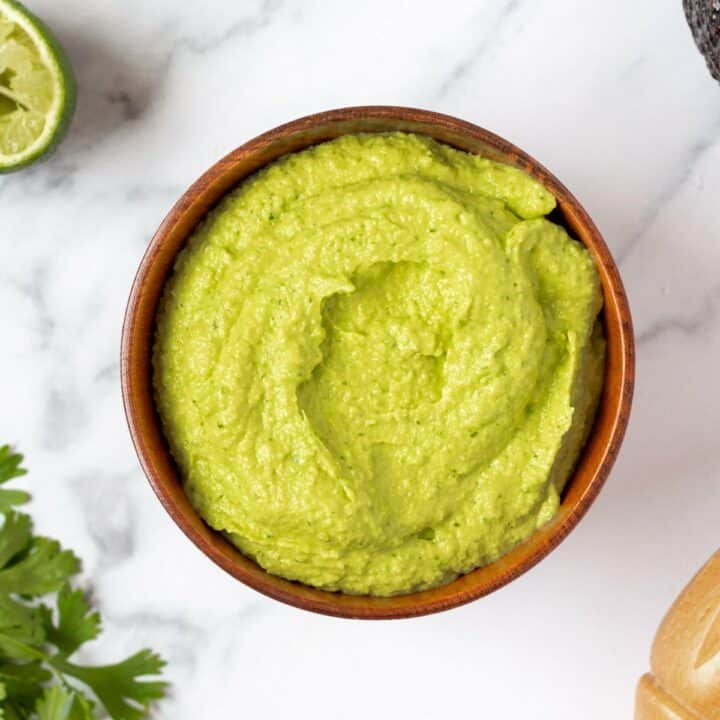 Avocado Crema
Yield:
16 servings, 2 cups total
Avocado Crema is a creamy, zesty, healthy, and delicious Mexican sauce that makes the perfect taco topping.
Ingredients
3 large, ripe avocados
¼ cup fresh cilantro
2 tablespoons sour cream
1 teaspoon salt
Juice from 1 small lime (about 2 tablespoons)
Juice from 1 small lemon (about 2 tablespoons)
Instructions
Remove the avocado skin and pit.
Place all the ingredients into a food processor and process until smooth.
Serve with your favorite meals. This avocado crème is perfect on steaks, salads, and taco and can also be used as zesty dip.
Notes
Be sure to use ripe avocados, as underripe ones will not blend up smoothly.
Replace the sour cream with a creamy vegan substitute or dairy-free Greek yogurt to make this recipe vegan.
Cilantro can be replaced with flat-leaf parsley if you don't enjoy the flavor.
Store avocado crema in an airtight container in the fridge for up to 5 days. Press plastic wrap to the surface of the dip to help keep it from turning brown.
Nutrition Information:
Yield:

16
Serving Size:

2 Tablespoons
Amount Per Serving:
Calories:

74
Total Fat:

6g
Saturated Fat:

1g
Trans Fat:

0g
Unsaturated Fat:

4g
Cholesterol:

1mg
Sodium:

145mg
Carbohydrates:

6g
Fiber:

3g
Sugar:

2g
Protein:

1g
The nutrition information for this recipe is an approximate total per serving. Please double check the nutrition information for your exact ingredients and brands.