These easy Keto Egg Bites are the perfect low-carb breakfast or snack. Great for on-the-go, this simple recipe is keto-friendly, low carb, gluten-free, and packed with flavor!
This versatile keto breakfast recipe can be made to order with your favorite meats, cheeses, and veggies. Low carb egg bites are great for meal prep, so go ahead and whip up a batch!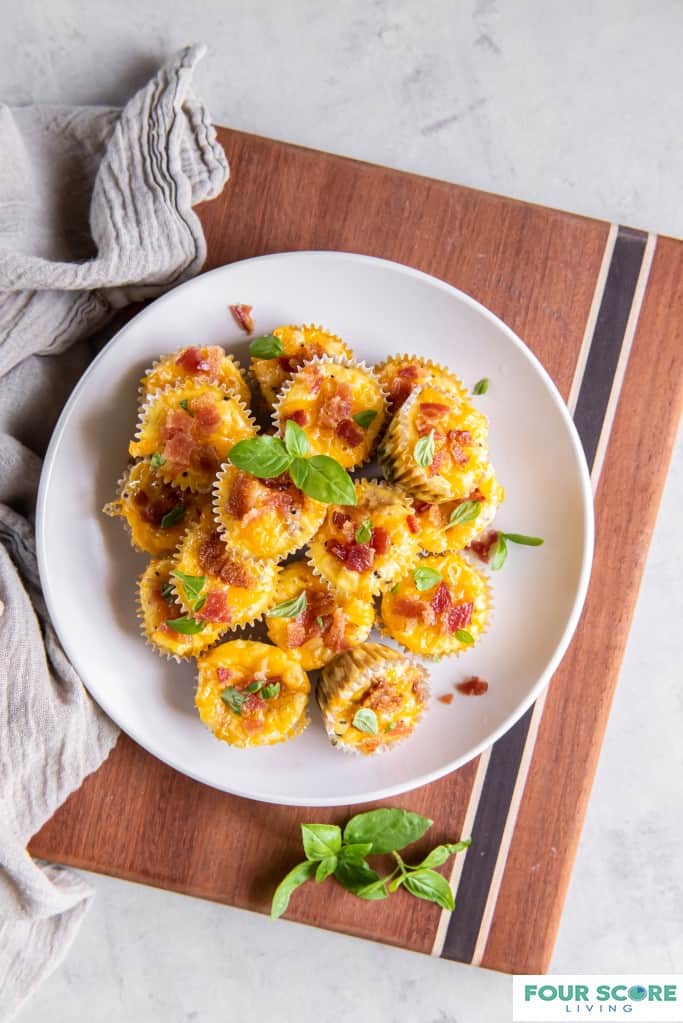 Why you'll love this Keto Egg Bites recipe
Simple ingredients you already have. This recipe uses common and readily available ingredients like eggs, cheese, bacon, and spinach.
Low in carbs, high in flavor. Keto muffin bites prove that you don't have to sacrifice flavor for a low-carb lifestyle.
Healthy breakfast. These Keto Egg Bites offer a nutritious start to your day. They are packed with high-quality protein from the eggs and bacon, healthy fats from the cheese and heavy cream, and vitamins and minerals from the spinach.
Customizable. One of the key reasons to love this keto friendly breakfast recipe is the incredible versatility. You can customize this dish by adding your favorite ingredients, including various cheeses, herbs, veggies, or different types of meats like sausage or ham.
Perfect meal prep item. These oven-baked egg bites are an excellent choice for meal prepping. You can make a batch ahead of time, store it in the refrigerator or freezer, and enjoy a quick breakfast or snack. Great for busy mornings!
Portable and on-the-go. Whether you're rushing to work, heading to the gym, or planning a road trip, these breakfast egg muffins are conveniently portable.
Great for kids. Even if you have picky eaters at home, bacon egg bites can be a hit with the whole family.
Rich and creamy texture. The addition of heavy cream and cheddar cheese gives these egg bites a rich and creamy texture that's both comforting and indulgent.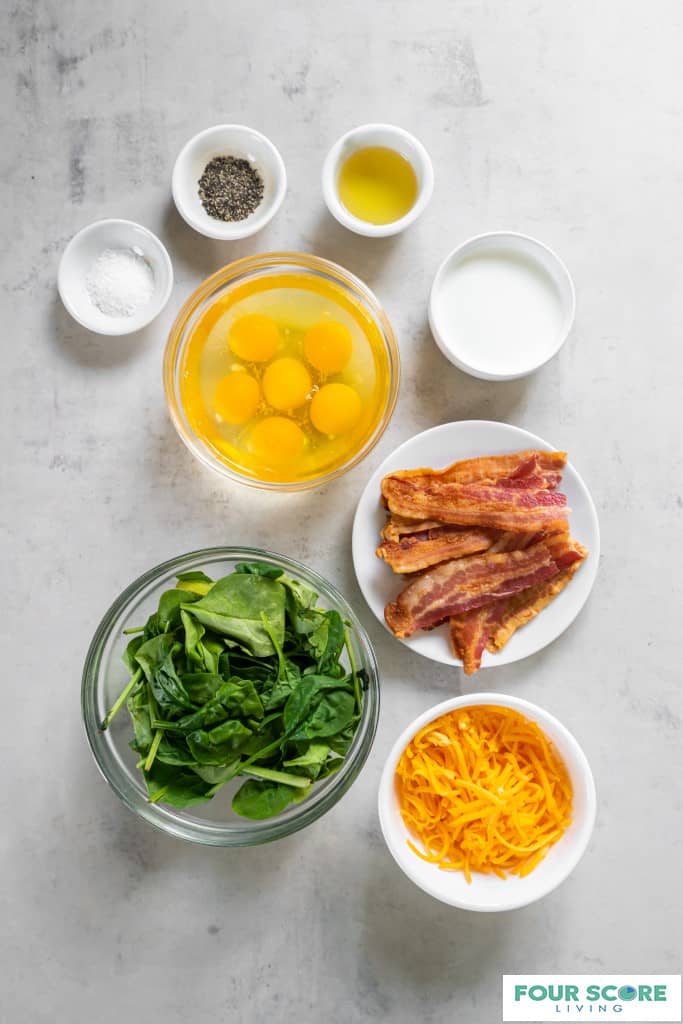 Ingredients in our Low Carb Egg Bites
Large whole eggs: They provide the necessary structure and protein.
Shredded cheddar cheese: Go for full-fat, shredded cheddar cheese for a rich and creamy texture. Cheddar cheese adds a delicious flavor to the egg bites.
Chopped bacon: Bacon adds a savory, smoky flavor to your egg bites. You can use either fresh strips of bacon or leftover cooked bacon. We recommend ensuring it's crispy.
Avocado oil: This is a light, keto-friendly cooking oil. It provides good fats and a mild, neutral flavor, making it ideal for greasing your egg bite molds to prevent sticking if you choose not to use silicon or paper liners.
Heavy cream: This adds richness and creaminess to the egg bites. Heavy cream is a high-fat, low-carb dairy product suitable for keto diets.
Fresh spinach: Adds fiber and nutrition to your egg bites. Spinach provides vitamins and minerals while adding a pop of green color and a subtle earthy taste.
Basil (Optional): These fragrant leaves can be used as a garnish or mixed into the egg mixture for added aromatic freshness.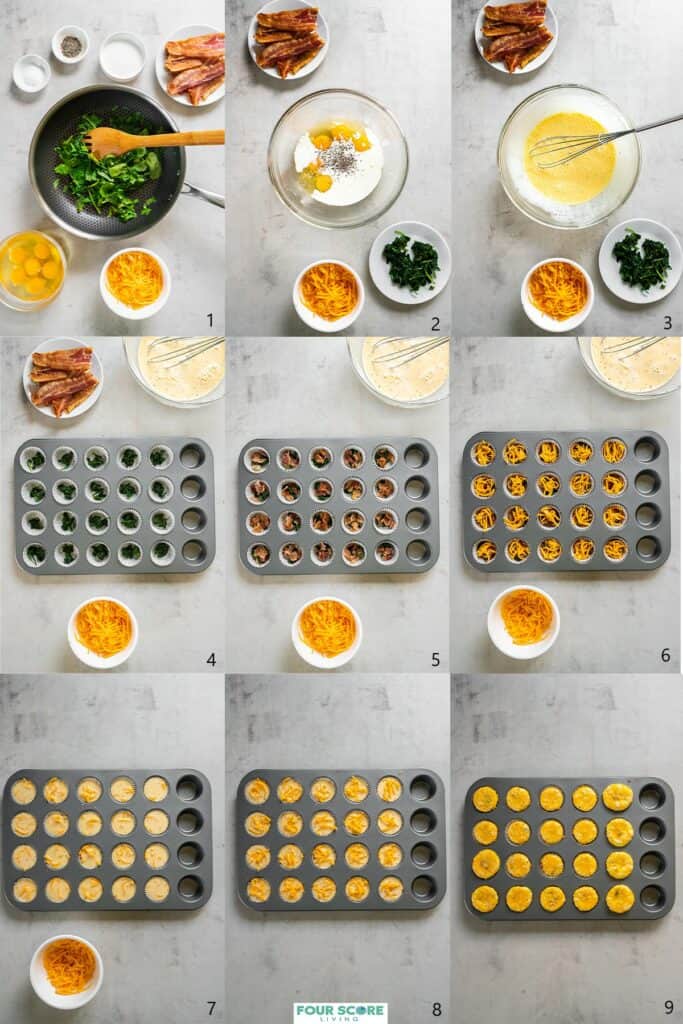 How to make this Keto Friendly Egg Bites Recipe
Prep the ingredients
Preheat the oven to 350 degrees F (180 degrees C). Rinse and chop the spinach. Add the chopped spinach to a hot skillet with a tablespoon of avocado oil, stirring often for approximately 3 minutes until moisture is released and the spinach is softened.
Move the spinach to a plate. Add the bacon to a pan and cook it through; you want the bacon to be crispy.
While the bacon is cooking, line the mini muffin pan or muffin tin with mini paper cupcake liners. You could also use mini silicone mold liners. Lightly oiling the inside of the mini muffin pan if you are not using liners will allow the egg bites to slide out more readily. Remove the bacon and set it to one side. We recommend draining the fat from bacon by placing it on kitchen paper.
In another large bowl, crack the eggs and season them with salt and pepper. Whisk in the heavy cream into the egg mixture until the ingredients are combined.
Assemble the egg cups
Add ½ a teaspoon of spinach to each of the muffin cups. Chop the bacon, and add the chopped bacon to the spinach layer. Keep 2 slices of bacon to one side for plating/serving. Add a teaspoon of cheese to each cup. Using a container with a spout, pour the egg mixture into each cup. Fill them with equal amounts. Sprinkle cheese on top of each cup.
Bake the keto egg muffins at 350 F or 180 degrees C. Bake these easy homemade egg bites for 10-12 minutes or until the eggs are set. Note the eggs will appear fluffy at first and then will "deflate." This is expected. We recommend garnishing with chopped bacon and fresh herbs, such as fresh basil leaves.
Check out our photos for inspiration on plating and garnishing.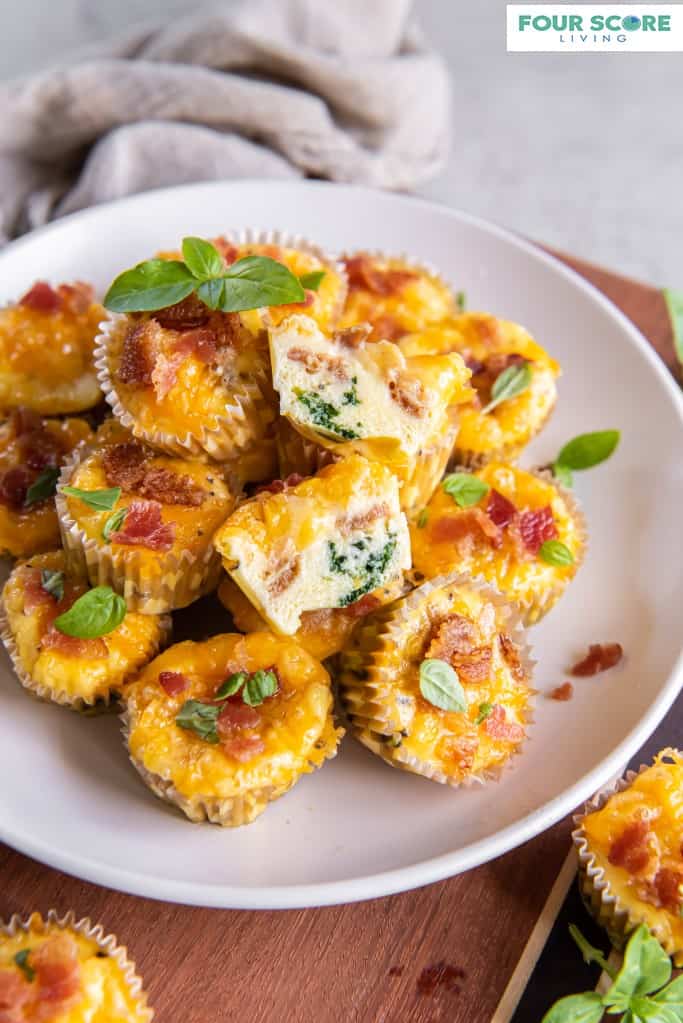 Best tips for making Keto Egg Bites
Use mini silicone cupcake liners: Go for mini silicone cupcake liners instead of paper liners. Silicone liners make it easier to remove the egg bites without sticking.
Avoid overcooking: Be vigilant about the cooking time. Overcooking your keto egg bites can result in a rubbery texture.
Embrace heavy cream: Heavy cream is the secret ingredient for creating the silkiest and fluffiest egg bites. It adds a luscious creaminess that elevates the overall taste and texture. Don't skimp on the heavy cream for a truly indulgent experience.
Mind the filling level (¾ full): When filling your mini liners with the egg mixture, avoid overfilling. It's recommended to fill them approximately ¾ full. This allows room for the egg mixture to expand slightly as it cooks, preventing any spillage and ensuring your egg bites maintain their perfect shape.
Add ingredients thoughtfully: If you're customizing your keto egg bites with additional ingredients like cheese, bacon, spinach, or herbs, distribute them evenly in each cup.
Preheat your oven: A consistent and accurate temperature is essential for even cooking. This helps prevent uneven texture or undercooked spots.
Consider a water bath: For a smoother and more consistent texture, consider placing the silicone cupcake liners in a baking dish filled with hot water (about halfway up the sides of the liners). This water bath helps regulate the temperature and prevents the egg bites from overheating.
Let them rest after baking: Allow your keto egg bites to rest for a few minutes after removing them from the oven. This brief resting period helps the eggs settle and ensures they are easier to remove from the liners.
Store and reheat properly: If you're meal prepping or have leftovers, store the egg bites in an airtight container in the refrigerator.
Experiment with flavors: Try adding various cheeses, spices, vegetables, or even different types of meats to keep your keto egg bites exciting and suited to your taste preferences.
How to best store your Keto Egg Bites
To keep your keto egg bites fresh and prevent them from absorbing unwanted odors or flavors, store them in an airtight container.
If you plan to eat your egg bites within a few days, store them in the refrigerator. Place the airtight container in the fridge to keep them chilled. Properly stored, keto egg bites can stay fresh for up to 3-4 days in the refrigerator.
For longer storage, consider freezing your keto egg bites. Place them in a freezer bag or container or wrap them individually in plastic wrap or aluminum foil. If you're stacking multiple egg bites, separate them with parchment paper to prevent sticking. Properly wrapped, they can be frozen for up to 60 days. Thaw prior to reheating.
When reheating, use short bursts 20-30 second bursts in the microwave to prevent overcooking. Check after one minute and do not reheat beyond 2 minutes to avoid overcooking your bites.
You can also place leftover Keto Egg Bites on a sheet pan and reheat in the oven at 350 F or 180 C for 8-10 minutes, or pop into the air fryer at 350 F for about 6 minutes.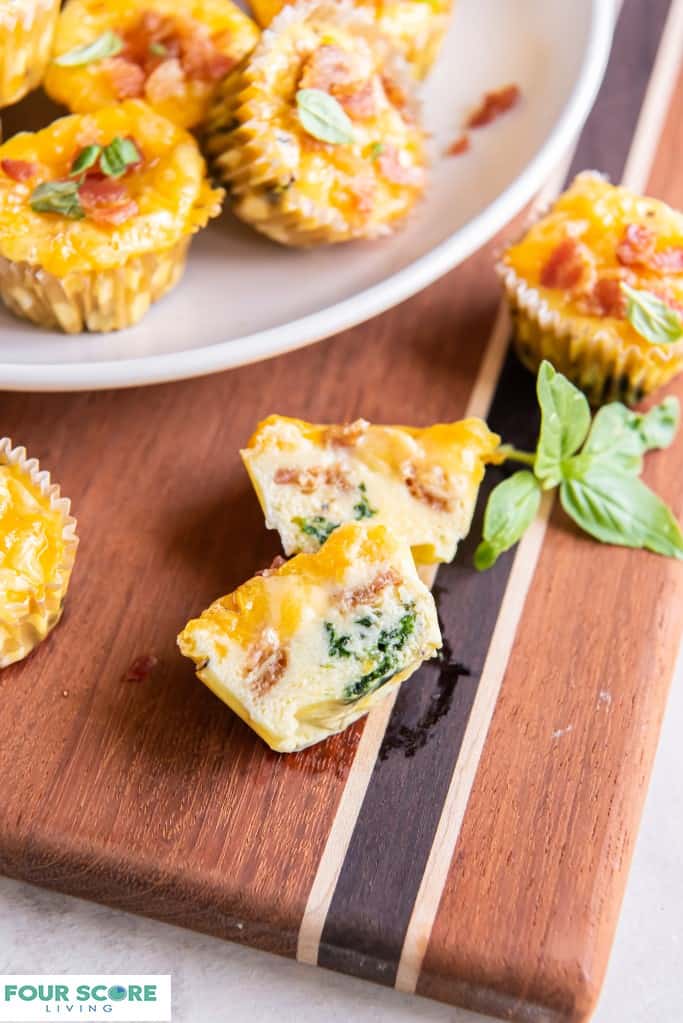 Easy Keto Egg Bites flavor variations
Protein variations: Try different proteins to add variety to your keto egg bites. Consider using cooked sausage crumbles, turkey bacon, or diced ham as alternatives to traditional bacon. Each protein choice will bring its unique flavor and texture to the dish.
Cheese selections: Change up the flavor profile of your keto egg bites by trying various cheeses. Options like Ricotta, pepper jack, feta cheese, Parmesan cheese, cottage cheese, Gruyère, or goat cheese can provide a different taste and creaminess to your egg bites. We suggest trying a batch of Gruyere egg bites – they're an absolute dream!
Vegetable additions: Enhance your egg bites with a selection of vegetables. Some delicious choices include sautéed mushrooms, green onion, garlic, red peppers, diced tomatoes, asparagus spears, or zucchini. These vegetables can bring color, nutrition, and diverse flavors to your bites.
Seasoning and spice: Consider incorporating a variety of seasonings and spices. For a hint of heat, mix in red pepper flakes.
Tasty toppings: Customize your keto egg bites with delectable toppings. Try sliced avocado, a dollop of salsa, fresh chives, or a drizzle of hot sauce to give your bites an extra kick and a burst of flavor.
Dairy-free option: If you're following a dairy-free keto diet, you can still enjoy these egg bites. Replace the heavy cream with unsweetened full-fat coconut milk or almond milk for a creamy, dairy-free alternative. Omit the cheese or opt for quality dairy-free cheese alternatives to ensure a keto-friendly dish.
Delicious Flavor Combinations from around the world for Keto Egg Bites
Greek: Olives and feta cheese for a salty, briny egg bite.
French: Gruyère and bacon for melted perfection with a crunch!
Italian: Prosciutto, Parmesan, and a pinch of Italian seasoning blend for an aromatic and umami twist.
German: Bratwurst and gouda or münster cheese for a hearty comfort food egg bite.
Mexican: Chorizo (Mexican sausage) with queso fresco for a savory dish.
India: Experiment with a version of egg bhurji. Stir a pinch of tumeric into the egg mixture and layer sauteed onions, tomatoes, and a pinch of finely grated and sauteed ginger root in each egg bite.
United States: Make a "cheeseburger" egg bite. Sauteed mushrooms, cheddar cheese, browned ground beef. Garnish with a dollop of sour cream and chopped jalapeno peppers.
Are Starbucks egg bites Keto?
Starbucks' Sous Vide Egg Bites, specifically the Bacon & Gruyère and Egg White & Red Pepper varieties, can be considered keto-friendly options as they contain lower carbohydrate content compared to many other menu items.
However, they do still contain some carbs due to ingredients like cheese and certain vegetables. It's essential to be mindful of your overall daily carb intake if you're following a strict keto diet.
Are Keto Egg bites healthy?
Keto egg cups are rich in protein from the eggs and can provide healthy fats if prepared with ingredients like cheese and avocado oil. Additionally, they are low in carbohydrates, making them suitable for a keto or low-carb diet.
However, it's essential to consider the overall nutritional balance and ingredient choices, as excessive consumption of high-fat and processed ingredients may not align with some individuals' health goals.
For a healthy option use sauteed veggies, cooked leafy greens, and quality cheeses, while limiting the amount of processed meats in your recipe.
More Keto recipes
Keto Pancakes - These low carb pancakes are tender, fluffy, and filling. You can make the dry mix ahead of time and store it, making keto pancakes quick to make.
Keto Chocolate Zucchini Muffins - A tender and decadent chocolate muffin recipe made with zucchini and almond flour. These sweet keto muffins are the perfect gluten-free, dairy-free treat that you can enjoy any time of day.
Keto Chaffle - have fun making, breakfast chaffles, dessert chaffles, pizza chaffles, smoked salmon chaffles, chaffle sandwiches, and more….
Turkish Scrambled Eggs - Menemen is your new scrambled eggs!! Hearty, vibrant, delicious eggs smothered beautifully in a simple yet lip smacking tomato + onion mixture with a few subtle seasonings.
Air Fryer Jalapeno Poppers - Crispy with a kick and oozing with cream cheese, you will love this versatile appetizer or party snack recipe that includes a low carb version to please everyone.
Keto Deviled Eggs - the perfect keto appetizer or keto party snack. This high protein, easy-to-make finger food is perfect for any special occasion, BBQ, or potluck.
Keto Spinach Dip - You're going to love how quickly this low carb spinach dip comes together. With only seven ingredients this keto spinach dip is healthy and satisfying.
We hope you enjoyed reading this article. Please help us out by leaving a quick review and star ★ rating below.
LET'S GET SOCIAL, you can follow Four Score Living on Pinterest. You can also leave a comment below if you have any questions.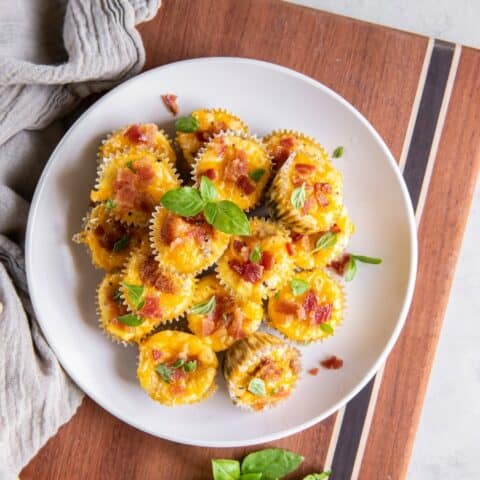 Keto Egg Bites
Cheesy with a crunch of bacon, this versatile dish is flavorful, low carb, and gluten free to satisfy every palate. 
Ingredients
6 large eggs
¾ cup shredded cheddar cheese
6 strips of bacon (or leftover already cooked bacon)
1 Tablespoon of avocado oil
⅓ cup of heavy cream
2 cups of fresh spinach
Salt, to taste
Black pepper, to taste
Fresh basil, cilantro or parsley for garnish (optional)
Instructions
Rinse and chop spinach. Add spinach to a heated skillet with a tablespoon of avocado oil, stirring often for approximately 3 minutes until moisture is released and the spinach is softened. Remove spinach to a plate, set aside.
Place bacon in a heated nonstick skillet and cook through until crisp. Turn once after approximately 4 minutes. While watching bacon, place a mini cupcake liner into each cup of the mini muffin pan.
Once the bacon is crisp, remove bacon to a plate lined with paper towels and set aside. Crack eggs into a large bowl. Add salt & pepper, and heavy cream to the bowl. Whisk the eggs and cream together until evenly combined.
Begin layering egg cups. Lightly oiling the inside of the mini muffin pan if you are not using liners will allow the egg bites to slide out more readily. Add about ½ teaspoon of cooked spinach into each liner. Chop bacon into small pieces and sprinkle onto the layer of spinach. Add a teaspoon of cheese to each cup.
Using a measuring cup with a spout (such as a liquid measuring cup) or a batter dispenser, fill each egg cup with egg and cream mixture. Sprinkle cheese onto each egg cup.
Bake for 10-12 minutes or until eggs are set. The egg cups will appear fluffy and will deflate somewhat once they are removed from the oven. Garnish as desired.
Notes
Fill mini liners approximately ¾ full with egg mixture.
Do not overcook your Keto Egg Bites. Check if eggs are set after 9-10 minutes.
Allow your keto egg bites to rest for a few minutes after removing them from the oven.
Nutrition Information:
Yield:

6
Serving Size:

1
Amount Per Serving:
Calories:

197
Total Fat:

17g
Saturated Fat:

8g
Trans Fat:

0g
Unsaturated Fat:

8g
Cholesterol:

215mg
Sodium:

272mg
Carbohydrates:

2g
Net Carbohydrates:

2g
Fiber:

0g
Sugar:

1g
Protein:

10g