Crustless Keto Quiche is a low carb, filling egg dish that is as delicious as it is impressive.
This keto recipe is versatile enough to suit any flavor preferences and perfect for a family meal or a special event.
You can add your favorite protein and veggies to make this keto quiche recipe your own.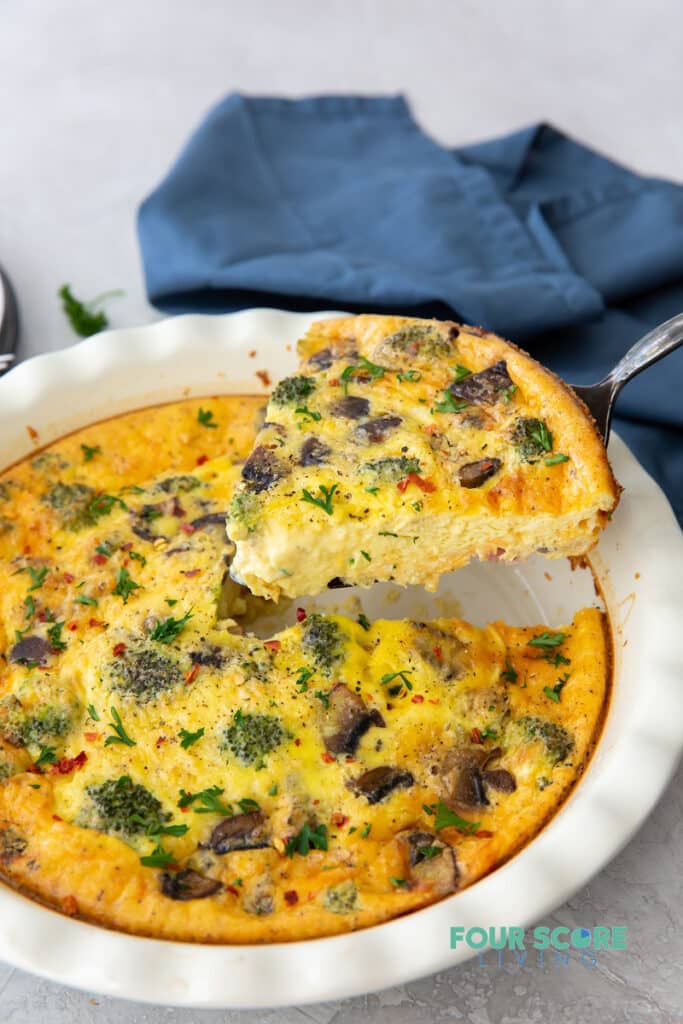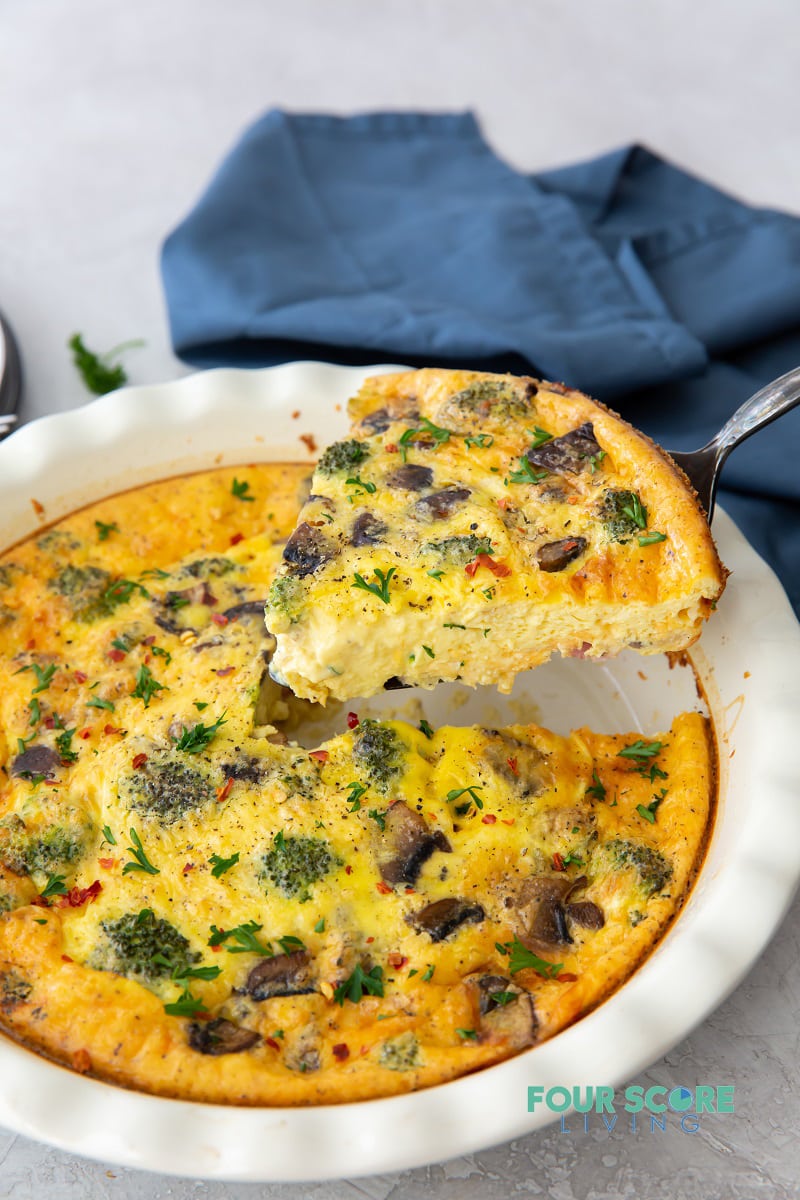 KETO QUICHE RECIPE
Traditional quiche is made with a heavy pie crust and is full of carbs, but this Keto Quiche doesn't need a crust at all to be amazingly filling and delicious.
A combination of eggs, heavy cream, cheese and your favorite mix-ins makes for a hearty, substantial, keto friendly quiche that will fill you up without any need for added carbs.
A low carb quiche packed with your favorite ingredients makes a delicious breakfast, brunch, lunch, or dinner.
I love making this keto quiche because I can make it ahead of time. Quiche can be served cold or at room temperature, making it perfect for meal prep or a quick lunch bite.
Are you hosting a keto brunch? Try my Keto Blueberry Muffins or my Almond Flour Crepes to add a sweet note to the meal.
WHAT IS QUICHE?
If you haven't had quiche before, you are in for a treat! Quiche is an egg dish, usually made in a pie dish. Traditional quiche is made with a butter and flour crust, but today we're making keto quiche that is crustless.
Quiche typically includes eggs, heavy cream, and cheese and has a creamy, dense texture. This low carb quiche recipe is no exception.
Different ingredients like meats and vegetables can be added to make any type of keto quiche you like.
IS QUICHE KETO?
Traditional quiche with it's flour based crust is not keto, but removing the crust makes it totally keto friendly.
IS QUICHE HEALTHY?
Yes, crustless quiche is a low carb, high protein, and high fat healthy option that works particularly well with a keto way of eating. You can also add healthy vegetables to your quiche to make it even better for you.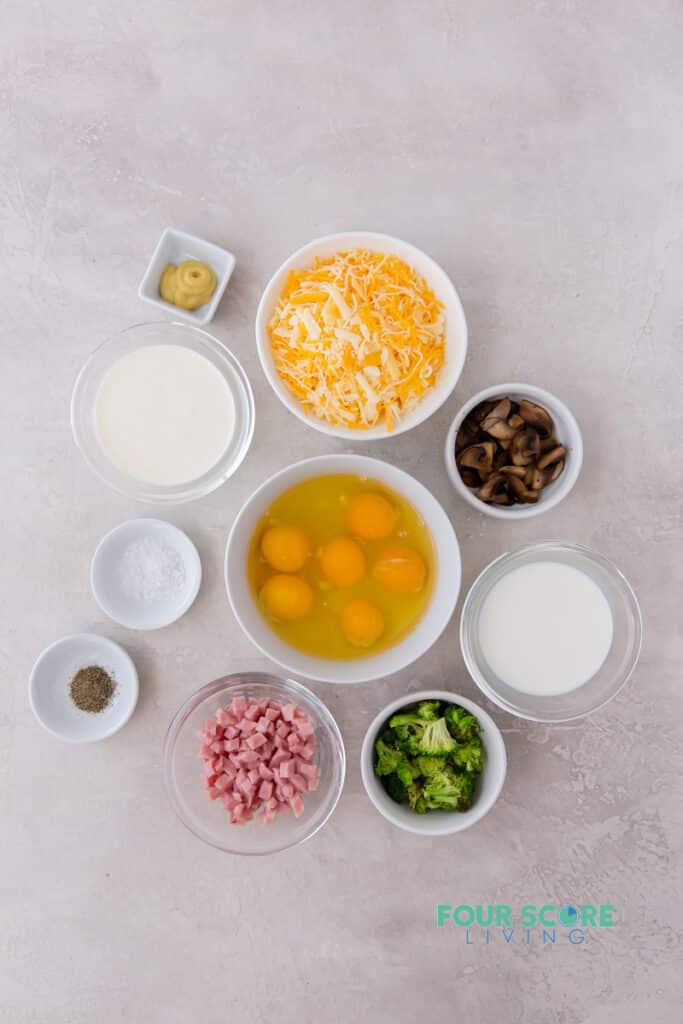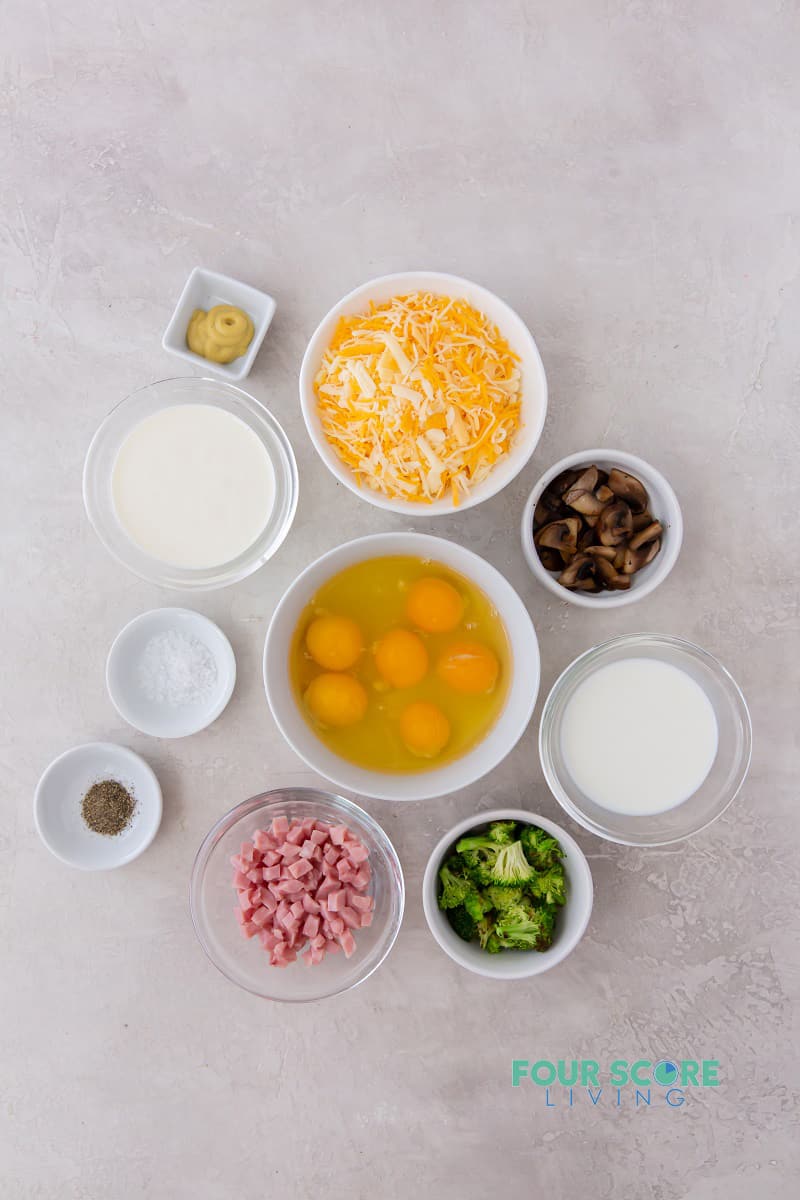 INGREDIENTS IN KETO QUICHE
Eggs - Eggs are the main ingredient in any quiche, and create the base for all of the delicious things we're going to add in.
Whole Milk - Thins out the egg mixture for the perfect quiche texture.
Heavy Cream - The mixture of cream and milk in this keto quiche recipe gives the best ratio for a creamy, dense quiche.
Dijon Mustard - This French style mustard adds the right amount of tang and flavor to the eggs.
Kosher Salt - Used to season the egg mixture perfectly.
Black Pepper - For a small kick of heat.
Mix-Ins - Decide what you want in your quiche! We are using ham, broccoli, and mushrooms. More suggestions are given below. Your mix-ins should be cooked before adding.
Shredded Cheese - A swiss or gruyere cheese is traditional, but cheddar cheese is delicious as well.
Fresh Parsley - This is always beautiful as a fresh garnish
Red Pepper Flakes - If you like a bit of heat, garnish your quiche with red pepper flakes as well.
If you have any questions, please leave a comment below and I will get back to you.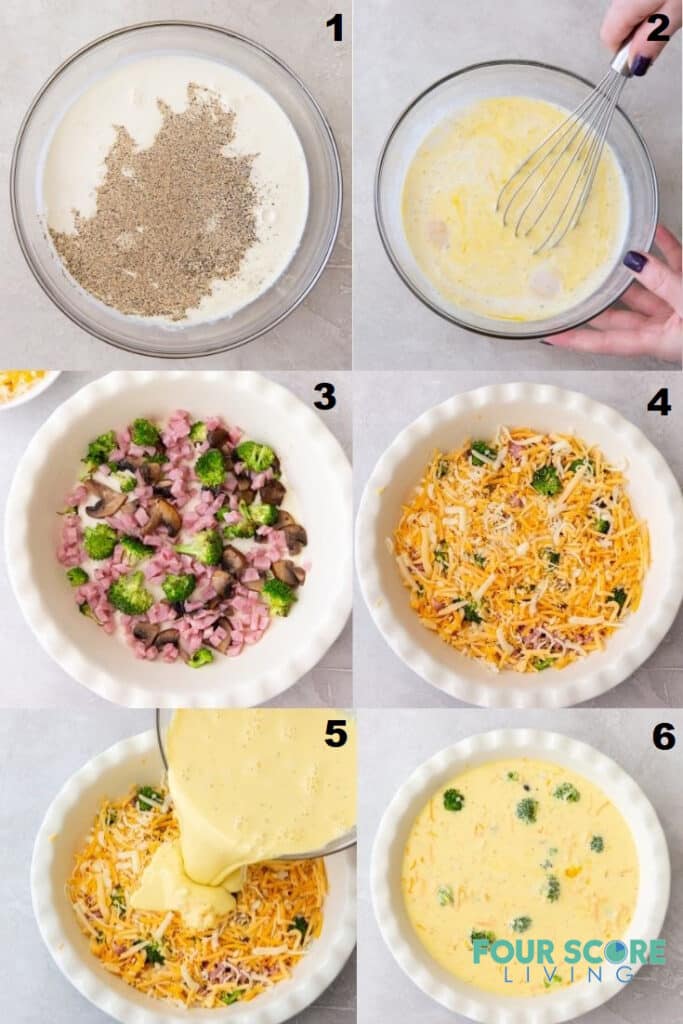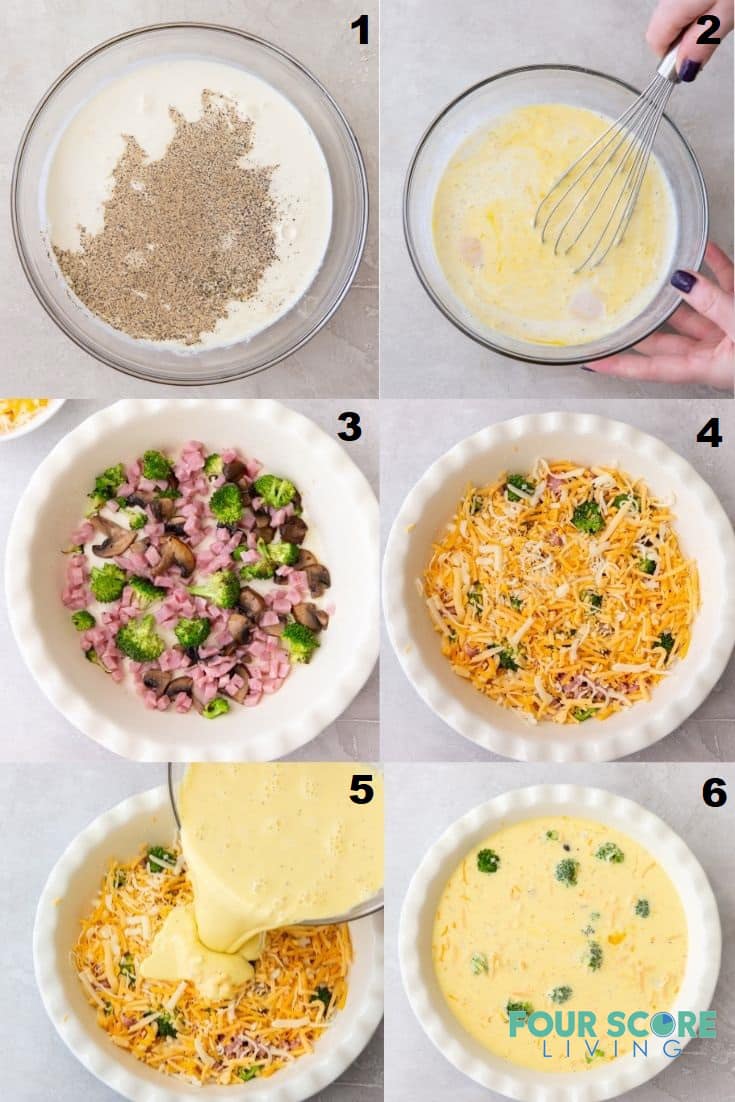 HOW TO MAKE KETO QUICHE
In a large bowl, combine the eggs, whole milk, heavy cream, mustard, salt, and pepper.
Mix well until combined.
Scatter your add-ins in the bottom of a prepared pie pan.
Top with shredded cheese.
Pour egg mixture over the add-ins.
Place the pie pan on a rimmed baking sheet and bake in a pre-heated oven as directed in the recipe below.
These numbered steps match the numbered photos above and are for illustration purposes. For the complete list of ingredients and instructions, please see the recipe below.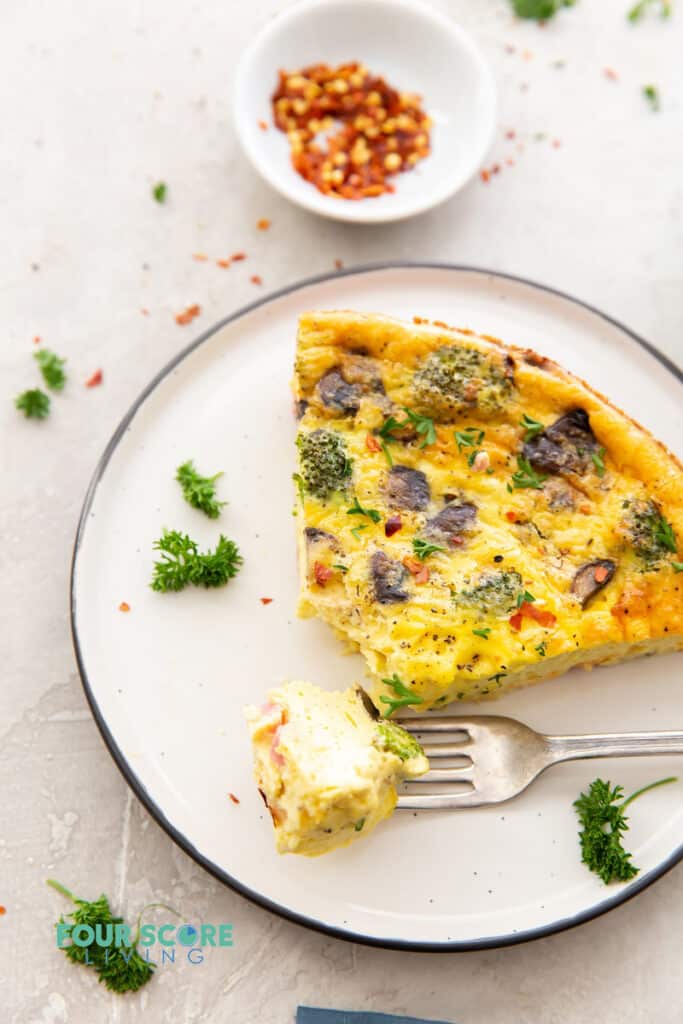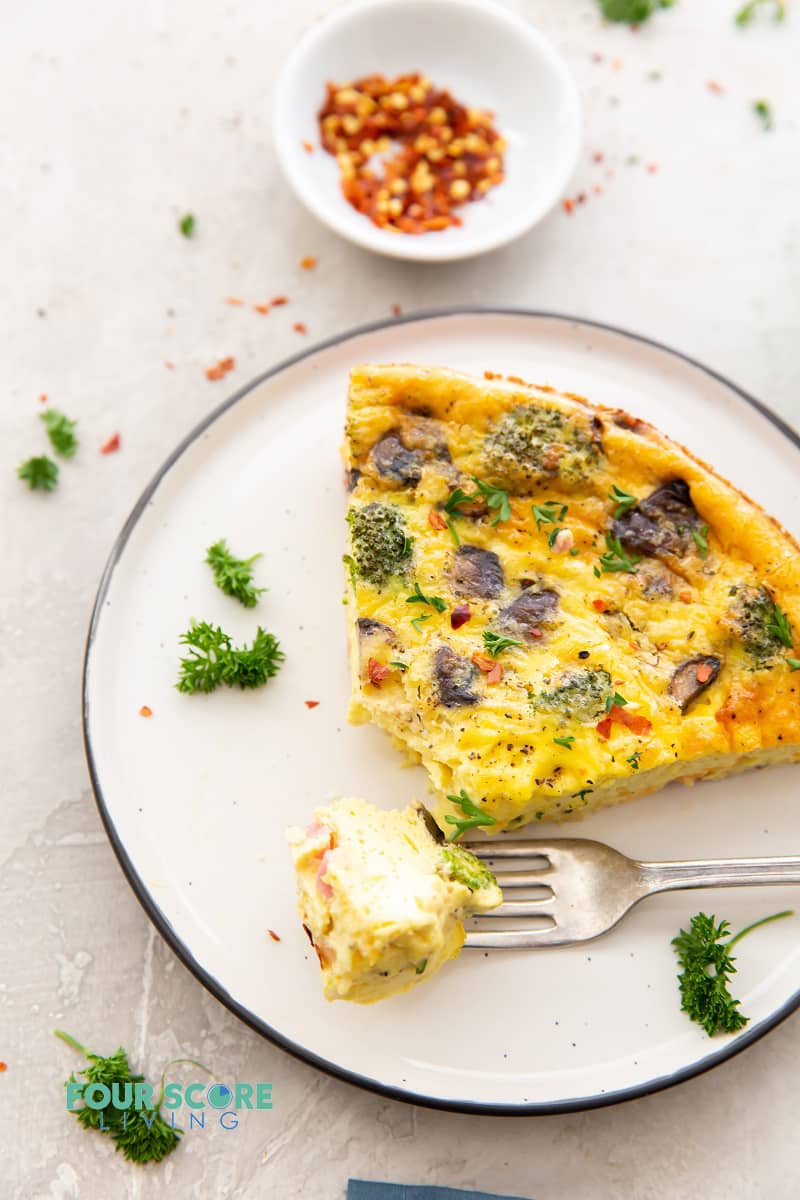 KETO QUICHE RECIPE TIPS
Use the right amount of add ins. Be sure that you aren't adding more than about 1 ½ cups of meats and vegetables. Any more than that and you'll overflow the pie pan.
Pre-Cook Vegetables and Meats. Things mixed into the egg mixture won't cook, so be sure that everyone is cooked before you add it in.
Try Roasting the Veggies. If you're adding broccoli, onions, or bell peppers, roast them in the oven to get caramelized and flavorful.
Allow quiche to cool before slicing. Give the keto quiche time to fully set after you remove it from the oven. 10-20 minutes of rest should be perfect.
HOW DO I KNOW WHEN QUICHE IS DONE?
You can check your quiche for doneness at the end of the recommended cooking time. Crustless quiche is done when the edges are golden and puffy and the center is cooked through without any visible liquid.
Feel free to poke the center with a small knife to check on it. Alternately, use a thermometer to ensure that the center of the quiche is between 165°F and 185°F (74°C and 85°C). That's going to be the most scientific way to know that it's done cooking.
WHAT HAPPENS IF I OVERCOOK KETO QUICHE?
Overcooked quiche is still edible, but the texture may be off. Overcooking will generally dry out the edges of the quiche.
WHAT IS THE DIFFERENCE BETWEEN CRUSTLESS QUICHE AND FRITTATA?
While both of these dishes are scrambled egg based, the difference is in the cooking method. While crustless quiche is baked in a pie pan in the oven, a frittata is generally cooked on the stovetop in a frying pan.
Frittata is also usually less creamy than quiche as it includes less cream or milk, plus it is cooked more quickly, so the texture is firm.
On the other hand, Quiche is more of a custard, and is cooked slowly in the oven, giving it a creamy, soft texture.
CAN YOU FREEZE A CRUSTLESS QUICHE?
Yes, you can freeze this recipe for Keto Quiche. After baking, allow the quiche to cool completely.
Wrap tightly with plastic wrap and then place in an air tight bag or container. Freeze for up to 3 months.
To re-heat from frozen, bake in a 350F oven for 20-30 minutes or until heated through.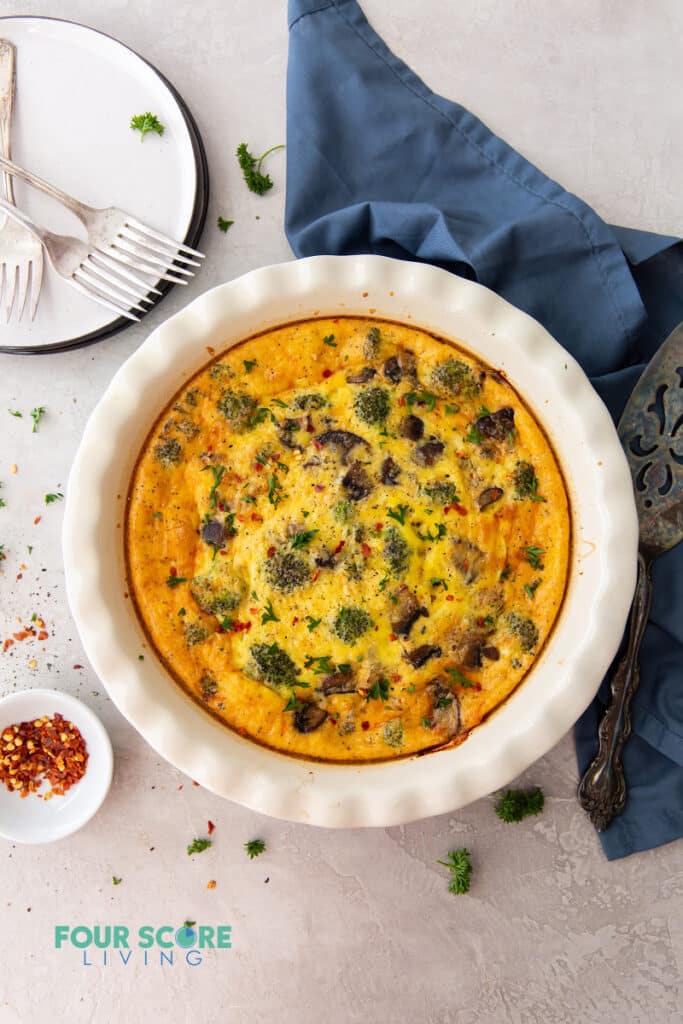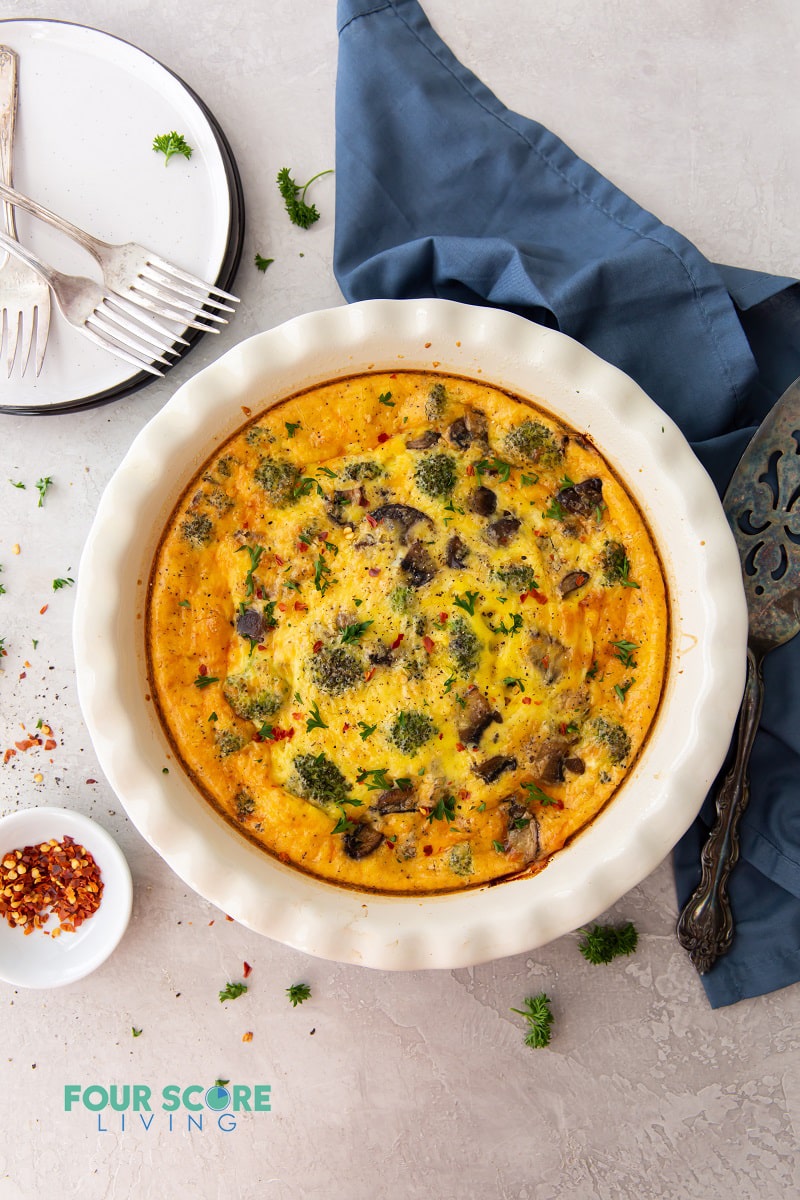 THE BEST KETO QUICHE ADD-INS
You can add anything you like into this Keto Quiche recipe, just make sure that the total amount of ingredients added is 1 ½ cups. Here are some keto-friendly ideas for quiche mix-ins:
Cooked ham, bacon, or sausage.
Fresh greens such as spinach, kale, or swiss chard (they will cook during baking).
Roasted or sautéed vegetables like broccoli, mushrooms, peppers, asparagus, zucchini, or brussels sprouts.
Fresh Herbs such as parsley, cilantro, rosemary, or thyme.
You can use other recipes as inspiration for your Keto quiche creations. This Bacon and Zucchini quiche recipe has me thinking about making it without the crust.
CLASSIC QUICHE FLAVORS
Bacon and Swiss Cheese make up the traditional quich lorraine.
Asparagus and Gruyere cheese create a quiche that is perfect for Spring.
Broccoli and Cheddar is a well-loved combination that even kids will like.
Tomatoes (just a small amount to stay keto), basil, and pecorino make an Italian themed quiche.
HOW TO MAKE KETO QUICHE LORRAINE?
Quiche Lorraine is a specific French quiche recipe that uses bacon and swiss cheese as the add ins. Follow this keto quiche recipe, and use chopped cooked bacon as your mix in.
IS QUICHE GOOD COLD?
I actually really enjoy eating this keto quiche cold, usually with a fresh green salad. It's the perfect high protein low carb lunch.
The traditional way to eat quiche is warm though, either shortly after removing it from the oven or reheated.
IS DIJON MUSTARD KETO?
Mustard in general is a great keto friendly condiment, because it rarely has an added sugar. Dijon mustard has low net carbs (generally under 2g per serving), so it's a great flavor booster for a low carb diet.
STORING AND REHEATING KETO QUICHE
Store any leftovers in an airtight container in the fridge for up to 3 days.
To reheat slices of keto quiche, use the microwave, air fryer, or oven to gently heat to your desired temperature. Avoid reheating too much, as you may overcook the quiche.
Microwave at 50% power for 1-3 minutes
Air Fry at 300°F/150°C for 4-8 minutes
Bake in a preheated 350°F/177°C oven for 10-15 minutes
To reheat an entire cooked keto quiche, Use the oven method. Cover the quiche with foil and bake in a 350°F/177°C oven for 20 minutes.
We hope you enjoyed reading this article. Please help us out by leaving a quick review and star ★ rating below.
LET'S GET SOCIAL, you can follow Four Score Living on Pinterest. You can also leave a comment below if you have any questions.
Did you make this Keto Quiche Recipe? Please leave a comment below letting me know what you thought.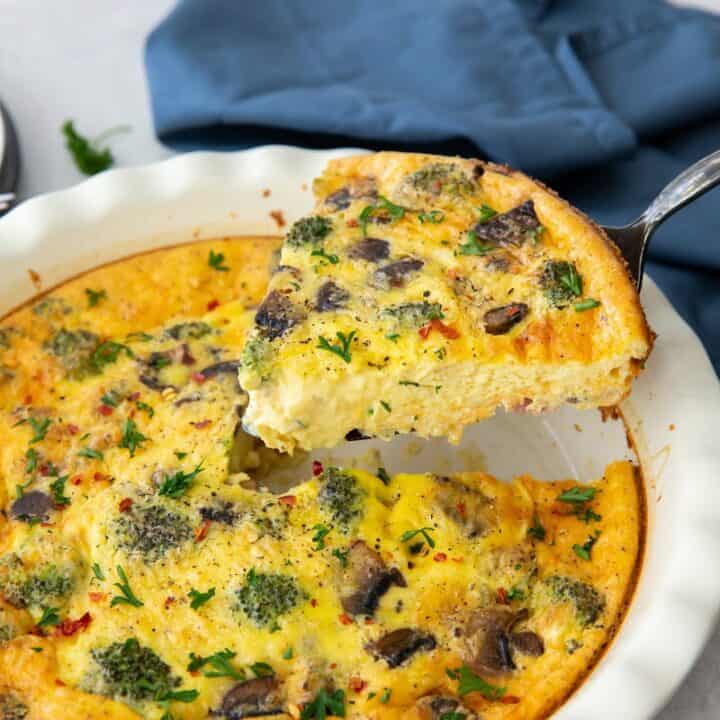 Keto Quiche
Crustless Keto Quiche is a low carb, filling egg dish that is as delicious as it is impressive. This recipe is versatile enough to suit any flavor preferences and perfect for a family meal or a special event
Ingredients
6 large eggs
½ cup whole milk
½ cup heavy cream
1 teaspoon Dijon mustard
¼ teaspoon kosher salt
¼ teaspoon black pepper
1 ½ cups mix-ins of choice**
1 - 1 ½ cups shredded cheddar cheese (or your favorite variety)
Fresh parsley, for garnish
Red pepper flakes, for garnish
Mix in options: cooked bacon, ham, or sausage; roasted or sauteed vegetables, fresh greens, fresh herbs
Instructions
Place a rack in the center of your oven and preheat the oven to 350 degrees F. Spray a deep-dish 9-inch pie pan with nonstick cooking spray and set aside.
In a large bowl, combine the eggs, whole milk, heavy cream, mustard, salt, and pepper.
Mix well for one minute.
Scatter the add-ins in the bottom of the pie pan.
Top with cheese.
Pour egg mixture over add-ins. Place the pan on a rimmed baking sheet.
Bake the quiche until the center is just about set, about 35-40 minutes, or until puffy and golden at the edges. The center should be cooked through without visible liquid. Let cool a few minutes, then cut into wedges and enjoy warm, garnished with parsley and red pepper.
Cover tightly and store in the refrigerator for up to 4 days.

Notes
Quiche can be frozen for up to three months and reheated in the oven. Bake at 350F for 20-30 minutes or until heated through.
Leftovers are great for lunches the next day, or for meal prep for the week. Reheat in the microwave at 50% power for 2-4 minutes.
Add any low carb add ins that you like, such as bacon, ham, chicken, vegetables, and herbs. Be sure to cook your additions before adding them to the eggs.
Nutrition Information:
Yield:

6
Serving Size:

1 Slice
Amount Per Serving:
Calories:

382
Total Fat:

29g
Saturated Fat:

14g
Trans Fat:

1g
Unsaturated Fat:

12g
Cholesterol:

265mg
Sodium:

800mg
Carbohydrates:

6g
Net Carbohydrates:

4g
Fiber:

2g
Sugar:

3g
Protein:

24g
The nutrition information for this recipe is an approximate total per serving. Please double check the nutrition information for your exact ingredients and brands.