Keto Breakfast Casserole is a hearty, savory dish packed with protein, veggies, and melty cheese to keep you full and happy all day long.
It's simple to make and it uses minimal ingredients, including eggs, sausage, and bell peppers.
This low carb breakfast casserole recipe is filling and delicious without the extra added carbs from bread. If that's not enough, you'll be eating in less than an hour with this fast and easy recipe.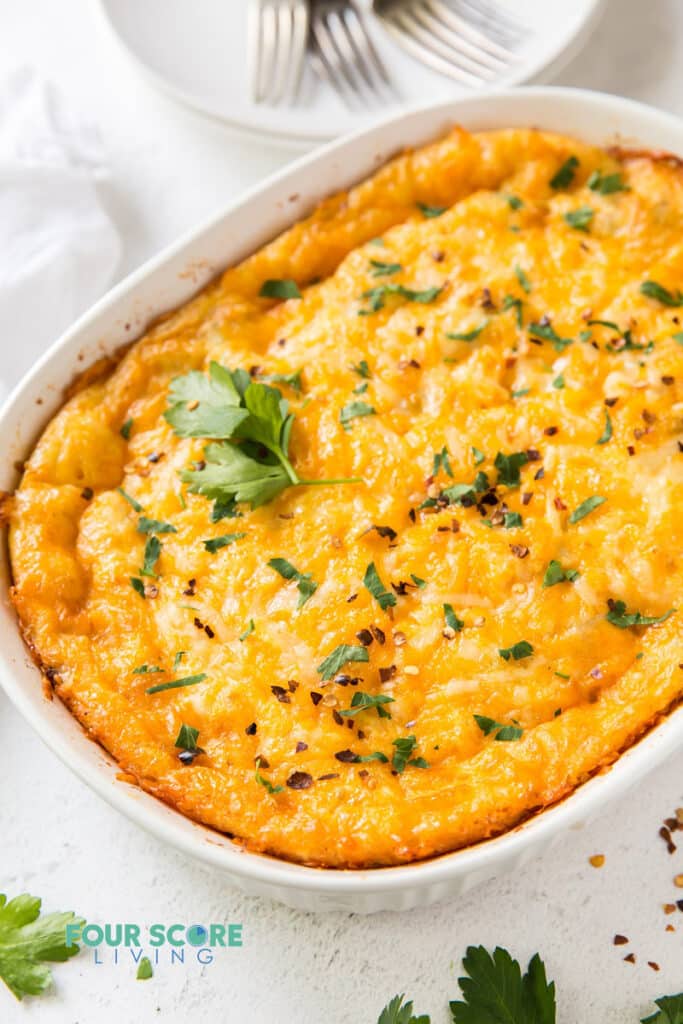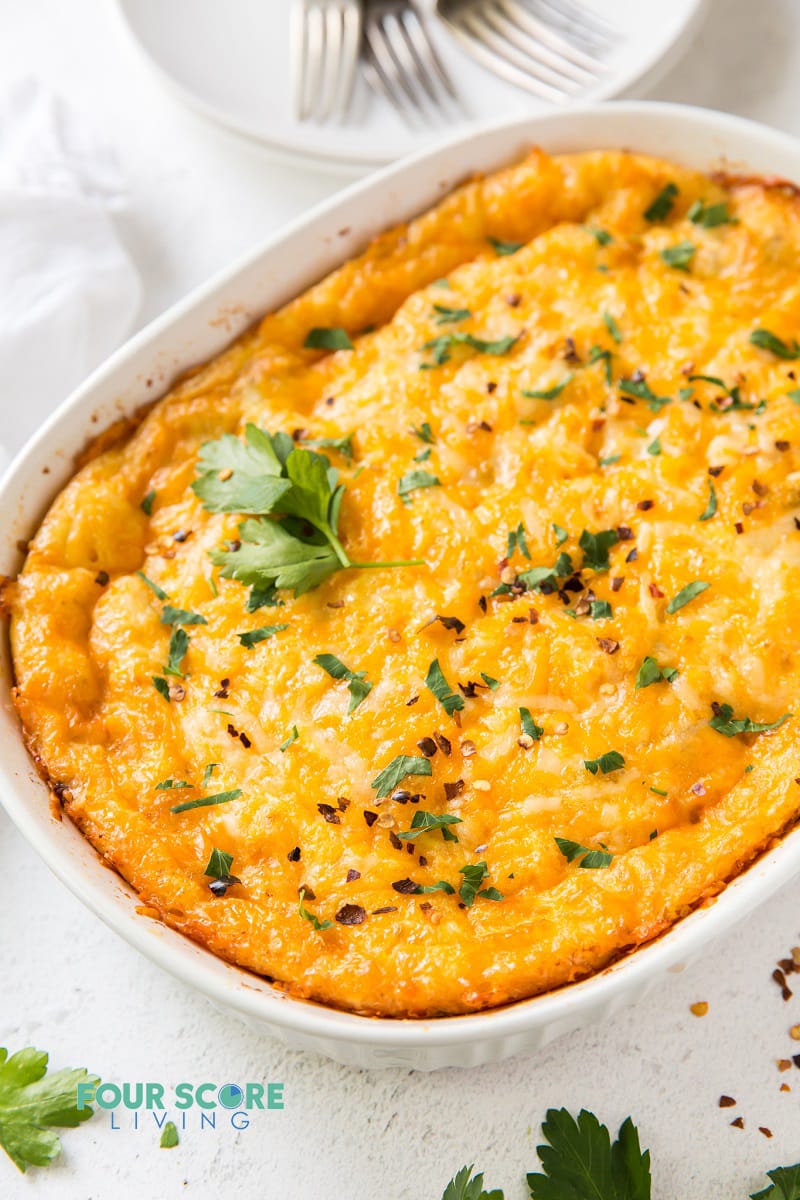 KETO BREAKFAST CASSEROLE RECIPE
I love making this easy keto breakfast casserole on the weekends.
It's so simple to throw together and then let bake in the oven while I prepare coffee and fresh fruit, or another breakfast treat, like our Keto Berry Smoothie.
Often we associate breakfast casserole as having layers of bread or potatoes, but those things aren't needed here.
My kids love eating this casserole too, so it's a keto breakfast that we all can enjoy together.
Savory breakfast sausage, cheddar cheese, and eggs come together in this low carb breakfast casserole so effortlessly that you'll come back to making this recipe again and again.
This Keto sausage egg and cheese casserole is also perfect for brunch, pot lucks, or any time when you're serving a small crowd. Everyone enjoys this low carb breakfast casserole!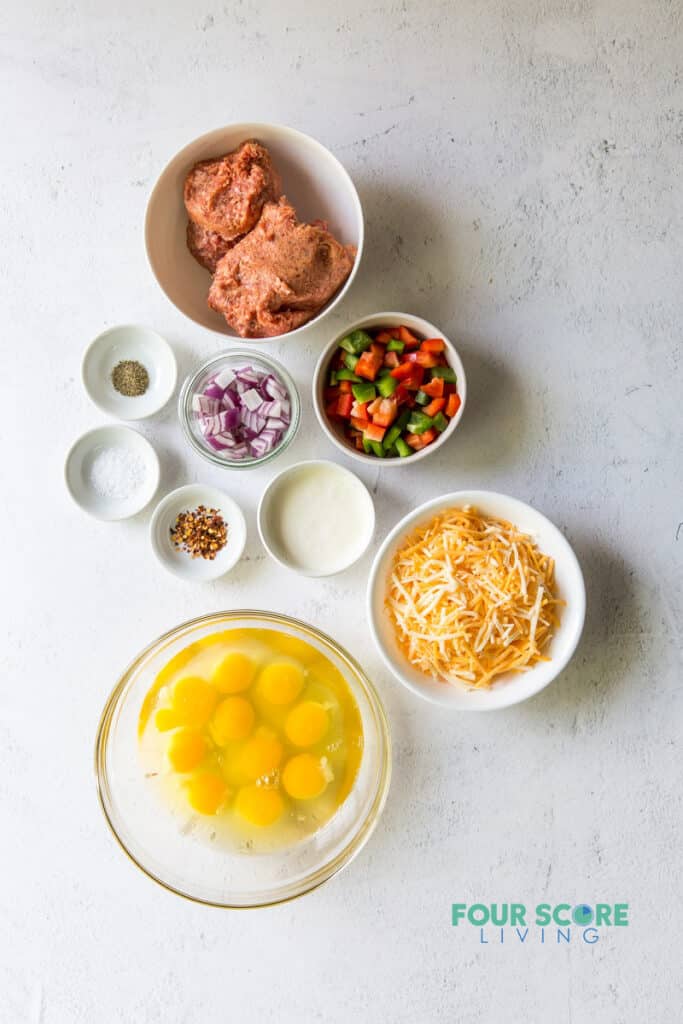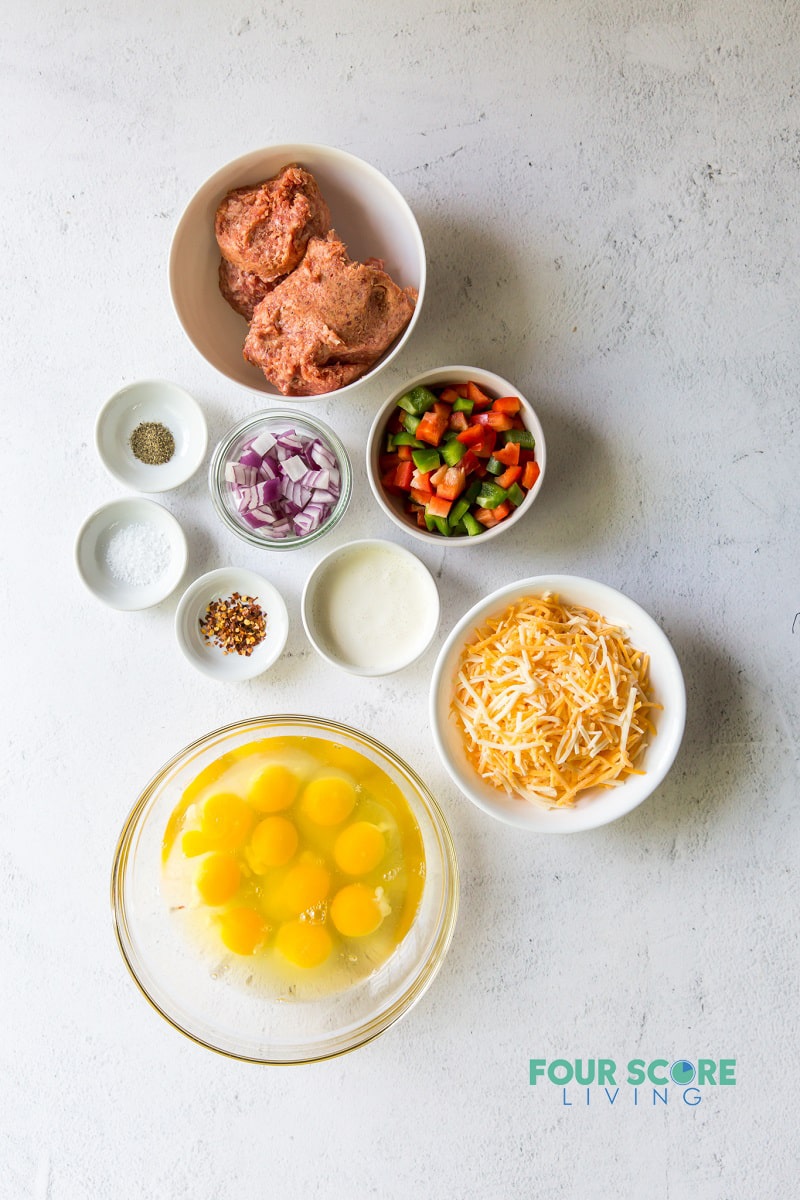 INGREDIENTS IN KETO BREAKFAST CASSEROLE
Breakfast Sausage - Choose your favorite brand. Sometimes I use a regular sausage, and sometimes I like a spicy one. Buy your sausage in bulk or in a tube to make it simple. You can use link sausages, but you'll want to remove the casings first.
Red Bell Pepper - Bell pepper adds flavor and fiber to this recipe.
Red Onion - I like red onion for it's spiciness here, but you could use whatever type of onion you have on hand. Green onion can be used as well, and will reduce the carb count just a little bit.
Eggs - We need 10 large eggs for this recipe. Eggs are an amazing protein to have on hand if you're eating low carb or keto.
Heavy Cream - Cream is added to help combine all of the ingredients. Adding cream to eggs creates a lovely texture.
Salt - Add to taste. Reduce the amount of salt added if your sausage is particularly salty.
Black Pepper - I love lots of black pepper with egg dishes.
Red Pepper Flakes - This is optional, but you can add red pepper flakes to give the breakfast casserole a bit of heat. A dash of your favorite hot sauce can be used instead.
Cheddar Cheese - I use a shredded cheese blend with two types of cheddar, but any type of cheddar will be delicious here. Check your shredded cheese packaging to be sure there aren't added starches that could add carbs to your recipe. If in doubt, just grate your own cheese from a block.
If you have any questions about this Keto Breakfast Casserole, please leave a comment below and I will get back to you.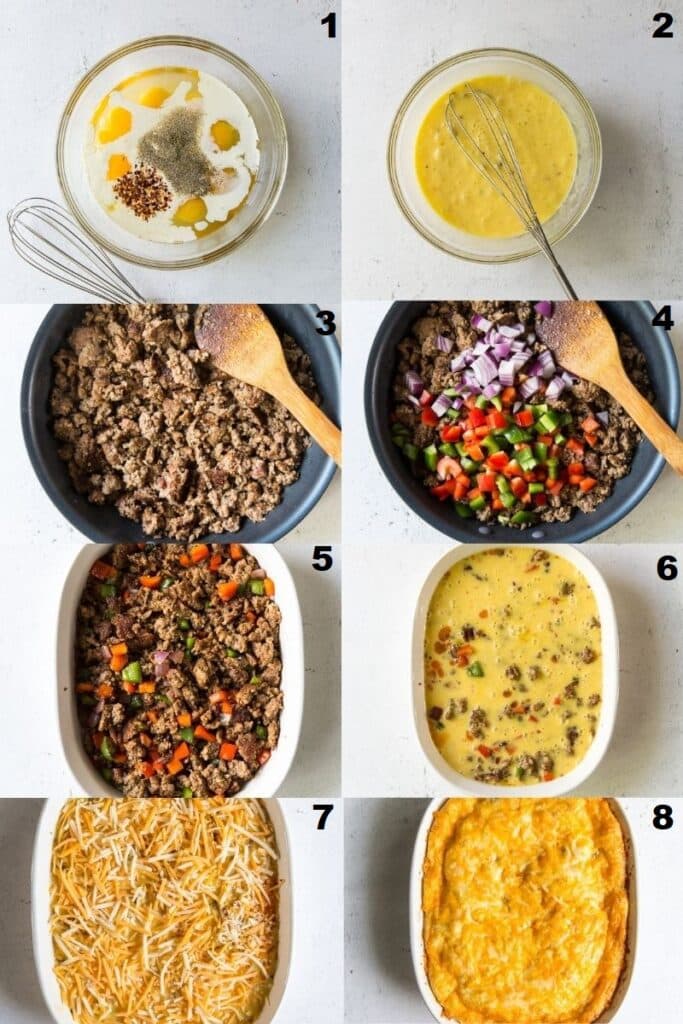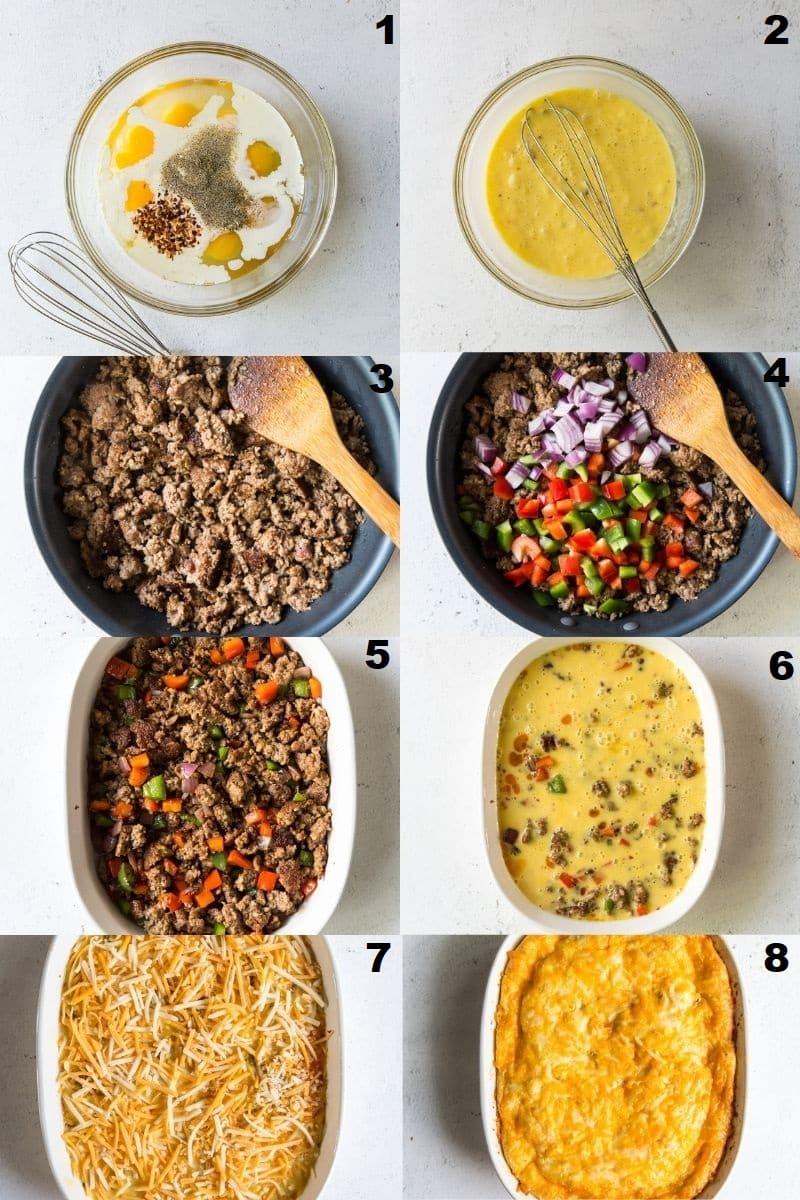 HOW TO MAKE KETO BREAKFAST CASSEROLE
In a small bowl, add eggs, cream, salt, pepper, and red pepper flakes.
Whisk together to combine.
Set a large skillet over medium-high heat. Cook the sausage until no longer pink.
Add the onion and bell pepper to the pan with the sausage. Sauté until softened.
Spread the cooked mixture in an even layer in the bottom of a prepared baking dish.
Pour the egg mixture over the sausage and veggies.
Sprinkle the top of the eggs with shredded cheese.
Bake until the eggs have set and the cheese is golden and bubbly.
These numbered steps match the numbered photos above and are for illustration purposes. For the complete list of ingredients and instructions, please see the recipe below.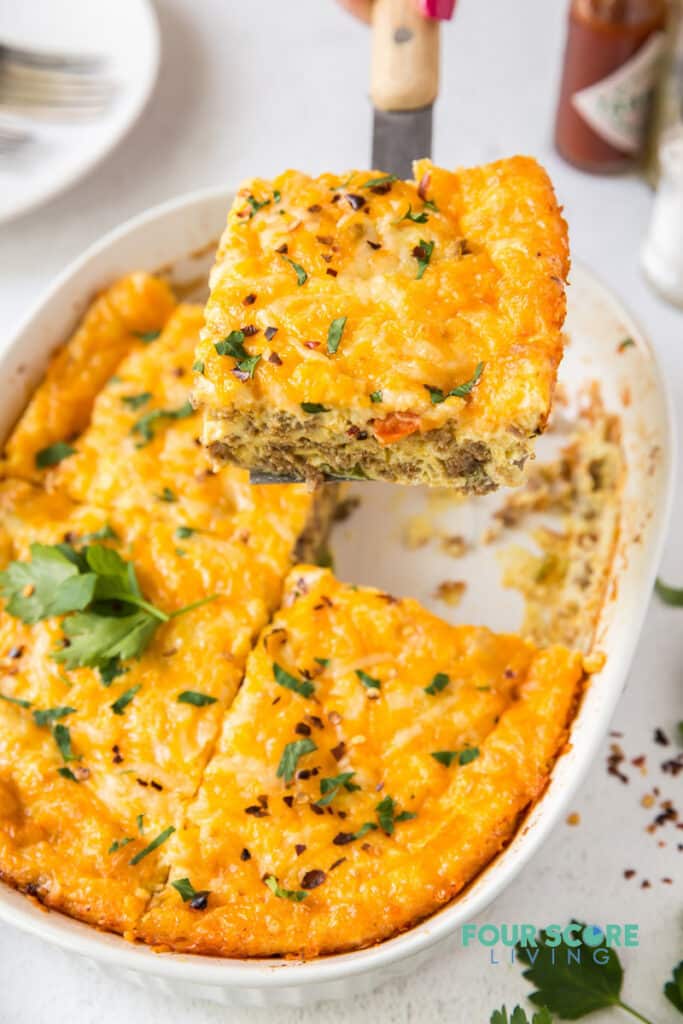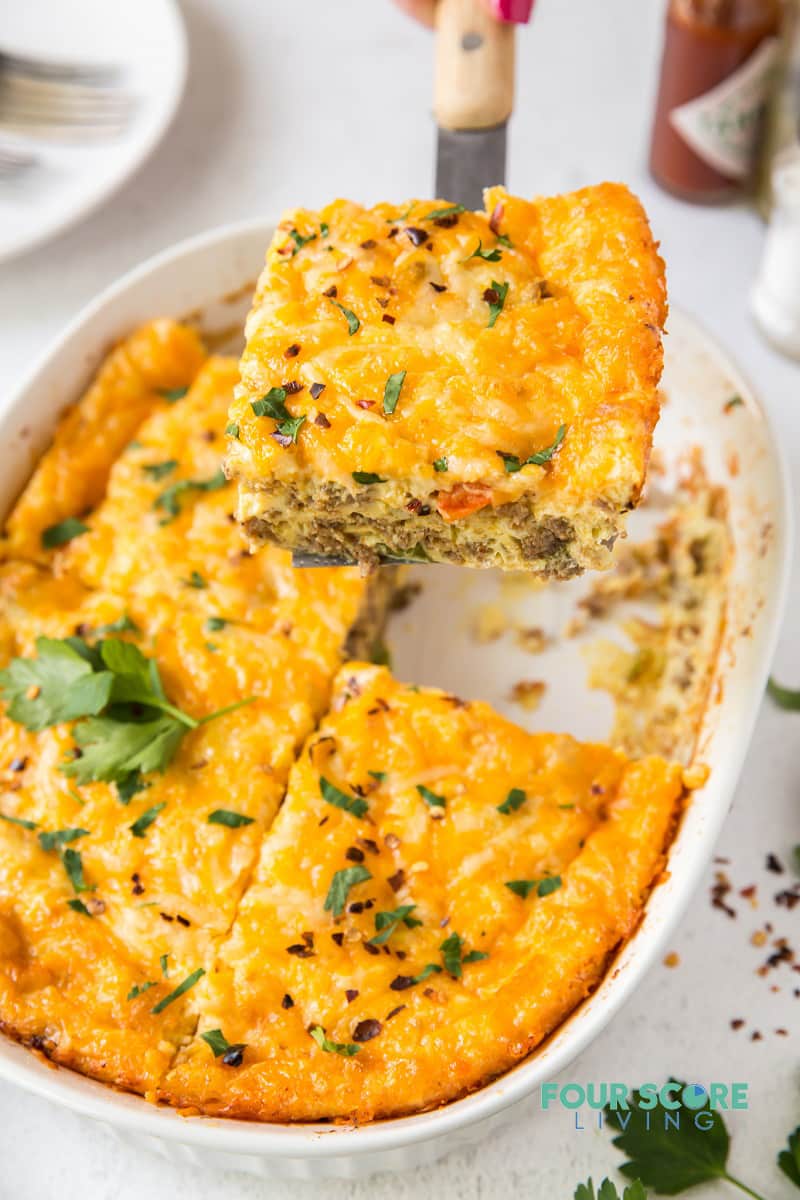 HOW TO MAKE A LOW CARB BREAKFAST CASSEROLE AHEAD OF TIME
The beauty of this breakfast casserole is that you can absolutely make it the night before, or even 2 or 3 days ahead of time. I have two ways that I'd suggest you do this.
Bake Ahead: Prepare the recipe as directed. Bake the casserole, let it cool, then wrap well and store in the fridge for up to three days. When you're ready to serve, re-heat in the oven at 350F for about 20 minutes, or until warmed through.
Prep Ahead: When I make this recipe ahead of time, I like to cook the meat and veggies and then store that in the fridge for up to three days. When I'm ready to serve the keto breakfast casserole, I whisk up the eggs and then add the eggs and cheese to the pan before baking. This saves me a lot of time the day that I'm serving it, and still gives me a freshly baked casserole to serve to my family.
BREAKFAST CASSEROLE KETO MEAL PREP
You can make this recipe and wrap up individual servings to use for prepping your breakfast for a whole week. I think I enjoy it better the next day too! Breakfast casserole's flavors blend together to be more delicious the next day.
You can reheat the individual servings in the microwave, so lunch is ready in under a minute. Reheating breakfast casserole in the oven or air fryer is an option as well.
HOW TO FREEZE KETO BREAKFAST CASSEROLE
This low carb breakfast casserole recipe freezes very well, either before or after baking, for 3 months. This is a great keto recipe for freezer meal prep.
Freeze the casserole after it's baked by wrapping it well and freezing for up to 3 months. To re-heat, allow it to thaw in the fridge overnight, then reheat in the oven until warm.
Freeze an unbaked keto breakfast casserole by carefully placing the unbaked but assembled casserole in the freezer after covering it well with plastic wrap and foil. Reheat the casserole by thawing overnight in the fridge, then bake as directed in the recipe card.
WHAT TO SERVE WITH KETO BREAKFAST CASSEROLE
Are you serving breakfast or brunch and keeping the whole meal low carb? Try these other ketogenic diet friendly breakfast dishes!
Keto Muffins and Sweet Breakfast Breads are the perfect accompaniment to a savory breakfast casserole.
We have amazing recipes for Keto Chocolate Zucchini Muffins, Low Carb Blueberry Muffins, and Low Carb Chocolate Chip Muffins.
Almond flour crepes are completely delicious, and a great option for a fancy brunch with your friends. Fill them with whipped cream and low carb berries!
Almond Flour Scones, Keto Coffee Cake, Keto Pumpkin Bread, and Keto Cinnamon Sugar Donuts are more of my sweet breakfast favorites. It's amazing how simple it is to make your favorite pastries keto and low carb.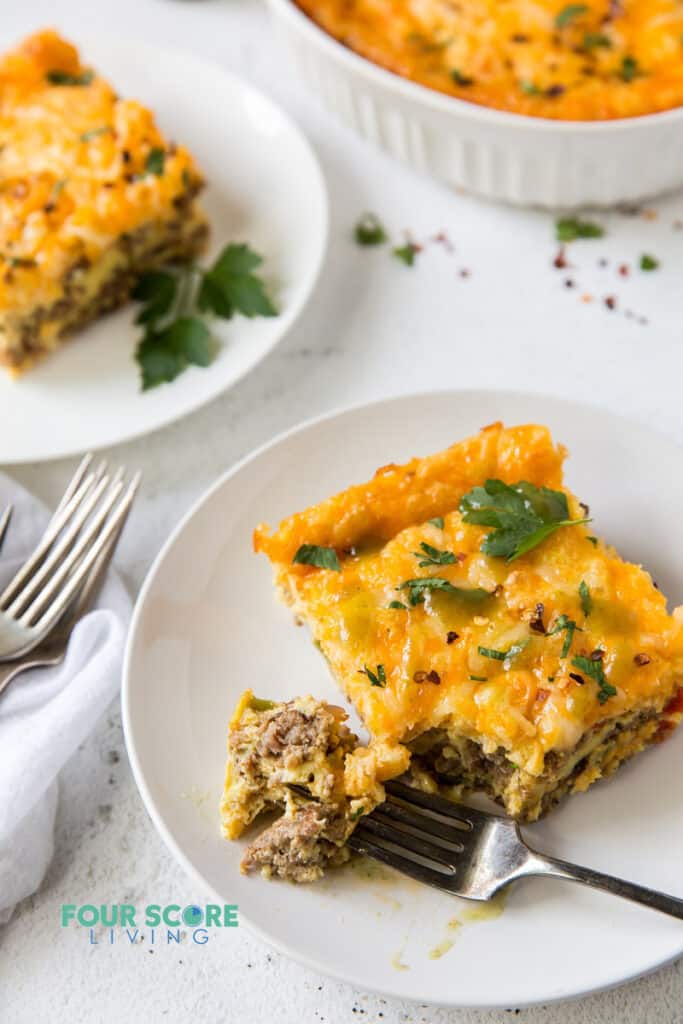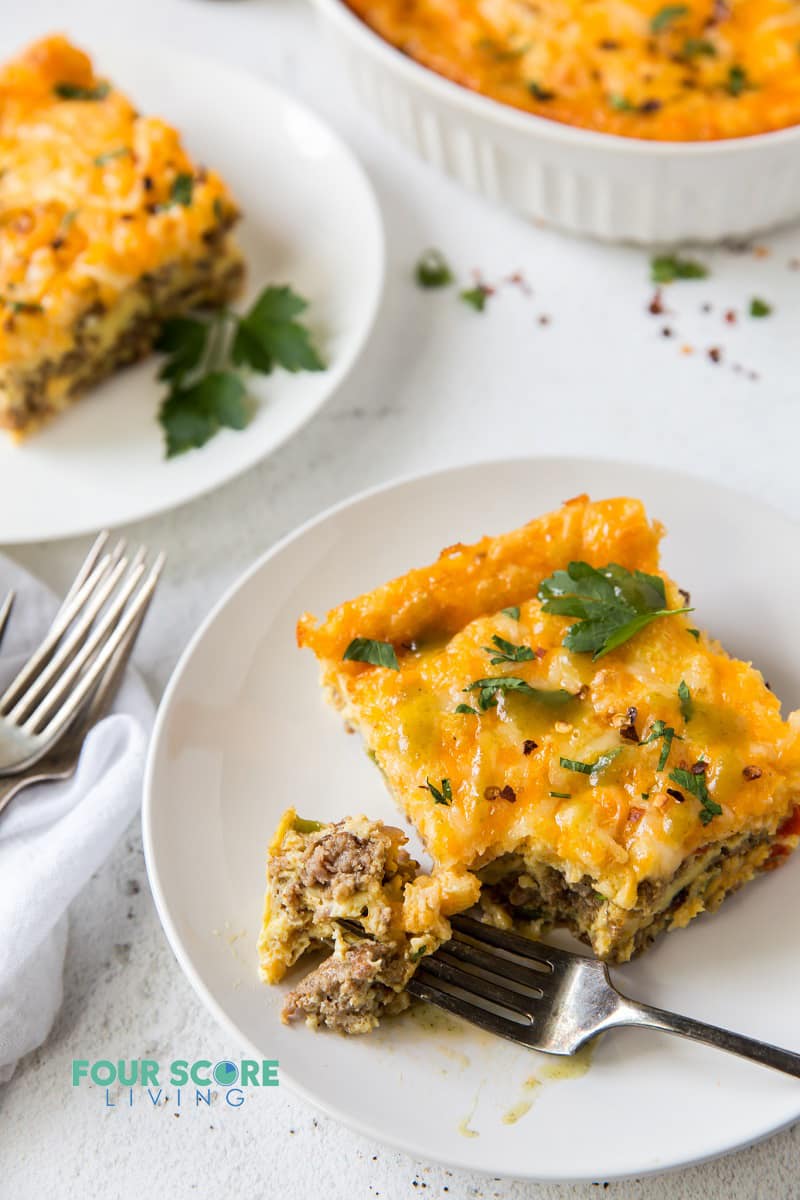 WHAT ELSE CAN I ADD TO KETO BREAKFAST CASSEROLE?
This recipe is very accomodating and will work with almost anything you want to add to it. Just make sure that you have about the same amount of ingredients in the pan!
Try additional low carb vegetables in your breakfast casserole, like spinach, mushrooms, zucchini, broccoli, or cauliflower. Cook any vegetables before adding them in. Roasted vegetables are delicious in breakfast casserole too.
More cheese or different cheeses will change up the flavor here. Try pepperjack, Swiss, or feta.
Other meat can be used in place of the sausage or in addition to it. Bacon or Ham are great breakfast casserole choices if keto casserole with sausage isn't your style.
Seasonings. I purposely keep my keto breakfast casserole simply seasoned with salt and pepper so that the flavors of the sausage are highlighted. It would be delicious to add your favorite herbs or seasonings as well though! A bit of garlic powder, cumin, or Italian seasoning would be a good start.
WHAT IS THE DIFFERENCE BETWEEN A BREAKFAST CASSEROLE AND A CRUSTLESS QUICHE?
I have a Keto Quiche recipe that you might like to try. The main difference between the two is that quiche has more cream added to it, giving the eggs a softer, creamier texture.
Quiche also has less add-ins than breakfast casserole does, making it smoother. Keto breakfast casserole has lots of meat and veggies added to make it extra filling.
If you don't need to eat keto, you might like this Gluten Free Breakfast Casserole or this Veggie Breakfast Casserole with sweet potatoes.
ARE THERE CARBS IN EGGS?
One cooked egg has 0.6 grams of carbs and 6.3 grams of protein, making it an extremely low carb protein option, perfect for a keto diet.
CAN I USE BROWN AND SERVE SAUSAGE IN KETO BREAKFAST CASSEROLE?
In a pinch, pre-cooked breakfast sausage can be used in this recipe, just chop it up into small pieces to add it in after you've cooked the vegetables. I like the flavor and fat that comes from cooking my own sausage, and prefer making it that way.
CAN I EAT BREAKFAST CASSEROLE FOR DINNER?
Of course you can! Who's going to stop you? I love doing breakfast for dinner casserole nights at home. I usually will serve keto breakfast casserole with a simple green salad on the side to create a nutritious, filling, and satisfying meal.
We hope you enjoyed reading this article. Please help us out by leaving a quick review and star ★ rating below.
LET'S GET SOCIAL, you can follow Four Score Living on Pinterest. You can also leave a comment below if you have any questions.
Did you make this Keto Breakfast Casserole? Please leave a comment below letting me know what you thought.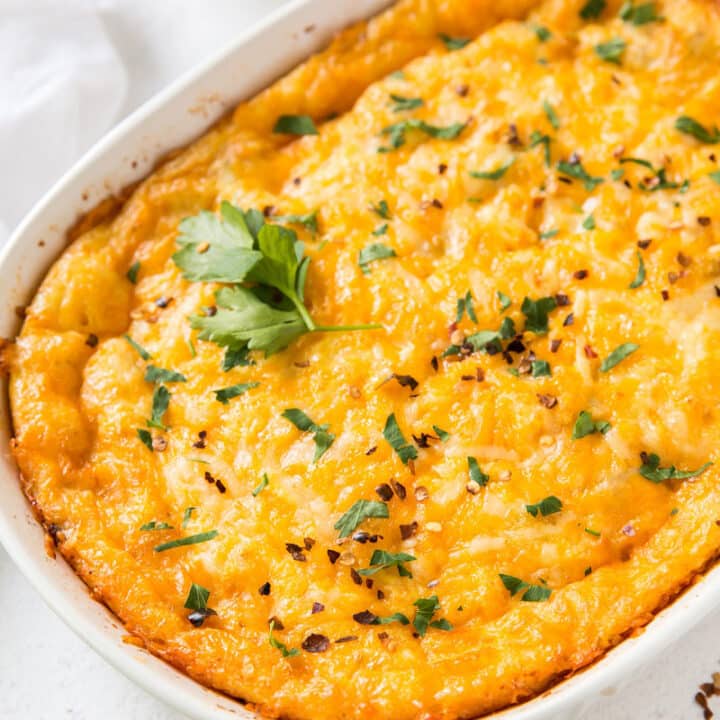 Keto Breakfast Casserole
Keto Breakfast Casserole is a hearty, savory dish packed with protein, veggies, and cheese to keep you full and happy all day long.
Ingredients
16 oz breakfast sausage
1 cup bell pepper, chopped
¼ cup red onion, chopped
10 large eggs
¼ cup heavy cream
½ tsp salt
¼ tsp black pepper
¼ tsp red pepper flakes, to taste
1 ½ cups shredded cheddar cheese blend
Instructions
Preheat oven to 375 degrees F. Spray a 2-quart casserole dish with cooking spray and set aside.
Set a large skillet over medium-high heat. Cook the sausage until no longer pink, then add the onion and bell pepper. Sauté for 3-4 minutes until softened.
Spread the cooked mixture in an even layer on the bottom of the prepared baking dish.
Whisk the eggs and heavy cream together in a small bowl. Season with salt, pepper, red pepper flakes. Pour the egg mixture over the sausage and veggies.
Sprinkle with shredded cheese and bake for 25-30 minutes, or until the eggs have set and the cheese is golden and bubbly.
Remove from the oven and allow to cool before serving.
Notes
To make this recipe ahead, you can cook the entire recipe and then reheat when ready to serve at 350F for about 20 minutes.
Alternately, Cook the recipe through step three and then place it in the fridge, When you're ready to bake the casserole, prepare the egg mixture and complete the recipe.
Leftovers reheat well in the microwave.
Feel free to add other cooked vegetables, cooked meats, or cheeses to switch up the flavors in your casserole.
Nutrition Information:
Yield:

8
Serving Size:

1
Amount Per Serving:
Calories:

382
Total Fat:

21g
Saturated Fat:

9g
Trans Fat:

0g
Unsaturated Fat:

10g
Cholesterol:

267mg
Sodium:

423mg
Carbohydrates:

6g
Net Carbohydrates:

4g
Fiber:

2g
Sugar:

2g
Protein:

19g
The nutrition information for this recipe is an approximate total per serving. Please double check the nutrition information for your exact ingredients and brands.