Here is all you need to know about cooking a tender, juicy, herb-crusted sirloin tip steak. This tasty, versatile beef cut is easy to make on the grill or stovetop.
Our easy sirloin tip steak recipe is coated with garlic and fresh herbs before hitting the grill for a nice sear; it's the only sirloin tip recipe you'll ever need.
This beef sirloin tip steak recipe has a quick 10-minute cook time, making it perfect for those busy weeknights.  
In this article, we will highlight tips on how to get your sirloin tip steak tender, the best ways to serve and all the different ways you can cook it.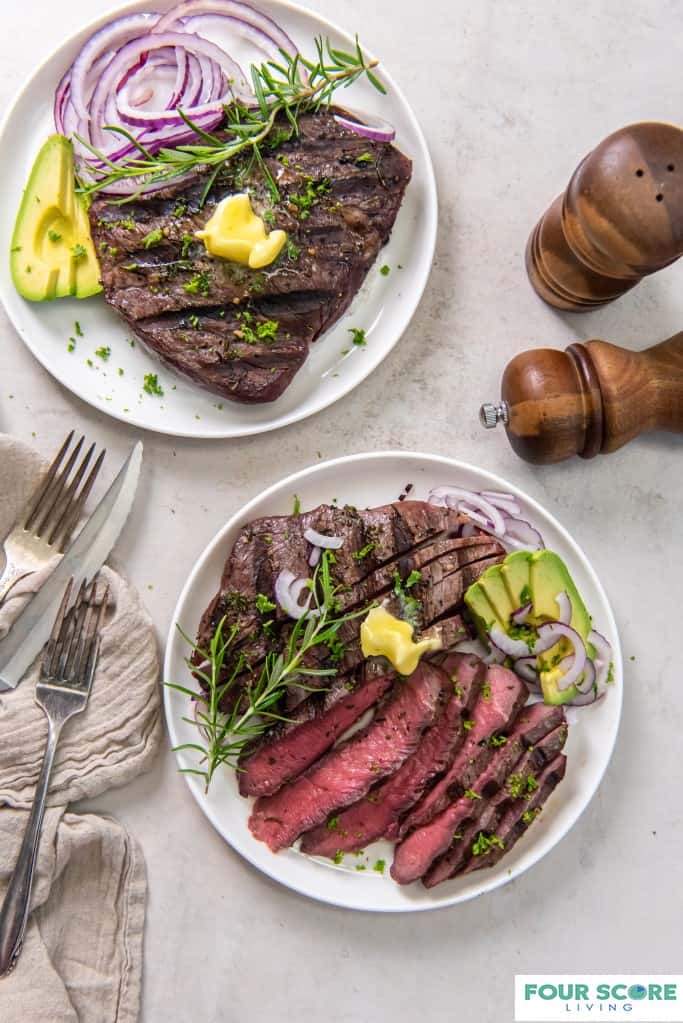 Why You'll love this Tender Cut of Steak Recipe
Sirloin tip steak is a budget friendly option for steak lovers. Despite it being on the cheaper side, it is loaded with amazing flavor. With the proper preparation, it can rival more expensive cuts in taste and tenderness.
This cut's versatility makes it a kitchen favorite. Whether you're in the mood for steak salads, hearty sandwiches, tacos, fajitas, or even rice or noodle bowls, the sirloin tip steak can do it all.
Its adaptability lets you experiment with various cuisines and cooking styles to create mouth-watering dishes that the whole family will love.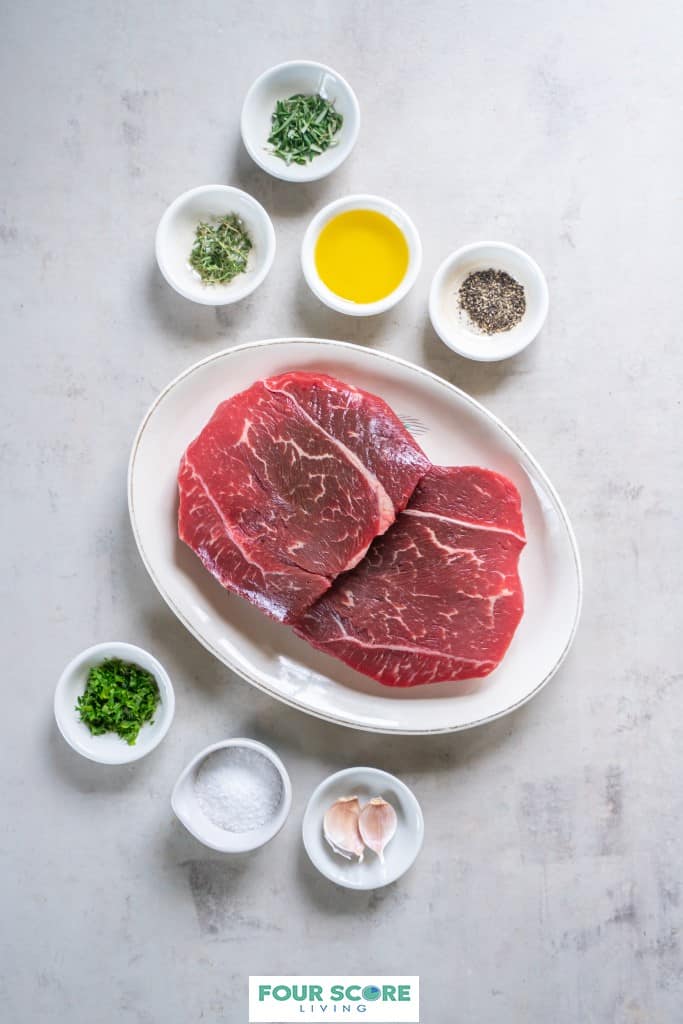 Ingredients In Our Easy Sirloin Tip Steak recipe
See tips later in the post for instructions on tenderizing this lean cut of steak with a marinade for best results.
Sirloin tip steaks (1 inch thick): Choose a high quality thick steak with good marbling. Thickness matters for cooking time, so make sure they are approximately 1 inch thick.
Kosher salt: Kosher salt has larger crystals, making it easier to control the amount you use.
Olive oil:  We like olive oil, or avocado oil for this recipe. Use your favorite oil for seasoning the steaks.
Fresh rosemary: Pairs beautifully with steak and adds a fragrant aroma. 
Fresh thyme leaves: Remove the leaves from the stems use them whole or chop finely if desired.
Fresh parsley: Contrasts and enhances the flavor profile of the streak.
Fresh Garlic, minced: You can dial the amount of garlic up or down. You can use garlic powder if you don't have fresh garlic cloves on hand.
Black pepper: To taste, use as much or as little as you like. 
If you have any questions about the ingredients in this Sirloin Tip Steak recipe, please leave a comment below and we will get back to you.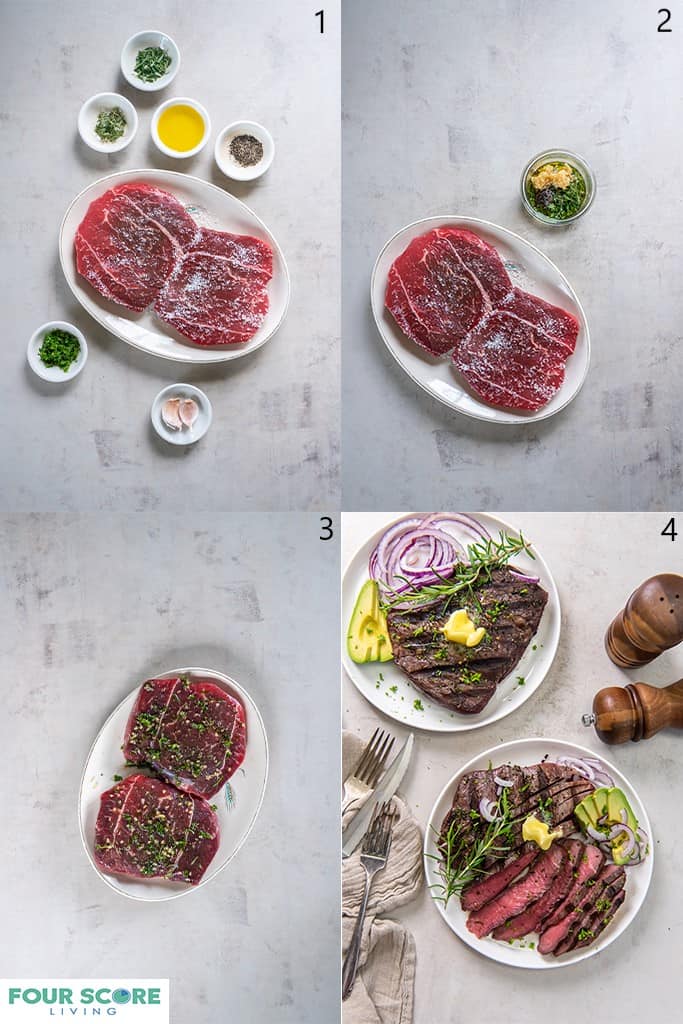 How to make this Beef Sirloin Tip Steak Recipe
Prepare the steaks. Remove the steaks from the fridge one hour before cooking them. Season the steaks liberally with salt and allow the salt to penetrate and tenderize the meat as they come to room temperature. 
Heat the grill. You want high heat for a quick sear. Oil the grates to prevent sticking. 
Prepare the fresh herbs. Mix all the remaining ingredients in a small bowl. After 1 hour, wipe the salt from the steaks, then rub and press the herb mixture into all surfaces of the beef.
Grill the steaks. Place steaks onto the grill and cook them for 3-6 minutes on each side, turning once during grilling. We recommend cooking the steaks to medium rare. Depending on how thick they are, they may need more or less time. 
Transfer the medium rare steaks to a cutting board. For juicy steak and best results - cover them with foil and rest for 5-10 minutes. Slice the steak thinly against the grain. Serve as desired. 
For the complete list of ingredients and instructions, please see the printable recipe card below.
How Best to Serve this Sirloin Tip Steak
Here are some serving suggestions for your grilled beef sirloin tip steak, along with accompaniments and sauces:
Mashed potatoes: Creamy mashed potatoes - top them with herbed butter or mushroom gravy.
French fries (steak & frites): Thin, crispy French fries- what can be better?
Baked potatoes: Split open the potato and top it with herbed butter, chives, sour cream, and bacon bits. So delicious!
Broccoli salad: A crunchy salad with a tangy dressing complements the steak's richness.
Asparagus: Roasted or grilled asparagus spears make a really elegant side dish.
Coleslaw: Creamy coleslaw provides a cool and slightly tangy contrast to the steak's savory flavor.
Slices of avocado: For a quick and healthy lunch option, serve your sirloin tip steak with thin slices of ripe avocado.
Sandwich/taco: Thinly sliced sirloin tip steak can make an incredible steak sandwich or taco. Add your favorite toppings like sautéed onions, peppers, cheese, guacamole, and lettuce. 
Rice/noodle bowls: Serve sirloin strip steak slices over a bed of rice or noodles. For a unique twist, you can include stir-fried vegetables, soy sauce, or a flavorful Thai peanut sauce.
Sauces:

Garlic butter sauce: A creamy garlic butter sauce with hints of herbs is luscious.
Mushroom gravy: A classic choice that enhances the steak's rich flavor with its earthy and savory notes.

Classic Bearnaise sauce: Classical French sauce usually served with steak at fine dining restaurants.
Herbed Balsamic butter: Melted herbed butter adds richness to your steak
Herbed Balsamic Butter recipe
½ cup of unsalted butter (one stick of unsalted butter)
½ teaspoon of salt
1 teaspoon of fresh thyme or rosemary, finely chopped
1 teaspoon of balsamic vinegar
A pinch of black pepper (optional)
Allow butter to soften to room temperature. Mix all ingredients together in a small bowl until balsamic vinegar is fully combined with the other ingredients. Cover the bowl and chill in the refrigerator until set (approximately 30 minutes).
To form 'pats' of herbed balsamic butter make a butter roll or 'log.' Use a rubber spatula to scoop the mixture from the bowl onto a sheet of 6 x 6-inch parchment paper forming a thick, 4-inch line. Roll the parchment paper to create a log by rolling the paper tightly. Refrigerate until set (approximately 30 minutes). Remove the herbed butter roll 15 minutes before serving. Slice into pats immediately before serving.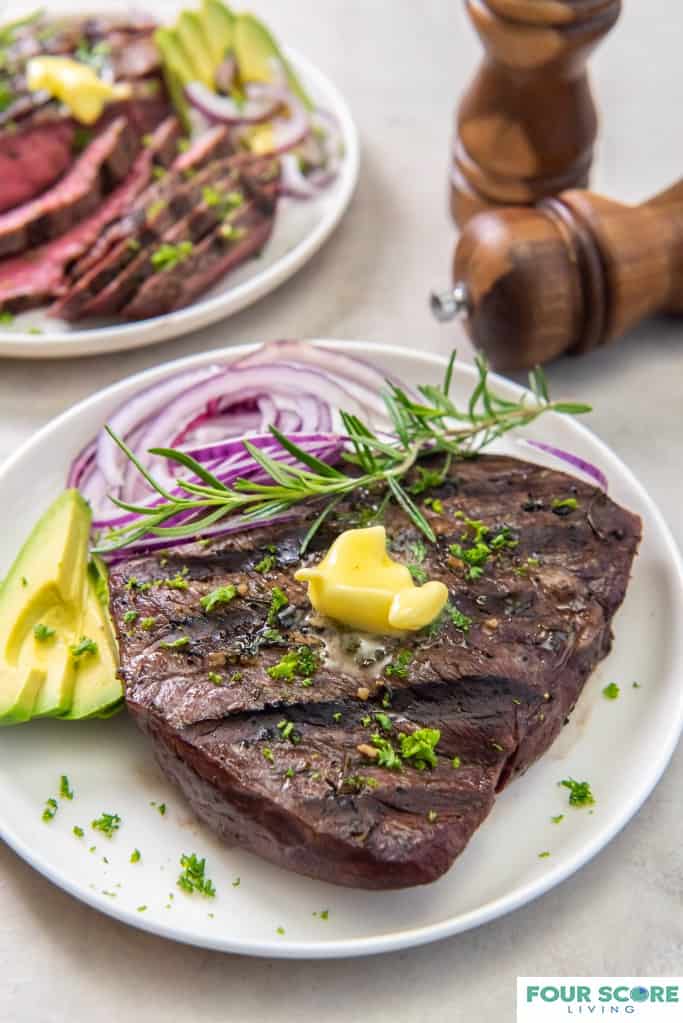 Best Tips for Making a Sirloin Tip Steak
Before cooking steak, allow it to sit at room temperature for a minimum of 30 minutes. This ensures more even cooking throughout the steak.
Season your steak generously with kosher salt and freshly ground black pepper before cooking. This enhances the steak's flavor and forms a delicious crust when searing.
Sirloin tip steak is best when cooked to medium-rare, with an internal temperature of around 130-135°F. So you actually want to remove the steaks from the grill when they reach 125 degrees F, as they will continue to cook while resting. Avoid increasing the cooking time to take the steaks past medium. This will dry them out. A nice sear on each side is usually sufficient.
Preheat your cooking surface, whether a grill, cast-iron skillet, or grill pan, to high heat. A hot surface ensures a nice sear on the steak's surface. A medium-high heat or lower will not give you the delicious crust you want in a good steak. 
Avoid using a fork or knife to puncture the steak while cooking. Puncturing releases precious juices, leading to a less juicy steak. Instead, use tongs to turn your steak.
After cooking, allow the sirloin tip steak to rest for about 5-10 minutes. This resting period allows the juices to redistribute within the meat, resulting in a tender, juicy steak when you cut into it.
To ensure tenderness, cut the sirloin tip steak against the grain. This means slicing the steak perpendicular to the natural muscle fibers. This technique helps break down the meat's fibers, making each bite more tender.
Consider serving your sirloin steak with a complementary sauce or toppings, like herbed butter, garlic butter sauce, or mushroom gravy.
Use a meat thermometer to check the steak's internal temperature to ensure it reaches your desired level of doneness. This helps you avoid overcooking.
Best Ways to Make a Sirloin Tip Steak Tender
To make a sirloin tip steak tender, especially since it's a leaner cut that can be tougher, you can employ various marinades and techniques to ensure a more tender and flavorful result:
Soaking the beef sirloin tip steak in a vinegar based marinade will break down the meat fibers, making your Sirloin Tip steak tender while bringing out the flavor of the juicy meat.
Marinating overnight (12 hours) is ideal for optimal tenderness. In a time crunch? Your Sirloin Tip Steak should still marinate for a minimum of 4 hours.
Vinegars that can be used: White wine vinegar, red wine vinegar, balsamic vinegar, and apple cider vinegar.
Mustard can also be used as a tenderizer. Instead of soaking the Sirloin Tip Steak in vinegar it can be coated in mustard and left to tenderize overnight. If you do not care for the flavor of mustard, simply rinse the meat to remove the mustard and pat it dry with paper towels. Once the steak is tenderized, follow the easy Sirloin Tip Steak recipe instructions for cooking.
Chopped onion, garlic, Rosemary, Thyme, and Sage are examples of seasonings to include in your marinade. For an extra kick, you can also add prepared horseradish.
Vinegar based marinade recipe
¼ cup red wine vinegar (or what you have on hand)
¼ cup oil
2 tablespoons Worcestershire sauce
¼ cup chopped onion
2 tablespoons minced garlic
1 teaspoon dried thyme or 1 tablespoon of fresh thyme
Pinch of black pepper
Instructions for Sirloin Tip Steak vinegar marinade: Place beef steaks into a shallow dish or ziplock bag. Mix all of the marinade ingredients in a small bowl until combined and pour the mixture over the steaks - turning the steaks over once to ensure all sides are coated. Cover and place into the refrigerator for a minimum of 4 hours. Marinating the Sirloin Tip Steaks overnight is best.
Mustard Marinade Recipe
⅓ cup mustard (Dijon or regular yellow mustard)
2 Tablespoons of Worcestershire sauce
1 teaspoon dried sage or thyme
Pinch of salt
Pinch of black pepper
Instructions for Sirloin Tip Steak mustard marinade: Place beef steaks into a shallow dish or ziplock bag. Place all of the ingredients into a small bowl and mix to create a thick marinade. Spoon the marinade over the steaks and rub into the meat, coating all sides.
Pounding: If you're very short on time or need a quicker method, use a meat tenderizer to pound the sirloin tip steak. Pounding helps break down the muscle fibers and results in a thinner, more tender steak. Because the steak is thinner, your cook time will be reduced.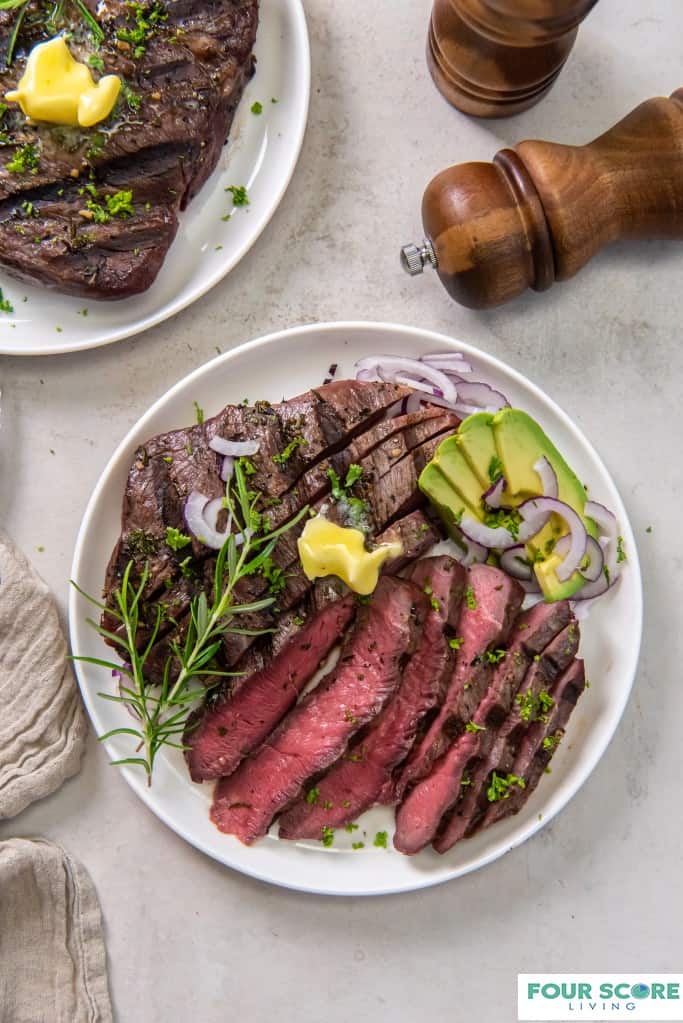 How to Best Store Your Beef Sirloin Tip Steak
After cooking the sirloin tip steak, allow it to cool down before placing it in an airtight container. Vacuum-sealed bags or zipper-lock bags are also suitable alternatives. Removing as much air as possible will help preserve the meat's quality. Place it in the refrigerator and store for up to 4 days.
The best way to reheat your sirloin tip steak without drying it out, is cooking it quickly on the stovetop at high heat.
Other Sirloin Tip Steak Cooking Methods
Sirloin tip steak can be prepared in a variety of ways.
Seared on the stovetop in a hot cast iron skillet. The sirloin tip steak develops a beautiful crust while remaining tender and juicy inside.
Braising in the oven involves slow-cooking the steak in liquid, which results in a melt-in-your-mouth tenderness.
Finally, a sirloin tip steak slow cooker recipe is perfect for those seeking a convenient and time-saving method. The sirloin tip steak can simmer gently in a flavorful broth or sauce. This results in a dish where the meat practically falls apart.
What is the difference between Sirloin Steak and Sirloin Tip Steak
Sirloin steak and sirloin tip steak are two different cuts of beef. They are different in terms of their location on the cow, tenderness, and ideal cooking methods and steak recipes:
Sirloin Steak:
Sirloin steak comes from the sirloin primal cut of the cow, located in the back section, just before the round or hindquarters.
Sirloin steak is considered more tender than sirloin tip steak. It has a moderate level of marbling (intramuscular fat) and is often leaner than other steak cuts like ribeye or T-bone. It is still a relatively tender cut of meat.
Sirloin steak has a good beefy flavor. It's known for having a balance of tenderness and flavor.
Sirloin is suitable for grilling, broiling, pan-searing, or roasting. It's often served as a standalone steak or used in steak sandwiches.
Sirloin Tip Steak:
The sirloin tip steak comes from the round, located on the front end of the rear leg. It's right next to the sirloin.
Sirloin tip steak is the most tender of all the round cuts but typically less tender compared to sirloin steak. It's a leaner cut with less marbling and can be tougher if not prepared properly.
Sirloin tip steak is often used in recipes where it's sliced thinly, such as stir-fries, steak sandwiches, fajitas, or beef stroganoff. It's also suitable for grilling, pan-searing, braising, or slow cooking.
Is a Sirloin Tip Steak Tough or Tender?
A sirloin tip steak is no filet mignon, it's generally considered to be a tougher beef cut. However, it can be made tender with proper preparation, marinating, and cooking techniques.
We hope you enjoyed reading this article. Please help us out by leaving a quick review and star ★ rating below.
LET'S GET SOCIAL, you can follow Four Score Living on Pinterest. You can also leave a comment below if you have any questions.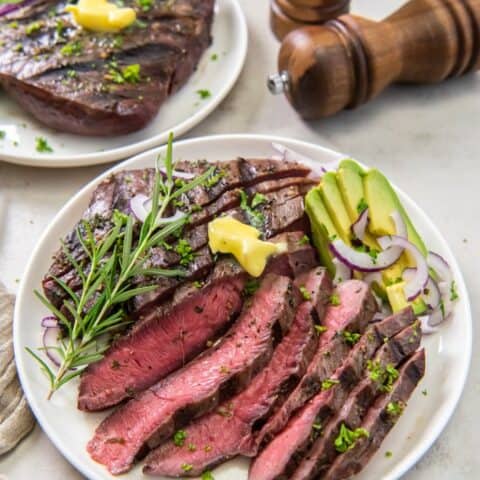 Sirloin Tip Steak
Herb-crusted, tender, and juicy, this versatile and budget
friendly beef cut is flavorful, easy to prepare, and delicious to eat.
Ingredients
2 Sirloin Tip Steaks, 1 inch thick
Kosher salt
1 tablespoon olive oil
1 tablespoon chopped fresh rosemary
1 tablespoon chopped fresh thyme leaves
1 tablespoon chopped fresh parsley
2 cloves fresh garlic, minced
½ teaspoon black pepper
Instructions
Remove the steaks from the refrigerator about 1 hour before grilling. Liberally salt the steaks and allow the salt to penetrate and tenderize the meat as they come to room temperature.
After 1 hour, wipe the salt from each steak. Mix all remaining ingredients in a small bowl, then rub and press mixture into all surfaces of beef.
Preheat a grill to high heat, oiling the grates to prevent sticking.
Grill the steaks for 3-6 minutes per side, turning once, until cooked to medium rare. They may need more or less time depending on thickness.
Remove the steaks to a cutting board, tent with foil, and allow them to rest for 5-10 minutes. Slice the steak thinly across the grain and serve as desired.
Notes
Use our vinegar or mustard-based marinades for the most tender steak.
Ensure your grill is very hot before grilling steaks to ensure a nice sear.
Remove your steak from the grill when your meat thermometer reads 125 degrees F.
Use tongs to flip your steaks. You never want to use a fork and puncture a steak while its cooking as you want to retain as much juice as possible.
Nutrition Information:
Yield:

2
Serving Size:

1
Amount Per Serving:
Calories:

586
Total Fat:

40g
Saturated Fat:

14g
Trans Fat:

0g
Unsaturated Fat:

21g
Cholesterol:

185mg
Sodium:

270mg
Carbohydrates:

3g
Fiber:

1g
Sugar:

0g
Protein:

52g
The nutrition information for this recipe is an approximate total per serving. Please double check the nutrition information for your exact ingredients and brands.