This nutritious summer squash takes center stage in our fresh and flavorful Sauteed Zucchini recipe.
With only a few ingredients and 5 minutes of cook time, you can have tender golden-crisp Sauteed Zucchini as a delicious meal or an easy side dish.
If you enjoy flavorful side dishes made with fresh and simple ingredients try our Keto Cole Slaw.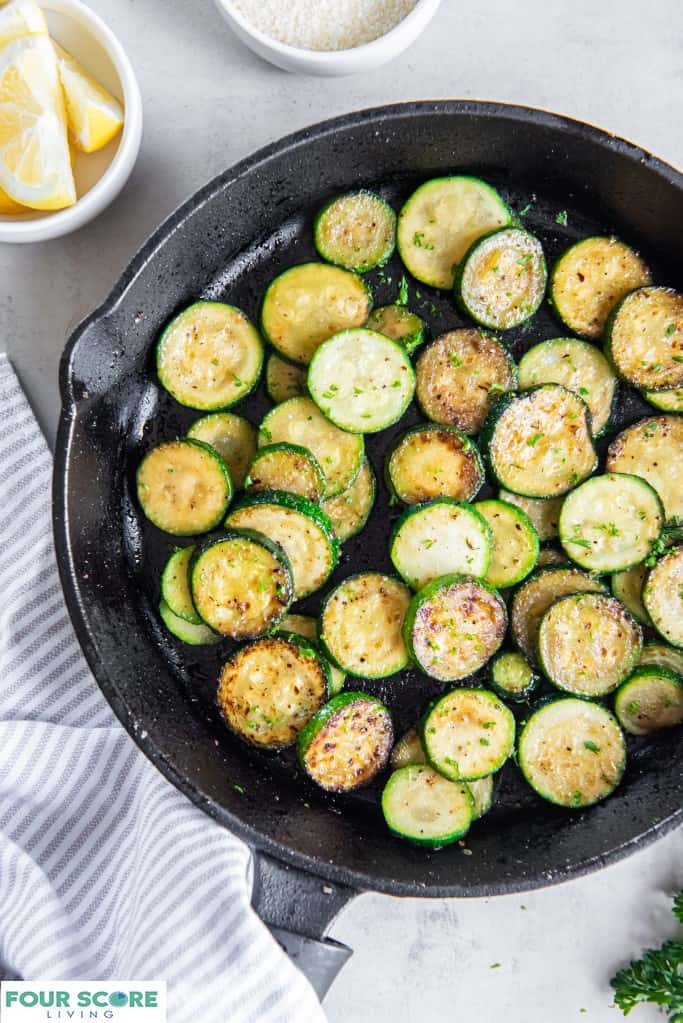 Why you'll love this Sauteed Zucchini
Hydrating and low in calories, sauteed sliced zucchini is a healthy, delicious, and easy way to fuel up any time of day.
This easy sauteed zucchini recipe is naturally gluten free, keto friendly and paleo approved.
Simple to prepare and ready in minutes, this versatile summer dish can be topped with a tasty garnish or your favorite accompaniment.
A sprinkling of Parmesan cheese, garlic powder, and a squeeze of fresh lemon brighten the taste palate of this simple side dish.
Health Benefits of Zucchini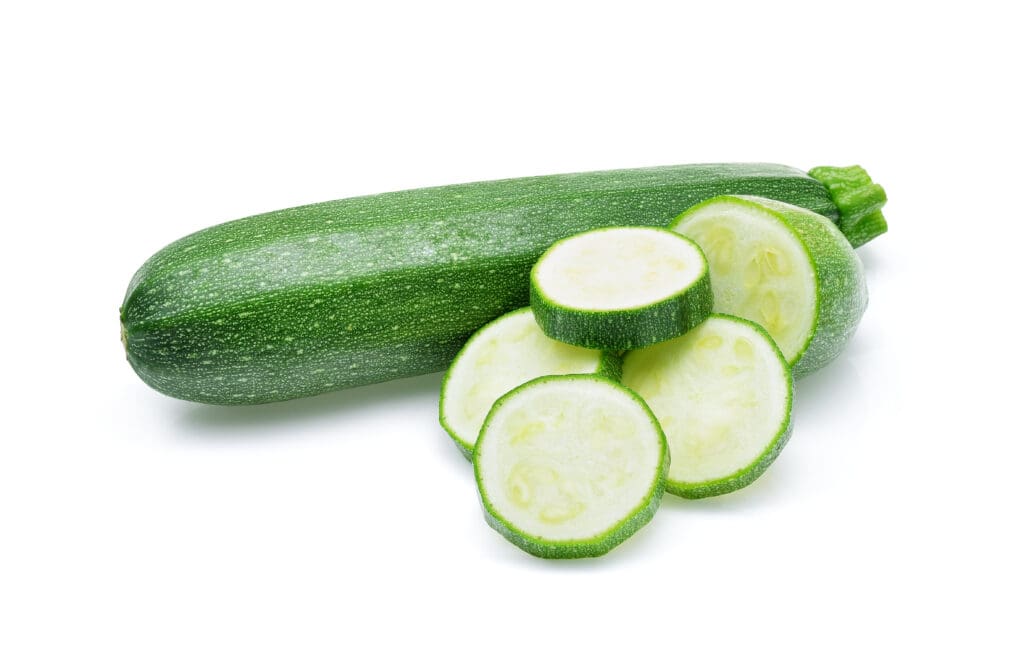 Zucchini contains vitamin C, as well as vitamins B6, and K. This summer squash also delivers folate, copper, and phosphorus.
A backyard garden favorite, fresh zucchini is a fantastic source of vitamin A which boosts immunity and is thought to support vision.
Full of insoluble fiber and antioxidants, this favorite summer squash is great for digestive health and may reduce the risk of chronic diseases.
Sauteed Zucchini
This deliciously seasoned easy sautéed zucchini recipe is perfect for your entire family or can be doubled or tripled to feed a hungry crowd.
A beautiful dish to serve, this healthy side dish can be prepared with a variety of garnish toppings to please everyone.
Light and fresh in the summer months and warming in winter, you will feel good about enjoying this healthy zucchini dish.
Sauteed Zucchini Ingredients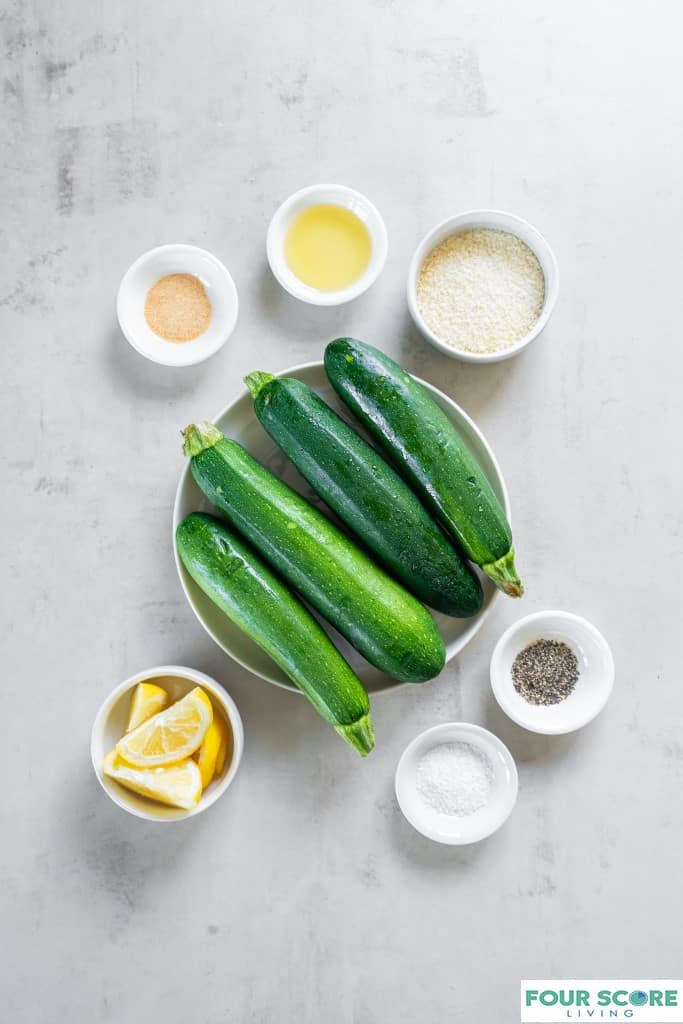 Fresh Sliced Zucchini - The main ingredient and star of this delicious side dish.
Avocado Oil - Light and mild with a high smoke point, avocado oil is a favorite for sauteeing. You can also use extra virgin olive oil.
Garlic Powder - To add complex flavor.
Salt - Any type of salt can be used. We like kosher salt for this recipe.
Black Pepper - For seasoning.
Grated Parmesan Cheese - Adds umami flavor and nuttiness to this easy Sauteed Zucchini recipe.
Fresh Lemon Juice - An optional garnish that brightens this dish.
Fresh Parsley - An optional ingredient. Used for garnishing.
If you have any questions about the ingredients in our Sauteed Zucchini recipe please leave a comment below and we will get back to you.
If you enjoy preparing goodies with wholesome ingredients try our Keto Chocolate Zucchini Muffins and our Protein Cookie Dough.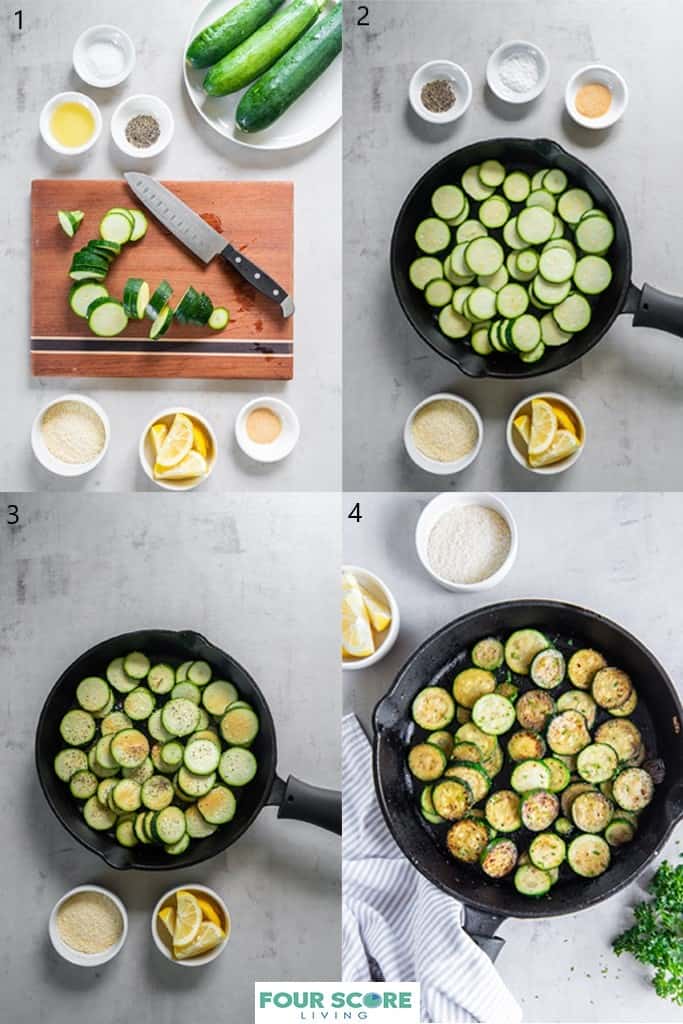 How to Make Sauteed Zucchini
Slice the zucchini into ¼-inch rounds.
In a large skillet set over medium-high, heat the avocado oil.
Add the sliced zucchini to the pan. Season it with garlic powder and pepper, and gently toss to coat.
Cook for 4-5 minutes until the delicious zucchini is crisp-tender, tossing the pan occasionally to cook both sides evenly.
Transfer the zucchini to a serving plate, sprinkle with salt, garnish with parsley and grated Parmesan, and serve with lemon wedges.
These steps match the photos above, showing you how to make our easy Sautéed Zucchini recipe.
For the complete list of ingredients and instructions, please see the printable recipe card below.
If you have any questions, please leave a comment below and we will get back to you.
How to Serve Sauteed Zucchini
This easy zucchini recipe can be served on its own or paired with your favorite meat, seafood, or legumes.
Add a fried egg and enjoy this dish for breakfast.
Season to taste with your favorite fresh herbs like basil, oregano, and thyme.
Add spices like cayenne pepper or red pepper flakes if you want a little heat.
Tossing with tangy pesto sauce is also great.
Combine a drizzle of tomato sauce and a scoop of ricotta cheese to make an Italian inspired Sauteed Zucchini.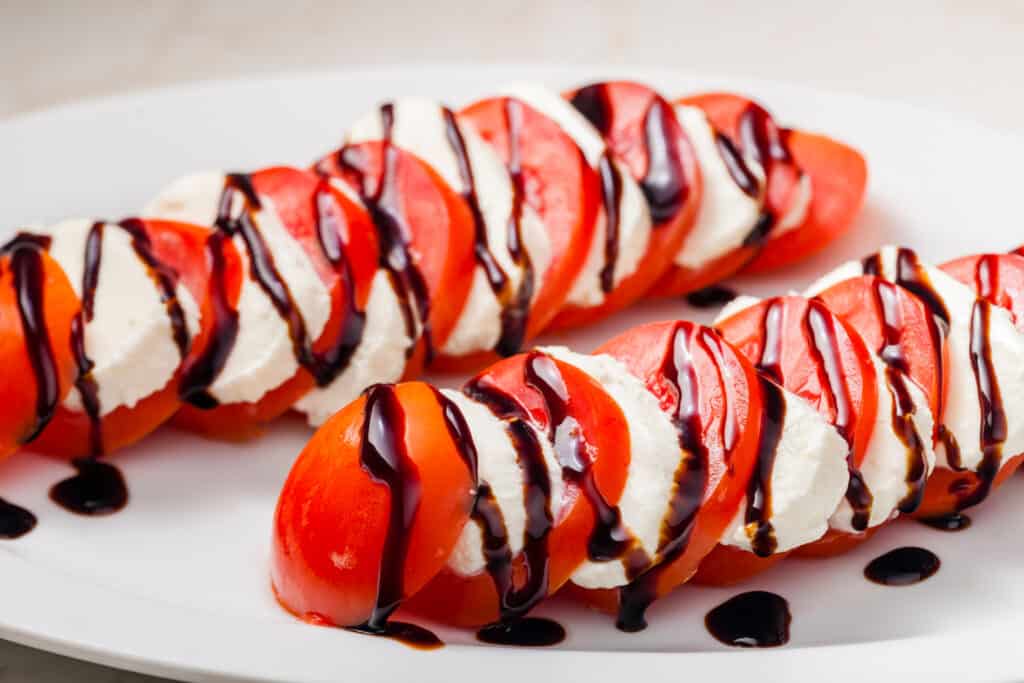 This Sauteed Zucchini can be topped with fresh mozzarella, sliced tomato, and a drizzle of balsamic vinegar for a mix of textures and flavors.
This simple recipe is the perfect side dish for our Easy Marry Me Chicken, and for dessert try our Italian Hangover Cake or Keto Lemon Cake.
Best Tips for Making Sauteed Zucchini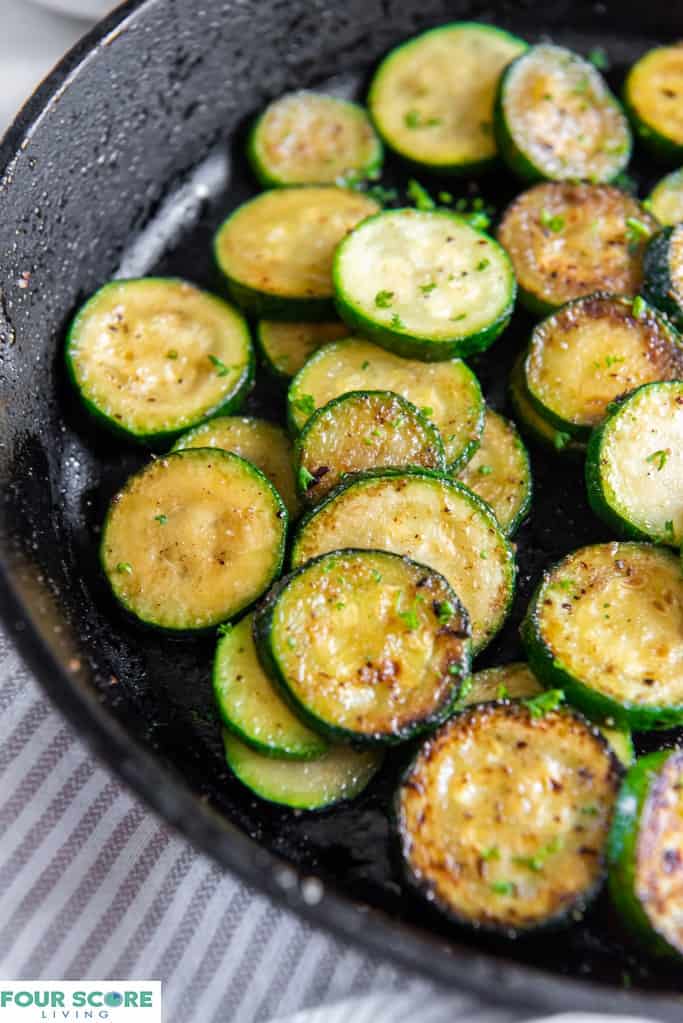 For crisper zucchini cook on higher heat for a short time (2 minutes) then reduce heat until desired tenderness is reached (about 1-2 more minutes).
A mandoline slicer can be used to slice the fresh zucchini into rounds with uniform thickness to ensure all slices cook evenly.
Adding a spoonful of a high quality butter during the last minute of cooking will deliver a rich French style flavor to this delicious side dish.
HOW TO PREVENT SAUTEED ZUCCHINI FROM GETTING SOGGY
No one likes soggy zucchini. Here are our best tips for cooking zucchini:
Cook fast on medium-high heat with oil
Do not add to pan until the oil is hot
Do not cover pan
Avoid adding salt until the zucchini are cooked and removed from heat
Do not overcook the zucchini
Enjoy your delicious zucchini soon after cooking (instead of allowing them to sit, as zucchini will release water).
"Sweating" the sliced zucchini will remove water prior to cooking. If you choose to perform this as an additional step, place your fresh zucchini slices into a strainer or colander (place a bowl or tray underneath to catch any moisture that is released) and sprinkle with salt. Wait 20-30 minutes and then place slices onto an absorbent towel and blot to dry.
HOW TO STORE ZUCCHINI
Storing raw fresh zucchini slices:
Uncooked fresh sliced zucchini can be stored in the refrigerator in an airtight container that is lined with an absorbent towel - as zucchini will begin to release moisture once it has been sliced or spiralized.
We have not tried storing uncooked sliced zucchini beyond one day, but other chefs have shared it can be successfully stored for up to 3 days. We recommend slicing and using it that same day when possible.
It is not recommended to freeze fresh zucchini slices.
Storing Prepared Sauteed zucchini:
Store for up to 3 days in an airtight container lined with paper towels to collect any released moisture.
Freeze sauteed zucchini by arranging the slices into a single layer on a sheet pan to freeze and then transferring the frozen sliced zucchini to a freezer bag. Remove as much air as possible from the freezer bag. Please be aware that this dish is best enjoyed when fresh, as freezing will change the texture of the zucchini.
Other Zucchini recipes
Zucchini Noodles - Easy to make and ready in minutes, fresh zucchini noodles are a healthy alternative to traditional pasta and are loaded with vitamins and minerals.
Keto Chocolate Zucchini Muffins - A tender and decadent chocolate muffin recipe made with zucchini and almond flour. These sweet keto muffins are the perfect gluten-free, dairy-free treat that you can enjoy any time of day.
Keto Zucchini Bread - You can make tender keto zucchini bread in a few simple steps. This low carb zucchini bread is tender and just sweet enough for breakfast, dessert, or a nutritious snack.
We hope you enjoyed reading this article. Please help us out by leaving a quick review and star ★ rating below.
LET'S GET SOCIAL, you can follow Four Score Living on Pinterest. You can also leave a comment below if you have any questions.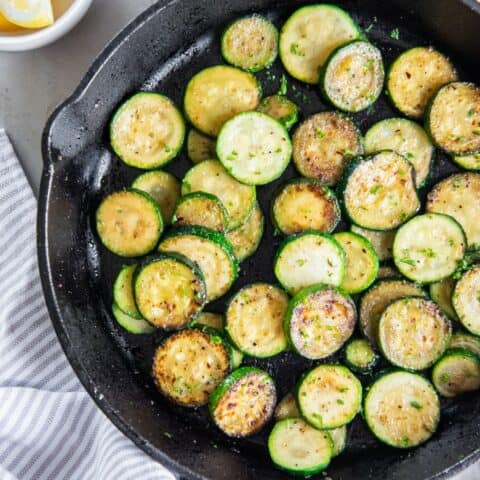 Sautéed Zucchini
A fresh summer squash dish packed with flavor, this low carb Sauteed Zucchini can be prepped, cooked and ready to enjoy in 10 minutes.
Ingredients
4 medium zucchini
1 tablespoon avocado oil
½ teaspoon garlic powder
¼ teaspoon kosher salt
¼ teaspoon black pepper
Fresh parsley, for garnish
Grated Parmesan cheese, for garnish
Lemon wedges, for serving
Instructions
Slice the zucchini into ¼-inch rounds.
In a large skillet set over medium-high, heat the avocado oil.
Add the zucchini to the pan. Season it with garlic powder, and pepper, and gently toss to coat.
Cook for 4-5 minutes until zucchini is crisp-tender, tossing the pan occasionally to cook both sides evenly.
Transfer the zucchini to a serving plate, garnish with parsley and grated Parmesan, and serve with lemon wedges.
Notes
Cook on medium-high heat, do not cover pan. Add salt once removed from heat.
Nutrition Information:
Yield:

4
Serving Size:

1
Amount Per Serving:
Calories:

72
Total Fat:

5g
Saturated Fat:

1g
Trans Fat:

0g
Unsaturated Fat:

3g
Cholesterol:

1mg
Sodium:

108mg
Carbohydrates:

7g
Net Carbohydrates:

4g
Fiber:

3g
Sugar:

4g
Protein:

3g
The nutrition information for this recipe is an approximate total per serving. Please double check the nutrition information for your exact ingredients and brands.