In this post, we will be discussing fresh zucchini noodles, including the best methods to prep and store zucchini noodles, how to cook zucchini noodles, and ideas of what foods to serve with these "zoodles," or "zucchini spaghetti."
Easy to make and ready in minutes, fresh zucchini noodles are a healthy alternative to traditional pasta and are loaded with vitamins and minerals.
Naturally gluten free, low carb, and keto friendly, zucchini noodles are a win for everyone!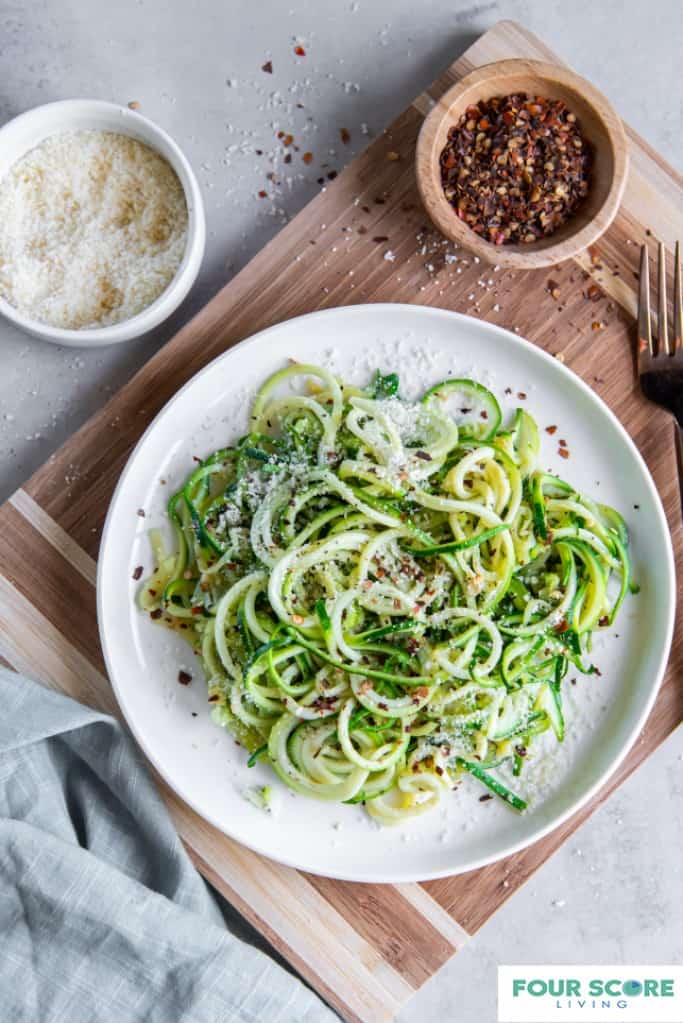 You will love the Garlic Parmesan Zucchini Noodles recipe included in this post.
Pair these fresh zucchini noodles with our Low Carb Keto Meatballs, Easy Marry Me Chicken, or Pan Seared Pork Chops.
Why you'll love zucchini noodles
This versatile noodle alternative can be served as a light, fresh fare during the summer months, or paired with accompaniments for a rich and satiating meal any time of year.
Hydrating and low in calories, zucchini noodles are a healthy alternative to traditional pasta and a perfect dish for healthy eating.
Sometimes referred to as "zoodles," these zucchini noodles are the perfect base to top with your favorite sauces, cheeses, seafood, meats, legumes, or vegetables.
The tools used to create zucchini noodles are simple to use and easy to clean.
Health benefits of zucchini noodles
Zucchini contains vitamin C, as well as vitamins B6, and K. This summer squash also delivers folate, copper, and phosphorus.
A backyard garden favorite, fresh zucchini is a fantastic source of vitamin A which is immune boosting and is thought to support vision.
Full of insoluble fiber and antioxidants, this squash is great for digestive health and may reduce the risk of chronic diseases.
If you enjoy preparing goodies with wholesome ingredients try our Keto Chocolate Zucchini Muffins.
What are Zucchini Noodles?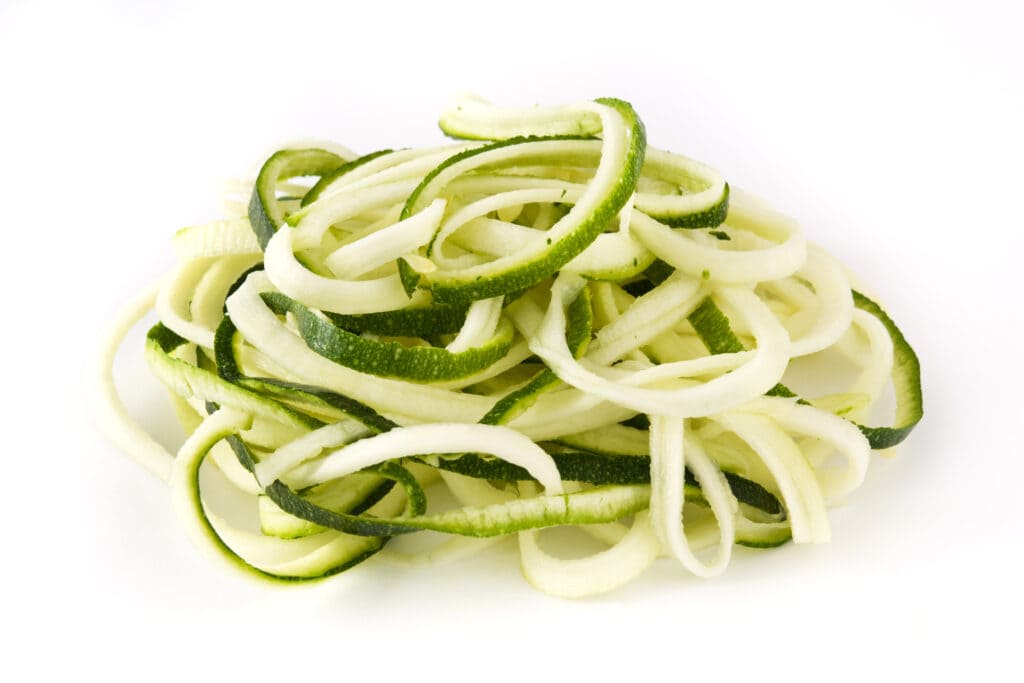 Fresh zucchini can be sliced into thick sticks, thin strips or spiralized to meet the "noodle" shape and texture palate of even the most refined foodie.
These "zoodles" can be prepared in different ways. Steaming, blanching, or sautéing zucchini noodles will deliver a variety of nuanced textures.
A versatility of tools to create zucchini noodles offers multiple options to explore.
Zoodles can be enjoyed on a keto, paleo, or gluten free diet.
Best methods to make zucchini noodles
The sharp blades on these kitchen tools make it easy to slice through the soft flesh of the zucchini and create zoodles. Always use caution when handling and using these tools. We recommend using a food safety holder when using a mandoline slicer or box grater.
Julienne Peeler - A handheld tool that creates approximately 2 to 3-inch stick "noodles." An example of a julienne peeler is pictured below.

Spiralizer - To create spiralized zucchini noodles you can use a countertop spiralizer, a handheld spiralizer, or a spiralizer attachment for a food processor. The electric attachment for a food processer is one of the best methods and one of the easy ways to create spiralized zucchini noodles.
Veggie spiralizers deliver longer, spiraled "noodles." A handheld spiralizer is pictured below.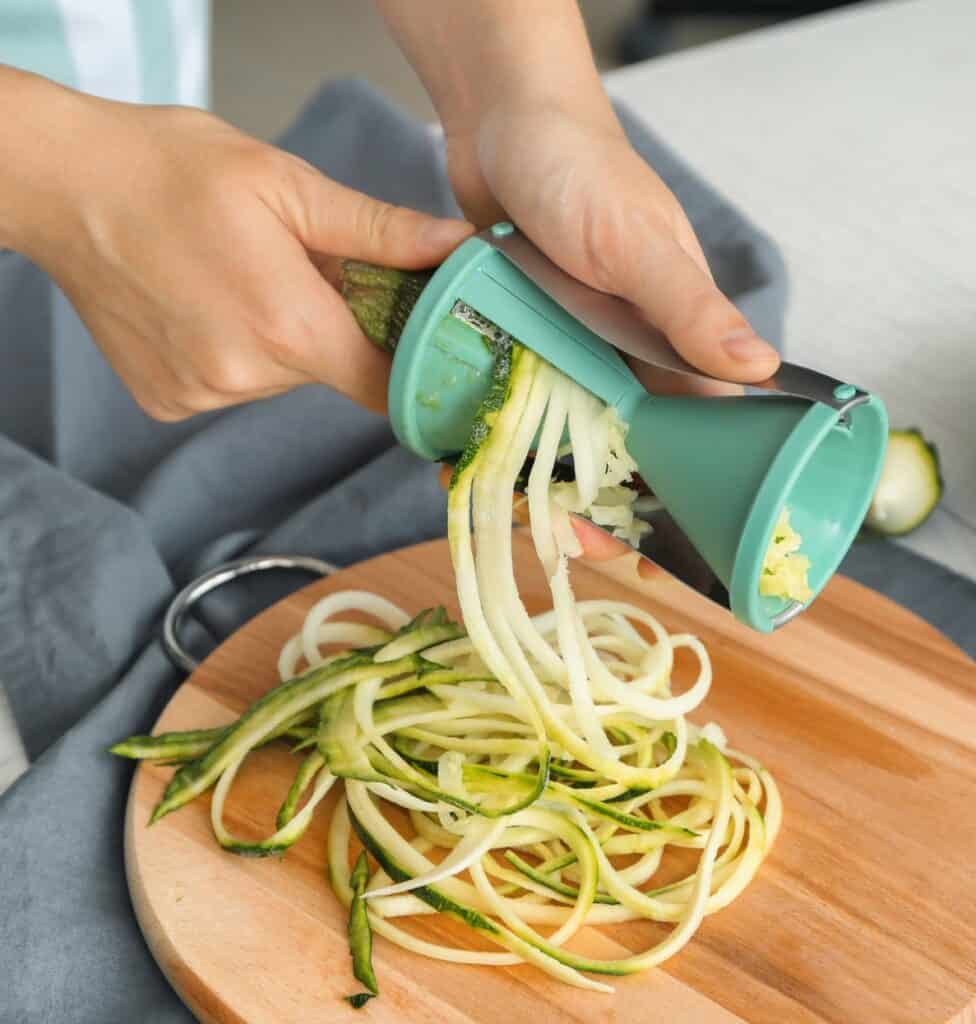 Box Grater - A tabletop tool that can be positioned horizontally or vertically on a sturdy surface to create "noodles." Hold the zucchini lengthwise when using a box grater, handheld grater, or mandoline slicer.
Mandoline Slicer - Handheld or tabletop. Using a mandoline slicer creates wider noodles that can be sliced lengthwise into "noodles" with a knife.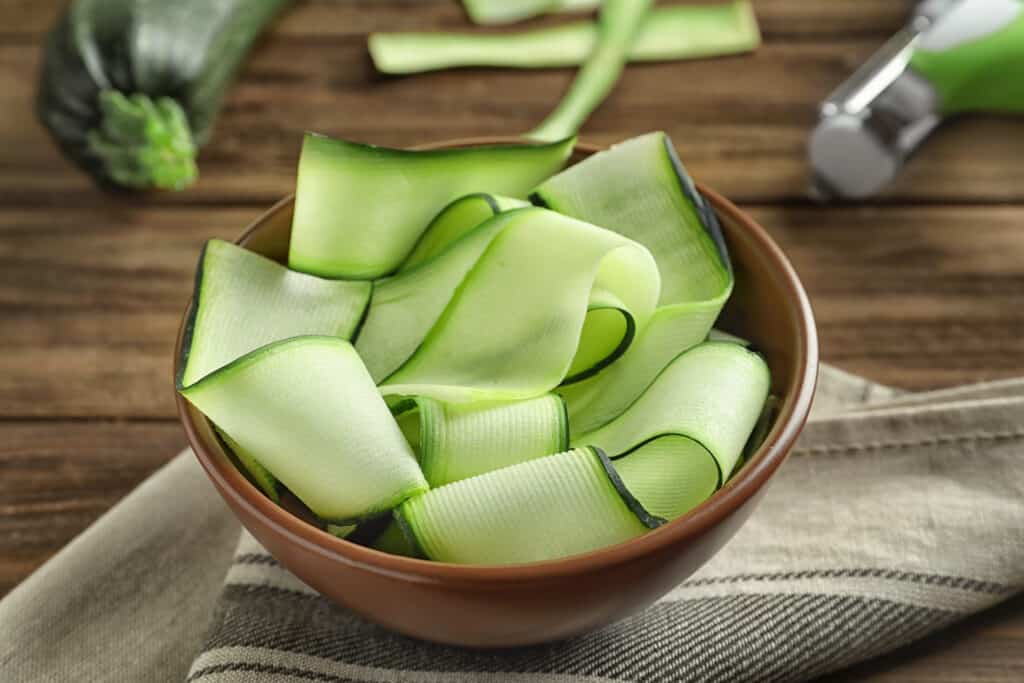 Some Mandoline slicers come with multiple blades for slicing zucchini into thin strips.
Our favorite way is making spiralized zucchini noodles with a countertop spiralizer. The best way is whatever feels easiest to you.
Garlic parmesan zucchini noodle ingredients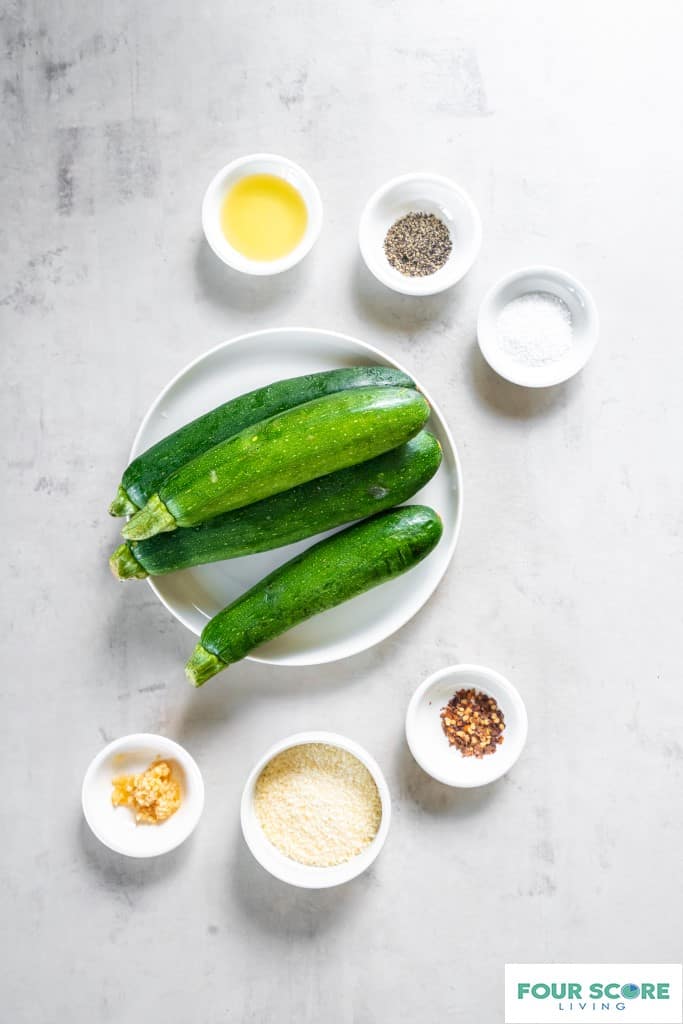 Fresh Zucchini - We used a tabletop spiralizer in this recipe to make our spiralized zucchini noodles. You can substitute peeled, or grated fresh zucchini. (please see the types of tools to use above).
Avocado oil - Any oil of your choice can be used. Using a heavier oil, such as olive oil, will change the end product of this dish. Please see the tips later in the post for a discussion on oils.
Minced Garlic - Adds depth of flavor to this dish.
Salt and Black pepper - For seasoning.
Red pepper flakes (optional) - To add heat. Red pepper flakes are optional and should be sprinkled on (to taste) as desired.
Grated parmesan cheese - For garnish. Adds an umami flavor and nuttiness to this dish. Any hard cheese, or your preferred cheese can be used to garnish the zucchini noodles.
Lemon wedges - Lemon juice squeezed onto the zucchini noodles before serving will brighten all of the flavors in this dish. For a stronger lemon flavor, you can add some lemon zest.
If you have any questions about the ingredients in our zucchini pasta recipe please leave a comment below and we will get back to you.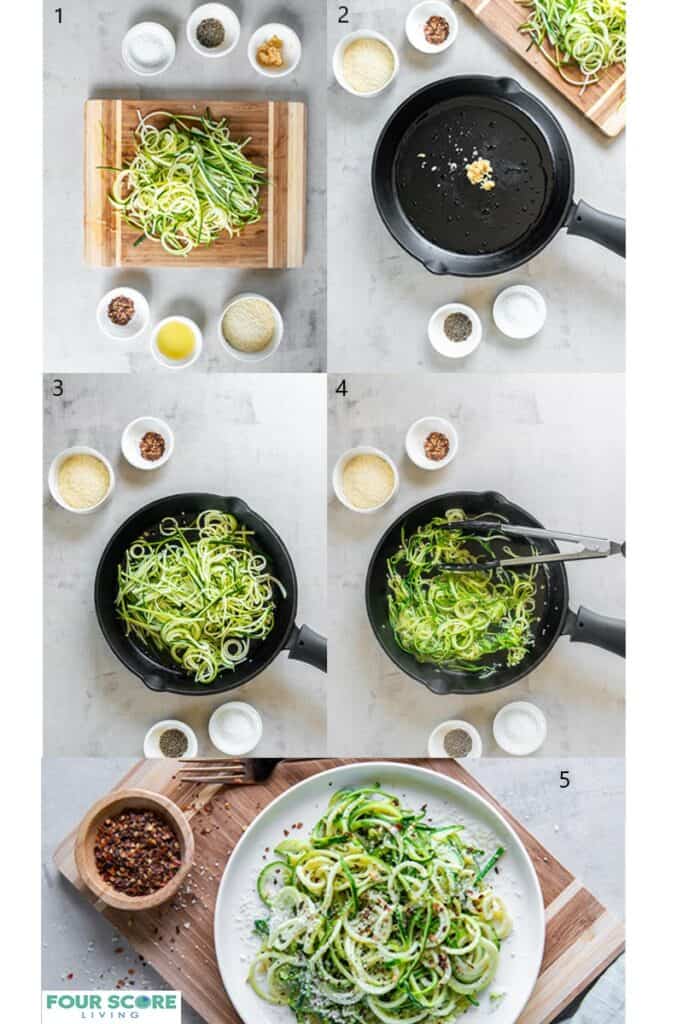 How to cook Garlic Parmesan zucchini noodles
Once your raw zucchini spaghetti is prepped and ready to cook:
Warm the oil in a large skillet over medium heat. Add the garlic and cook for 30-60 seconds, or until fragrant.
Increase to medium-high heat and add the zucchini noodles. Cook for about 2 minutes, constantly tossing gently with kitchen tongs, until the water releases from the zucchini and it begins to feel tender.
Remove the pan from the heat and transfer the zoodles to a fine mesh strainer to drain off as much water as possible.
Season with salt and pepper to taste. Serve garnished with Parmesan cheese. Add crushed red pepper flakes and a squeeze of fresh lemon juice as desired.
Please see the printable recipe card below for specific measurements of the ingredients and instructions on how to make zucchini noodles.
For a dessert option, you might like our low carb blueberry dump cake or keto pudding.
If you have a question on any of these steps for cooking zoodles please comment below and we will get back to you.
Healthy eating with easy zucchini noodle recipes and dishes
Zucchini noodles are incredibly versatile. Use them as a base for your favorite pasta sauce, a side for main dishes, or as a full meal with your choice of garnish.
Zucchini noodles can be consumed raw, particularly thinly sliced or spiralized zoodles. Adding pesto sauce and a drizzle of olive oil can have a delicious result! A quick stir in a hot pan (about 20-30 seconds) can produce a type of al dente "noodles."
For meat lovers, layer zucchini noodles with meatballs, grilled chicken, sliced steak, or pork tenderloin.
If you love seafood, pair our zoodles with shrimp, fish, scallops, calamari, mussels, or chopped clams.
Make them into comfort food! Pouring a delicious melted cheese sauce over these zucchini noodles creates a zoodles "mac and cheese" type dish.
Zucchini noodles are a great way to replace the noodles in your favorite homemade or takeout noodle bowl. Add them to chicken soup or vegetable soup as a healthy "noodle" alternative.
Best Tips for Making Zucchini Noodles
You can begin by creating zoodles with tools that you already have in your kitchen.
You can easily make zucchini noodles without a spiralizer. A tool as simple as a sharp knife can be used to slice zucchini into thin lengthwise sections, and then slice each individual section into lengthwise strips to create "noodles."
A box grater is also a common kitchen tool that can be used to make zucchini noodles. After removing the ends of a zucchini, hold it lengthwise to slice it into "noodles," by moving it across the side of the grater. Once again, be careful as the blades on a grater are extremely sharp. We recommend using a food safety holder whenever you are using a box grater.
A mandoline slicer can quickly create thin lengthwise sections. Any mandoline slicer should have a food safety holder included when purchased, as a food safety holder should always be used when preparing food with this tool.
How to prevent Zucchini Noodles from getting soggy
Best tips on cooking method:
Cook fast on medium-high heat with oil
Do not cover pan
Avoid adding salt until the zucchini noodles are cooked and plated
Do not overcook the zoodles
Enjoy your Zucchini noodles right after cooking (instead of allowing them to sit out for too long).
If you prepped your zucchini noodles in advance, the raw "zoodles" will begin to release moisture. Gently press the noodles with an absorbent towel to dry them off prior to cooking.
If you are able to prep the zoodles a day prior, or earlier in the day, store them in an airtight container lined with an absorbent towel or paper towels. This will capture the moisture that will be released from the sliced or spiralized zucchini and help to "dry out" your noodles before cooking.
"Sweating" the zucchini noodles will also remove water prior to cooking. If you choose to perform this as an additional step, place your raw zucchini noodles into a strainer or colander (place a bowl or tray underneath to catch any moisture that is released) and sprinkle with salt. Wait 20-30 minutes and then place noodles onto an absorbent towel and blot to dry.
What oil should I use to make Zucchini Noodles?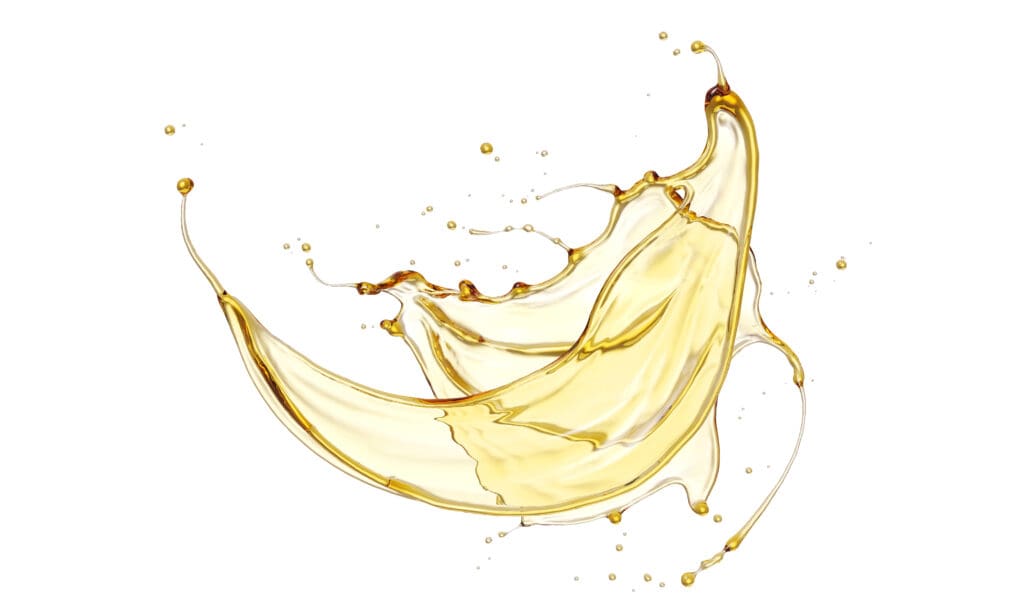 We use avocado oil in this recipe as it is a light oil with a mild flavor. Grapeseed oil is a similar option.
When cooking with oil you may also want to consider its smoke point. An oil with a higher smoke point is ideal to cook with as the composition of the oil can change when exposed to heat. Avocado oil has a smoke point of 500 degrees Fahrenheit. Grapeseed oil has a smoke point of 420 degrees Fahrenheit.
Coconut oil and grapeseed oil have higher smoke points, but coconut oil also has a coconut flavor that is not to everyone's taste.
Extra virgin olive oil has a smoke point ranging from 350-410 degrees Fahrenheit, so it is an ideal choice if you prefer cooking with olive oil.
If you do not follow a dairy free lifestyle, good quality butter or ghee are also options for cooking zucchini noodles. Ghee is a high calorie food, but due to its high fat content ghee is "stable" and has a higher smoke point than cooking oils.
What are the best cheeses to serve with Zucchini noodles?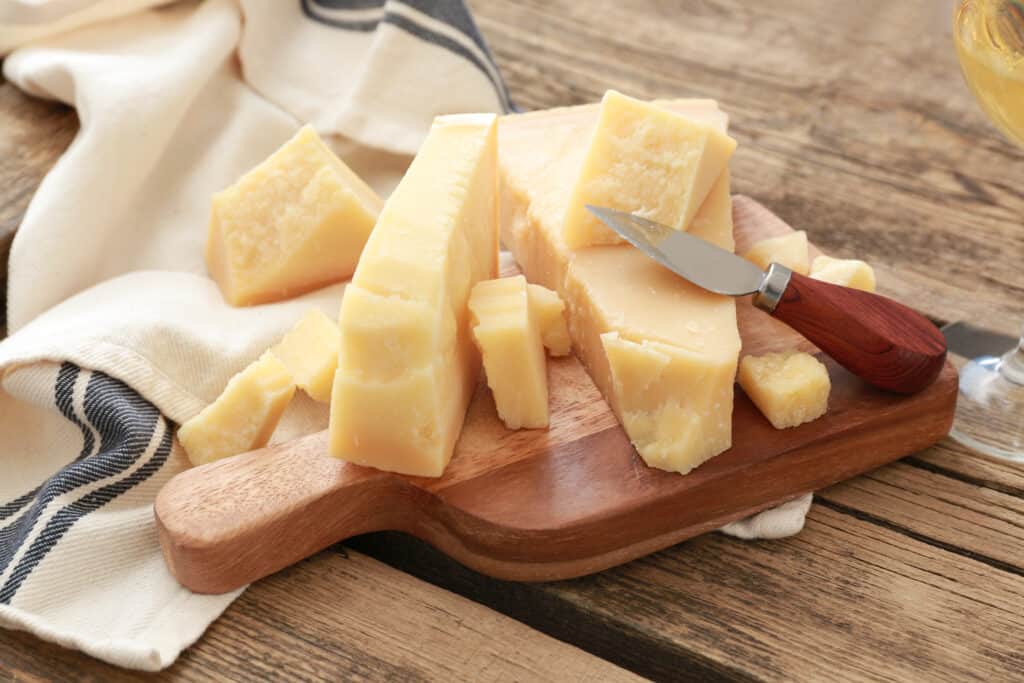 Hard cheeses add rich flavor and texture to this dish.
Parmesan cheese will lend a complex flavor - a nutty, umami taste to the zucchini noodles.
Pecorino cheese is a hard cheese made with sheeps milk (sometimes goat milk is mixed in with the sheeps milk) and will add a saltiness to this dish.
Pecorino Romano is another option. It has a bolder taste than Parmesan and has been described as having an earthy, tangy flavor.
How to store Zucchini noodles
Uncooked fresh zucchini noodles can be stored in the refrigerator in an airtight container that is lined with an absorbent towel - as zucchini will begin to release moisture once it has been sliced or spiralized. We have not tried storing uncooked zucchini noodles beyond one day, but other zoodle chefs have shared that they can be successfully stored for up to 3 days.
Ideally, once zucchini noodles are cooked they should be enjoyed right away. If it is necessary for you to store cooked zucchini noodles follow the method stated above of storing them in a towel-lined, airtight container in the refrigerator.
How to freeze and defrost Zucchini noodles
When working with zucchini noodles it is important to manage the moisture content of the zoodles to prevent them from becoming soggy.
To freeze:
Dry out the zoodles. Uncooked zucchini noodles can be "sweated" to release moisture prior to freezing. For step-by-step instructions on "sweating noodles" reference How to Freeze Zucchini Noodles.
Place the cooked or uncooked zoodles in a freezer bag and press out as much air as possible before sealing. Lay flat in the freezer and freeze for up to 3 months.
To defrost:
Zoodle chefs have recommended boiling the frozen zucchini noodles for one minute. Remove from the boiling water using a metal strainer, gently blot by placing the "noodles" onto an absorbent towel. Then cook as per instructions. Zucchini noodles should be cooked fast in a hot pan with oil. Add salt once the zucchini spaghetti is removed from the heat.
Store bought zucchini noodles
We recommend making your own zucchini noodles, as fresh is best and the prep is fast and easy even with the most basic kitchen tools.
That being said, supermarkets are stocking an increasing number of brands of pre-cut zucchini noodles. Follow all instructions on the package and keep in mind the tips in this post, as managing water content is important when working with zucchini noodles.
Green Giant Organic Zucchini Spirals(Costco)
Good and Gather Zucchini Spirals (Target)
Tattooed Chef Zucchini Spirals (Walmart)
Trader Joe's Zucchini Spirals (Trader Joe's)
If you give this Garlic Parmesan Zucchini Noodles recipe a try with store bought noodles, let us know how it came out and which brand you think is best!
What to serve with zucchini noodles
Easy Marry Me Chicken - Creamy, tangy, savory and delicious, this easy Marry Me Chicken recipe is super simple to make and quite scrumptious. The perfect creamy sauce for your zucchini noodles
Salmon Bites - This recipe for Salmon Bites is truly the easiest weeknight meal you can make for your family. All you need is a few simple ingredients and a couple of minutes under the broiler and you are all set. That's some healthy eating.
Low Carb Meatloaf - Easy keto meatloaf! A no-fail Low Carb Meatloaf Recipe that's easy to make, packed with flavor, and comforting any night of the week. This keto meatloaf has a dairy-free option.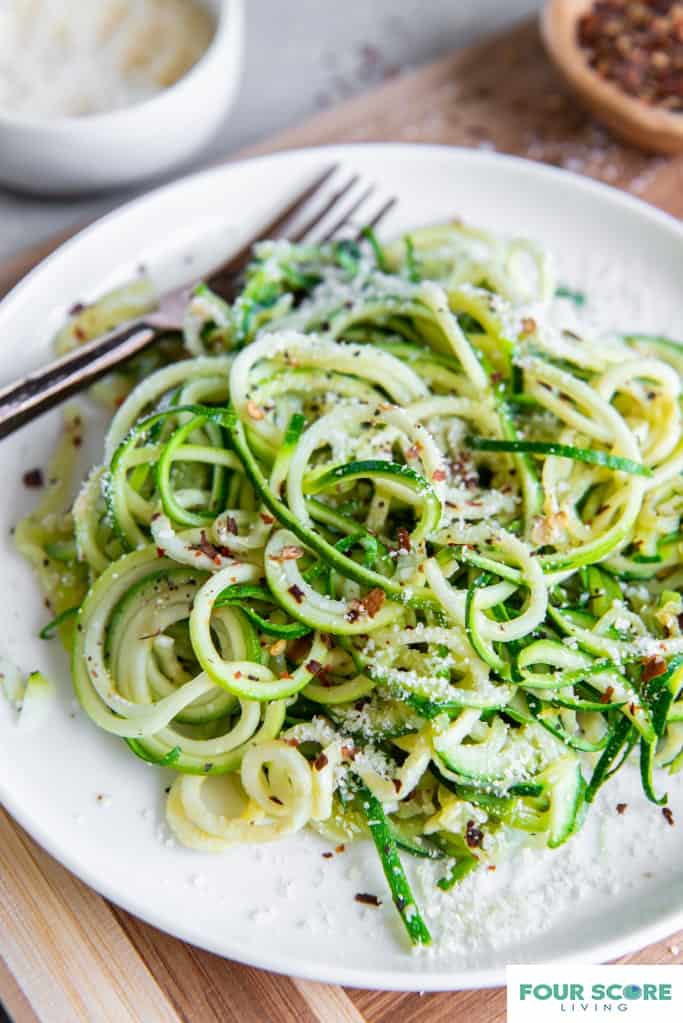 We hope you enjoyed reading this article. Please help us out by leaving a quick review and star ★ rating below.
LET'S GET SOCIAL, you can follow Four Score Living on Pinterest. You can also leave a comment below if you have any questions.
Did you try this zucchini noodles recipe? We'd love for you to circle back and let us know what you thought in the comments section.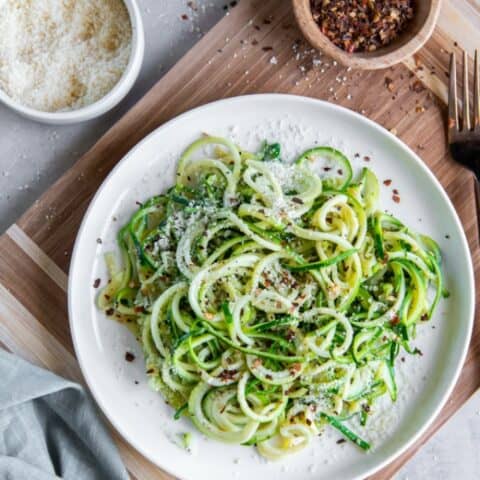 Garlic Parmesan Zucchini Noodles
Additional Time:
2 minutes
Fragrant and flavorful, this low carb pasta alternative made with garlic and Parmesan cheese is seasoned to perfection.
Ingredients
1 teaspoon minced garlic
3 medium zucchini, spiralized
Kosher salt and freshly ground black pepper, to taste
Grated Parmesan cheese, for garnish
Instructions
Warm the oil in a large skillet set over medium heat. Add the garlic and cook for about 30-60 seconds, or until fragrant.
Increase the heat to medium-high and add the zucchini noodles. Cook for about 2 minutes, constantly tossing gently with kitchen tongs, until the water releases from the zucchini and it begins to feel tender.
Remove the pan from the heat and transfer the noodles to a fine mesh strainer to drain off as much of the water as possible. Season with salt, pepper, and red pepper flakes, to taste. Serve garnished with Parmesan cheese and crushed red pepper.
Notes
Cook fast on high heat with oil, do not cover pan. Add salt after removed from heat.
Recommended Products
As an Amazon Associate and member of other affiliate programs, I earn from qualifying purchases. They never cost you extra.
Nutrition Information:
Yield:

2
Serving Size:

1
Amount Per Serving:
Calories:

121
Total Fat:

9g
Saturated Fat:

1g
Trans Fat:

0g
Unsaturated Fat:

7g
Cholesterol:

2mg
Sodium:

202mg
Carbohydrates:

9g
Fiber:

3g
Sugar:

5g
Protein:

4g
The nutrition information for this recipe is an approximate total per serving. Please double check the nutrition information for your exact ingredients and brands.