Creamy and cheesy with a golden topping, the layers of these scalloped sweet potatoes are perfectly balanced in a herbed cream sauce for a sweet and savory finish.
This delicious recipe makes the perfect side for a special occasion or family dinner. We love making it part of our holiday meals – it's just as delicious as traditional scalloped potato recipes.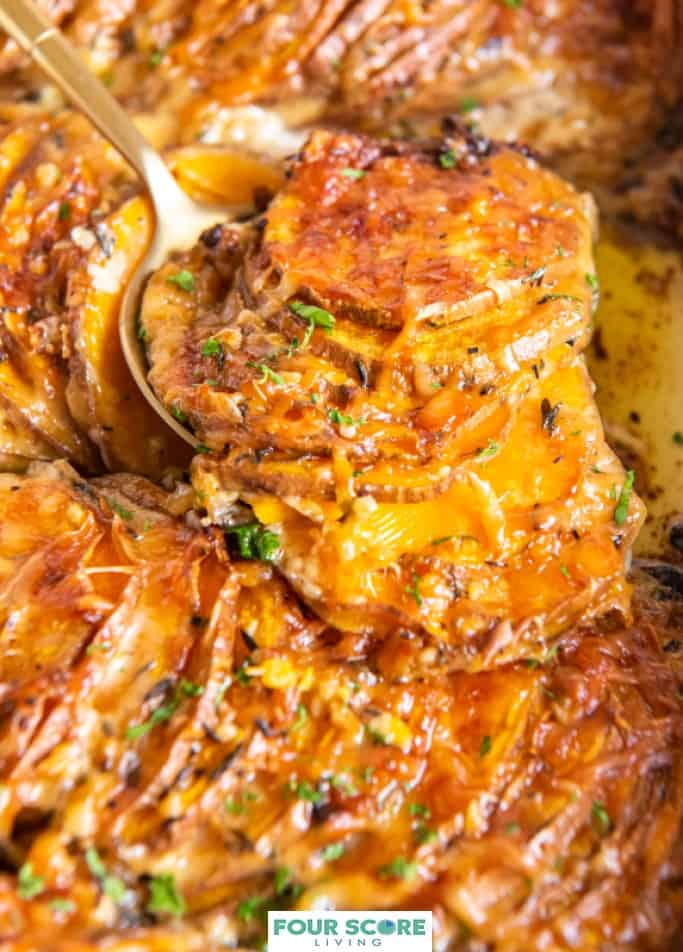 Why you'll love this scalloped sweet potatoes recipe
Savory and sweet balance: These scalloped sweet potatoes strike the perfect balance between the natural sweetness of sweet potatoes and a savory, creamy blend of cheeses and spices. We love how the sweetness cuts through the richness of the other ingredients.
A new twist on a classic: While traditional scalloped potatoes are undeniably delicious, this recipe introduces a twist. Great if you want something a bit different.
Easy make-ahead convenience: Busy schedules are no match for this recipe. Prepare it in advance and pop it in the oven when ready to enjoy!
Gluten-free: This scalloped sweet potato dish is naturally gluten-free, ensuring those who avoid gluten can indulge in their rich, creamy goodness.
Gourmet appeal: With a combination of Gruyere and Parmesan cheese, you'll love the gourmet flavors that melt together to form a golden, crispy crust on top. It's the kind of dish that makes you feel like a culinary pro in your kitchen!
Seasonal or special occasions: Sweet potatoes bring a touch of seasonal elegance to your holiday table. They're not just for Thanksgiving and Christmas dinner; they're perfect year-round, making every meal special.
Perfect side dish: These simple scalloped sweet potatoes pair beautifully with a variety of main dishes, from roasted meats to vegetarian options.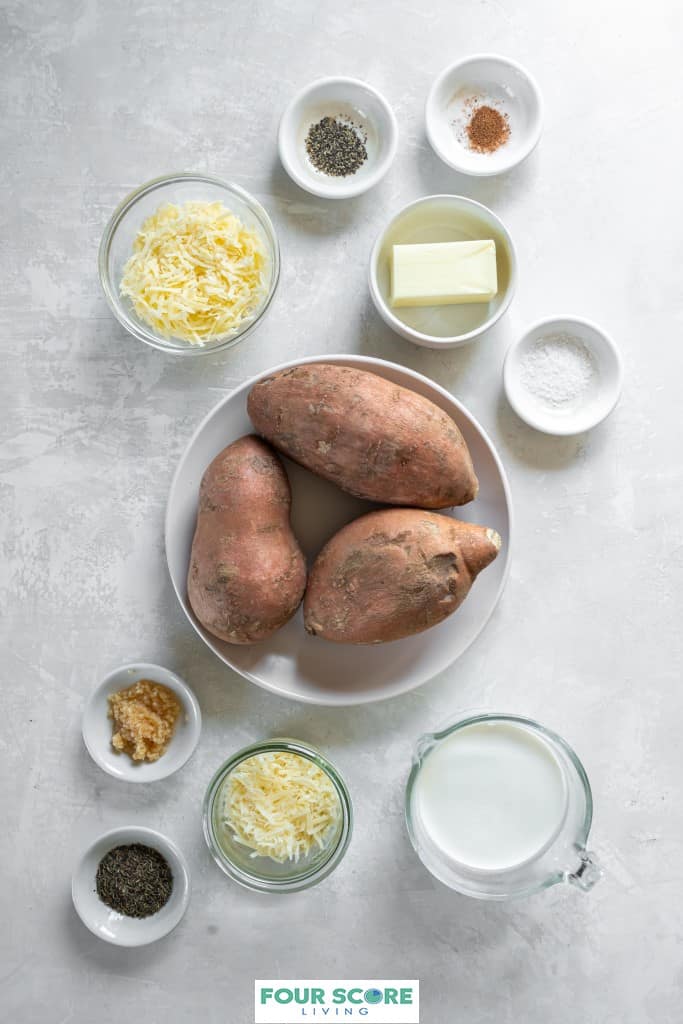 Ingredients in our scalloped sweet potato casserole
Sweet potatoes: Choose firm, fresh sweet potatoes. You can use orange or white sweet potatoes, depending on your preference. You can make a traditional scalloped potato version by substituting it with regular potatoes.
Unsalted butter: Unsalted butter is essential for controlling the salt content in the dish. You can also use salted butter, but adjust the seasoning you add accordingly.
Minced garlic: Fresh garlic enhances the savory depth of the dish. You can also use bottled or powdered garlic for this dish. However, fresh is best!
Dried thyme: This adds an earthy herbed flavor. You can also use fresh thyme leaves if you prefer. When using fresh herbs add a little extra to match the intensity of dried herbs.
Nutmeg: Powdered or freshly grated nutmeg provides a warm, slightly sweet, and nutty taste. A little goes a long way, this spice is best used in small portions.
Heavy cream: This makes the dish creamy and rich. Opt for high-quality heavy cream for the best results.
Gruyere cheese: This famous Swiss cheese melts beautifully and adds a nutty and slightly sweet flavor that pairs beautifully with sweet potatoes. It also creates a golden, cheesy crust on top.
Parmesan cheese: We recommend Parmesan for its sharp, salty, and umami-rich taste. It helps to create a crispy top layer as well.
Fresh parsley: When finely chopped, parsley adds a herbed, peppery taste to this sweet potato casserole.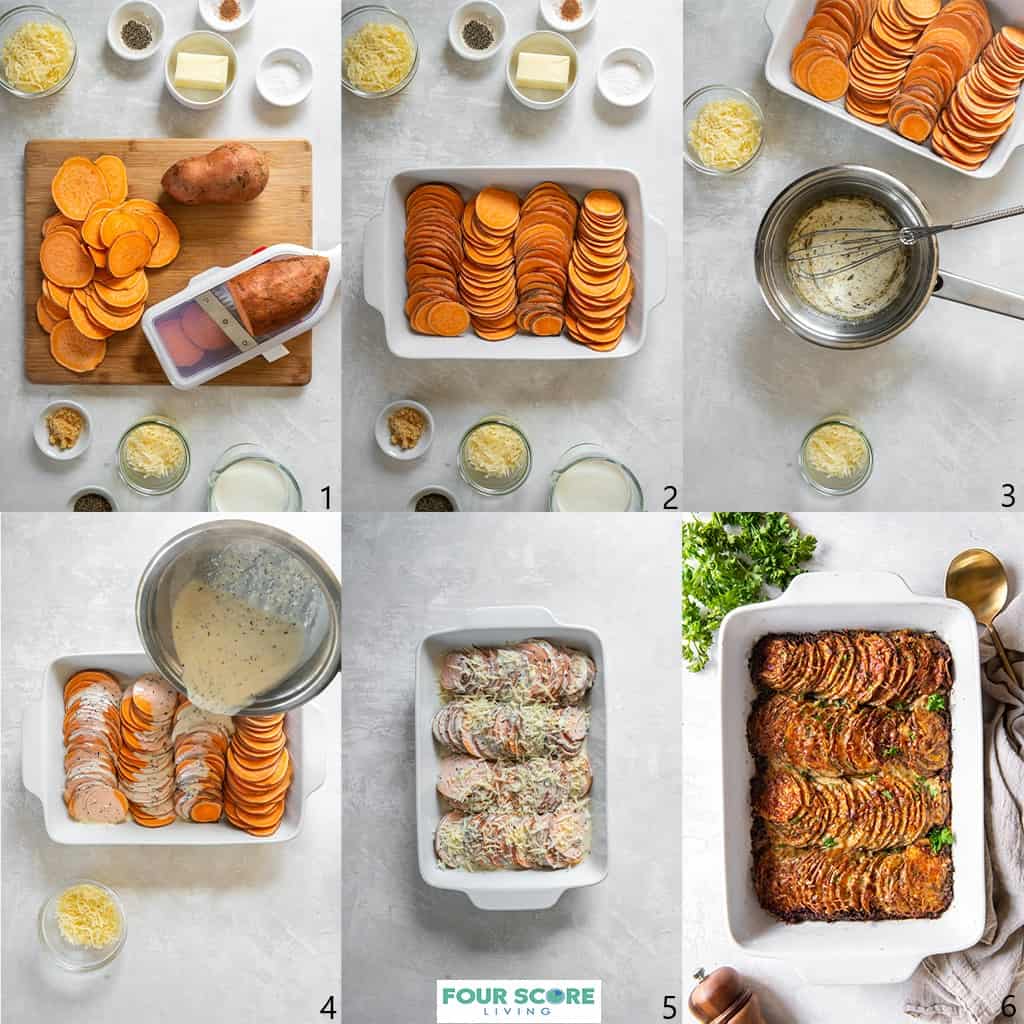 How to make these easy scalloped sweet potatoes
Preheat the oven to 400 degrees F or (205 C). Next, spray a 9x13-inch large casserole dish with cooking spray and set it aside.
Use a mandolin slicer to slice the sweet potatoes into ⅛th-inch thick rounds. Arrange the sliced sweet potatoes evenly in alternating layers in the baking dish.
Melt the butter in a large saucepan over medium–high heat. Add the garlic, fresh thyme, salt, pepper, and nutmeg. Saute these ingredients for 30 seconds until fragrant. Remove the pan from the heat.
Whisk in the heavy cream, ¼ cup of the Gruyère cheese, and Parmesan until smooth and creamy. Pour the cream mixture over the layered sweet potatoes. Sprinkle the remaining Gruyere over the top.
Bake in the oven for 50-60 minutes or until the sweet potatoes are tender. Broil on high for the last 1-2 minutes at the end, until golden brown.
Best tips for making garlic butter scalloped sweet potatoes
This is a pretty simple dish, but here's how to put together the very best version of our scalloped sweet potatoes au gratin:
Thin slices for a perfect bite: Slice your sweet potatoes thinly, as thicker slices may not cook evenly. This ensures that every layer becomes tender and infused with flavor.
Mandoline slicer precision: Invest in a mandoline slicer if you can. It simplifies the process and guarantees consistently thin sweet potato slices. This step ensures the dish and its sweet potato slices will cook evenly. There is nothing worse than having raw "spots" in your baking dish. This is one way to avoid uneven cooking.
Creative toppings: Elevate your scalloped sweet potatoes by experimenting with various toppings. Consider options like candied pecans for a delightful crunch or crispy bacon bits for a savory twist. Customizing the toppings makes this dish your own.
Dried herbs: Opt for dried over fresh herbs when seasoning your sweet potatoes. Dried herbs maintain their flavor and texture during baking, enhancing the overall dish with a herbed flavor profile.
Don't skip the broiling step: After baking, don't forget to broil your scalloped sweet potatoes for that coveted golden brown crust. It adds a great look and intensifies the flavors and crust's crunch!
Check the doneness: Slide a sharp knife into the potatoes to check they have cooked through.
What to serve with Scalloped Sweet Potatoes
Here are a couple of our favorite ways to partner these easy scalloped sweet potatoes:
During the holiday season:
Beef roast: Scalloped sweet potatoes complement the richness of a beef roast. Your guests will love the sweet and savory flavors of the potatoes paired with their beef.
Turkey: When roasting a turkey for a special occasion, this scalloped sweet potato side dish will add a unique twist to the traditional Thanksgiving or Christmas dinner.
Lamb: Pairing scalloped sweet potatoes with lamb offers a delightful combination of flavors. The creamy sweet potatoes harmonize with the strong taste of lamb.
Green bean casserole: Create a classic holiday duo by serving scalloped sweet potatoes and green bean casserole. The contrasting textures and flavors will satisfy your guests' palates.
Stuffing: Sweet potatoes provide a sweet and creamy counterpart to the savory goodness of stuffing. This combination adds depth to your holiday spread.
Gravy: Drizzle a savory gravy over your scalloped sweet potatoes to enhance the overall taste and create a classic holiday side dish.
For regular times of the year:
Grilled or barbecue chicken: Scalloped sweet potatoes are so good with grilled chicken. The dish's creaminess complements the chicken's lighter, smoky flavors.
Salmon fillet: Serve scalloped sweet potatoes with a baked or grilled salmon fillet for a balanced meal. The sweet and savory notes will create a delightful contrast.
Sauteed mixed vegetables: For a beautiful vegetarian meal, enjoy your scalloped sweet potatoes paired with a generous helping of colorful vegetables. The creamy texture of the sweet potatoes balances the vibrant taste and texture of cooked veggies.
Pork chops: Scalloped sweet potatoes are a delicious side to pan-seared or grilled pork chops. The sweet and savory elements provide a satisfying combination.
Sauteed Greens: This creates a colorful plate of orange and green goodness. Add freshly sliced yellow and red tomatoes to "eat a rainbow" of nutritious cuisine.
Grilled asparagus: For a simple yet elegant pairing, serve your scalloped sweet potatoes with grilled asparagus. The creamy sauce from the scalloped potatoes and asparagus complement each other well.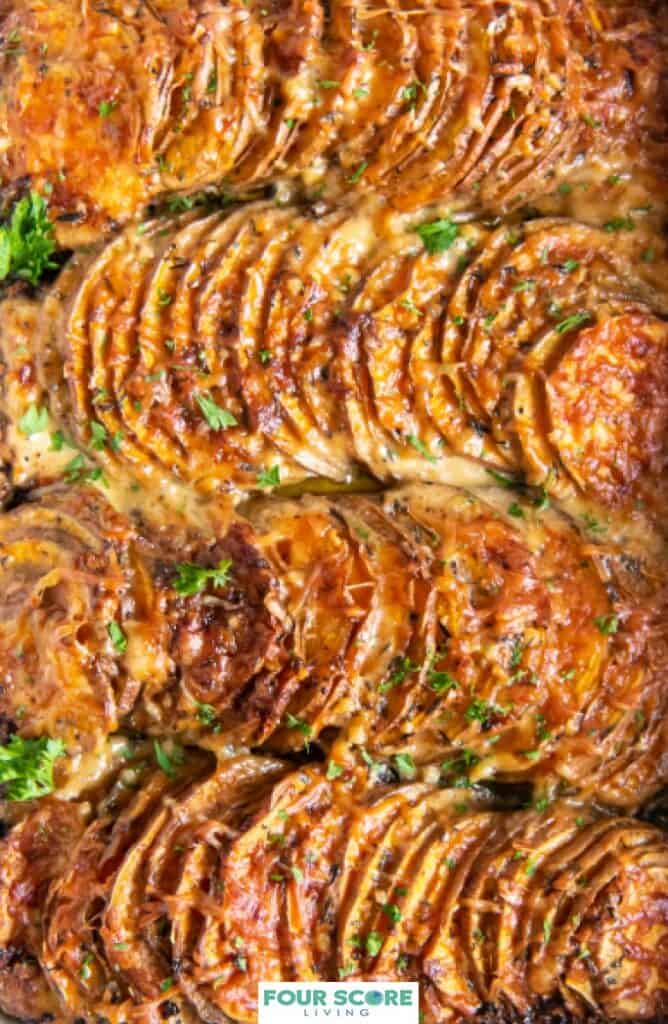 How to best store your scalloped sweet potatoes au gratin
To keep your scalloped sweet potato gratin fresh and safe for later enjoyment, follow these storage and reheating tips:
Airtight container: Transfer any leftover scalloped sweet potatoes into an airtight container. Spoon leftovers into a well sealed clean, dry container to prevent moisture loss and maintain the dish's flavor.
Fridge: Store the airtight container in the refrigerator. Scalloped sweet potatoes can be refrigerated for up to 3-4 days. It's best to consume them within this timeframe to ensure freshness.
Freezer: If you want to store your scalloped sweet potatoes for an extended period, freezing is an option. Place the leftovers in a freezer-safe container or wrap it tightly in freezer-friendly plastic wrap or aluminum foil. Ensure it's well-sealed to prevent freezer burn. Freeze for up to 60 days.
How to reheat Scalloped Sweet Potatoes:
Reheating from the fridge:
Preheat your oven to 350°F (175°C).
Transfer the scalloped sweet potatoes to an oven-safe dish.
Cover the dish with aluminum foil to prevent excessive browning.
Heat for 20-30 minutes or until the center is hot.
You can reheat smaller portions in a shallow pan on the stovetop over medium heat. Heat for 5-7 minutes until the center is hot. Do not cover the pan to prevent the crusted top from softening. For best results use an oven-safe skillet to pop under the broiler for the last minute or two of reheating.
Although using the oven is best to maintain the texture of this dish, short bursts of 20-30 seconds to reheat in the microwave can work if you are in a hurry. Always gently stir leftovers in between heating when using a microwave.
Reheating from the freezer:
Preheat your oven to 350°F (175°C).
Place the frozen scalloped sweet potatoes directly into the oven.
Cover with aluminum foil.
Heat for approximately 60-75 minutes, or until the center is heated through. You may need to remove the foil in the last 10-15 minutes to brown the top.
If you prefer a faster reheating method, you can use a microwave, but this may result in a slightly different texture and less crispy top. Reheat in microwave-safe portions, checking and stirring at intervals until the desired temperature is reached.
With proper storage and reheating, your au gratin potatoes can taste just as delicious as when freshly prepared, making it a convenient leftover treat.
We hope you enjoyed reading this article. Please help us out by leaving a quick review and star ★ rating below.
LET'S GET SOCIAL, you can follow Four Score Living on Pinterest. You can also leave a comment below if you have any questions.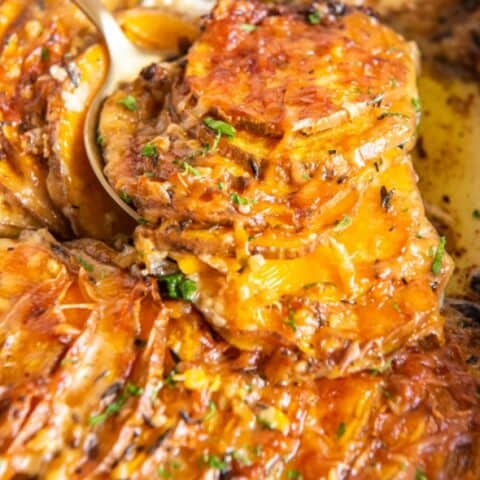 Scalloped Sweet Potatoes
Creamy and cheesy with a golden topping, this sweet and
savory dish is vegetarian, naturally gluten free and delicious for any time of year.
Ingredients
2 pounds sweet potatoes
¼ cup unsalted butter
2 teaspoons minced garlic
1 ½ teaspoons dried thyme
Salt and black pepper, to taste
Pinch nutmeg
¾ cup heavy cream
½ cup Gruyere cheese, shredded, divided
¼ cup Parmesan cheese, shredded
Fresh parsley, for garnish
Instructions
Preheat the oven to 400 degrees F. Spray a 9x13-inch baking dish with cooking spray; set aside.
Use a mandolin to slice the sweet potatoes into ⅛-inch thick slices. Arrange them in even, alternating layers in the baking dish.
Melt the butter in a saucepan set over medium-high heat. Add in the garlic, thyme, salt, pepper, and nutmeg and saute for 30 seconds, until fragrant. Remove the pan from the heat.
Whisk in the heavy cream, ¼ cup Gruyere, and Parmesan until smooth and creamy. Pour the mixture over the layered sweet potatoes. Sprinkle the remaining Gruyere over the top.
Bake for 50-60 minutes or until the sweet potatoes are tender. Broil on high for 1-2 minutes at the end, until golden brown.
`
Notes
Slice potatoes into thin even rounds, using a mandolin slicer if possible, for even cooking.
Use dried herbs as they maintain their texture and flavor during baking.
Broil for the last 1-2 minutes for a golden topping.
Check for doneness by inserting a sharp knife into the potatoes to be sure they are cooked through and tender.

Nutrition Information:
Yield:

8
Serving Size:

1
Amount Per Serving:
Calories:

270
Total Fat:

17g
Saturated Fat:

11g
Trans Fat:

0g
Unsaturated Fat:

5g
Cholesterol:

49mg
Sodium:

209mg
Carbohydrates:

25g
Fiber:

4g
Sugar:

8g
Protein:

6g
The nutrition information for this recipe is an approximate total per serving. Please double check the nutrition information for your exact ingredients and brands.