An amazing, tender, and flavorful keto carrot cake with cream cheese frosting is low-carb and easy to make!
The step-by-step baking and decorating instructions for this delicious layered keto carrot cake will ensure that you get perfect results. Aside from tasting amazing, keto carrot cake is also a very visually impressive low-carb dessert.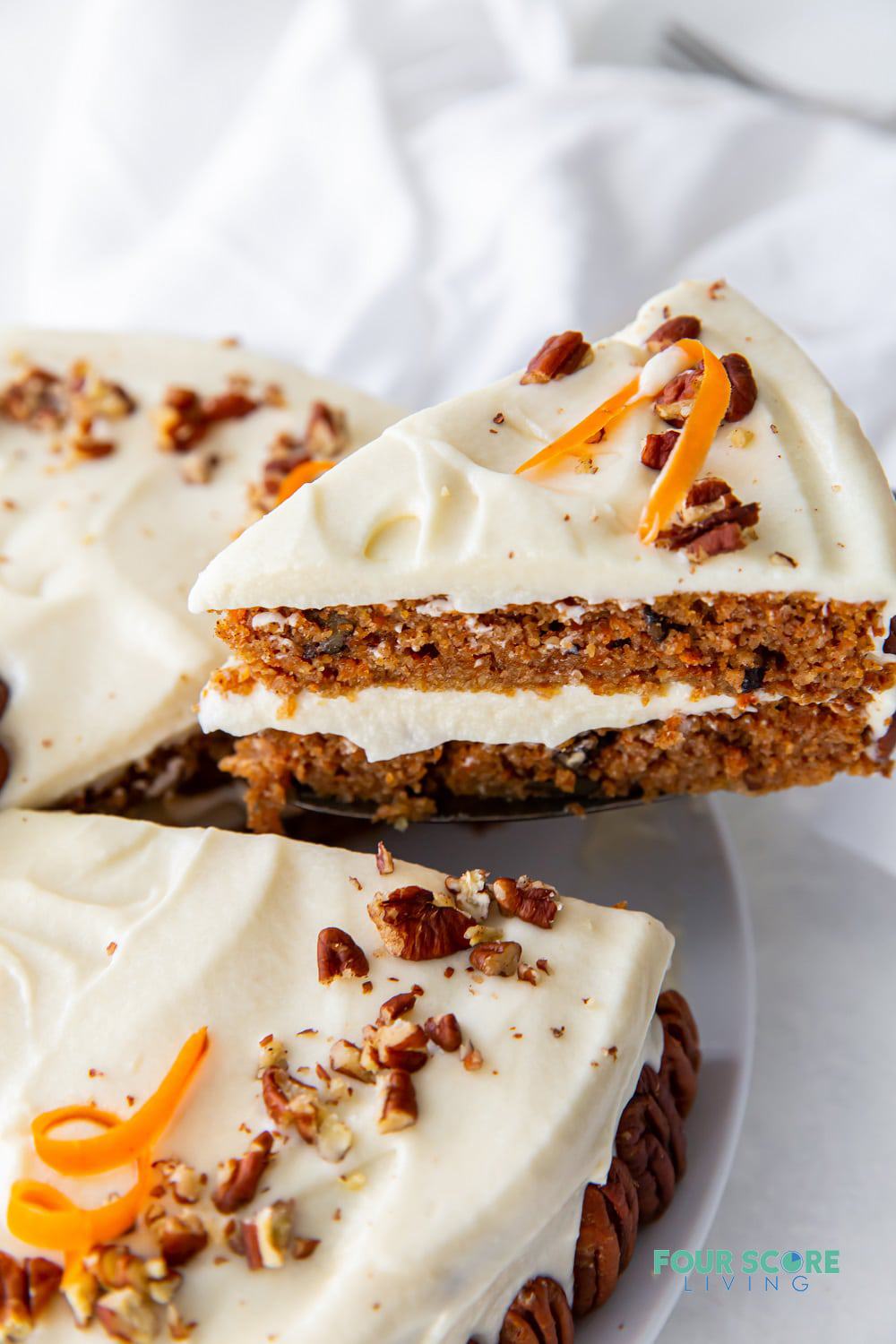 This dessert is gluten-free and grain-free. You may also want to try my Low Carb Carrot Cake Bars.
KETO CARROT CAKE RECIPE
If you love carrot cake, then you and I are kindred souls! Carrot cake is one of my favorite desserts. I've been making some version of this tender, spiced cake with cream cheese frosting and pecans for as long as I can remember.
This version happens to be a keto-friendly carrot cake recipe, with all of the flavors you'd expect from a classic carrot cake.
If you aren't needing a sugar-free recipe or a keto recipe, you might like to try this Gluten Free Carrot Cake instead. Otherwise, stay with me, because this Keto Carrot Cake Recipe is amazing!
WHY YOU'LL LOVE THIS CARROT CAKE
Simple Ingredients: If you already do some keto baking, you probably have everything you need to make a keto carrot cake already. Some standard keto pantry ingredients mix with freshly shredded carrots to make a simple cake batter in minutes.
Classic Flavor: Carrot cake is a sweet and spicy specialty, and this keto carrot cake has all the right flavors in a sugar-free recipe.
Keto Cream Cheese Frosting: We're including a very easy recipe for a sugar-free, keto-friendly cream cheese frosting. You can choose to enjoy your keto carrot cake with or without the frosting, but I promise it's way better with it!
Easy Layer Cake Instructions: If you want to make a beautifully layered carrot cake like the photos here, I've included step-by-step instructions telling you how to assemble it.
IS CARROT CAKE KETO?
In general, carrot cake is not keto, nor are most traditional cake recipes. Wheat flour and sugar are carb heavy and not a great choice for a low-carb diet.
But wait! Luckily for us, THIS carrot cake recipe IS keto-approved! Using an almond flour carrot cake recipe and swapping sugar for low-carb sweetener means that you can enjoy this keto cake without stressing too much.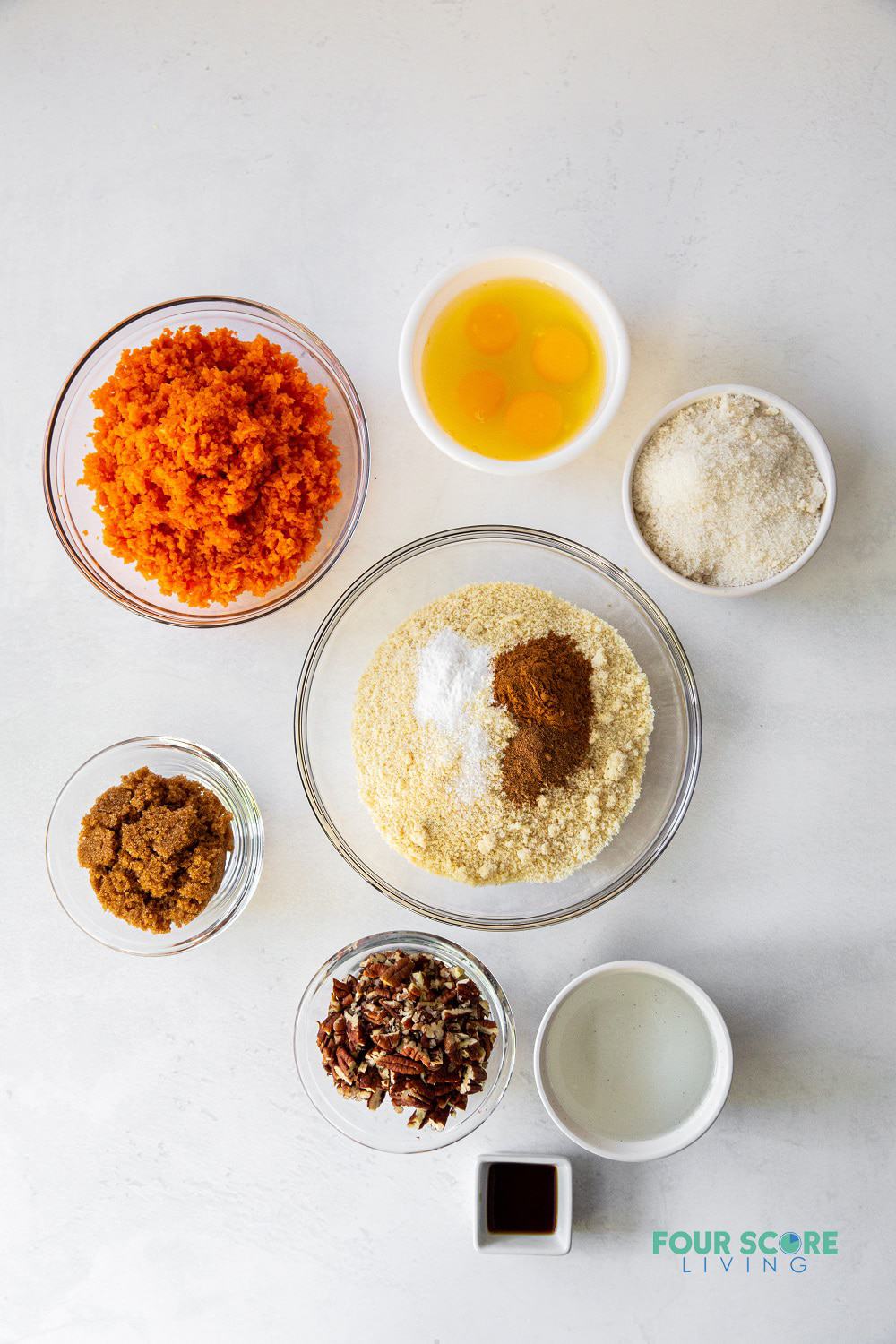 INGREDIENTS IN KETO CARROT CAKE
The same wholesome ingredients you'd expect in a traditional carrot cake, with some keto swaps that make this a low-carb treat!
Almond Flour - Use a fine ground almond flour to get a tender crumb in your finished carrot cake.
Baking Soda - Baking Powder gives rise to your batter and creates lovely pockets of air in your cake.
Salt - Every sweet recipe needs a bit of salt to enhance the sweetness and the other flavors in it.
Cinnamon - Warm spices are the perfect touch for a traditional carrot cake.
Ground Nutmeg - Along with cinnamon, ground nutmeg creates the sweetly spiced flavor that carrot cake is known for.
Coconut Oil - If your coconut oil is solid, warm it gently to melt it and allow it to cool before mixing it into the cake batter. On a warm day, your coconut oil might already be melted for you!
Granulated Swerve - I really like using Swerve sweeteners in my keto baking recipes. I find that it's an easy swap for regular sugar and I like the flavor of it.
Brown Sugar Swerve - The brown sugar Swerve variety has a richer, deeper flavor. A combination of both white and brown sweeteners is perfect for carrot cake.
Vanilla Extract - I suggest that you use a high-quality, pure vanilla extract. The better your vanilla, the better the flavor will be in your cake.
Eggs - Eggs hold this cake together, just like in any traditional cake recipe.
Grated Carrots - The more finely you can grate the carrots, the smoother the cake batter will be. Use a box grater, or make grating carrots easy with a food processor.
Pecans - Pecans are a must on my carrot cakes! I love the added crunch inside and on the outside of the cake. You can leave them out if you'd like to make a nut-free cake. You can also use walnuts if you prefer.
Cream Cheese Frosting - To make a keto-approved cream cheese frosting for your carrot cake, you'll need softened cream cheese and butter, plus powdered sweetener, vanilla extract, and heavy whipping cream. The easy frosting recipe is in the recipe card for you.
If you have any questions about this Almond Flour Carrot Cake, please leave a comment below and I will get back to you.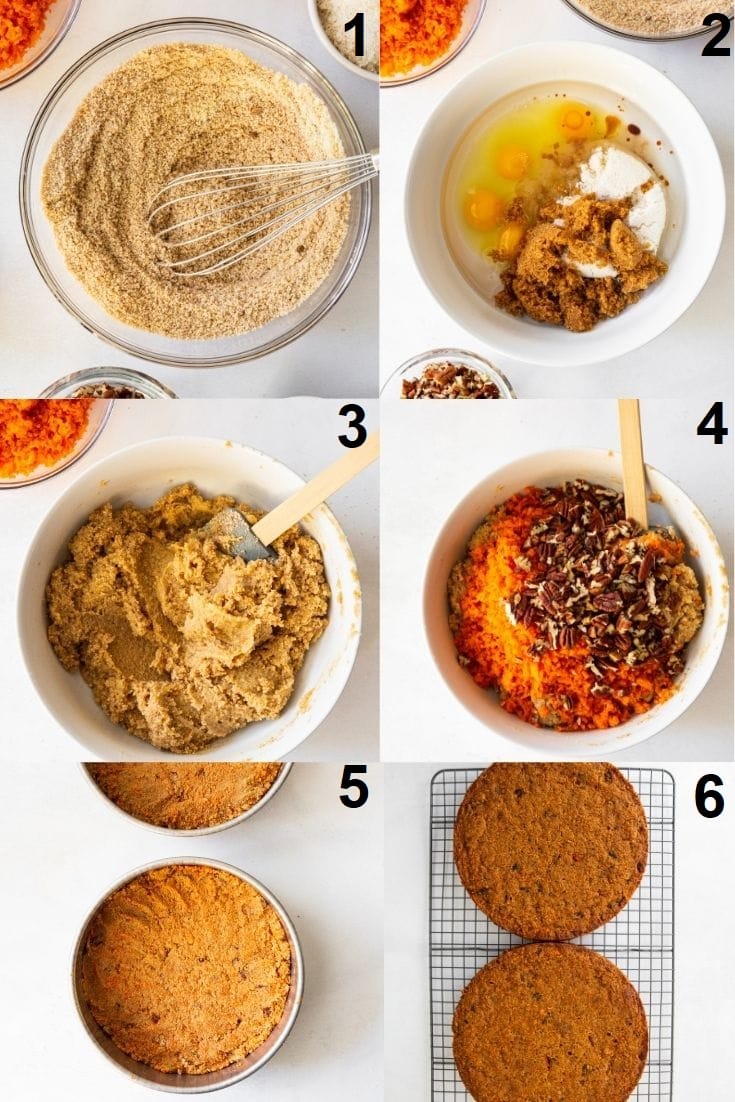 HOW TO MAKE A KETO CARROT CAKE
Start by preheating the oven and greasing two 9 inch cake pans.
In a medium bowl add the almond flour, baking soda, salt, cinnamon and nutmeg. Mix well and set aside.
In a large bowl add the melted and cooled coconut oil, sweeteners, vanilla, and eggs.
Add the dry ingredients in gradually, stirring until well combined.
Then stir in carrots and nuts. The cake batter will be thick.
Place half the batter into each of the cake pans. Bake as directed in the recipe card below.
Let the cakes cool completely and then remove from pans. Keep reading to learn how to stack and add frosting to your keto carrot cake!
These numbered steps match the numbered photos above and are for illustration purposes. For the complete list of ingredients and instructions in this almond flour carrot cake, please see the recipe below.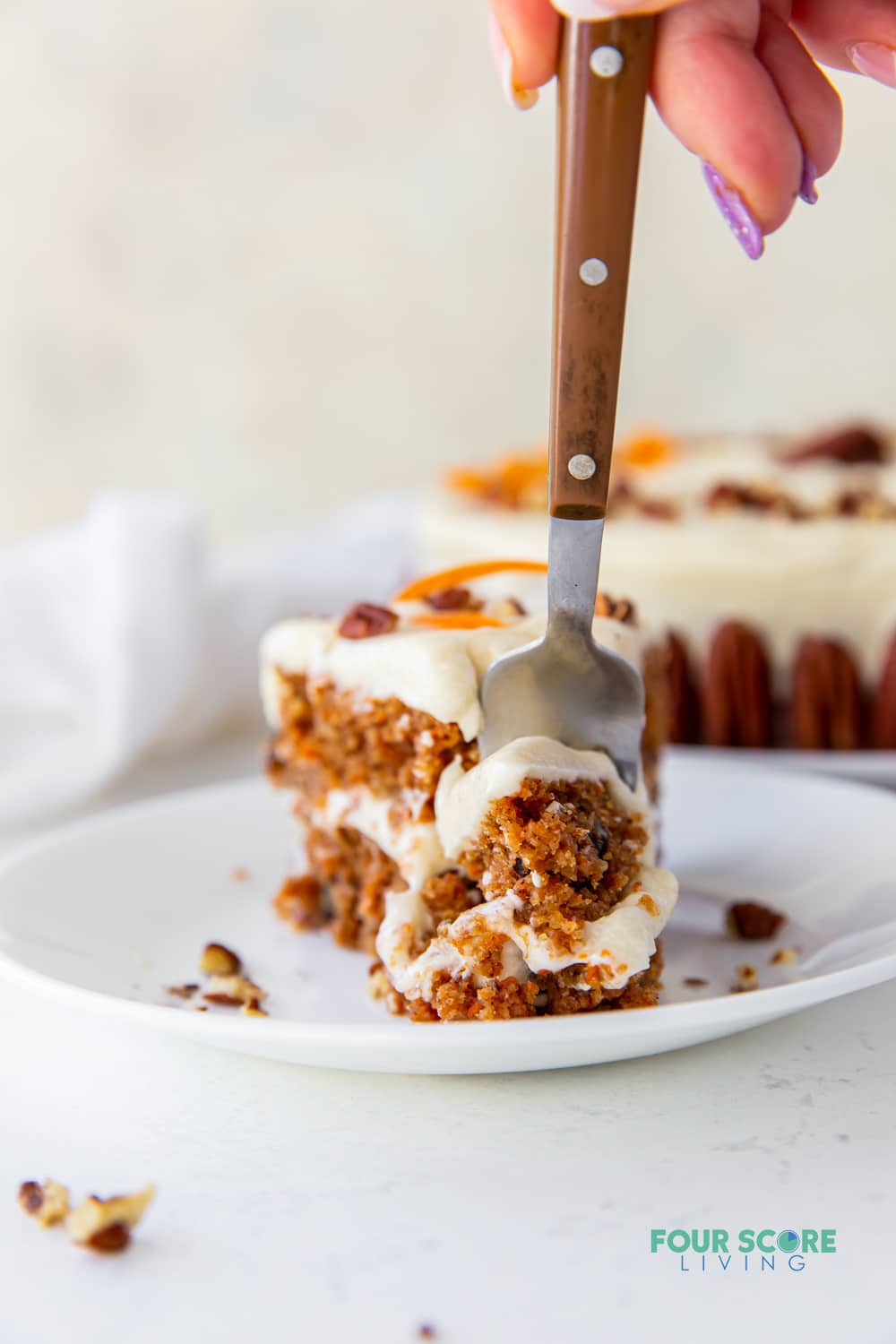 HOW TO STACK AND FROST A LAYER CAKE
You can feel free to enjoy this carrot cake "naked" and skip the frosting, but I don't know that carrot cake will be quite as satisfying without a layer of cream cheese frosting on top!
If you aren't a layer cake decorating pro, don't worry at all. It's simple!
Start with completely cooled cake layers and your prepared cream cheese frosting (the easy keto frosting recipe is in the recipe card below). You can place the frosting in a piping bag, or spread it using an offset spatula.
Put a small amount of frosting on your cake plate, then lay down the first layer cake, dome side down,
Spread about ¼ inch layer of frosting on top of the first cake, then top with the second layer.
Frost the top and sides of your cake now, and then decorate with chopped nuts and carrot curls if desired!
DO I NEED TO ADD CREAM CHEESE FROSTING?
This carrot cake is delicious with or without the cream cheese frosting, however, I definitely prefer it with! If you aren't a fan of cream cheese frosting, you can make the Keto Buttercream Frosting from this cake instead.
CAN I MAKE THIS AS A SHEET CAKE?
If you'd rather not fuss with a layer cake, it is completely acceptable to bake this recipe in a 9x13-inch cake pan instead. The baking time may need to be adjusted a bit for the size of the pan, so check on it a bit early and add extra time if needed.
TIPS FOR WORKING WITH ALMOND FLOUR
Baking with almond flour is different than baking with wheat flour in a lot of ways, but at the same time, it can give you results that are most similar to traditional flour if used correctly.
These are my best tips for using almond flour in your keto baking recipes.
If you store your almond flour in the fridge or freezer, allow it to come to room temperature before mixing your batter. Cold almond flour will not absorb the wet ingredients the way we want it to here.
When measuring almond flour, use a spoon to fill your measuring cup rather than scooping down into the container. This will ensure that you are getting a proper measurement and not compressing the almond flour too much.
I always suggest using a finely ground almond flour for baking. You'll get much lighter and fluffier baked goods this way.
CAN I MAKE CARROT CAKE WITH PRE SHREDDED CARROTS?
While I'm usually all about taking shortcuts, this one is not recommended. Pre-shredded carrots from the grocery store are not shredded finely enough for a carrot cake recipe. Shred them yourself for best results.
SUBSTITUTIONS IN KETO CARROT CAKE
As always, I have tested this recipe in a variety of ways, and the recipe I'm sharing with you is the best version of Keto Carrot cake that I came up with! I can't suggest making any substitutions, as you won't get the same result using different ingredients.
If you decide to try swapping or substituting anything, please leave a comment and let me know how it worked.
HOW TO STORE KETO CARROT CAKE
This cake will stay fresh in an airtight container in the refrigerator for up to 5 days.
You can also freeze keto cake to enjoy later! I like to freeze individual slices in small plastic or glass containers in the freezer. They will keep in the freezer for several months. Take a slice out and let it thaw in the fridge overnight before enjoying.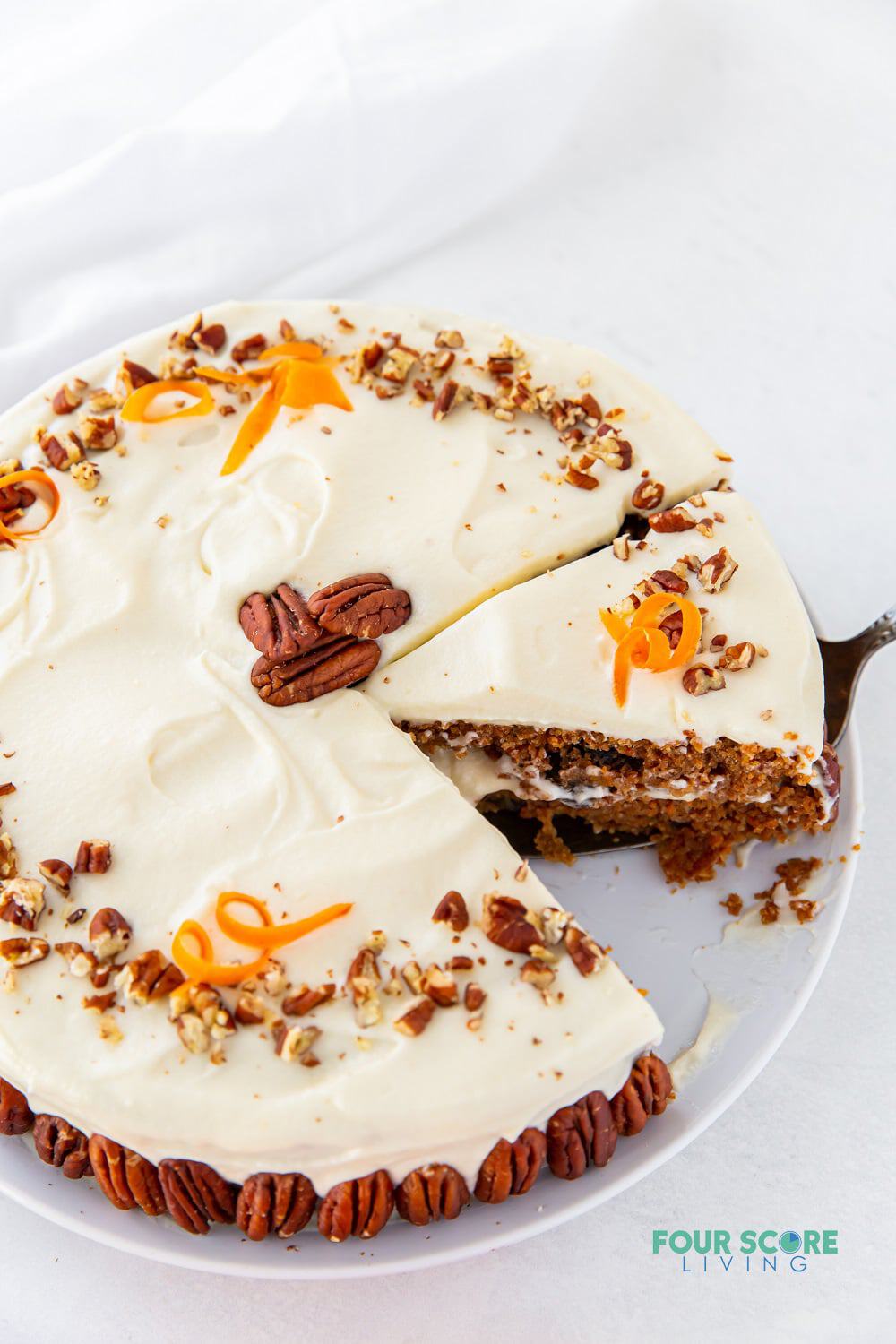 We hope you enjoyed reading this article. Please help us out by leaving a quick review and star ★ rating below.
LET'S GET SOCIAL, you can follow Four Score Living on Pinterest. You can also leave a comment below if you have any questions.
Did you make this Keto Carrot Cake recipe? Please leave a comment below letting me know what you thought!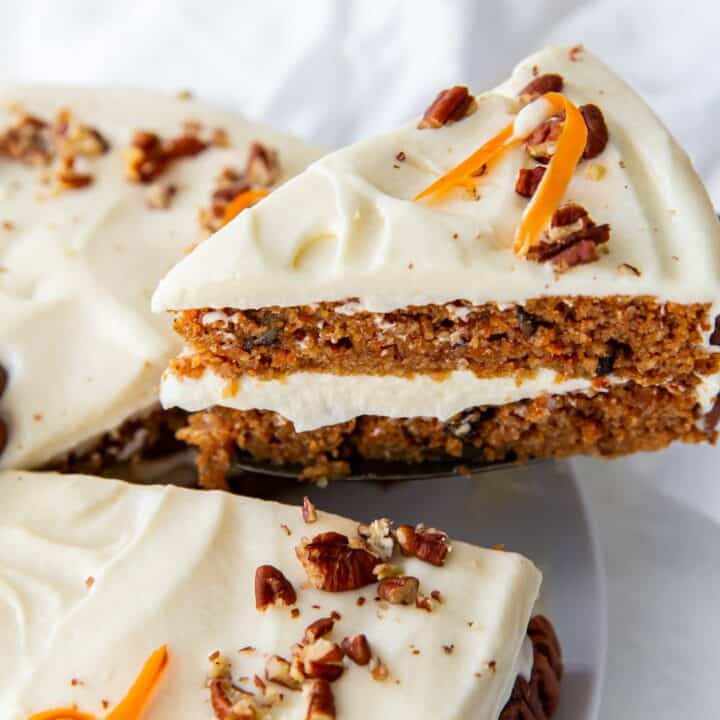 Keto Carrot Cake
An amazing, tender, and flavorful keto carrot cake with cream cheese frosting is low-carb and easy to make! You're going to love this almond flour carrot cake.
Ingredients
For the Cake:
2 cups almond flour
2 tsp baking soda
½ tsp salt
2 tsp cinnamon
1 tsp ground nutmeg
1 ¼ cup melted and cooled coconut oil
1 ¼ cup Swerve, granulated
¾ cup Swerve, brown sugar
1 tsp vanilla extract
4 large eggs
2.5 cups finely grated carrots
1 cup pecans, shopped
For the Frosting:
8oz cream cheese, softened
½ cup unsalted butter, softened
1 ½-2 cups powdered sweetener of choice, to taste
1 tsp vanilla extract
1-2T heavy whipping cream
Instructions
Pre-heat oven to 350°F/180°C. Grease with oil or butter 2 9-inch cake pans. Optionally, use parchment paper on the bottom and grease the sides.
In a medium bowl add the almond flour, baking soda, salt, cinnamon, and nutmeg. Mix well.
In a large bowl add the melted and cooled coconut oil, sweeteners, vanilla, and eggs.
Add the dry ingredients in gradually, stirring until well combined. Then stir in carrots and nuts.
Place half the batter into each of the cake pans. Bake for 30-35 minutes. Let cool and then remove from pans.
For the frosting: In a large bowl add the cream cheese and butter and blend until creamy. Then add in the sweetener and mix until well combined. Finally, add in the vanilla and 1T of heavy whipping cream, mixing until fluffy. Add more heavy cream if you'd like a thinner frosting.
Spread the frosting between the cake layers and on sides using a spatula. Serve or refrigerate until ready to serve.
Notes
Be sure that you allow the cakes to cool completely before stacking and frosting.
Cake slices can be frozen to enjoy later. Freeze for up to 2 months. Allow to thaw in the refrigerator before enjoying.
You can bake this cake in a 9 x 13 pan rather than two round cake pans. Adjust the bake time if needed.
Nutrition Information:
Yield:

12
Serving Size:

1
Amount Per Serving:
Calories:

582
Total Fat:

51g
Saturated Fat:

27g
Trans Fat:

0g
Unsaturated Fat:

21g
Cholesterol:

107mg
Sodium:

411mg
Carbohydrates:

20g
Net Carbohydrates:

14g
Fiber:

6g
Sugar:

14g
Protein:

8g
The nutrition information for this recipe is an approximate total per serving. Please double check the nutrition information for your exact ingredients and brands.