Keto Vanilla cake is tender, sweet, sugar free, and indulgent.
Topped with keto vanilla frosting, it is an out of this world low carb dessert, and an easy keto birthday cake option.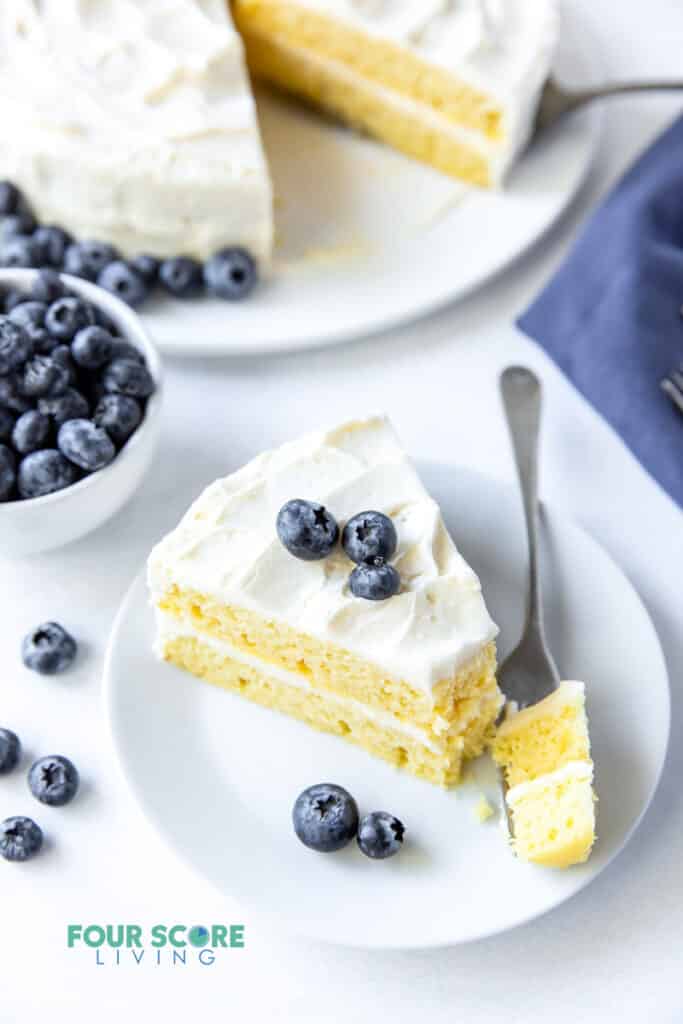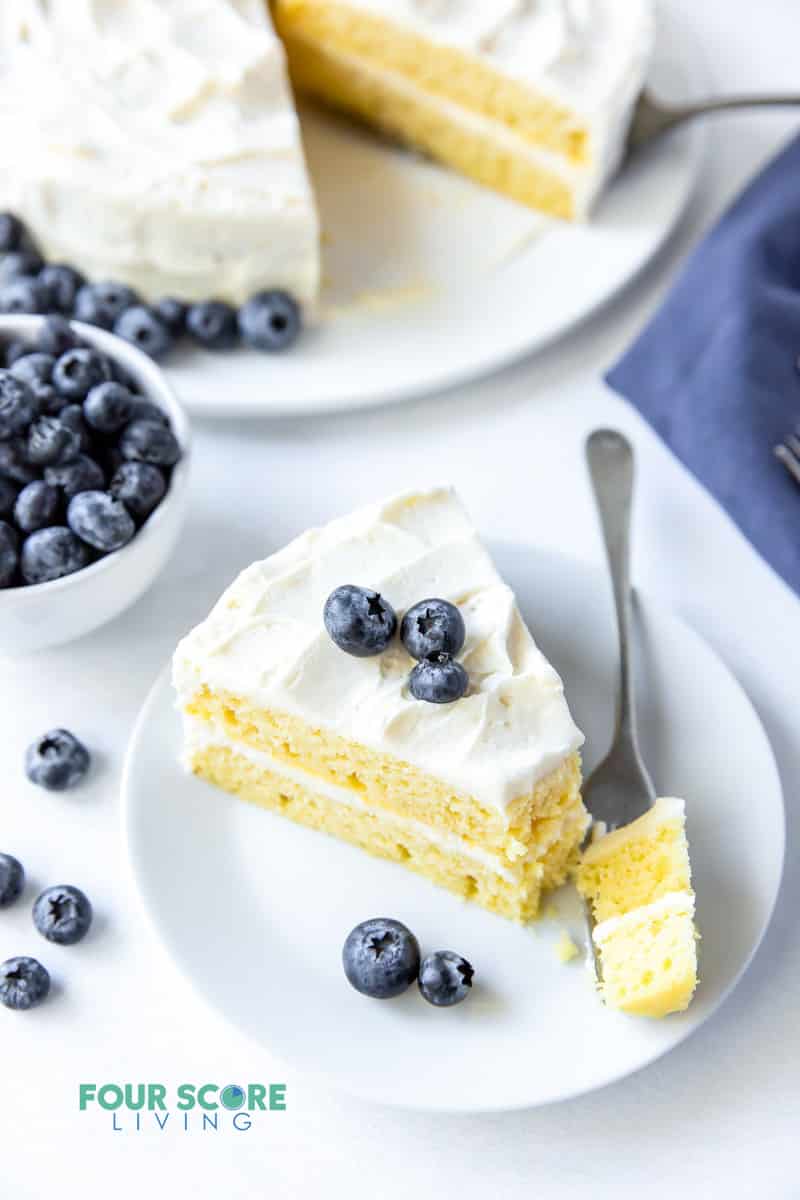 Top your keto vanilla cake with a simple sugar free vanilla buttercream. If you're more of a chocolate person, you can top this keto vanilla cake with keto chocolate frosting.
KETO VANILLA CAKE RECIPE
What's my favorite keto dessert? It's definitely Keto Cake! This Keto Vanilla Cake tastes just like a traditional vanilla cake, and it's sugar free, gluten free, and low carb.
You can create your own keto vanilla cake with buttercream frosting for your next celebration. Keto friendly cakes are simple to make and so satisfying to eat.
This keto cake recipe makes the perfect keto birthday cake, or a dessert for any other type of get together. Sugar free vanilla cake is best enjoyed with friends to help you eat it.
A small amount of effort leads to a big reward when serving this vanilla cake. Everyone will rave about it, (if you don't tell them, they won't even know that this is a keto and gluten free cake!) and you'll know that you've created a satisfying and delicious keto dessert.
Are you looking for a Keto Chocolate Cake? Try our recipe! If you don't need to eat keto, you might like this Gluten Free Cake.
This gluten free vanilla cake is also simple to make.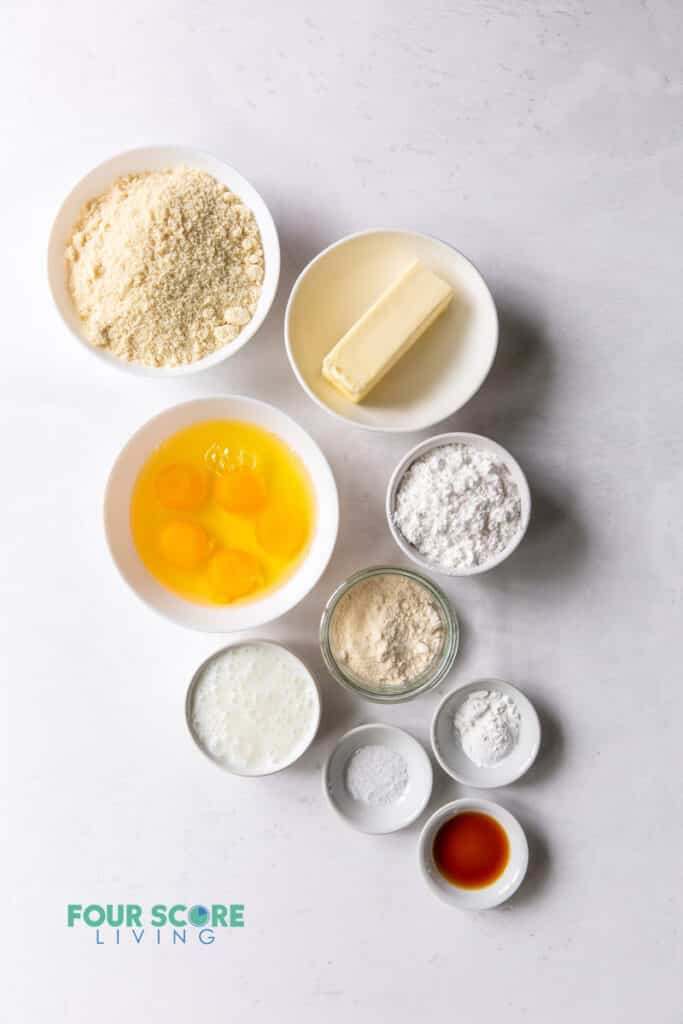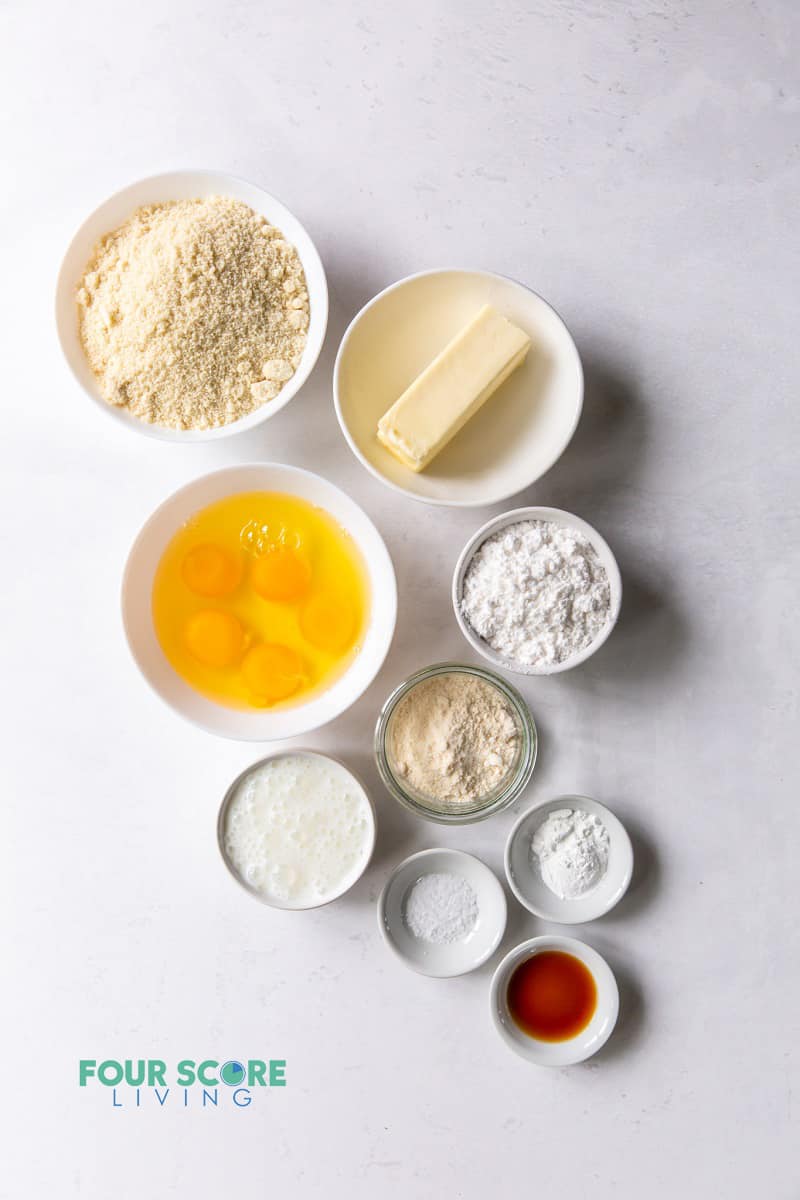 INGREDIENTS IN KETO VANILLA CAKE
Almond Flour - Use a fine ground almond flour for cake recipes. You'll get the best light and fluffy texture that way.
Coconut Flour - The combination of two types of flours makes for the best texture. I've tested this specific blend to get the perfect tender crumb.
Powdered Erythritol - This is my favorite sweetener for baking with. Use the powdered form of erythritol for best results.
Baking Powder - Baking powder helps the cake rise in the oven.
Salt - Just a bit to balance the sweetness.
Eggs - Leave your eggs on the counter for at least 30 minutes to get them to room temperature.
Buttermilk - this cultured milk adds a specific tenderness and lightness to the cake, but whole milk can be substituted.
Unsalted Butter - Melt your butter and then allow it to cool before mixing. Making a keto cake with butter gives you an extra rich and decadent experience.
Vanilla Extract - Use your best quality vanilla extract for this cake.
If you have any questions about this keto vanilla cake, please leave a comment below and I will get back to you.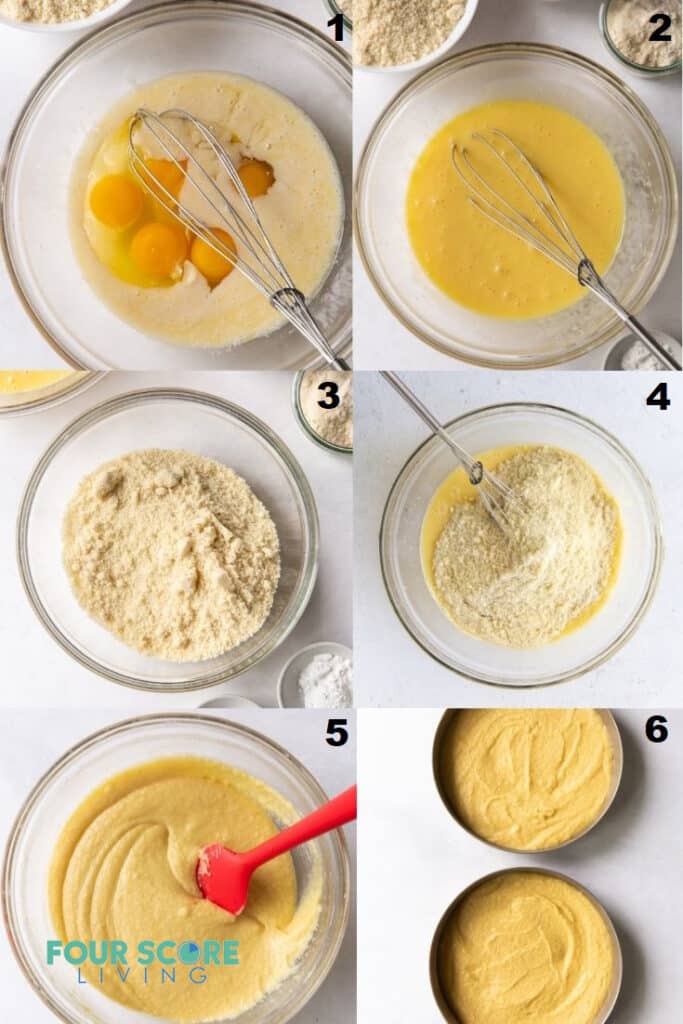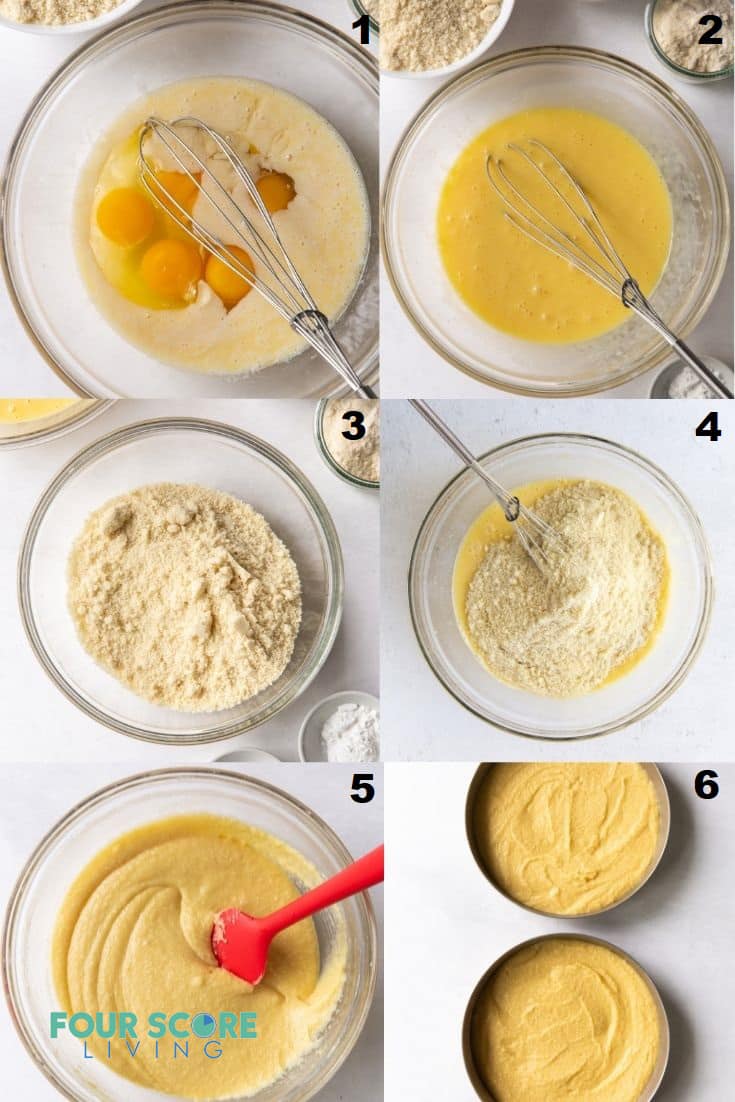 HOW TO MAKE KETO VANILLA CAKE
A keto vanilla cake is really simple to make!
In a large mixing bowl, combine eggs, buttermilk, cooled butter, and vanilla extract.
Mix until thoroughly combined.
In a separate bowl, whisk together the almond flour, coconut flour, powdered erythritol, baking powder, and salt.
Add the dry ingredients to the wet ingredients.
Mix until well combined.
Divide the batter evenly between two prepared baking pans, then bake as directed in the recipe.
These numbered steps match the numbered photos above and are for illustration purposes. For the complete list of ingredients and instructions, please see the recipe below.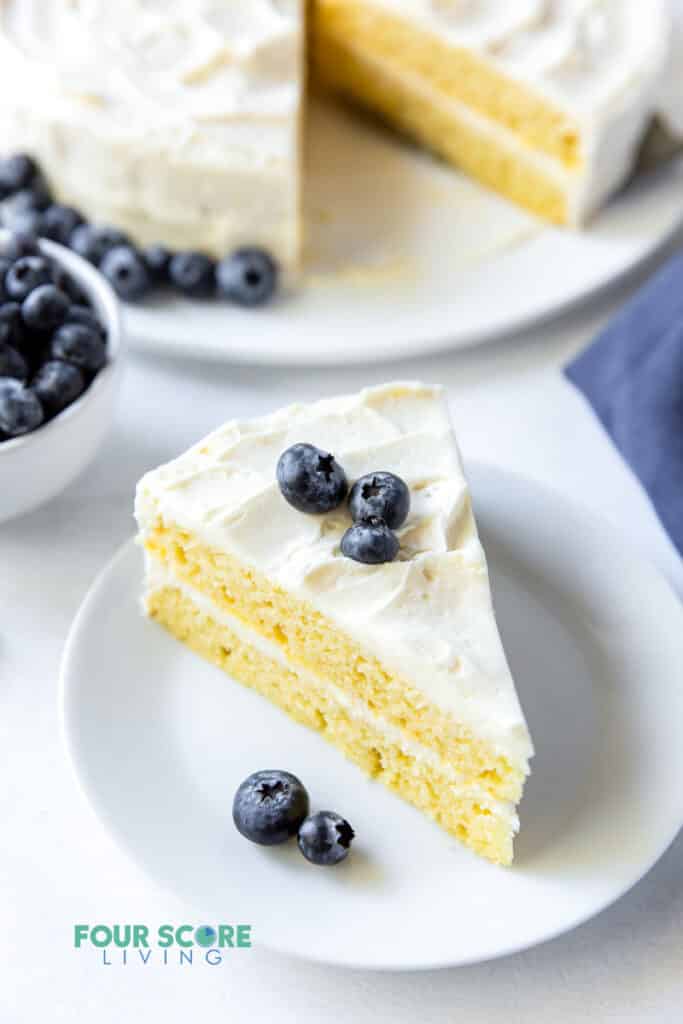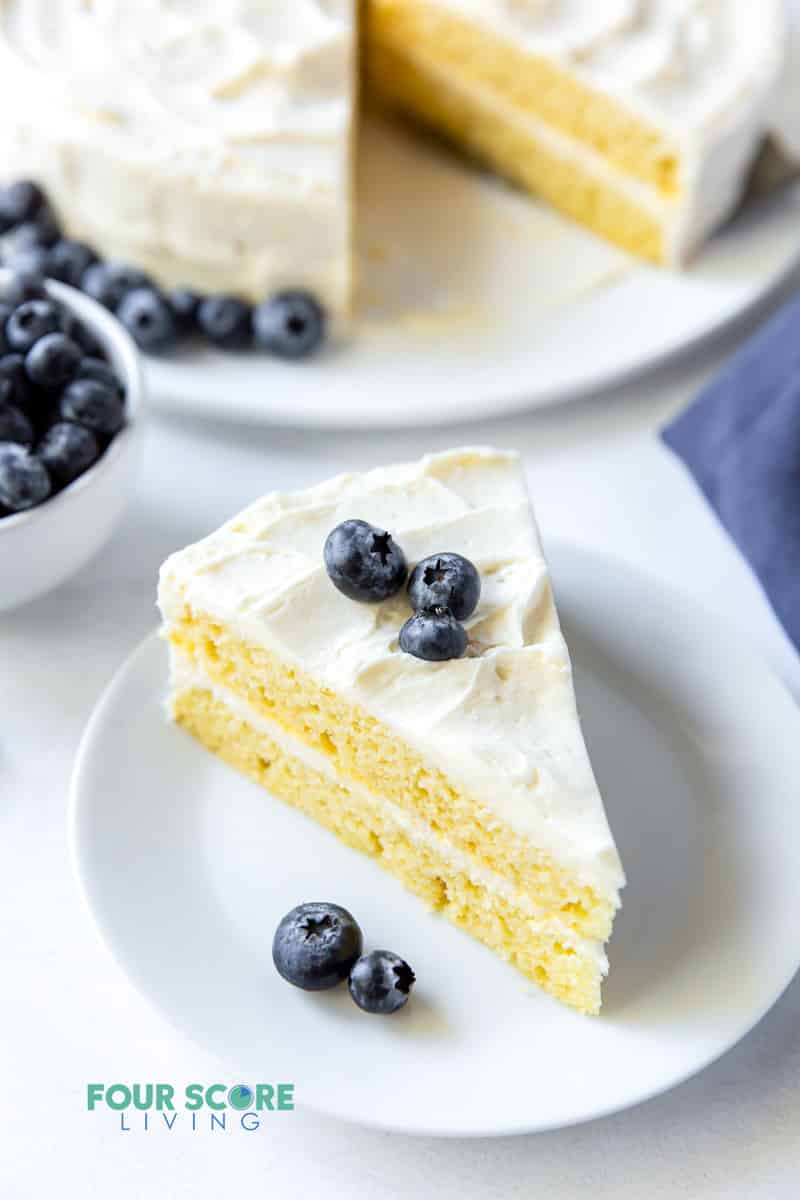 HOW TO SERVE KETO VANILLA CAKE
You can serve this cake "naked" with some berries and call it a delicious day, but for a really decadent sugar free vanilla cake, make a keto vanilla buttercream to fill and top a keto layer cake.
The recipe for my sugar free buttercream is in the recipe card below. It comes together in just minutes with four ingredients, including butter and powdered sweetener. You can color this keto cake frosting using food dyes or natural colors for a beautiful keto birthday cake.
Sugar free sprinkles would be so fun to add to this cake as well.
Alternately, you may want to serve this low carb vanilla cake with Keto Whipped Cream or Keto Chocolate Frosting.
TIPS FOR MAKING AN ALMOND FLOUR KETO CAKE
If you haven't done much Keto baking, it can be helpful to learn about using almond flour in baking recipes. We use almond flour as a low carb substitute for wheat flour, but it acts slightly differently than wheat flour in cake recipes.
First, if you are storing your almond flour in the fridge or freezer, let it come to room temperature before using in your recipes.
When measuring almond flour, always use a spoon to fill your measuring cups rather than scooping down into your flour container. This will ensure that you aren't measuring too much flour.
Almond flour (and coconut flour) will absorb wet ingredients differently than wheat flour. You may notice that your batter is thicker than you'd expect it to be for a cake recipe. This is normal.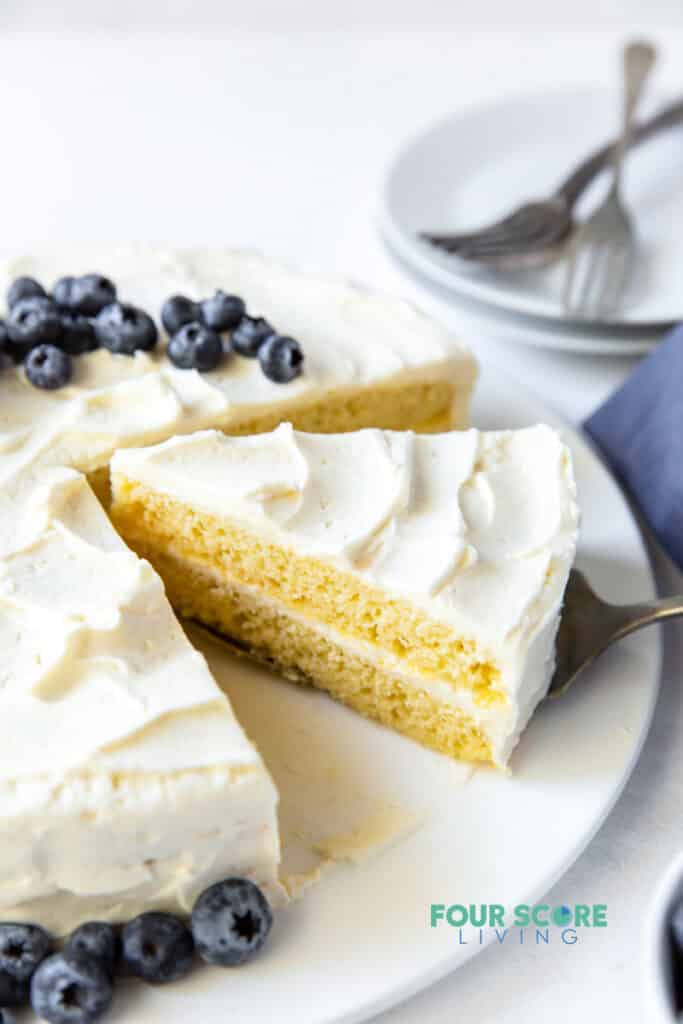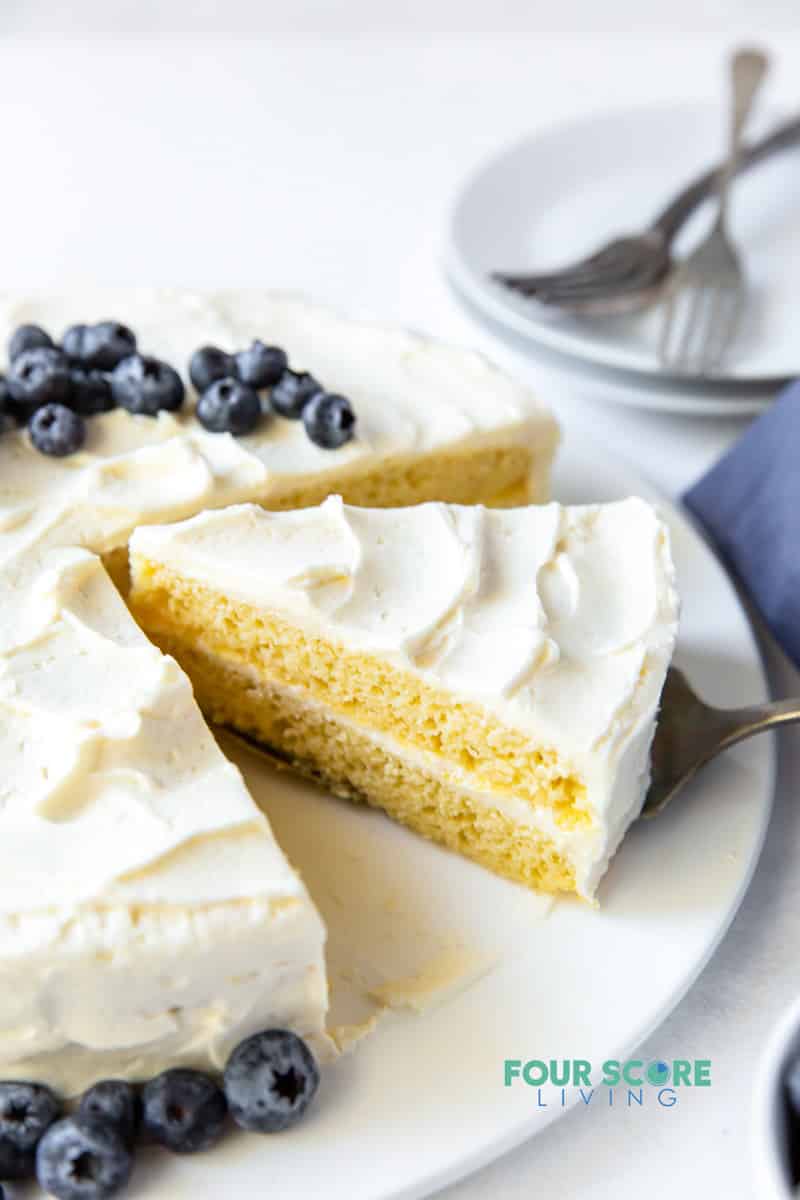 HOW TO STORE SUGAR FREE VANILLA CAKE
Without icing, you can store the baked cake in the refrigerator or at room temperature in a sealed container for up to 3 days before serving.
You can freeze unfrosted cake layers, well wrapped in plastic, for up to 3 months. Allow to thaw before decorating.
HOW TO ASSEMBLE A KETO LAYER CAKE
You can make a cake as beautiful as the one in these photos. It's not hard! Just follow these tips.
Bake your cakes, and allow them to cool completely before attempting to frost and stack them.
Find a large plate or a cake turntable to work on. Add a tablespoon of frosting to the middle of the plate, then place the first layer on top of that. The frosting works like glue to keep the cake in place.
Next, add about a cup of buttercream frosting to the top of that first cake layer. Spread it evenly.
Finally, add the second layer of cake. Here I like to turn the cake upside down so that the flat bottom of the cake is now the top.
To complete the layer cake, use the rest of your frosting to cover the top and sides of the cake. Decorate as desired.
SUBSTITUTIONS IN KETO VANILLA CAKE
I've tested this recipe as written here and made lots of changes as I tested to make sure that I loved the outcome.
For best keto cake results, I don't suggest making any substitutions. But if you do decide to try something different, let me know how it turned out for you.
Sweetener Substitutions: I use powdered erythritol in most of my keto baking recipes, including keto cake. I find it easy to work with and the flavor and sweetness level is right where I want it to be. I've had good results using either plain powdered erythritol or Lankanto, which is a combination of erythritol and monk fruit. I don't recommend trying to use any liquid sweeteners, but other granulated sweeteners should be able to be used instead.
Flour Substitutions: The best combination for making keto cakes is the ratio of almond flour to coconut flour that I've used in this keto vanilla cake recipe. I can't give you any other options that work as well because I haven't found one yet!
If you're looking for a way to use up those last few pieces of keto vanilla cake, consider making birthday cake ice cream with it, or create a low carb blueberry trifle.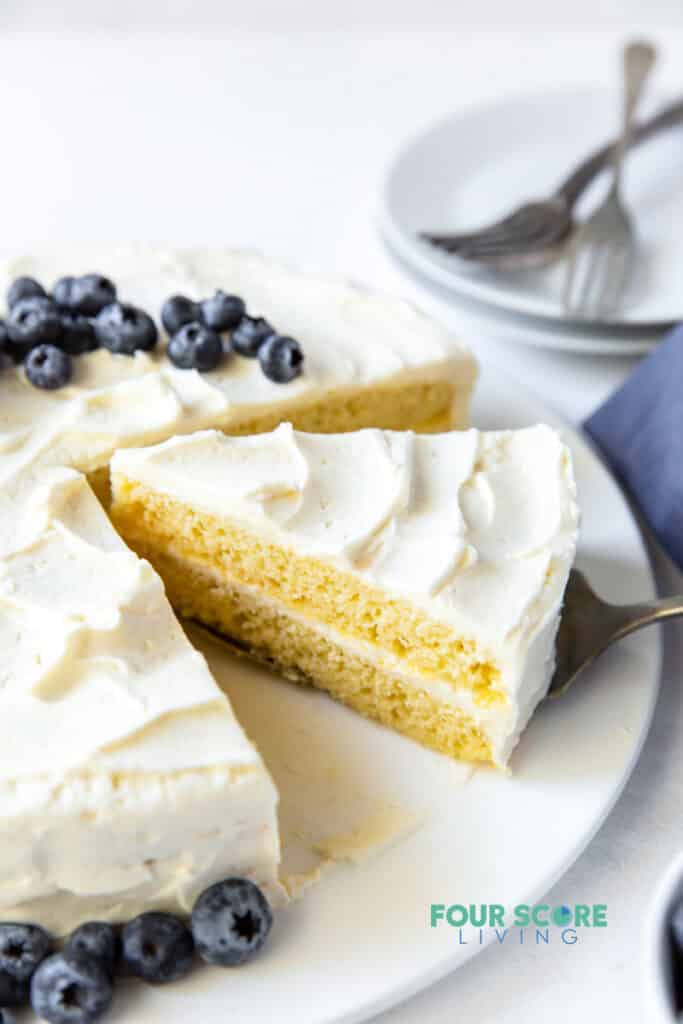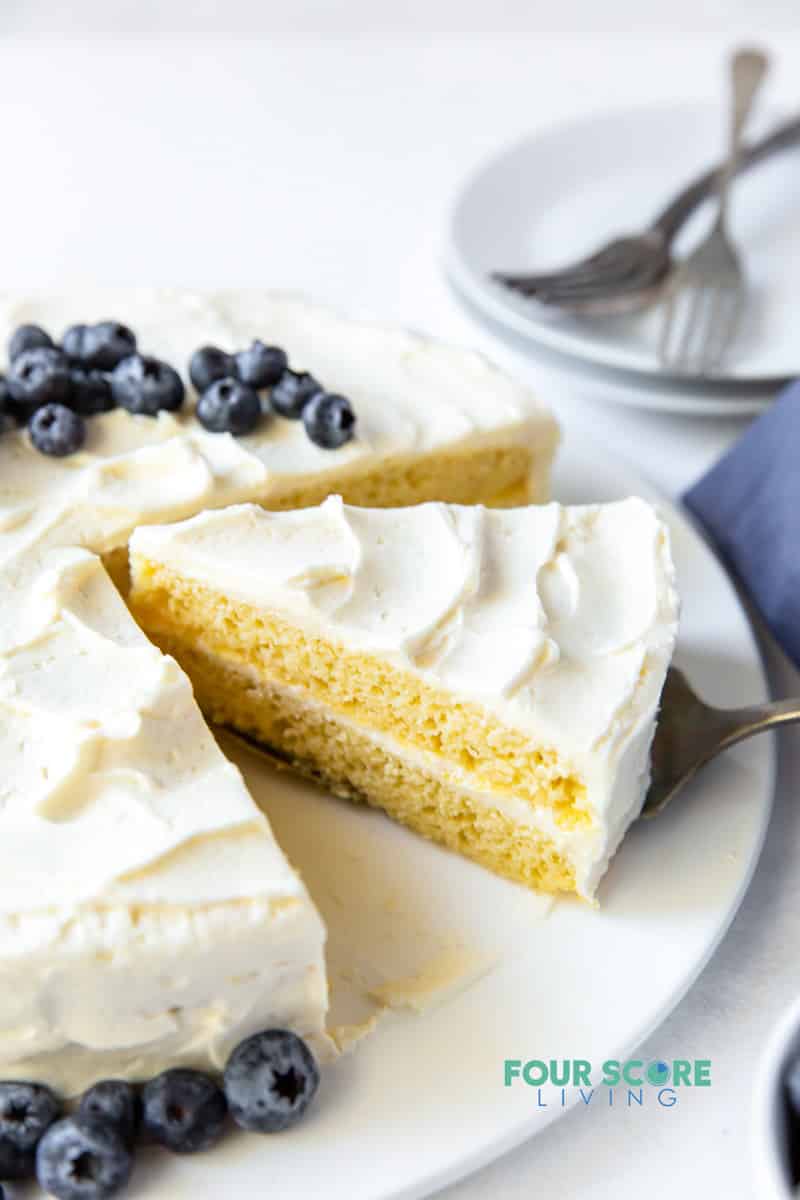 CAN I HAVE CAKE ON KETO?
With this amazing recipe for Keto Vanilla Cake, you CAN have cake on a ketogenic diet that can fit into your plans.
Any cake that you buy from a bakery or grocery store will be packed with sugar. Making your own low-carb vanilla cake is a great way to control the amount of sugar in your dessert so that you can enjoy vanilla cake on keto.
Want your cake to be single serving and ready in just a few minutes? Try this Keto Mug Cake recipe that's cooked in the microwave!
WHAT SIZE KETO CAKE DOES THIS RECIPE MAKE?
This standard keto vanilla cake recipe makes two 8-inch round cakes or 1 9x13 inch cake. You can decide what shape you want to make your cake, and how you want to decorate it.
HOW TO MAKE A KETO FUNFETTI BIRTHDAY CAKE
Add some sugar free sprinkles into the keto cake batter just before baking, and then use more sugar free sprinkles to decorate the cake!
IS KETO VANILLA CAKE DIABETIC FRIENDLY?
Typically keto recipes are diabetic friendly because they are sugar free. Please review the individual ingredients to be sure that this recipe works for your specific dietary needs though.
CAN I MAKE A KETO LEMON CAKE?
Follow this recipe to make a citrusy lemon keto cake with an amazing lemon cream cheese frosting.
MORE DECADENT KETO DESSERTS
Keto Lemon Bars are one of our favorites. They are sweet, tart, and have the most delicious crust.
Keto Cheesecake is just simply amazing. I can bring keto cheesecake to any party and nobody will know the difference between the low carb version and a standard dessert.
Looking for a brunch treat? Make a simple Keto Coffee Cake!
Keto Pumpkin Mug Cake is amazing in the Fall or any time you want to enjoy some pumpkin spice.
We hope you enjoyed reading this article. Please help us out by leaving a quick review and star ★ rating below.
LET'S GET SOCIAL, you can follow Four Score Living on Pinterest. You can also leave a comment below if you have any questions.
Did you make this Keto Vanilla Cake? Please leave a comment below letting me know what you thought.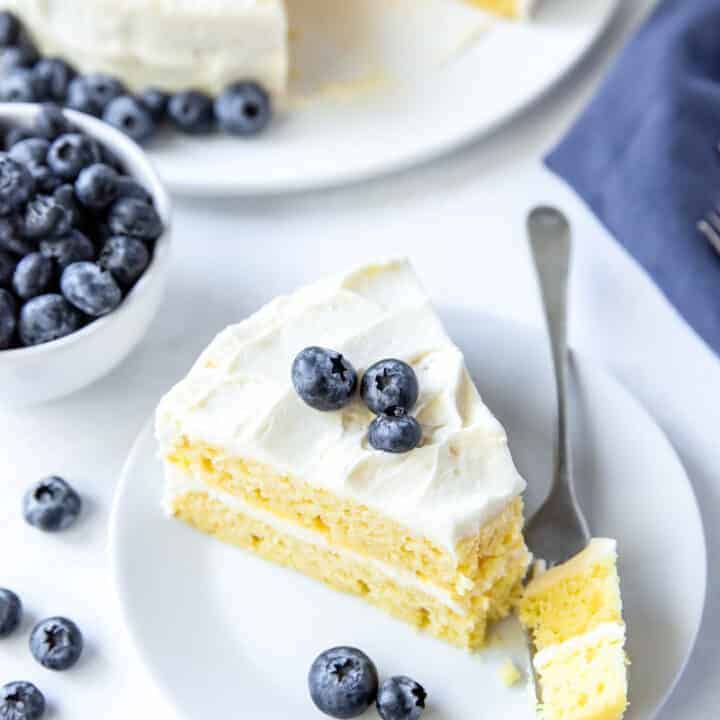 Keto Vanilla Cake
Keto Vanilla cake is tender, moist, sweet, sugar free, and indulgent. Topped with keto vanilla frosting, it is an out of this world low carb dessert.
Ingredients
Vanilla Cake
2 cups fine almond flour
¼ cup coconut flour
⅔ cup powdered erythritol
2 tsp baking powder
½ tsp salt
5 large eggs, room temperature
½ cup buttermilk or whole milk
6T unsalted butter, melted and cooled
2 tsp vanilla extract
Vanilla Buttercream
1 cup (2 sticks) unsalted butter, softened
1 ½ cups powdered erythritol
1 tsp vanilla extract
2-3T heavy cream
Instructions
Vanilla Cake
Preheat the oven to 325 F degrees F. Line the bottoms of two 8-inch round cake pans with parchment paper rounds, then spray with nonstick baking spray. Set aside.
In a large mixing bowl, combine eggs, buttermilk, cooled butter, and vanilla extract.
Mix until thoroughly combined.
In a separate bowl, whisk together the almond flour, coconut flour, powdered erythritol, baking powder, and salt.
Add the dry ingredients to the wet ingredients.
Mix until well combined.
Divide the batter evenly between the prepared baking pans and bake for 20-25 minutes, until a toothpick comes out clean.
Allow the cakes to cool completely in the pan (at least 30 minutes) before removing. Remove the parchment paper liner and frost as desired.

Vanilla Buttercream

Add butter and vanilla to a large mixing bowl or a stand mixer (paddle attachment). Mix on high speed until pale and fluffy.
Add the powdered sweetener, mixing on low speed until incorporated, then on medium speed for 2 minutes until fluffy.
Add vanilla and cream, 1 tablespoon at a time, mixing well between, until your desired smoothness is achieved.
Spread the frosting between the cake layers and on sides using a spatula. Serve or refrigerate until ready to serve.




Notes
Allow all ingredients to come to room temperature before mixing, especially the eggs and almond flour.
When measuring almond flour, be sure to spoon it into the measuring cup, rather than scooping it into the bag.
Almond flour cakes are more likely to stick to the pan. Be sure to spray your cake pan with oil and line the bottom with parchment paper for easy release.
Cake can be stored, unfrosted, for up to three days in the fridge.
Nutrition Information:
Yield:

8
Serving Size:

1
Amount Per Serving:
Calories:

442
Total Fat:

37g
Saturated Fat:

15g
Trans Fat:

0g
Unsaturated Fat:

20g
Cholesterol:

172mg
Sodium:

411mg
Carbohydrates:

14g
Net Carbohydrates:

10g
Fiber:

4g
Sugar:

5g
Protein:

13g
The nutrition information for this recipe is an approximate total per serving. Please double check the nutrition information for your exact ingredients and brands.