This Keto Cheesecake will surely impress your family and satisfy your keto dessert cravings.
A smooth, decadent, low carb cheesecake made in the traditional way is easy to make and delicious to eat.
If you love cheesecake you'll want to try these Keto Cream Cheese Cookies next.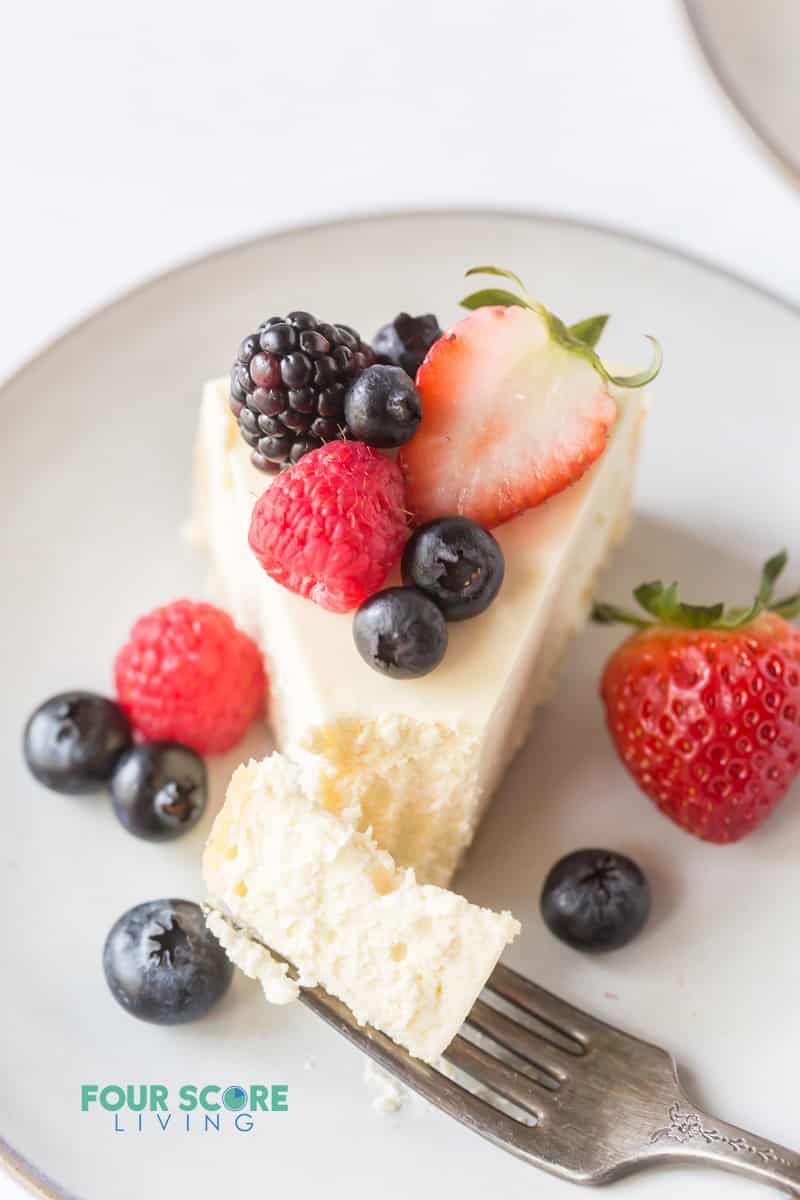 KETO CHEESECAKE RECIPE
We enjoy desserts with our Keto way of eating often. Sometimes we just need to enjoy a thick, smooth, sweet slice of cheesecake and this sugar free cheesecake recipe checks all of the boxes.
The method used to make this keto cheesecake is very similar to how you would make a traditional cheesecake, so the end result is a New York Style cheesecake with a buttery crust and smooth filling.
Even those not on a Keto diet will enjoy this keto cheesecake recipe.
What makes this recipe low carb is the ingredient choices we're making. Just a few smart substitutions for the sweetener and crust will make your cheesecake sugar free, low carb, and keto diet approved.
We've included this cheesecake in our post on easy keto recipes.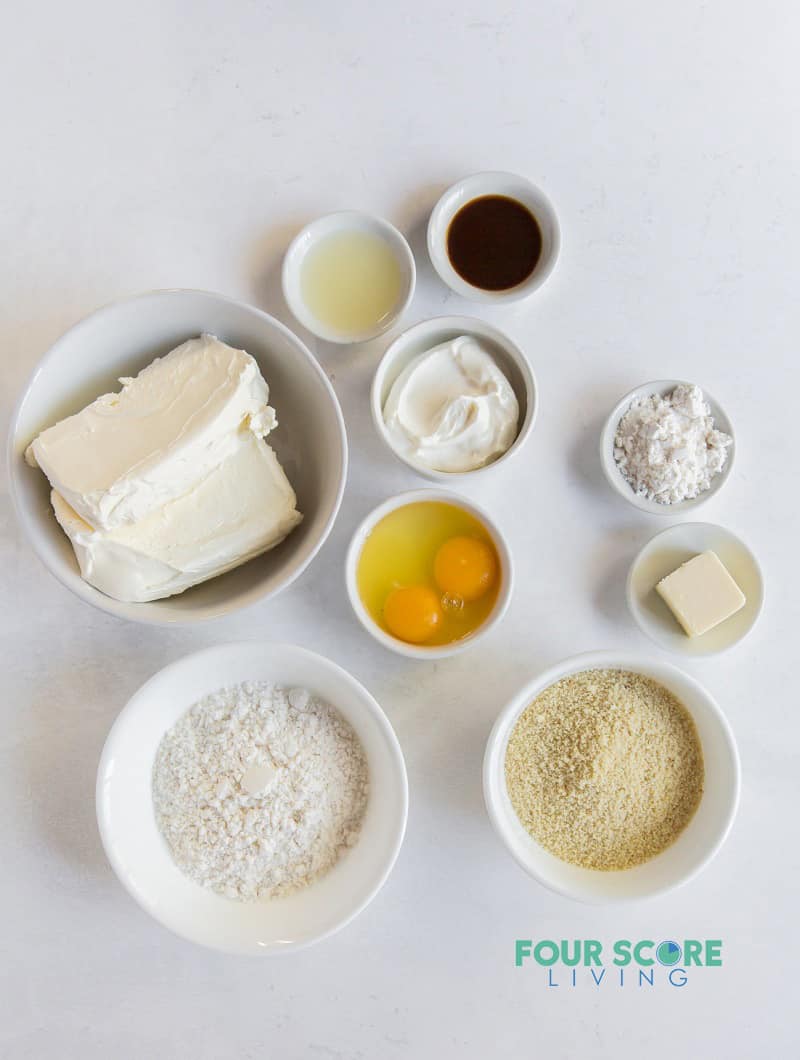 INGREDIENTS IN KETO CHEESECAKE
Almond Flour - A favorite low-carb flour option. Almond flour gives a great texture and volume to the cheesecake crust.
Powdered Erythritol - A low carb sweetener - choose a powdered variety so that your filling is smooth and creamy.
Grass-Fed Butter- High in fat and delicious, grass fed butter is just better than the alternatives.
Cream Cheese - Cream cheese is the star here. Check your cream cheese to make sure it has zero net carbs. Some brands do not.
Eggs - Use whatever type of eggs you have on hand here, as long as they are large size. Eggs bind your filling together.
Sour Cream - Adds additionally creaminess, fat, and flavor.
Lemon Juice - A traditional add in for cheesecake. Lemon juice is added for flavor and to balance the flavor of the cheese.
Vanilla Extract - A baked goods must have, use pure vanilla extract for warmth and depth of flavor.
Fresh Berries - Completely optional, but if you have them, garnish your cheesecake with fresh berries.
Whipped Cream - Also optional, but a slice of Keto cheesecake with berries and whipped cream will be next level.
If you have any questions, please leave a comment below and I will get back to you.
WORKING WITH ALMOND FLOUR
This keto cheesecake recipe doesn't call for a lot of almond flour but you still need to make sure you measure it right or your crust will be too dry.
Almond flour is that it is NOT a 1-to-1 for all other keto flours. It has a lot more protein and fat, and less starch, so it reacts differently in recipes.
It's best stored in the refrigerator or freezer if you're not going to use it up in a week or two.
Always bring Almond meal or flour to room temperature before baking with it. If you use it cold, it'll absorb more of the liquid and your batter or crust will be drier than it should be.
And remember, because it's made from almonds, it can go rancid, so keep track of when you opened the bag.
HOW TO MAKE KETO CHEESECAKE
Combine almond flour, erythritol, and melted butter in a medium bowl and mix well.
Transfer mixture to prepared pan and press into an even layer using your fingers. Bake until lightly golden. Let cool.
Meanwhile, beat cream cheese and powdered erythritol together at low to medium speed until fluffy.
Add eggs one at a time, beating well between each.
Next, beat in sour cream, lemon juice, and vanilla extract until smooth.
Pour into the prepared springform pan and smooth the top. Bake as directed
These numbered steps match the numbered photos above and are for illustration purposes. For the complete list of ingredients and instructions, please see the recipe below.

NUTRITION AND CARBS IN CHEESECAKE
There are 8 servings in this sugar free cheesecake recipe. Each slice has the following:
363 Calories
33 grams Fat
7 grams Carbohydrates
1.5 grams Fiber
Total net carbs are around 5.5 per slice.
You can absolutely figure this decadent dessert into your meal plans.
Low carb cheesecake is probably not an every day indulgence, but you can have cheesecake on a keto diet sometimes, using this recipe.
TIPS FOR MAKING KETO CHEESECAKE
Cheesecake can sometimes be tricky to make. Sometimes the top cracks. Sometimes it doesn't quite set perfectly. Here are a few tips for making the perfect keto cheesecake.
My suggestion here is to follow the instructions and go with the flow. It's okay if your Keto cheesecake doesn't look perfect, it will still taste delicious! Here are some tips to follow though for best results.
Use room temperature ingredients. Bring your eggs and dairy products to room temperature before mixing. This will help you to get the smoothest possible filling and avoid a harsh temperature change while baking that can cause cracking.
Grease and line your pan. You don't want the cheesecake to stick when you're trying to remove it. Use parchment paper on the bottom of your pan and liberally butter the sides. A springform pan is the best choice as it will allow your pie to release easily.
Set up your oven. It's suggested that you bake cheesecake on a rack one level below the center of your oven. This keeps it far enough away from the heating element to avoid cracking.
Follow the cooling instructions. The recipe has a three part cooling process. First, let the cheesecake cool in the oven. Then let it cool on the counter. Finally, chill the cheesecake in the fridge.
Cut the cake cleanly. It's much easier to slice cheesecake when it's cold. Use a long, thin knife. Dip it in hot water, then slice. Wipe down the knife and dip it in the hot water again before each slice.
Cheesecake shrinks as it cools, make sure to run a sharp knife around the edges after you pull it out of the oven, to help prevent cracking.
We don't use a water bath in this keto cheesecake recipe but you are welcome to. You can also place a bowl of water underneath the cheesecake while it bakes.
But if you follow the tips above, you shouldn't have any problems.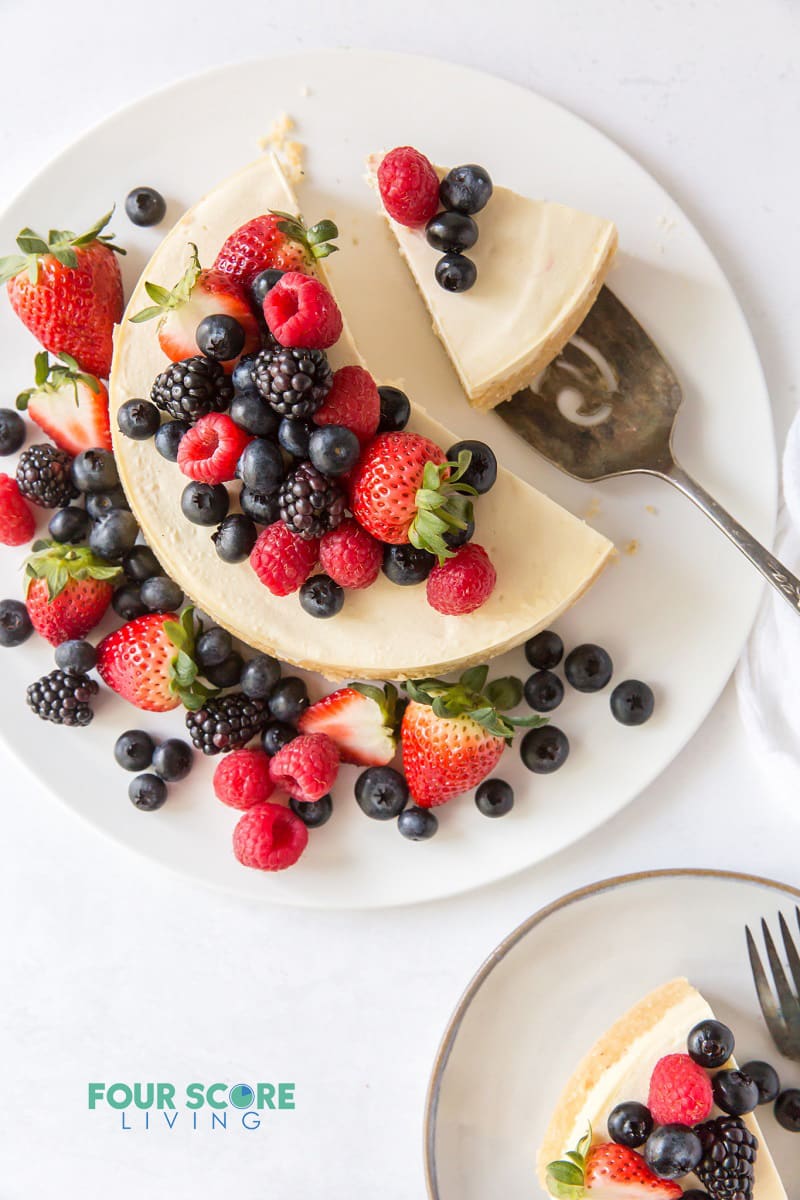 FREEZING KETO CHEESECAKE
If the keto cheesecake is going to be stored for later, cool the low carb cheesecake on the counter before freezing. This will prevent access moisture getting trapped with the cheesecake and allow it to finish setting up.
Freeze on springform pan - Remove the outer rim from the springform pan. Wrap the cheesecake with the bottom of the pan with a few layers of plastic wrap, then a final layer of aluminum foil. Place it in the freezer.
Freeze without springform pan - After the cheesecake has completely cooled, run a sharp knife underneath the crust to release it from the bottom of the pan. Carefully slide it onto a parchment paper lined piece of cardboard or use a plate. Wrap it all in a few layers of plastic wrap, then a final layer of aluminum foil.
You can freeze this cheesecake for up to 3 months, then thaw it overnight in the refrigerator before serving.
Do not freeze cheesecake with any toppings. Toppings get mushy and loose some of their flavor. Add toppings when you are ready to serve this keto cheesecake.
KETO CHEESECAKE TOPPINGS
You can add fruit or low carb toppings to your keto cheesecake to make it extra decadent and still good for you!
Low Carb Fruit such as strawberries, raspberries, blueberries, and blackberries are traditional cheesecake toppings and also keto approved.
Sugar Free dessert syrups can be drizzled on top of cheesecake. Try chocolate, caramel, or strawberry keto syrup.
Keto Candied Pecans are a delicious addition to a slice of Keto Cheesecake too.
HOW DO I KNOW WHEN MY LOW CARB CHEESECAKE IS DONE?
It's time to turn the oven off when the cheesecake is mostly set, but is still slightly jiggly in the center. The cooling period in the oven and on the counter will continue to cook the center of the cheesecake fully.
WHY IS THERE LEMON JUICE IN CHEESECAKE?
Lemon in cheesecake is both for balancing the flavor and heaviness of the cream cheese, and for altering the acidity of the mixture. You don't taste lemon in the cheesecake, but you would notice if it wasn't there.
The acid from the lemon juice helps to stabilize the dairy products, creating a smooth, creamy, yet solid cheesecake texture.
HOW DO I STORE KETO CHEESECAKE
Any leftovers should be stored in the refrigerator in an airtight container. You can keep it in the fridge for up to 4 days.
WHY DID MY KETO CHEESECAKE CRACK?
Like I mentioned, baking a cheesecake can be tricky. Sometimes, even with the best intentions, a keto cheesecake will crack in the oven.
If your keto cheesecake cracked, don't worry about it! It will still taste just as good. Add some low carb cheesecake toppings if you want to hide the crack. Chances are it won't be noticeable after you slice it anyways.
SUBSTITUTIONS IN THIS KETO CHEESECAKE RECIPE
Those of us who like to watch carbs are often looking for ways to make substitutions in keto recipes to either adjust the macros or make them tastier! Here are some options that you could consider.
For the Crust - To reduce the amount of carbs and/or calories in this cheesecake, you can omit the crust all together. A crustless keto cheesecake will be delicious and light.
For the Sweetener - I like using Lakanto powdered sweetener in this recipe, and I haven't tried other low carb sweeteners in this recipe, so I can't guarantee your results if you decide to use something different.
Using a granulated or crystalized erythritol sweetener in the crust instead of the powdered version will add a bit of crunch which could be nice. I don't recommend using a granulated sweetener in the filling though.
For the Dairy - I don't suggest using low fat or fat free cream cheese or sour cream in this recipe, it won't taste as good, plus the lower fat products tend to be higher carb.
KETO DESSERT RECIPES
Try some of our other amazing Keto dessert recipes!
Impress your brunch guests with Keto Coffee Cake.
Looking for something quick and sweet? Keto Chocolate Mug Cake will hit the spot.
If you don't need to eat Keto, this Gluten Free Pie Crust is perfect with most pie fillings.
This keto cheesecake is one of our favorite keto desserts. It's smooth, creamy, and has the perfect texture. We love to enjoy it plain or topped with Keto Whipped Cream and low carb berries.
Did you make this Keto Cheesecake? Please leave a comment below letting me know what you thought.
We hope you enjoyed reading this article. Please help us out by leaving a quick review and star ★ rating below.
LET'S GET SOCIAL, you can follow Four Score Living on Pinterest. You can also leave a comment below if you have any questions.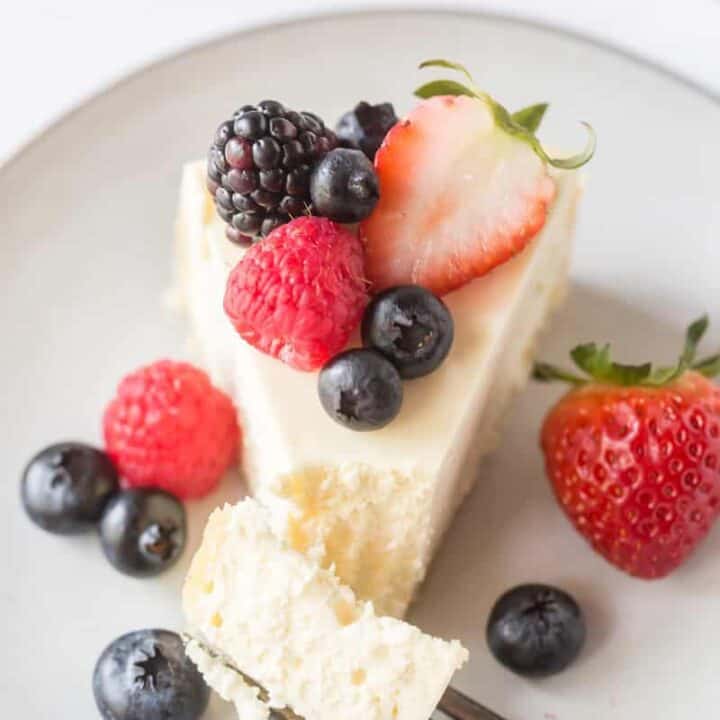 Keto Cheesecake
Total Time:
6 hours
10 minutes
A smooth, decadent, low carb cheesecake made in the traditional way is easy to make and delicious to eat. This Keto Cheesecake will impress your family and satisfy your keto dessert cravings.
Ingredients
For the Crust
1 cup almond flour
2 tablespoons powdered sweetener (we used Lakanto)
2 tablespoons grass-fed butter, melted
For the Keto Cheesecake Filling
16 oz cream cheese
¾ cup powdered sweetener (we used Lakanto)
2 large eggs, room temperature
⅓ cup sour cream
½ tablespoon lemon juice
2 teaspoons pure vanilla extract
For Garnish:
Fresh berries, for garnish (optional)
Keto whipped cream, for garnish (optional)
Instructions
Preheat oven to 350 degrees F, adjusting rack to the middle. Grease a 7-inch springform pan, placing a circle of parchment in bottom of pan; set aside.
Combine almond flour, sweetener, and melted butter in a medium bowl and mix well.
Transfer mixture to prepared pan and press into an even layer using your fingers. Bake for 10-12 minutes until lightly golden. Cool for 10 minutes.
Meanwhile, beat cream cheese and powdered sweetener together at low to medium speed until fluffy.
Add eggs one at a time, beating well between each.
Next, beat in sour cream, lemon juice, and vanilla extract until smooth.
Pour into the prepared springform pan and smooth the top.
Bake 40-45 minutes, until the cheesecake is mostly set but still jiggles just a little in the center when shaken.
Turn off oven and crack door, allowing cheesecake to cool for 20 minutes.
Remove from oven and run a sharp knife between cheesecake and pan to release it from sides.
Let sit on the counter for 1 hour, then cover loosely with plastic wrap and refrigerate at least 4 hours or overnight.
Serve with fresh low carb berries and keto whipped cream.
Notes
Allow all of your ingredients to come to room temperature before mixing the filling.
Make sure to give the cheesecake time to cool without removing it from the oven, and then time to cool on the counter before putting it in the fridge. This will help it to set properly.
Nutrition Information:
Yield:

8
Serving Size:

1
Amount Per Serving:
Calories:

363
Total Fat:

33g
Saturated Fat:

15g
Trans Fat:

0g
Unsaturated Fat:

14g
Cholesterol:

118mg
Sodium:

235mg
Carbohydrates:

7g
Net Carbohydrates:

5.5g
Fiber:

1.5g
Sugar:

0g
Protein:

9g
The nutrition information for this recipe is an approximate total per serving. Please double check the nutrition information for your exact ingredients and brands.