You are going to love this simple, quick, and delicious No Bake Keto Cheesecake Recipe!
Perfect for hot summer days, or any time you want an easy dessert, this cheesecake requires no cooking and just a few simple steps. Plus, this recipe is gluten-free, grain-free, and sugar-free.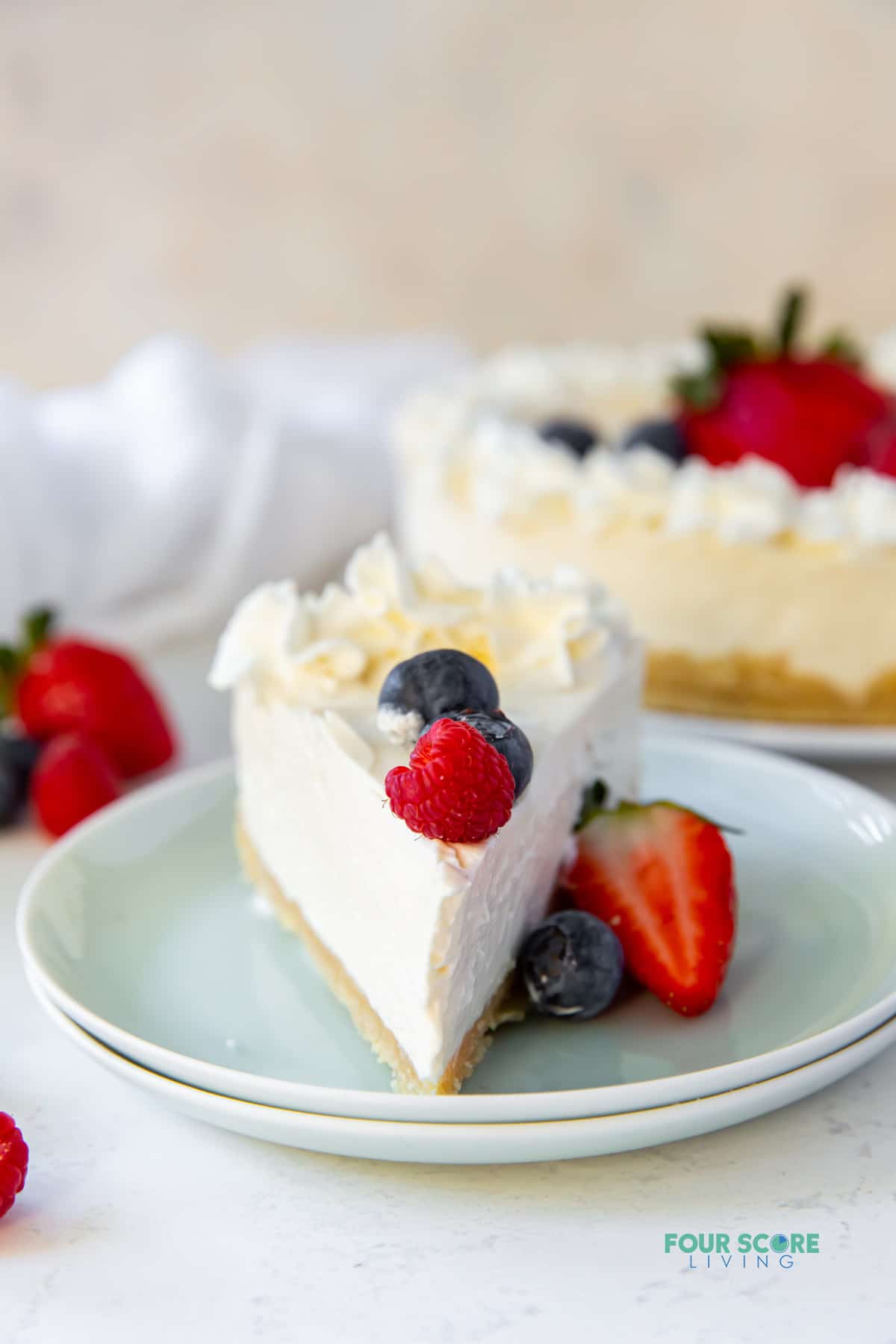 An almond-flour keto cheesecake crust and smooth filling make this recipe very similar to my amazing baked Keto Cheesecake recipe, but extra rich and creamy and much faster to make.
NO BAKE KETO CHEESECAKE RECIPE
I think that cheesecake is my favorite dessert. No, I actually know that it is my favorite! Cheesecake is classic, simple, and goes with everything. Not to mention that this Keto No Bake Cheesecake is so satisfying, creamy, and rich.
The only thing better than keto cheesecake is a no-bake version of keto cheesecake. This no-bake keto cheesecake recipe comes together with a handful of simple ingredients and only takes a few minutes to mix up. The hardest part is waiting for it to set up and chill in the fridge!
You're going to love the Keto Cheesecake Crust made with butter and almond flour. It's got the perfect soft, chewy texture and the best buttery flavor. You can serve this cheesecake to your non-keto friends too. They'll be amazed that this cheesecake is sugar-free.
I have a lot of easier keto desserts for you to try! Keto Chocolate Cupcakes and Keto Lemon Bars are two reader favorites.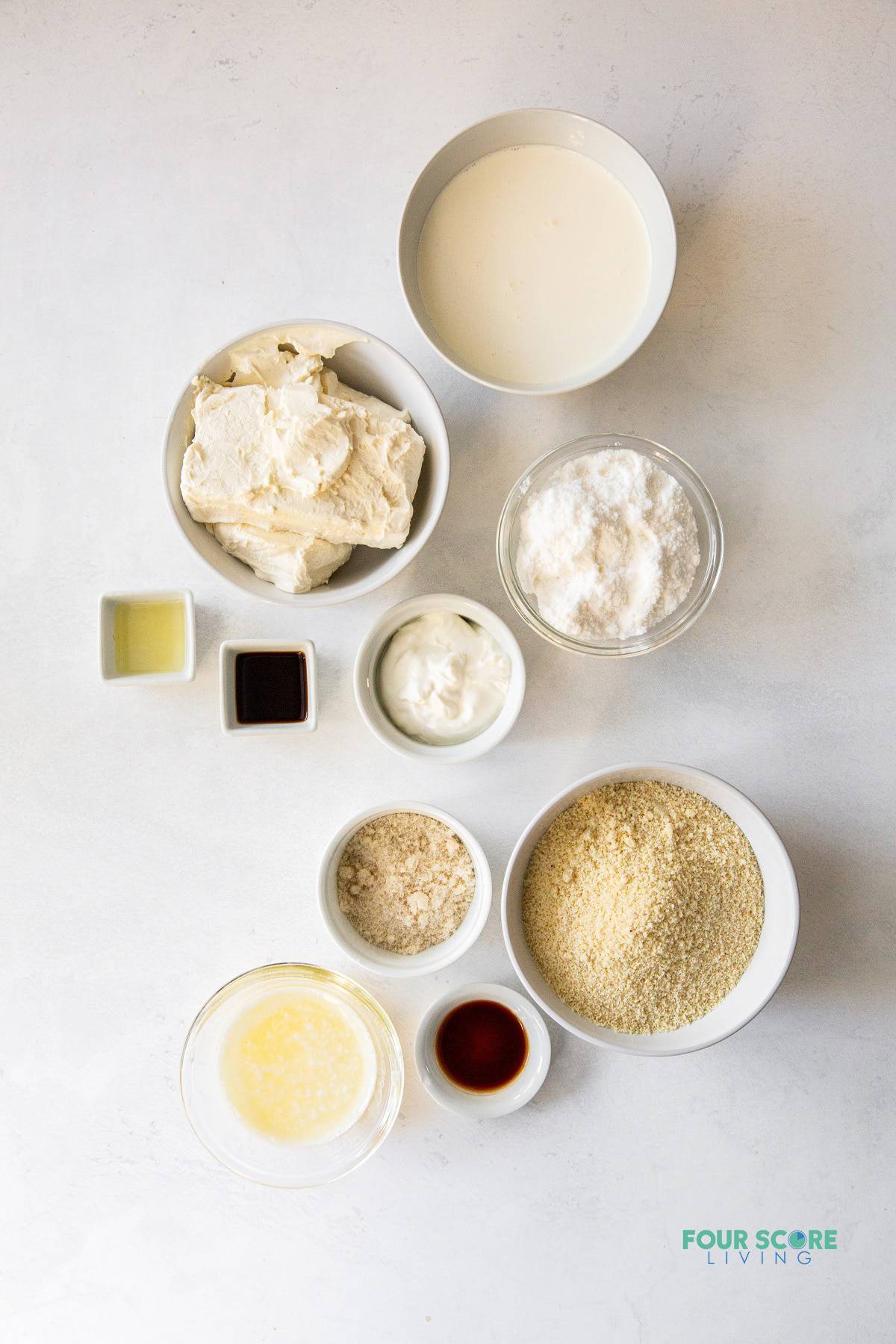 INGREDIENTS IN NO BAKE KETO CHEESECAKE
This keto cheesecake crust is the best no bake keto cheesecake base layer, and can be used to create all types of tasty no-bake desserts!
Keto Cheesecake Crust:
Butter: Use butter to mix up your almond flour into tasty crumbs for this crust. You can use salted butter or unsalted butter and a pinch of salt.
Vanilla Extract: Adding vanilla to the crust gives it the graham-cracker crust flavor that you want with cheesecake.
Almond Flour: Always choose a finely ground almond flour for baking. You'll get the best texture in your desserts that way.
Granulated Sweetener: Granulated sweetener adds a bit of sugary crunch to the crust, without any baking needed. I suggest using Swerve or Lakanto granulated sweeteners for the best flavor.
Keto No Bake Cheesecake Filling:
Cream Cheese: You'll need two blocks of cream cheese to make a whole cheesecake. Be sure to leave them out for a while at room temperature so that the cream cheese is easy to mix up into a smooth filling. Full fat cream cheese is best for making keto cheesecake.
Powdered Sweetener: The crust benefits from a granulated sweetener, but for the filling, a powdered version will blend in much better. I like powdered Swerve in this recipe, but you can use whatever powdered sweetener you like.
Vanilla Extract: When adding flavor to the keto cream cheese filling, vanilla is the perfect choice for a classic cheesecake.
Lemon Juice: Fresh lemon juice tones down the flavor of the cheese, and is a traditional add-in for most cheesecake recipes.
Sour Cream: An all cream cheese no-bake cheesecake will be too firm. Adding sour cream makes it perfectly creamy.
Heavy Cream: To add fluffiness, we'll whip heavy cream and fold it into the cream cheese and sour cream mixture.
If you have any questions about making No Bake Keto Cheesecake, please leave a comment below and I will get back to you.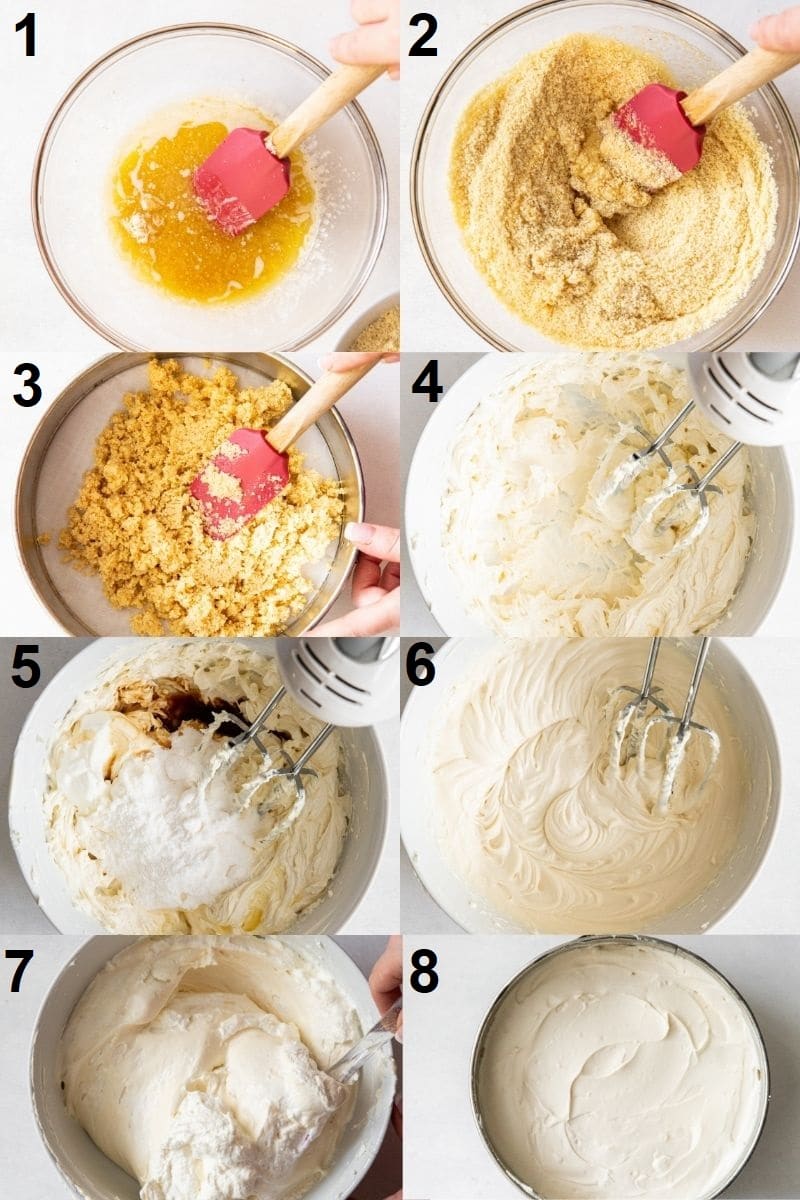 HOW TO MAKE NO BAKE KETO CHEESECAKE
To make this easy recipe you'll need a springform pan, a hand mixer, and a couple of bowls.
Make the Keto Cheesecake Crust
Add melted butter and vanilla extract to a large bowl and stir to combine.
Then add the almond flour and granulated sweetener. Stir this mixture well until it becomes crumbly.
Transfer the crumb crust mixture to a springform pan that's been lined with parchment paper. Press the crumbs into the bottom and slightly up the sides of the pan. Chill the crust in the refrigerator while you make the filling.
Make the Cheesecake Filling
Add the softened cream cheese to a large bowl and mix with a hand mixer until smooth.
Then add the powdered sweetener, vanilla, lemon juice, and sour cream.
Continue mixing until smooth.
In a separate cold, large bowl, whip the heavy cream until it gets to stiff peaks consistency. Gently fold the whipped cream into the cream cheese mixture.
Remove the keto cheesecake crust from the fridge, and pour the filling mixture into it. Transfer the cheesecake to the fridge to chill for 4-5 hours, or overnight, covered.
These numbered steps match the numbered photos above and are for illustration purposes. For the complete list of ingredients and instructions, please see the recipe below.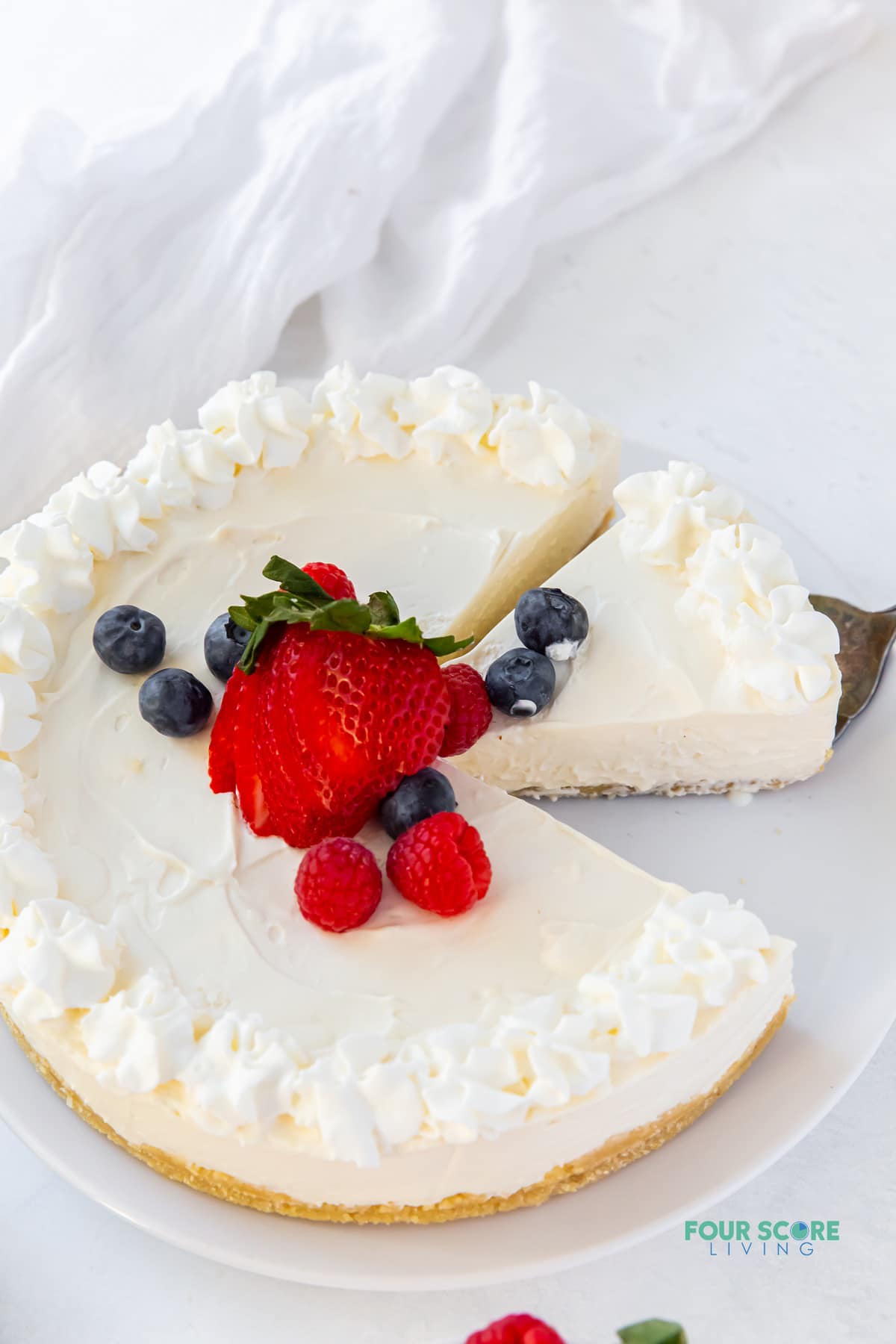 HOW TO SERVE KETO NO BAKE CHEESECAKE
Just before serving, top your chilled cheesecake with homemade Keto Whipped Cream and fresh berries. Raspberries and blackberries are the lowest carb fruits, plus berries go perfectly with cheesecake.
You could also drizzle the cheesecake with sugar free chocolate sauce.
STORAGE TIPS
Store your finished no bake keto cheesecake in the refrigerator for up to three days before serving it, or store leftovers the same way. To keep other fridge flavors from seeping into your dessert, cover it with plastic wrap first.
You can also freeze no-bake cheesecake for up to three months. Freeze either the whole cheesecake (without whipped cream) or individual slices, well wrapped in a freezer-safe container. To enjoy, thaw in the fridge overnight.
EASY KETO NO BAKE CHEESECAKE VARIATIONS
Sugar free no bake cheesecake is completely amazing as-is, but you can experiment with some of these cheesecake variations to get an entirely new keto dessert.
Chocolate Swirl Keto Cheesecake: Make a simple ganache using dark chocolate and heavy cream. Swirl the chocolate into the filling before chilling. You could also make my Keto Fudge Recipe, and swirl some of that mixture in before chilling. Yum!
Keto Strawberry No Bake Cheesecake: Spread a layer of sugar-free strawberry (or raspberry, or cherry!) jam over the top of the cheesecake after it's been chilled. You can also swirl in jam before chilling.
If you were a fan of Jell-o no-bake cheesecake with fruit toppings, you might consider topping your no bake cheesecake with sugar free cherry or strawberry pie filling. These canned fruits might not be completely keto, but can be a good option for a treat.
Lemon or Lime Keto No-Bake dessert: Try adding a small amount of lemon or lime extract, plus the zest from the fruit to make a tangy, citrusy no-bake dessert. Or, try this Keto Lemon Bars recipe. I've tested that one for you and it's perfect!
Cookie Crust Keto Cheesecake: Instead of the keto cheesecake crust here, use crumbled Keto Peanut Butter Cookies or Keto Chocolate Chip Cookies mixed with butter to make a super sweet and sugar-free cheesecake crust.
Nut Crust Keto Cheesecake: Swap out some of the almond flour for finely chopped nuts to add an extra nutty flavor. Pecan crust is delicious, as would be a crunchy almond crust.
if you don't need your no bake cheesecake to be keto, but you still want it to be gluten-free, try my gluten free graham cracker crust recipe.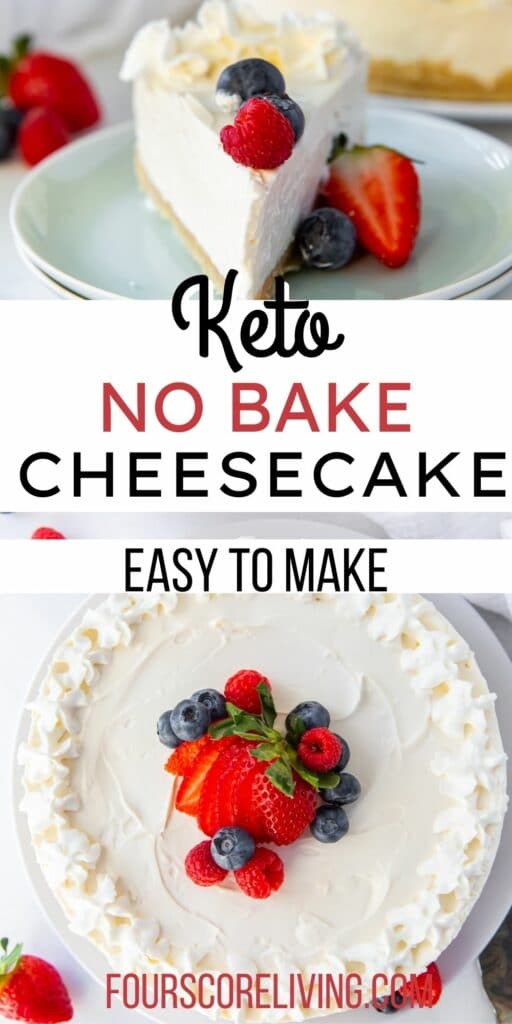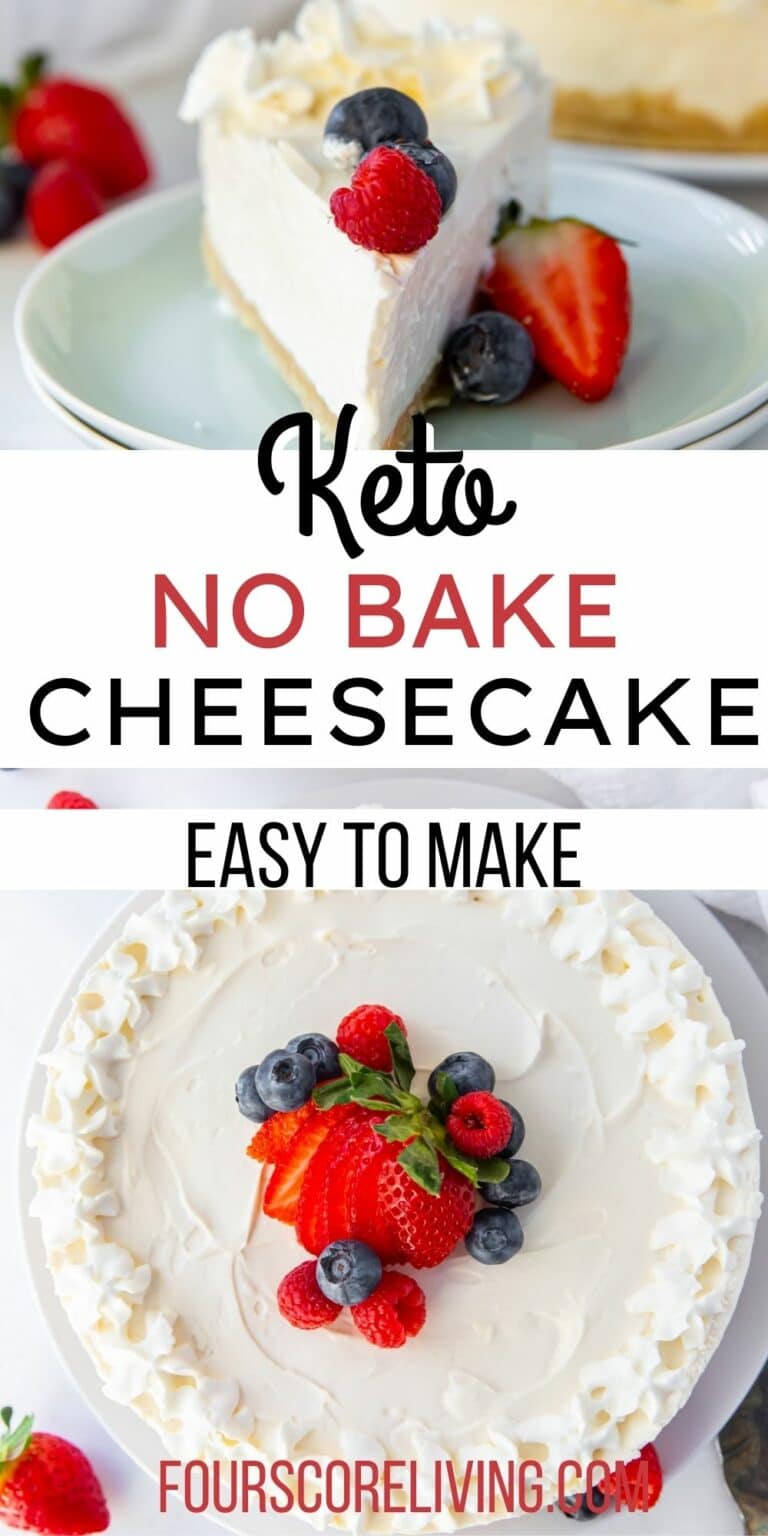 DOES CHEESECAKE FIT INTO A KETO DIET?
No Bake Keto Cheesecake is totally keto friendly! This is because we've used a grain free, almond flour cheesecake crust, and sweetened the filling with sugar-free sweetener. These simple swaps to a classic recipe make Cheesecake a delicious, keto approved dessert.
Regular cheesecake, made with graham cracker crust and sugar is not keto-friendly.
IS CREAM CHEESE OK ON KETO?
Cheese is a fantastic addition to a keto diet, and cream cheese is the most versatile of all the cheeses. Full-fat cream cheese is high in fat and extremely low in carbs. I suggest avoiding low-fat dairy products, as these do have more sugar in them.
I love using cream cheese to make keto desserts, fat bombs, and Cream Cheese Cookies, but it also makes the most amazing low carb dips, like my Keto Buffalo Chicken Dip!
HOW TO MAKE INDIVIDUAL SIZED KETO NO BAKE CHEESECAKE
This recipe can be portioned out into individual cheesecake cups! Mini keto cheesecakes are great for sharing, or for the convenience of having your desserts in the fridge already portioned and in their serving dish.
I suggest using 12 glass or plastic cups, filling each with 1/12 of the almond flour crust mixture, then topping with 1/12 of the no bake cheesecake filling. Top with some keto whipped cream and fresh berries for a beautiful presentation, similar to this cheesecake berry parfait.
WHAT TO SERVE WITH KETO NO BAKE CHEESECAKE?
This easy no-bake dessert is a treat that will go with any meal, but I especially love serving no bake cheesecake when it's warm out. Summer meals that don't require me to turn on the oven are the best!
Grilled Keto Porkchops are a regular summer meal at our house, served with a salad or grilled vegetables.
Heading to an outdoor party or BBQ and need a dish to share? This no-bake cheesecake recipe is perfect, and you can also make Keto Deviled Eggs and Keto Broccoli Salad. Everyone will love the sugar-free dishes you bring to the party!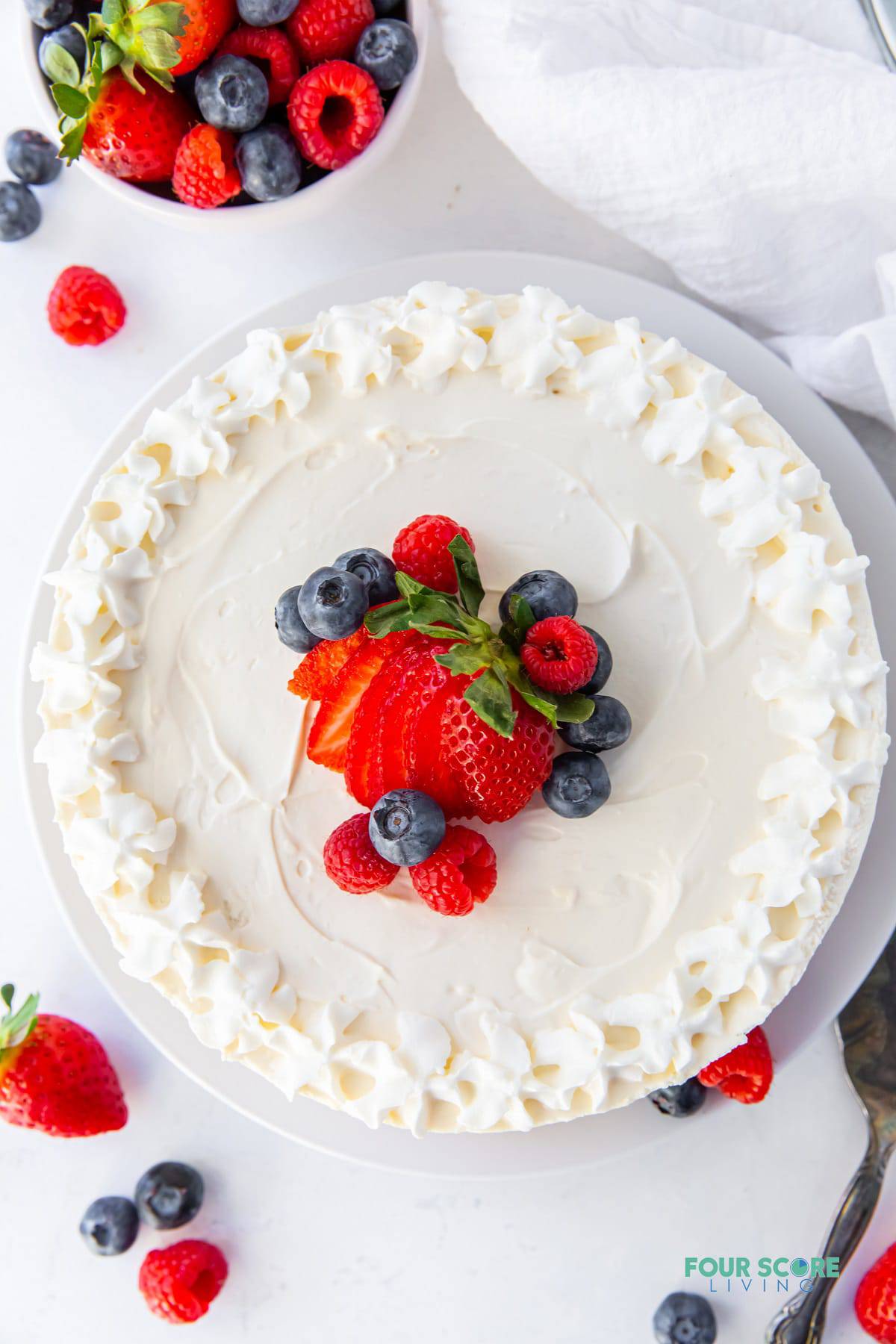 We hope you enjoyed reading this article. Please help us out by leaving a quick review and star ★ rating below.
LET'S GET SOCIAL, you can follow Four Score Living on Pinterest. You can also leave a comment below if you have any questions.
Did you make this No Bake Keto Cheesecake? Please leave a comment below letting me know what you thought.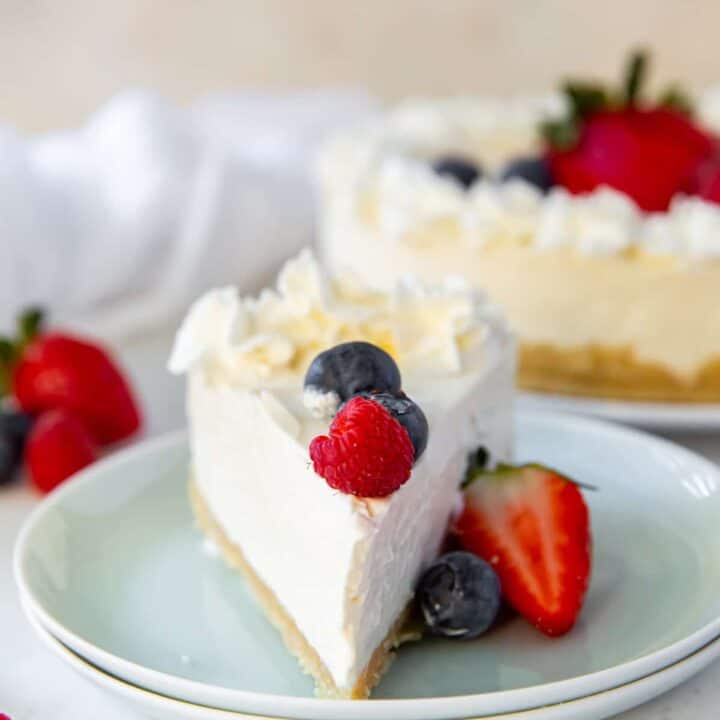 No Bake Keto Cheesecake
Total Time:
4 hours
30 minutes
No Bake Keto Cheesecake is the best creamy dessert, and you don't even need to turn on the stove. You'll love the keto cheesecake crust made with almond flour too.
Ingredients
Crust
5 tbsp butter, melted
1 tsp vanilla extract
1 ¾ cup fine almond flour
¼ cup granulated sweetener like Swerve or allulose/monk fruit
Filling
16 oz cream cheese, room temperature
1 cup powdered sweetener like Swerve or Lakanto
2 tsp vanilla extract
2 tsp lemon juice
⅓ cup sour cream, room temp
1 ½ cups heavy cream, very cold
Instructions
For the keto cheesecake crust
Line an 8 or 9-inch springform pan with parchment paper.
In a large bowl add the melted butter and vanilla. Stir. Then add the almond flour and sweetener. Stir well until the mixture becomes crumbly.
Transfer the mixture to the springform pan and press it into the bottom and slightly up the sides.
Chill crust in the refrigerator while you make the filling.
For the filling
Add the cream cheese to a large bowl and mix with a hand mixer until smooth.
Then add the sweetener, vanilla, lemon juice, and sour cream.
In a cold large bowl add the heavy cream, and whisk to stiff peaks consistency.
Fold the whipped cream into the cream cheese mixture.
Remove keto crust from the fridge and pour the filling mixture into it.
Transfer to the fridge and chill for 4-5 hours or overnight.
Top with berries and keto whipped cream.
Notes
Store No Bake Keto Cheesecake covered, in the refrigerator, for up to 3 days.
Nutrition Information:
Yield:

12
Serving Size:

1
Amount Per Serving:
Calories:

403
Total Fat:

38g
Saturated Fat:

19g
Trans Fat:

1g
Unsaturated Fat:

16g
Cholesterol:

88mg
Sodium:

167mg
Carbohydrates:

11g
Net Carbohydrates:

3g
Fiber:

2g
Sugar Alcohols:

7g
Protein:

7g
The nutrition information for this recipe is an approximate total per serving. Please double check the nutrition information for your exact ingredients and brands.
No Bake Keto Cheesecake Recipe Post