This classic keto candied pecan recipe is easy to make with only 5 ingredients.
Keto candied pecans are sugar free, delicious, and make the perfect gift.
You can enjoy them as-is or sprinkle your healthy candied pecans on everything from salads and casseroles, to keto ice cream and keto pancakes.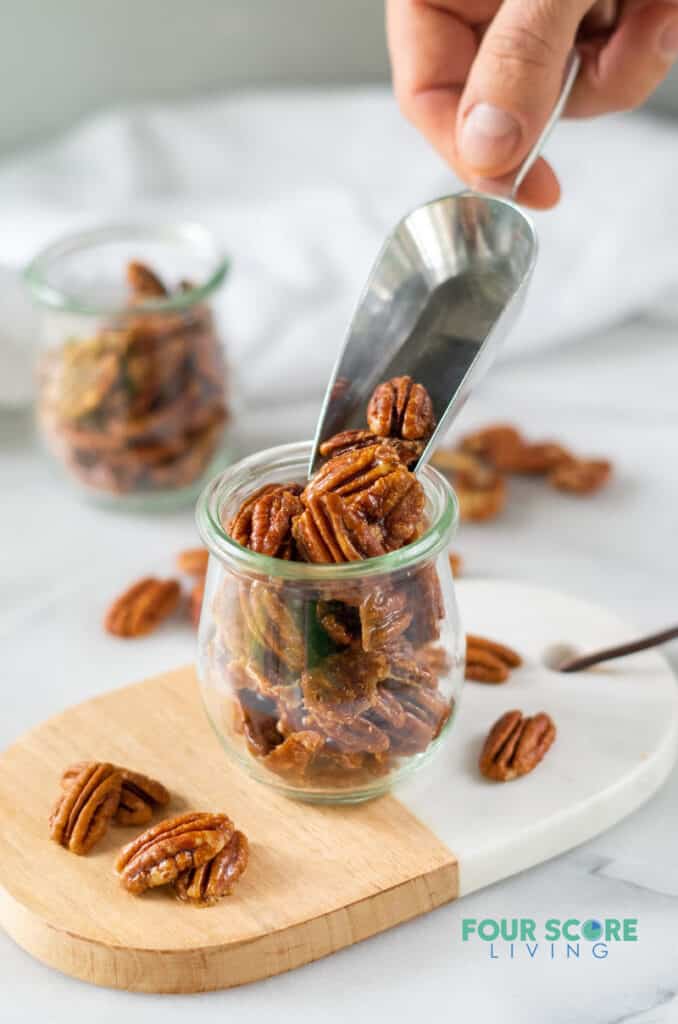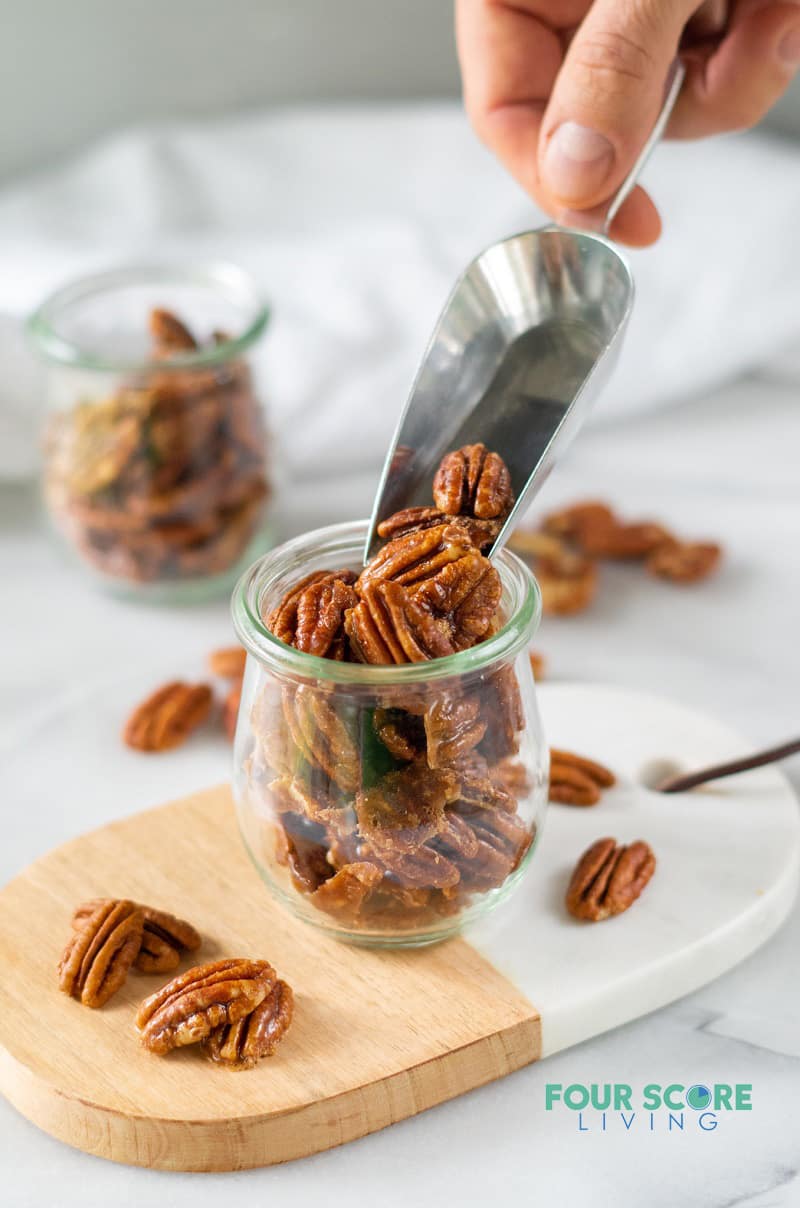 Candied Pecans Keto
I totally love pecans. They are a delicious high fat nut and they have a buttery taste and soft texture.
I've always enjoyed buying candied nuts at fairs and amusement parks, and I love when I get them on a salad at a restaurant too. I'm so glad I can make candied pecans keto by using a keto friendly sweetener.
Candied Pecans are sweet and salty, with the warmth of cinnamon, making them the ultimate keto snack.
We like to mix these keto candied pecans into trail mixes and serve them on top of arugula salad with a bit of goat cheese and olive oil. Delish.
Why You'll Love This Recipe
These keto candied pecans are cooked on the stovetop, using just one pan.
They are also incredibly easy to make with just 5 simple ingredients, the recipe is naturally gluten-free, and these candied pecans have the added bonus of making your home smell amazing.
Cleanup is a breeze too.
With only 5 ingredients and a couple of simple steps, you can make these candied pecans keto in under 30 minutes.
This healthy recipe for Keto candied pecans is 100% sugar free, and paleo and vegan friendly too.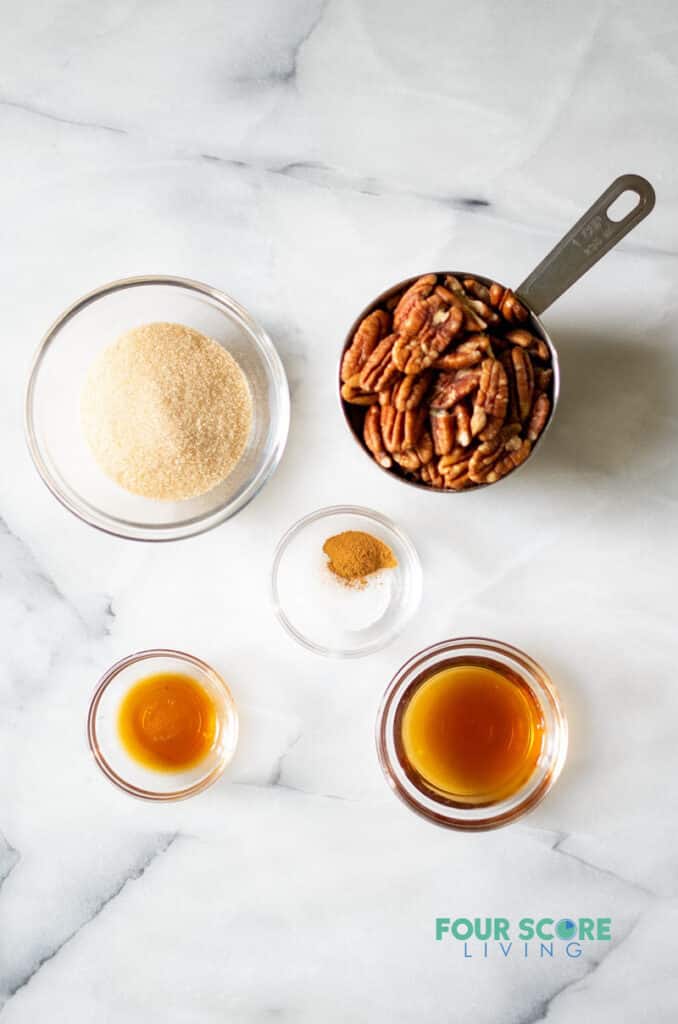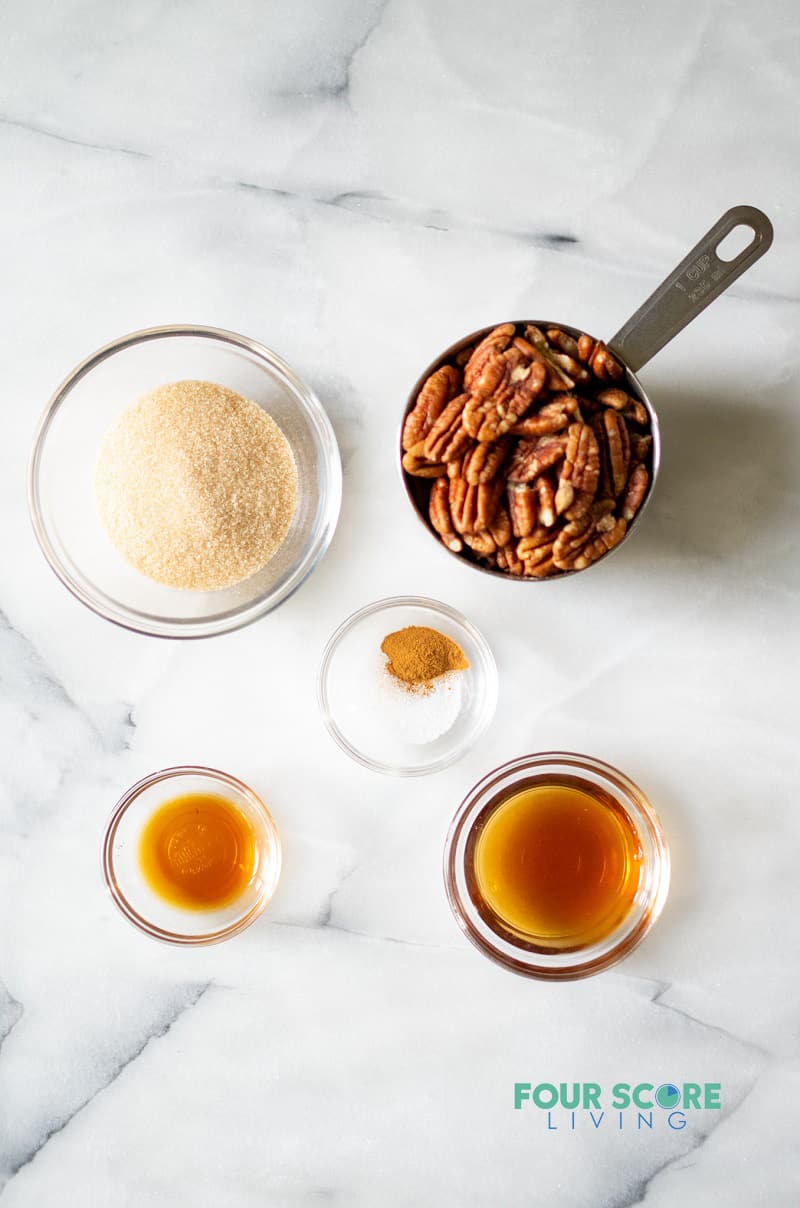 Ingredients in Keto Candied Pecans
Sweetener - For this recipe we used Lakanto's granulated monk fruit sweetener. I haven't tried any other sweeteners, but I do think you'd get similar results with any granulated sweetener. Liquid sweetener isn't recommended.
Salt - We use a touch of salt to help balance the other flavors.
Cinnamon - A must for keto candied pecans, in our opinion. These will smell so good while they're cooking on the stove.
Vanilla Extract - Use a pure vanilla extract for the best flavor.
Pecans - We like to use pecan halves but you can use whole pecans or pecan pieces. Make sure you are using raw pecan halves, and not seasoned or salted ones.
If you have any questions, please leave it in the comment below and someone will get back to you.
How to Make Keto Candied Pecans
Making keto pecans with a sweet crunchy glaze is very easy on the stovetop.
Combine all of the ingredients, except the pecans, in a small to medium sized skillet and cook over medium heat for 1-2 minutes, or until the sweetener dissolves and the mixture is bubbling.
Add the pecans and cook for an additional 3-4 minutes, stirring gently, to coat the pecans in the keto candy glaze.
Then spread the pecans out on parchment paper to cool.
Recipe Tips
The pecans will be sticky while they are still hot. As they cool, they will dry out a bit and harden. You may need to break the nuts apart if they've stuck together while cooling.
This recipe is very easily doubled or even tripled. For making larger batches of keto candied pecans, just use a larger skillet.
Use any variety of nuts that you like with this keto nut glaze. Almonds or walnuts would be delicious.
Keep a close eye on this recipe while you're cooking. It can very easily burn if you get the heat too high. Monk fruit sweetener actually melts at a lower temperature than sugar, so low heat is perfect.
Should I toast the pecans first?
It's not necessary to toast or roast the nuts before candying them, but if you want to, feel free. Roasting raw nuts brings out more of their flavor.
How to store keto candied pecans
You can store these keto candied pecans in an airtight container or glass jar at room temperature for up to 3 weeks. You can freeze them for up to 3 months.
Be sure to keep moisture away from your candied pecans, as that can make them sticky.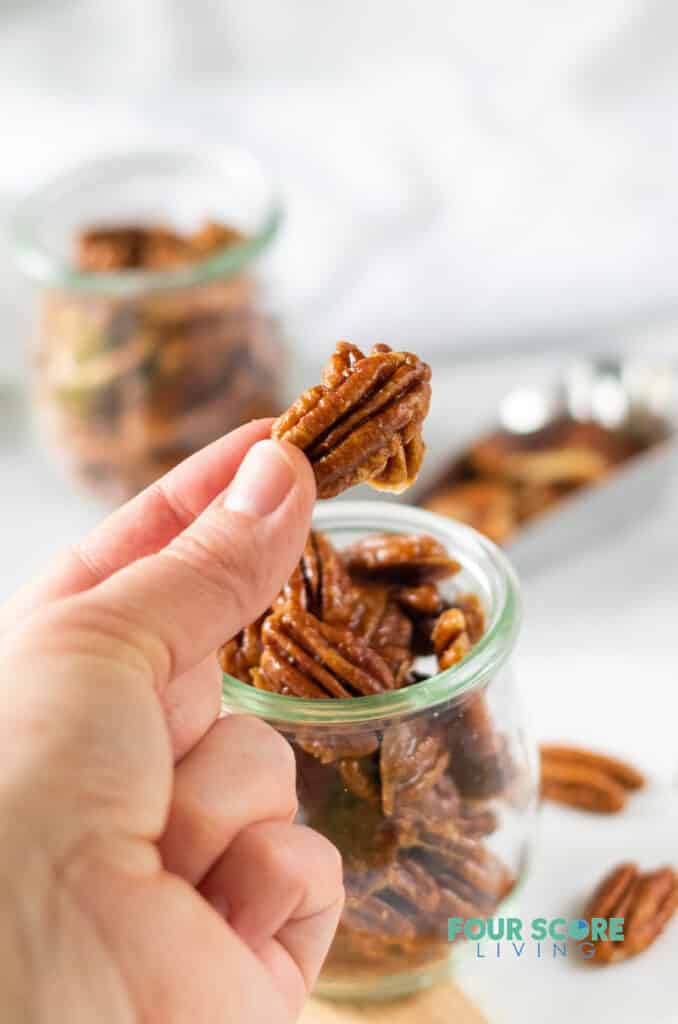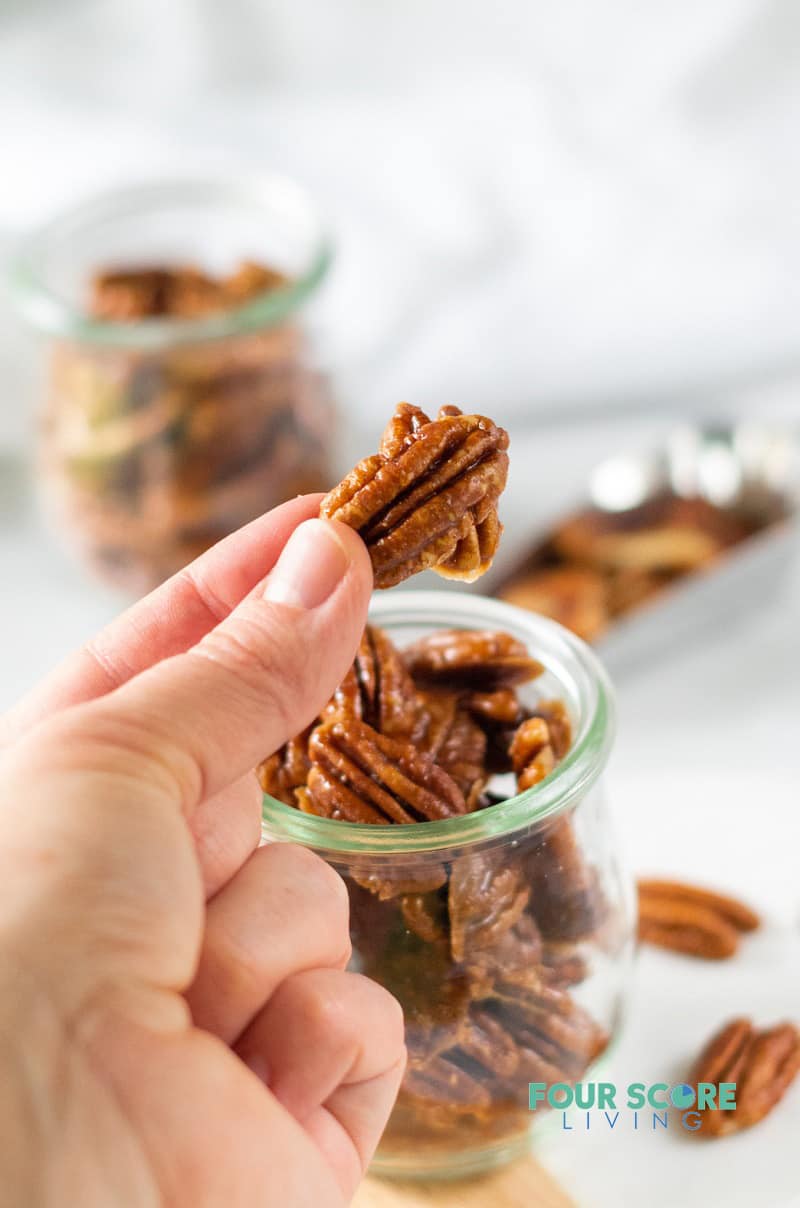 What to Eat with Keto Candied Nuts
I always love making up a few batches of these keto candied pecans at the end of the year. They are fun holiday gifts. Candied nuts are also delicious on a Keto Charcuterie Board
These keto candied pecans taste great anytime of the year as a sweet snack, or sprinkled on keto ice cream, keto pancakes and more.
Elevate a keto cheesecake by topping it with candied pecans to create a turtle cheesecake.
Need more Keto snack ideas? We love munching on Keto Cheese Chips and homemade Keto Crackers.
What type of keto sweetener can I use to make candied pecans?
My favorite keto sweetener for low carb candied pecans is Lakanto granulated sweetener. It's a monkfruit sweetener that I find to be very similar to traditional sugar in both taste and texture.
You can use the Golden Lakanto, which is a brown sugar substitute as well.
Traditional granulated sugar, or palm sugar can be used in this recipe if it's not important that your pecans are completely keto.
If you try this recipe with other granulated sweeteners, please let me know!
Are pecans keto friendly?
Yes, pecans are very keto friendly. They are high in proteins and healthy fats and they are filling. Pecans are a good source of copper, manganese, potassium, vitamin E, protein, magnesium, zinc, and fiber.
How many carbs are in pecans?
A serving of pecan halves has about 20 grams of fat and only 4 grams of carbs.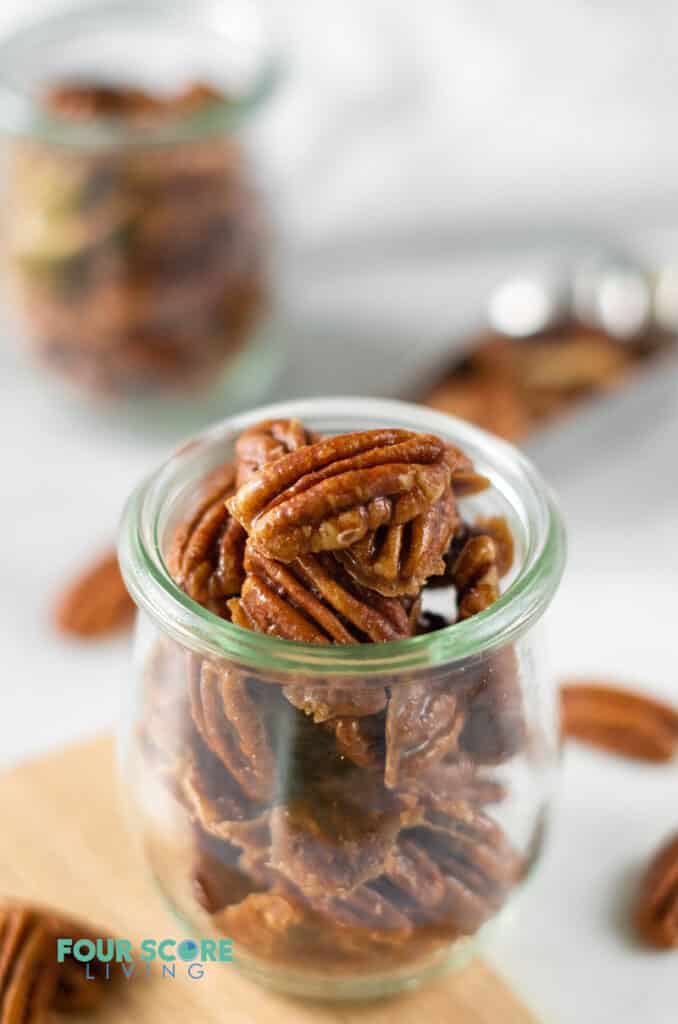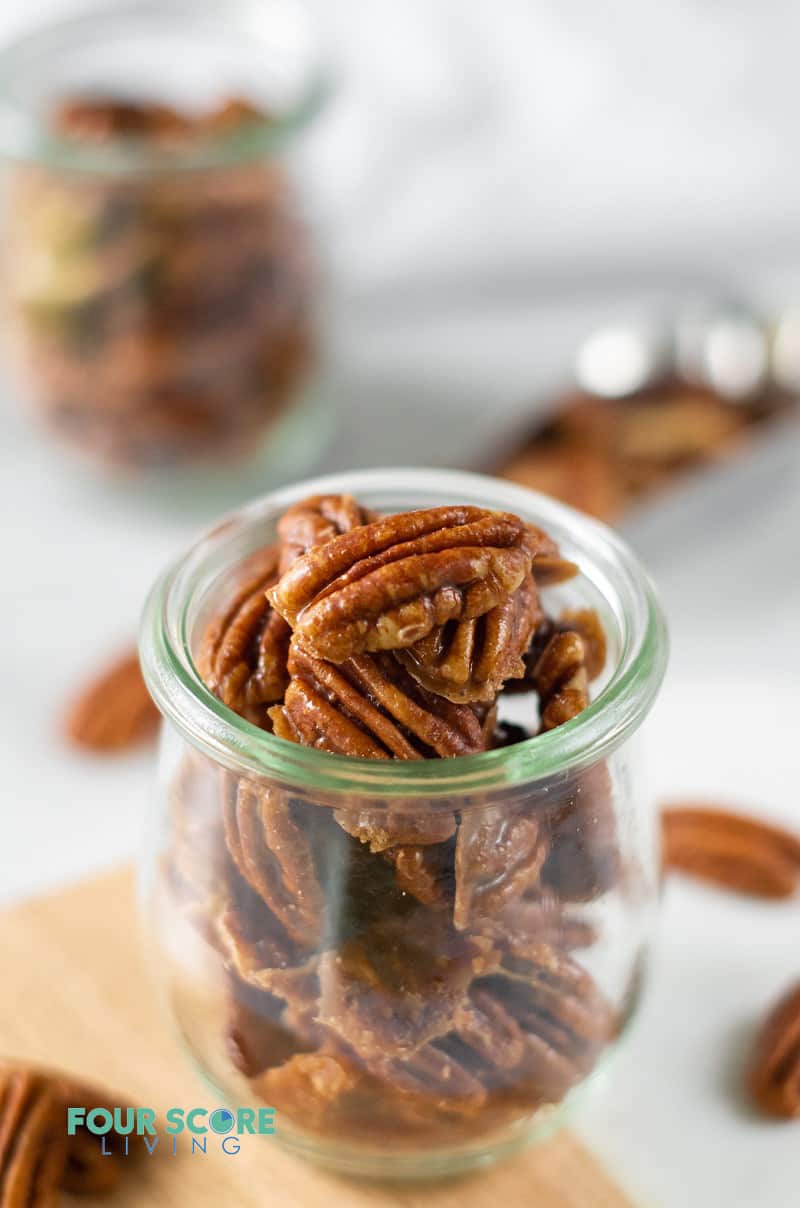 Give Keto Candied Pecans as a Gift
Keto candied pecans are an excellent holiday gift, or a thoughtful gift for any other occasion.
When we make these keto candied pecans to give out as gifts we usually double or triple the recipe. Once the pecans are cool, we package them in a glass jars or plastic gift bags with little bows.
You can use different wrap or bows to decorate the jars for different occasions. These keto pecans also make fun little gifts for wedding guest, bridal showers, Mother's day and Father's day gatherings, and birthdays.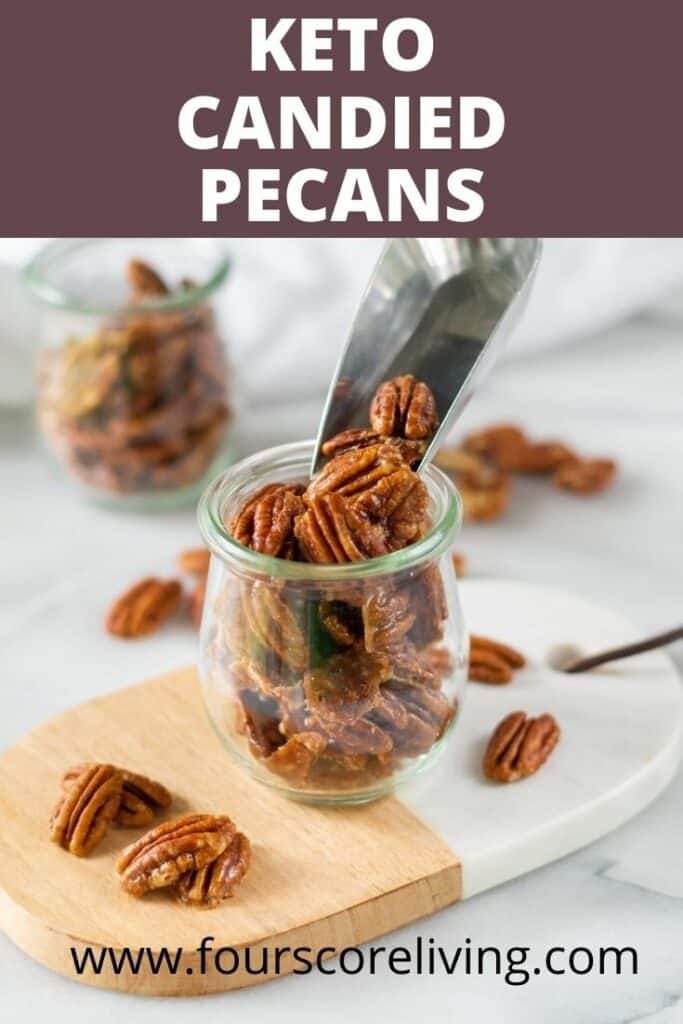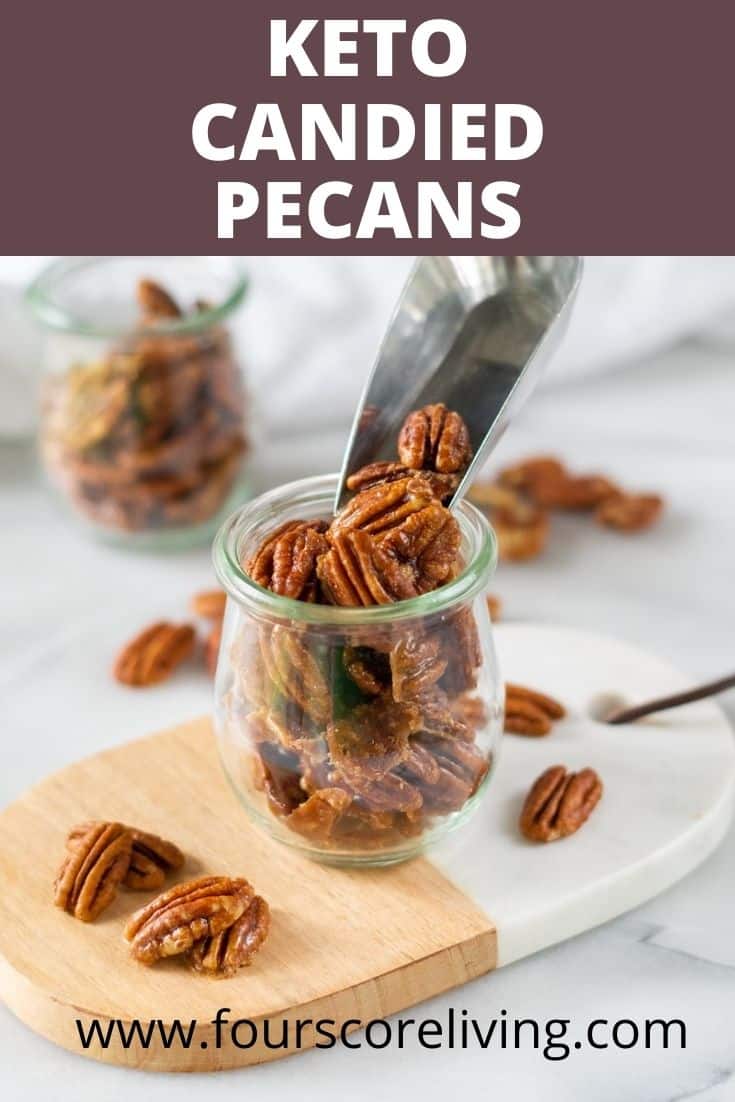 For other Keto Candied Pecan Variations:
Use different nuts - If pecans aren't your favorite, you could also use this recipe to make candied walnuts, almonds, peanuts, macadamia or whatever other candied nuts sound good.
Add a little spice - Add ¼ teaspoon of cayenne to keto candied pecans to give it a little kick.
Add different herbs or spices - Feel free to also add any other warming spices like cardamom, ginger, nutmeg or cloves. Use pumpkin spice or apple pie spice for a festive fall treat.
Add some chocolate - After your candied pecans have cooled, drizzle them with melted sugar-free chocolate like Lilly's. Now you have a really decadent treat.
We hope you enjoyed reading this article. Please help us out by leaving a quick review and star ★ rating below.
LET'S GET SOCIAL, you can follow Four Score Living on Pinterest. You can also leave a comment below if you have any questions.
Did you make this keto candied pecan recipe? If so, please leave a comment below letting me know what you thought.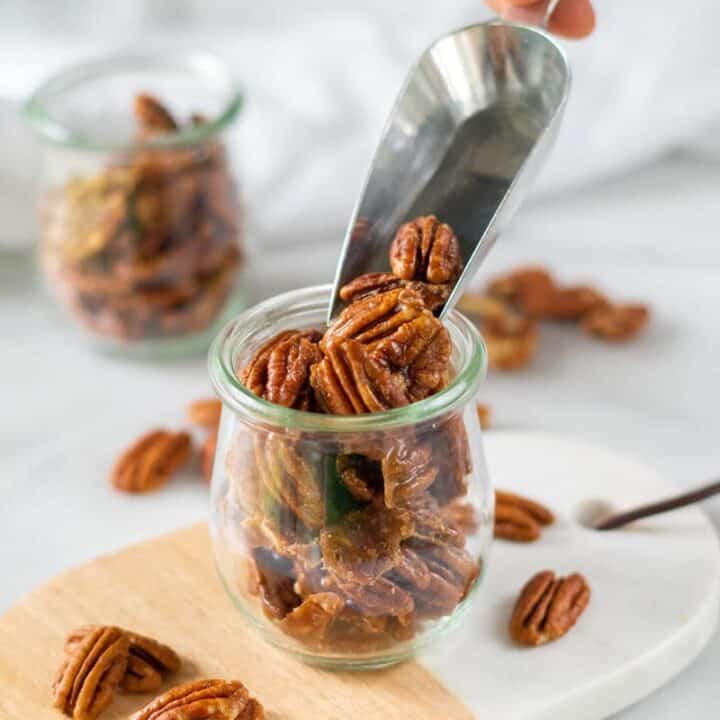 Keto Candied Pecans
Additional Time:
10 minutes
This classic keto candied pecans recipe is easy to make with only 5 ingredients. These keto candied pecans make the perfect gift.
Ingredients
¼ teaspoon salt
¼ teaspoon ground cinnamon
Instructions
Combine all ingredients except the pecans in a small to medium sized skillet and cook over medium heat for 1-2 minutes or until the granulated sweetener dissolves and the mixture is bubbling.
Add the pecans and cook for an additional 3-4 minutes, stirring to coat the pecans in the keto candy glaze.
Remove from the heat, and spread the pecans out on parchment paper to let the pecans cool completely.
Notes
The pecans will be sticky but they will harden as they cool.
You can double or triple this keto candied pecans recipe, if needed. Use a larger skillet.
You can use your nut of choice to make keto candied nuts.
Add a pinch of cayenne pepper for a spicy kick, or use pumpkin spice in place of the cinnamon for a different spin.
Store your keto pecans in an airtight container for up to 3 weeks at room temperature or up to 3 months in the freezer.
These make a great gift! Wrap up servings in small jars or decorative bags for holidays or other occasions.
Nutrition Information:
Yield:

8
Serving Size:

2 tablespoons
Amount Per Serving:
Calories:

109
Total Fat:

20g
Saturated Fat:

1g
Trans Fat:

0g
Unsaturated Fat:

8g
Cholesterol:

0mg
Sodium:

69mg
Carbohydrates:

4g
Net Carbohydrates:

2g
Fiber:

2g
Sugar Alcohols:

5g
Protein:

3g
The nutrition information for this recipe is an approximate total per serving. Please double check the nutrition information for your exact ingredients and brands.