This classic keto candied pecan recipe is easy to make with only 5 ingredients.
These keto candied pecans make the perfect gift.
You can enjoy them as-is or sprinkle them on everything from salads to casseroles, to keto ice cream and keto pancakes.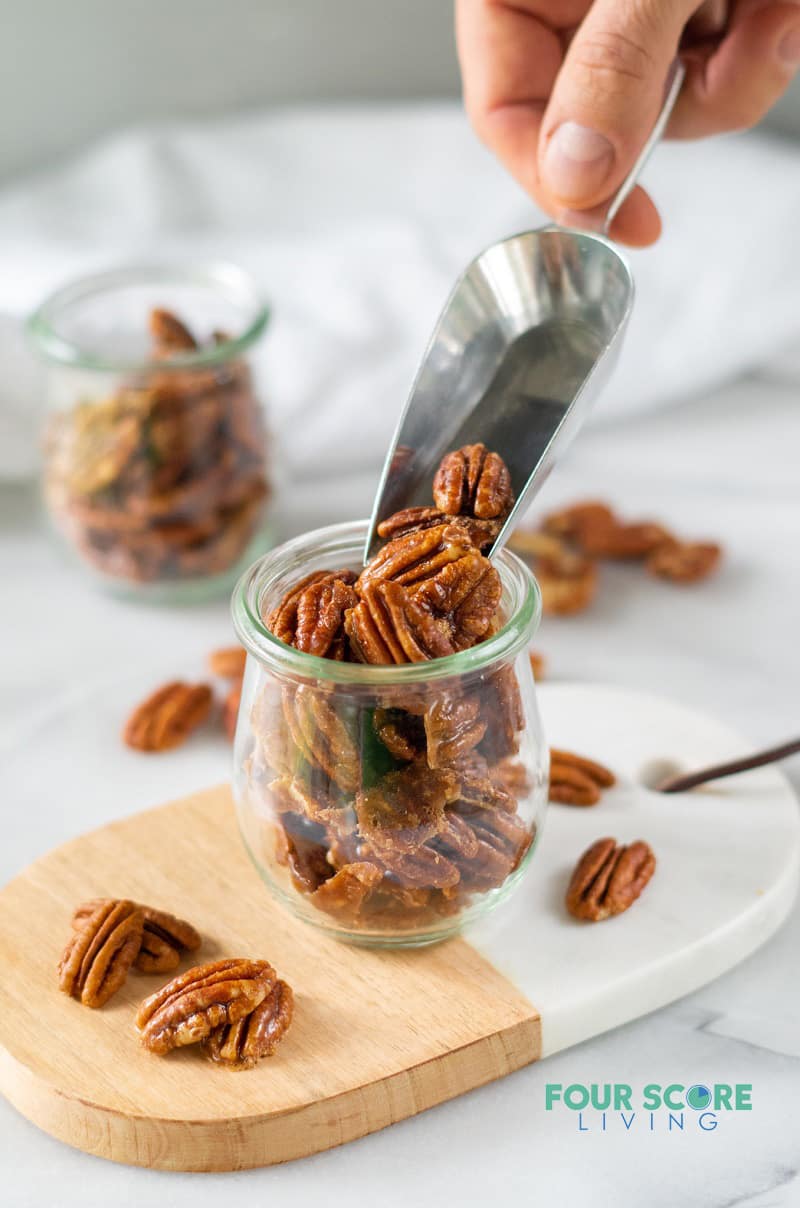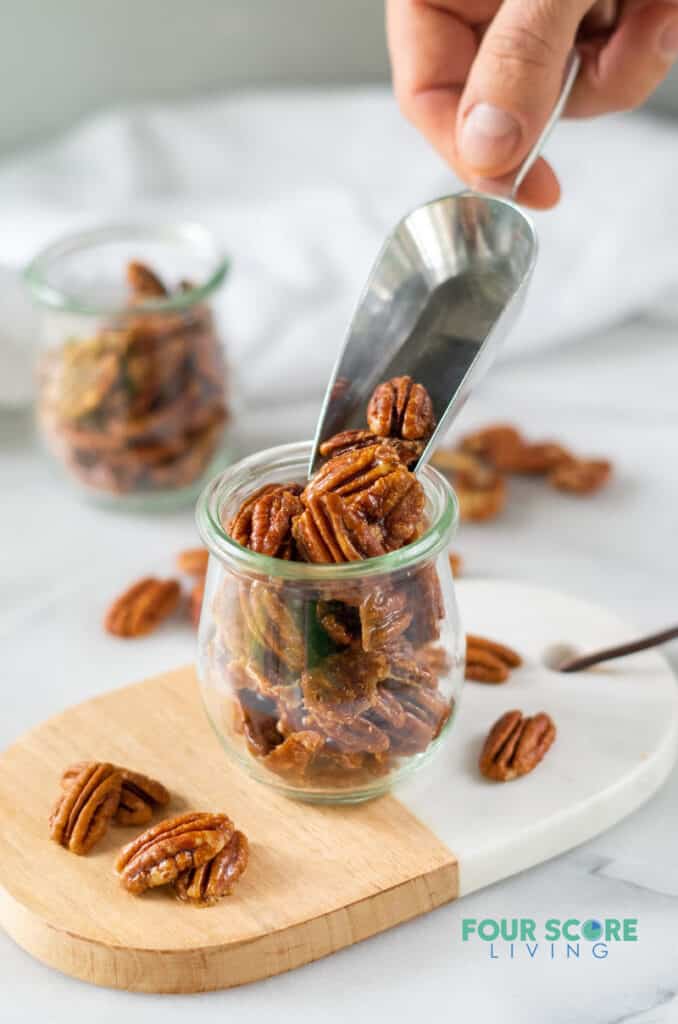 Candied Pecans Keto
I love pecans. They are a delicious high fat nut and they have a buttery taste. We often make candied pecans keto by using a keto friendly sweetener.
We like to mix these keto candied pecans into trail mixes and serve them on top of arugula salad with a bit of goat cheese and olive oil. Delish.
These keto candied pecans are cooked on the stovetop and they are super simple to make.
With only 5 ingredients and a couple of simple steps, you can make these candied pecans keto in under 30 minutes.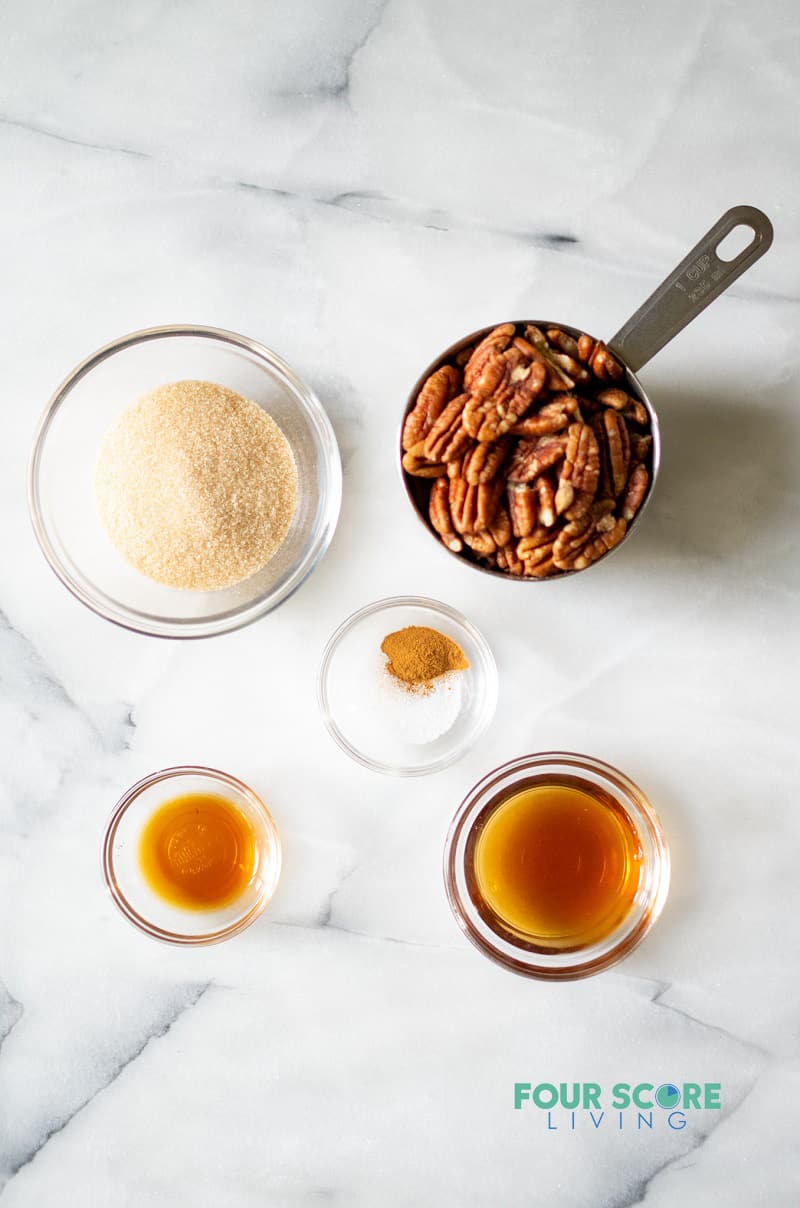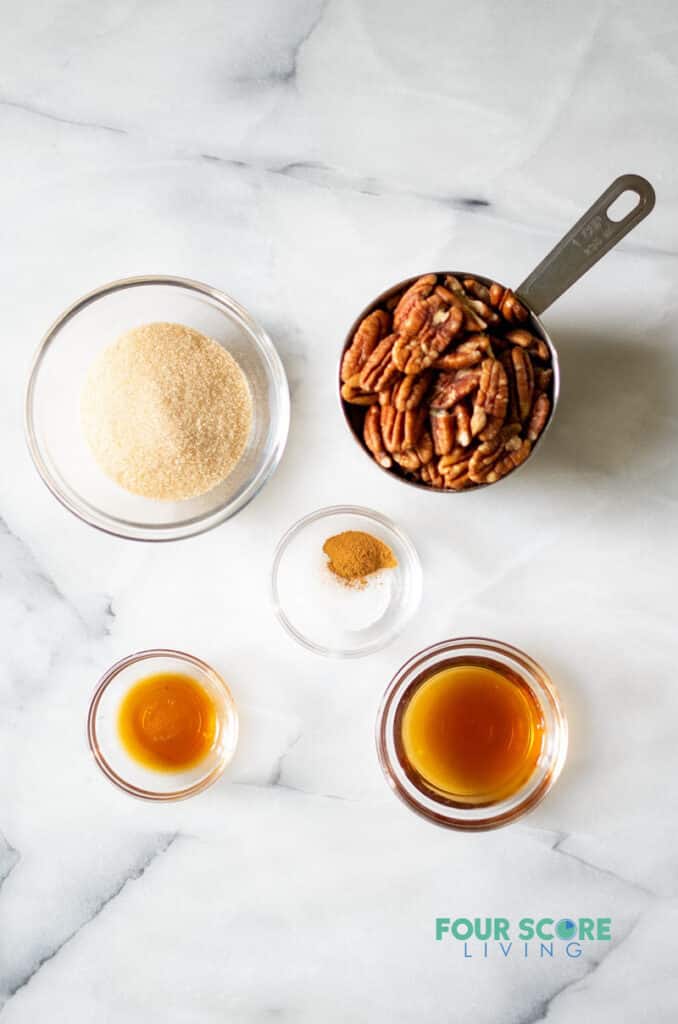 Ingredients in Keto Candied Pecans
Sweetener - For this recipe we used Lakanto's granulated monk fruit sweetener. I haven't tried liquid sweeteners with this recipe.
Salt - We use a touch of salt to help balance the other flavors.
Cinnamon - A must for keto candied pecans, in our opinion.
Vanilla Extract - Use a pure vanilla extract for the best flavor.
Pecans - We like to use pecan halves but you can use whole pecans or pecan pieces. Make sure you are using raw pecan halves, and not seasoned or salted ones.
If you have any questions, please leave it in the comment below and someone will get back to you.
How to store keto candied pecans
You can store these keto candied pecans in an airtight container or glass jar at room temperature for up to 3 weeks. You can freeze them for up to 3 months.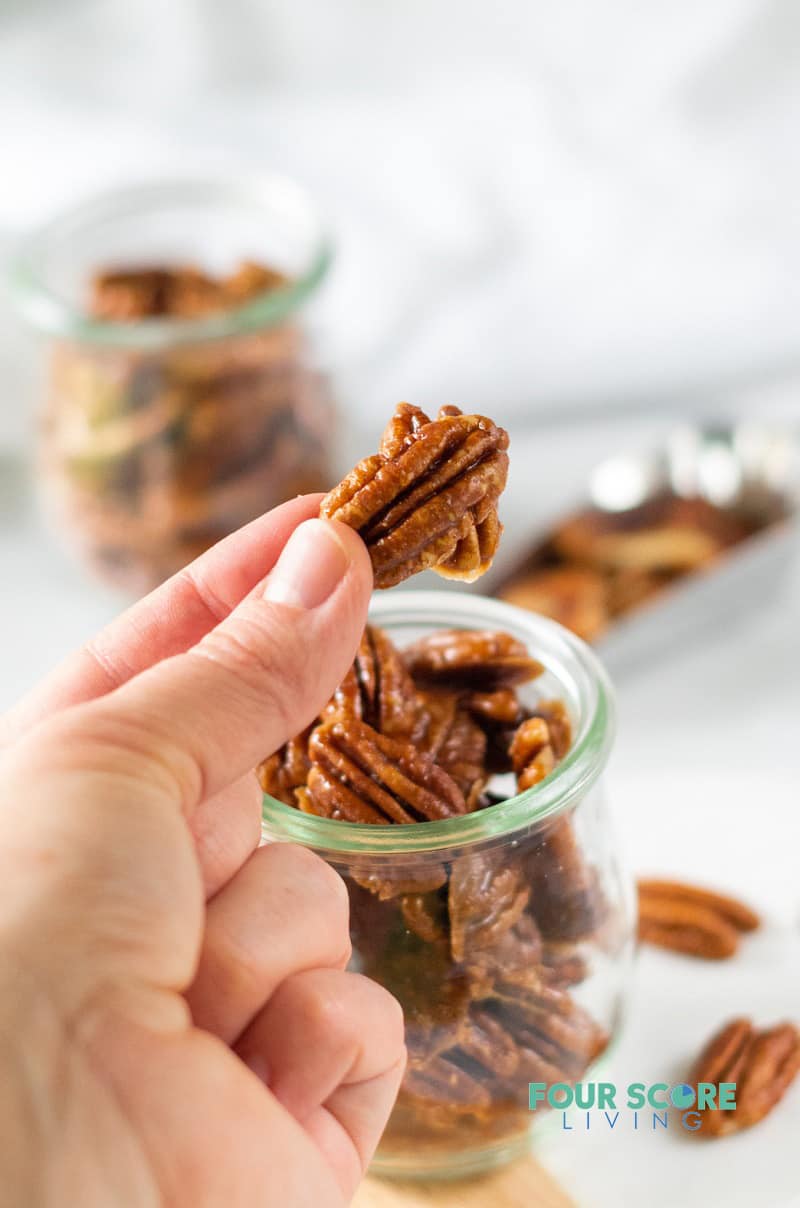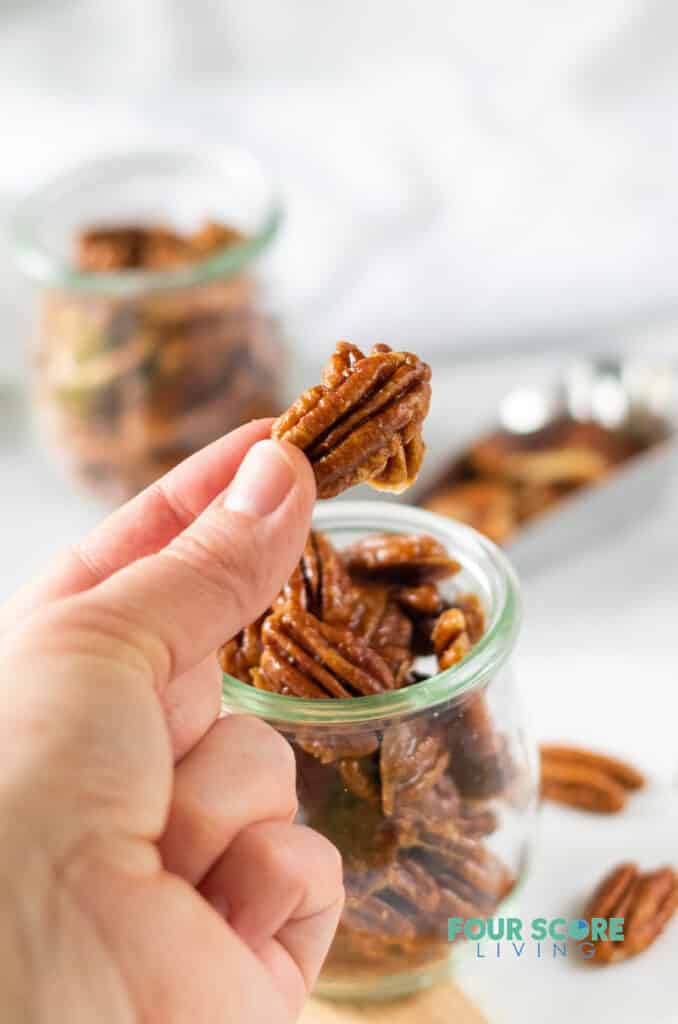 I always love making up a few batches of these keto candied pecans at the end of the year. They are fun holiday gifts.
These keto candied pecans taste great anytime of the year as a sweet snack, or sprinkled on everything from salads to casseroles, to keto ice cream, keto pancakes and more.
They are also incredibly easy to make with just 5 simple ingredients, the recipe is naturally gluten-free, and these candied pecans have the added bonus of making your home smell amazing.
They are made on the stovetop and cleanup is pretty easy.
Are pecans keto friendly?
Yes, pecans are very keto friendly. They are high in proteins and healthy fats and they are filling. Pecans are a good source of copper, manganese, potassium, vitamin E, protein, magnesium, zinc, and fiber.
How many carbs are in pecans?
A serving of 19 pecan halves has about 20 grams of fat and only 4 grams of carbs.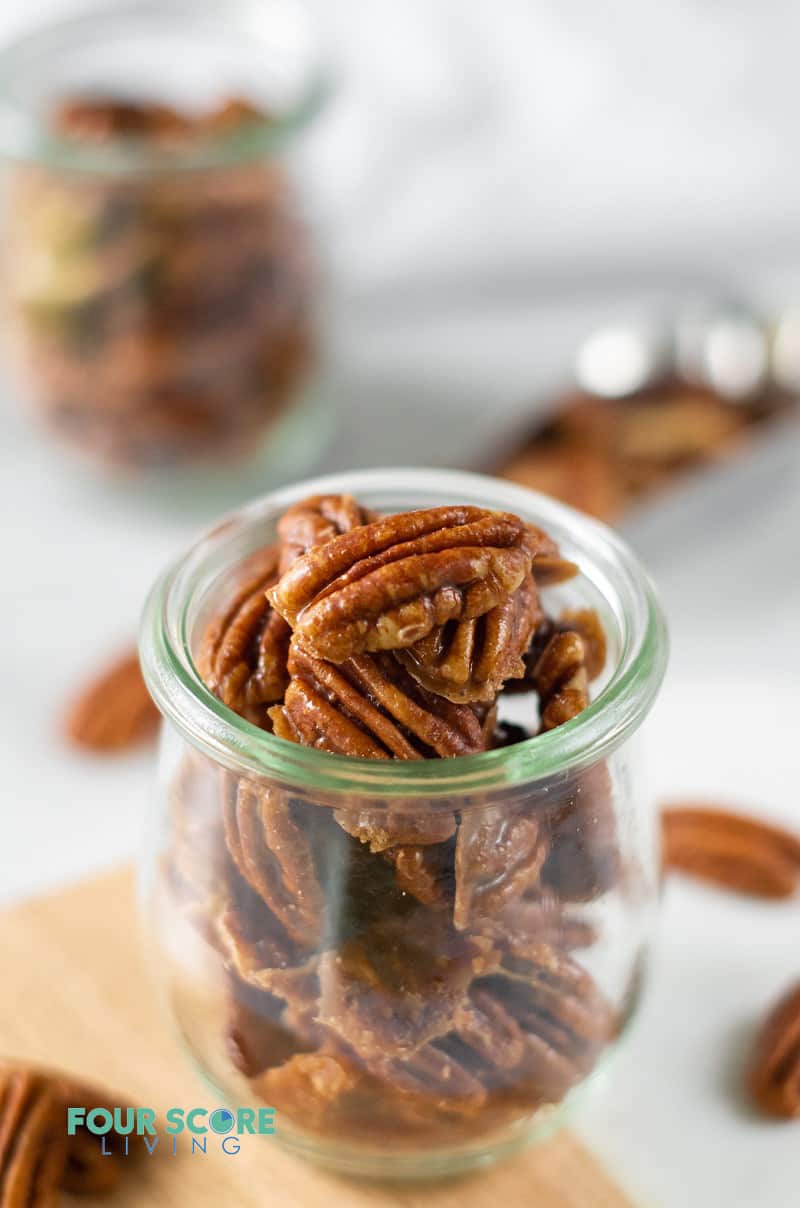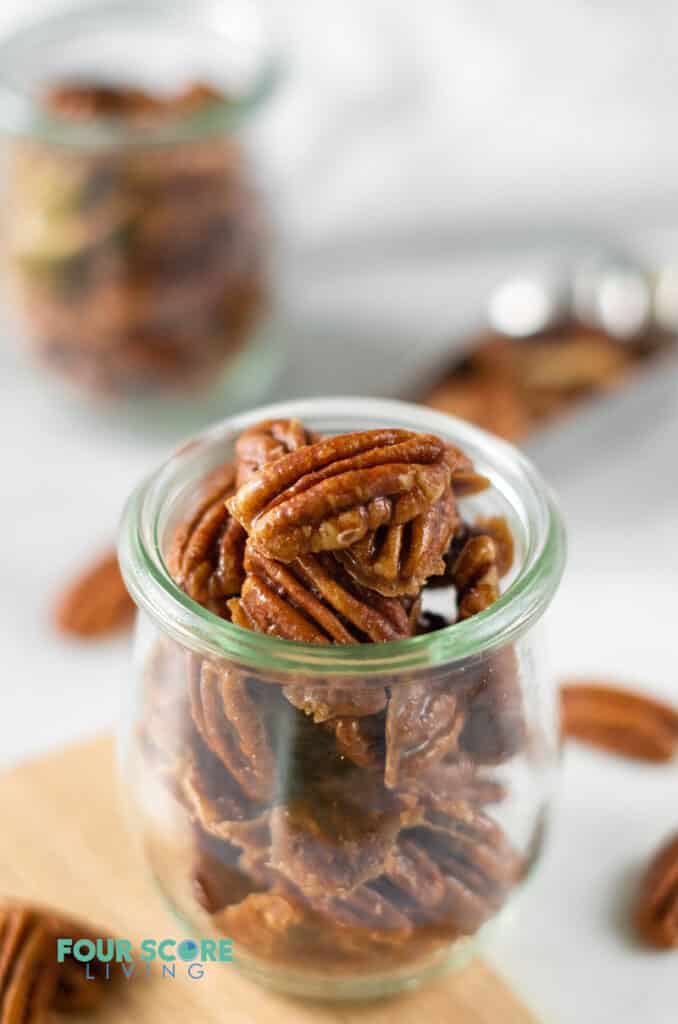 When we make these keto candied pecans to give out as gifts we usually double or triple the recipe. Once the pecans are cool, we package them in a glass jars or plastic gift bags with little bows.
You can use different wrap or bows to decorate the jars for different occasions. These keto pecans also make fun little gifts for wedding guest, bridal showers, Mother's day and Father's day gatherings, and birthdays.
For other Keto Candied Pecan Variations:
Use different nuts - If pecans aren't your favorite, you could also use this recipe to make candied walnuts, almonds, cashews, peanuts, pistachios, or whatever other candied nuts sound good.
Add a little spice - Add ¼ teaspoon of cayenne in this recipe to give it a little kick.
Add different herbs or spices - Feel free to also add any other warming spices like cardamom, ginger, nutmeg or cloves.
If you love nuts, you'll want to make my keto granola next. It uses a variety of nuts, including pecans.
Ingredients you'll always find in our pantry:
Bob's Red Mill Super Fine Gluten-Free Ground Almond Flour
LET'S GET SOCIAL, you can follow Four Score Living on Pinterest, Facebook, and Instagram. You can also leave a comment below if you have any questions.
Did you make this keto candied pecan recipe? If so, please leave a comment below letting me know what you thought.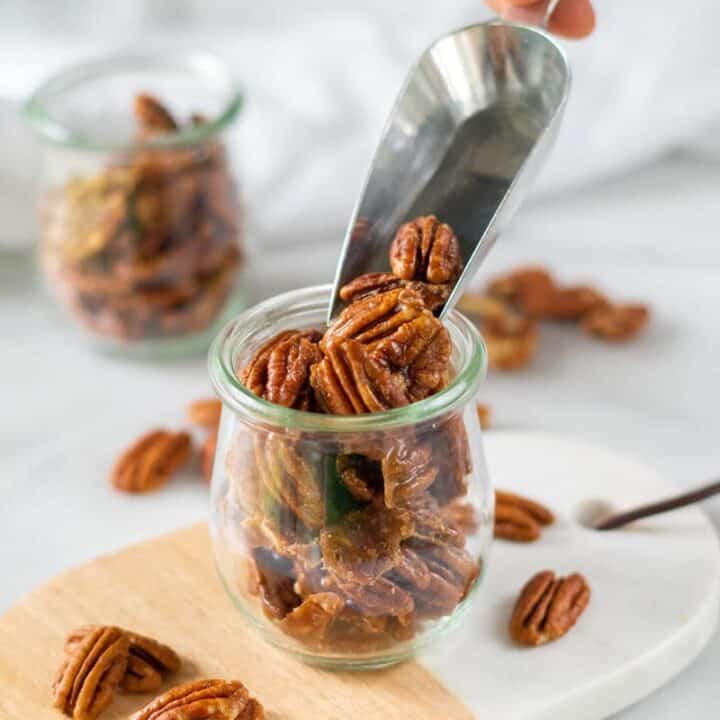 Keto Candied Pecans
Additional Time:
10 minutes
This classic keto candied pecans recipe is easy to make with only 5 ingredients. These keto candied pecans make the perfect gift.
Ingredients
¼ teaspoon salt
¼ teaspoon ground cinnamon
1 cup pecan halves
Instructions
Combine all ingredients except the pecans in a small to medium sized skillet and cook over medium heat for 1-2 minutes or until the granulated sweetener dissolves and the mixture is bubbling.
Add the pecans and cook for an additional 3-4 minutes, stirring to coat the pecans in the keto candy glaze.
Remove from the heat, and spread the pecans out on parchment paper to let the pecans cool completely.
Notes
The pecans will be sticky but they will harden as they cool.
You can double or triple this keto candied pecans recipe, if needed. Use a larger skillet.
You can use your nut of choice to make keto candied nuts.
Nutrition Information:
Yield:

8
Serving Size:

2 tablespoons
Amount Per Serving:
Calories:

109
Total Fat:

20g
Saturated Fat:

1g
Trans Fat:

0g
Unsaturated Fat:

8g
Cholesterol:

0mg
Sodium:

69mg
Carbohydrates:

4g
Net Carbohydrates:

2g
Fiber:

2g
Sugar Alcohols:

5g
Protein:

3g
The nutrition information for this recipe is an approximate total per serving. Please double check the nutrition information for your exact ingredients and brands.