This Keto Ice Cream recipe has only three ingredients and no ice cream machine necessary. Enjoy classic vanilla ice cream, or create your own keto ice cream flavor variations with this ice cream base.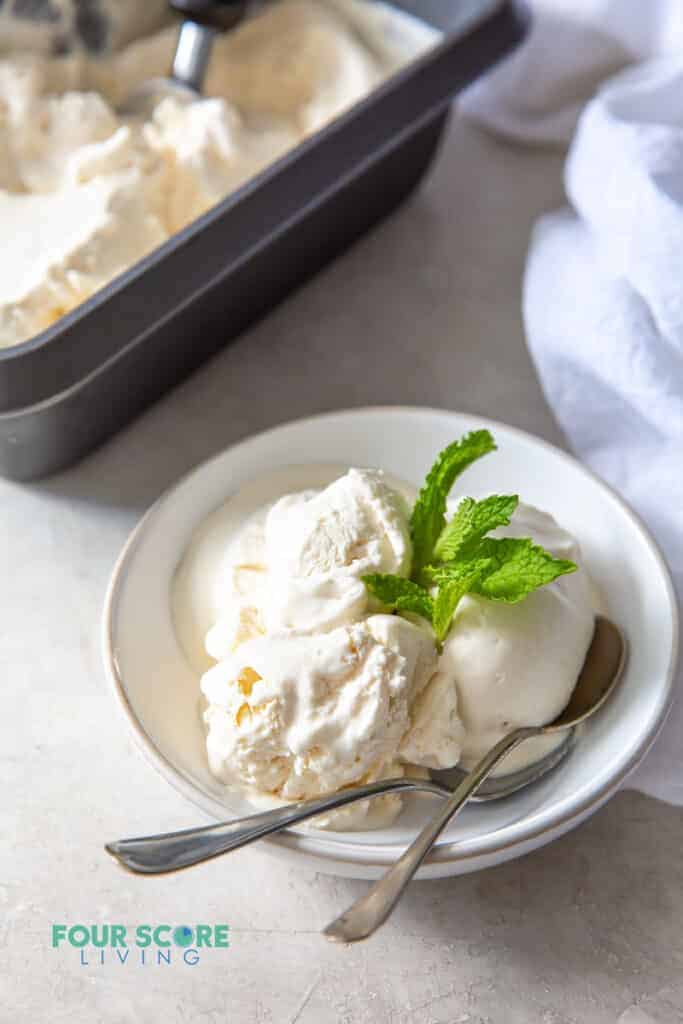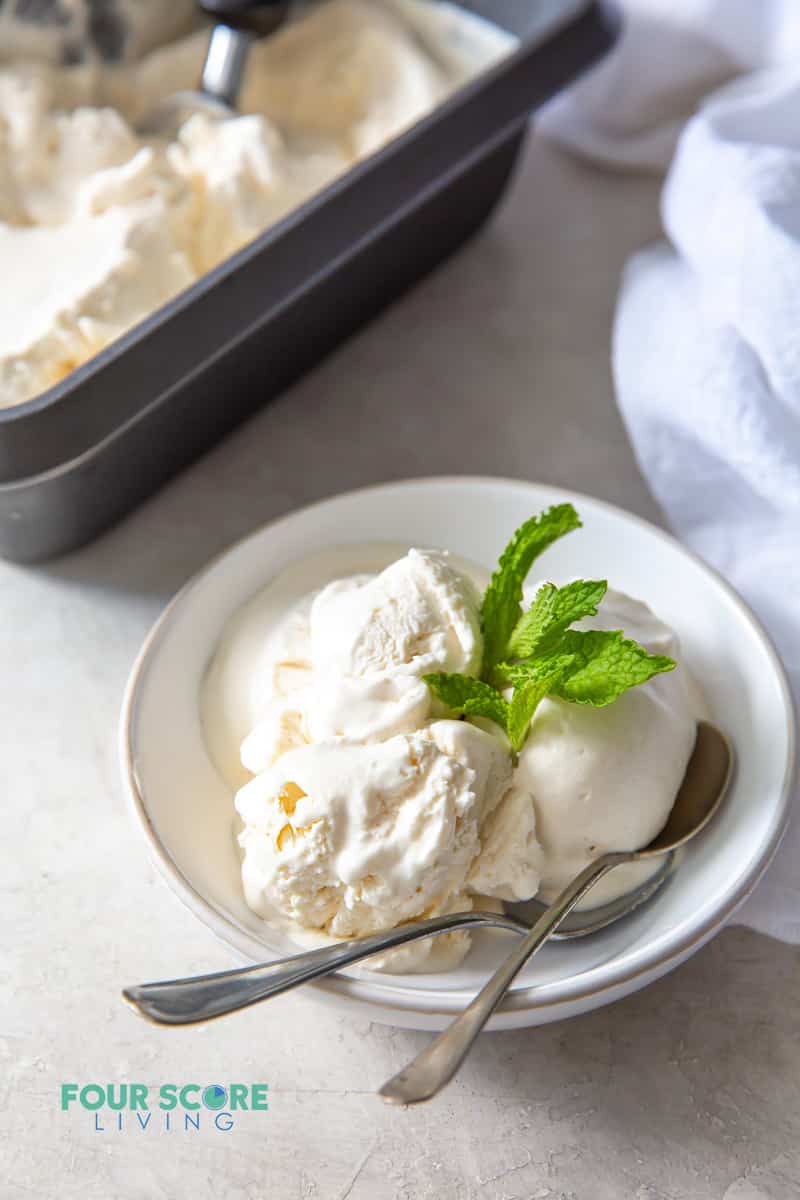 Ice cream is a universal sweet treat and over the years more and more ice cream flavors are pleasing palates. We love all types of ice cream and there will never be a shortage of ice cream flavors to choose from.
WHY YOU'LL LOVE KETO ICE CREAM
It's perfectly sweet, packed with vanilla flavor, and super creamy right out of the freezer.
There are only three easy to find ingredients needed.
This keto ice cream is simple to put together and takes about a half hour to make, plus 5 hours to freeze.
Serve this keto ice cream over our Low Carb Blueberry Dump Cake.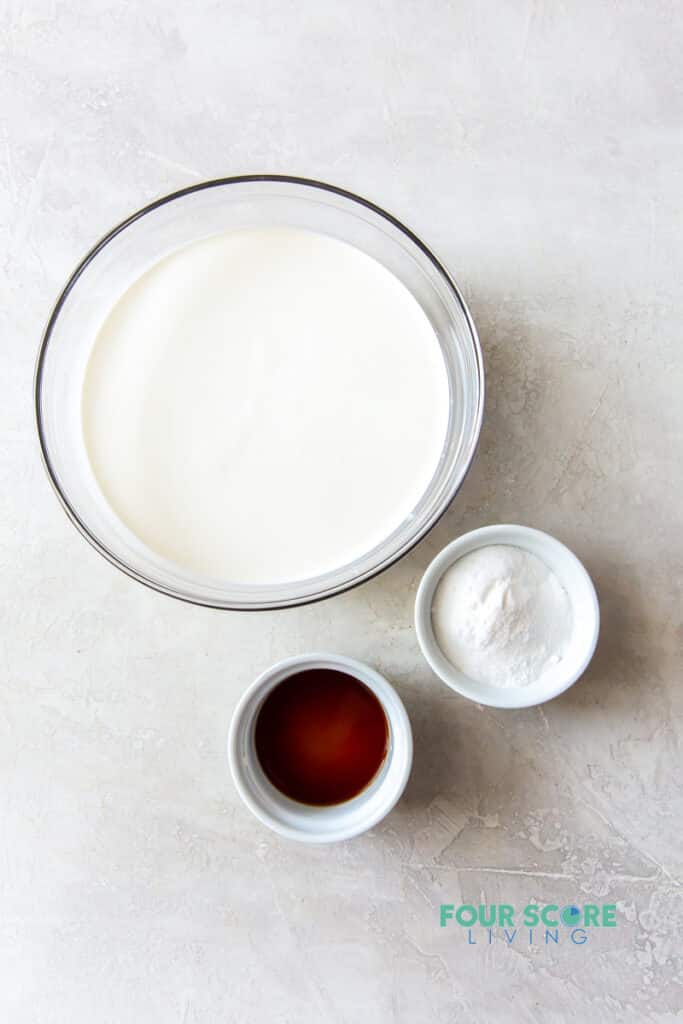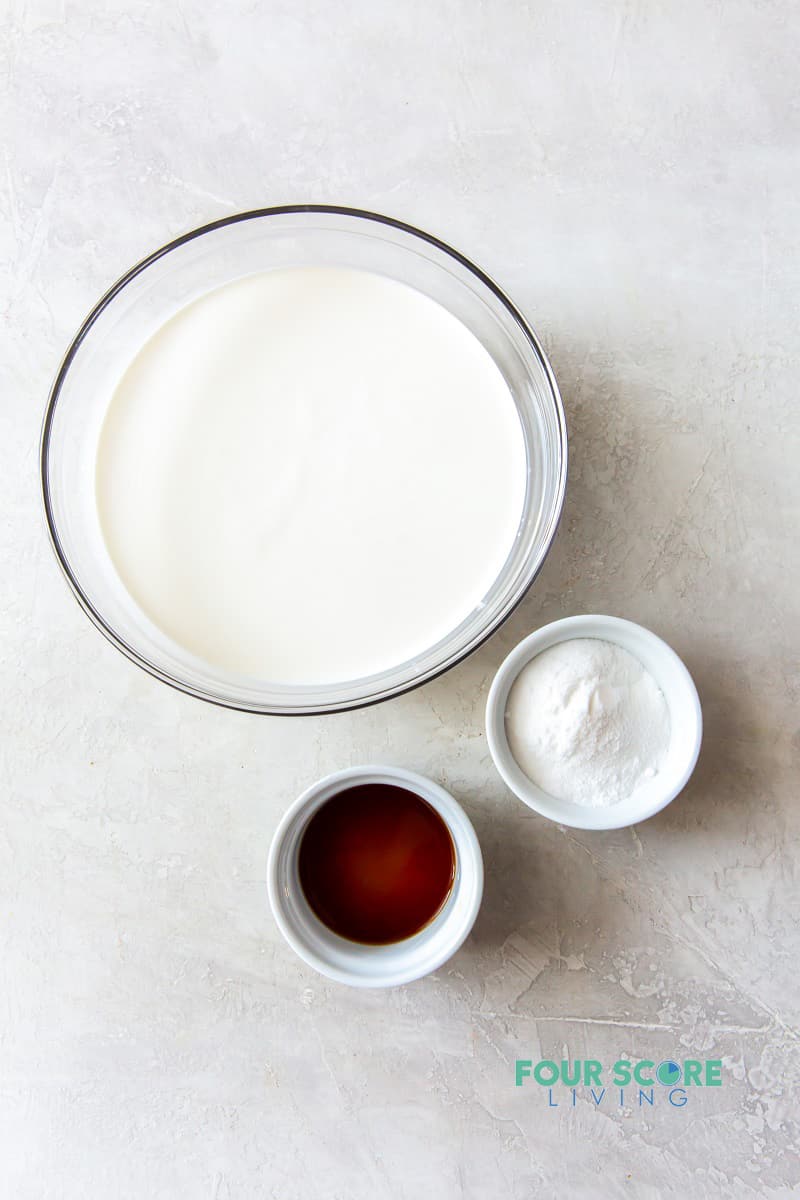 INGREDIENTS IN KETO ICE CREAM
Heavy Cream - This is the main ingredient in our low carb ice cream and will thicken to create a silky smooth dessert.
Powdered Sweetener - Use allulose or xylitol for best results.
Vanilla Extract - Use the best quality vanilla extract you can afford. It's worth it.
This keto ice cream would be amazing in Affogato. If you have any questions, please leave a comment below and I will get back to you.
KEY TIPS FOR MAKING KETO ICE CREAM
Use quality ingredients - When making homemade ice cream, you'll want to make sure you're using high quality ingredients for the best outcome. Particularly for this recipe with only four ingredients, it's extra important to use fresh dairy and and a high quality vanilla extract.
Chill Out - It's best to start with chilled ingredients whenever you're making homemade ice cream.
Don't go crazy with add-ins - If you plan to add anything to your keto ice cream, choose just one or two additions. Make sure any chunks are smaller than the size of a pea.
IS ICE CREAM KETO?
Generally, ice cream is not keto. There are some brands in stores now that are low carb, but making my own is much easier, more cost effective, and satisfying.
You've probably encountered keto ice creams at the grocery store. I think it's wonderful that brands like Halotop and Enlightened are so easily available, but the prices on these pints of low carb ice cream are quite high! Making your own homemade keto ice cream will be much easier on your wallet.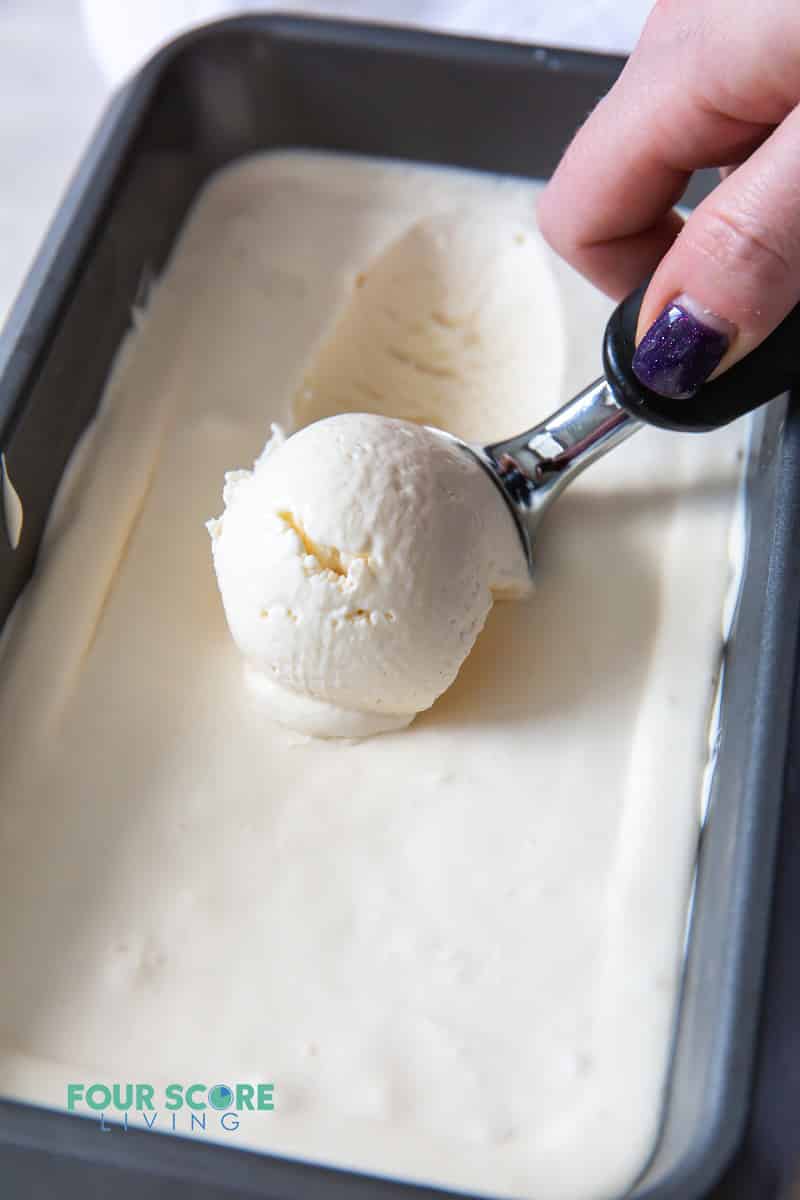 WHAT SWEETENER SHOULD I USE TO MAKE ICE CREAM KETO?
When it comes to sugar free sweeteners, you have many options. Stevia, Xylitol, Eryithritol, monkfruit, and Splenda are some of the most common. When making ice cream, I like to take advantage of the cooling effect that some of these sweeteners have.
Erythritol in particular is known to create this cooling effect. While that sensation can seem out of place in soups or cookies, it is perfect for a cold dessert like Keto Ice Cream.
Natural Erythritol or an erythritol blend such as Swerve are my first choice for making Keto ice cream. Erythritol is a sugar alcohol that has 70% of the sweetness of sugar, but only 5% of the calories.
Be sure to use a powdered version of whatever sweetener you choose so that it melts into the ice cream base.
KETO ICE CREAM MIX INS
Ice cream is more fun with some extra goodies inside. I enjoy a bowl of simple vanilla ice cream, but adding in some crunch or sweet treats isn't a bad idea.
Gently fold in your desired amount of any of these keto-friendly ice cream mix-ins to add character to your keto ice cream.
Sugar Free Sprinkles/Jimmies
Chopped fresh or frozen strawberries or blueberries
Sugar free mini chocolate chips
Sugar free chocolate or caramel syrup
Small pieces of keto fudge or keto peanut butter fudge
Depending on the weight of your add-ins, they may settle toward the bottom of your pan.
That's ok, just give the ice cream a stir about half way through the freezing time to distribute them more evenly.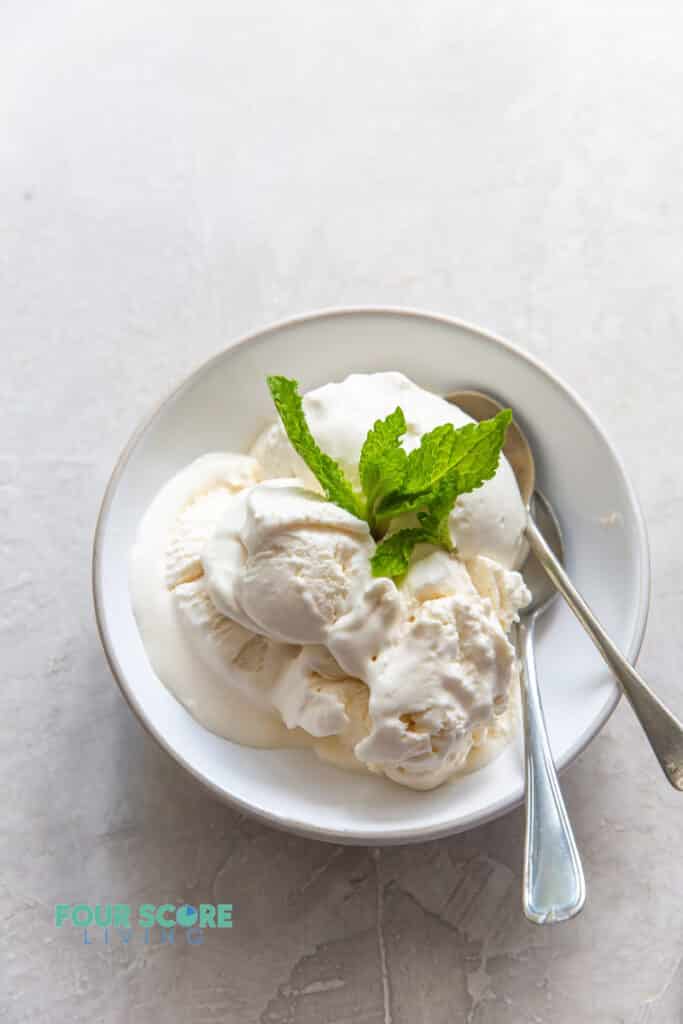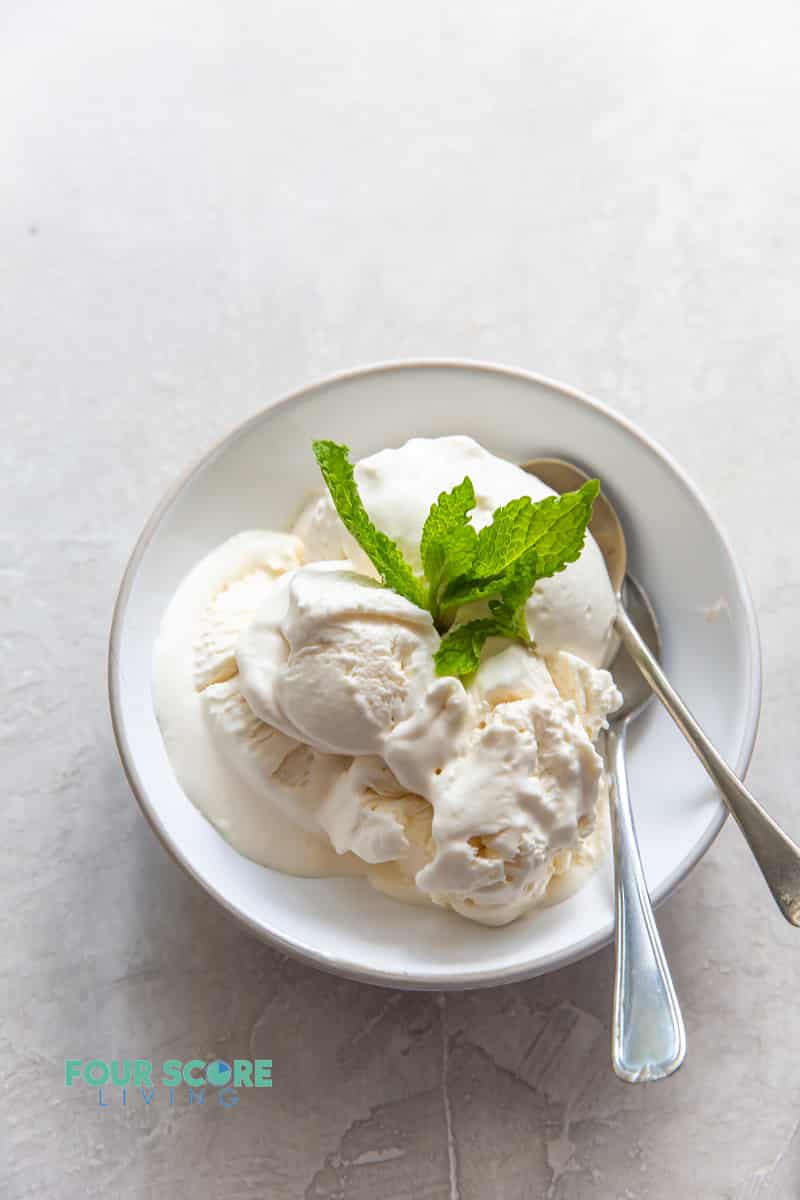 HOW TO STORE LOW CARB ICE CREAM
This keto ice cream will stay fresh in the freezer for a couple of weeks, if it lasts that long.
Store your keto ice cream in an air tight container in the freezer. If the loaf pan you used has a lid, that is perfect.
If not, you'll want to remove the ice cream from the loaf pan and transfer it into a different air tight container for storage.
HOW TO SOFTEN KETO ICE CREAM
Store bought ice cream contains additives to keep it soft and scoopable. Because we haven't added any oil or chemicals to this ice cream, it will be quite hard when you first remove it from the freezer.
Let homemade keto ice cream sit on the counter for 5-10 minutes to soften up a bit before trying to scoop it. This will give you the perfect creamy ice cream texture.
I've seen suggestions elsewhere to add a tablespoon of vodka to the mixture before freezing. Because alcohol doesn't freeze, this will help to keep the keto ice cream soft. I haven't tried this personally, and would avoid doing this if you plan to serve the ice cream to kids.
We hope you enjoyed reading this article. Please help us out by leaving a quick review and star ★ rating below.
LET'S GET SOCIAL, you can follow Four Score Living on Pinterest. You can also leave a comment below if you have any questions.
Easy Keto Ice Cream Recipe
Total Time:
5 hours
40 minutes
A Keto Ice Cream recipe with only three ingredients and no ice cream machine necessary. It's creamy, sweet, and delicious.
Ingredients
3 cups heavy cream
¼ cup plus 2 tbsp powdered allulose or xylitol (use either of these for best texture)
Instructions
In a large saucepan, add half of the heavy cream and the sweetener. Heat over medium heat and stir continuously until the sweetener is dissolved.
Reduce heat to a simmer and allow mixture to thicken and reduce by almost half, about 30 minutes.
Remove the liquid from the stove and allow to cool to room temperature. Whisk in the remaining cream, vanilla extract.
Transfer the mixture to a large bowl. With an electric mixer, whip liquid until soft peaks form.
Transfer batter to a large loaf pan. Freeze for 4-5 hours.
Allow to thaw for 5-10 minutes before eating.
Notes
Use a good quality extracts. It's so worth it in this recipe.
Be sure to let the ice cream soften for 5-10 minutes before trying to scoop it.
Store in an airtight container in the freezer. Homemade keto ice cream is best enjoyed within a few weeks.
Include your favorite keto add ins, such as sugar-free chocolate chips, sugar free syrups, or chopped nuts.
Vanilla can be replaced with any other extract to create new keto ice cream flavors.
For chocolate, Use this same recipe, but add 3 tablespoons of unsweetened cocoa powder to the mixture to get a rich, chocolate keto ice cream.
Nutrition Information:
Yield:

6
Serving Size:

1
Amount Per Serving:
Calories:

429
Total Fat:

43g
Saturated Fat:

27g
Trans Fat:

1g
Unsaturated Fat:

13g
Cholesterol:

134mg
Sodium:

33mg
Carbohydrates:

4g
Fiber:

0g
Sugar:

4g
Protein:

3g
The nutrition information for this recipe is an approximate total per serving. Please double check the nutrition information for your exact ingredients and brands.