Finally! A sweet and delicious keto banana bread recip.
This keto banana bread recipe has tons of banana flavor, chopped nuts, and a tender crumb.
Just like Keto Chocolate Muffins, Banana bread is perfect as a keto breakfast bite, or a sweet nighttime snack that won't ruin your meal plan.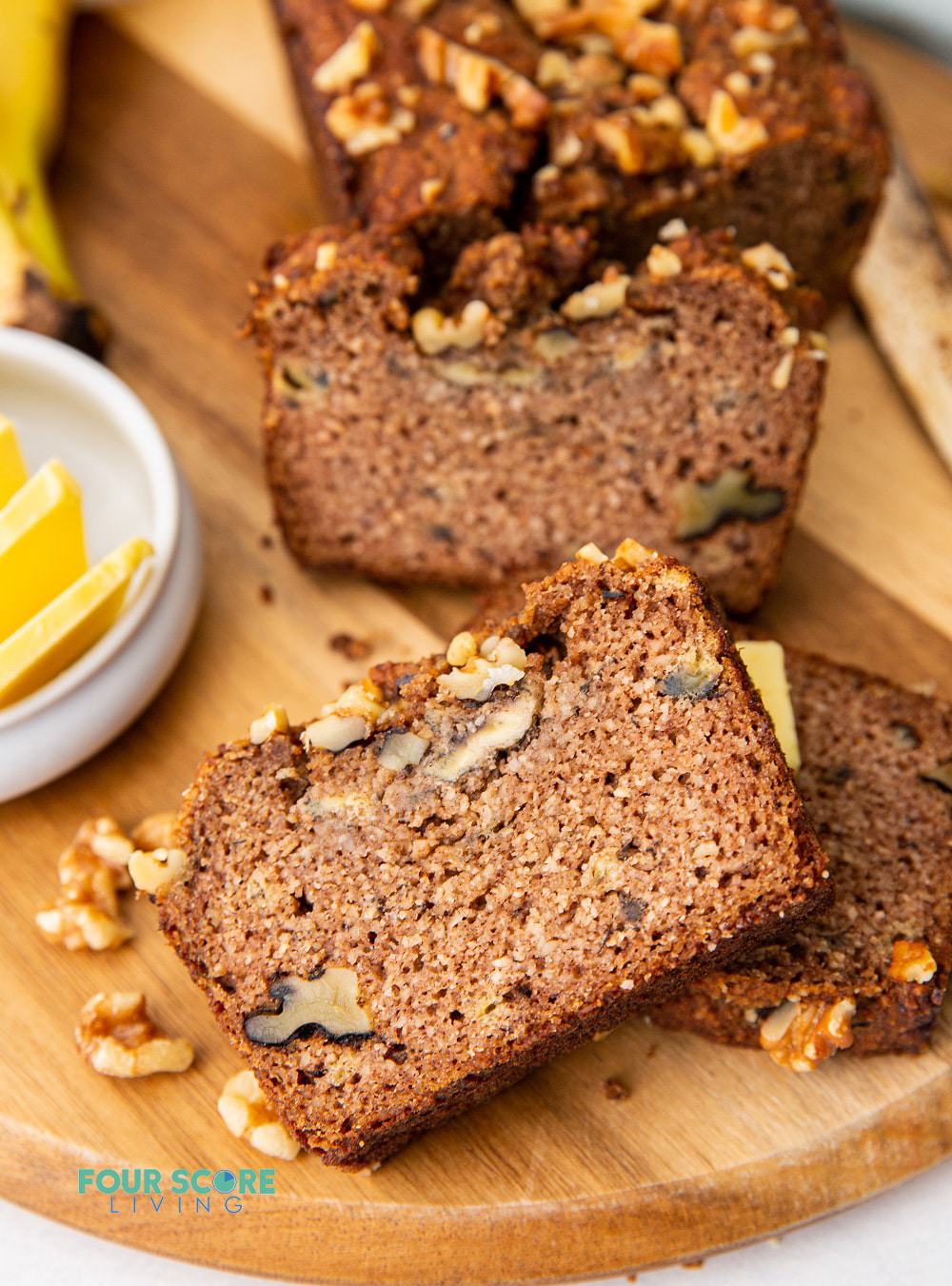 KETO BANANA BREAD RECIPE
Bananas aren't usually something you want to eat on a low-carb or keto diet, because they are higher in carbs than other fruits. So you might be wondering how you're going to enjoy banana bread on keto.
The trick to making a keto-friendly banana bread is to only use one banana for the entire recipe!
You still get the delicious banana flavor and the tender texture that it adds, but with much fewer carbs. We will make up for the missing bananas by using banana extract instead.
There are only 5 net carbs per serving of this keto banana bread.
We have the best recipes for low carb bread! Use our Keto Bread, made with almond flour for sandwiches or toast, or try other sweet quick breads like Keto Pumpkin Bread and Keto Zucchini Bread.
WHY YOU'LL LOVE IT
Big Banana Flavor - One banana goes into the recipe, but we're also adding banana extract, to ensure that all of the banana flavor you want is here in your keto banana bread.
A Sweet Breakfast or Snack - Banana bread is versatile. Enjoy it on your way out the door in the morning, or have a piece with your afternoon coffee.
Easy Quick Bread Recipe - This bread requires no yeast, and just a few common keto baking ingredients to whip together. If you've done any low carb baking, you probably already have everything you need.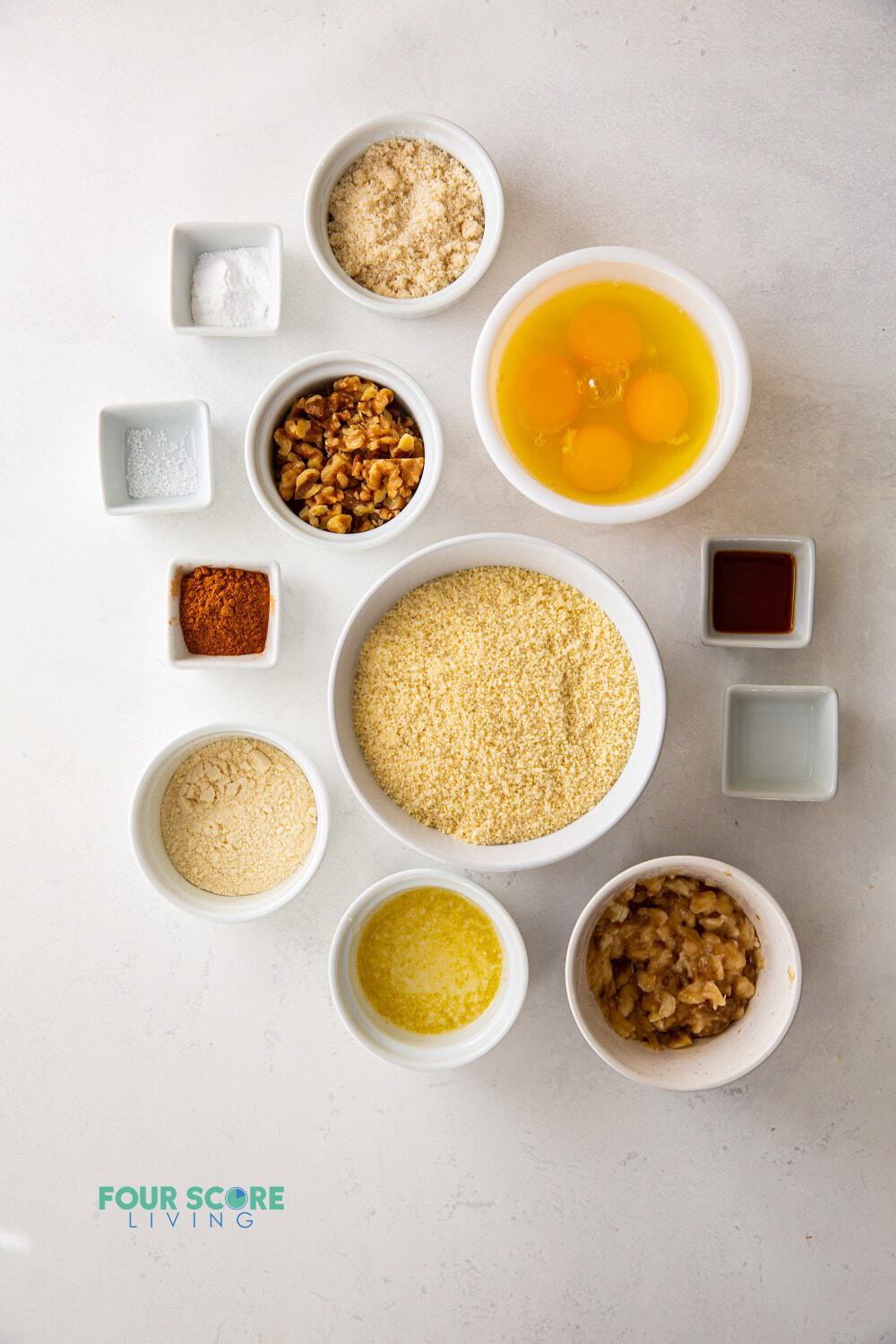 INGREDIENTS IN KETO BANANA BREAD
Eggs: 4 whole eggs ensure that this banana bread is protein-heavy. They also add moisture to the batter and hold the whole loaf together.
Banana: Only one banana is needed to make keto banana bread. Using one instead of 2 or 3 lets us keep the carb count low. Use a ripe banana that is starting to turn brown, and mash it up with a fork.
Unsalted Butter: Melt the butter before mixing up the banana bread batter, and let it cool down slightly. Adding hot melted butter to the batter will start to cook the eggs, so try to avoid that.
Vanilla Extract: The prevailing flavor in most baked goods. I suggest you buy the best vanilla extract you can reasonably afford. It's worth it.
Banana Extract: You should be able to find this at most large grocery stores. Craft stores like Michael's or Joann also have it in the baking section.
Almond Flour: A finely milled almond flour works best for baking. See my notes below about how to use almond flour.
Coconut Flour: This is primarily an almond flour banana bread recipe, but a small amount of coconut flour helps to create the best keto banana bread texture.
Sweetener: You can use your favorite granulated sweetener in this sugar-free recipe. I like to use Swerve or Lakanto.
Cinnamon: This spice is perfect in banana bread. It adds warmth and makes it smell amazing.
Baking Soda and Salt: added to the flour, these two round out the dry ingredients in the recipe.
Chopped Walnuts: I enjoy walnuts in banana bread! I add them to the batter and then I add more to the top of the loaf. Walnuts are a healthy source of fat and nutrients.
If you have any questions about this almond flour banana bread recipe, please leave a comment below and I will get back to you.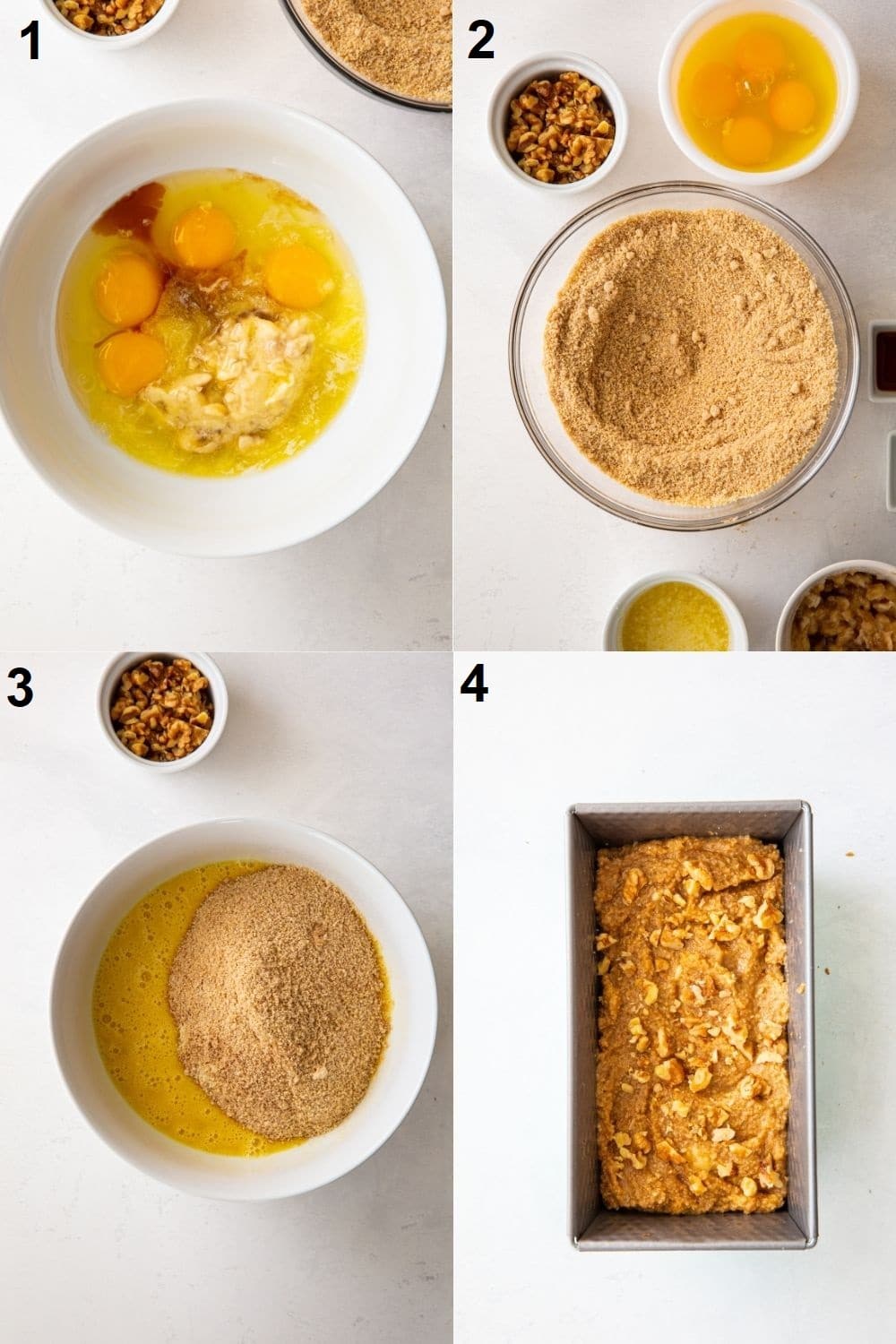 HOW TO MAKE KETO BANANA BREAD
In a large bowl, add the eggs, mashed banana, melted and cooled butter, banana extract and vanilla extract.
In a separate medium bowl, add the almond flour, coconut flour, sweetener, cinnamon, baking soda, and salt. Stir until combined.
Add the dry ingredients to the wet ingredients, and stir until well combined, but don't overmix. Then stir in the chopped nuts.
Transfer the batter to a prepared loaf pan, and if desired, top with additional nuts. Cover the pan with aluminum foil and bake as directed in the recipe card below. Halfway through the baking time, remove the foil and continue baking until the center of the loaf is cooked through.
These numbered steps match the numbered photos above and are for illustration purposes. For the complete list of ingredients and instructions in this keto friendly almond flour banana bread, please see the recipe below.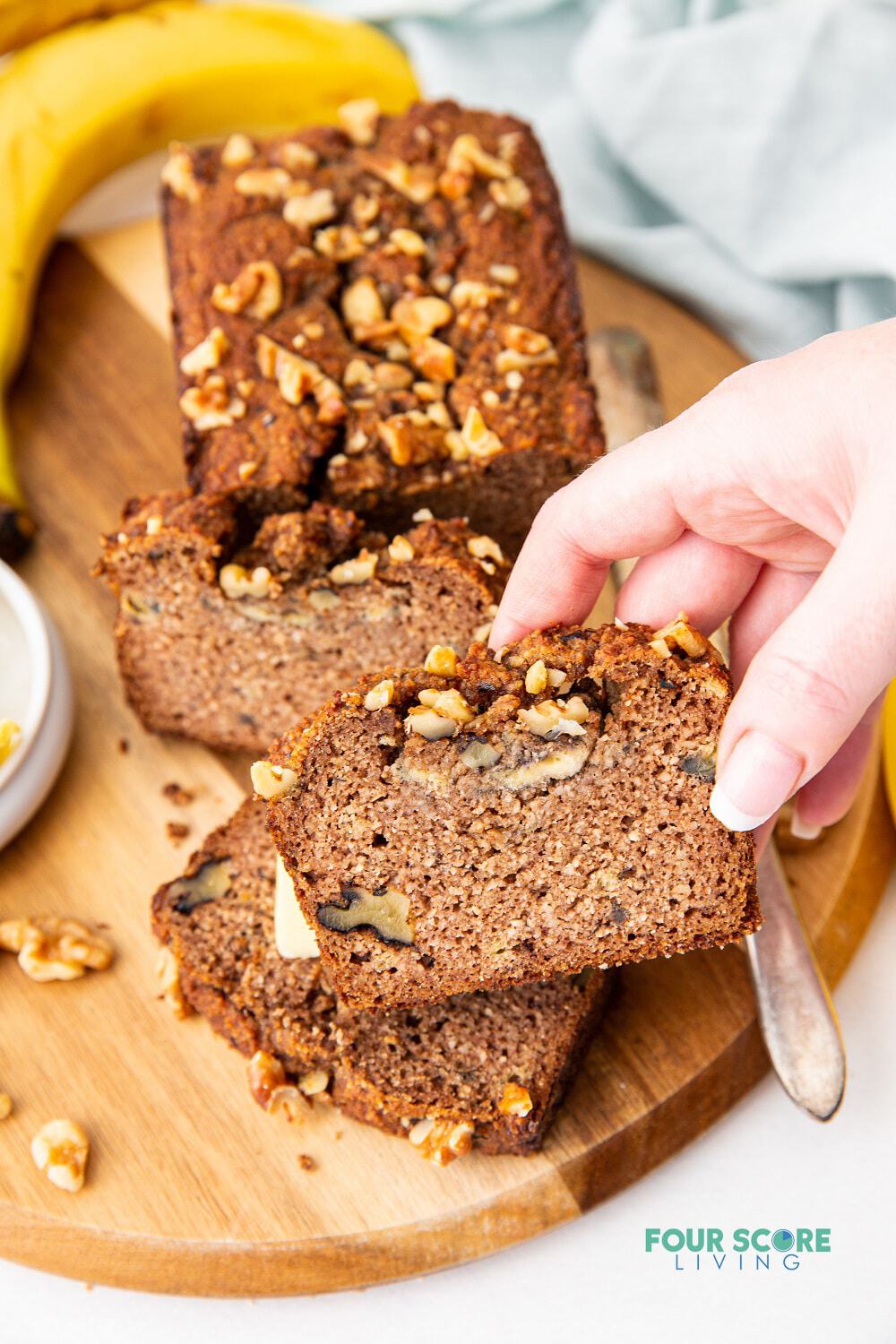 HOW TO STORE KETO BANANA BREAD
You can wrap leftovers with plastic wrap or store in an airtight container. The bread will last for 2-3 days on the counter, and maybe a bit longer if stored in the fridge.
Freeze keto banana bread loaves for up to 3 months. You can also store slices of this bread, individually wrapped, in the freezer for the same amount of time.
HOW DO YOU KNOW WHEN BANANA BREAD IS DONE?
Keto banana bread, much like any quick bread or cake recipe, is done when you can stick a toothpick into the center of it and pull it out clean.
Keep in mind that oven temperatures can vary, so you may need a few minutes less or more than suggested in the recipe. I suggest checking on your banana bread about 5 minutes early just in case it's ready.
WHY ARE WE BAKING BANANA BREAD COVERED?
When testing this recipe, I found that if I baked it uncovered, the top became overcooked before the center of the loaf was set. Covering keto banana bread for the first half of the bake time helps it to cook evenly.
TIPS FOR WORKING WITH ALMOND FLOUR
Baking with almond flour is different than baking with wheat flour in a lot of ways, but at the same time, it can give you results that are most similar to traditional flour if used correctly.
If you aren't an almond flour baking professional yet, you will be after making this recipe and using these tips:
If you store your almond flour in the fridge or freezer, allow it to come to room temperature before mixing your batter. Cold almond flour will not absorb the wet ingredients the way we want it to here.
I always suggest using a finely ground almond flour for baking. You'll get much lighter and fluffier baked goods this way.
When measuring almond flour, use a spoon to fill your measuring cup rather than scooping down into the container. This will ensure that you are getting a proper measurement and not compressing the almond flour too much.
Have a question? Leave it in the comments section below.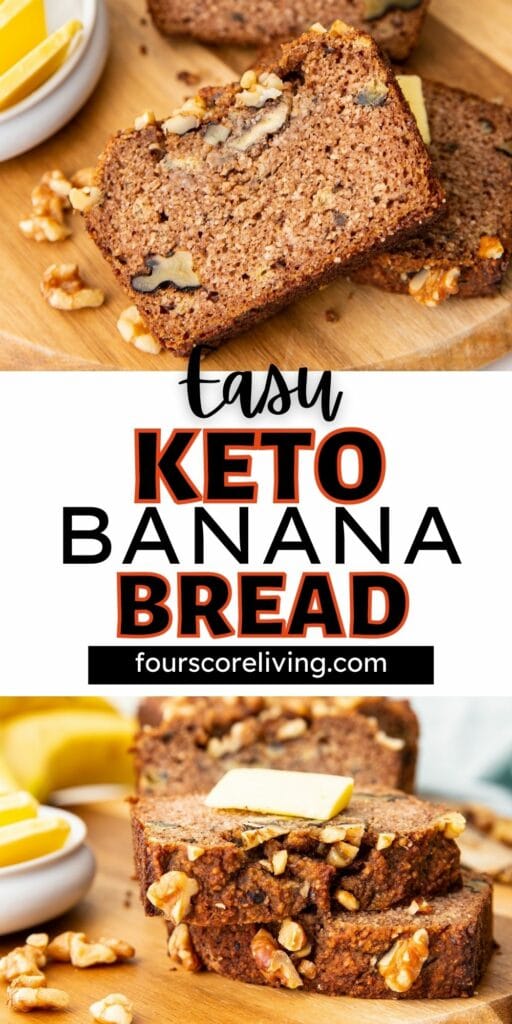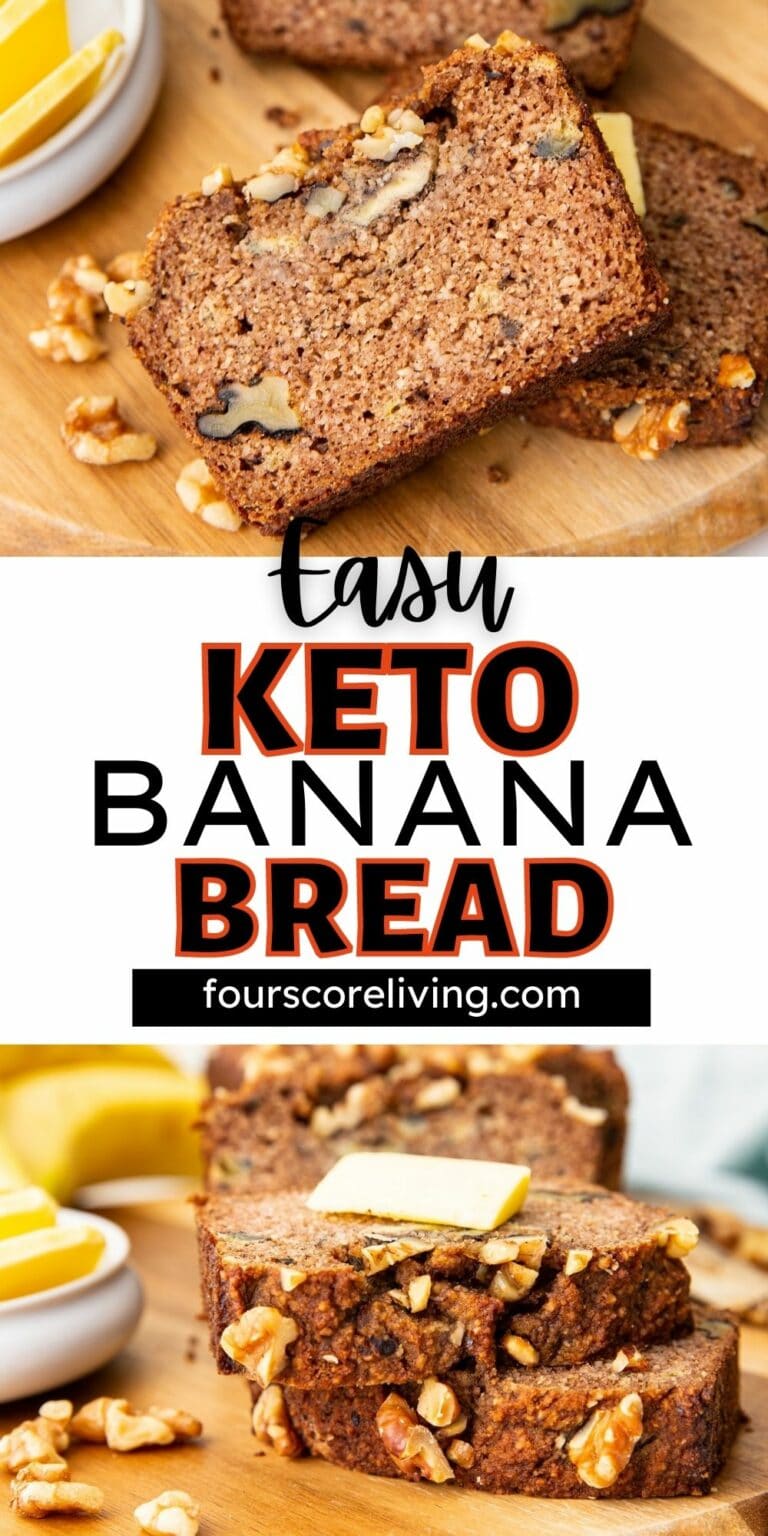 IS BANANA BREAD KETO?
Typically, the answer to this question will be no. Banana bread in its typical form is made with sugar, flour, and bananas, all of which are high in carbs.
This keto version of a classic banana bread recipe removes the sugar and wheat flour and reduces the amount of banana so that it is keto approved!
If you aren't worried about your banana bread being keto, but you want a delicious gluten-free recipe, try my Gluten Free Banana Bread. You might also like Gluten-Free Banana Coffee Cake.
SUBSTITUTIONS IN KETO BANANA BREAD
Keto and low-carb baking recipes can be temperamental if you try to change them too much. For that reason, I suggest following this keto banana bread recipe as written, aside from these potential swaps:
Sweetener: I know that everyone has their own preferences when it comes to low-carb sweeteners. You can use any type of granulated sweetener that is an approximate 1:1 swap for granulated sugar. Good options are Lakanto Monkfruit Sweetener, Erythritol granules, or Swerve.
Nuts: I like walnuts in banana bread, but you can add any type of chopped nuts that you enjoy. Pecans work well. You can also leave out the nuts if you prefer.
Other Add-Ins: Instead of nuts, or in combination with them, include some sugar free chocolate chips or unsweetened coconut flakes. I enjoy Lily's chocolate chips, or a no sugar added dark chocolate bar, cut into chunks.
Flavorings: The combination of vanilla and banana extracts plus a bit of cinnamon gives this bread the perfect banana bread flavor, but you can adjust them if needed.
The rest of the ingredients in keto banana bread, including the almond and coconut flours, baking soda, and eggs should be left as-is.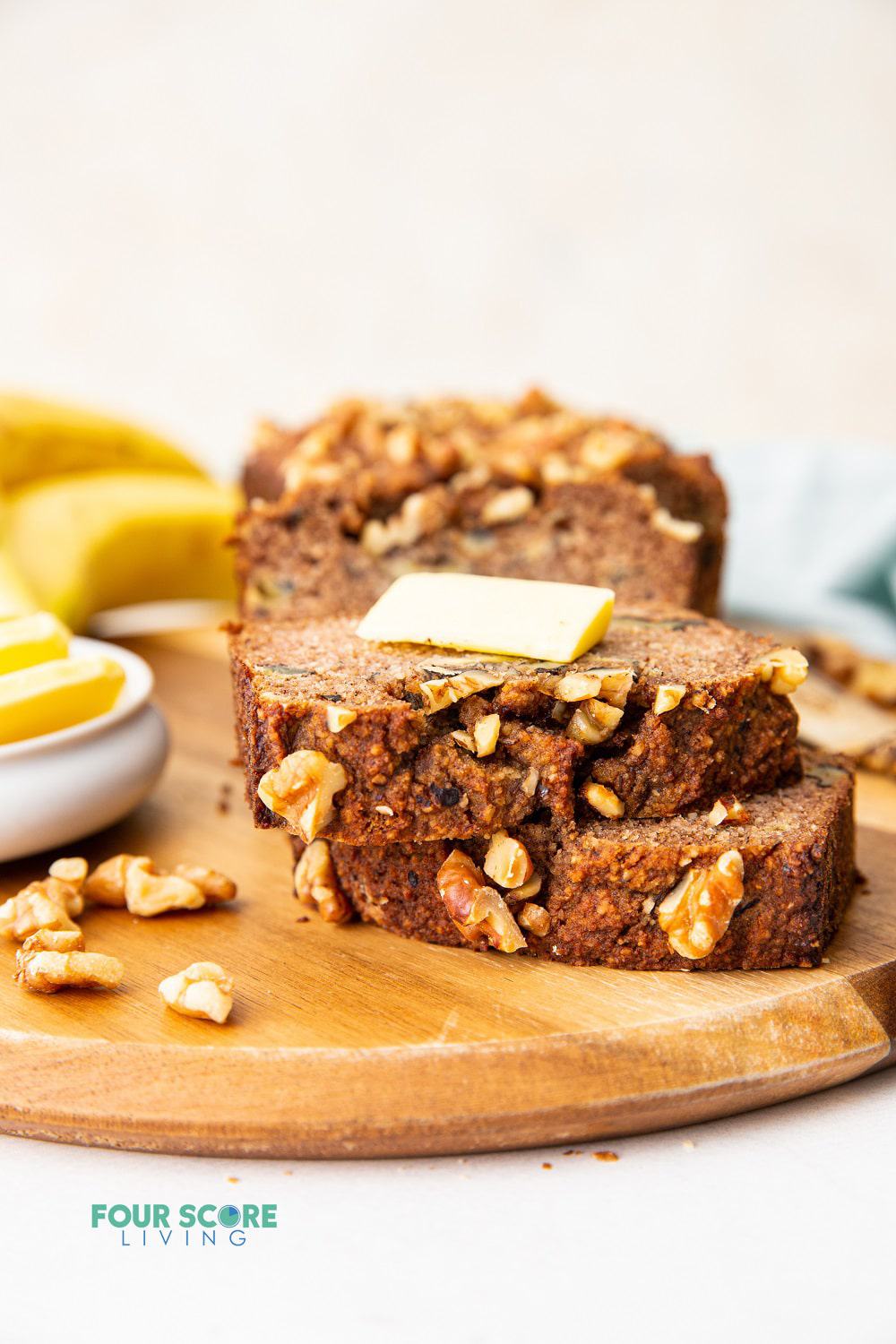 MORE KETO BAKING RECIPES
If you like this sugar-free banana bread recipe, you are going to love all of our other keto-friendly dessert recipes! Here are a few favorites to get you started.
Keto Carrot Cake has a similar spiced flavor, but it's also topped with a decadent cream cheese frosting and pretty enough to serve at any special event.
For a chocolate craving, you will love this easy recipe for Keto Brownies, or this one for a Keto Chocolate Mousse.
Do you want a keto dessert that you don't have to bake? Make Keto Peanut Butter Fudge, or a No Bake Keto Cheesecake.
We hope you enjoyed reading this article. Please help us out by leaving a quick review and star ★ rating below.
LET'S GET SOCIAL, you can follow Four Score Living on Pinterest. You can also leave a comment below if you have any questions.
Did you make this Keto Banana Bread Recipe? Please leave a comment below letting me know what you thought!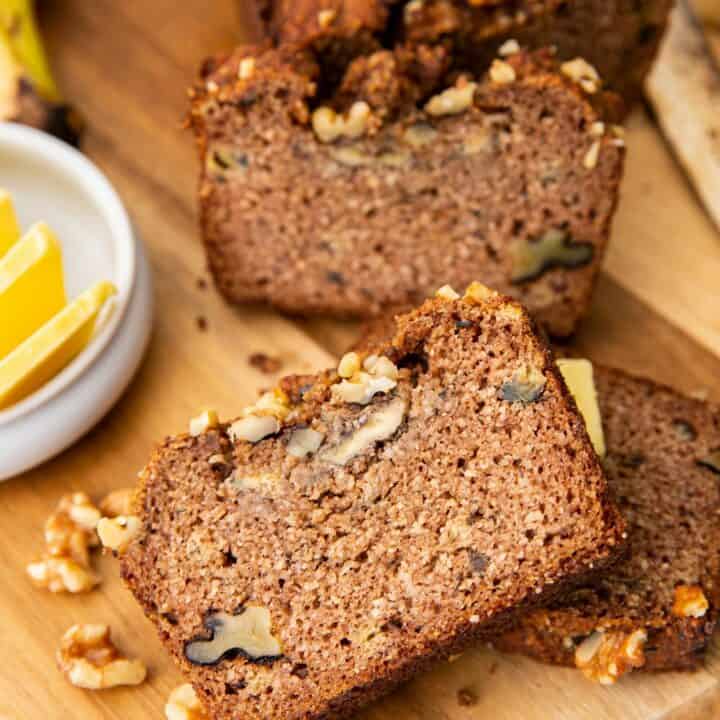 Keto Banana Bread
This keto banana bread recipe has tons of banana flavor, chopped nuts, and a tender crumb. It's a sweet, satisfying, and easy to make sugar-free treat.
Ingredients
4 large eggs
1 large banana, mashed
2 tbsp unsalted butter, melted and cooled
1 tsp vanilla extract
¼ tsp banana extract
1 ½ cup fine almond flour
2 tbsp coconut flour
⅓ cup granulated sweetener
1 tbsp cinnamon
1 tsp baking soda
⅛ tsp salt
⅓ cup chopped walnuts
Instructions
Pre-heat oven to 350F. Spray the inside of an 8-inch loaf pan with cooking spray or line it with parchment paper.
In a large bowl add the eggs, banana, butter, and vanilla. Mix until smooth.
In a separate medium bowl add the almond flour, coconut flour, sweetener, cinnamon, baking soda, and salt. Stir until combined.
Add the dry ingredients into the wet ingredients and mix until well combined.
Stir in the chopped nuts.
Transfer the batter to the loaf pan and if desired, top with additional nuts.
Cover with aluminum foil and bake for 20 minutes. Remove the foil and bake for an additional 15-20 minutes, or until the center is cooked through.
Notes
Nuts can be left out, or use chopped pecans or sugar free chocolate chips in place of the walnuts.
Your favorite low carb granulated sweetener can be used in this recipe. I suggest Lakanto or Swerve.
Nutrition Information:
Yield:

12
Serving Size:

1
Amount Per Serving:
Calories:

165
Total Fat:

13g
Saturated Fat:

3g
Trans Fat:

0g
Unsaturated Fat:

10g
Cholesterol:

67mg
Sodium:

153mg
Carbohydrates:

8g
Net Carbohydrates:

5g
Fiber:

3g
Sugar:

3g
Protein:

6g
The nutrition information for this recipe is an approximate total per serving. Please double check the nutrition information for your exact ingredients and brands.