This creamy Chocolate Avocado Pudding recipe has only a handful of simple ingredients and is easy to make.
Ready to serve in 10 minutes, this gluten free, dairy free, and vegan decadent dessert is a crowd pleaser.
Rich, chocolatey, and silky this delicious avocado pudding can be enjoyed in a variety of ways.
Serve with a scoop of our Keto ice cream or keto whipped cream to create a multilayered dessert with silky and creamy textures.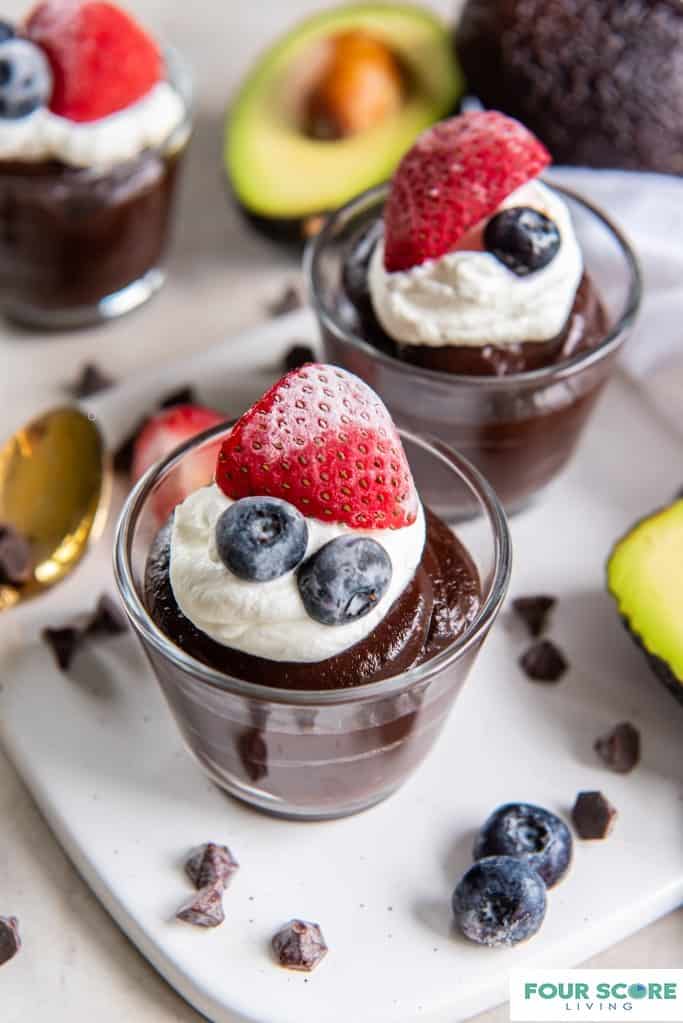 Why you'll love chocolate avocado pudding
This chocolate avocado mousse is made with fresh ripe avocados, a fruit packed with fiber and healthy fats.
There are only a handful of ingredients in this avocado pudding recipe and it can be prepared and ready to eat in less than 10 minutes.
This decadent treat feels like a splurge, a great way to satisfy any sweet tooth.
No one ever knows this rich, creamy dessert is made with avocado, as the chocolate hides the avocado flavor.
This healthy dessert is child approved!
Is avocado chocolate pudding healthy?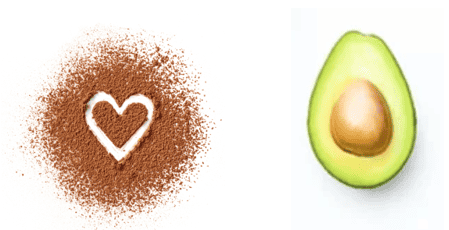 Yes, as its two main ingredients, cocoa powder and avocado, are both highly nutritious.
Cocoa powder is a good source of polyphenols that are known to have protective anti-inflammatory and antioxidant effects. This includes supporting cardiovascular health by lowering blood pressure.
Although derived from cocoa beans, cocoa powder on its own does not have the mouthfeel of creamy chocolate. Pairing it with avocado in this vegan avocado chocolate pudding recipe delivers a creamy texture as well as extra health benefits.
Avocado is a superfood rich in vitamins, minerals, fiber, and heart healthy fats.
At times referred to as "nature's mayonnaise," avocado is ideal to provide a creaminess in both sweet and savory recipes.
Avocado pudding recipe
Blending sweet, a dash of salt, and chocolate into a smooth, creamy texture makes for a sumptuous, sweet treat any time of day.
A perfect solution for a quick chocolate fix.
This creamy Chocolate Avocado Pudding recipe can be made ahead of time and stored for up to three days in the refrigerator and frozen for up to 3 weeks.
Chocolate Avocado pudding ingredients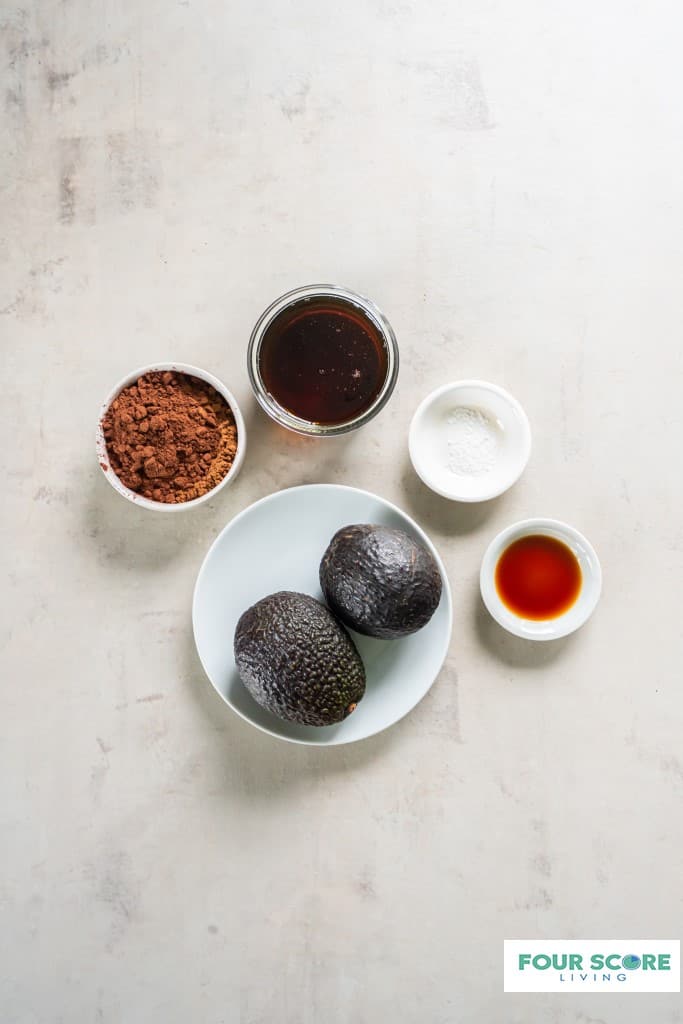 Ripe Avocados - Hass avocados are readily available in food markets and are recommended for this recipe.
Maple syrup - Adds a rich, sweet flavor to the avocado pudding. If you are on a keto diet, use a sugar free maple syrup
Cocoa Powder - Delivers a smooth, chocolatey flavor that blends well with the creamy avocado. Regular unsweetened cocoa powder works best in this recipe.
Vanilla extract - Adds depth and flavor.
Salt - Enhances the chocolate and compliments the sweetness of the pudding.
If you have any questions about the ingredients in this Avocado Chocolate Pudding recipe please leave a comment below and we will get back to you.
If you love chocolate and enjoy using healthier ingredients try our Almond Flour Chocolate Cake or Keto Brownies.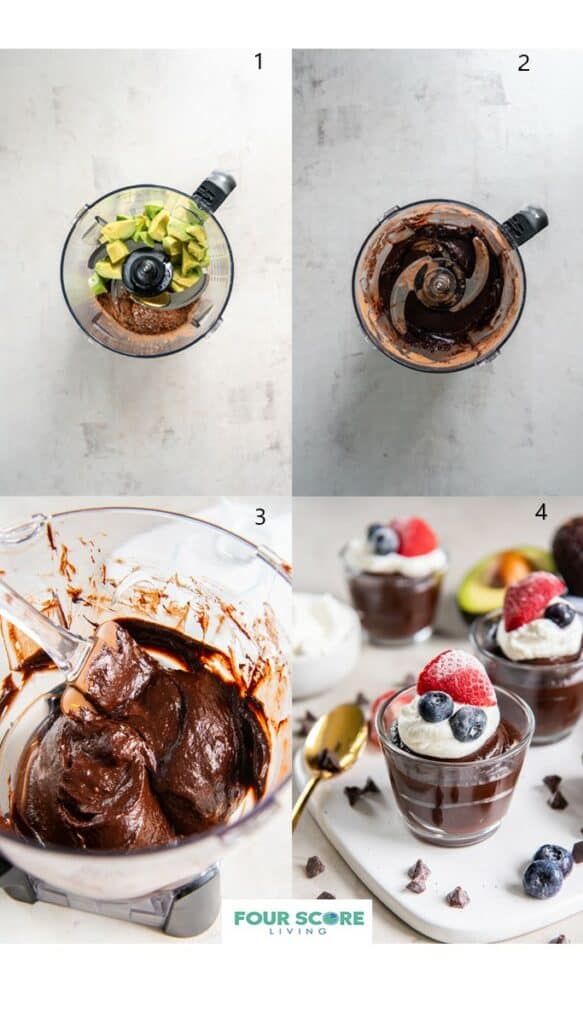 How to make creamy chocolate avocado pudding
A few simple steps are all that it takes to make this delicious and creamy pudding.
Place the flesh of both ripe avocados into your food processor, using a spoon to break up larger pieces. A high-speed blender can also be used to make this healthy chocolate pudding.
Add the cocoa powder, pure maple syrup, salt, and vanilla extract.
Blend for 2 minutes. Scrape down the sides. Blend for an additional 30 seconds or until the creamy chocolate pudding is smooth with a uniform texture.
Divide into dessert cups and enjoy. Add garnish or toppings as desired.
These steps match the photos above, showing you how to make Chocolate Avocado Pudding.
Please see the printable recipe card for specific measurements of the ingredients.
If you have any questions about the steps for making this Vegan Avocado Chocolate Pudding please leave a comment below and we will get back to you.
How to serve avocado chocolate pudding
Chilled or freshly made, this creamy pudding is delicious either way! Enjoying chocolate pudding cold or at room temperature is a personal preference.
This avocado pudding can be served in many ways. It can be enjoyed on its own or paired with ice cream or whipped cream.
The healthy recipe can be doubled and this avocado chocolate mousse can be used to fill an already baked pie crust for a no-bake chocolate pie.
It can also serve as a rich filling in between the layers of a layer cake or as the "icing" on top of a cupcake.
This chocolate avocado pudding can be garnished with fruit, chopped nuts, shredded coconut, chocolate shavings or chocolate chips. A fresh mint leaf adds color and texture when serving this vegan pudding.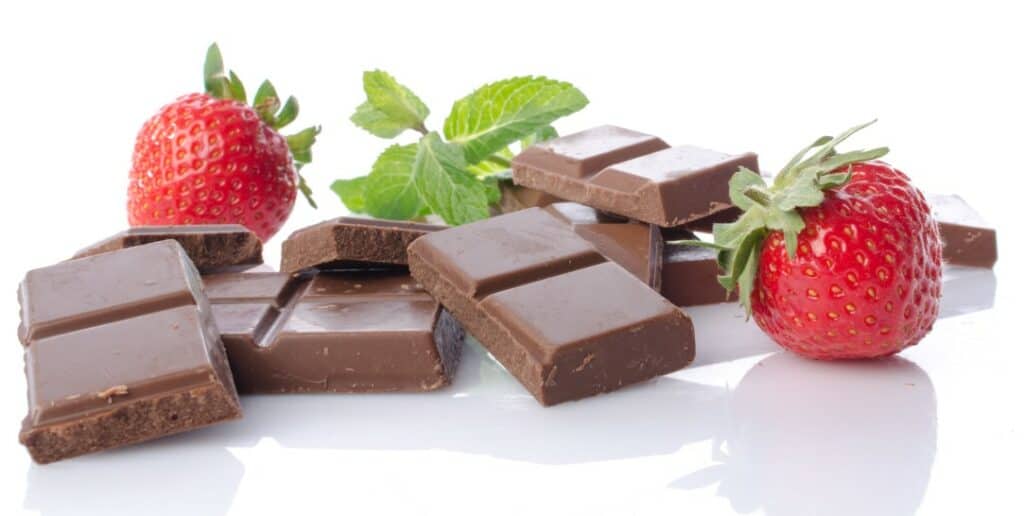 Placing a square of chocolate horizontally into this creamy pudding creates visual interest for an upscale dessert. Shaved white chocolate or white chocolate chips add a visual contrast and a touch of confection.

Tips for making chocolate avocado pudding
What is the best way to remove the flesh from an avocado?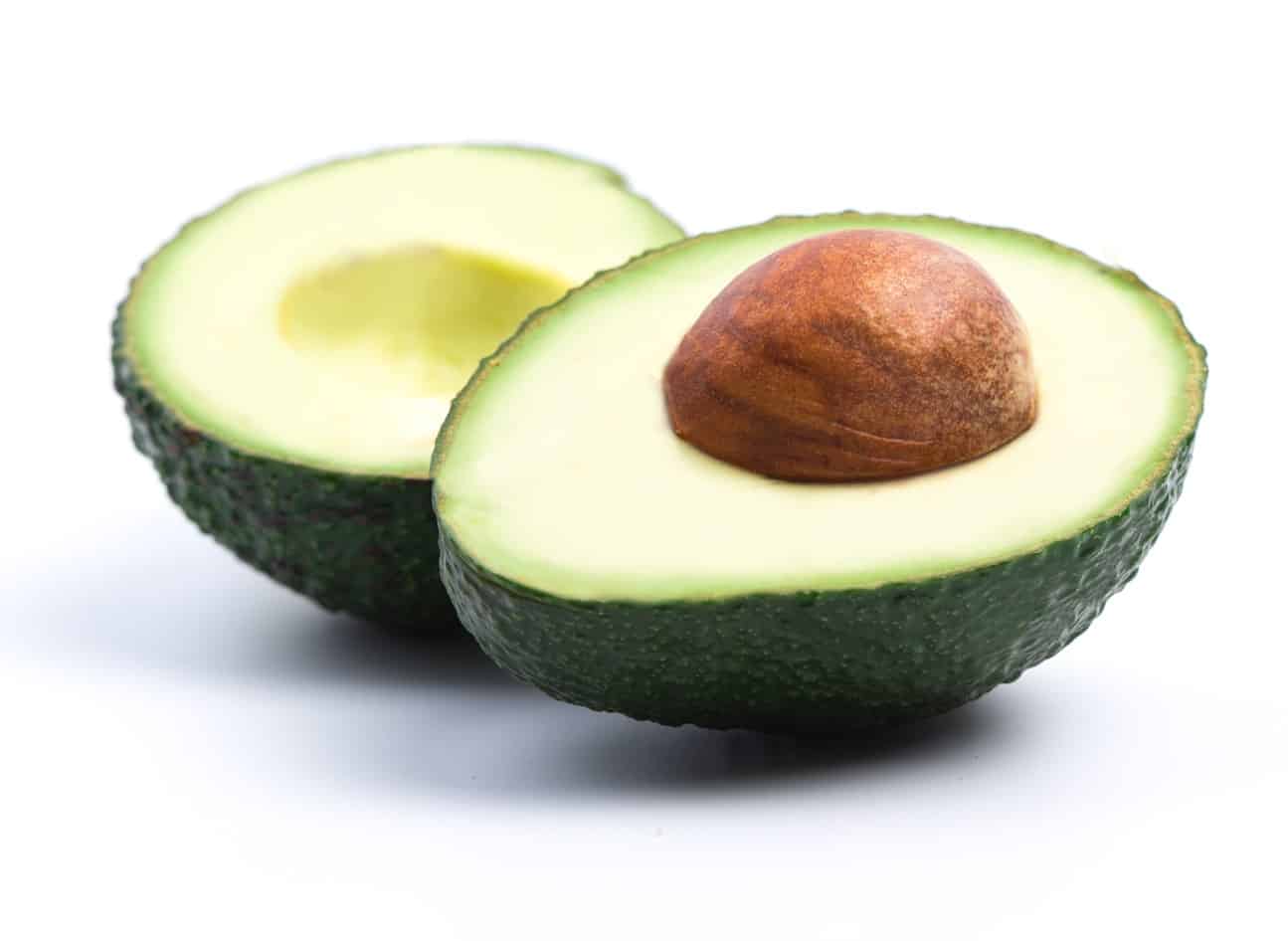 After washing the outer skin, slice each avocado in half down the middle. Remove the seed by gently lifting it out using a spoon or pressing the skin side of the halved avocado to gently push the seed out. Use a spoon to scoop out the flesh.
Can I substitute the vanilla extract?
Almond extract can be substituted to replace the vanilla extract in this avocado pudding recipe. Just be aware that it will change the flavor slightly as the vanilla blends into the other flavors, but almond extract is stronger and will stand out as its own flavor.
In addition to the vanilla extract a teaspoon of mint or orange extract may add a unique twist to this recipe if you enjoy these flavors.
As we have not tried these additional extracts, it is recommended to make the standard recipe and separate a small portion to mix in a few drops of a desired extract or flavor to ensure it is the taste that you are looking for.
If you decide to add an additional flavor, stop by and let us know how it came out.
Can I replace the maple syrup?
Yes, agave syrup will work 1:1 in this recipe. The maple syrup can also be replaced with powdered sweetener, such as powdered sugar or swerve. If using a powdered sweetener, also add ¼ cup of plant based or regular milk to ensure a smooth consistency.
What if I want a thinner pudding?
To achieve a thinner pudding with this recipe, add plant based or regular milk. For the best results, add 1 tablespoon at a time until reaching the desired consistency.
What cocoa powder should I use?
There are many cocoa powders on the market. It is recommended to use one that is unsweetened, as the maple syrup will provide the sweet flavoring in this recipe. We like Trader Joe's regular unsweetened cocoa powder.
The less processed the cocoa powder the more nutritional benefits it will deliver. Using a raw cacao powder will provide the biggest nutrient boost to this avocado chocolate pudding recipe.
How do I store Chocolate Avocado Pudding?
This vegan pudding can be made ahead and stored in the refrigerator a day or two ahead. If you have leftovers of this Chocolate Avocado Pudding, as this is a rich dessert, store this pudding in an airtight container in the refrigerator for up to 3 days.
Can I freeze Chocolate avocado pudding?
Yes, you can freeze chocolate avocado pudding in an airtight container. This has been tested for up to 3 weeks, but it would likely freeze well even longer.
To defrost, set the frozen avocado chocolate mousse out at room temperature for 30 minutes or until it softens.
This avocado pudding is also delicious to eat as it begins to soften while defrosting. It is reminiscent of old fashioned frozen custard when still cold and not completely thawed.
Does avocado pudding taste good?
We know, eating avocado for dessert doesn't sound appealing, but trust us when we say that this chocolate pudding tastes so good that no one would ever know it was made with avocadoes.
The rich chocolate flavor masks the taste of avocado, making this chocolate avocado mousse absolutely delicious.
How to make this a Keto avocado pudding recipe
Since avocado is a low carb fruit, simply replace the maple syrup with a sugar free maple syrup and this avocado mousse immediately becomes a keto friendly, sugar free chocolate pudding.
Also, ensure that the cocoa powder you use is sugar free.
Doing this one simple change makes this easy recipe work on a keto diet, as the net carbs per serving are reduced to 2.1 grams and the sugars to zero.
Other easy desserts
Keto Chocolate Mug Cake - With just over 5 minutes and a few ingredients, you can have a fudgy, chocolatey low carb mug cake made from start to finish. It's perfect for when those occasional emergency chocolate cravings hit, plus it's gluten-free and sugar-free too.
Keto Fudge - A super easy refrigerator keto fudge that only uses a few on-hand ingredients. This creamy, rich keto fudge recipe can be frozen and the recipe can be doubled or tripled. The perfect keto chocolate fudge!
Tiramisu Overnight Oats - super simple to make and it has all the flavors of a traditional Tiramisu, but in the form of overnight oats.
Love avocados? Here are some recipes
4 Ingredient Guacamole - creamy, packed full of flavor, and can be ready to eat in just 5 minutes! This easy guacamole recipe contains just 4 ingredients, but each ingredient plays an important role for a balanced and delicious guacamole.
Avocado Smoothie - Start your day with a refreshing avocado smoothie. This keto smoothie is made with only four ingredients and has the perfect combination of healthy fats and protein to keep you satisfied and energized.
Avocado Crema - easily the most delicious Mexican sauce you'll ever make. It's perfect as a creamy (and healthy) dip or brightens up savory tacos with a small dollop on top.
Salmon Rice Bowl - the perfect light and fresh meal that everyone in the family is sure to love. It's full of beautiful Asian flavors and has just the right amount of crunch from the fresh cucumbers and carrots.
We hope you enjoyed reading this article. Please help us out by leaving a quick review and star ★ rating below.
LET'S GET SOCIAL, you can follow Four Score Living on Pinterest. You can also leave a comment below if you have any questions.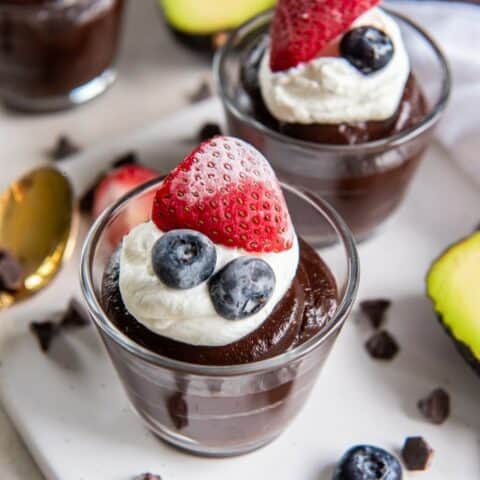 Avocado Chocolate Pudding
Ready to enjoy in 10 minutes, this Avocado Chocolate Pudding is rich, silky, and chocolatey.
Ingredients
2 ripe Hass avocados
½ cup of sugar free maple syrup
½ cup of cocoa Powder
2 teaspoons of vanilla extract
¼ teaspoon salt
Instructions
Place the flesh of both avocados into your food processor or blender and use a spoon to break up any larger pieces.
Add the cocoa powder, maple syrup, salt, and vanilla
extract.
Blend for 2 minutes. Scrape down the sides. Blend for an
additional 30 seconds or until the pudding is smooth with a uniform texture.
Divide into dessert cups and enjoy, or garnish as desired.


Notes
Use ripe Hass avocados. Break up larger pieces of avocado flesh prior to blending the ingredients.
Nutrition Information:
Yield:

4
Serving Size:

1
Amount Per Serving:
Calories:

266
Total Fat:

12g
Saturated Fat:

1g
Trans Fat:

0g
Unsaturated Fat:

8g
Cholesterol:

0mg
Sodium:

143mg
Carbohydrates:

39g
Fiber:

7g
Sugar:

25g
Protein:

3g
The nutrition information for this recipe is an approximate total per serving. Please double check the nutrition information for your exact ingredients and brands.