Creamy, tangy, savory and delicious, this easy Marry Me Chicken recipe is super simple to make and quite scrumptious.
If you would like to try another creamy chicken dish, our Tuscan Chicken recipe is perfect for you.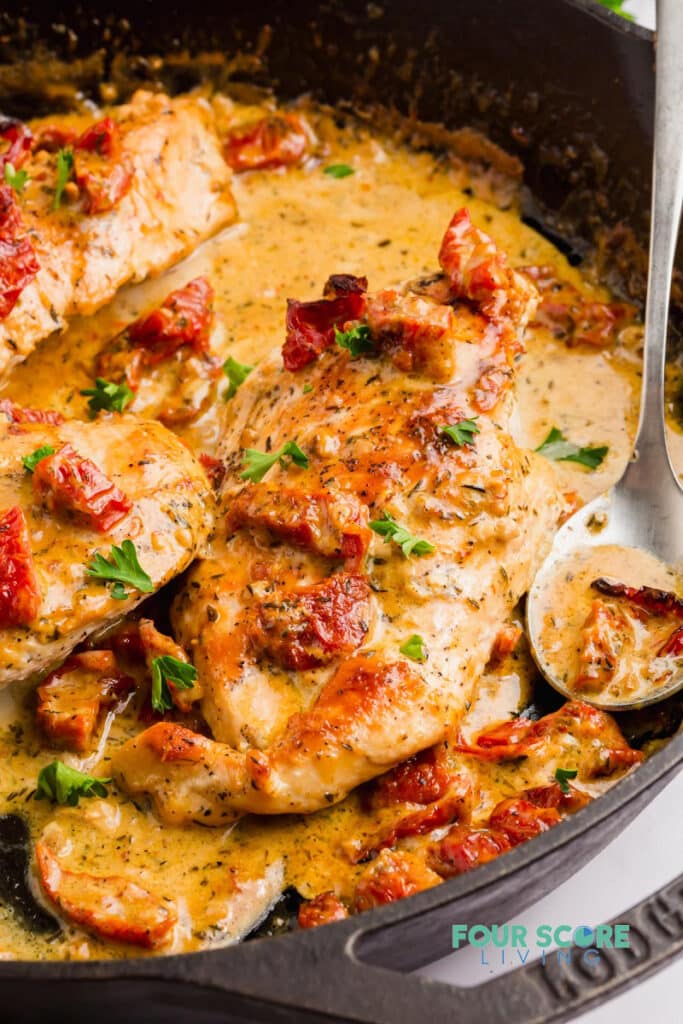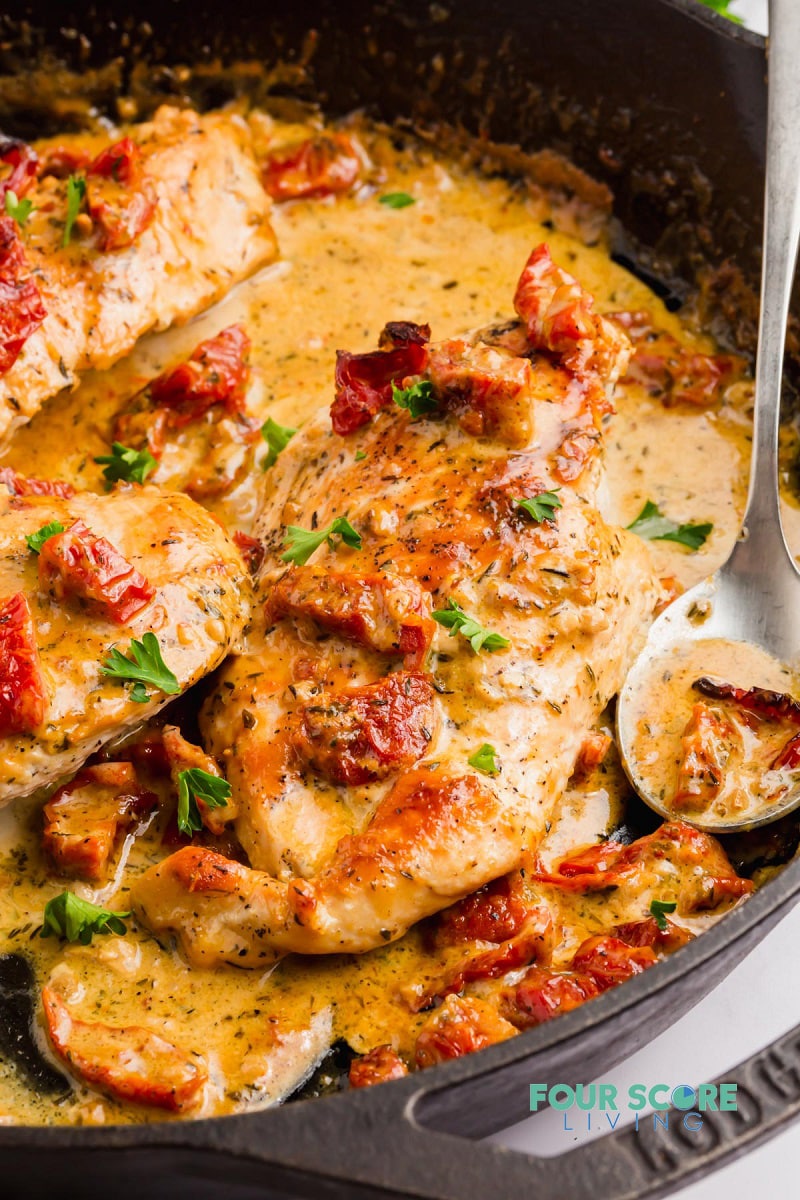 EASY MARRY ME CHICKEN RECIPE
This Marry Me Chicken recipe, also sometimes called Man Pleasing Chicken (which is comical in my opinion), has been around for quite a while.
Garlic, sun-dried tomatoes, red pepper flakes, grated parmesan cheese, and a ½ cup heavy cream all come together to create this decadent chicken dish in a cream sauce that nobody can get enough of.
Marry Me Chicken is made in one pan - a large cast iron skillet is recommended - and ready in under 40 minutes. Perfect for those busy weeknights.
If you love easy chicken dinner recipes try this Oven Baked Chicken Thighs recipe next.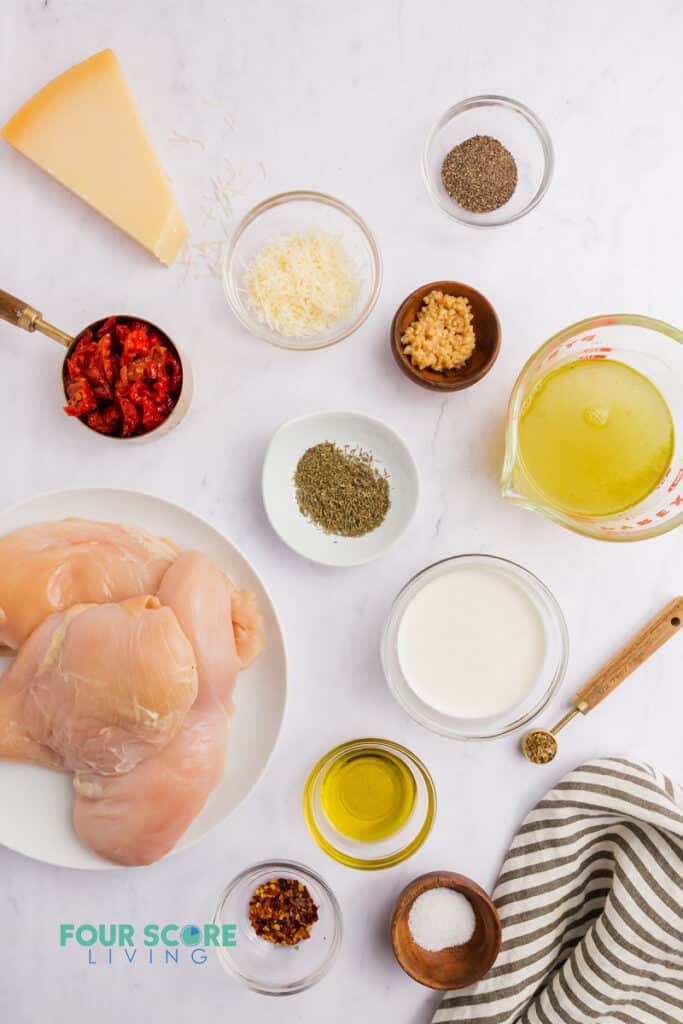 INGREDIENTS IN EASY MARRY ME CHICKEN
Olive Oil - Sear your chicken in olive oil before making the delicious creamy sauce.
Chicken Breasts - Boneless skinless chicken breasts work really well for this recipe as they cook evenly and are already perfectly portioned.
Salt - Proper seasoning is key to making marry me chicken.
Black Pepper - Another needed seasoning for your chicken breasts.
Garlic - Minced fresh garlic, and a good amount of it, is part of what makes this delicious chicken recipe so amazingly flavorful.
Thyme - Dried or fresh thyme adds an herbal warmth to the sauce.
Oregano - Dried Oregano works with the thyme to amp up the savory flavors of the dish.
Red Pepper Flakes - We use ½ of a teaspoon to add just a little bit of heat. Add more or less to your liking.
Chicken Broth or Chicken Stock - We suggest using a low sodium broth so you can control the amount of salt in the dish.
Heavy Cream - This is what gives the sauce for the chicken its smooth creamy texture.
Sun-dried Tomatoes - This is probably the star ingredient in this dish. Sun-dried tomatoes have a sour tang to them that elevates the flavors perfectly.
Parmesan Cheese - Parmesan adds umami flavor and helps to thicken the sauce.
If you have any questions about this easy chicken recipe, please leave a comment below and I will get back to you.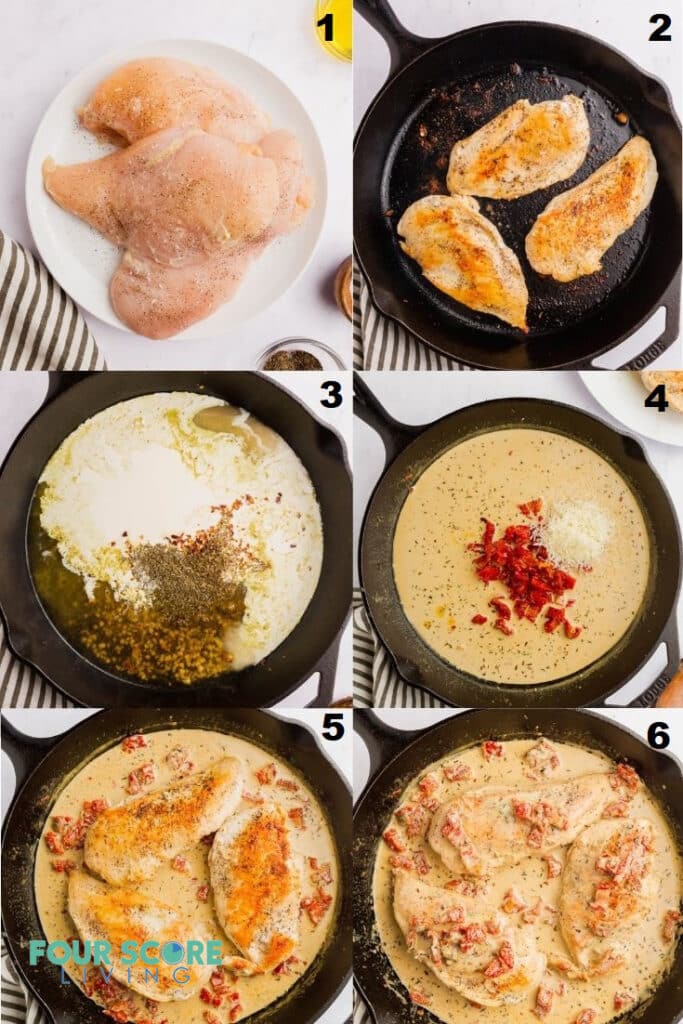 HOW TO MAKE EASY MARRY ME CHICKEN
Season both sides of the skinless chicken breasts with salt and pepper.
In a preheated large skillet over medium, sear the chicken in olive oil for about 5 minutes or until golden brown. Set chicken aside.
Add the minced garlic to the hot skillet and cook until fragrant. Add the thyme, oregano, red pepper flakes, chicken broth, and heavy cream. While stirring often with a wooden spoon, scrape the browned bits off the bottom of the pan
Stir in the sun-dried tomatoes and parmesan cheese.
Return the cooked chicken to skillet and spoon the sauce over the chicken.
Bake for 18-20 minutes or until the chicken is cooked through. You can check for 165F with a meat thermometer.
These numbered steps match the numbered photos above and are for illustration purposes. For the complete list of ingredients and instructions, please see the printable recipe card below.
For a dessert option, you might like these cherry pineapple popsicles or our Italian hangover cake. If you are living the low carb life, try our Low Carb Lemon Cake.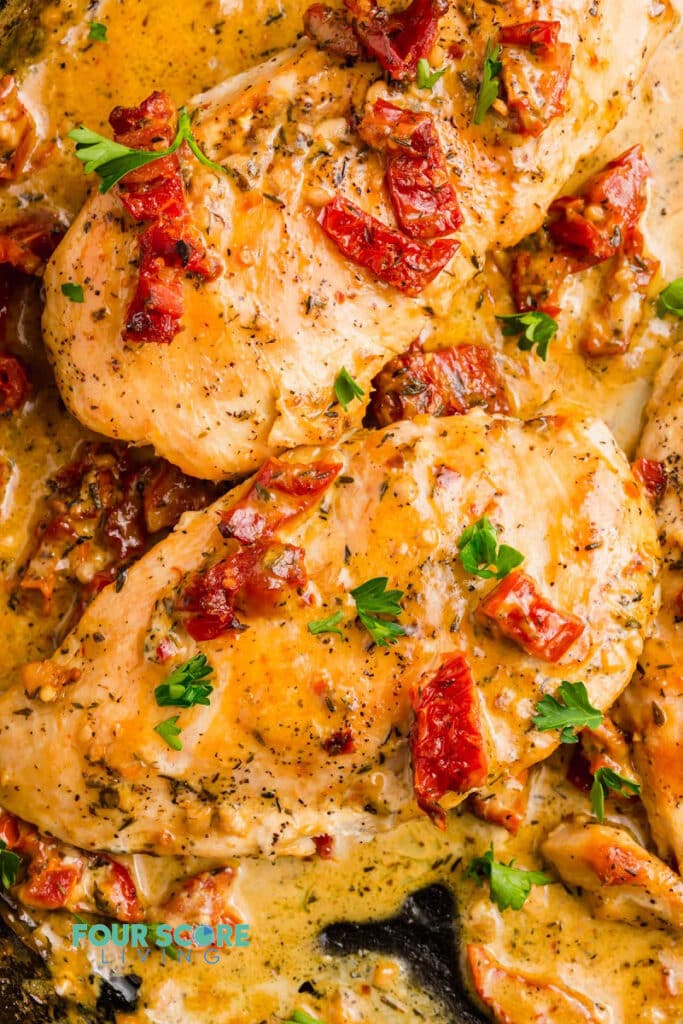 HOW MANY CARBS ARE IN MARRY ME CHICKEN?
This Keto Marry Me Chicken is definitely low on carbs, with each serving only having about 5 grams of net carbs.
For a full and filling keto meal, serve this easy chicken breast recipe with your favorite vegetables or cauliflower rice to soak up all of the delicious creamy sun-dried tomato sauce.
For another keto delicious sauce mopping option, I recommend trying our Keto Rolls or using the sauce in this recipe on our Zucchini Noodles or Low Carb Stuffing.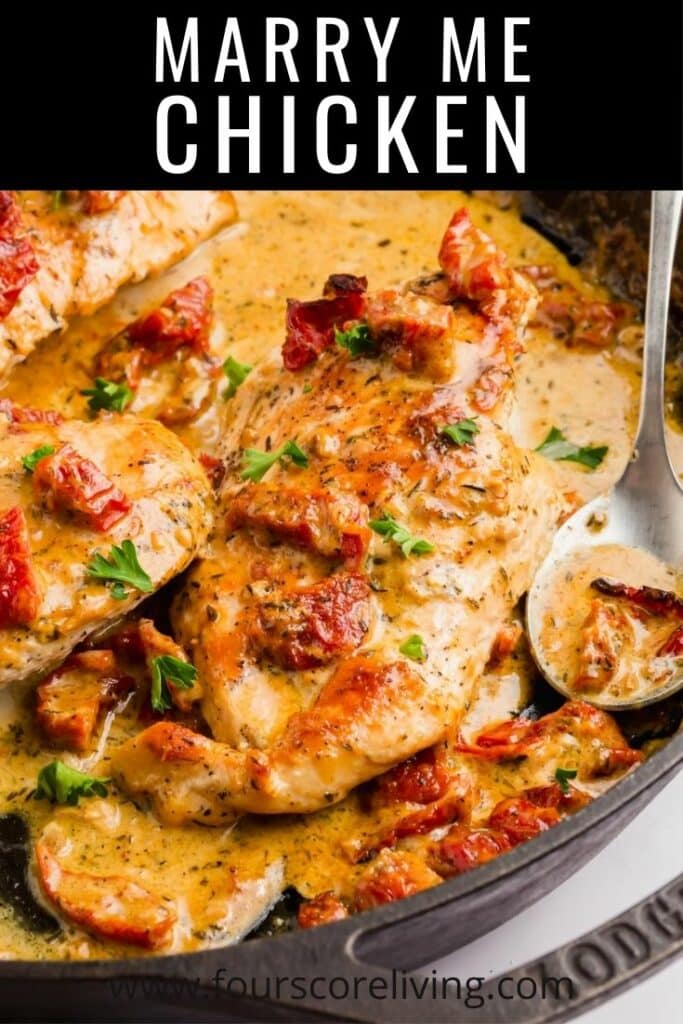 WHAT KIND OF CHICKEN SHOULD I USE FOR MARRY ME CHICKEN?
Boneless, skinless chicken breasts are used to make this version of Keto Marry Me Chicken, and this recipe is designed for that.
If you want to, you can use other boneless cuts of chicken such as boneless, skinless chicken thighs or tenderloins. The cook time for those should be about the same, but always check for doneness of 165F with chicken.
Using any bone in cuts of chicken will make the cook time longer, but we would love to hear if you've tried it.
If you would like another easy chicken recipe you'll also want to try this Caprese Stuffed Balsamic Chicken. For a savory beef recipe, you'll want to make this Instant Pot Pot Roast or our Sirloin Tip Roast.
WHAT TO SERVE WITH MARRY ME CHICKEN
Marry me chicken is a delicious creamy chicken dish that pairs well with a variety of side dishes. Here are a few ideas:
Pasta - The perfect complement to our delicious marry me chicken. For the best result, after you remove the pan from the oven, take the juicy chicken breasts out and spoon some sauce on top of it.
Place the cooked pasta in the pan with the remaining creamy parmesan sauce. Gently toss it over medium heat for a minute or two. This way the pasta is thoroughly coated in the creamy sauce.
On a low carb diet, try our Garlic Parmesan Zucchini Noodles instead.
Potatoes - Use the creamy sauce as a gravy on mashed potatoes or pour it over roasted potatoes.
Rice - a great side dish that will soak up this delicious sauce. If on a keto diet, use cauliflower rice.
Vegetables - This parmesan cream sauce will make any vegetable taste good. Pour it over Lemon Asparagus or an Keto Brussels Sprouts.
Bread - Created just for you to soak up the sundried tomato cream sauce. You can make a nice garlic bread or some Keto Rolls.
Creamy Polenta - make your own or purchase some premade polenta from your local grocery store.
HOW TO STORE MARRY ME CHICKEN
HOW TO STORE MARRY ME CHICKEN IN THE FRIDGE
Before storing any meal, you should always let it cool to room temperature first. Place it in an airtight container and store in the refrigerator for up to 4 days.
CAN MARRY ME CHICKEN BE FROZEN?
We don't love freezing creamy recipes as they don't always thaw to the same consistency as when freshly made. If you want to freeze any leftovers, place them in an airtight container or freezer zip lock bag. Store up to 3 months.
HOW TO REHEAT MARRY ME CHICKEN
Whether from the fridge or frozen, it is best to reheat on the stovetop over medium-low heat. Adding a little bit of chicken broth to the pan will ensure the chicken stays nice and moist.
WHY IS IT CALLED MARRY ME CHICKEN?
It's said that if you cook this for your partner, a marriage proposal may be on its way. Definitely the best chicken recipe for a date night or special occasion.
Yes, it really is that good. So be careful who you cook it for.
CAN MARRY ME CHICKEN BE MADE AHEAD OF TIME?
Yes, you can make Marry Me Chicken in advance. Once it has cooled, store it in an airtight container in the fridge for up to 4 days. Simply place it in a pan on the stove to reheat.
CAN YOU MAKE MARRY ME CHICKEN WITHOUT TOMATOES?
Yes, you can definitely make this easy marry me chicken recipe without tomatoes. Not everyone is a fan of tomatoes. There is no need to replace them with anything, but feel free to explore.
BEST TIPS FOR MAKING THIS EASY MARRY ME CHICKEN RECIPE
We like to leave the chicken breast whole in our recipe, but to shorten the cook time you can cut them into chicken cutlets or pound them with a meat mallet.
Definitely try to use freshly grated parmesan cheese. It's simply fresher and has so much better flavor. Use a box grater or handheld cheese grater.
Sun-dried tomatoes usually come packaged in oil. Add a little bit to the pan with the olive oil and sear the chicken. It's a simple way to up the flavor profile of the chicken.
Speaking of searing. Please let your skillet heat up before you add the chicken. Simple way to test is with a drop of water. It should immediately fizz when it hits the pan.
MORE KETO CHICKEN RECIPES
Chicken and Brussel Sprouts - A super simple sheet pan dinner that is quick to make and requires minimal ingredients.
Chicken Bacon Ranch Casserole - You'll love Keto Chicken Bacon Ranch Casserole. It's the ultimate cheesy, rich, comfort food that your whole family will enjoy. If it's too cheesy for you, might we suggest making a keto chicken bacon ranch burrito with our low carb tortillas?
Keto Chicken Fried Steak - Coated in a crispy Parmesan and pork rind crust and smothered in sausage gravy, you won't believe how filling and delectable this chicken fried steak is. We like to enjoy this chicken fried steak with a big helping of keto broccoli salad.
Keto Chicken Fajitas - Keto Fajitas are a simple and easy way to create a flavorful, high protein, low carb dinner. This chicken is marinated in a delicious blend of spices, lime and seasonings. Prefer taco seasoning flavors? No problem, use a low carb taco seasoning recipe.
Keto Chicken Enchiladas - Keto Enchiladas with chicken, melty cheese, and a mildly spicy, savory sauce will quickly become a family favorite meal. We like to make ours in these Keto Tortillas. Finish your chicken enchiladas with your favorite toppings – we like this keto queso and keto salsa.
Low Carb Chicken Taco Soup – Super simple to make and uses minimal ingredients! Top this delightful keto chicken taco soup with your favorite toppings. We like to top it with sour cream, cheese, and sliced jalapenos for a comforting meal. Add some keto cheese chips or keto tortilla chips on the side.
Keto Buffalo Chicken Dip – This keto buffalo dip is insanely delicious. It's loaded with lots of healthy fats and protein and it's great as a meal or an appetizer. This recipe only uses a handful of ingredients and it's easy to make.
Keto Chicken Wings – Keto recipes don't get any easier than this keto chicken wings recipe. These little tasty chicken wings are super flavorful and filling. Just a note, they can get messy. Dip them in different sauces or some keto BBQ sauce, and enjoy!
Creamy Stuffed Chicken Florentine - This recipe is super creamy and dreamy and it's full of healthy fats and protein. We'd serve it over cauli-rice or hearts of palm pasta.
We hope you enjoyed reading this article. Please help us out by leaving a quick review and star ★ rating below.
LET'S GET SOCIAL, you can follow Four Score Living on Pinterest. You can also leave a comment below if you have any questions.
Did you make this Easy Marry Me Chicken? Please leave a comment below letting me know what you thought.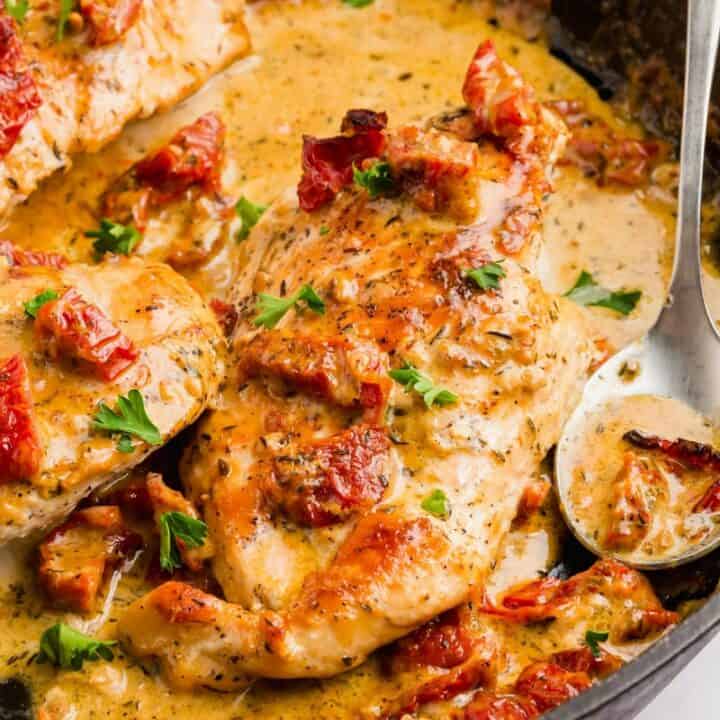 Easy Marry Me Chicken
Creamy, tangy, savory and delicious, this easy Marry Me Chicken recipe might just make anyone you serve it to fall in love.
Ingredients
1 tablespoon olive oil
3-4 chicken breasts (about 1 ½ lbs.)
1 teaspoon salt
1 teaspoon pepper
3 cloves garlic, minced
1 teaspoon dried thyme
½ teaspoon dried oregano
½ teaspoon red pepper flakes
¾ cup low sodium chicken broth
½ cup heavy cream
¼ cup fresh-grated parmesan cheese
Instructions
Preheat your oven to 375F degrees.
In a large cast iron skillet (or oven-safe skillet) heat oil over medium heat.
Season both sides of the chicken with salt and pepper.
Sear both sides of the chicken, about 5 minutes per side. Transfer chicken to a plate; set aside.
Add the minced garlic to the hot skillet and cook for 1 minute. Add the thyme, oregano, red pepper flakes, chicken broth, and heavy cream. Cook for 5 minutes, stirring often.
Stir in the sundried tomatoes and parmesan cheese.
Return the cooked chicken to skillet and spoon the sauce over the chicken.
Bake for 18-20 minutes or until the chicken is cooked through.
Serve warm with your favorite sides.
Notes
Use a cast iron skillet or other oven-safe skillet to make this recipe so that you can finish it in the oven.
It's helpful to have all of your ingredients measured and ready before you start making the sauce. This helps to keep the kitchen neat and the cooking quick.
Recommended Products
As an Amazon Associate and member of other affiliate programs, I earn from qualifying purchases. They never cost you extra.
Nutrition Information:
Yield:

4
Serving Size:

1
Amount Per Serving:
Calories:

387
Total Fat:

21g
Saturated Fat:

10g
Trans Fat:

0g
Unsaturated Fat:

9g
Cholesterol:

141mg
Sodium:

760mg
Carbohydrates:

6g
Net Carbohydrates:

5g
Fiber:

1g
Sugar:

4g
Protein:

42g
The nutrition information for this recipe is an approximate total per serving. Please double check the nutrition information for your exact ingredients and brands.
Easy Marry Me Chicken Recipe