Crispy, Parmesan Roasted Brussels Sprouts that taste incredible, are simple to make, and are ready in four easy steps.
This Brussels Sprouts recipe is naturally low carb, keto, gluten-free, sugar-free, and nut-free.
Serve these Roasted Brussels Sprouts with Low Carb Meatballs for a complete and filling low carb meal.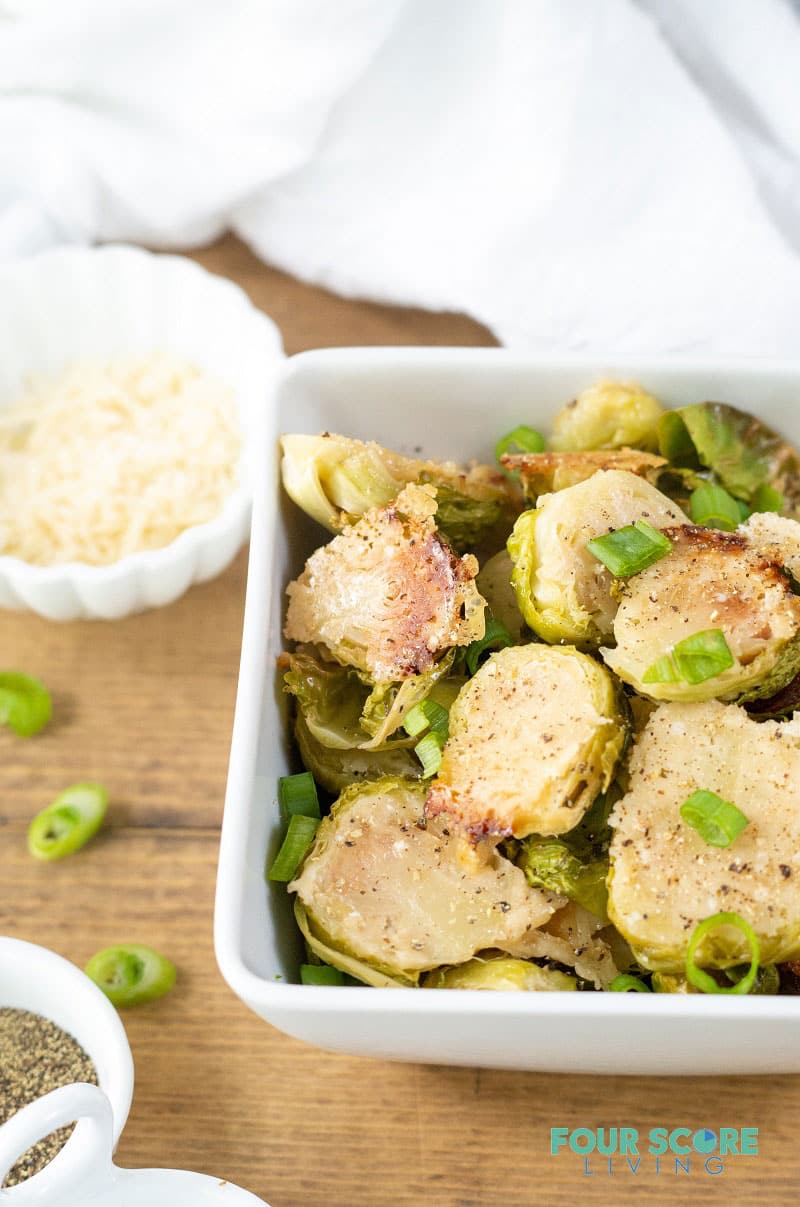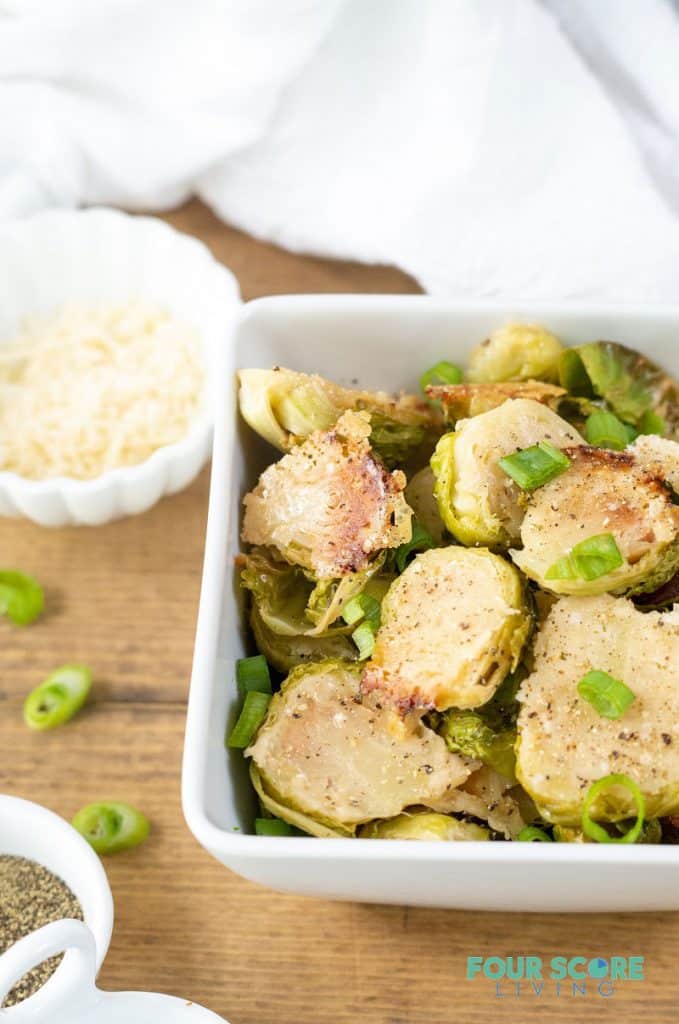 These roasted Brussels sprouts are going to be your new favorite Brussels sprouts recipe!
I really enjoy the cheesy, salty goodness that makes these Parmesan Brussels Sprouts so tasty.
And I appreciate how simple this Brussels Sprouts recipe is to make. Only two ingredients, four simple steps, and you have some enjoyable Roasted Brussels Sprouts.

My kids asked me the other day if it was Brussels Sprouts or Brussel Sprouts. I explained that it's Brussels Sprouts because they were named after the town of Brussels and of course one of my kids argued with me.
It doesn't matter if you pronounce it Brussels Sprouts recipe or Brussel Sprouts recipe, you're going to actually like these tiny little vegetables after you make these Parmesan Roasted Brussels Sprouts.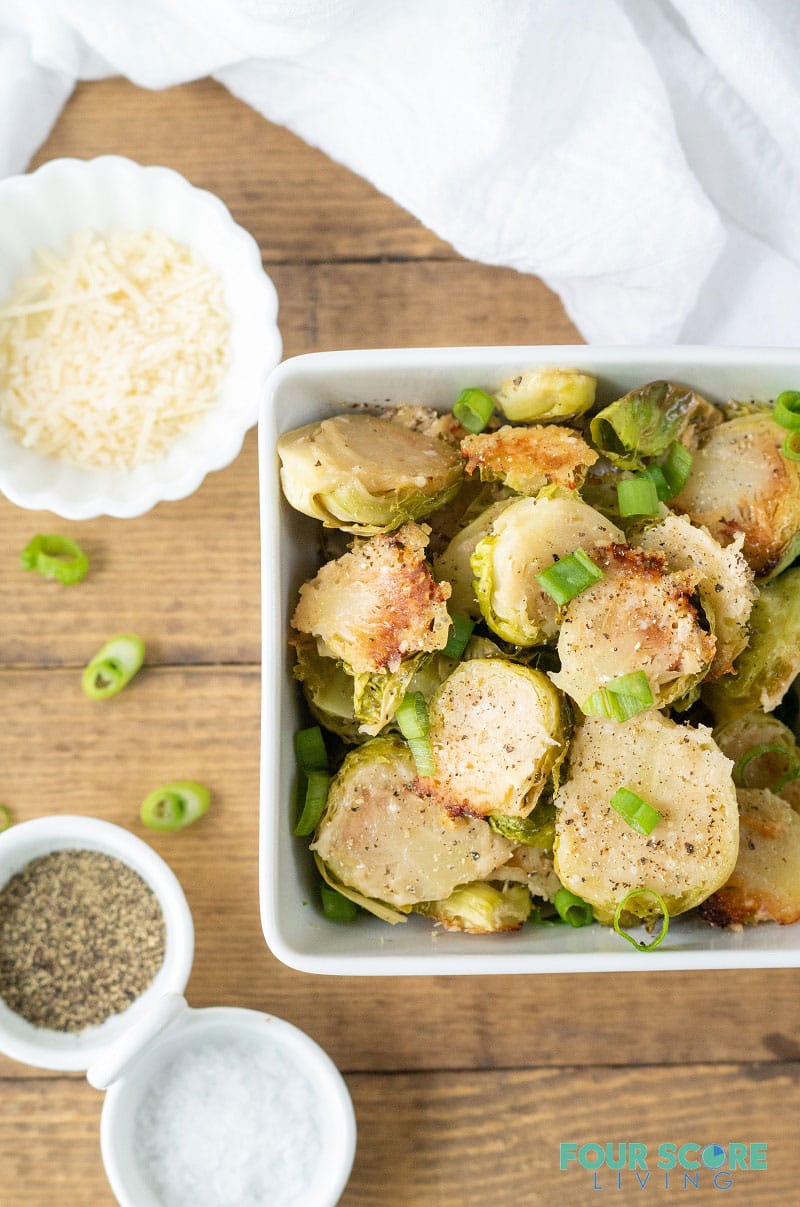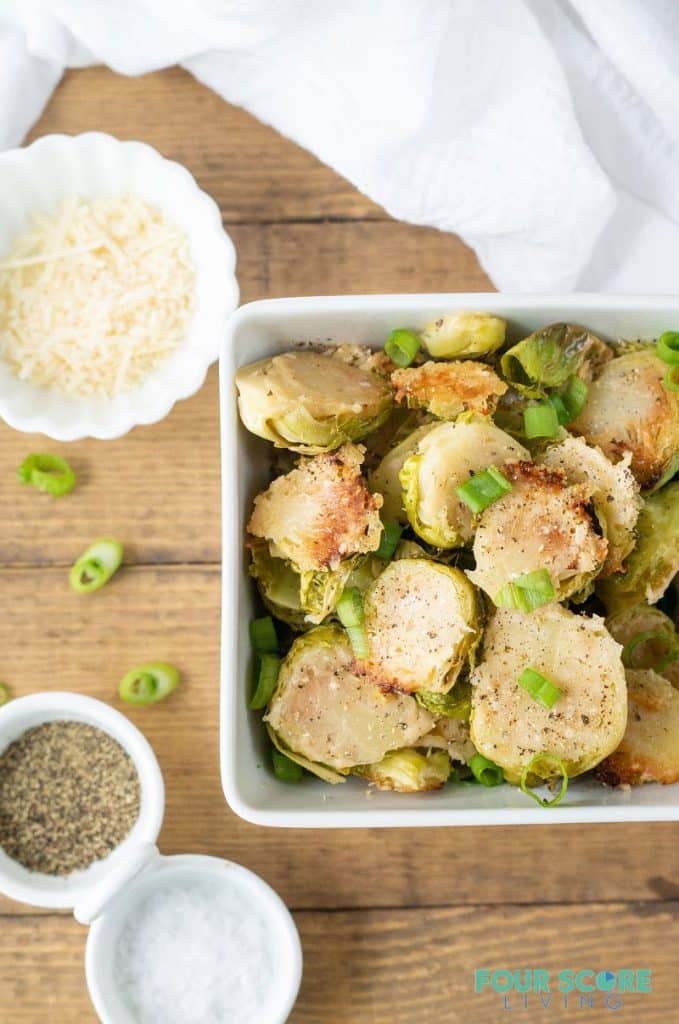 How to make Brussels Sprouts taste good
If you like the taste of Brussels Sprouts without any seasoning, sauce, or cooking then good for you! Eat away, my friend.
ut if you're like 99% (okay maybe not that many) of humans then you need to liven up your Brussels Sprouts recipe before you commit to eating them.
Brussels sprouts uncooked and unseasoned don't taste too good, in most people's opinions.
Depending on the conditions they were grown in, they can taste really bitter or not bitter at all. It sucks because they are actually good for you.
You never really know what your going to get at the store but there are a few things you can do to make Brussels Sprouts taste better.
Season or Sauce your Brussels Sprouts - When I say season, I mean drown them in something - seasoning, sauce, anything.
I know you're probably chuckling, but it's true. If you fry Brussels Sprouts in bacon fat, you are drowning them in salty, fatty goodness. If you add salt and pepper, you are covering up the flavor with other seasons.
Roasted Brussels Sprouts - You can toss Brussels Sprouts with olive oil and sea salt and bake them in the oven at 425F for 14-20 minutes or until they are brown and turn crunchy.
Super tasty! But I think any vegetable cooked this way is tasty.
Roasted and Sauced - Here me out... what if your roasted your Brussels sprouts AND covered them in sauce? Maybe a sauce that's a mix of mayonnaise and sriracha?
Delicious and you're still getting the benefits of eating vegetables.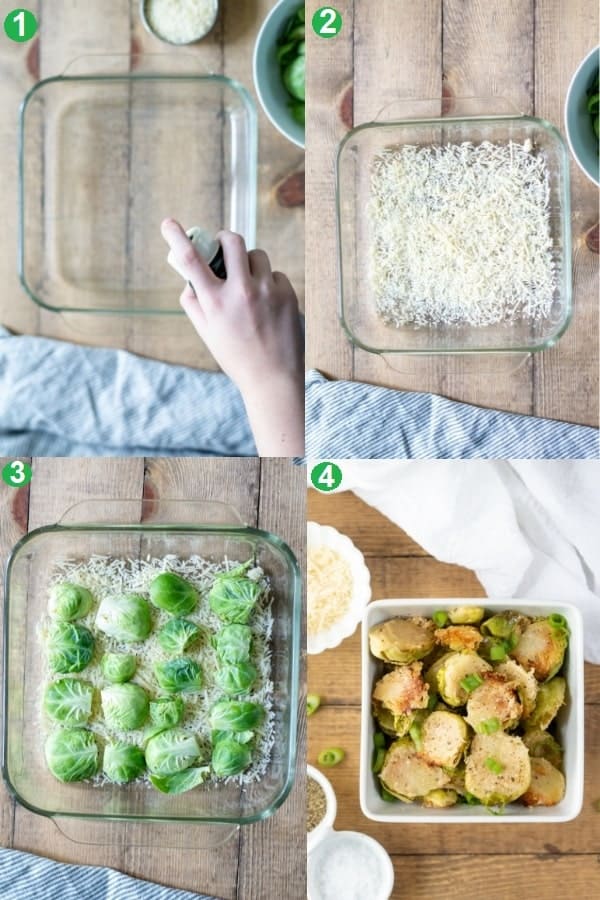 Brussels Sprouts are little vegetables that look like cabbages harvested too early. They are in the same vegetable family as cabbage but they are not little cabbages.
These Parmesan Roasted Brussels Sprouts are our favorite way to enjoy Brussels Sprouts.
There are only two ingredients in this Brussels Sprouts Recipe: Brussels Sprouts and Parmesan. We don't count oil as an ingredient because we're using it to coat the glass pan.
Parmesan doesn't typically release enough oil when its cooked to keep it from sticking to the pan, so we oil it.
Ingredients in Parmesan Roasted Brussels Sprouts
Brussels Sprouts, cut in half
½ cup shredded Parmesan cheese
If you can't do dairy, see the section above on how to make Brussels Sprouts taste good. There's a roasting option that's dairy-free.
How to make Parmesan Roasted Brussels Sprouts
There are only four easy steps to make this Brussels Sprouts recipe.
Spray a 9" square baking dish with oil.
Sprinkle Parmesan evenly over the bottom of the pan.
Arrange halved Brussels Sprouts over the Parmesan cheese.
Bake until golden brown and crispy.
That's it! When your Brussels Sprouts start to cool out of the oven the Parmesan cheese will harden. Use a spatula to scoop your tasty Brussels Sprouts out.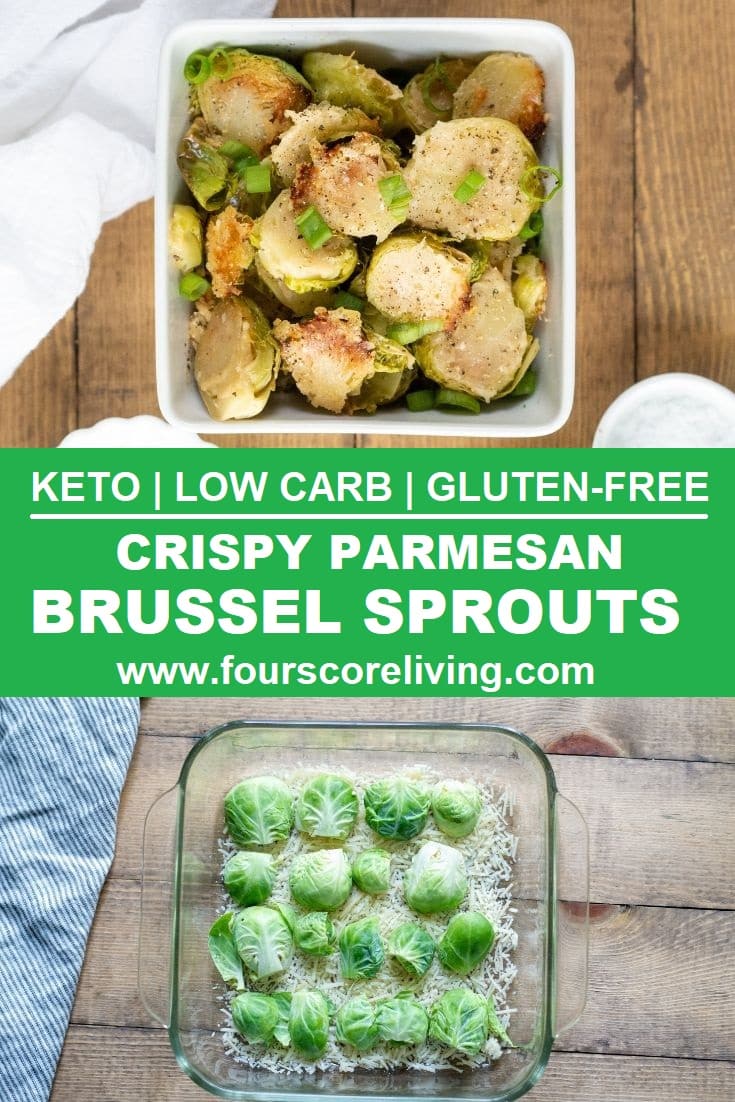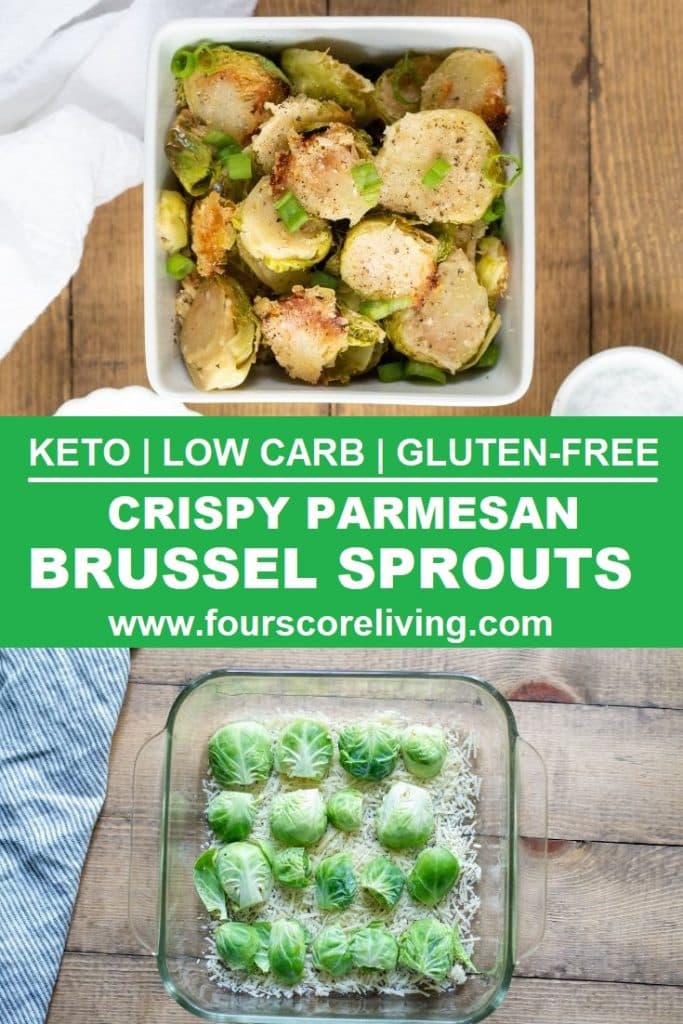 More Roasted Brussels Sprouts Recipes
Brussels Sprouts are low in calories, and high in fiber and vitamin A and C which makes them a great vegetable to enjoy when you are eating low carb.
If you love them, you'll also want to make these Air Fryer Brussel Sprouts.
There's not much else we can say about Roasted Brussels Sprouts other than they are good for you, naturally low carb and keto, and you might actually like them if you try them.
So, tell us -what is your favorite Brussels Sprouts recipe? We want to know so we can try it too!
Our Favorite Kitchen Tools:
What's your favorite kitchen tool? Leave a comment below letting us know.
LET'S GET SOCIAL, you can follow Four Score Living on Pinterest, Facebook, and Instagram. You can also leave a comment below if you have any questions.
Did you make these Parmesan Roasted Brussels Sprouts? Please leave a starred review in the recipe card and a comment below telling us what you thought!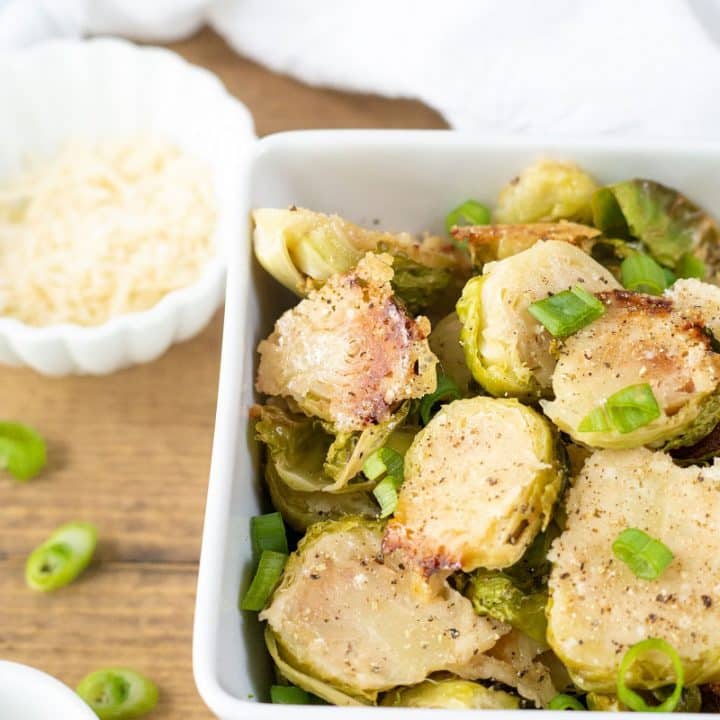 Parmesan Roasted Brussels Sprouts - Easy Brussels Sprouts Recipe!
Yield:
2 cups Roasted Brussels Sprouts
Additional Time:
10 minutes
Crispy, Parmesan Roasted Brussels Sprouts that taste incredible, are simple to make, and are ready in a few easy steps.
Ingredients
8 oz. fresh Brussel Sprouts, cut in half
½ cup grated Parmesan Cheese
Instructions
Preheat your oven to 425F. Spray a 9" square baking pan with oil.
Sprinkle shredded Parmesan cheese over the bottom of the baking pan.
Arrange Brussels Sprouts halves over the top of the Parmesan cheese.
Bake for 30 minutes or until the Parmesan cheese and Brussels sprouts turn brown.
Remove from the oven and let cool for 10 minutes. This will allow the cheese to harden.
Serve warm.
Notes
If you use frozen Brussels Sprouts they will release water while they cook and be soggy at the end of the baking time. Don't do this, it's not enjoyable.
You can use pre-grated Parmesan cheese, or grate it fresh.
Nutrition Information:
Yield:

4
Serving Size:

½ cup
Amount Per Serving:
Calories:

73
Total Fat:

4g
Saturated Fat:

2g
Trans Fat:

0g
Unsaturated Fat:

1g
Cholesterol:

11mg
Sodium:

237mg
Carbohydrates:

6g
Fiber:

3g
Sugar:

1g
Protein:

5g
This nutrition information is an estimate. Please double check all ingredients.