White Beans are tender, versatile, and one of the easiest (and quickest) ways to make a delicious and filling side dish. This White Bean Recipe is bright and fresh because of the addition of lemon juice and fresh herbs.
Because we use canned white beans, there is no need to soak beans overnight, making this a dish you can throw together in just 5 minutes!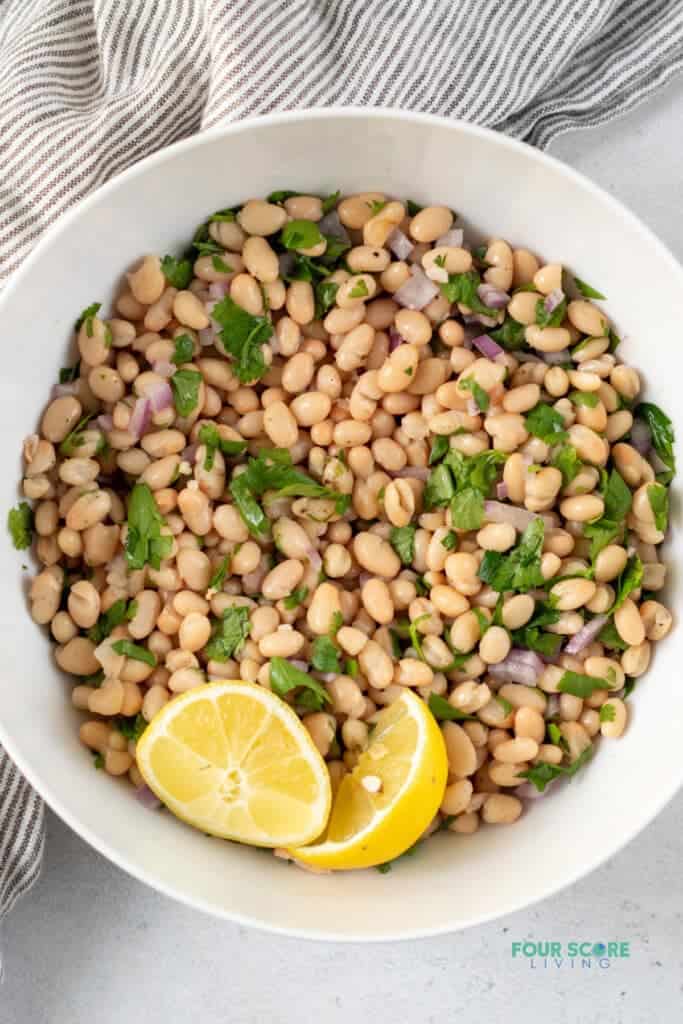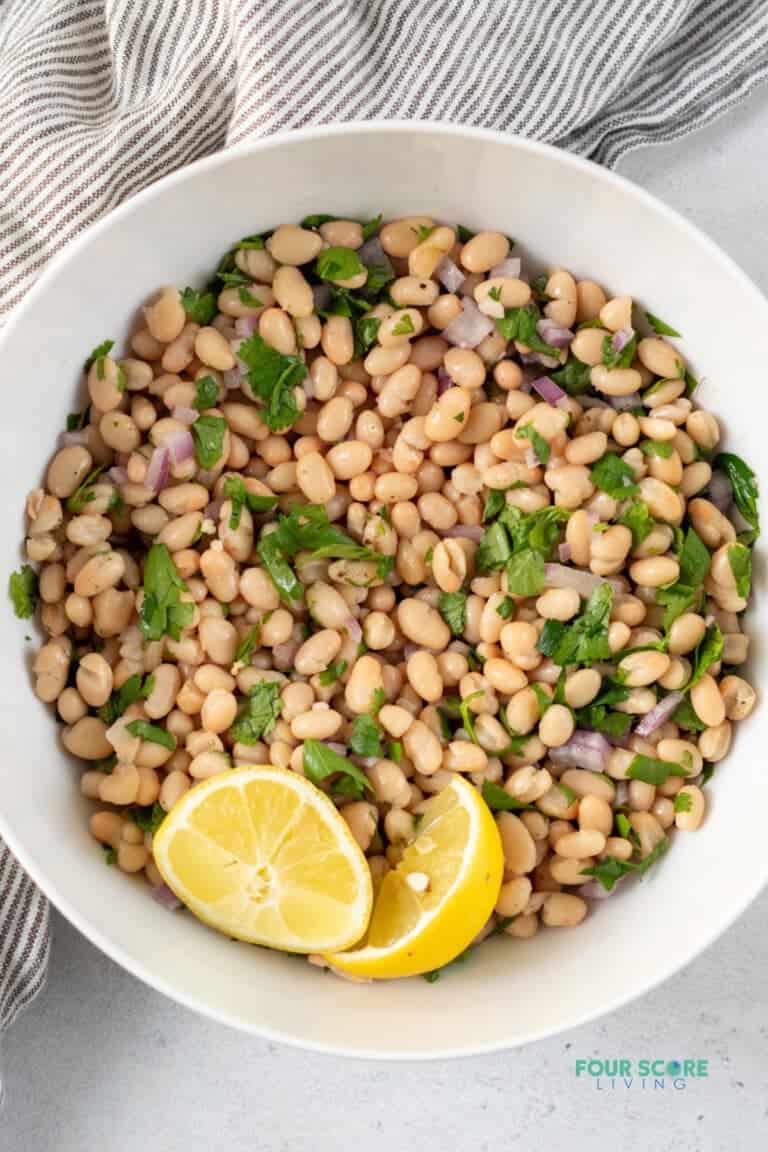 WHY YOU ARE GOING TO LOVE THIS WHITE BEANS RECIPE
This dish is simplicity at its best. The beans and fresh herbs are the star of the show and are elevated by the brightness of the lemon.
Minimal Ingredients - This White Beans Recipe contains just a few ingredients, but each ingredient brings balance and tremendous flavor. And bonus, each ingredient is inexpensive, making this a great affordable option.
Only Takes A Few Minutes - That's right. You are less than 10 minutes away from making this delicious dish. And most of the ingredient are found in your kitchen already!
Great Side Dish - This would be perfect paired alongside Instant Pot Whole Chicken or with any summertime BBQ main course. And because it is so light, it goes great with comfort-food main courses.
Add Any Protein - If you are looking for an all-in-one, quick and easy meal, add your protein directly to the bowl. Some of our favorite protein add-ins are Salmon Bites, roasted chicken, and steak.
Any White Bean Will Work - White beans have a great chewy texture and are the perfect size and shape for a side dish. There are a plethora of different kinds of white beans to choose from, and each bean brings its own yummy and unique taste. Plus, beans are a major source of fiber, protein, folate, magnesium, and vitamin B6, so you can feel great about eating this dish. Here are some of our favorite white beans.

Cannellini Beans - Cannellini beans are large and kidney shaped, and have a mild taste and a creamy texture.
Navy Beans - These are the smallest of the white bean variety, and are fairly mild in flavor.
Butter Beans - These are the largest of the white beans and are rich and creamy.
Great Northern Beans - These beans are similar in size to the Cannellini beans, and have a mild but nutty flavor.

Double or Triple This Recipe - You can easily double or triple this recipe for an event. It can be made up to 3 days in advance for easy party-planning.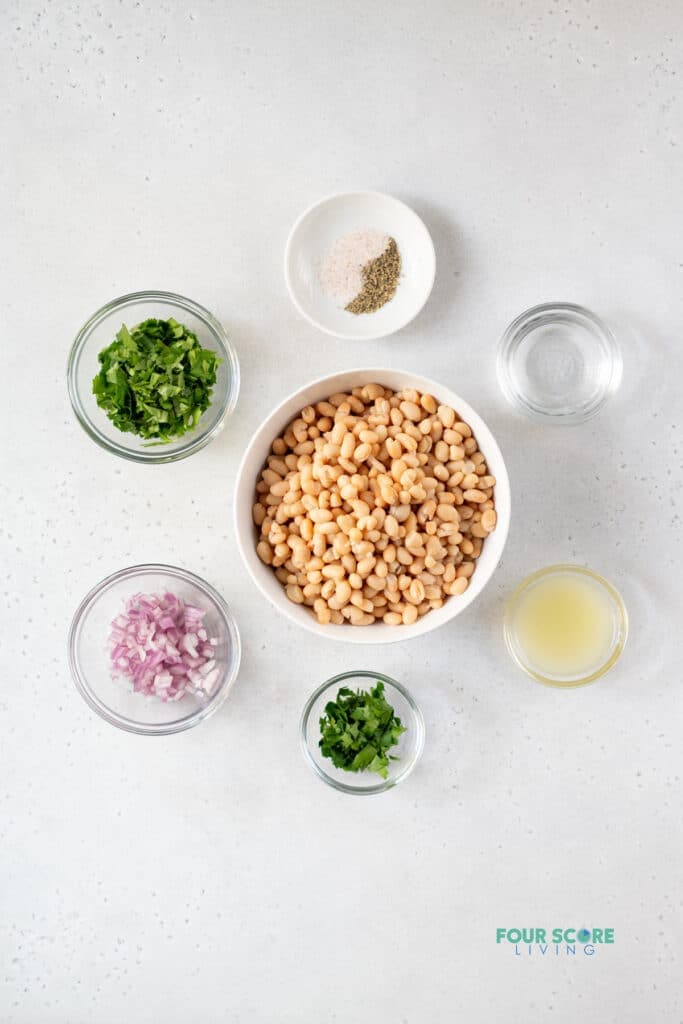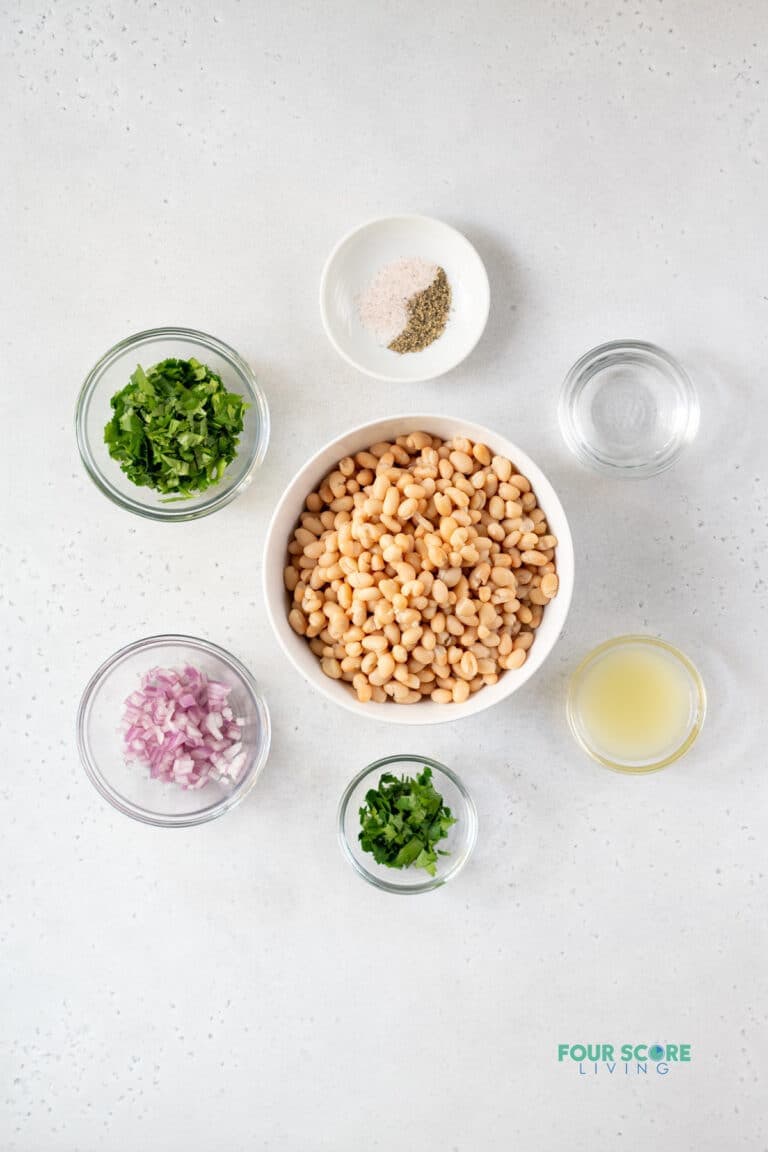 KEY INGREDIENTS IN THIS WHITE BEANS RECIPE
White Beans - What beans are white you may be asking? White beans are a category of legumes that are easily recognizable by their white color and kidney shape.
We love using cannellini beans, butter beans, great northern beans, or navy beans.
Red Onion - This adds a nice spicy flavor to the dish. Just make sure you chop them evenly and fine so it is evenly dispersed.
Cilantro - Freshly chopped herbs like cilantro and parsley add beautiful color and taste that will have you going back for more.
Parsley - Make sure to use Flat-leaf Parsley instead of Curly-leaf Parsley. Curly-leaf parsley is more tough and grassy in taste.
Lemon Juice - Lemon juice pairs so well with beans and fresh herbs, and brightens up the whole dish.
White Vinegar - We prefer to use white vinegar for this dish and feel it adds beautiful acidity to the flavor.
Salt and Pepper - You will salt and pepper to taste in this recipe. Start small and taste as you go until you find the sweet-spot.
If you have any questions about making White Beans, please leave a comment below and I will get back to you.
HOW TO MAKE WHITE BEANS
Mix all the ingredients in a medium sized mixing bowl.
Cover and refrigerate for at least an hour.
Serve cold.
Store in an airtight container in the refrigerator for up to 3 days.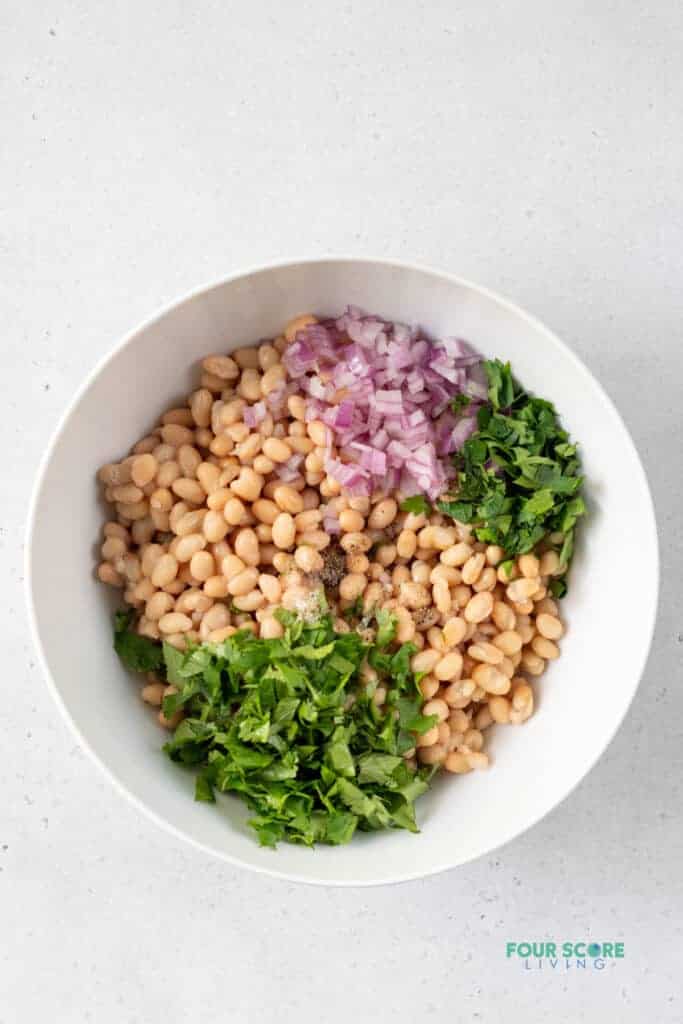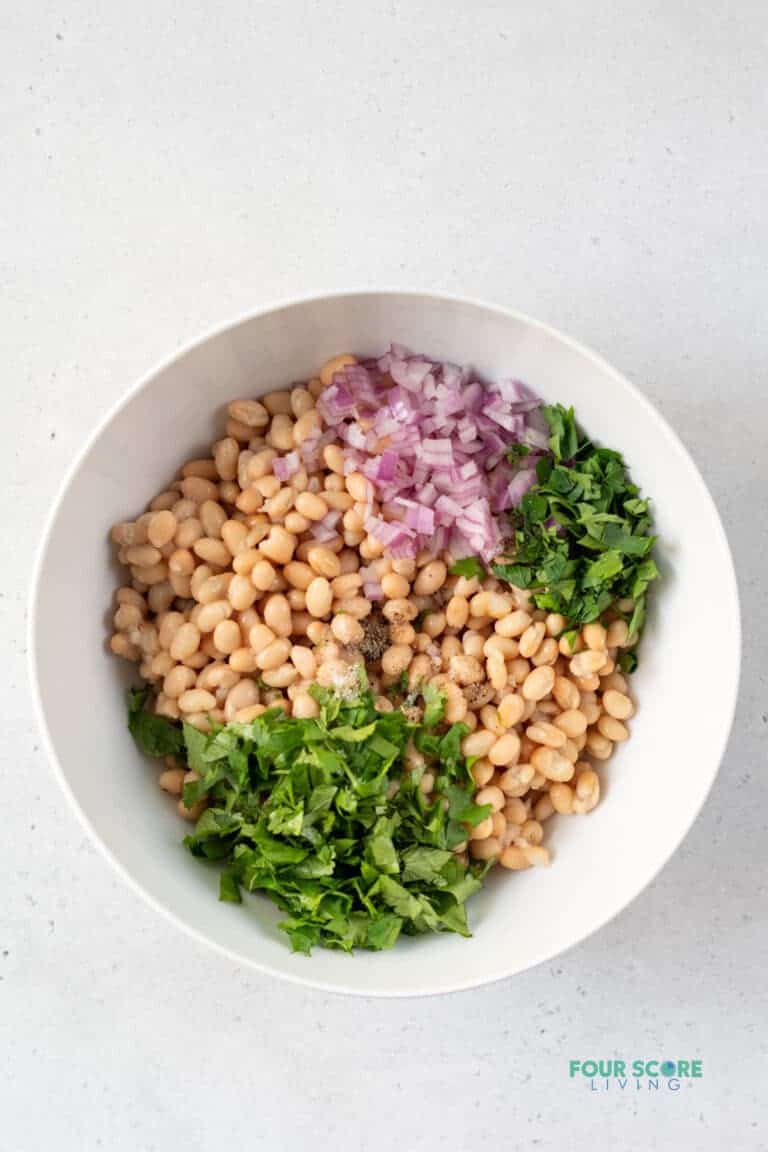 BEST TIPS FOR WHITE BEANS
You can use any types of white beans you like in this recipe.
Fresh herbs work best for this recipe. Feel free to add additional fresh herbs, if you like. A couple delicious alternatives are dill, mint, and tarragon.
MORE QUICK AND EASY SIDE RECIPES
Are you looking for more quick and easy recipes? Here are a few recipes with minimal ingredients, but DELCIOUS flavor.
If you try one of these recipes, let us know what you thought!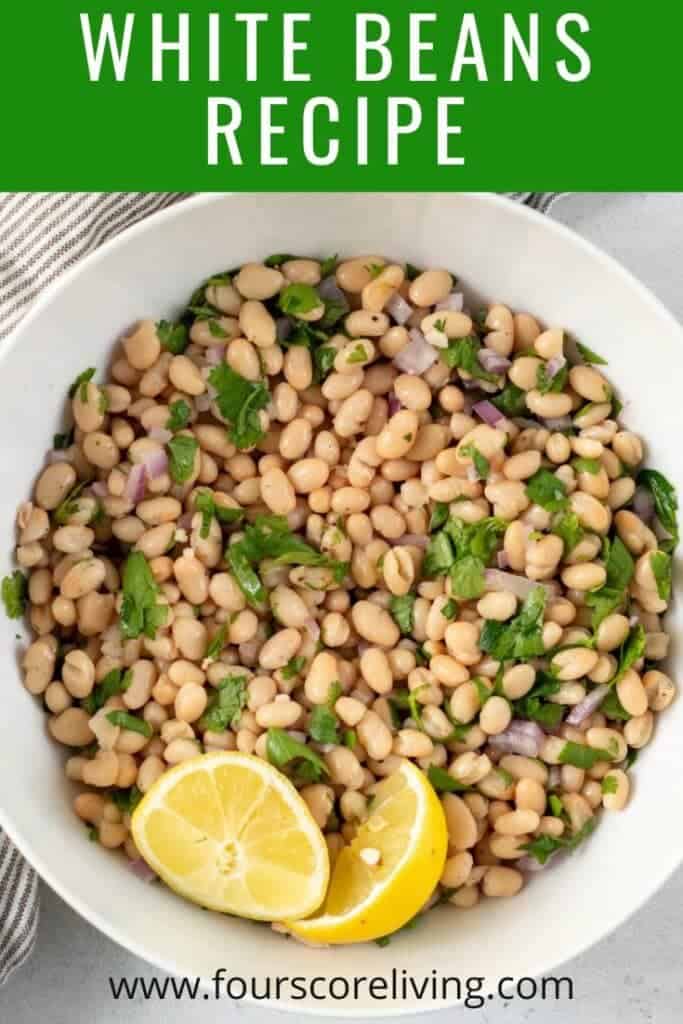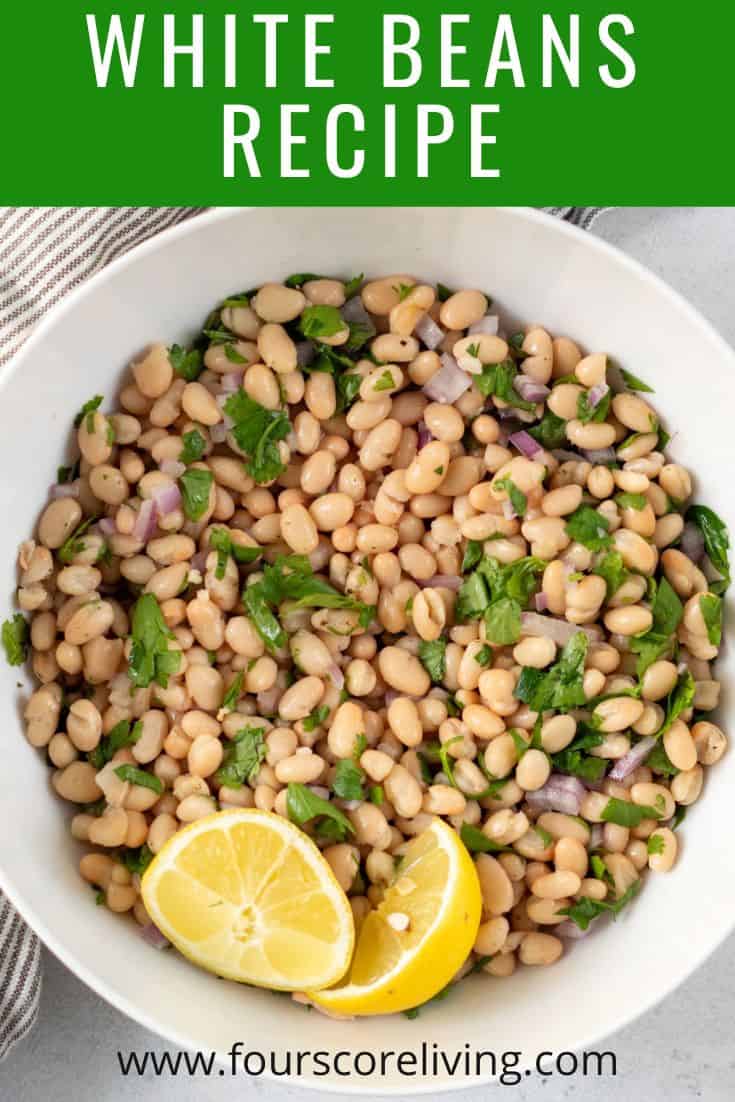 We hope you enjoyed reading this article. Please help us out by leaving a quick review and star ★ rating below.
LET'S GET SOCIAL, you can follow Four Score Living on Pinterest. You can also leave a comment below if you have any questions.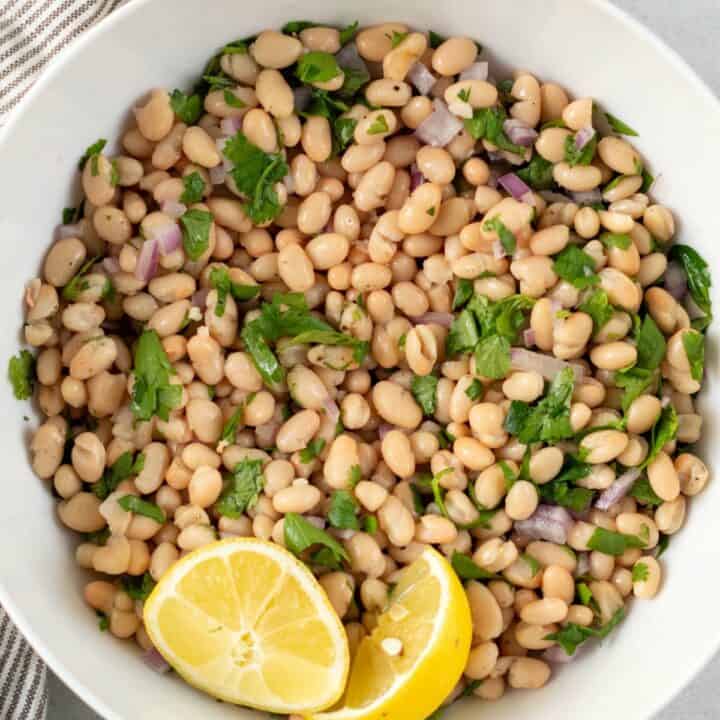 White Beans
Yield:
8 (½ cup) servings
Total Time:
1 hour
10 minutes
Looking for a fresh and flavorful side dish to go with every meal? This white beans recipe is bright and fresh with the addition of fresh herbs and lemon juice, and it's super easy to make.
Ingredients
2 cans (14.5 oz.) white beans, drained but not rinsed
¼ cup red onion, chopped
¼ cup chopped cilantro
2 tablespoons chopped parsley
¼ cup lemon juice
¼ cup white vinegar
salt and freshly ground pepper to taste
Instructions
Mix all the ingredients in a medium sized mixing bowl.
Cover and refrigerate for at least an hour.
Serve cold.
Store in an airtight container in the refrigerator for up to 3 days.
Notes
You can use any type of white beans in this recipe.
Fresh herbs work best. Feel free to add additional herbs, if you like.
Nutrition Information:
Yield:

8
Serving Size:

1
Amount Per Serving:
Calories:

66
Total Fat:

0g
Saturated Fat:

0g
Trans Fat:

0g
Unsaturated Fat:

0g
Cholesterol:

0mg
Sodium:

258mg
Carbohydrates:

15g
Fiber:

3g
Sugar:

6g
Protein:

3g
The nutrition information for this recipe is an approximate total per serving. Please double check the nutrition information for your exact ingredients and brands.