We love this easy Instant Pot crack chicken recipe and are sure you will, too. The tender chicken in this one-pot dish is butter-soft. This creamy crack chicken dish is the ultimate in comforting keto-friendly food.
There are just a handful of simple ingredients in this easy recipe. All you'll need is your Instant Pot and around 20 minutes. It's perfect for last-minute weeknight dinners and will be an absolute favorite with the whole family.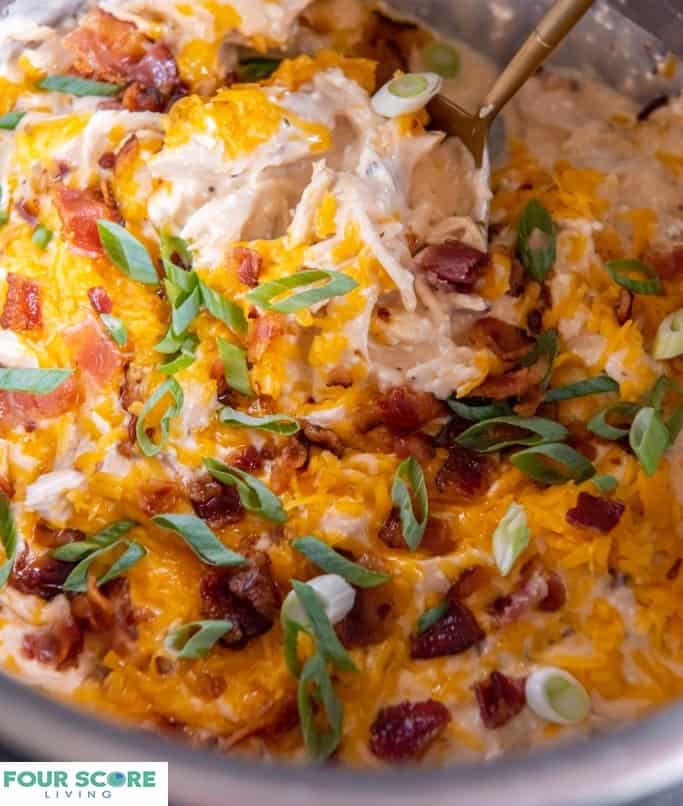 Why you'll love this Crack Chicken Instant Pot Recipe
So simple to make: If you're after easy chicken recipes, this is the one for you.
Low-carb comfort food: It's creamy, flavorful, and satisfying without the carb-heavy ingredients often found in traditional comfort dishes. Despite being low in carbs, this crack chicken Instant Pot recipe doesn't skimp on flavor. You're going to love it!
Versatile dish: Delicious and flavorful on it's own, this dish can also be used to produce endless flavor and texture combinations. For example, use this dish as a filling for roasted stuffed bell peppers, spoon it onto lettuce wraps, use it as a dip, or serve as an open face sandwich on keto rolls or biscuits.
Easy clean-up for busy weeknights: With crack chicken, you'll have fewer pots and pans to clean, making it an ideal choice when you want a quick, hassle-free dinner.
Naturally low carb: It doesn't rely on high-carb thickeners or fillers, making it a perfect keto crack chicken Instant Pot recipe!
Kid-friendly: We recommend this as a family-friendly dish that is a hit with all ages.
Meal prep friendly: Prepare a larger batch of crack chicken and store it in portion-sized containers.
Saves time: The Instant Pot significantly reduces cooking time, making this dish perfect for a quick and delicious meal without spending hours in the kitchen. Perfect for busy weeknights!
Customizable: You can personalize Instant Pot crack chicken by adjusting the seasonings, adding extra toppings, or experimenting with different side dishes.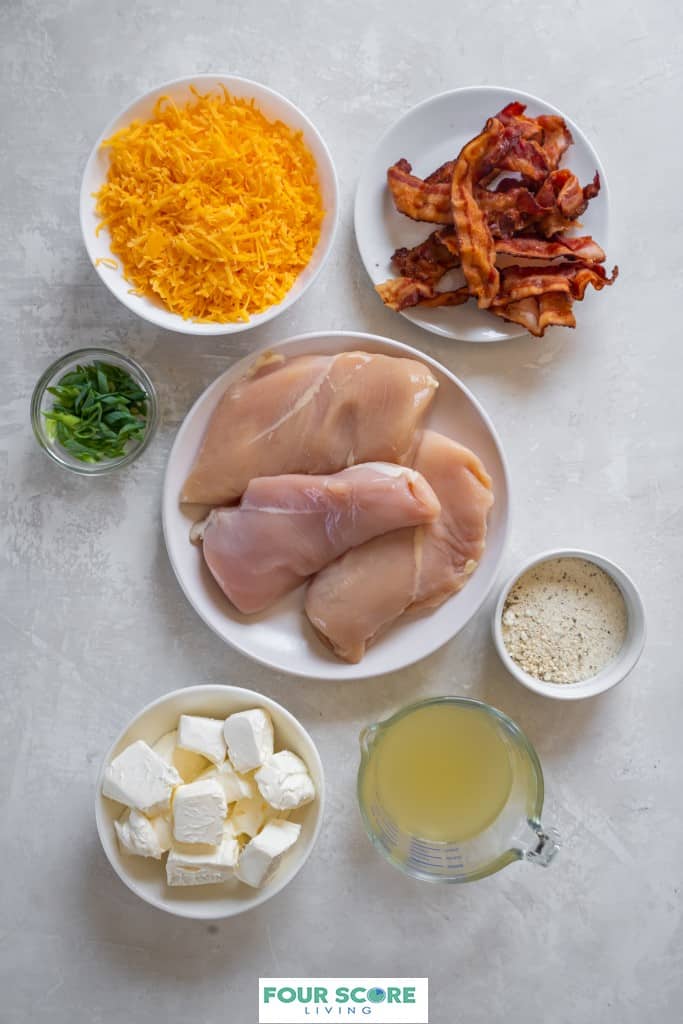 Ingredients in our Crack Chicken Instapot
Chicken: Choose fresh or frozen chicken breast. Use boneless, skinless chicken breasts.
Cream cheese: Make sure to cube the cream cheese before adding it to the Instant Pot. This will help it melt more evenly into the dish.
Dry Ranch dressing seasoning packets: Use store-bought keto Ranch seasoning or make a homemade keto-friendly ranch seasoning. Mix onion powder, garlic powder, dried dill, parsley, black pepper, and mustard powder.
Cheddar cheese: Use shredded cheese for this creamy crack chicken. We like sharp cheddar cheese for this recipe.
Bacon: Cook the bacon separately, either in the oven, on the stovetop, or in the microwave. Once crispy, break it up into crumbled bacon pieces.
Onions: They add a hint of sweetness and depth of flavor to the dish. You can use chopped white or green onions to top this dish.
Chicken broth (or water): Use chicken broth for added flavor, but you can substitute it with water. The liquid is essential for creating the cooking environment in the Instant Pot.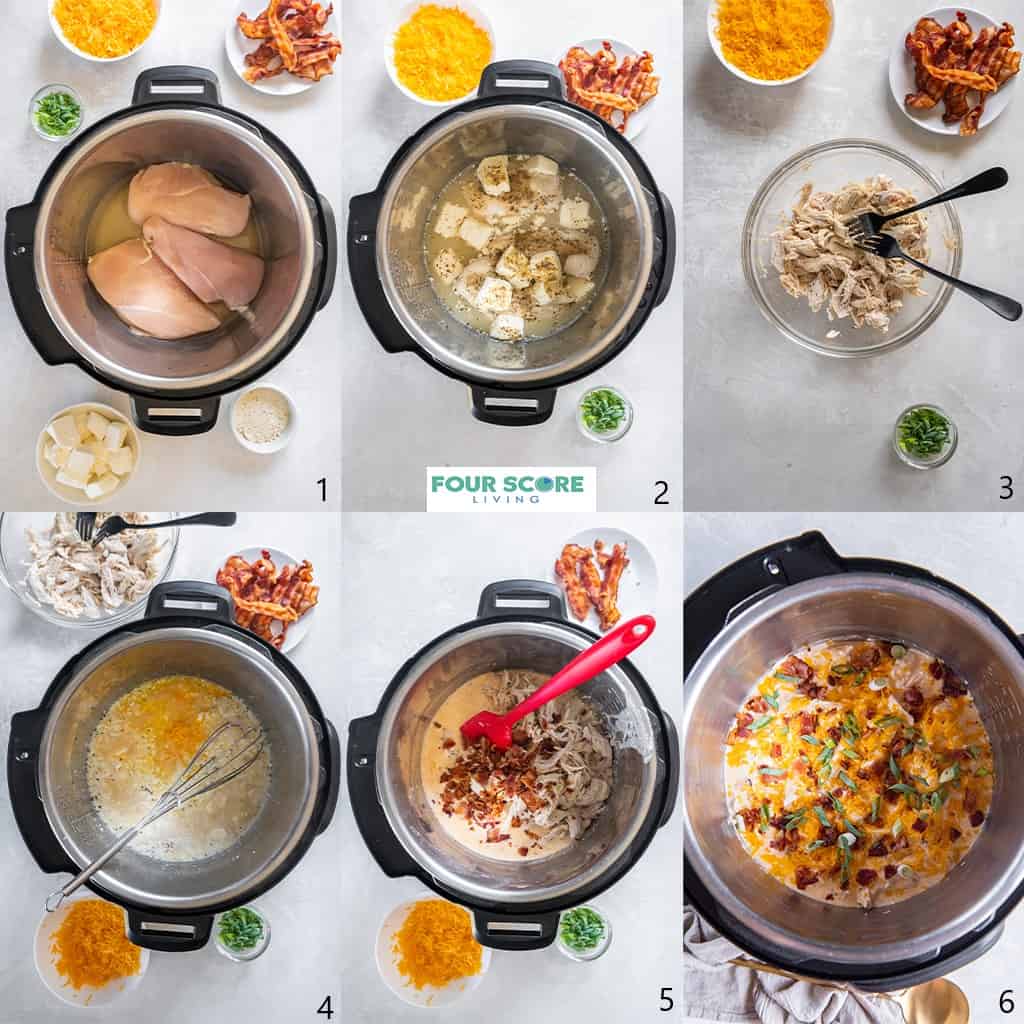 How to make this easy Instant Pot Crack Chicken
Add ingredients to the Instant Pot. First, add the broth to the Instant Pot. Secondly, place the chicken in an even layer in the pot and top it with cubes of cream cheese. Sprinkle the ranch seasoning over the chicken and cream cheese.
Cook the ingredients. Seal the Instant Pot lid and allow for 10 minutes of cooking time. After 10 minutes of cook time, allow a 5-minute natural release, then a quick release of the remaining pressure. Finally, press cancel.
Further, prepare the chicken. Place the cooked chicken in a bowl and shred it. Turn the Instant Pot to saute mode and add 1 cup of cheddar cheese. Whisk the mixture thoroughly to melt and break up any remaining cream cheese. Return the chicken to the pot along with half the bacon. Mix thoroughly and then select cancel.
Finish the dish. Transfer the cooked, juicy chicken to a serving dish. Top it with the remaining cheese, bacon, and green onions – serve.
For the complete list of ingredients and instructions, please see the printable recipe card below.
Best Tips for Making Instant Pot Crack Chicken
This is such an easy recipe; it's pretty foolproof. Having said that here are a handful of our recommendations for a sure way to success:
Shredding chicken: Shredded chicken can be a breeze with the proper technique. After cooking, transfer the chicken to a cutting board. Use two forks to shred it effectively. Pierce the center of the chicken breast with one fork and then use the other fork to pull the chicken into shreds. This method makes the process quick and easy.
Don't add salt: You can skip adding salt to the dish. The ranch seasoning packets contain enough salt and seasoning to flavor the creamy cheese sauce of this keto crack chicken perfectly.
Use fresh or frozen chicken: The Instant Pot will work magic if you choose fresh or frozen chicken breasts. If using frozen chicken, add a few extra minutes to the cooking time to ensure it's fully cooked and tender.
Cut cream cheese into cubes: To help it melt evenly and quickly, cut it into small cubes before adding it to the Instant Pot. This ensures a creamy dish and consistent texture throughout the dish.
Natural pressure release: After the cooking cycle, allow a natural pressure release for a few minutes. This will help the flavors meld together and make the chicken more tender.
Stir in cheddar cheese gradually: When adding it to the dish, do it gradually. Stir it in gently, allowing a moment for each addition to melt before adding more. This prevents clumping and ensures a smooth, cheesy sauce.
Crispy bacon garnish: For the ultimate crack chicken experience, we recommend cooking the bacon separately until it's crispy. Then, crumble it into small pieces and use it as a crunchy, savory garnish.
Reduce Carbs: Do not use store bought Ranch Seasoning as they typically have added sugar and around 16 grams of carbs per packet. Eliminate those carbs by purchasing a keto approved Ranch mix or making your own spice blend:

Onion powder - 2 teaspoons
Garlic powder - 1 teaspoon
Dried dill - ¼ teaspoon
Dried Parsley - 1 teaspoon
Salt - ½ teaspoon
Black Pepper - ¼ teaspoon
Mustard powder - ¼ teaspoon

Meal prep: Crack Chicken is great for meal prep. Make a larger batch and store it in portion-sized containers for easy and delicious keto-friendly meals throughout the week.
Adjust the thickness of the sauce: You can add extra broth or water if you prefer a thinner sauce.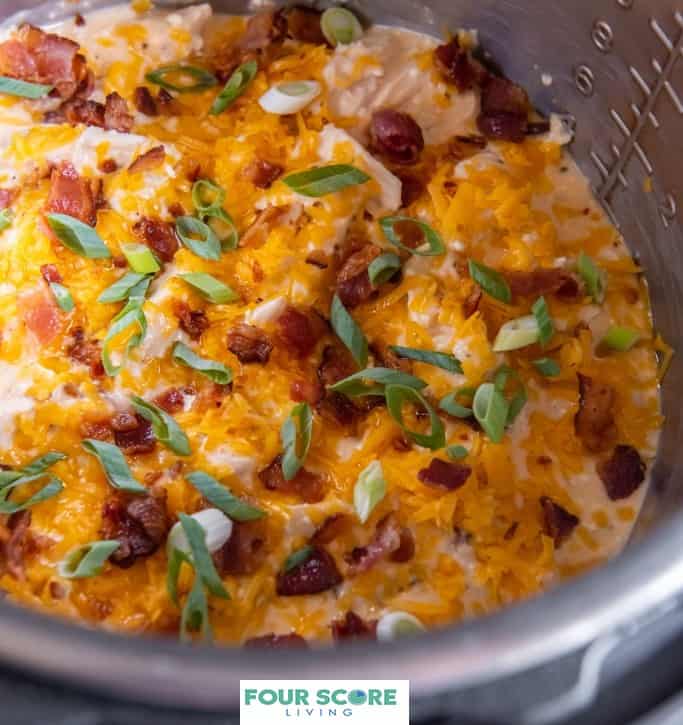 What to Serve with Crack Chicken Instant Pot
When it comes to serving sides with Instant Pot crack chicken, you have a wide range of options, whether you're looking for regular sides or keto-friendly alternatives. Here's a breakdown of some excellent side dishes to complement this dish:
Regular sides:
Pasta: Serve your creamy crack chicken over pasta, such as fettuccine or penne.
Rice: Steamed white or brown rice is a classic choice, offering a neutral base to balance the creamy richness of the chicken.
Mashed potatoes: Creamy mashed potatoes are delicious with this crack chicken recipe.
Baked potatoes: We recommend baked potatoes with butter and sour cream. So good!
Garlic bread: Toasted garlic bread is perfect for mopping up the flavorful sauce from your crack chicken.
Bread (made into crack chicken sliders): Transform your crack chicken into delicious sliders by serving it in small hamburger buns with lettuce, tomato, and cheese.
Keto diet sides:
Cauliflower rice: A low-carb alternative to traditional rice. It soaks up the sauce well.
Zucchini noodles: Zoodles are a keto-friendly substitute for pasta. We love how fresh and crunchy they are.
Spaghetti squash: Roasted spaghetti squash strands make a fantastic low-carb pasta replacement.
Lettuce wraps: Wrap your keto crack chicken in large lettuce leaves for a refreshing and carb-free delivery of these flavors.
Steamed broccoli or broccoli salad: Steamed broccoli offers a healthy and vibrant side, while a broccoli salad with a tangy dressing adds a delightful crunch.
Roasted Brussels sprouts: Roasted Brussels sprouts provide a savory and slightly crispy side.
Salad: A simple garden salad with fresh greens and your favorite keto-friendly salad dressing can balance the dish's richness.
Alternative serving ideas:
Serve as chicken crack dip: Turn your crack chicken into a savory dip that can be enjoyed with tortilla chips, making it a perfect party appetizer.
Celery and carrot sticks: Include fresh, crunchy vegetables like celery and carrot sticks as dippers when serving crack chicken as a dip.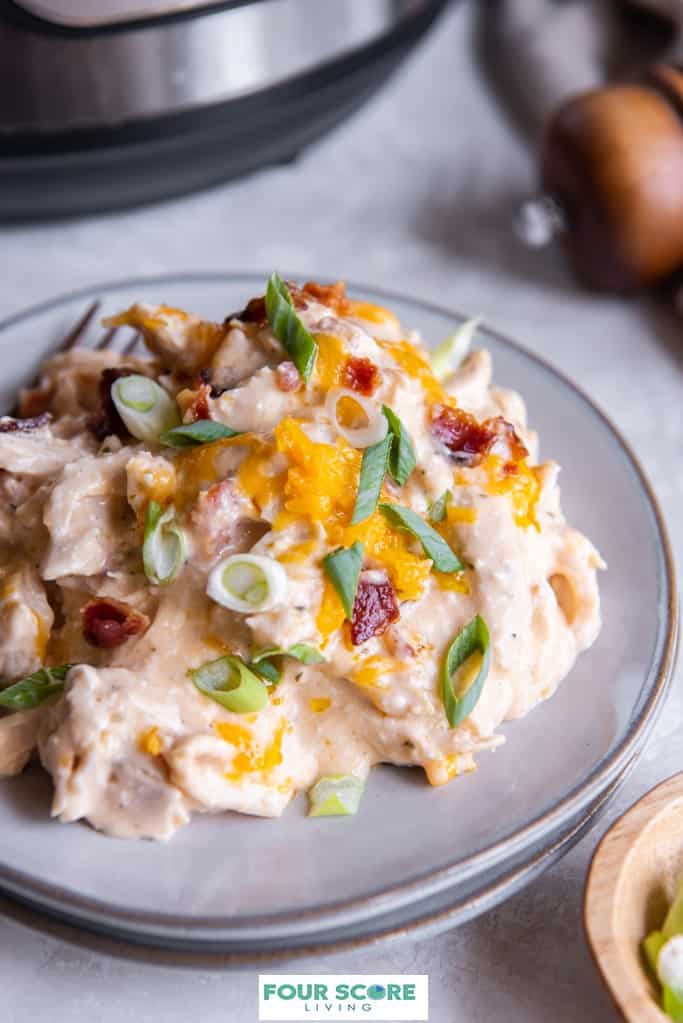 How to best store your Keto Instant Pot Crack Chicken
Refrigeration (short-term storage):
After cooking, allow the crack chicken to cool to room temperature. This should take about 30 minutes. Divide the crack chicken into smaller, meal-sized portions if you cooked a large batch. Use an airtight container or resealable bags to store it.
Always label the containers with the date when you prepared the recipe. This helps you keep track of freshness and food safety.
Store the containers in the refrigerator within two hours of cooking. Crack chicken can be stored in the fridge for 3-4 days.
Freezing (long-term storage):
Let the crack chicken cool to room temperature before freezing, as with refrigeration. Divide the crack chicken into meal-sized portions and use airtight containers or freezer bags.
Squeeze out excess air from the bags to prevent freezer burn. Seal the containers tightly.
We recommend you label each container or bag with the date and a brief description.
It can be stored for up to 2-3 months, but the sooner you use it, the better the quality.
Thawing:
Transfer the frozen crack chicken from the freezer to the refrigerator to thaw for the best results.
Allow it to thaw slowly over 24 hours or longer. This method preserves the texture and taste.
If you need to thaw it faster, use the defrost setting on your microwave or place the sealed container in a bowl of cold water. Change the water every 30 minutes until it's thawed.
Avoid thawing crack chicken at room temperature, as it can lead to bacteria growth and affect food safety.
Reheating:
Stovetop: Reheat the crack chicken in a saucepan on low to medium heat. Stir occasionally and add some water or broth if it has thickened too much during storage.
Microwave: Reheat smaller portions in the microwave using a microwave-safe container. Use short intervals and stir in between to ensure even heating.
Instant Pot: You can also use your Instant Pot to reheat crack chicken. Add a small amount of water or broth, and use the sauté function. Stir until it's heated through.
Remember to ensure that the crack chicken is heated to an internal temperature of 165°F (74°C) to ensure it's safe to consume. Proper storage, thawing, and reheating methods will help maintain your crack chicken's delicious flavor and texture, whether you enjoy it the next day or weeks later.
FAQs
Instant Pot Crack Chicken from Frozen
Yes, it just needs some extra time. Place the frozen chicken from the freezer straight into the Instant Pot and the other ingredients (from step 1 of the recipe).
Cook on manual high for 20 minutes, followed by a 5-minute natural release. Use an Instant read thermometer to ensure the chicken has reached 165 degrees.
Why do they call it Crack Chicken?
The name "Crack Chicken" comes from its highly addictive nature. Much like the term "crack" used colloquially to describe something highly addictive, the name "Crack Chicken" suggests that once you taste it, you'll find it irresistible and keep coming back for more.
Can I make Instant Pot Crack Chicken with Thighs?
Yes, there is no need to change the recipe for this keto Instant Pot crack chicken. Simply use boneless skinless chicken thighs.
More Delicious Instant Pot Recipes
Instant Pot Chicken Legs - For perfectly tender chicken legs in under 30 minutes, look no further than this Instant Pot Chicken Legs recipe. These chicken legs are seasoned with a homemade spice blend using spices you probably already have in your kitchen.
Instant Pot Artichokes - This Instant Pot Artichokes recipe gives you the most tender and delicious artichokes ever! In 20 minutes you can have an impressive appetizer that would be a welcome addition to a family dinner or as a starter for a gathering with friends.
Instant Pot Chicken Chili - You can make this Instant Pot White Chicken Chili in no time at all! Let the pressure cooker do the work while you take all the credit for this delicious instant pot chicken chili.
Instant Pot Salmon - Did you know that you can make mouthwatering, flavorful salmon fillets right in your Instant Pot? This Instant Pot Salmon recipe requires minimal prep work but yields deliciously flaky, delicate results.
Instant Pot Whole Chicken - This Instant Pot Whole Chicken is so simple to make and turns out juicy and delicious, every time. Tender chicken, seasonings, and juices, you're going to love cooking whole chicken in the instant pot.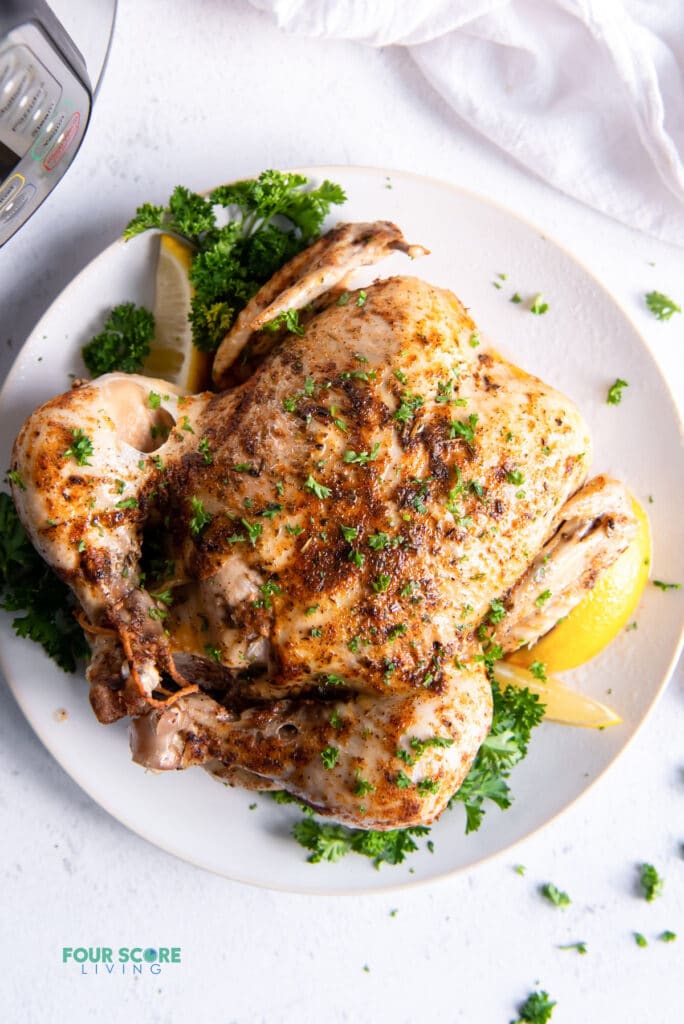 Instant Pot Pot Roast - Learn how to make a delicious and easy Instant Pot Pot Roast that you can serve to your family or dinner guests - they will all be impressed by this homestyle roast with carrots and potatoes, all topped with a silky homemade gravy.
Instant Pot General Tso's Chicken - This Instant Pot General Tso's Chicken is the perfect, healthy, homemade dinner in under 30 minutes. This spicy Chinese takeout favorite is simple and quick to prepare with just the perfect balance of sweet and tangy.
We hope you enjoyed reading this article. Please help us out by leaving a quick review and star ★ rating below.
LET'S GET SOCIAL, you can follow Four Score Living on Pinterest. You can also leave a comment below if you have any questions.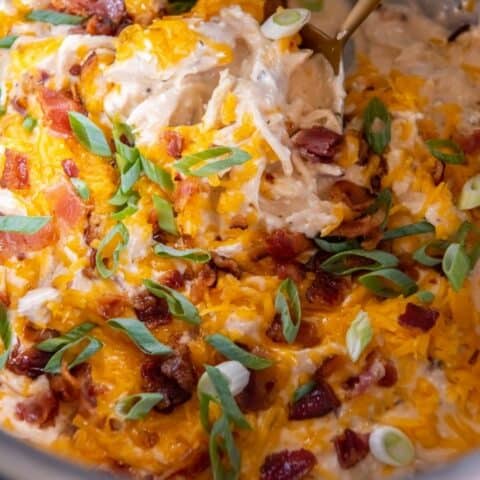 Instant Pot Crack Chicken
Creamy and cheesy with tender chicken and the crunch of bacon, this keto approved comfort dish is a one pot meal that is ready in under 30 minutes.
Ingredients
½ cup chicken broth (or water)
1 ½ pounds boneless, skinless chicken breast
8 ounces cream cheese, cut into cubes
1 ¼ cups cheddar cheese, shredded, divided
6 slices cooked bacon, crumbled, divided
2 green onions, chopped
Instructions
Pour the broth into the Instant Pot. Place the chicken in an even layer in the pot, then top with the cubes of cream cheese. Sprinkle the ranch seasoning over the top.
Secure and seal the lid, then cook on Manual High for 10 minutes. When the cook time is up, allow a 5 minute natural release, then quick-release the remaining pressure. Press Cancel.
Remove the chicken to a bowl and shred it.
Press Saute. Add 1 cup of the cheddar cheese to the pot and whisk the mixture thoroughly to melt and break up any remaining cream cheese.
Return the chicken to the pot along with half of the bacon. Mix thoroughly and then press Cancel.
Transfer the finished chicken to a serving dish, top with remaining cheese, bacon, and green onions, and serve.
Notes
You can use boneless skinless chicken breasts or chicken thighs with this recipe.
Pre cook the bacon so that it is crispy.
Cut the brick of cream cheese into cubes as part of prep.
Gradually stir in shredded cheese.
After cooking allow 3-5 minutes of natural pressure release from Instant Pot.
Shred cooked chicken with two forks.
Make your own low carb ranch blend:
Onion powder - 2 teaspoons
Dried dill - ¼ teaspoon
Dried Parsley - 1 teaspoon
Salt - ½ teaspoon
Black Pepper - ¼ teaspoon
Mustard powder - ¼ teaspoon
Garlic powder - 1 teaspoon
Nutrition Information:
Yield:

5
Serving Size:

1
Amount Per Serving:
Calories:

581
Total Fat:

35g
Saturated Fat:

18g
Trans Fat:

0g
Unsaturated Fat:

13g
Cholesterol:

204mg
Sodium:

1199mg
Carbohydrates:

7g
Fiber:

0g
Sugar:

3g
Protein:

58g
The nutrition information for this recipe is an approximate total per serving. Please double check the nutrition information for your exact ingredients and brands.