Made from homemade tortillas, these Keto Tortilla chips are low carb, crispy, crunchy, salty, and perfect for dipping into your favorite keto dips.
Try these low carb chips with Keto Salsa and Keto Spinach Dip.
These are my favorite keto tortillas and we use them in any recipe that calls for tortillas.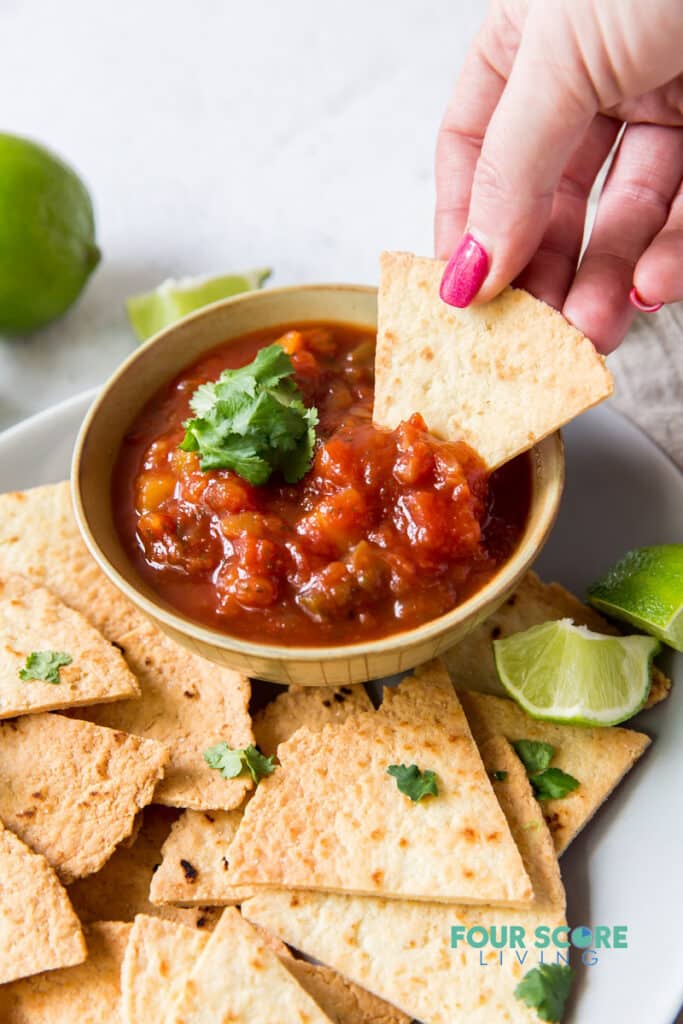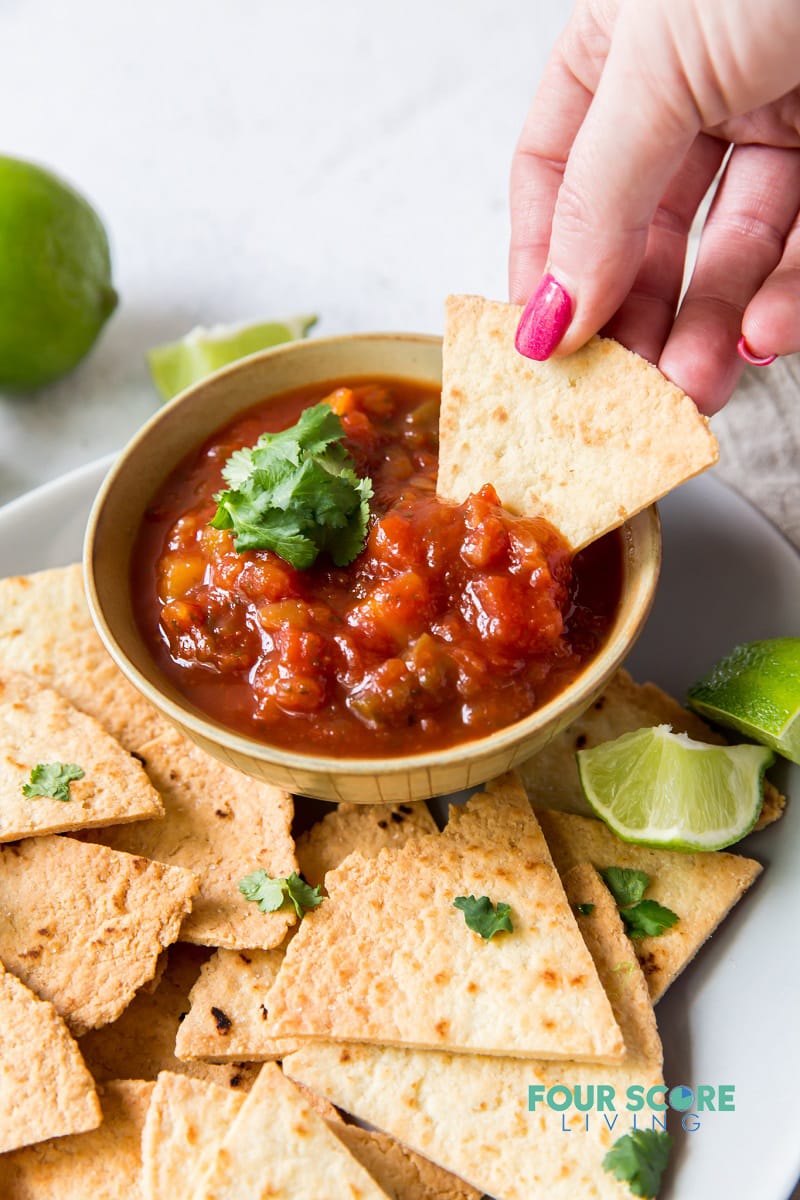 KETO TORTILLA CHIPS RECIPE
Experienced low carb followers know that there are a lot of great options to use as "chips" on a keto diet. There are pork rinds, vegetable chips, keto cheese chips, and homemade keto crackers.
These options are great, but I've found that sometimes the only thing that works as well as a chip is an actual keto chip.
These keto tortilla chips are simple to make and really satisfy a craving for a crispy, salty, dippable snack. Our favorite way to enjoy them is with 4 Ingredient Guacamole. Cucumber salsa is also amazing with these chips.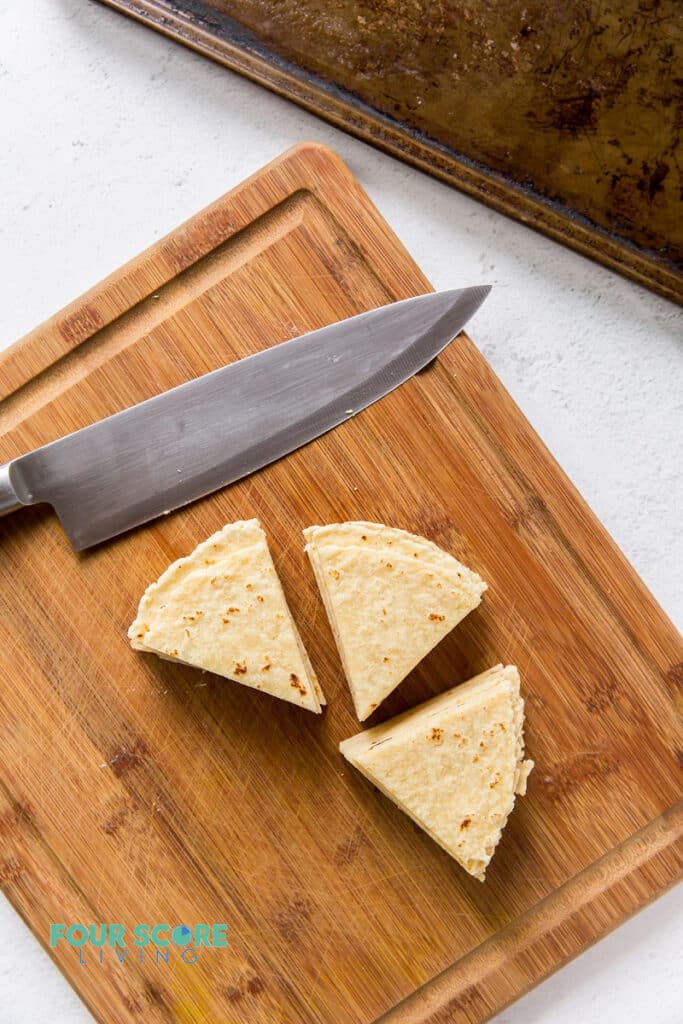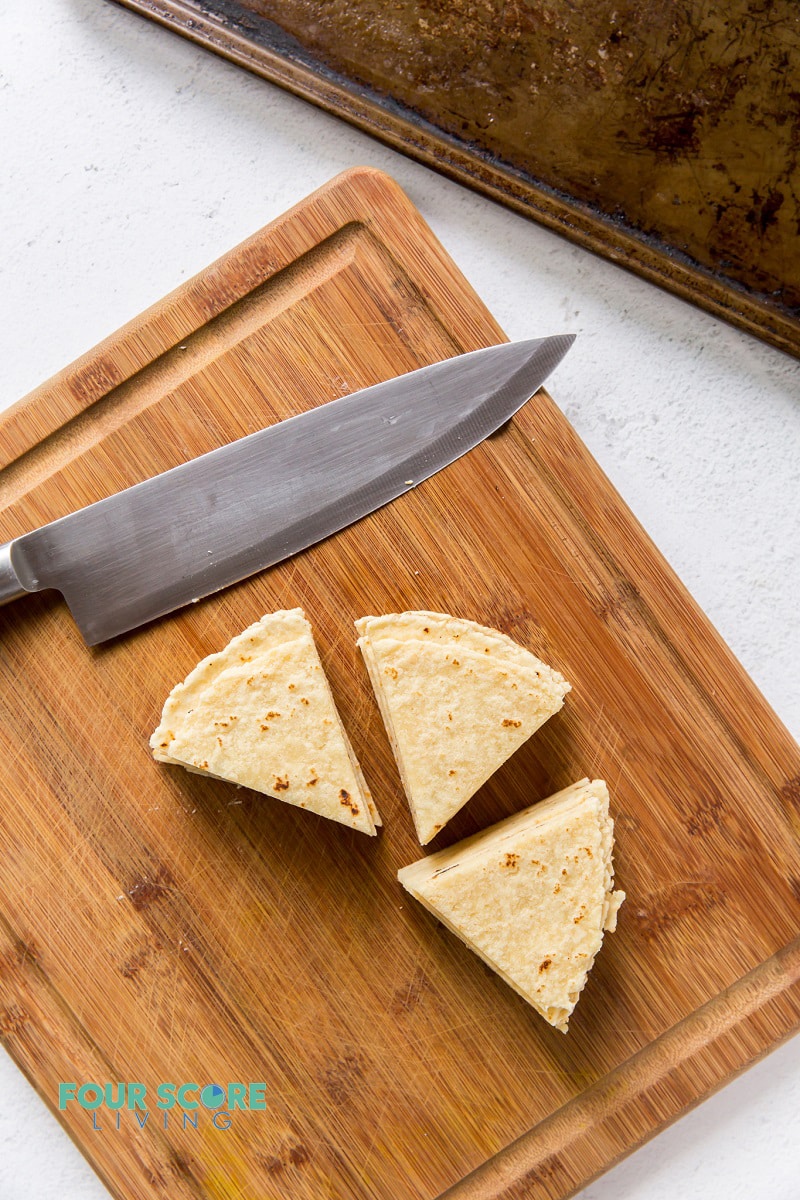 INGREDIENTS IN KETO TORTILLA CHIPS
For these chips we are using our Keto Tortilla recipe. The ingredients for that recipe are below.
Almond Flour- This is the main flour that we'll use for our tortillas. Choose a finely milled almond flour for this recipe.
Coconut Flour - A small amount of coconut flour gives the perfect texture to the tortillas.
Xanthan Gum - This is a thickening and emulsifying agent, and necessary when baking without traditional gluten flour.
Baking Powder- This allows the dough to puff up a bit when cooked.
Kosher Salt - Added for flavor.
Garlic Powder - Optional, but I like the added savory flavor that it gives.
Egg - An egg binds all of the ingredients together and aids in browning.
Water - Use water to get the right dough consistency.
For the chips, you'll also need
Cooking Oil Spray - For spraying your pan and the chips.
Salt - To Season your chips.
If you have any questions, please leave a comment below and I will get back to you.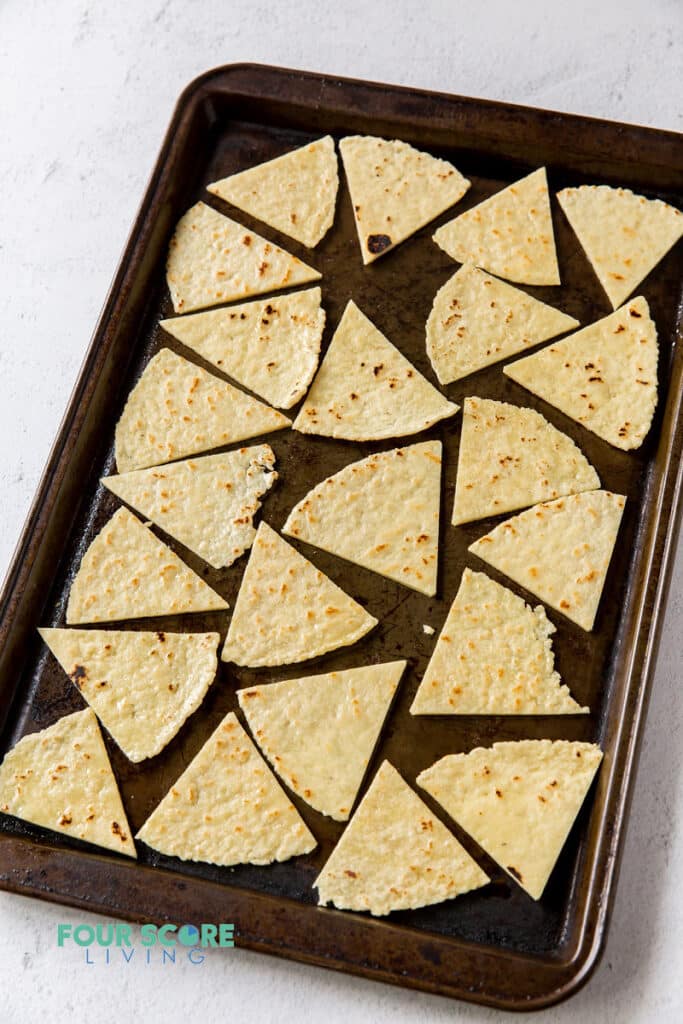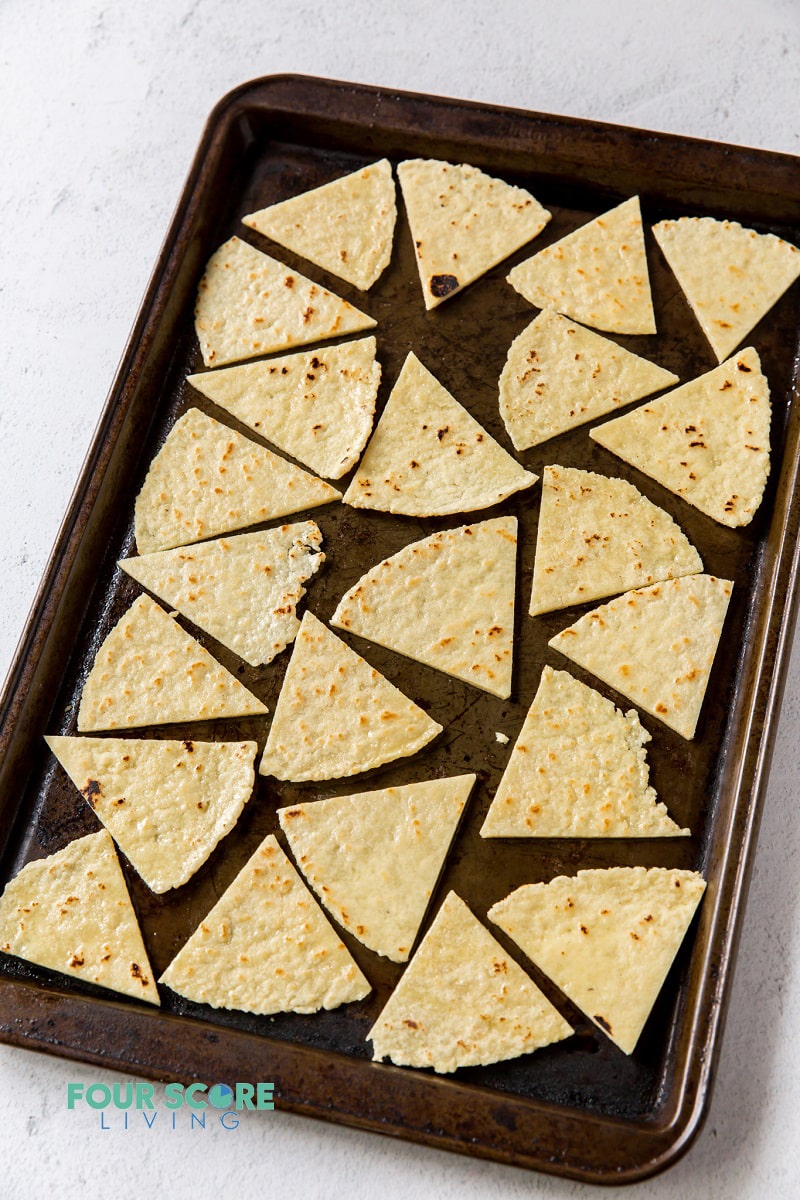 HOW TO MAKE KETO TORTILLA CHIPS
Preheat your oven and prepare a baking sheet by spraying with oil.
Cut the tortillas in half, and then each half in thirds, creating triangles. Please on the baking sheet so they are not touching.
Spritz tops of chips with cooking spray, then sprinkle with salt.
Bake as directed in recipe.
Remove the tray from the oven and flip the chips over. Spritz with cooking spray and return to the oven to finish cooking.
For the complete list of ingredients and instructions, please see the recipe below.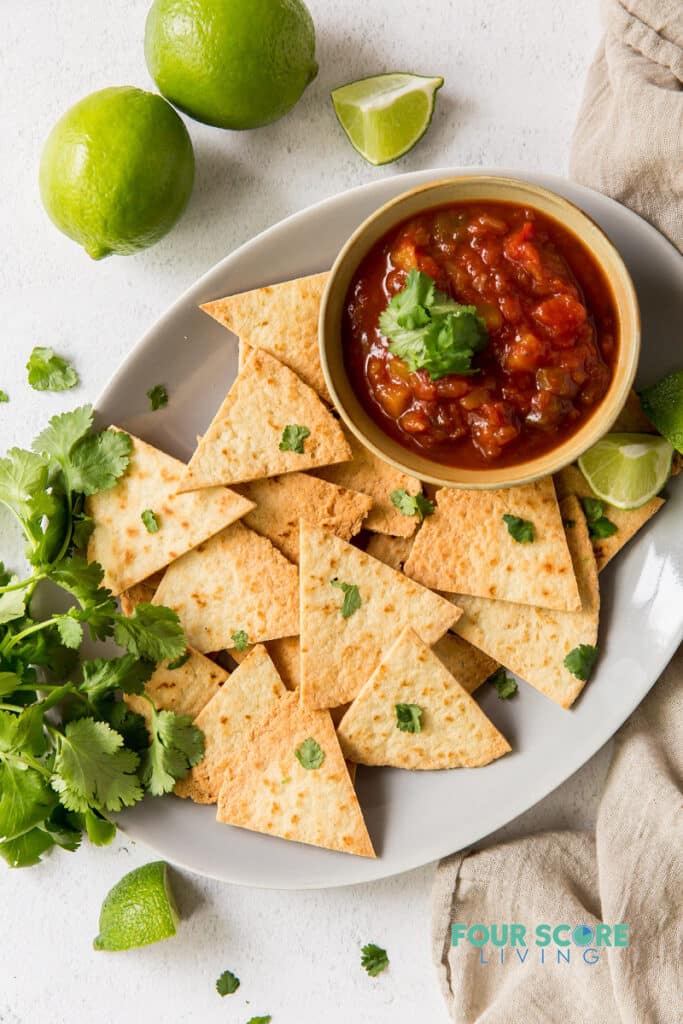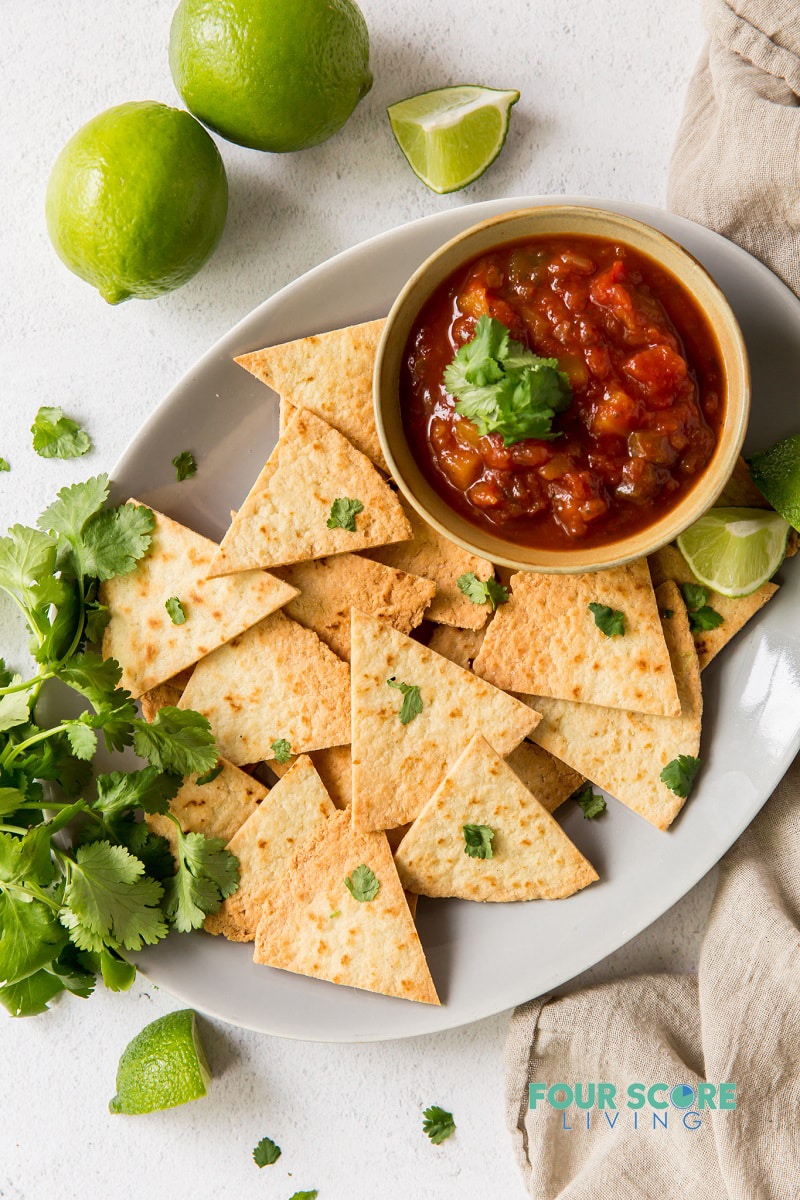 TIPS FOR MAKING KETO TORTILLA CHIPS
I've tested this recipe using our homemade Keto Tortillas, so the directions and cook times are based on that. You can try the method of this recipe to create chips out of store bought low carb tortillas.
If you plan to try, use a tortilla with a grain or corn base.
For best chip results, spray your pan and the top of the chips well with oil. This gives a really nice crunch to the chips and also stops them from sticking.
Separate the chips on the pan when cooking. If they are touching each other they will stick together.
Add salt and any seasonings to the chips before you bake them. The salt won't stick well after they are cooked.
CAN I EAT TORTILLA CHIPS ON KETO?
The simple answer here is yes, but you must be careful. Store bought traditional tortilla chips are full of flour and corn and therefore full of carbs.
If you want to enjoy tortilla chips on a keto diet then making them yourself is your best option. This recipe for Keto chips is low carb and delicious.
FLAVORED KETO TORTILLA CHIPS
This recipe calls for just a bit of salt to flavor the chips. Perfect for a simple, salty snack, but what if you're looking for a little bit more flavor on your chips?
Try adding other seasonings. Taco seasoning would give your chips a Dorito style flavor. A light spritz of lime juice would add a nice flavor too.
Greek seasoning is also delicious on keto chips.
Experiment with your favorite dried spices and herbs to find your favorite.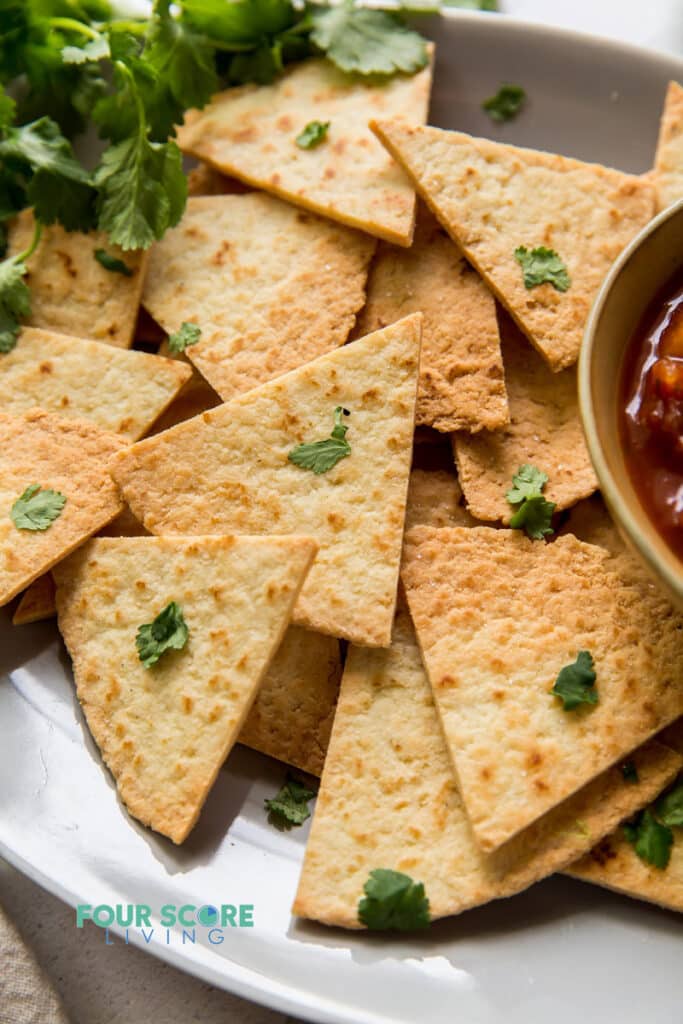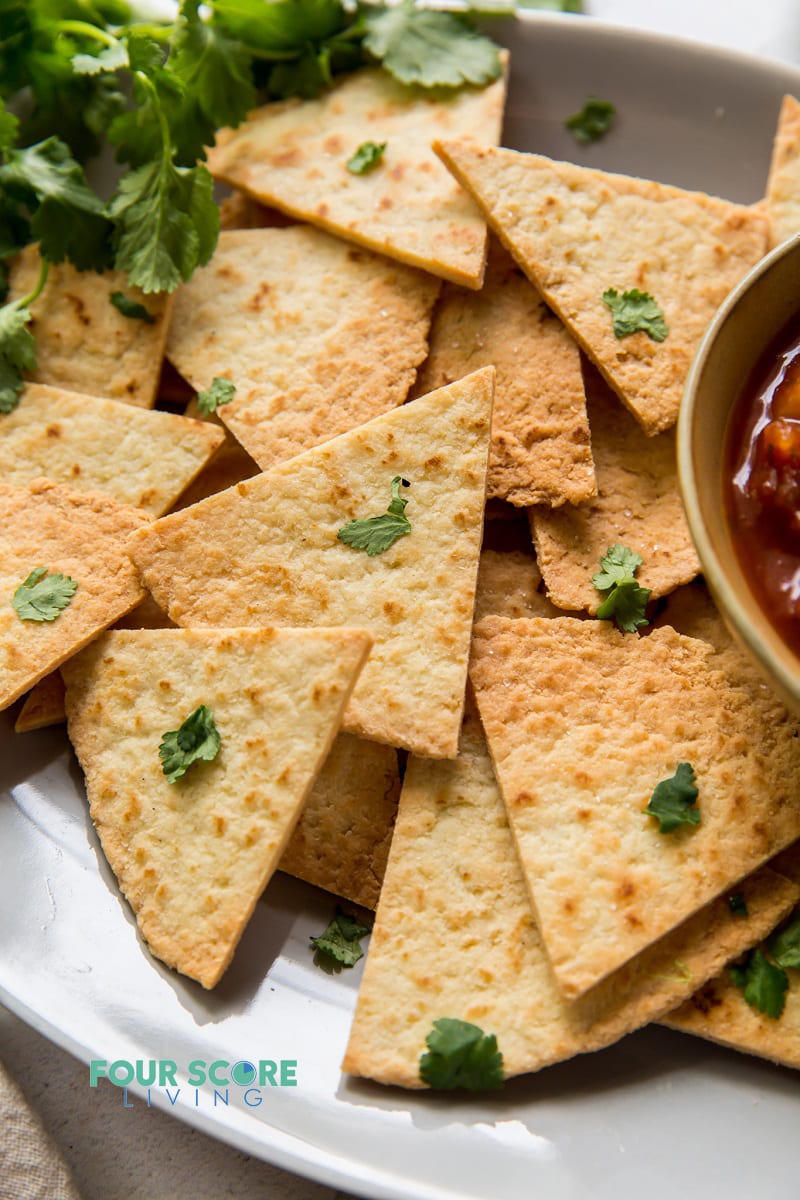 WHAT TO SERVE WITH KETO TORTILLA CHIPS
Keto Queso - A keto queso dip that's ready in 5 minutes! There's only a handful of ingredients in this keto dip recipe and you can adjust the spice to your taste buds.
Keto Buffalo Chicken Dip - A Keto Buffalo Chicken Dip that's perfect when you need a good keto dip or appetizer. It only uses a handful of ingredients and it's bursting with flavor.
Keto Taco Soup - This keto soup recipe is naturally dairy-free but I've included instructions on what to add to make a creamy keto taco soup.
Keto Enchiladas - Keto Enchiladas with ground beef, melty cheese, and a mildly spicy, savory sauce will quickly become a family favorite meal.
Keto Fajitas - a simple and easy way to create a flavorful, high protein, low carb dinner. This chicken is marinated in a delicious blend of spices, lime and seasonings.
What did you serve with these keto chips? Let us know in the comments below.
We hope you enjoyed reading this article. Please help us out by leaving a quick review and star ★ rating below.
LET'S GET SOCIAL, you can follow Four Score Living on Pinterest. You can also leave a comment below if you have any questions.
Did you make this Keto Tortilla Chip recipe? Please leave a comment below letting me know what you thought.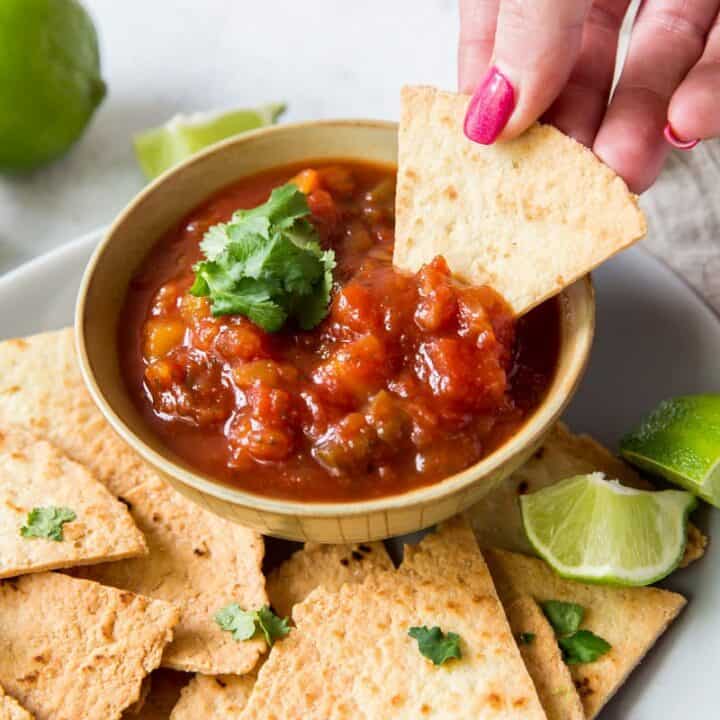 Keto Tortilla Chips
Yield:
24 Chips/2 Servings
Made from homemade tortillas, these Keto Tortilla chips are low carb, crispy, crunchy, salty, and perfect for dipping into your favorite keto dips.
Ingredients
Cooking oil spray
¼ tsp salt
Instructions
Preheat the oven to 350 degrees F. Spray a baking sheet with cooking oil and set aside.
Cut the tortillas in half, then cut each half in thirds, creating 24 triangles. Place on the prepared baking sheet so they are not touching.
Spritz tops of chips with cooking spray, then sprinkle with salt.
Bake for 5 minutes. Remove the baking sheet from the oven and carefully flip the chips. Spritz with cooking spray and return to the oven for an additional 5-7 minutes until they start to brown around the edges.
Notes
You can use this method to make keto tortilla chips from other low carb tortillas, but this recipe is specifically tested with our homemade keto tortillas.
Nutrition Information:
Yield:

2
Serving Size:

1
Amount Per Serving:
Calories:

142
Total Fat:

9g
Saturated Fat:

1g
Trans Fat:

0g
Unsaturated Fat:

7g
Cholesterol:

0mg
Sodium:

408mg
Carbohydrates:

10g
Net Carbohydrates:

8g
Fiber:

2g
Sugar:

0g
Protein:

2g
The nutrition information for this recipe is an approximate total per serving. Please double check the nutrition information for your exact ingredients and brands.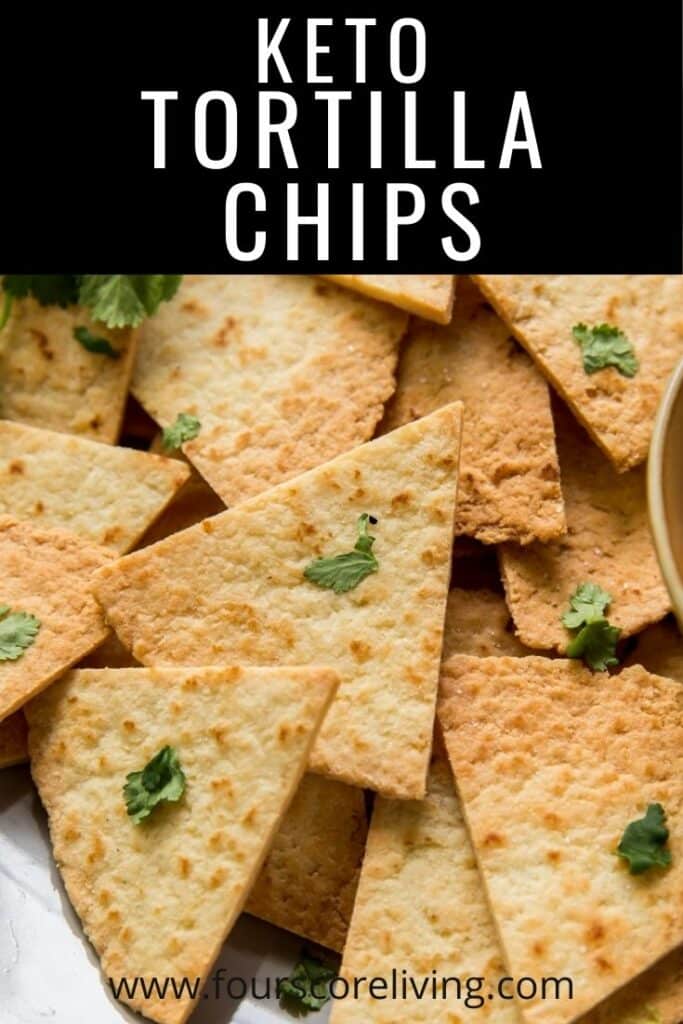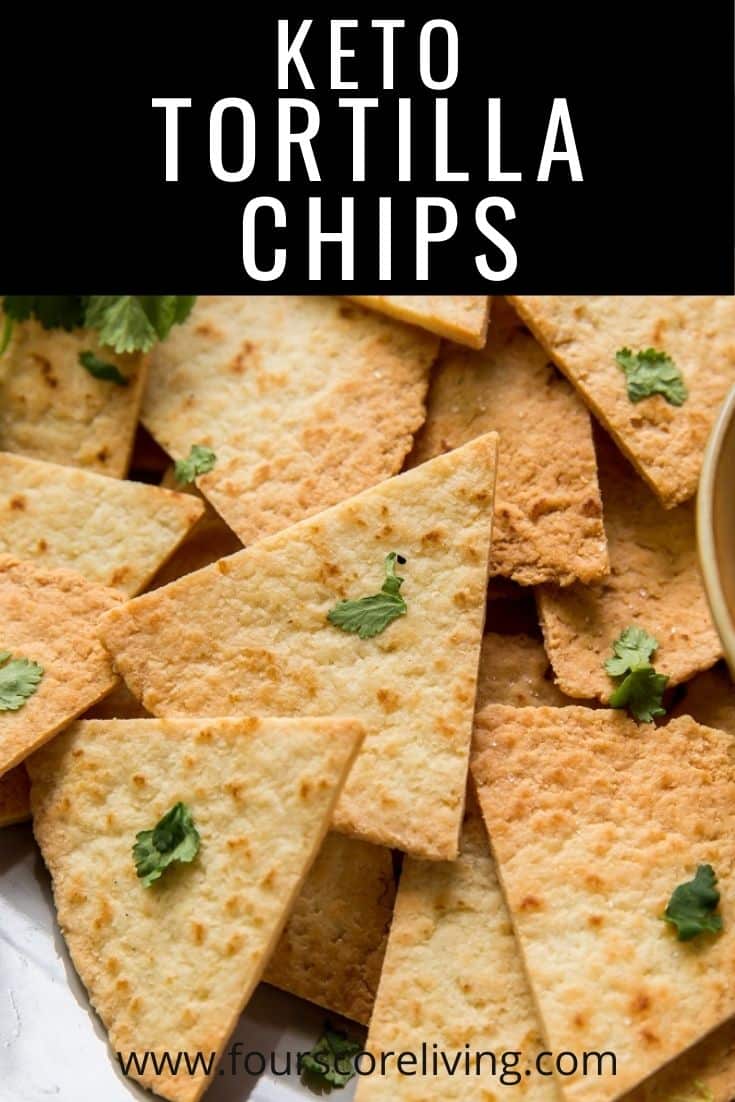 Low Carb Tortilla Chips