Crisp, delicious, and the perfect comfort food, these homemade Air Fryer Chicken Fries are ideal for dipping into your favorite sauces.
This easy air fryer recipe has all the qualities you want for golden brown, crispy chicken fries without deep frying. If you love using your air fryer, try our Easy Air Fryer Jalapeno Poppers recipe, which also offers a low carb version of this classic snack.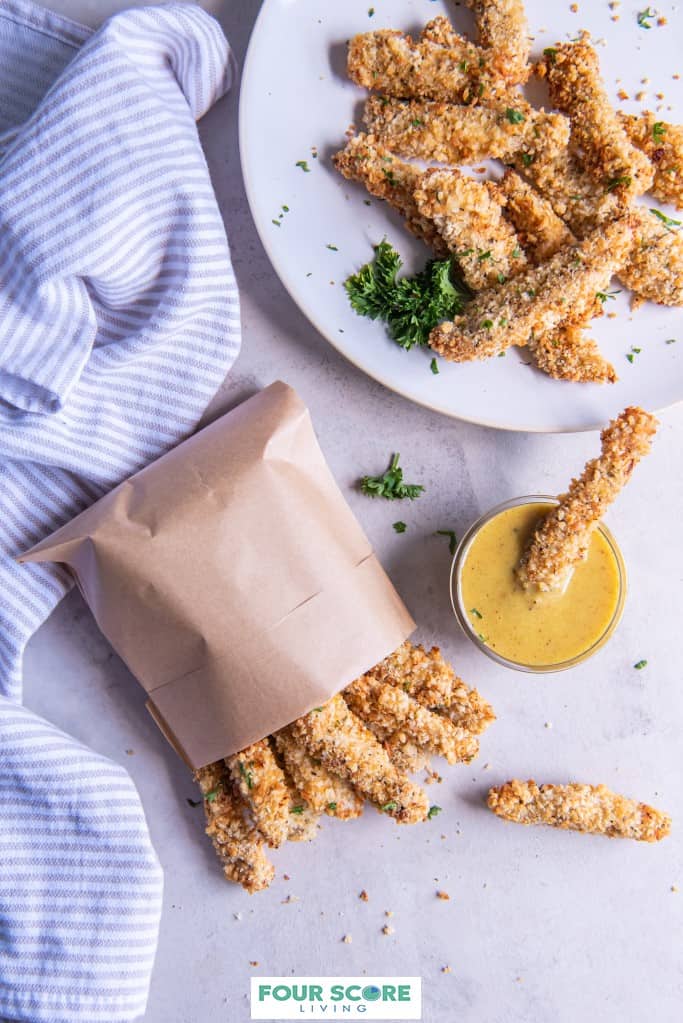 Looking to save time or prepare a fast and easy snack? Scroll down to the bottom of this post, where you'll find instructions on how to cook store bought air fryer frozen chicken fries.
Why you'll Love these Air Fryer Chicken Fries
Super crispy texture: These Air fryer Chicken Fries are celebrated for their exceptional crispiness. The hot air circulation in the air fryer creates a crunchy outer layer that rivals deep-frying.
Perfectly seasoned: Coated in an aromatic mix of breadcrumbs, Italian herbs, and spices, these crisp chicken fries are perfectly seasoned to enjoy on their own or pair with your favorite dipping sauces.
Quick and convenient: Making this Air Fryer Chicken Fries recipe in the air fryer is quick and hassle-free. They cook in minutes, making them an ideal choice for meal prep to plan ahead for busy weeknights or when you need a fast and satisfying snack.
Healthier option: Air frying uses significantly less oil than traditional deep frying, resulting in healthier chicken fries. You also know exactly what's in them – step aside chicken nuggets, this is a superior new chicken snack.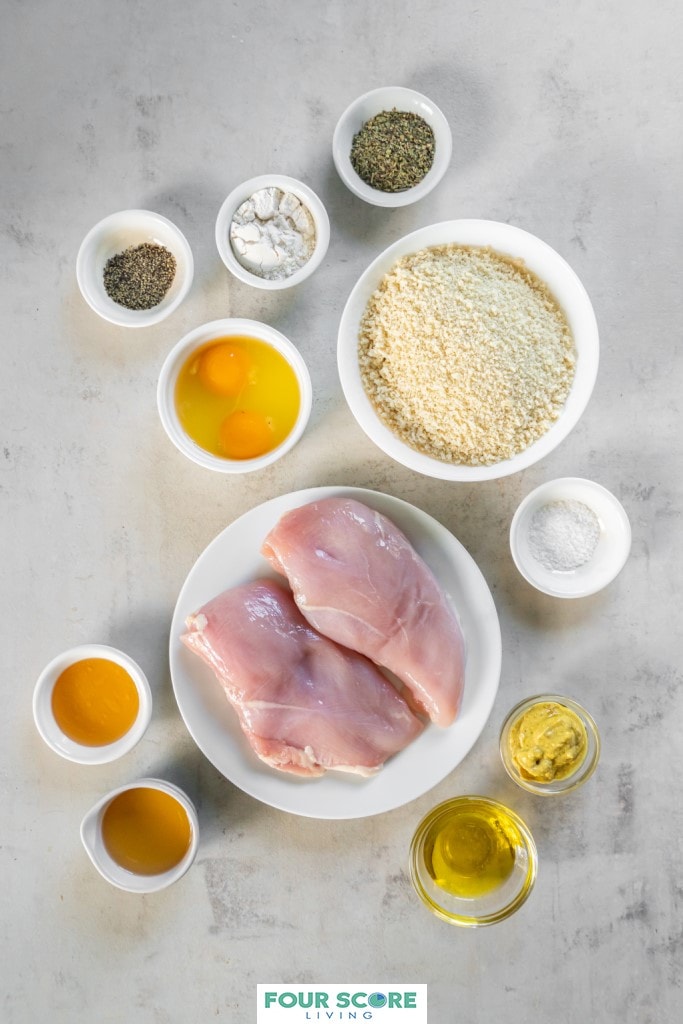 Ingredients in our Easy Air Fryer Chicken Fries Recipe
Chicken breasts: Use boneless, skinless chicken breasts for this recipe. They should be cut into thin strips resembling "fries" for easy cooking and a crispy texture. You can also use chicken thighs to make crispy chicken fries – preparing them will be slightly different.
Eggs: Dipping the chicken fries into an egg wash allows the breadcrumb coating to adhere to the chicken.
Panko bread crumbs: Panko breadcrumbs are essential for achieving a crunchy texture. They are coarser and crispier than regular breadcrumbs, providing a better coating. You can use seasoned or plain panko breadcrumbs.
Italian herb blend: You can use a pre-made Italian herb seasoning or create your own by combining herbs such as oregano, basil, rosemary, thyme, and garlic powder.
Flour: Acts as a binding agent in the batter, helping the breadcrumb mixture stick to the chicken. All-purpose flour works well for this step.
Salt and black pepper: Adjust the amount to your taste.
Ingredients for honey mustard dipping sauce:
Dijon mustard: You can use either smooth or grainy (with mustard seeds) Dijon mustard.
Apple cider vinegar: Apple cider vinegar adds acidity and a hint of sweetness to the sauce. It balances the flavors and complements the honey.
Olive oil: Helps to emulsify the sauce and gives it a smooth consistency. Use extra virgin olive oil for a rich flavor.
Honey: This is the key sweetener in this sauce, balancing out the tanginess from the mustard and vinegar. Adjust the amount to achieve your desired level of sweetness.
If you have any questions about this recipe, please leave a comment below and we will get back to you.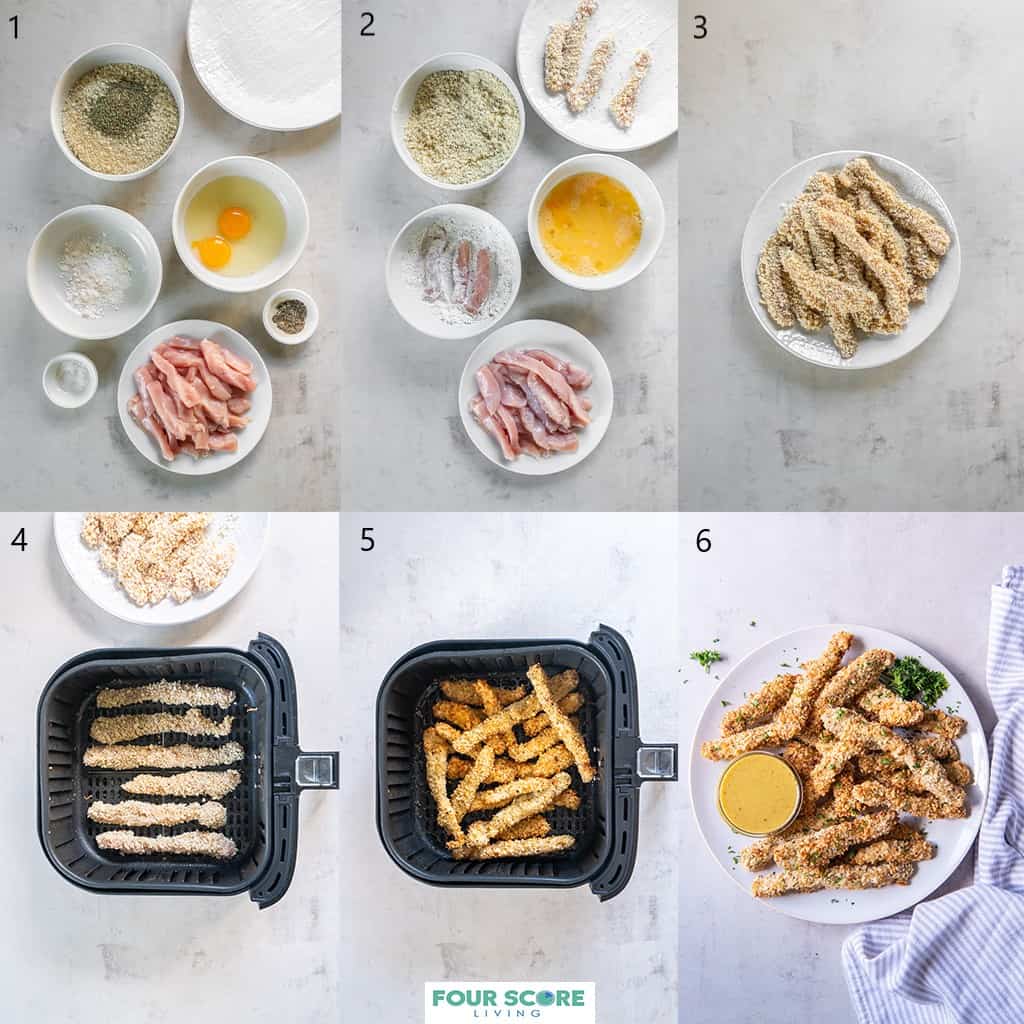 How to make this Air Fryer Chicken Fries Recipe
Lay out the chicken breasts on a cutting board and slice them with a horizontal cut to divide the thickness of the chicken in half. Keep the two halves joined on one edge to create butterflied chicken. Repeat this process on the second chicken breast.
Open the butterflied breasts and slice them into ½ inch chicken fries. Season with salt and pepper. Set aside.
Next, set out 3 bowls or shallow dishes. Add flour to one, whisked eggs to another, and Panko breadcrumbs to a third. Mix the herb seasonings into the Panko breadcrumbs.
Set out a platter to hold the breaded Chicken Fries. Dredge each chicken fry in flour, then egg, and finally in the Panko crumbs, turning and rolling each piece to coat it.
Spray the basket with cooking spray (See Best Tips below for propellant free cooking spray) Place the chicken fries in a single layer in the air fryer basket. Do not overcrowd the basket, allow space between each chicken piece.
Cook the pieces in a few batches for about 10 minutes. Shake the basket after 5 minutes.
For a complete list of ingredients, instructions, and nutritional information, please see the printable recipe card below.
For a dessert option, you might like our Italian hangover cake or this homemade Lemon Custard Ice Cream recipe.
How best to Serve these Air Fryer Chicken Fries
Classic French fries: Serve your chicken fries alongside a side of traditional French fries for a double dose of crispy goodness.
Mac and cheese: Pairing your chicken fries with creamy mac and cheese creates a comforting and indulgent meal. The contrast between the crispy chicken and the cheesy pasta is a crowd-pleaser.
Coleslaw: Add a refreshing element to your plate with coleslaw. The crunchy texture and tangy flavor of coleslaw complement the chicken fries nicely, balancing out the dish's richness.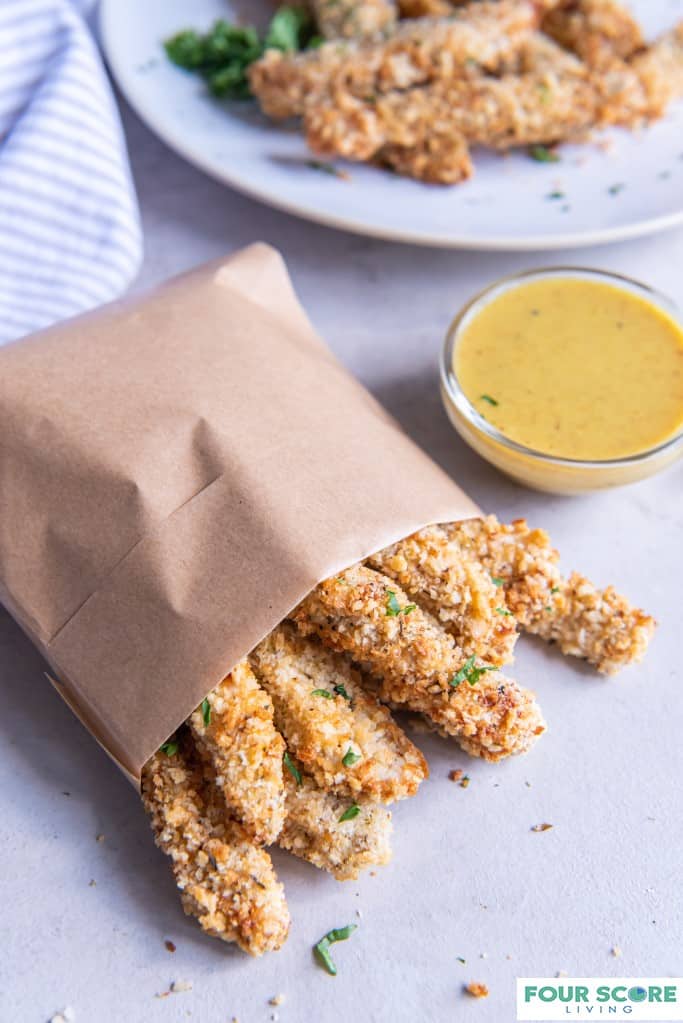 Mixed greens salad: For a lighter option, serve the chicken fries with a mixed greens salad dressed in a vinaigrette or ranch dressing.
Corn on the cob: A side of buttered corn on the cob is a classic choice, especially during the summer months. It's a great way to balance the meal with some natural sweetness.
Dipping sauces galore: Enjoy trying your favorite dipping sauces. In addition to the honey mustard sauce, you can include ketchup, barbecue sauce, hot sauce, ranch dressing, or even a spicy sriracha mayo for those who prefer a kick of heat.
Pickles and pickled vegetables: Pickles and pickled vegetables add a zesty and tangy element to your plate.
Sub roll: Transform the chicken fries into a delicious crunchy chicken sub sandwich by topping with lettuce, tomato, and your favorite condiments on a fresh sub roll. Try adding blue cheese, and hot sauce for a new spin on a traditional chicken finger sub.
Best Tips for Making Chicken Fries in the Air Fryer
Coating uniformity: Coat each chicken strip evenly with the flour, egg, and breadcrumb mixture. This ensures a consistent and crispy texture across all pieces.
Preheat the Air Fryer: Preheating your air fryer for a few minutes (usually around 3-5 minutes) before cooking helps create a hot and conducive environment for achieving crispy results.
Cook in batches: Avoid overcrowding the air fryer basket. Spray the basket with cooking spray and then arrange the chicken fries in a single layer with some space between each piece. Cooking in batches, if necessary, ensures even cooking, a crisp outside, and prevents the pieces from sticking together.
Check the ingredients on your oil spray: Avoid nonstick sprays that contain propellant, which is in many nonstick sprays, as this may alter the nonstick coating over time.
Many Avocado Oil Sprays are propellant free. Another option is to purchase an oil sprayer to lightly spritz your air fryer basket with oil.
Monitor cooking time: Keep a close eye on the cooking time and flip these chicken fries halfway through the cooking process. This promotes even browning on all sides.
Use a meat thermometer: To ensure your chicken is cooked through, it's a good idea to use a meat thermometer. The internal temperature should reach 165°F (74°C).
Don't overcook: Be cautious not to overcook the chicken fries, which can lead to dry and tough results. Air fryers cook quickly, so keep a timer handy and follow the recommended cooking times in your recipe.
Keep warm: Since you're cooking in batches and may want to serve all the chicken fries at once, you can place the cooked ones on a baking sheet in a low oven at 175 F (80 degrees C) to keep them warm while the others cook.
Experiment with seasoning and sauces: Try including garlic powder or a little onion powder in the flour during the breading step
You don't have to stick to mustard sauce for dipping; try BBQ sauce, ranch dressing, or any other favorite dipping sauce.
Serve immediately: Air Fryer Chicken Fries are at their best when served immediately after cooking. They are at their crispiest right out of the air fryer.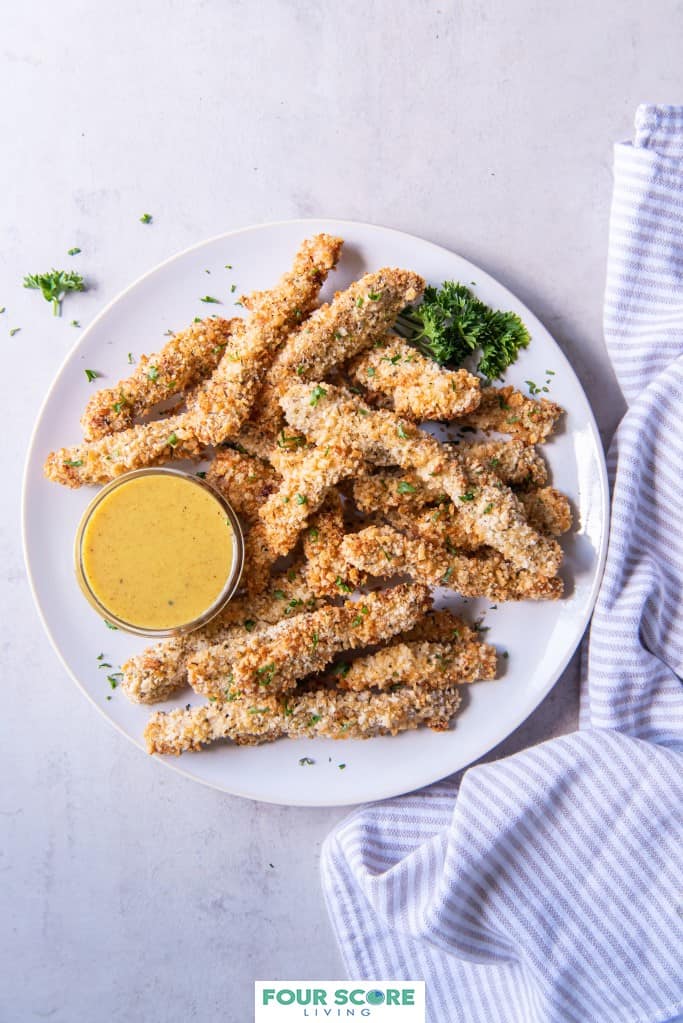 How Best to Store your Air Fryer Chicken Fries
After cooking your chicken fries, allow them to cool to room temperature before placing them in an airtight container. Ensure that the container is sealed tightly to prevent moisture from getting in, which can make the fries lose their crispiness.
If you plan to eat these chicken fries within a day or two, store them in the fridge. They can be kept in the fridge for up to 3-4 days without significantly losing quality.
How to best reheat Air Fryer Chicken Fries
To reheat these refrigerated or frozen chicken fries, use your air fryer for the best results. Preheat the air fryer, then cook the fries at a lower temperature than the initial cooking temperature, which helps re-crisp and get them hot without overcooking the inside. It's generally recommended to reheat at around 350°F (175°C) for 5-8 minutes for refrigerated fries and 10-15 minutes for frozen ones. Turn once halfway through reheating and keep an eye on them to prevent overcooking.
Tyson Chicken Fries Air Fryer
Tyson any'tizers Chicken Fries are a pre-made frozen brand of chicken fries, which means they require minimal preparation. This makes them a perfect choice for busy nights when you need a quick meal on the table without spending much time in the kitchen.
Cooking Tyson's Chicken Fries in the air fryer is incredibly fast. With typical cooking times of around 10-12 minutes, you can have a crispy and satisfying meal ready in no time.
Tyson Chicken Fries are pre-portioned, making it easy to control portion sizes and reduce food waste. You can prepare as many or as few as you need, making them suitable for both solo dinners and family meals.
How to make Frozen Chicken Fries in the Air Fryer
Preheat the air fryer: Begin by preheating your air fryer. Most air fryers have a preheat setting, or you can manually set the temperature to the recommended level, typically around 375°F (190°C). Preheating helps achieve even cooking and crispiness.
Arrange the chicken fries: While the air fryer is preheating, take the frozen chicken fries out of the freezer. Arrange them in a single layer in the air fryer basket. Avoid overcrowding to ensure that the hot air circulates evenly around each fry.
Cooking time: Set the cooking time according to the instructions on the package of the frozen chicken fries in the air fryer. As a general guideline, frozen chicken fries typically take about 10-12 minutes to cook in the air fryer. It's a good idea to flip them halfway through the cooking time to ensure both sides get crispy.
Check for doneness: As the cooking time nears completion, check the chicken fries for signs that they are fully cooked. They should be golden brown and crispy on the outside. You can also use a meat thermometer to ensure the internal temperature reaches at least 165°F (74°C) to ensure they are fully cooked.
Other Air Fryer recipes
Keto Fried Chicken - Crispy, flavorful Keto Fried Chicken, breaded with almond flour and crushed pork rinds is a delicious and satisfying low carb dish.
Air Fryer Jalapeno Poppers - Crispy with a kick and oozing with cream cheese, you will love this versatile appetizer or party snack recipe that includes a low carb version to please everyone.
Air Fryer Baby Potatoes - Crispy, and tender, easy air fryer baby potatoes are a healthier take on a classic side dish without compromising on the taste or texture
We hope you enjoyed reading this article. Please help us out by leaving a quick review and star ★ rating below.
LET'S GET SOCIAL, you can follow Four Score Living on Pinterest. You can also leave a comment below if you have any questions.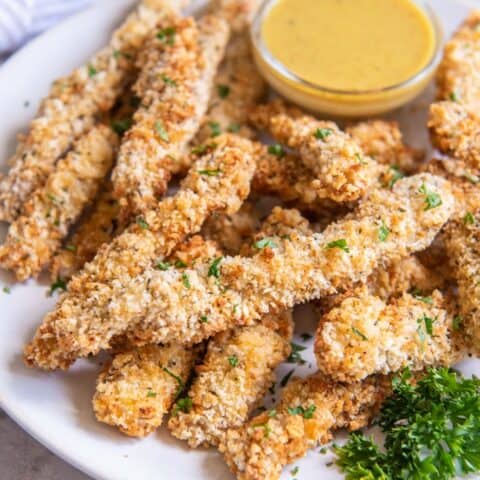 Air Fryer Chicken Fries
Perfectly seasoned and delivering a satisfying crunch, this healthier option of deep-fried comfort food will please everyone at your table.
Ingredients
2 chicken breasts
2 eggs
2 Tablespoons of flour
Salt to taste
Black pepper to taste
Instructions
Butterfly the chicken breasts by lying them flat on the cutting board. Place one hand on the top of the chicken breast with fingertips lifted and extended for safety. Holding the knife horizontally, carefully slice the thickness of the breast into two even layers, without cutting completely through. The two halves should be joined on one edge. Repeat this process for the second chicken breast.
Open the butterflied breasts and slice into ½ inch chicken "fries." Salt and pepper the "fries" and set aside.
Prepare a bowl with the flour, a bowl with whisked eggs, and a bowl with Panko bread crumbs mixed with the Italian herb blend.
Set out a platter to hold the breaded chicken fries. Dredge each chicken fry into the flour, egg, and then the seasoned Panko, turning and rolling to coat with each step.
Spray the basket with cooking spray. Place the chicken fries in a single layer in the air fryer basket. Do not crowd the chicken fries to allow the air to circulate around each one. This recipe is air fried in multiple batches with most air fryers. Cook time is approximately 10 minutes at 360 F. Shake your air fryer basket after 5 minutes to stir the chicken fries. Use a meat thermometer to ensure the chicken is cooked through. The internal temperature should reach 165°F (74 degrees C).
To make a Honey Mustard Dipping Sauce mix together:

2 Tablespoons of Dijon mustard
2 Tablespoons apple cider vinegar
2 Tablespoons olive oil
1 Tablespoon honey
Salt to taste
Black Pepper to taste
Notes
Coat each chicken fry evenly when dredging and rolling in the Panko breadcrumbs
Pre-heat your air fryer
cook in batches, so as not to overcrowd the air fryer basket
Monitor cook time, overcooking can dry out your chicken fries
Recommended Products
As an Amazon Associate and member of other affiliate programs, I earn from qualifying purchases. They never cost you extra.
Nutrition Information:
Yield:

4
Serving Size:

1
Amount Per Serving:
Calories:

365
Total Fat:

7g
Saturated Fat:

2g
Trans Fat:

0g
Unsaturated Fat:

4g
Cholesterol:

144mg
Sodium:

622mg
Carbohydrates:

43g
Fiber:

3g
Sugar:

3g
Protein:

30g
The nutrition information for this recipe is an approximate total per serving. Please double check the nutrition information for your exact ingredients and brands.