Baked or fried, these keto mozzarella sticks will satisfy your craving for a crunchy, cheesy snack.
There are only six ingredients in this easy keto cheese sticks recipe and they're ready for snacking in under 30 minutes.
If you're looking for another appetizer idea that includes loads of melty mozzarella cheese, try this Keto Pizza Recipe.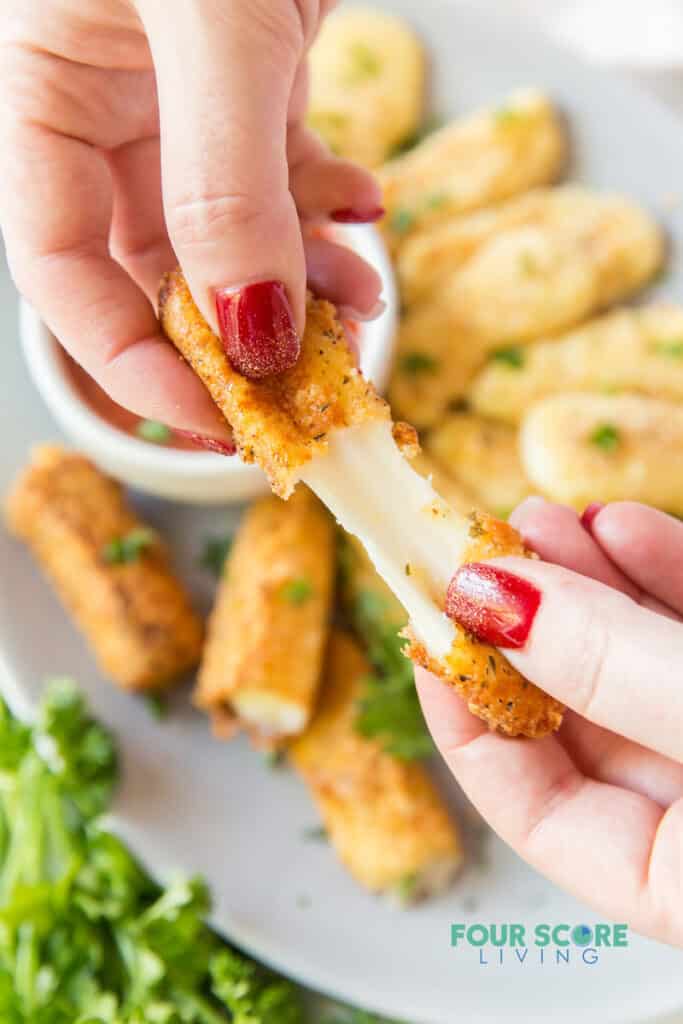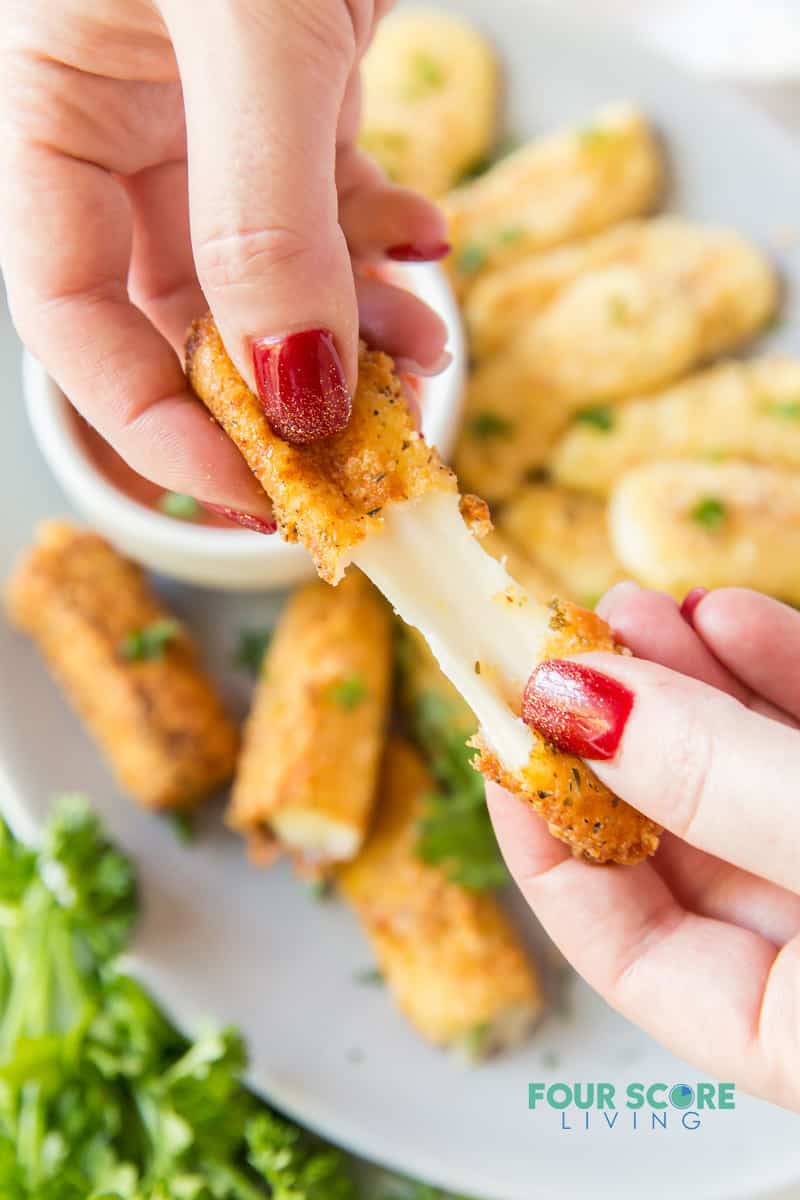 KETO MOZZARELLA STICKS RECIPE
If you're looking to make gluten free mozzarella sticks or keto mozzarella sticks, you've found the perfect recipe.
You can choose to either bake your keto mozzarella sticks, or fry them in oil for a delightfully authentic experience. Either way, they are SO good!
These low carb keto mozzarella sticks use crushed pork rinds to create a crispy, crunchy coating for cheese sticks that is low carb, gluten free, nut free, and delicious.
Serve these keto cheese sticks with our Keto Pizza Sauce for an impressive game day or any day snack that everyone will enjoy.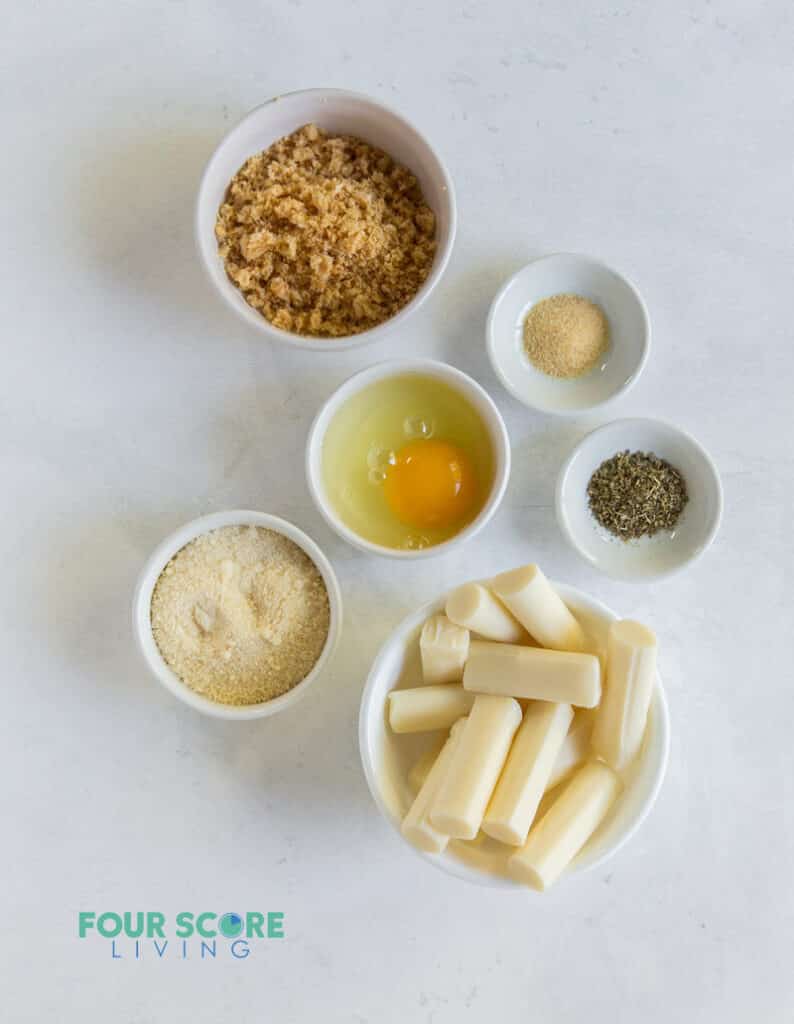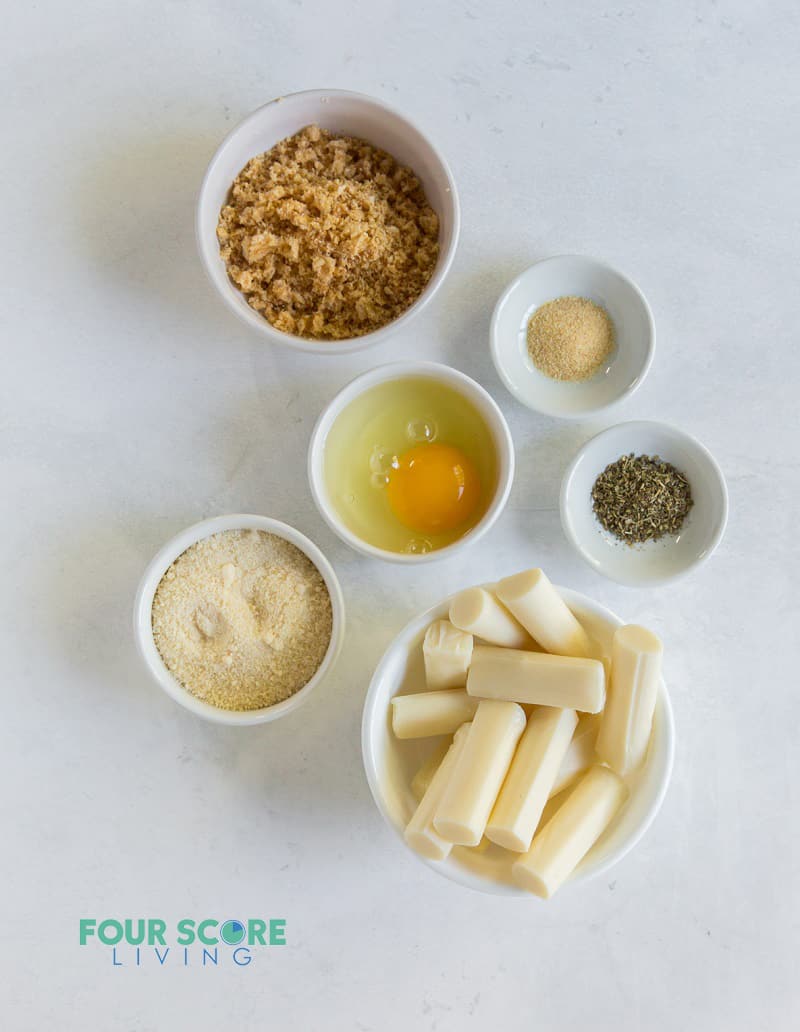 INGREDIENTS IN KETO CHEESE STICKS
Mozzarella String Cheese - You'll need 8 of them, cut in half.
Egg - Beaten eggs helps your seasonings and crunchies stick to the cheese sticks.
Crushed Pork Rinds - These are used often in Keto recipes in place of breadcrumbs. They are crunchy, fried, and super low carb.
Parmesan Cheese - Parmesan adds depth and flavor to the breading, plus is browns up nicely.
Italian Seasoning - Typically a blend of Italian herbs, the flavor here will remind you of your favorite Italian restaurant.
Garlic Powder - Garlic makes everything taste better.
Low Carb Marinara Sauce - You will want to dip these mozzarella sticks in sauce for the best experience.
If you have any questions, please leave a comment below and I will get back to you.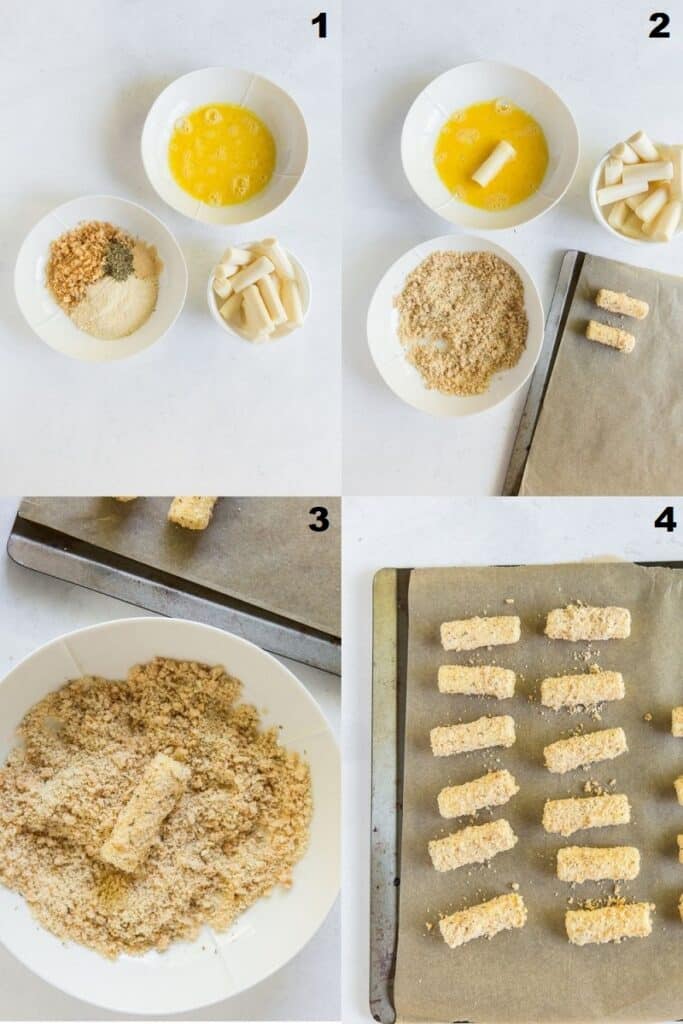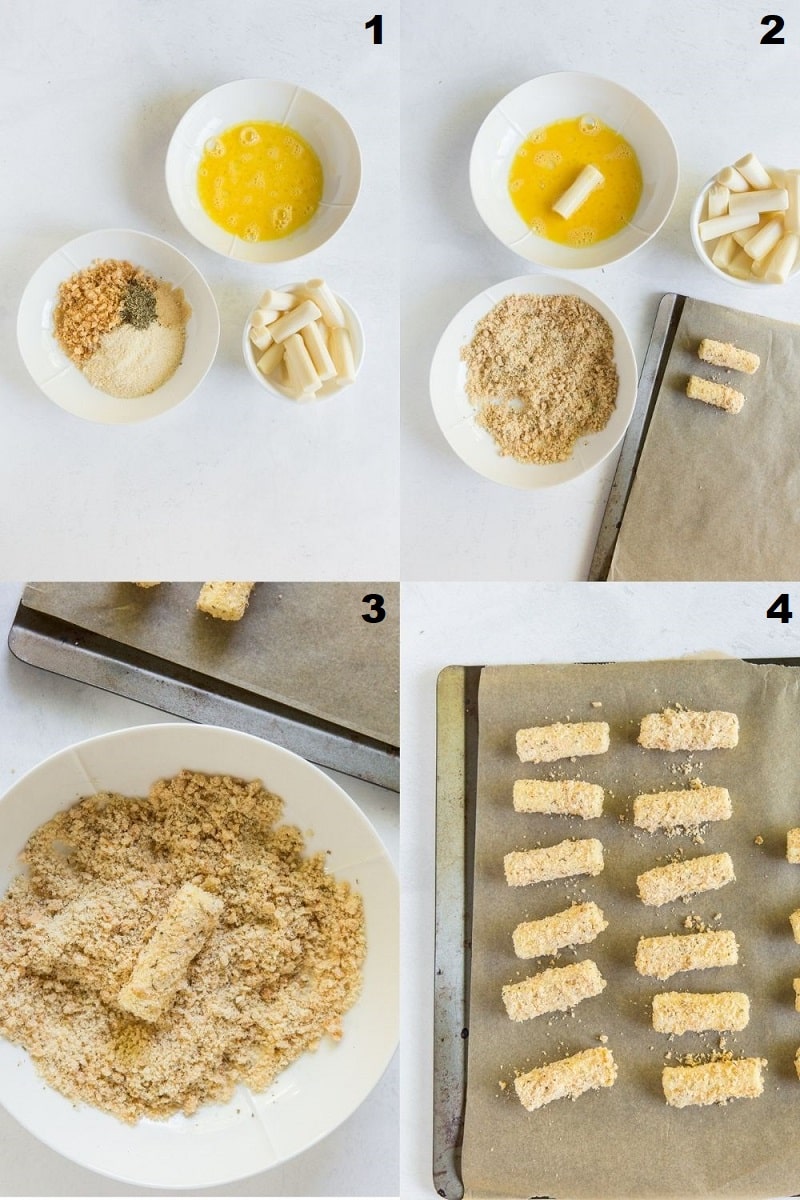 HOW TO MAKE KETO MOZZARELLA STICKS
Place egg in a shallow bowl and beat well. In another shallow bowl, mix pork rinds, parmesan cheese, Italian seasoning, and garlic powder. Whisk to combine.
Dip in each piece of mozzarella in the egg.
Then dip each piece in the pork rind mixture.
Place on prepared baking sheet and freeze as directed for at least 1 hour until ready to fry or bake.
To Bake: Follow the instructions in the recipe card below. They take about 10-12 minutes this way.
To Fry: Heat two tablespoons of oil in a large skillet over medium high heat. Fry frozen mozzarella sticks for a few minutes on each side until golden brown.
These numbered steps match the numbered photos above and are for illustration purposes. For the complete list of ingredients and instructions, please see the recipe below.
You can also make these keto mozzarella sticks in an air fryer. See these air fryer cooking times for an idea on how long to cook them.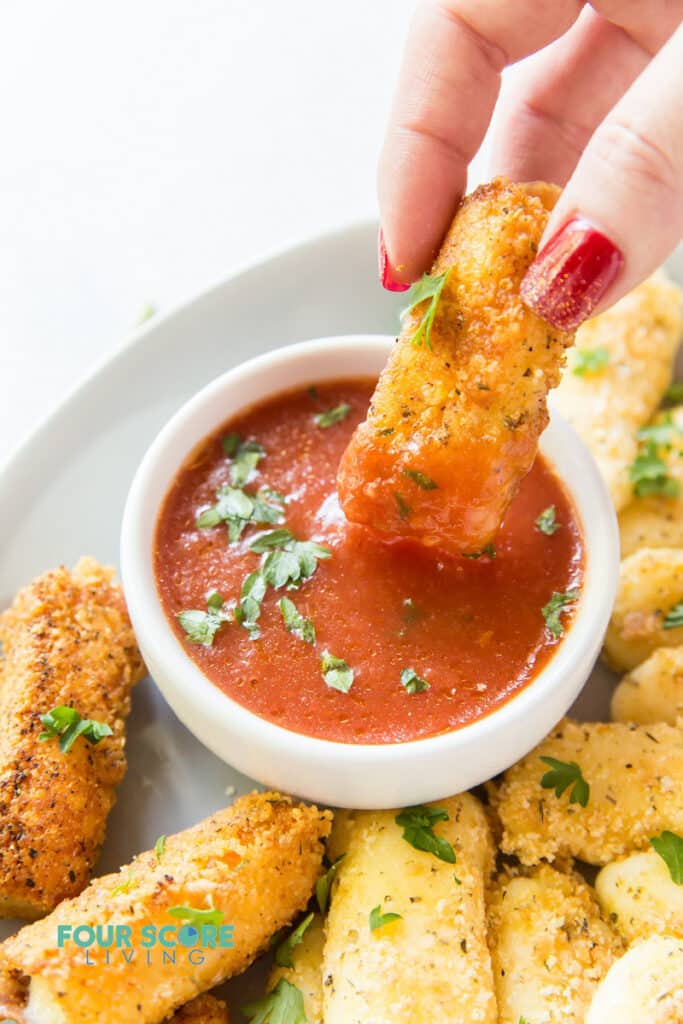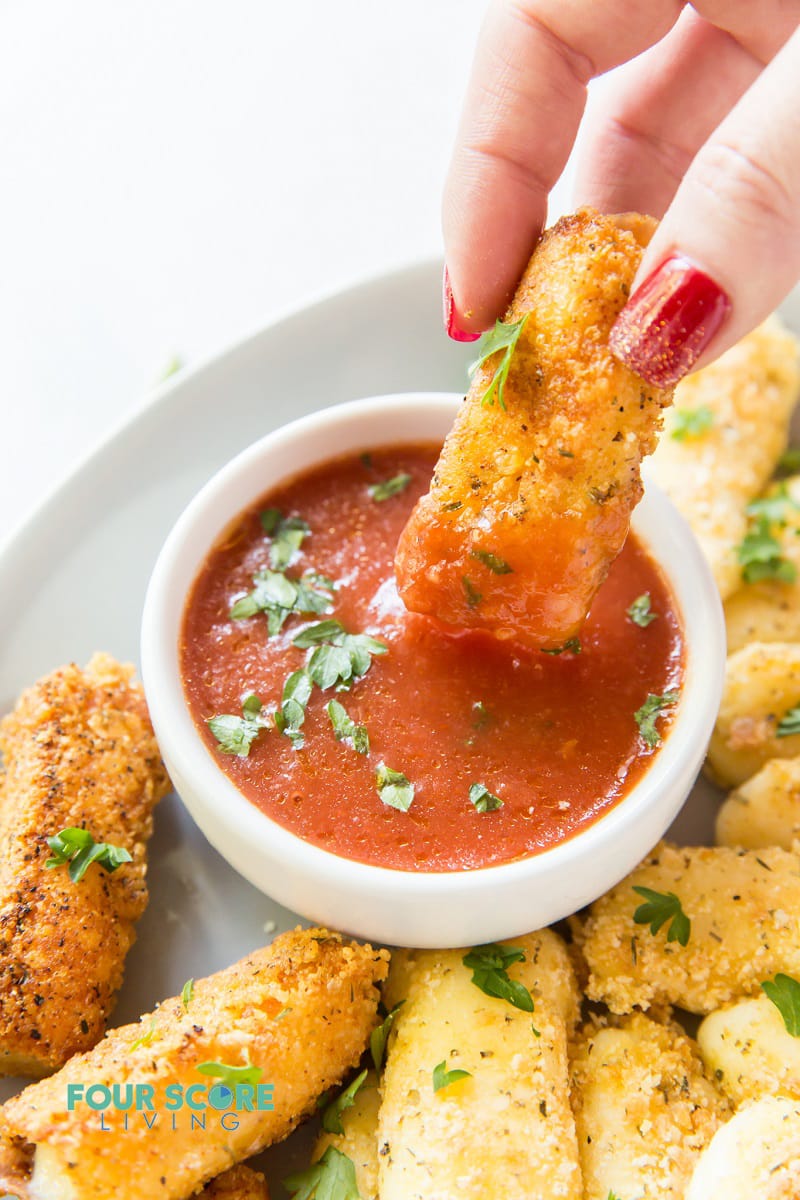 WAYS TO COOK KETO MOZZARELLA STICKS
Are Keto Mozzarella sticks better baked or fried?
In this recipe I give you instructions for either frying these in a shallow pan, or baking them in the oven. Each method has its pros and cons.
If you choose to fry your Keto cheese sticks, you'll find that they get crunchier due to the added oil. This is certainly delicious, but can be a mess to clean up.
Baking your low carb mozzarella sticks will give you a final product that is less crunchy, but still delicious since the parmesan and seasoning come through more. Cleaning up after this method is much easier.
If you want my opinion, I say you should fry these! You get a much more authentic mozzarella stick experience this way.
TIPS FOR MAKING HOMEMADE MOZZARELLA STICKS
Make sure your coating is fairly thick on each piece of cheese. This will keep the cheese from oozing out. Don't forget to coat the ends of the cheese too.
Coat just one piece of cheese at a time, and avoid handling them more than you need to. Dip into the egg, then the crumbs, then onto the tray. The less you fuss with them the better.
Be careful when frying with hot oil. I'd hate for you to get hurt. Use a sturdy pair of tongs to carefully move your pieces in and out of the pan.
DO I NEED TO FREEZE KETO CHEESE STICKS?
The most important part of this recipe is the step that tells you to freeze them for at least an hour before cooking.
If you were to skip the freezing step, the cheese would melt before the breading cooks, leaving you with puddles of cheese instead of crispy finger food.
If you'd like to make these ahead of time, you can do the initial 1 hour freeze, and then transfer the keto mozzarella sticks to an air-tight bag or container. Freeze for up to three months and then cook from frozen.
ARE MOZZARELLA STICKS KETO?
No, most mozzarella sticks are made with flour, so they are high carb. This recipe lets you enjoy crispy fried cheese sticks without flour, and only 1 gram of net carbs per piece.
CAN I AIR FRY THESE?
Yes you can air fry keto mozzarella sticks. All air fryers are different, but I suggest cooking for 5-7 minutes. Spray with a bit of oil before cooking for extra crunch.
WHY ARE MY MOZZARELLA STICKS OOZING?
If you're frying your keto cheese sticks and the cheese is oozing out or exploding, there are a couple of things to check.
Fist, are you starting with frozen cheese sticks? This is super important. Second, your oil temperature may be too hot. Adjust the heat a bit lower for the next batch.
STORING AND FREEZING KETO MOZZARELLA STICKS
Store leftover cheese sticks in an airtight container in the refridgerator for up to three days. Reheat in the air fryer, oven, or stovetop until warmed through and crispy again.
You can freeze these too. I suggest freezing them before cooking, and then cooking them from frozen when you're ready to eat.
You can also freeze cooked mozzarella sticks in a zip top bag for up to three months. Reheat from frozen in a 350°F oven until hot.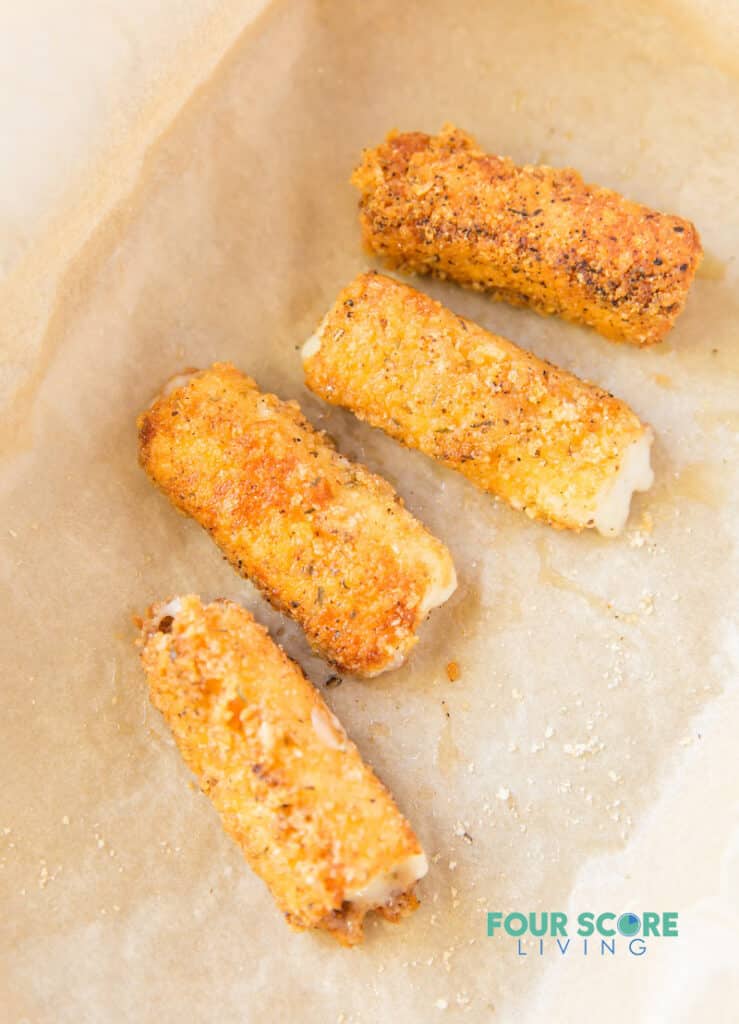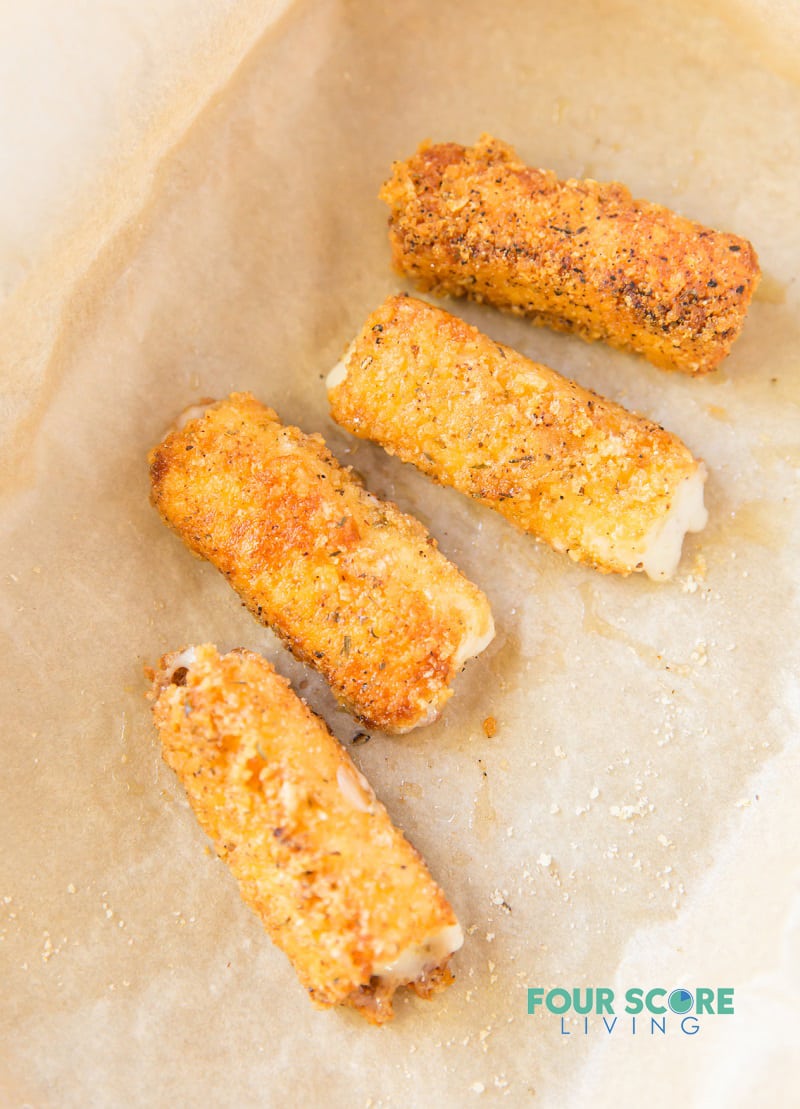 OTHER YUMMY KETO GAME DAY SNACKS
Serve Keto Chicken Wings as an either an appetizer or main dish at your next game day party. Try them with this Keto Blue Cheese Dressing.
These Keto Stuffed Mushrooms are simple to make and a reader favorite.
Do you like Keto dips? We have a few to try. Keto Buffalo Chicken Dip is so good and feeds a crowd. Keto Queso or Keto Spinach Dip are great for dipping into with pork rinds or Keto Cheese Chips.
You can also check out our post on Keto Snacks.
We hope you enjoyed reading this article. Please help us out by leaving a quick review and star ★ rating below.
LET'S GET SOCIAL, you can follow Four Score Living on Pinterest. You can also leave a comment below if you have any questions.
Did you make these Keto Mozzarella Sticks? Please leave a comment below letting me know what you thought.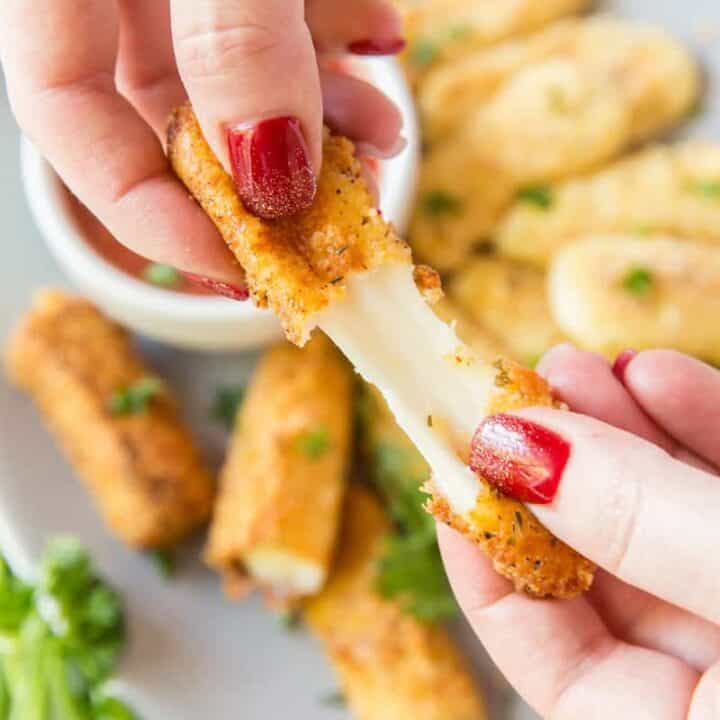 Keto Mozzarella Sticks
Yield:
16 mozzarella sticks
Baked or fried, these keto mozzarella sticks will satisfy your craving for a crunchy, cheesy snack.
Ingredients
8 sticks mozzarella string cheese, cut in half
1 egg, beaten
½ cup crushed pork rinds
⅓ cup grated Parmesan cheese
1 tsp Italian seasoning
½ tsp garlic powder
If frying: high temperature oil
Low carb marinara sauce, for dipping
Instructions
If baking, preheat the oven to 400 degrees F.
Line a cookie sheet with parchment paper; set aside.
Place egg in a shallow bowl and beat well. In another shallow bowl, mix pork rinds, Parmesan cheese, Italian seasoning, and garlic powder; whisk to combine.
Dip each piece of mozzarella in the egg, then roll in the pork rind mixture. Place on prepared baking sheet and freeze, uncovered, for at least one hour or until ready to fry or bake.
To bake: Bake for 10-12 minutes, flipping once halfway through, or until golden brown.
Frying instructions: Heat 2 tablespoons oil in a large skillet over medium heat. Once hot, fry keto mozzarella sticks in a single layer, 1-2 minutes per side until golden brown and softened.
Serve with marinara sauce.
Notes
Freezing these mozzarella sticks before cooking is very important. Give them at least 1 hour in the freezer before cooking.
Frying makes for crunchier cheese sticks, but baking gives better flavor and easier clean up.
Nutrition Information:
Yield:

16
Serving Size:

1
Amount Per Serving:
Calories:

66
Total Fat:

4g
Saturated Fat:

2g
Trans Fat:

0g
Unsaturated Fat:

2g
Cholesterol:

26mg
Sodium:

185mg
Carbohydrates:

1g
Net Carbohydrates:

1g
Fiber:

0g
Sugar:

1g
Protein:

5g
The nutrition information for this recipe is an approximate total per serving. Please double check the nutrition information for your exact ingredients and brands.