Are you looking for a keto pizza sauce recipe that's easy to make and doesn't have any added sugars?
Perfect! I am sharing my keto pizza sauce recipe. It needs only a handful of ingredients and it's quick to make. Along with my Keto Pizza Dough recipe, this sauce is a dinner-time hero, helping to make a dinner that everyone will love.
You can use this low carb pizza sauce right away for tonight's dinner, or easily store it for future keto pizza nights!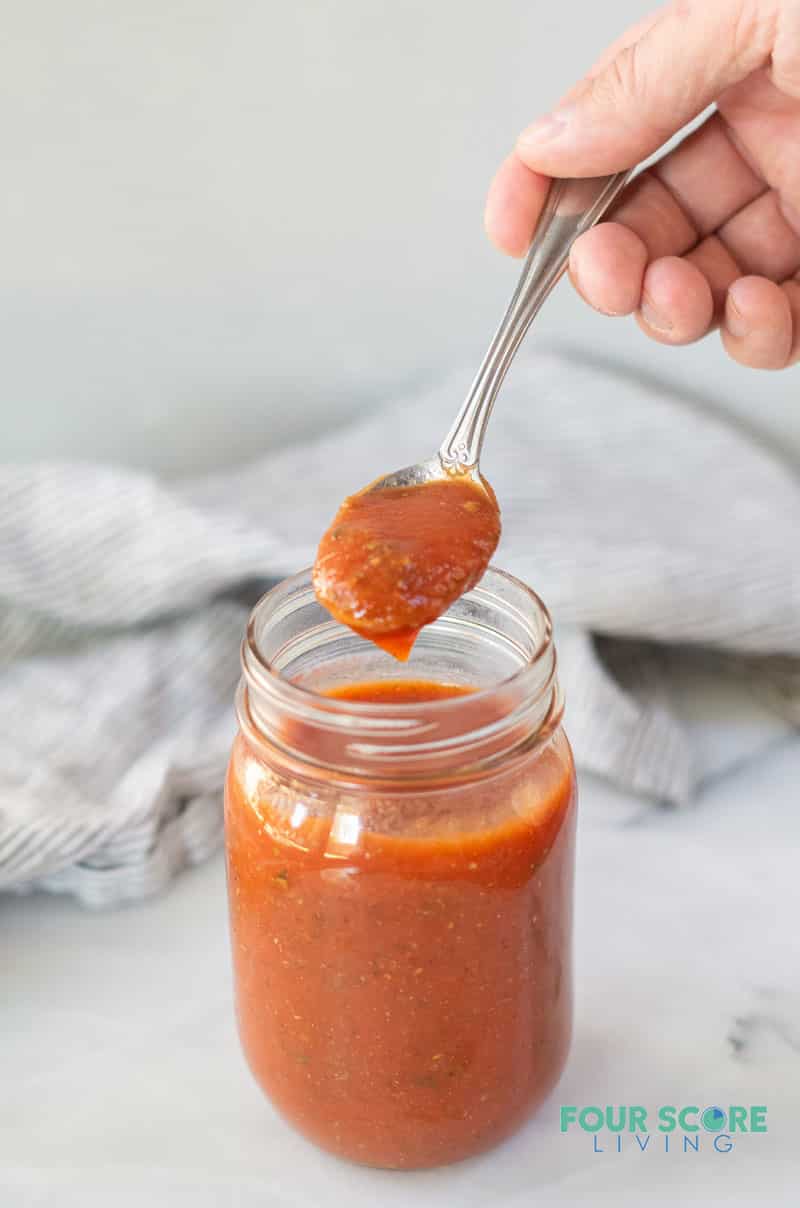 KETO PIZZA SAUCE RECIPE
Do you need to use a pizza sauce that is specifically keto-friendly? Unfortunately, you do. This is because most store-bought pizza sauces usually include sugar and/or extra ingredients that aren't needed.
Things like high-fructose corn syrup, starches, and preservatives do not belong in pizza sauce, and making it from scratch is easier than you think. You don't even need to cook this recipe. Just stir it up in a bowl!
The other reason that you should make your own pizza sauce is that store bought Keto-friendly pizza sauces can be expensive. Brands such as Rao's will sometimes cost more than 3 times what a can of plain tomato sauce costs.
You can make a quick, inexpensive, and low-carb pizza sauce that's naturally flavorful and has a fraction of the carbs compared to store-bought pizza sauces. This Pizza Sauce recipe is Keto-friendly, Low-carb, vegan, and gluten-free. You can also use it on gluten-free pizza.
ARE TOMATOES KETO FRIENDLY?
Yes, tomatoes are keto friendly. Tomatoes are a great addition to recipes when following a keto diet.
Yes, there are carbs in tomatoes. Tomatoes contain natural sugars that are good for you. They have a net carb count of 0.67 gram per raw ounce.
Tomato sauce is not the same as fresh tomatoes, since it's concentrated. Tomato sauce has an average of 21g. net carbs per 16 oz. This keto pizza sauce recipe makes four servings at around 5g. net carbs per serving.
Processed tomatoes like pizza sauce, spaghetti sauce, and salsas can often have sugar added to them, and in that case are not going to be keto-friendly. Always check the labels.
We often add tomatoes to recipes like our Keto Taco Soup. Our Keto Chili is also a quick meal that incorporates tomatoes.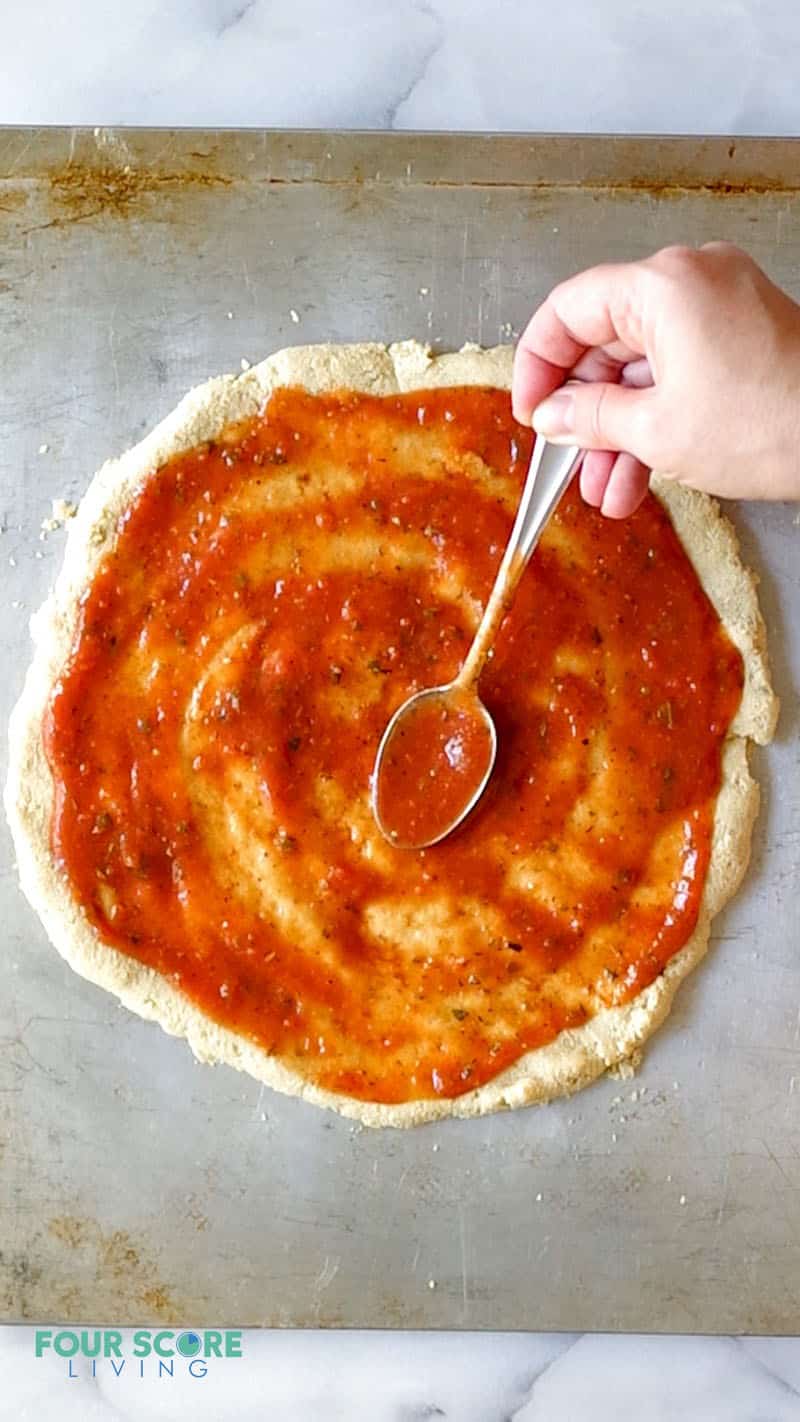 INGREDIENTS IN KETO PIZZA SAUCE
Tomato Sauce – Canned tomato sauce is the base of this recipe. We aren't making sauce completely from scratch, but canned tomatoes are a great convenience. Make sure sugar wasn't added to the sauce. We opt for low-sodium so we can control how much salt we put into the keto pizza sauce.
Seasonings – We add oregano, basil, garlic powder, onion powder, salt and pepper.
You can adjust the amounts of these seasonings to fit your own taste preferences. If you want to, use Italian Seasoning in place of the Oregano and Basil. That blend generally includes some rosemary as well.
That's it. Super clean, super easy, sugar-free pizza sauce.
If you have any questions about making Keto Pizza Sauce, please leave a comment below and I will get back to you.
CAN I USE TOMATO PASTE TO MAKE PIZZA SAUCE?
Yes, tomato paste will work, but you'll need to add water since it's a concentrated tomato sauce.
Generally you should add one part water to one part tomato sauce to make that substitution. Double check and make sure no sugar was added to the paste. I also recommend going with a low sodium tomato paste.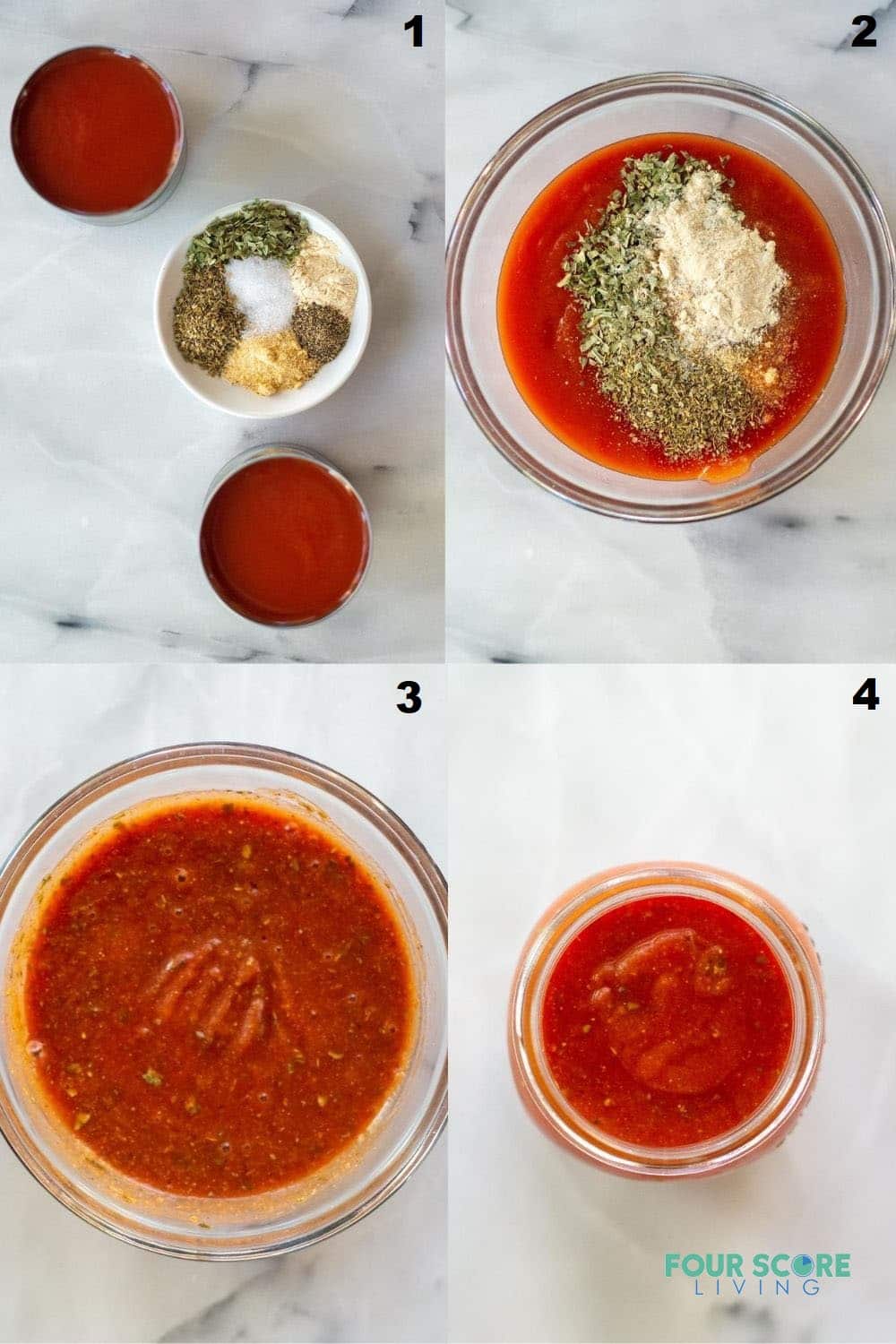 HOW TO MAKE KETO PIZZA SAUCE
It really only takes one minute to create your own flavorful pizza sauce.
Measure out all ingredients. You can do this ahead of time as I did, or just measure them as you go.
Add all ingredients (tomato sauce and seasonings) to a small mixing bowl.
Mix until combined and the seasonings are well incorporated. Give it a little taste test and add more salt and pepper, but only if you think it is needed.
Store keto pizza sauce in the refrigerator for up to 5 days.
These numbered steps match the numbered photos above and are for illustration purposes. for the full list of ingredients and instructions for making keto pizza sauce, please see the recipe below.
CAN YOU FREEZE KETO PIZZA SAUCE?
Yes, you can freeze keto pizza sauce. Frozen pizza sauce will last in the freezer for up to six months.
I actually suggest that you definitely freeze some of this sauce, or make extra and keep in in the freezer. On a busy weeknight, having dinner mostly prepped ahead of time is always helpful.
You may see that some water will separate from the tomatoes during the freezing process. When you're ready to use you low carb pizza sauce, bring it to room temperature and stir it to combine.
HOW LONG IS PIZZA SAUCE GOOD FOR?
This sauce should stay fresh in the fridge, as long as it's well-sealed, for up to 5 days. For longer storage, freeze keto pizza sauce for up to 6 months.
I CAN'T HAVE TOMATOES. WHAT OTHER KETO PIZZA SAUCE CAN I USE?
We like to switch up our keto pizza sauce every once in a while for other styles of keto-friendly pizza sauce. Doing this allows us to make gourmet specialty pizzas and keep things interesting.
You can use pesto for your pizza sauce. It's high in fat and flavorful. Top a pesto pizza with lots of cheese and your favorite keto veggies.
You can also use a sugar-free, keto ranch dressing as a good sugar free pizza sauce option. Add grilled chicken and cooked bacon and you have a chicken bacon ranch pizza.
Try Keto Enchilada Sauce topped with Mexican cheese blend, taco meat, peppers, and black olives for a delicious taco pizza.
Keto BBQ sauce on pizza topped with peppers, onions, and grilled pork or chicken is super tasty.
HOW TO USE THIS SAUCE TO MAKE KETO PIZZA?
Looking for a keto pizza crust recipe? Get the recipe as well as pizza baking instructions in my Keto Pizza Crust recipe post. It's a fathead dough recipe. Doesn't it look amazing? You absolutely CAN enjoy pizza on a keto diet, and why wouldn't you when it's this easy and this delicious.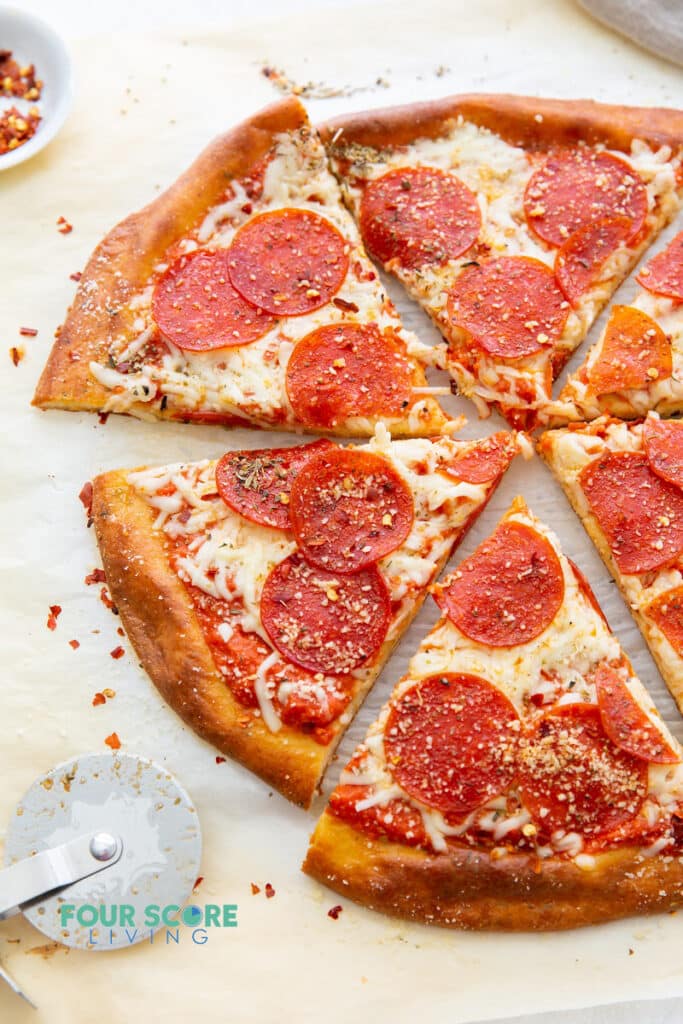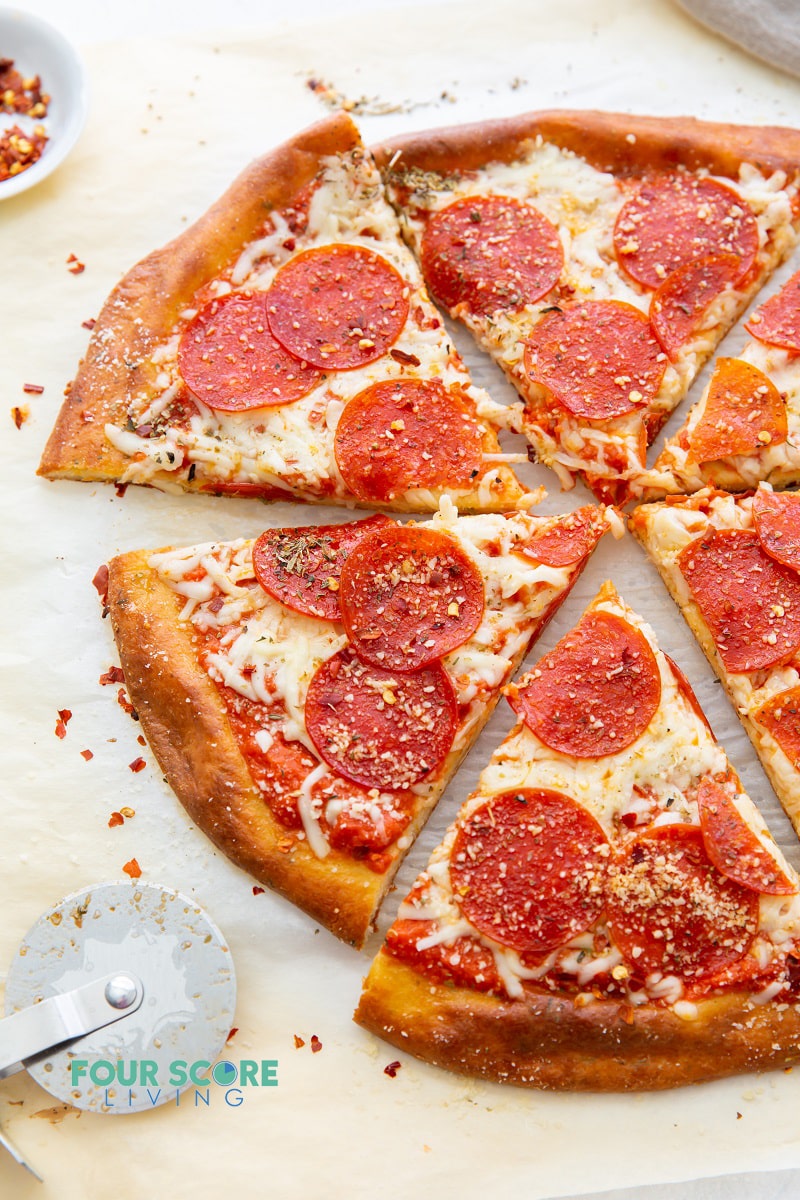 HOW MANY PIZZAS CAN I MAKE WITH A CAN OF SAUCE?
This will depend on how much sauce you like to add to your pizzas, and what size your pizza is. You'll need between ¾ cup and 1 cup of pizza sauce for a large round pizza. This keto pizza sauce recipe makes two cups, so you'll have plenty to make at least 2 pizzas and maybe more.
You can double, triple, or quadruple this recipe if you like. Maybe you need to make pizzas for a crowd or you want to stock the freezer? Go ahead.
WHAT ELSE CAN YOU MAKE WITH SUGAR-FREE PIZZA SAUCE?
Pizza sauce is a must have whenever we have dippable appetizers! Try a side of keto pizza sauce with homemade Keto Mozzarella Sticks or just dip Cheese Chips into it.
Freeze any leftover pizza sauce in small portions so that you can easily reheat just a serving to use as a yummy dip. I like using a silicone ice cube tray for this.
SHOULD PIZZA SAUCE BE COOKED?
There is no need to cook this pizza sauce. The canned tomato sauce is already the perfect consistency and doesn't need to be cooked down further. If you want your sauce to be thicker you can put it in a pan on the stove and simmer until it's reduced a bit.
CAN I MAKE A SWEET KETO PIZZA SAUCE?
If you want your pizza sauce to have sweetness to it, you could add a pinch of granulated Erythritol or another keto-friendly sweetener. I don't think it's necessary, but you may be used to the sweetness and prefer it that way.
HOW ABOUT A SPICY KETO PIZZA SAUCE?
You can add any kind of seasonings or spices that you like! Try crushed red pepper to give your pizza sauce a spicy kick.
CAN I USE FRESH GARLIC TO MAKE LOW CARB PIZZA SAUCE?
So, you're a garlic lover? You can use fresh garlic in place of the garlic powder in this recipe. I'll let you decide how much. You can finely grate it and add it in raw, or mince and briefly saute the garlic before adding it to the sauce.
EASY LOW CARB DINNER RECIPES
Chicken and Brussel Sprouts is a new favorite around here. It's healthy and delicious, uses inexpensive chicken thighs, and it's all baked in one pan.
Keto Cheeseburger Casserole is so cheesy and flavorful, the whole family will love it.
For a classic fish dinner, try making my Keto Cod with lemon and capers.
Another Family Favorite is this Italian classic, Keto Eggplant Parmesan.
This recipe for Hasselback Pizza Chicken can definitely be made low-carb and it sounds amazing.
We hope you enjoyed reading this article. Please help us out by leaving a quick review and star ★ rating below.
LET'S GET SOCIAL, you can follow Four Score Living on Pinterest. You can also leave a comment below if you have any questions.
Did you make this keto pizza sauce recipe? What did you think? Leave me a comment below.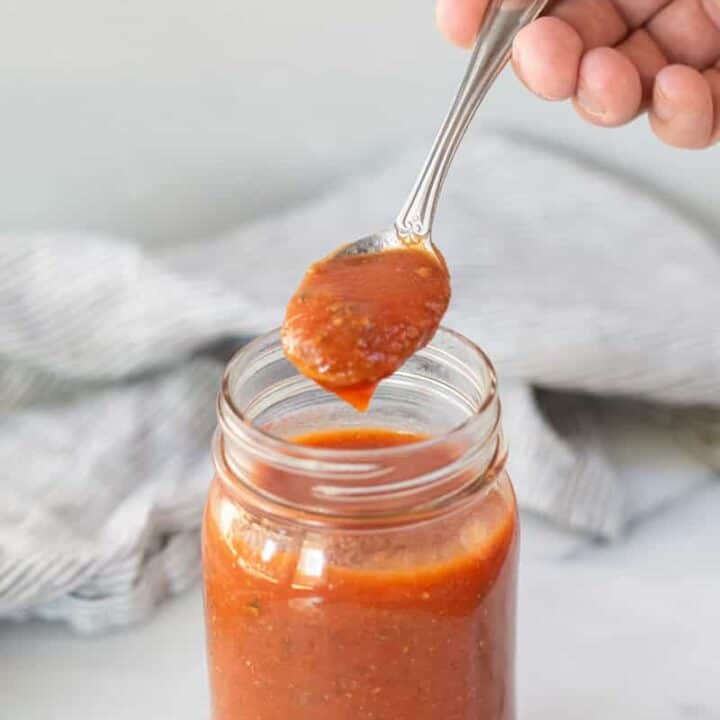 Keto Pizza Sauce
Looking for a keto pizza sauce recipe that's easy to make and doesn't have any added sugars? This keto pizza sauce recipe uses only a handful of ingredients and it's quick to make.
Ingredients
16 oz. no sugar added tomato sauce (low sodium)
2 teaspoons dried oregano
2 teaspoons dried basil
1 teaspoon garlic powder
1 teaspoon onion powder
½ teaspoon salt
¼ teaspoon pepper
Instructions
Measure out all ingredients.
Add all ingredients to a small mixing bowl.
Mix until combined and the seasonings are well incorporated. Give it a little taste test and add more salt and pepper to taste, if needed.
Store keto pizza sauce in the refrigerator for up to 5 days.
Notes
Use a low sodium tomato sauce so you can control the salt.
Feel free to add a clove or two of fresh minced garlic.
Double or trip the batch and freezer for future pizzas.
Nutrition Information:
Yield:

4
Serving Size:

½ cup
Amount Per Serving:
Calories:

50
Total Fat:

2g
Saturated Fat:

0g
Trans Fat:

0g
Unsaturated Fat:

0g
Cholesterol:

0mg
Sodium:

412mg
Carbohydrates:

8g
Net Carbohydrates:

5g
Fiber:

3g
Sugar:

2g
Protein:

2g
The nutrition information for this recipe is an approximate total per serving. Please double check the nutrition information for your exact ingredients and brands.