Have dinner ready in 25 minutes with a simple and delicious Keto Cod recipe with the best tangy and savory lemon, butter, and caper sauce.
It's easy to serve this keto cod on top of a salad or along with any of your favorite healthy low carb sides.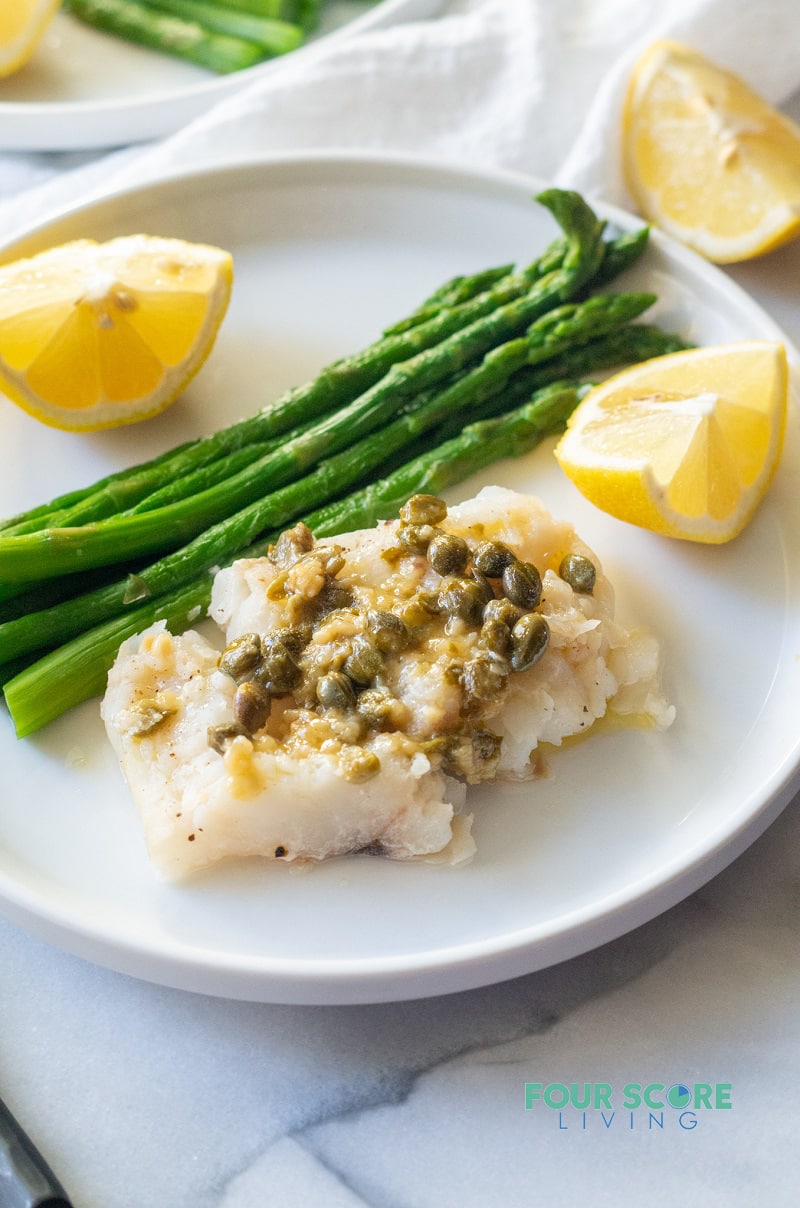 Interested in another flavorful and tangy keto dish? Try my Keto Pork Chops next.
KETO COD RECIPE
I'm giving you one of my absolute favorite keto fish dinner recipes.
I love this Keto Cod because it's so simple to make and comes together quickly with only a few ingredients. A savory sauce of garlic, lemon and capers adds so much flavor to pan fried cod.
This recipe is amazing any time of year. I especially like to make keto cod on the stovetop in the warmer months, so that I don't have to heat up the oven.
Adding fish into your Keto meal plan is really a great idea. Fish add necessary healthy fats to our diets and are high in protein to keep us full and satisfied.
I try to eat fish at least once per week, and I come back to this lemony, briny recipe over and over again. Keto Cod is light, flaky, and tasty, and will be a regular on your menu plan too.
If you love fish, you'll want to make this salmon bites recipe next.
WHY YOU'LL LOVE THIS KETO COD RECIPE
It's Fast. Fish cooks on the stovetop in less than 15 minutes, so dinner will be ready super quickly.
It's Light. By design, some keto meals can be really heavy. This low carb meal won't weigh you down, so it's a nice change of pace.
It's Easy to Customize. Swap out the cod for another white fish, or adjust the sauce ingredients to your own taste. This recipe is very forgiving.
Instant Pot Salmon is another of my favorite tasty keto fish recipes.
And if you want to get a little fancy, serve this low carb cod along side air fryer scallops. Seafood night at home can't get much better.
Pick up a jar of capers and a lemon on your next shopping trip so you're ready to make this Keto Cod Recipe any time.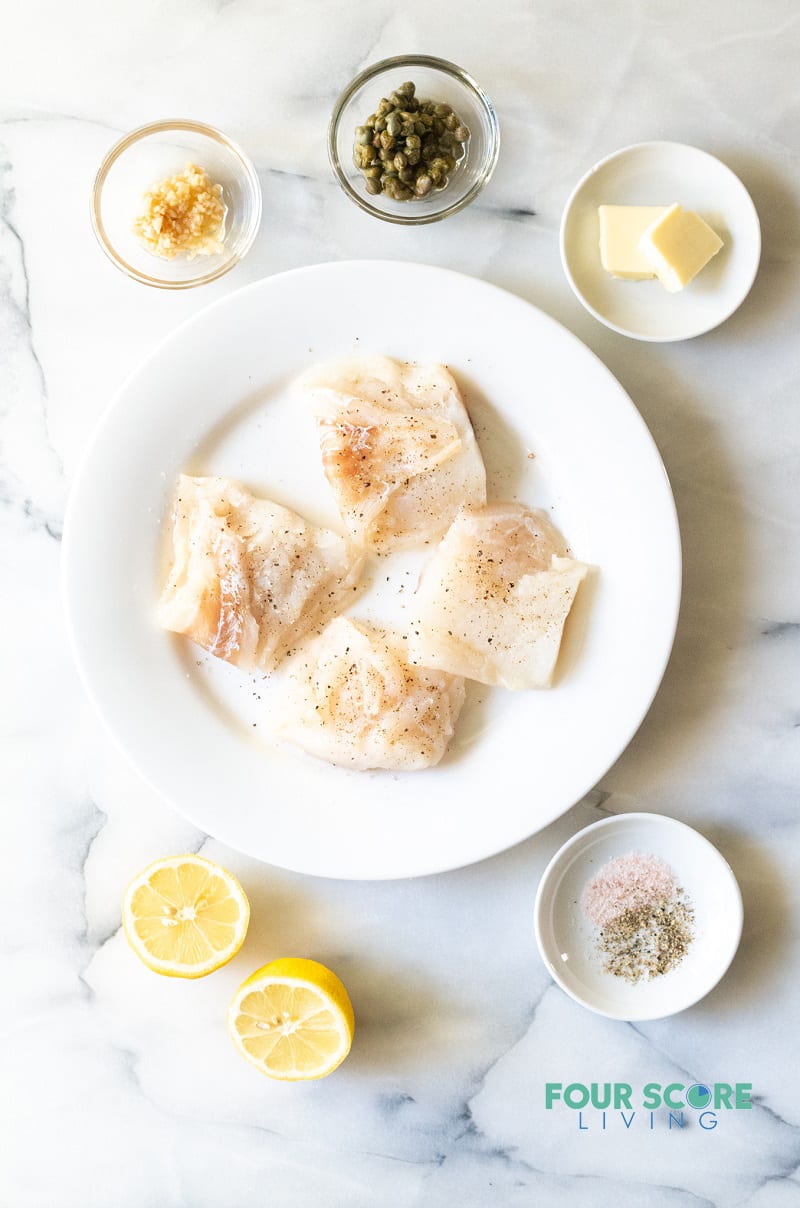 INGREDIENTS IN KETO COD
Cod - A mild white fish, Cod is sturdy enough that it won't fall apart when you cook it, but still flaky and delicate to eat.
Salt and Pepper - A standard pair of seasonings, add salt and pepper to taste.
Minced Garlic - I love garlic on fish, and here it goes perfectly with the other ingredients in this Italian style recipe.
Capers - Salty, briny, and slightly bitter, capers are the star of this sauce.
Butter - Try a dairy free butter if you want to make this dish dairy free.
Lemon Juice - I think that all fish dishes benefit from a bit of lemon juice, and lemons pair perfectly with capers and garlic on cod.
If you have any questions about this recipe for Keto Cod, please leave a comment below and I will get back to you.
HOW TO MAKE KETO COD
Making this Keto Cod recipe is really very easy. Just cook the fish in a pan, then heat up the sauce and combine the two things together. Here are the steps you'll need to take.
Heat a nonstick skillet over medium heat. Salt and pepper both sides of each piece of cod, and cook on each side for 5-6 minutes or until cooked through. Transfer cooked cod to a plate.
Add the garlic, cappers, butter, and lemon juice to the hot pan.
Cook for 2-3 minutes or until the sauce starts to thicken.
Remove the lemon caper sauce from the heat and spoon it over the cod.
These numbered steps match the numbered photos above and are for illustration purposes. For the complete list of ingredients and instructions, please see the recipe below.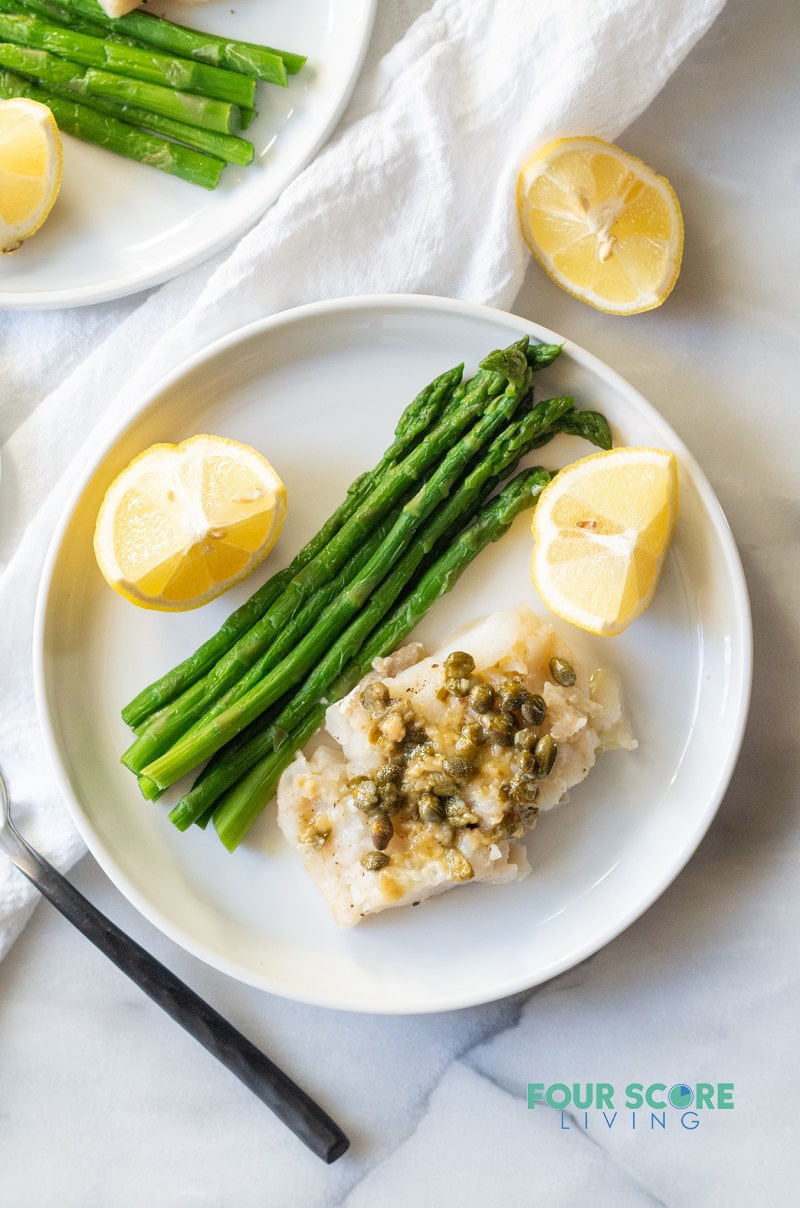 TIPS FOR COOKING COD
If using frozen Cod fillets, thaw them first before cooking. You can thaw in your refrigerator overnight or for a few hours.
Dry your fish fillets with a paper towel before cooking. This will help prevent sticking.
Be Gentle. Carefully flip the fish over using a fish turner or a wide spatula to keep the pieces intact.
Cod is done when the internal temperature reaches 145°F.
You can also check for doneness by using a fork. Cod will flake easily when pulled with a fork.
For a bit more flavor, top your lemon caper keto cod with a sprinkle of fresh parmesan cheese. Yum! This sauce will also be tasty with a splash of dry white wine added in.
IS COD KETO?
Fish, including white fish like cod, is a very low carb protein source. A 4 ounce serving of cod has 0 carbs, and is a great source of omega-3 fatty acids, making it an excellent choice for your keto dinner plans.
This flavorful Keto Cod sauce recipe adds about 1 net carb per serving to the fish.
HOW TO STORE KETO COD
You can keep leftovers in an airtight container in the fridge for up to three days, however this fish is going to be most delicious when eaten immediately after cooking.
CAN I USE OTHER FISH FOR THIS KETO RECIPE?
Any white fish will go well with these flavors. Try halibut or haddock if cod isn't available. The lemon butter caper sauce in this keto recipe will also be delicious on shrimp or chicken, so feel free to experiment.
WHAT ARE CAPERS?
Capers are a really interesting ingredient. They are actually flower buds from a plant grown in the Mediterranean. The buds are picked, then dried and preserved in a salty brine. The flavor of capers is a combination of those briny flavors with floral notes and hints of lemon.
You'll see capers in fish recipes and pasta recipes, often paired with butter and garlic.
WHAT IF I DON'T LIKE CAPERS?
If you are really opposed to capers, you can leave them out and enjoy keto cod with garlic and lemon and a sprinkle of parmesan if you like. You can also use chopped salty, briny olives in place of the capers for a similar flavor.
CAN I BAKE KETO COD?
I make this recipe on top of the stove because I think that's really the easiest way to do it.
The great thing about this recipe is that the sauce is made fresh and added to the fish after it's cooked, so you can cook your Keto Cod fillets any way that you're comfortable, then add the sauce. It's that simple!
I found this recipe for a sheetpan baked cod with asparagus that looks good. Bake the cod using these instructions, then add my keto cod lemon butter sauce.
HOW DO I QUICKLY THAW FROZEN FISH?
If you want to thaw fish quickly, put it in a plastic bag, then place it in a large bowl of cool water. The water should be just a bit cooler than room temperature. Change the water out every 15 minutes or so.
Using this method, your cod should be thawed in around an hour.
WHAT GOES WITH KETO COD?
Almost anything goes with this simple fish preparation, but here are some of my suggestions for simple Keto Sides to eat with cod.
We love serving our keto fish dishes with veggies, and this recipe for Instant Pot Asparagus is super simple to make.
Parmesan Roasted Brussels Sprouts will pair well with the capers in this dish.
Simple vegetable side dishes like green beans, steamed asparagus, roasted broccoli, or a healthy green salad will be lovely with cod as well. Not sure which veggies are keto? Check out this list.
If you drink wine, we recommend sticking to whites when enjoying cod. The last time we had cod we enjoyed it with Chardonnay from the Hocking Hills Winery.
Need a keto dessert idea for your keto cod dinner? Try my Keto Lemon Bars, or Keto Fudge.
We hope you enjoyed reading this article. Please help us out by leaving a quick review and star ★ rating below.
LET'S GET SOCIAL, you can follow Four Score Living on Pinterest. You can also leave a comment below if you have any questions.
Did you make this Keto Cod Recipe? Please leave a comment below letting me know what you thought.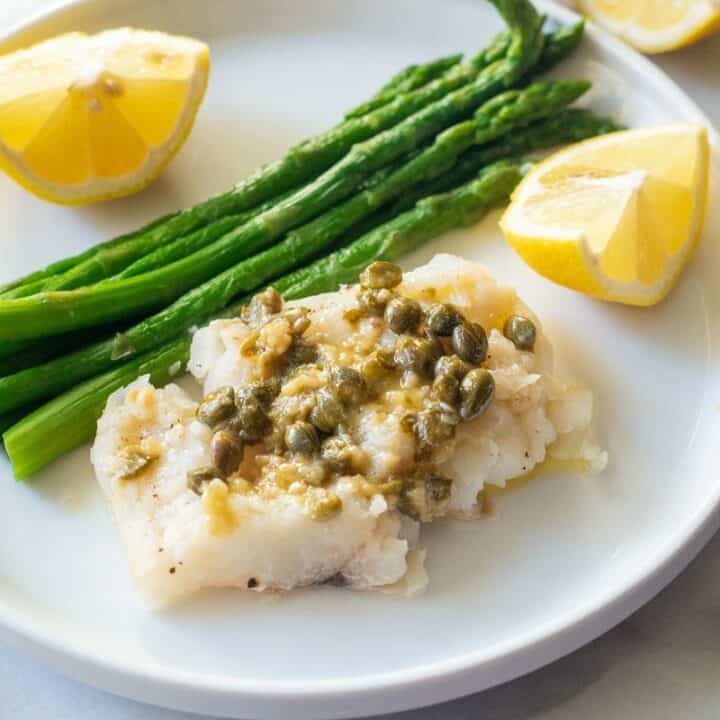 Keto Cod
Have dinner ready in 25 minutes with this simple Keto Cod recipe with a tangy lemon caper sauce.
Ingredients
1 lb. cod (about 4 pieces)
Salt and pepper
2 teaspoons minced garlic
1 tablespoon capers (or more if you like)
2 tablespoon butter
Juice from 1 small lemon
Instructions
Heat a nonstick skillet over medium heat.
Salt and pepper both sides of each piece of cod, and cook on each side for 5-6 minutes or until cooked through. Transfer cooked cod to a plate.
Add the garlic, capers, butter, and lemon juice to the hot pan and cook for 2-3 minutes or until it starts to thicken.
Remove from the heat. Spoon lemon caper sauce over the cod.
Serve warm with your favorite keto sides.
Notes
Lightly pat the cod with a paper towel to dry it before cooking. This will help prevent sticking.
You can use dairy-free butter to keep this keto cod dairy-free.
Cod is done when the internal temperature reaches 130°F.
Nutrition Information:
Yield:

4
Serving Size:

1
Amount Per Serving:
Calories:

175
Total Fat:

7g
Saturated Fat:

4g
Trans Fat:

0g
Unsaturated Fat:

2g
Cholesterol:

78mg
Sodium:

259mg
Carbohydrates:

1g
Net Carbohydrates:

1g
Fiber:

0g
Sugar:

0g
Protein:

26g
The nutrition information for this recipe is an approximate total per serving. Please double check the nutrition information for your exact ingredients and brands.