Did you know that you can make mouthwatering, flavorful salmon fillets right in your Instant Pot?
This Instant Pot Salmon recipe requires minimal prep work but yields deliciously flaky, delicate results.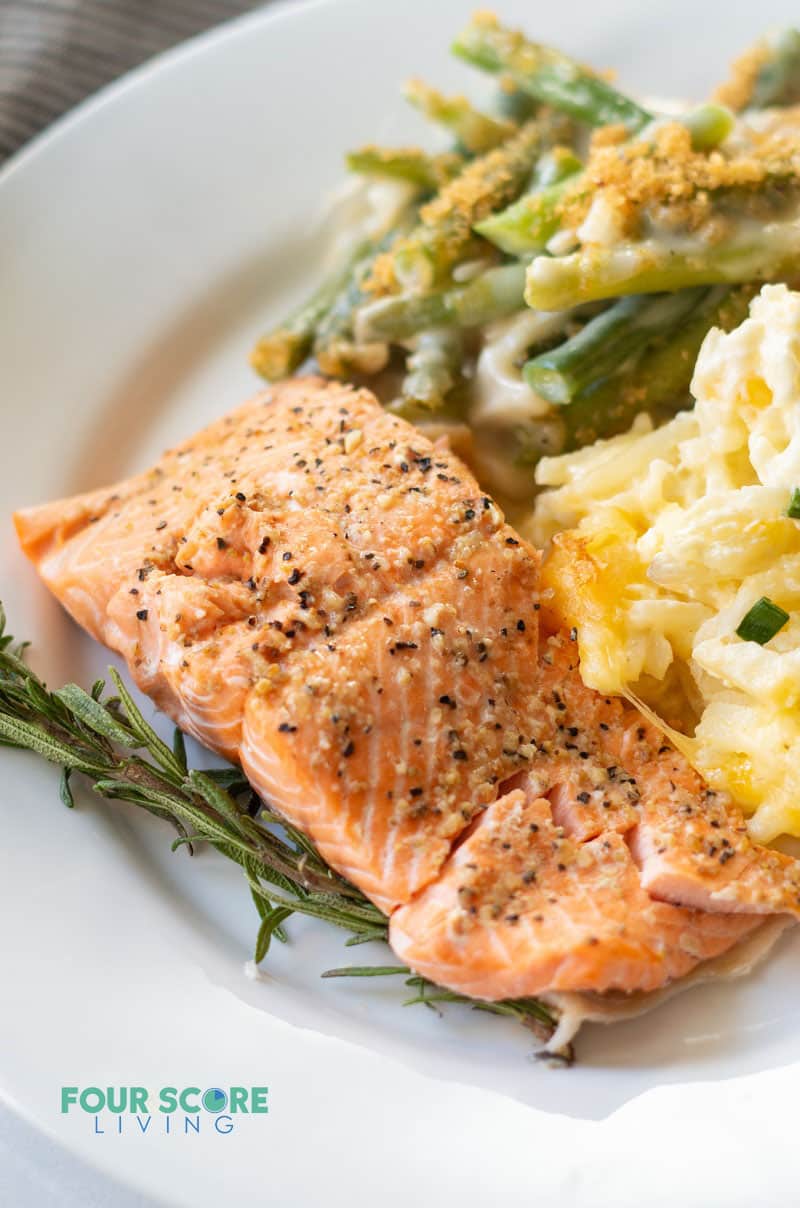 If you love salmon, you'll want to make these salmon bites next. Do you enjoy cooking simple low carb seafood dishes at home? You might like our keto jambalaya recipe too.
If you love using the instant pot, try these Instant Pot Chicken Legs next.
Instant Pot Salmon Recipe
Cooking salmon at home doesn't have to be a science experiment.
With your Instant Pot handy and a few ingredients, you can cook delicate, flavorful Instant Pot salmon in a matter of minutes.
What you'll need for this Instant Pot Salmon
This is truly one of the simplest Instant Pot salmon recipes. All you'll need is a steamer rack accessory for your Instant Pot and 6 simple ingredients:
Water - This is what steams the salmon as it cooks, and helps retain moisture so your salmon doesn't get dried out.
Salmon - A one-pound salmon fillet with the skin on, or one pound of salmon in 2-4 smaller fresh salmon fillets. See my note below for skinless salmon.
Olive oil - Olive oils adds flavor and helps the salmon cook.
Salt - A little salt goes a long way. You can always omit the salt and add your favorite spices or seasoning salt. We like lemon pepper as well.
Pepper - For flavor, but you can always swap the pepper out for another spice, if you like.
Lemon slices - You can omit the lemon but we feel it really adds depth and flavor to the salmon. Who doesn't like lemon on their fish?
If you have any questions about the ingredients for this salmon in the instant pot, please leave them in the comments section below.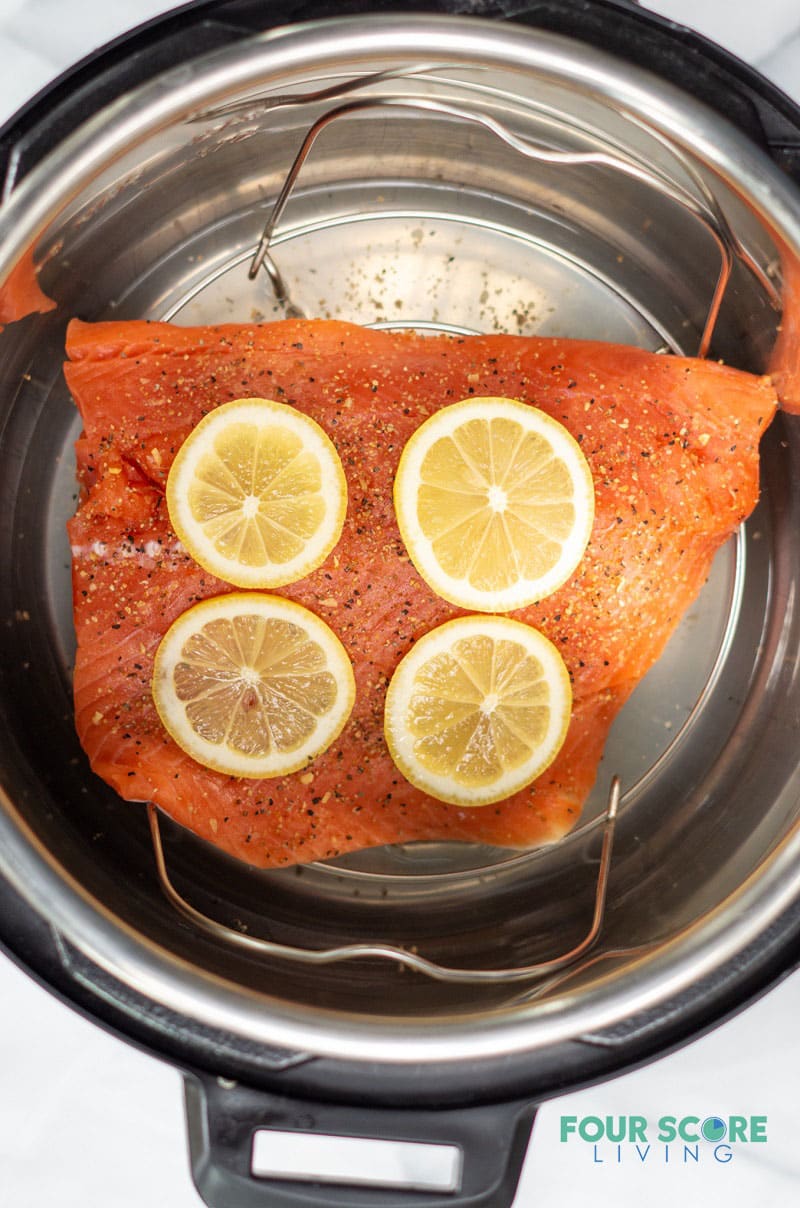 How to Make Salmon in the Instant Pot
Start by pouring water into your Instant Pot and then place the steamer rack inside. Make sure that the handles are extended upward for easy removal.
Place the salmon fillet onto the steamer rack, skin-side-down. Drizzle some olive oil over the salmon, then sprinkle it with salt & pepper. Arrange a few lemon slices over the salmon for flavor.
Secure the lid to your Instant Pot, then set it to "Pressure Cook" and adjust the timer to 4 minutes. Press the start button, and let the Instant Pot do its magic.
When your Instant Pot is done cooking, do a quick pressure release. Remove the lid and let the salmon rest on the steamer rack for a few minutes before serving.
We have a 6QT instant pot, but you can also make this salmon in a 4QT instant pot. Just note that it will hold less salmon.
Tips for Cooking Salmon in Instant Pot
You can make this Instant Pot salmon recipe with frozen or fresh fish. Both options work just as well. If you can't find fresh salmon, you can often find frozen salmon fillets in the freezer section of your local grocer.
Keep the skin on. Salmon skin is not only edible, but it works as a moisture barrier, keeping the salmon from drying out.
If you have skinless salmon and the salmon fillets are an inch thick or more, leave the cook time the same. If the fillets are thinner, you can reduce the cook time by 1 minute.
Try adding different seasonings for more flavor. I recommend using lemon pepper seasoning or your favorite brand of seasoning salt.
Don't skimp on the resting time. Just like with most animal proteins, salmon continues to cook as it rests. Resting the salmon also allows the juices to settle and redistribute, leaving you with a medium-cooked salmon fillet that you won't be able to resist.
Don't like salmon? You can use other types of fish too. Simply follow the cooking instructions as written, keeping in mind that you may need to adjust the cooking time by a minute or two depending on the type and thickness of the fish fillet.
Try using this instant pot salmon recipe with cod or another cold-water fish such as trout, seabass, or halibut.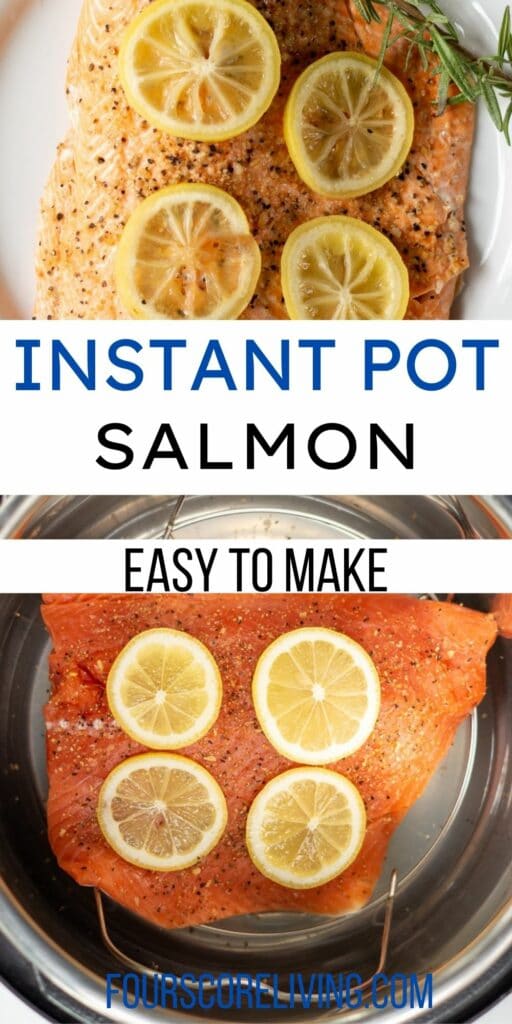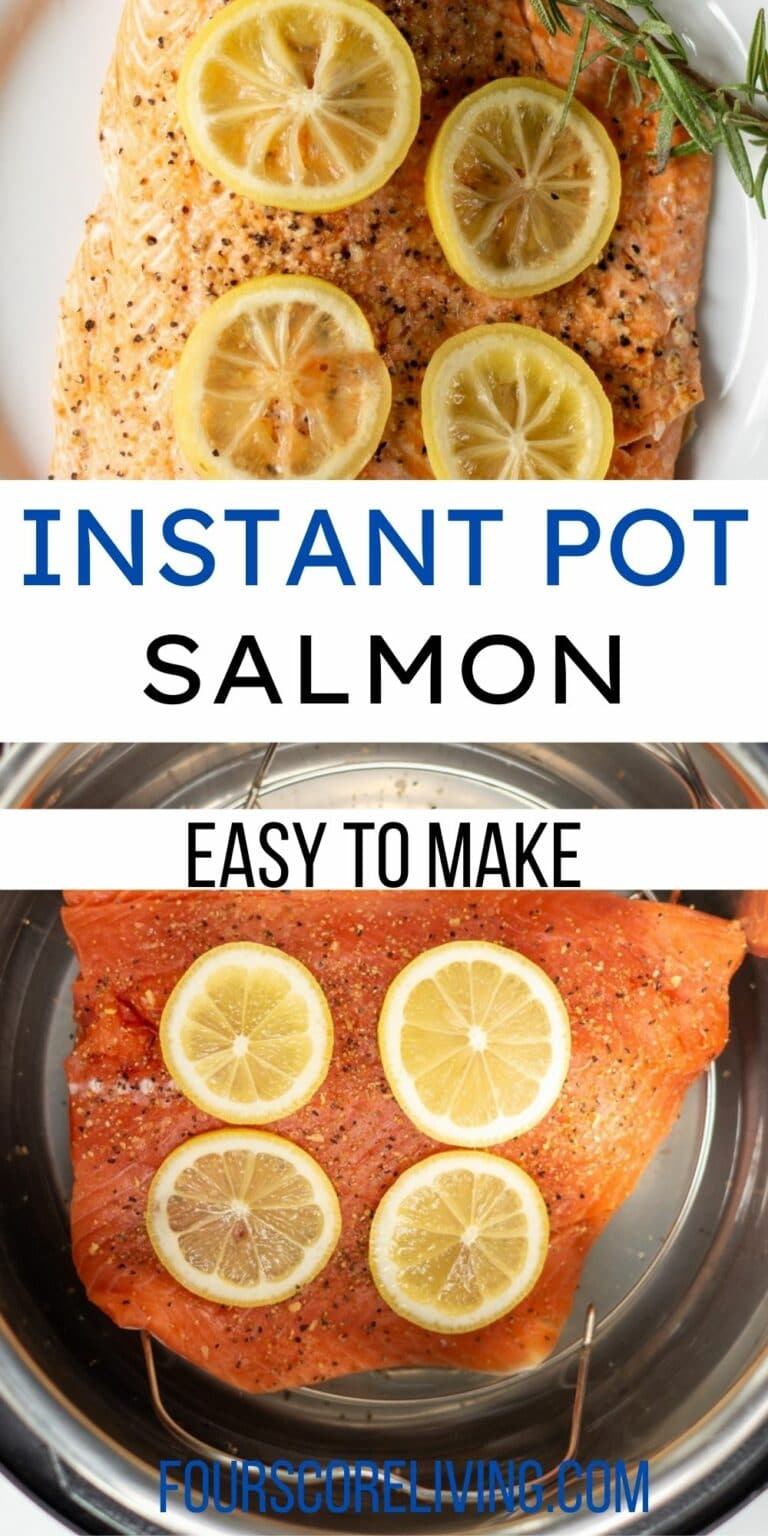 Do I need to add more time when cooking Instant Pot frozen salmon?
Whether you use a frozen or fresh salmon fillet, the ultimate result will be the same. There's no need to add additional cooking time. The Instant Pot cooks this lemon salmon recipe to perfection every time.
Can I cook Salmon Steaks in the Instant Pot?
Yes, you can cook salmon steaks or salmon fillets in the instant pot. Salmon steaks tend to be on the thicker side. If you're cooking salmon steaks you'll want to add 1 minute to your cook time.
I know it doesn't sound like a lot, but one extra minute should do the trick. If your salmon steaks are two inches thick, I'd add 2 extra minutes to the total cook time.
What can I serve with salmon?
All it takes to turn this instant pot salmon into a complete, nutritious meal is a flavorful side dish or two.
Some of our readers like to serve salmon with a green veggies and either rice or quinoa. We've been known to serve salmon on a salad, especially when we use cajun seasoning. Delish!
If you're trying to stick to lower carb options, you can consider serving it along with parmesan roasted Brussels sprouts and a side of mashed cauliflower with keto gravy. A platter of keto rolls would make a fantastic accompaniment too.
Instant pot artichokes are also amazing with salmon.
You can also serve this salmon with keto vegetables, for a low carb meal.
Don't forget to top your meal off with one of our decadent low carb desserts for the perfect finale.
If you don't eat keto, you'll want to make this Black Walnut Ice Cream.
For another super simple instant pot recipe, try this Instant Pot Whole Chicken.
If you love making salmon, you might want to try this Air Fryer Salmon next.
More Salmon Recipes:
Salmon Bites - Truly the easiest weeknight meal you can make for your family. All you need is a few simple ingredients and a couple of minutes under the broiler and you are all set.
Peanut Butter Glazed Salmon - An exciting new spin on traditional roasted salmon. Salmon is roasted in the oven with a peanut butter, umami glaze until the salmon is perfectly light and flaky.
Salmon Rice Bowl Recipe - Perfect light and fresh meal that everyone in the family is sure to love. It's full of beautiful Asian flavors and has just the right amount of crunch from the fresh cucumbers and carrots.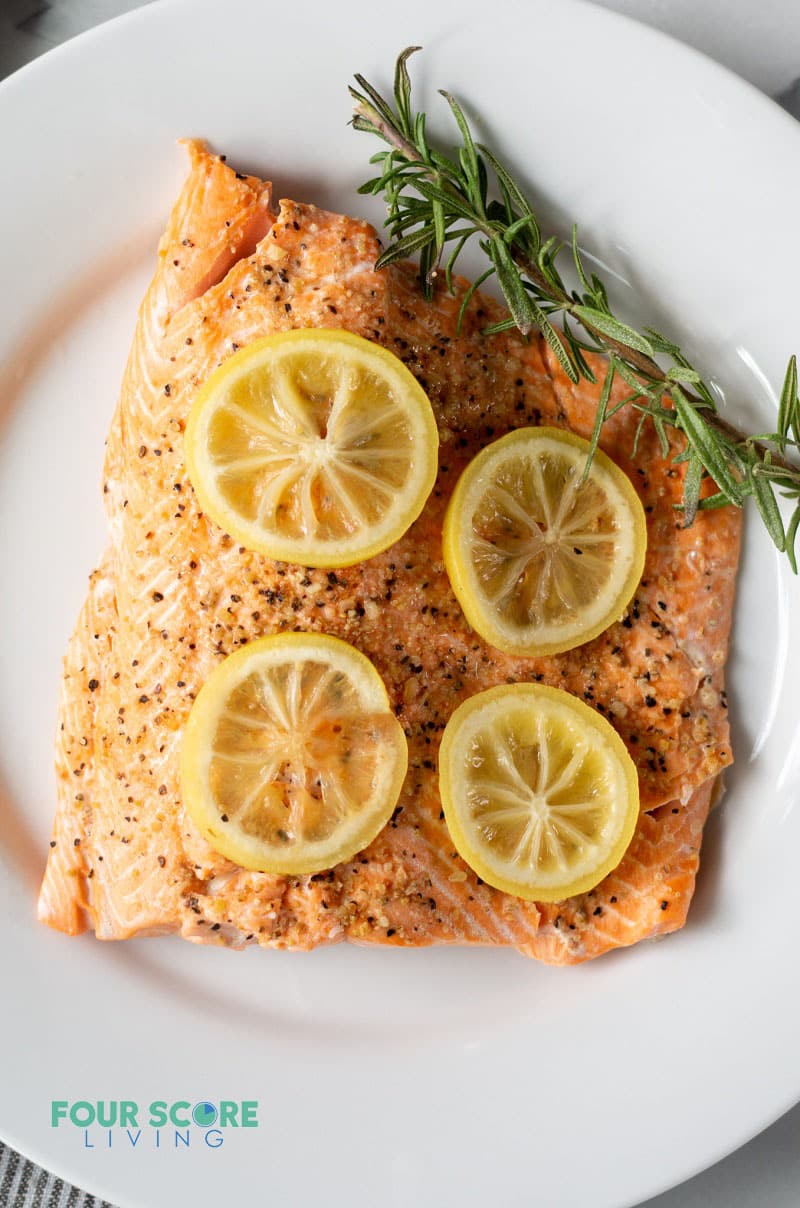 We hope you enjoyed reading this article. Please help us out by leaving a quick review and star ★ rating below.
LET'S GET SOCIAL, you can follow Four Score Living on Pinterest. You can also leave a comment below if you have any questions.
Did you try this fresh or frozen Salmon Instant Pot recipe? Don't forget to come back and let us know how it worked for you.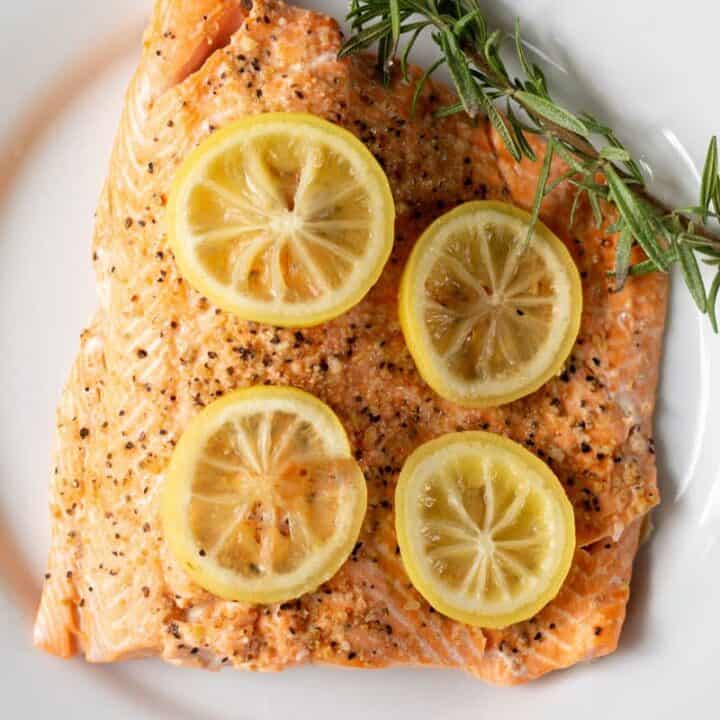 Instant Pot Salmon
Additional Time:
5 minutes
Did you know that you can make mouthwatering, flavorful salmon fillets right in your Instant Pot? This Instant Pot Salmon recipe requires minimal prep work but yields deliciously flaky, delicate results.
Ingredients
1 cup water
1 tablespoon olive oil
¼ teaspoon salt
½ teaspoon cracked pepper
½ lemon, thinly sliced (about 4 slices)
Instructions
Pour water into the Instant Pot and then place the steamer rack into the Instant Pot, with the handles extended up.
Place the salmon skin down on the rack.
Drizzle the top of the salmon with the olive oil, then season with salt and pepper.
Arrange the lemon slices on top of the salmon.
Close the lid on the Instant Pot and turn it until it locks into place.
Set it to "Pressure Cook" and then set the timer to 4 minutes. Press "start".
When the Instant Pot beeps that it's done, use the quick release button to release the steam.
Remove the lid and let the salmon sit for 5 minutes before transferring it to a plate.
Serve warm.
Notes
You can use fresh or frozen salmon. No need to add extra time for frozen salmon.
Add lemon pepper or seasoning salt to switch up the flavor.
You can use other fish types. Keep in mind that cook times may vary depending on the type and thickness of the fish fillet.
Nutrition Information:
Yield:

4
Serving Size:

4 oz
Amount Per Serving:
Calories:

267
Total Fat:

17g
Saturated Fat:

3g
Trans Fat:

0g
Unsaturated Fat:

13g
Cholesterol:

71mg
Sodium:

204mg
Carbohydrates:

1g
Fiber:

0g
Sugar:

0g
Protein:

25g
The nutrition information for this recipe is an approximate total per serving. Please double check the nutrition information for your exact ingredients and brands.