Keto Cheese Chips are only 2 ingredients, simple to make, and perfect for dipping.
Finding great keto chips to eat with your favorite dips just got a little bit easier with this low carb cheese chips recipe.
Try keto cheese chips with my Keto Salsa, Keto Buffalo Chicken Dip, or dipped into your favorite marinara sauce for a chip and dip treat.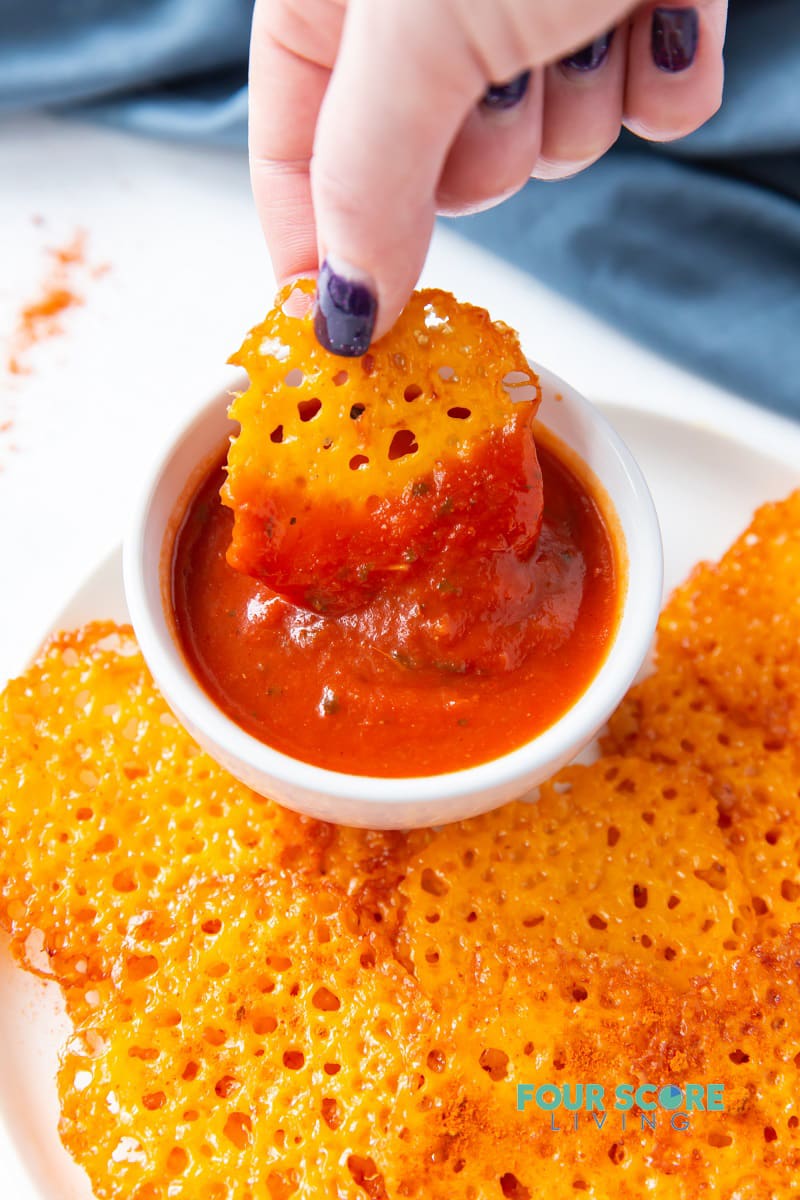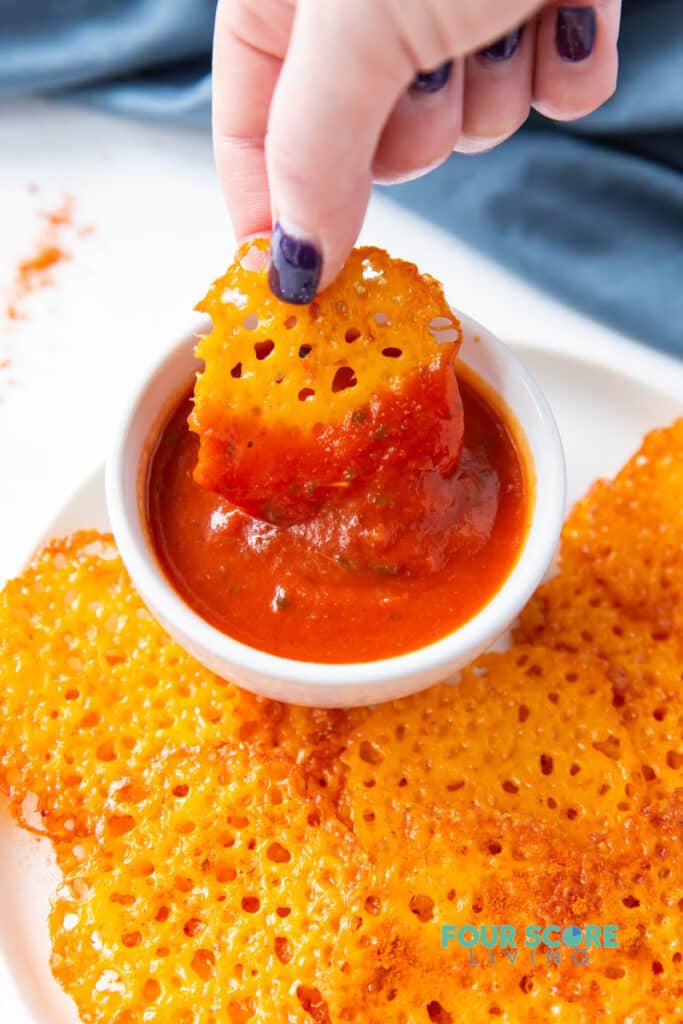 KETO CHEESE CHIPS RECIPE
Keto Cheese chips are on their way to being your go-to keto chip recipe. This is because this recipe is so simple, and ready to eat in less than 20 minutes.
You can buy keto cheese chips at the grocery store, but those crunchy snacks (such as Whisps) are expensive! Making your own homemade keto cheese chips is much more economical, and it's super easy.
One thing that I really love about Keto eating is the amount of delicious dips and sauces that can be created and enjoyed when you're eating a low carb, high fat diet.
Spinach Dip, Queso Dip, chip dip - these are all keto approved snacks! But I struggled at first with knowing what to use as a low carb dipper. The craving for chips is a real one, especially at first, so having a dippable keto chip alternative was important.
Finding a great low carb chip might seem tricky, but it really isn't, if you have a few minutes to make these keto cheese chips made with shredded cheddar cheese and cayenne pepper.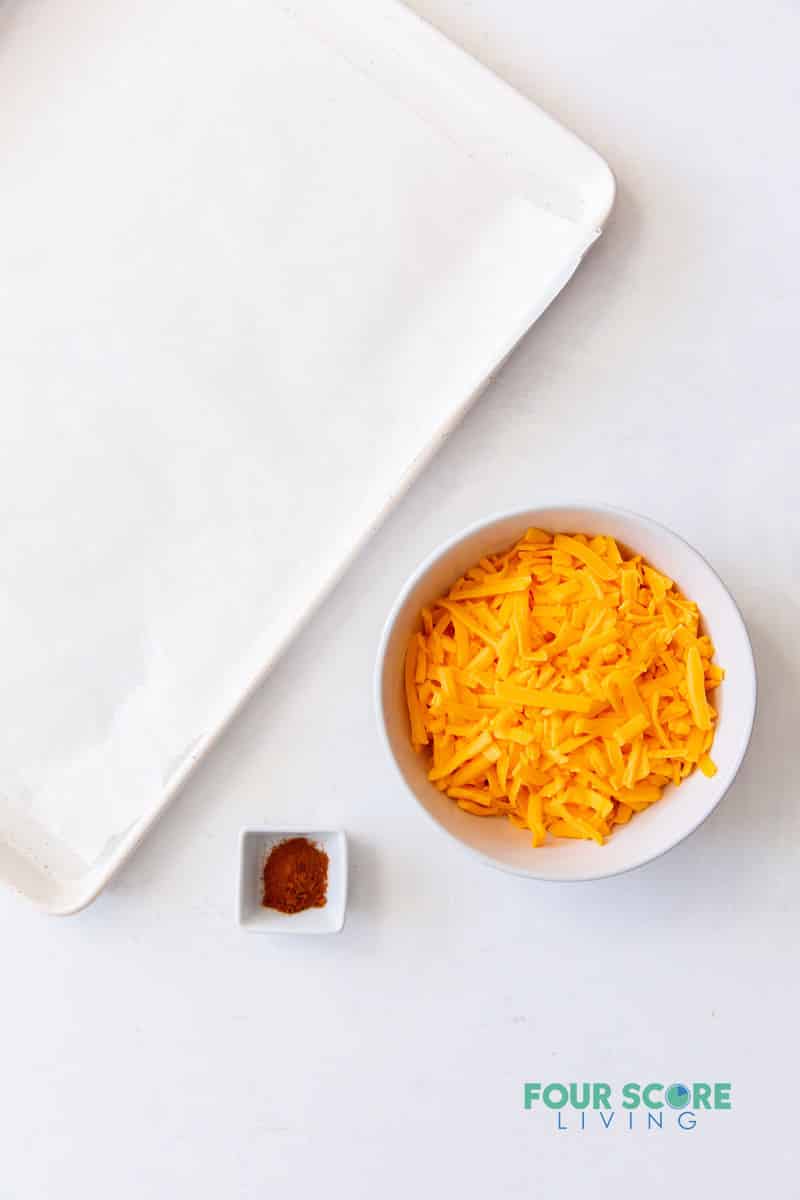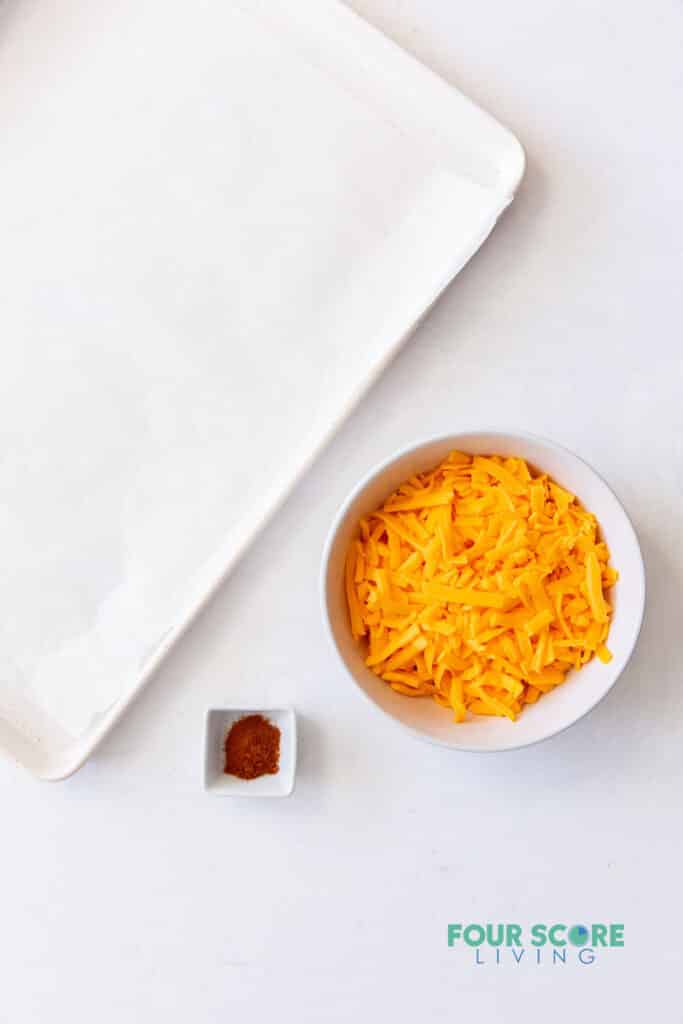 INGREDIENTS IN KETO CHESE CHIPS
Shredded Cheddar Cheese - Shred your own from block cheese to avoid any additives that might be in bagged cheese. Shredded parmesan also makes delicious cheese chips.
Cayenne Pepper - These photos show me using cayenne to flavor the cheese chips to give them a nacho flavor, but you can use any type of seasoning you like to season your low carb chips.
If you have any questions about Keto Cheese Chips, please leave a comment below and I will get back to you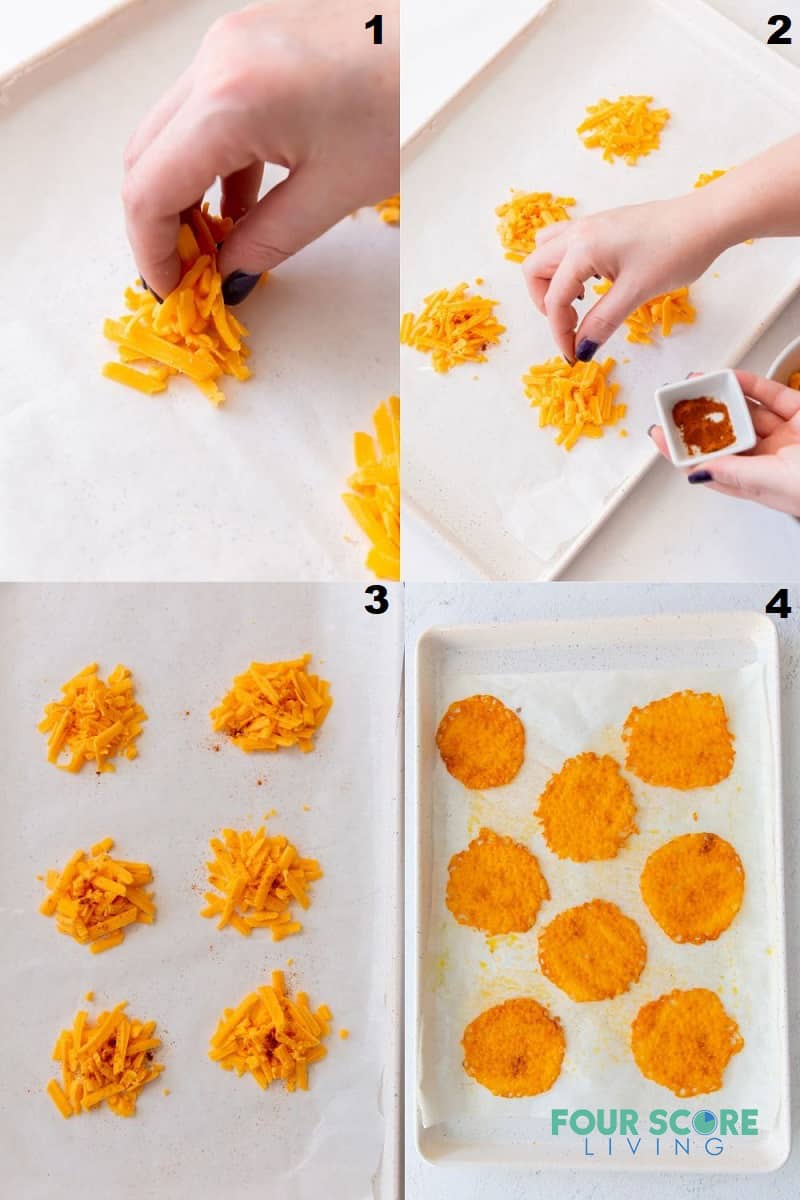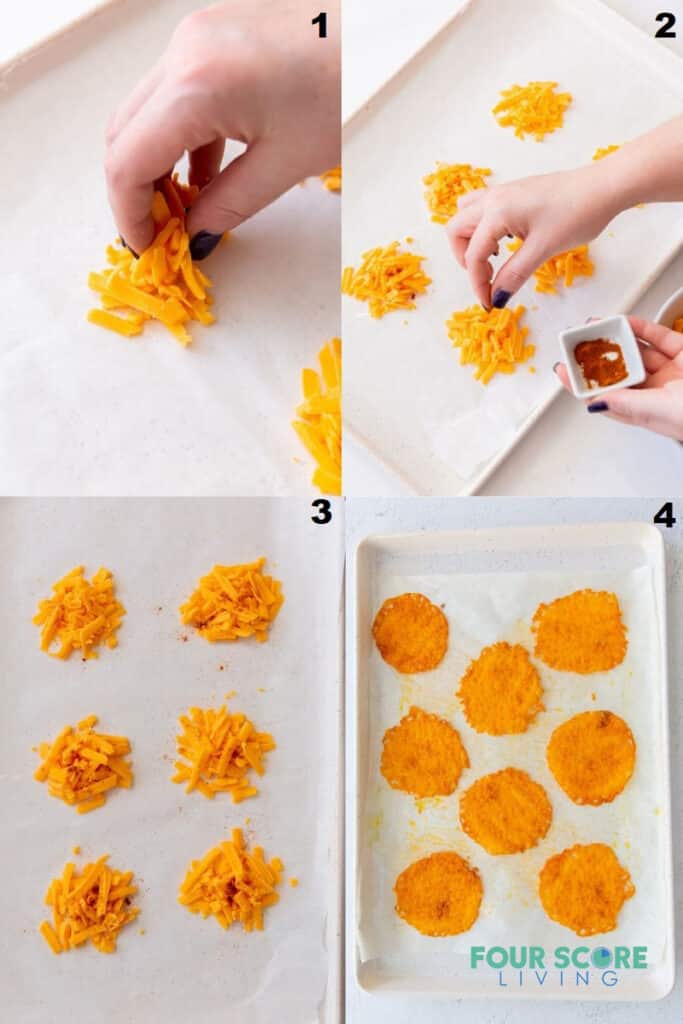 HOW TO MAKE KETO CHEESE CHIPS
While your oven is pre-heating, add shredded cheese in small heaps on a baking sheet lined with parchment paper. Leave space in between so they don't melt together.
Sprinkle seasoning on top of each pile.
Bake as directed in the recipe, checking part way through to avoid burning.
Remove from the oven and let cool before removing from pan.
These numbered steps match the numbered photos above and are for illustration purposes. For the complete list of ingredients and instructions for making keto cheese chips, please see the recipe below.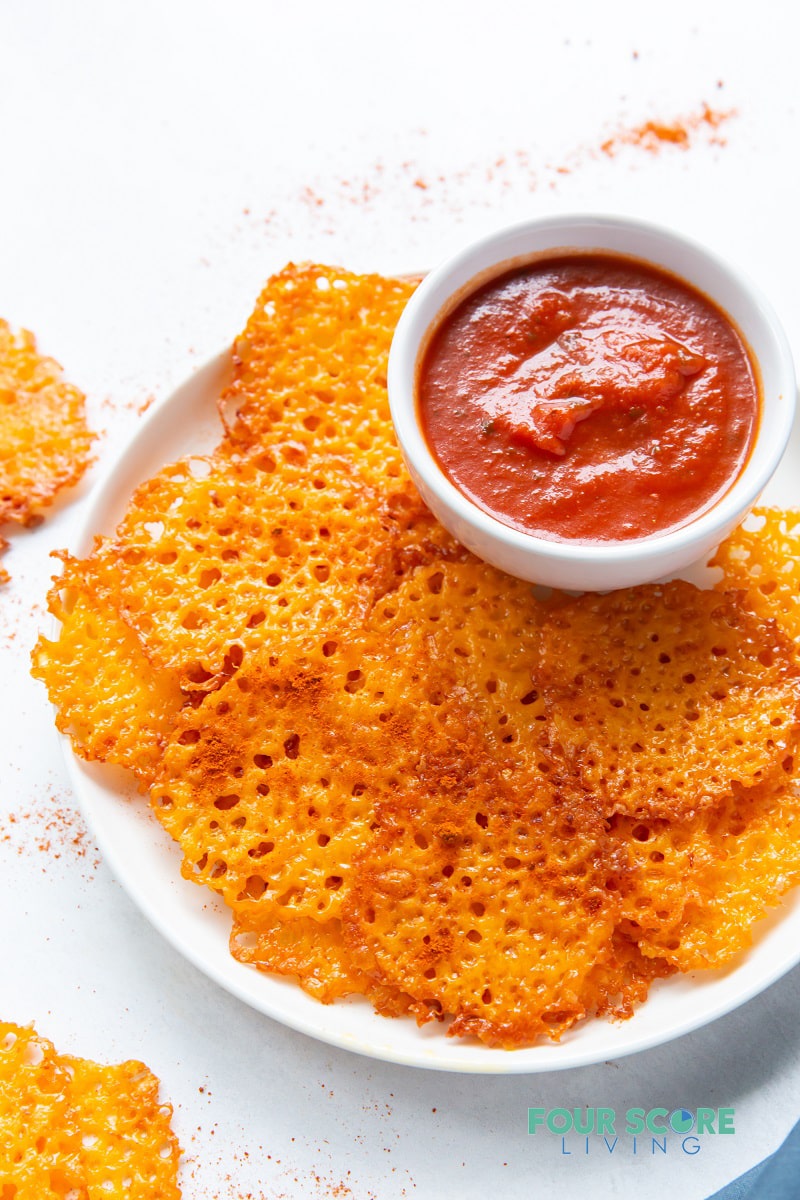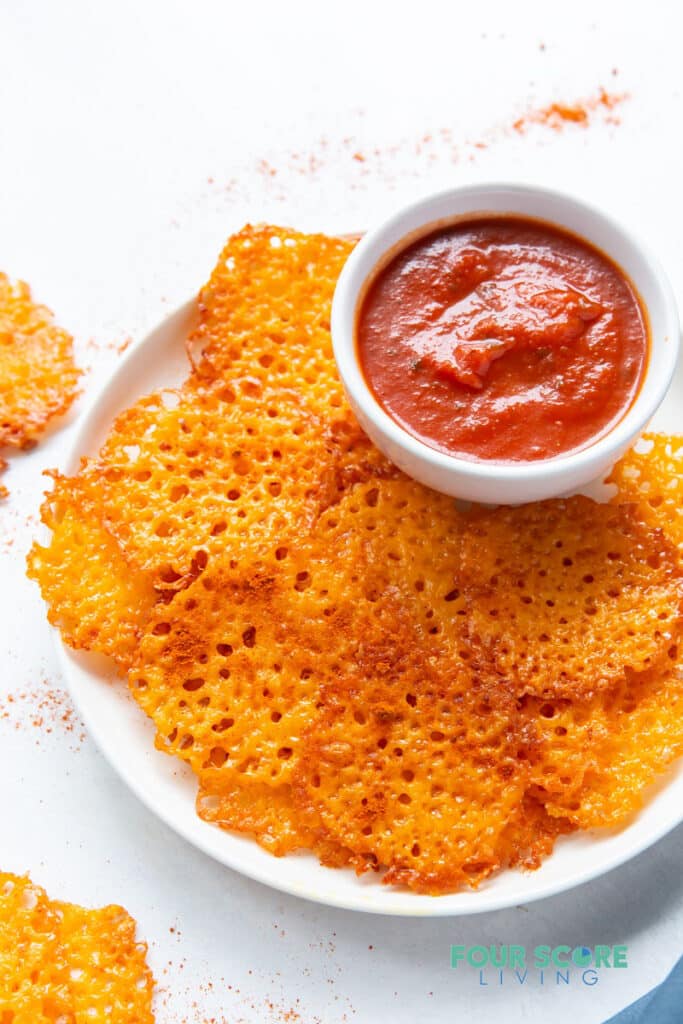 HOW MANY KETO CHEESE CHIPS DOES 2 CUPS OF CHEESE MAKE?
The amount of chips that you can make with this recipe will depend on how big you make the piles of cheese. You can make 32 keto cheese chips if you use two cups of cheese and make each pile 1 tablespoon each.
LARGE KETO CHEESE CHIPS ARE FUN TO EAT TOO
You can make 2 tablespoon-sized cheddar chips and use them to make sandwiches with a low carb chicken salad.
Keto Cheese Chips made with 3 tablespoons of cheese can be formed into taco shells to make keto tacos, or even into tubes to create keto taquitos.
HOW DO I KNOW WHEN CHEESE CHIPS ARE DONE?
The trick to making perfect keto cheese chips is to pull them from the oven just before they start to burn. If you don't cook them long enough, they won't be crispy, they'll just be melted cheese.
If you cook them too long, they'll blacken and won't be tasty.
Watch your keto cheese chips while they are baking. After 5 minutes, start checking on them every minute or two.
They will be golden brown on the edges when ready.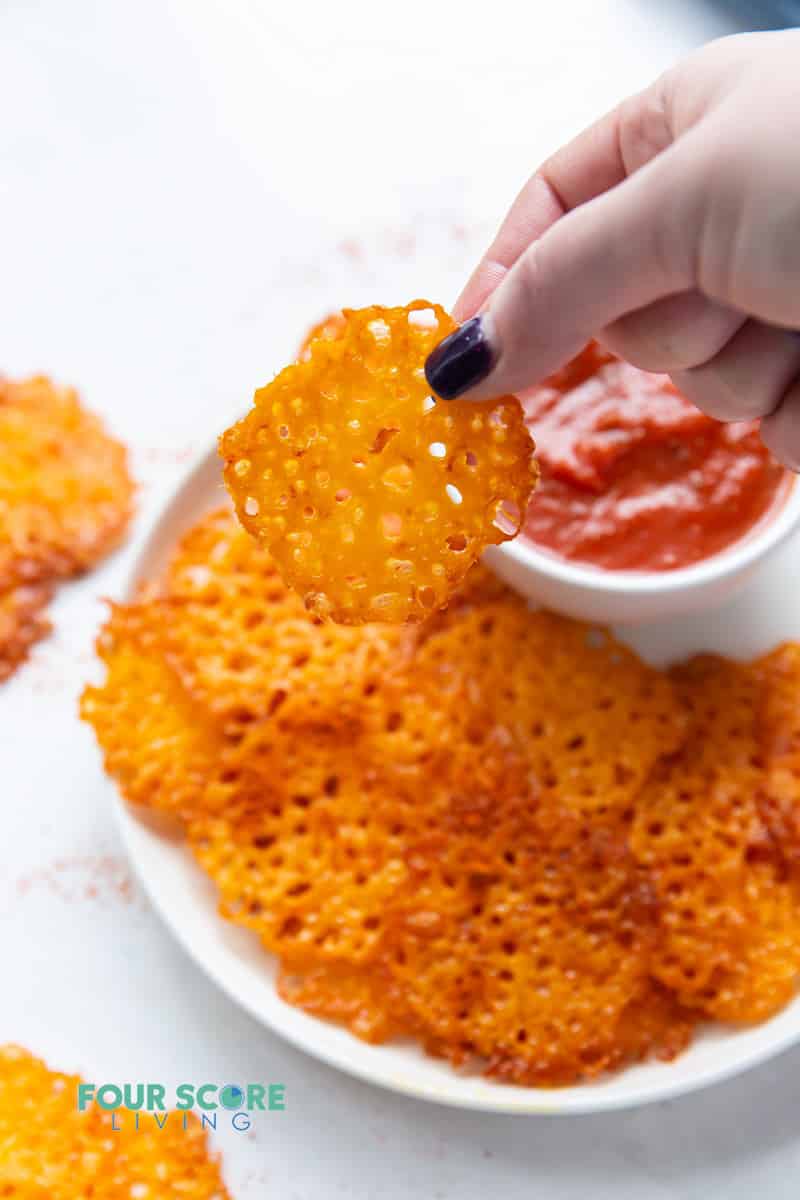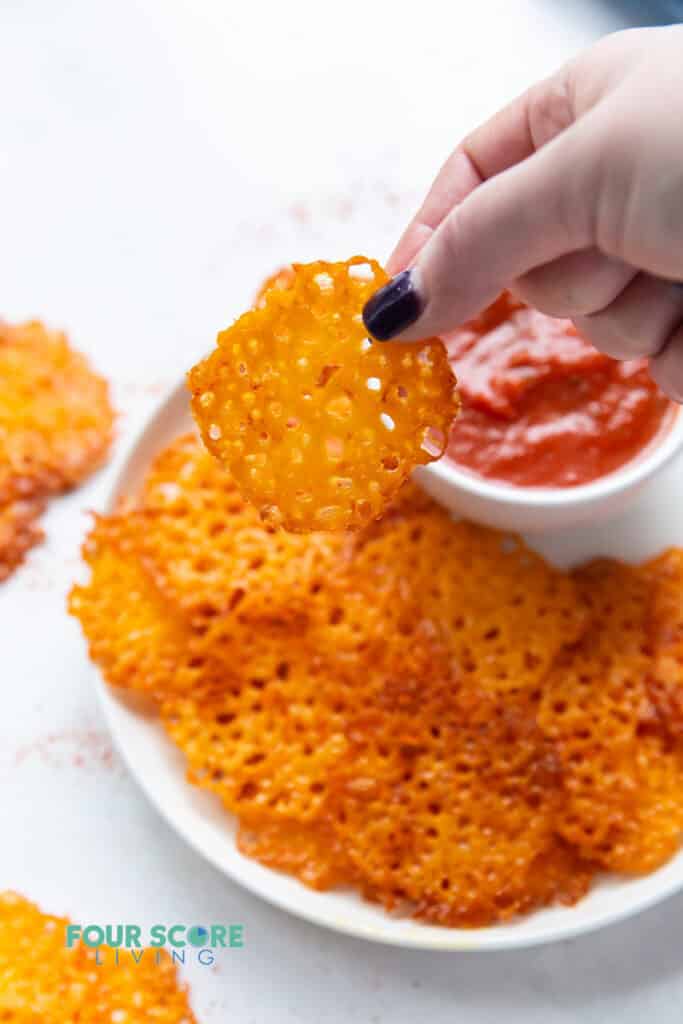 HOW DO I STORE KETO CHEESE CHIPS?
I recommend eating these the same day that you make them - honestly they probably won't last much longer, they are quite good.
But if you do have any leftovers, store them in an airtight container in the fridge for up to 2 days. Warm them up a bit and let cool before eating.
Reheating your keto cheese chips this way will get them crunchy again. You can do this in the microwave, the oven, or in the air fryer.
CAN I FREEZE KETO CHEESE CHIPS?
Making a large amount of cheese chips and storing them for later is a great idea! Store the leftovers in an airtight plastic bag, getting as much air out as possible. Store in the freezer for up to 3 months. Reheat and let cool to get them crisp again.
WHAT TYPES OF CHEESE CAN I MAKE KETO CHIPS WITH?
The best thing about this recipe is that you can use any type of cheese that you have on hand to make keto cheese chips. Try shredding and baking any of these:
Parmesan
Provalone
Mozzarella
Pepper Jack
Colby
Gouda
You may find that certain cheeses will need a bit more or less time in the oven, so just keep an eye on them.
CAN I USE SLICED CHEESE TO MAKE CHIPS?
You can use sliced cheese to make keto cheese chips. Doing it this way will mean that your chips are thinner, and will need less time to cook.
I prefer the chip texture that I get from using shredded cheese to make these chips.
DOES SHREDDED CHEESE HAVE MORE CARBS?
Many brands of bagged shredded cheese have additives included that are meant to keep the shreds from clumping together. Things like cellulose, potato starch, corn starch, and others that are added to bagged cheese can add carbs to the mix, so I like to avoid bagged cheese when possible.
CAN I MAKE KETO CHEESE CHIPS ON THE STOVE?
To make a smaller amount of cheese chips, you can make them in a skillet on the stove. Heat a non-stick skillet over medium heat, and place piles of cheese in it, leaving room for melting.
Watch the cheese chips carefully and remove from the pan when the edges start to brown.
DO I HAVE TO USE PARCHMENT PAPER?
I prefer to use parchment paper when making this keto cheese chips recipe because then the clean up is super easy. Without the parchment, your chips should still be fine. The amount of oil in the cheese should allow them to release from the pan easily.
DIFFERENT FLAVORS FOR LOW CARB CHEESE CHIPS
You can have fun adding your favorite herbs and spices to these cheddar cheese chips. Here are some suggestions.
Smoked Paprika
Italian Seasoning and Garlic Powder
Curry Powder
Black Pepper
Ranch seasoning (they'll remind you of cool ranch Doritos!)
Grated parmesan cheese
I wouldn't suggest adding salt, as cheddar cheese is salty already, but anything else is fair game. I'd love to hear what you come up with. These crispy cheese chips are great in snack boxes and on a grazing table.
IS MELTED CHEESE KETO FRIENDLY?
Cheese in any form is an ideal food to add to a keto diet. It's high in fat, has a moderate level of protein, and is low in carbs. Cheese is always welcome on a keto diet.
HOW MANY CARBS ARE IN KETO CHEESE CHIPS?
This recipe makes three servings of cheddar cheese chips. Each serving will be approximately 11 chips, and will have 1 gram of net carbs per serving.
WHAT TEMPERATURE DO I COOK KETO CHEESE CHIPS AT?
Preheat your oven to 400°F/200°C to cook keto cheddar cheese chips.
MORE KETO LOW CARB SNACKS TO MAKE
Keto Tortilla Chips are my second favorite dippable keto chip, and they are perfect for making nachos.
Keto Crackers are made with almond flour and seeds and are so crunchy and delicious with cheese and pepperoni.
I love adding any of theese keto dippers to a Keto Charcuterie Board, especially if I'm having a party.

Our Favorite Kitchen Tools:
What's your favorite kitchen tool? Leave a comment below letting us know.
Did you make these keto cheese chips? Please leave a comment below letting me know what you thought.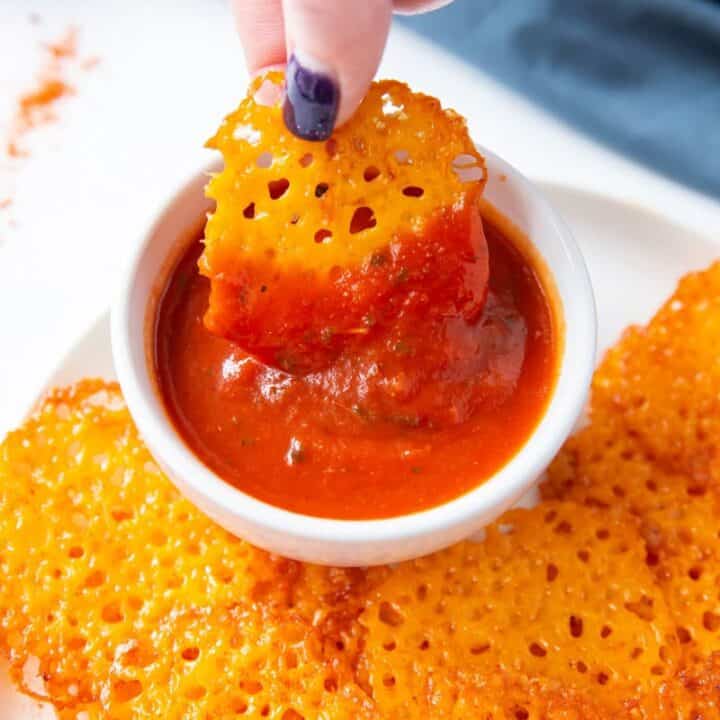 Keto Cheese Chips
Keto Cheese chips are only 2 ingredients, simple to make, and perfect for dipping. Finding great chips to eat with your favorite dips just got a little bit easier with this recipe.
Ingredients
2 cups (8 oz.) shredded cheddar cheese
¼ tsp cayenne pepper, black pepper, paprika, curry powder, or your seasoning of choice
Instructions
Preheat the oven to 400 degrees F.
Add shredded cheese in small heaps on a baking sheet lined with parchment paper. Make sure to leave enough room in between them so they aren't touching.
Sprinkle seasoning on top and bake for 7-10 minutes, checking after 5 minutes for doneness.
Remove from the oven and let cool for 5 minutes before transferring to a cooling rack.
Allow to cool completely on a cooling rack before enjoying.
Notes
You can substitute parmesan cheese for all or some of the cheddar cheese.
This recipe makes 32 chips if each pile of cheese is 1 tablespoon. Different amounts of cheese will make different-sized chips and a different number of them.
Try this recipe with other types of cheese such as colby, pepper jack, or gouda.
Add your favorite seasonings like ranch seasoning or garlic powder.
Nutrition Information:
Yield:

3
Serving Size:

1
Amount Per Serving:
Calories:

83
Total Fat:

7g
Saturated Fat:

4g
Trans Fat:

0g
Unsaturated Fat:

2g
Cholesterol:

19mg
Sodium:

251mg
Carbohydrates:

2g
Net Carbohydrates:

1g
Fiber:

1g
Sugar:

0g
Protein:

5g
The nutrition information for this recipe is an approximate total per serving. Please double check the nutrition information for your exact ingredients and brands.