Homemade Keto Enchilada Sauce is savory, packed full of authentic flavor, and mildly spicy.
Store-bought enchilada sauces usually filled with added sugars. Don't worry about that anymore, because you will be able to make your own sugar free sauce whenever you like.
Use this keto enchilada sauce to make the perfect Keto Enchiladas or use it in all sorts of keto Mexican and tex-mex recipes. There are so many things that you can make with keto enchilada sauce that aren't enchiladas. I will share some ideas below.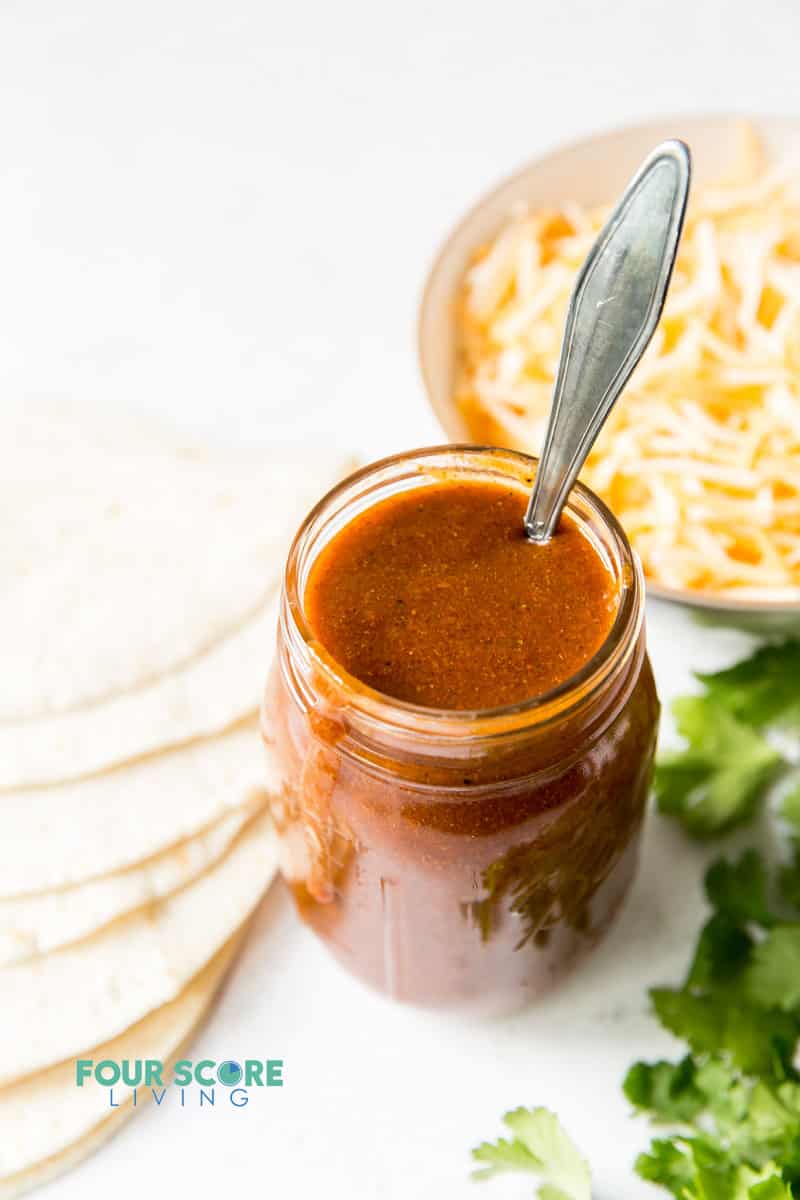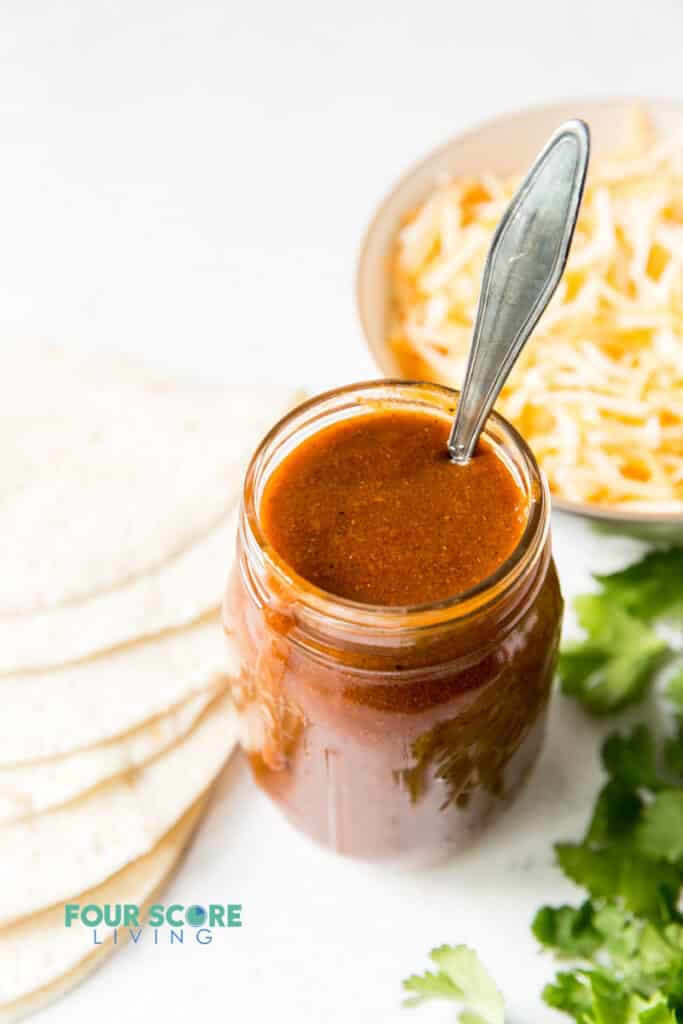 KETO ENCHILADA SAUCE RECIPE
Store bought enchilada sauces have sugar added, making them difficult to include in a Keto diet. In fact, many sauces that you'll find in stores have sugar added to them.
You may already understand that processed foods include ingredients that they don't necessarily need, like preservatives, corn syrup, and other sugars. Things like salsa, taco sauce, and enchilada sauce will have sugar in the ingredients, even though they don't taste sweet.
Enchilada sauce doesn't need to be sweet! This sauce should be a tomato based sauce with savory, smoky and spicy flavors, and that's the recipe that we've created. It's a delicious mexican sauce with no sugar and no alternative sweeteners either.
So today I'm showing you how we make our homemade enchilada sauce that is completely sugar-free. It's also gluten-free, and very low-carb with only 1 gram of net carbs per serving.
This sugar-free enchilada sauce is so simple to put together and only takes a few minutes to cook on the stove. You have to make this keto enchilada sauce and then use it to make my Keto Enchiladas recipe. I know you're going to love both.
You won't go back to buying enchilada sauce in a can or jar after you've tried this keto recipe. There will be no need; keto enchilada sauce is just so delicious!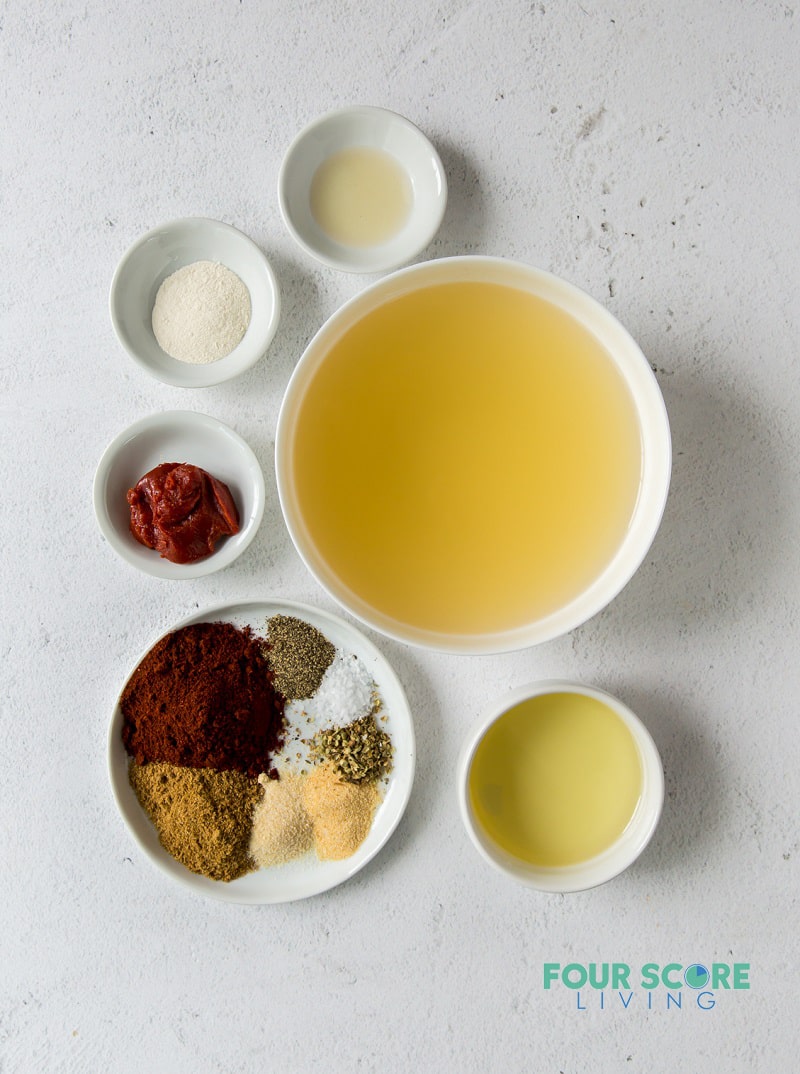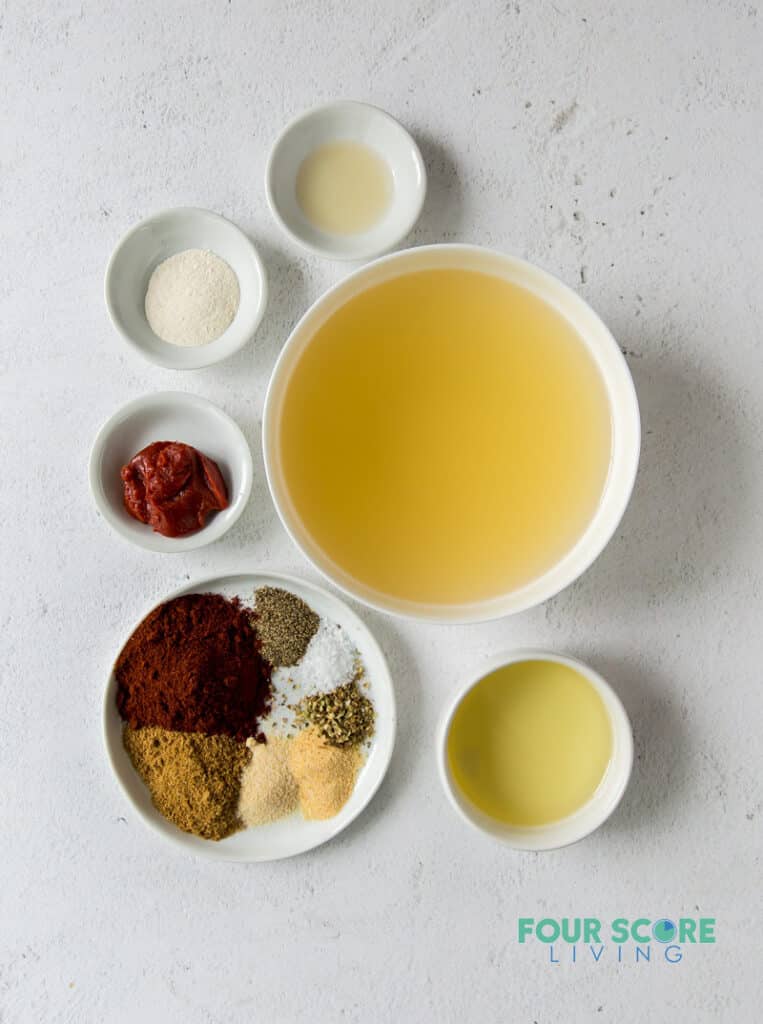 INGREDIENTS IN KETO ENCHILADA SAUCE
Avocado Oil - One of my favorite oils to cook with, avocado oil adds healthy fats and a silky texture to your keto enchilada sauce.
Chili Powder - A must have in any enchilada sauce recipe, chili powder adds the main flavor and some spicy notes to this recipe.
Cumin - A classic flavor note in taco-style recipes, cumin is a must in this sauce.
Garlic Powder - Garlic powder adds a warm and savory flavor.
Onion Powder - More and more flavor here. Onion powder pairs well with garlic powder and the other spices in this recipe.
Salt - Seasoning this sauce well is key in making delicious enchiladas.
Black Pepper - pepper adds a small bit of heat and balances the other spices.
Tomato Paste - Tangy and bright, this gives the sauce it's red color and fresh flavor. There are natural sugars in tomato paste, but not enough to be a problem.
Bone Broth or Stock - Use whichever you have on hand. Chicken, beef, or vegetable broth works here. If I know that I'm making beef enchiladas, I will try to use beef stock, and the same with chicken enchiladas.
Xanthan Gum - This acts as a thickener. Unlike other starch based thickeners, this one doesn't add many carbs to the party.
Apple Cider Vinegar - Adding vinegar at the end gives this sauce a bright finish.
If you have any questions about this keto enchilada sauce recipe, please leave a comment below and I will get back to you.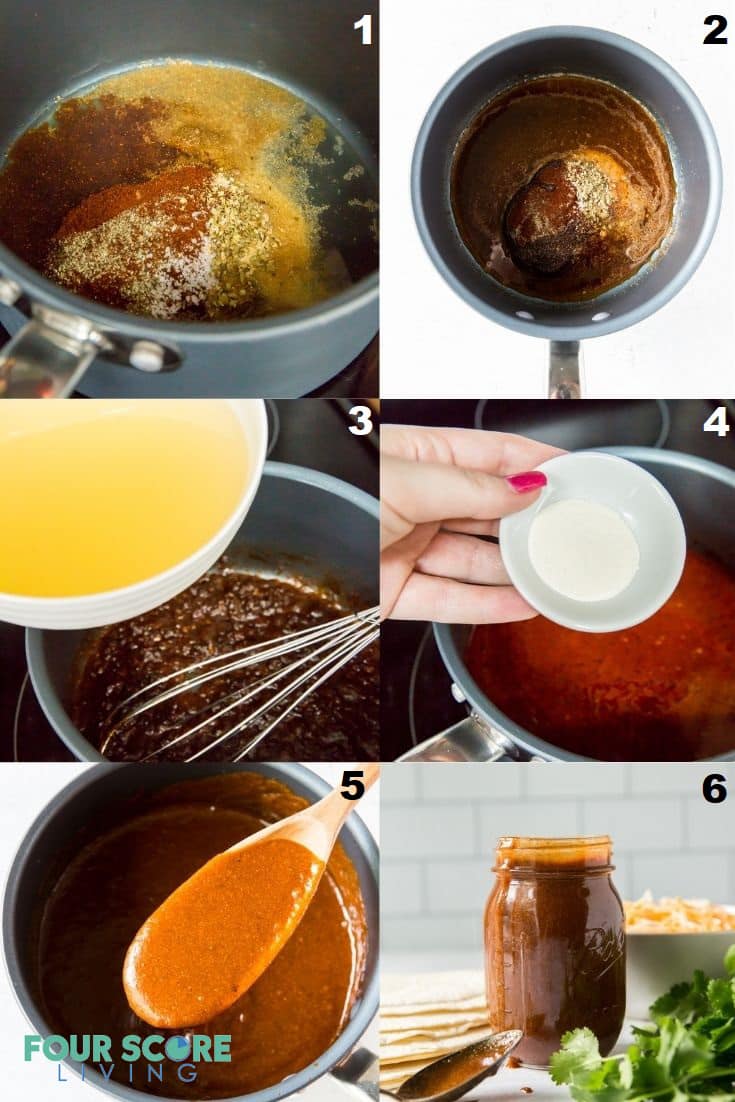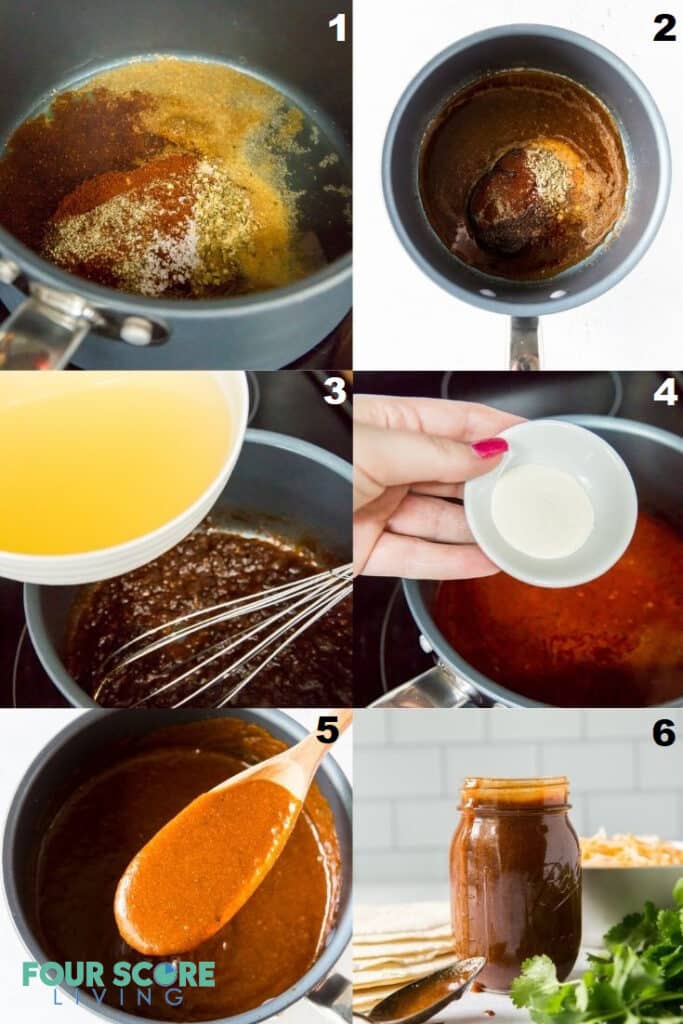 HOW TO MAKE KETO ENCHILADA SAUCE
Warm avocado oil in a medium saucepan set over medium heat, then add all of the spices.
Toast spices in the oil for just a minute. You'll smell them warming up. Then add tomato paste.
Slowly pour in the broth, whisking constantly to remove any lumps. Then whisk in the xanthan gum.
Bring the enchilada sauce mixture to a boil, then reduce the heat and simmer until sauce has thickened.
When thick, remove the sauce from the heat and whisk in the vinegar. Season to taste with additional salt and pepper if needed.
Use your homemade keto enchilada sauce in your favorite enchilada recipe, or store in a jar in the fridge for up to 5 days.
These numbered steps match the numbered photos above and are for illustration purposes. For the complete list of ingredients and instructions for making homemade keto enchilada sauce, please see the recipe below.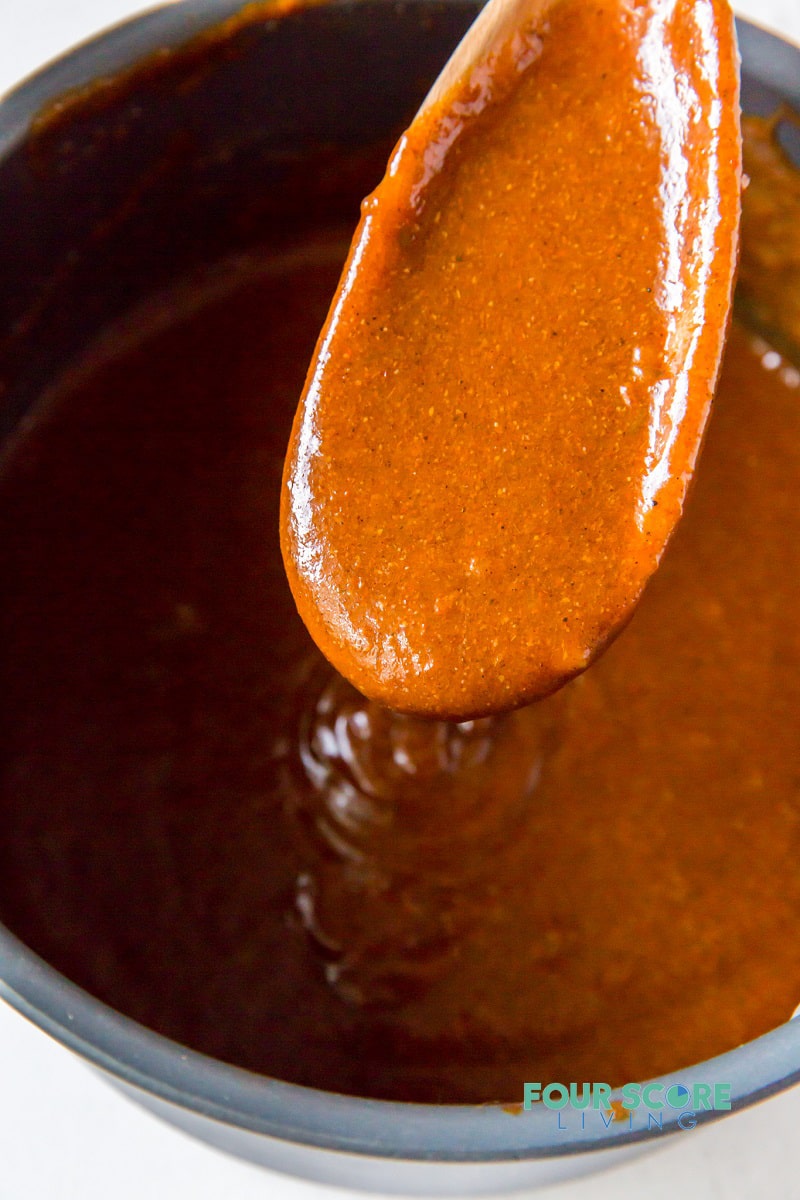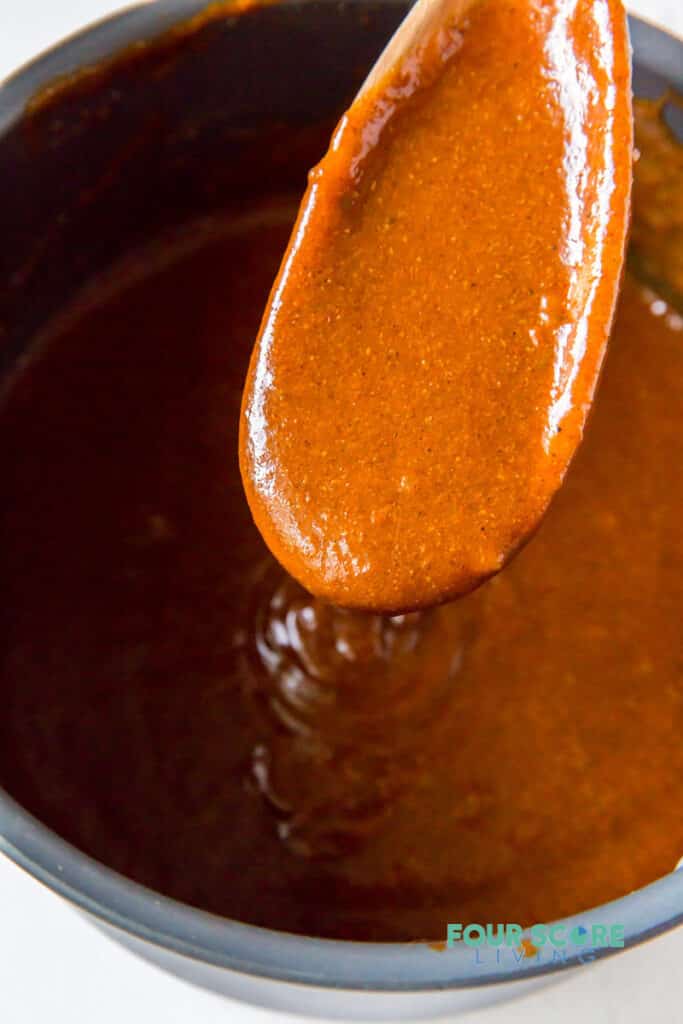 IS ENCHILADA SAUCE KETO?
This homemade enchilada sauce is keto because it's made without any added sugar or starches. There are minimal carbs from the tomato paste but overall, this recipe is low carb, and keto.
Pre-made enchilada sauces that you might buy at the grocery store in a can or jar probably are not keto friendly. You can read the labels while you're shopping. You will see that there is generally a lot of sugar added. Many mexican sauces have added sugars, so it's always better to make your own.
My recipe for keto enchilada sauce doesn't include any sweeteners. I find that the longer I eat a keto diet, the less I actually need things to taste sweet. It was a bit strange at first, but now it's very normal and my old cravings for sweets are minimal.
This enchilada sauce is so flavorful and savory, it really doesn't need any sweetener.
HOW TO STORE HOMEMADE ENCHILADA SAUCE
You can keep this sugar free sauce in an airtight container in the fridge for up to 5 days. I like to keep mine in a glass jar. The tomatoes in this sauce will certainly stain a plastic container.
Keto Enchilada Sauce freezes very well too. You can freeze it in any freezer safe container or bag for 2-3 months. Allow the frozen sauce to thaw overnight in the fridge before cooking with it.
WHAT TO MAKE WITH KETO ENCHILADA SAUCE
I have a recipe for Keto Enchiladas that goes perfectly with this sauce.
There are lots of other things you can add enchilada sauce too. It can add fat and flavor to any meal. Here are some ideas you may not have thought of:
Use keto enchilada sauce to top burgers, hot dogs, or sausages to give them a Mexican flair.
Add this sauce to some cooked meat and serve taco style on low carb tortillas. You can call it "lazy enchiladas". Top with lettuce and sour cream.
Serve keto enchilada sauce with eggs for breakfast. Fry an egg, and top with a little bit of sauce and cheese for a twist on huevos rancheros.
Spice up your Low Carb Meatloaf by adding Enchilada sauce to the glaze.
Use enchilada sauce to season other recipes. Add it to soups or stews to get extra smoky, tangy flavor. A little bit of this would be amazing in our Keto Taco Soup or Keto Chili.
This recipe for Vegetarian Skillet Enchiladas sounds good!
WHAT TO SERVE WITH ENCHILADAS?
I like to top enchiladas with sour cream, and I always serve them with a vegetable. If I'm in a hurry, Frozen Mixed Vegetables are the easiest thing.
IS ENCHILADA SAUCE SPICY?
This homemade keto enchilada sauce is mildly spicy from the chili powder we added, but it's not overpowering. If you are not a fan of spice, you can reduce the amount of chili when you cook this, and add more in at the end once you've tasted it.
You can make this sauce more spicy by adding more chili powder!
WHAT CAN I USE INSTEAD OF AVOCADO OIL?
When you're eating Keto, fat is important! I often choose avocado oil because of its health benefits, but any type of fat will work in this recipe. Try unsalted butter or olive oil instead.
CAN I MAKE ENCHILADA SAUCE WITHOUT TOMATO PASTE?
While you'll get the best flavor by using tomato paste, you can still make this recipe if you don't have any. Use a can of tomato sauce or even a can of diced tomatoes that you've put through the blender. Be sure your canned tomatoes don't have any added sugar!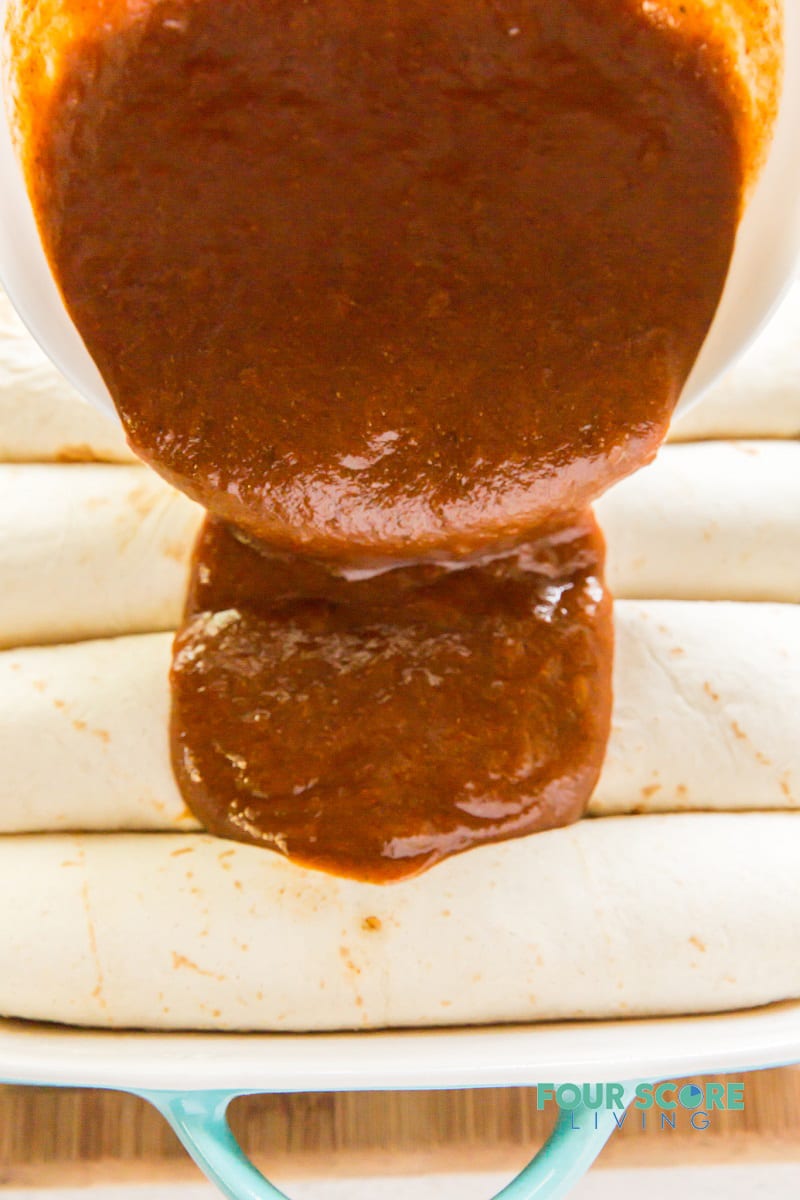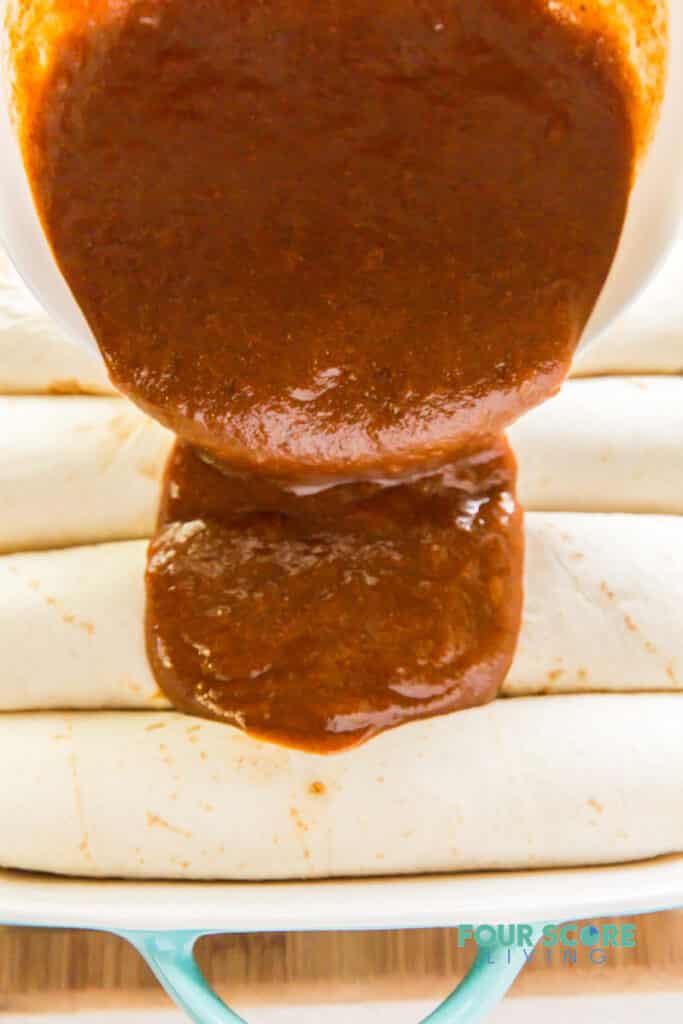 MORE DELICIOUS KETO MEXICAN RECIPES
Mexican food is on the menu at my house often, and we have lots of Keto Mexican Recipes to share.
Keto Taco Pie is a really fun way to cook and eat tacos and great for an easy weeknight meal.
Grilled Carne Asada is my favorite way to make a savory and delicious beef roast. I love it with fresh homemade tortillas and guacamole.
If you want a healthy and delicious meal that reminds you of your favorite Mexican restaurant, try my Keto Chicken Fajitas.
Just like enchilada sauce, I like to make my own seasoning so that I can be sure that there is no added sugar. Keep homemade taco seasoning on hand for whenever the taco mood strikes.
Feel like having a snack? Make some Keto Tortilla Chips to dip into a low carb Queso dip or an easy to make Keto Salsa.
We hope you love this recipe as much as we did! Please help us out by leaving a quick review and star ★ rating below.
LET'S GET SOCIAL, you can follow Four Score Living on Pinterest. You can also leave a comment below if you have any questions.
Did you make this Keto Enchilada Sauce? Please leave me a comment below letting me know what you thought.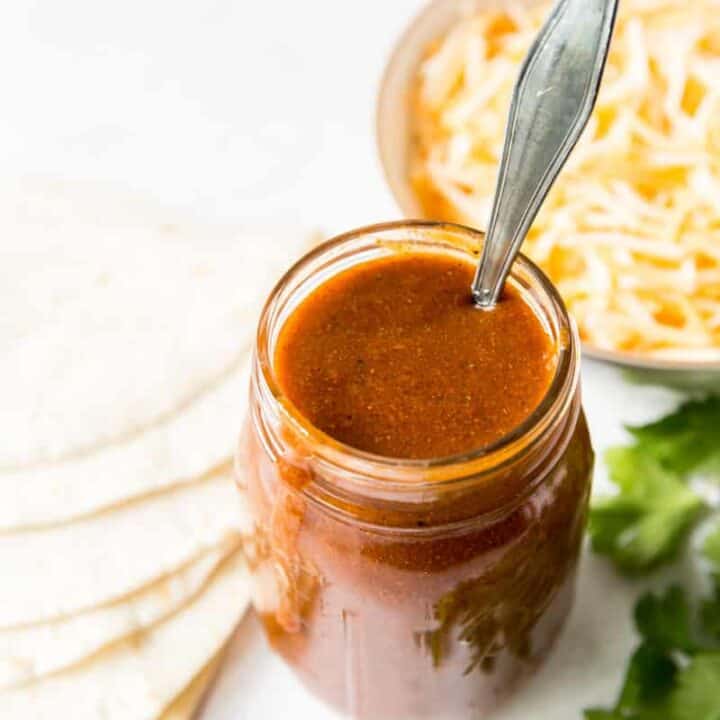 Keto Enchilada Sauce
Homemade Keto Enchilada Sauce is savory, packed full of authentic flavor, and mildly spicy. Use this sugar-free sauce to make the perfect Keto Enchiladas.
Ingredients
3 tablespoons avocado oil
2T chili powder
2 tsp cumin
½ tsp garlic powder
½ tsp onion powder
½ tsp dried oregano
½ tsp salt
¼ tsp black pepper
1T tomato paste
2 cups bone broth or stock (beef, chicken, or vegetable)
1 tsp xanthan gum
1 teaspoon apple cider vinegar
Instructions
Warm oil in a medium saucepan set over medium heat, then add spices.
Toast for 1 minute, then add tomato paste, cooking for 1 minute, stirring constantly.
Slowly pour in broth, whisking to constantly to remove lumps.
Stir in xanthan gum.
Raise heat to medium-high and bring mixture to a low boil, then reduce heat and simmer until sauce has thickened, about 5-6 minutes. When thick, remove from heat, then whisk in the vinegar and season to taste with more salt and pepper.
Use in your favorite enchilada recipe. Store leftovers in a mason jar for up to 5 days in the refrigerator.
Notes
Store leftover enchilada sauce in the refrigerator and use within 5 days of making it.
You can also freeze enchilada sauce for 2-3 months.
Use this sauce to make enchiladas, or use it in your favorite recipes to add extra fat and flavor.
Nutrition Information:
Yield:

8
Serving Size:

1
Amount Per Serving:
Calories:

75
Total Fat:

6g
Saturated Fat:

1g
Trans Fat:

0g
Unsaturated Fat:

5g
Cholesterol:

2mg
Sodium:

332mg
Carbohydrates:

2g
Net Carbohydrates:

1g
Fiber:

1g
Sugar:

1g
Protein:

3g
The nutrition information for this recipe is an approximate total per serving. Please double check the nutrition information for your exact ingredients and brands.