Keto tortillas are thin, pliable, and easy to make with just 8 simple ingredients.
Enjoy these low carb tortillas with your favorite taco fillings.
We use these keto tortillas for making Keto Enchiladas.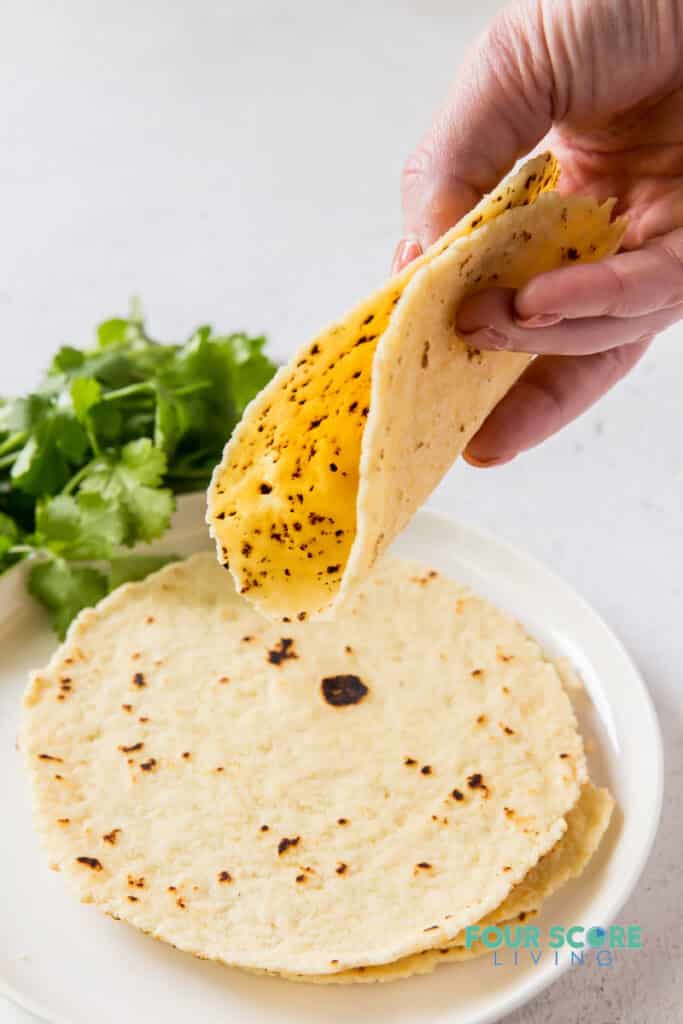 KETO TORTILLAS RECIPE
Having a great low carb tortilla recipe can be very important when following a keto diet.
With the Keto diet you have all of these amazing keto recipes for meats and cheesy casseroles, and you want to have a tortilla to wrap things up with so that they are portable easy to eat.
Keto Chicken Salad would be amazing wrapped in a tortilla with some cheese and lettuce. As would Keto Chicken Bacon Ranch Casserole.
Use these keto tortillas for tacos, turn them into tortilla chips, or use them to wrap sandwiches.
With just 8 simple ingredients, I'll show you how to make a tortilla dough and roll and pan fry that dough to tortilla perfection.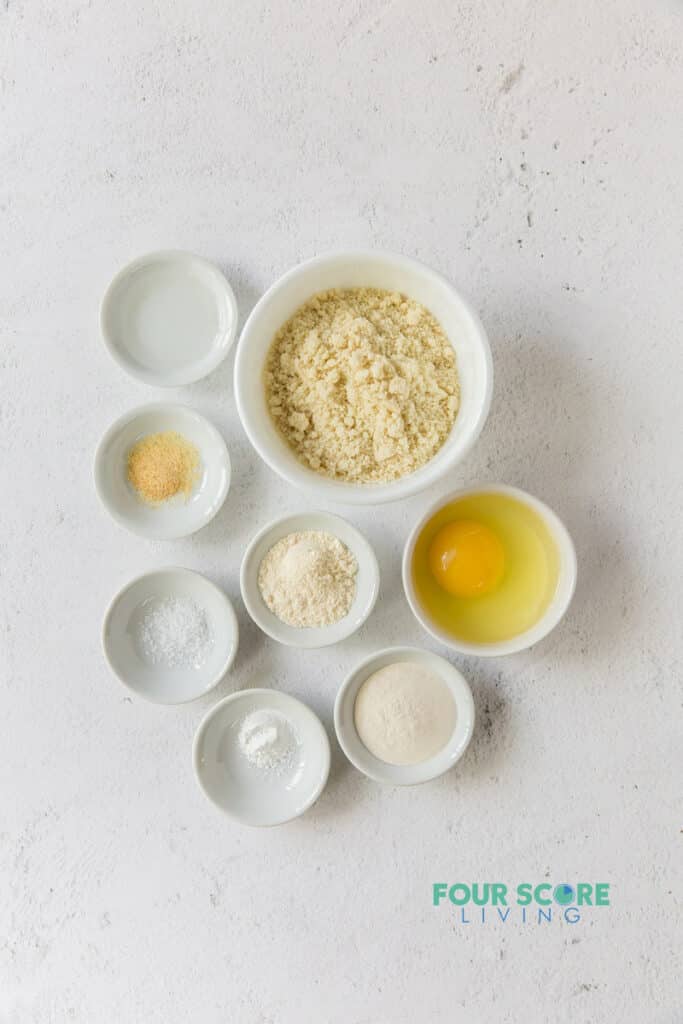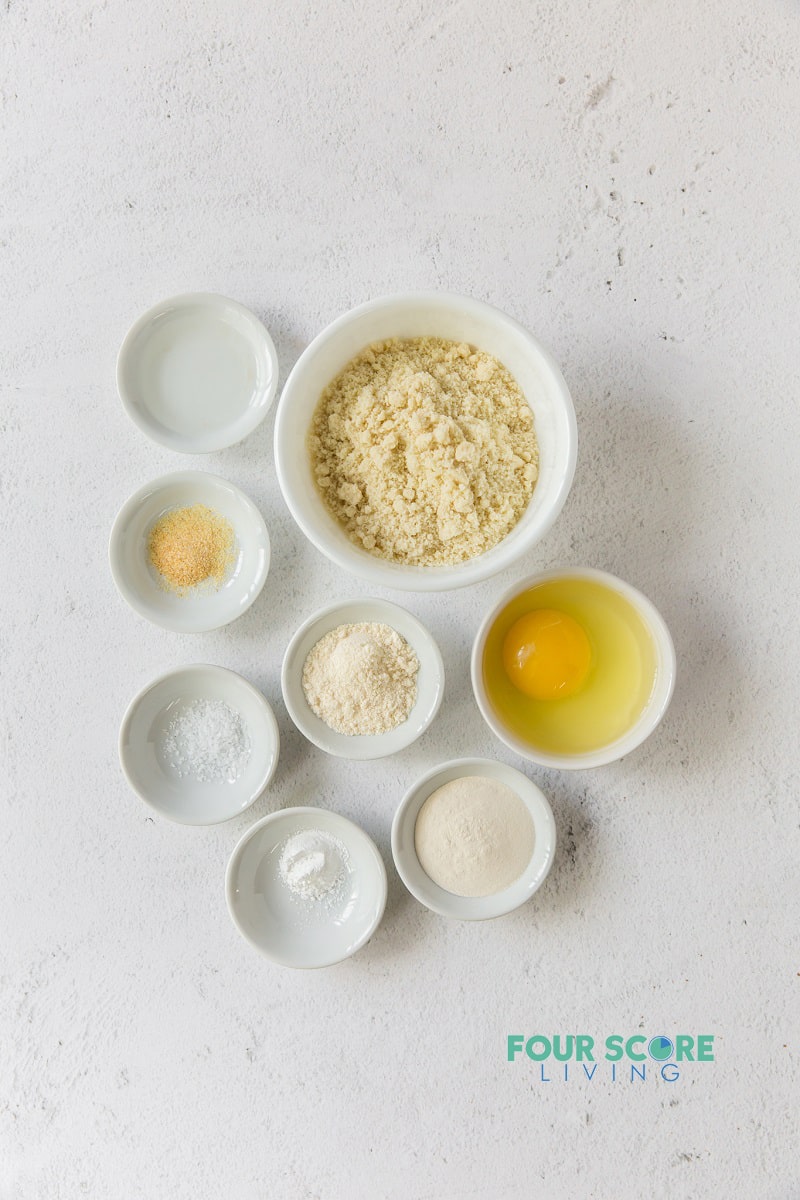 INGREDIENTS IN KETO TORTILLAS
Almond Flour- This is the main flour that we'll use for our tortillas. Choose a finely milled almond flour for this recipe.
Coconut Flour - A small amount of coconut flour gives the perfect texture to the tortillas.
Xanthan Gum - This is a thickening and emulsifying agent, and necessary when baking without traditional gluten flour.
Baking Powder- This allows the dough to puff up a bit when cooked.
Kosher Salt - Added for flavor.
Garlic Powder - Optional, but I like the added savory flavor that it gives.
Egg - An egg binds all of the ingredients together and aids in browning.
Water - Use water to get the right dough consistency.
If you have any questions, please leave a comment below and I will get back to you.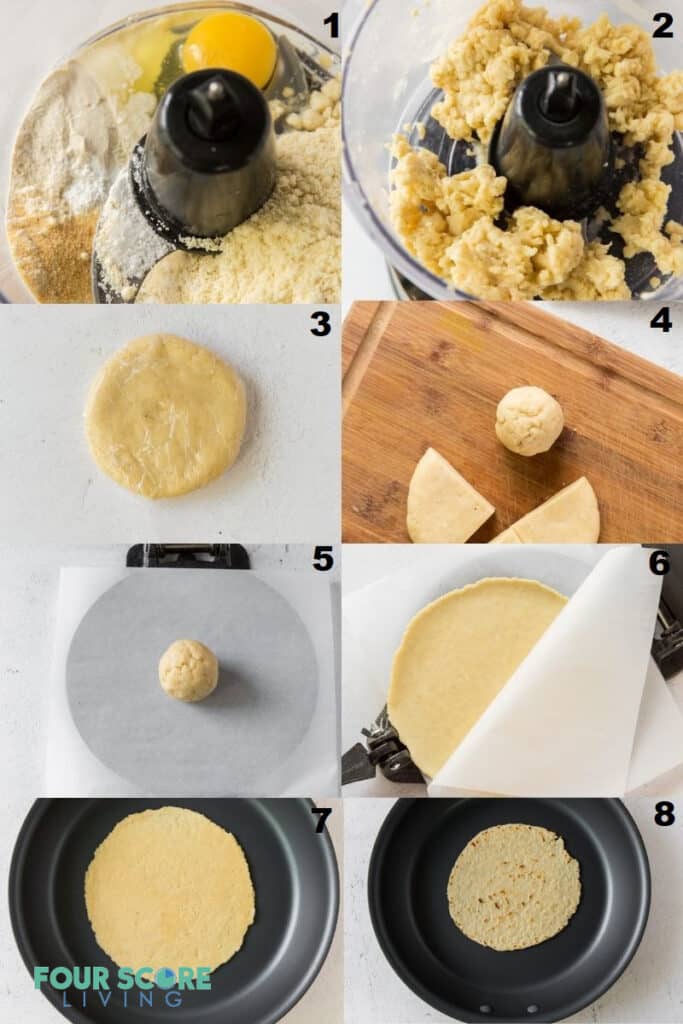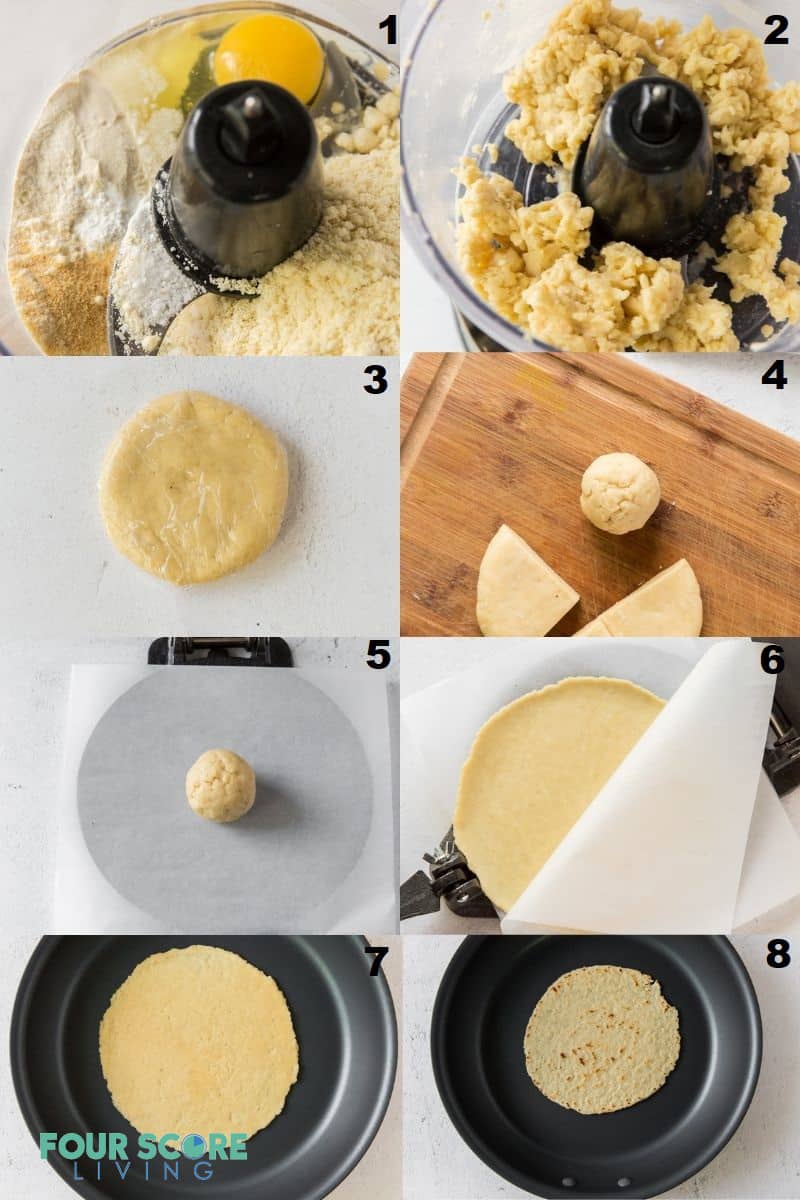 HOW TO MAKE KETO TORTILLAS
Combine all ingredients in the bowl of a food processor.
Pulse for 5 seconds at a time until a ball of dough is formed.
Knead the dough by hand, then allow it to rest.
Divide the dough into four small balls.
Place one ball between two pieces of parchment paper and roll until it's about ⅛ inch thick and about 5-6 inches in diameter.
Carefully peel the tortilla from the parchment.
Place into preheated skillet. Cook until slightly charred.
Flip tortilla, and repeat cooking on the other side.
These numbered steps match the numbered photos above and are for illustration purposes. For the complete list of ingredients and instructions, please see the recipe below.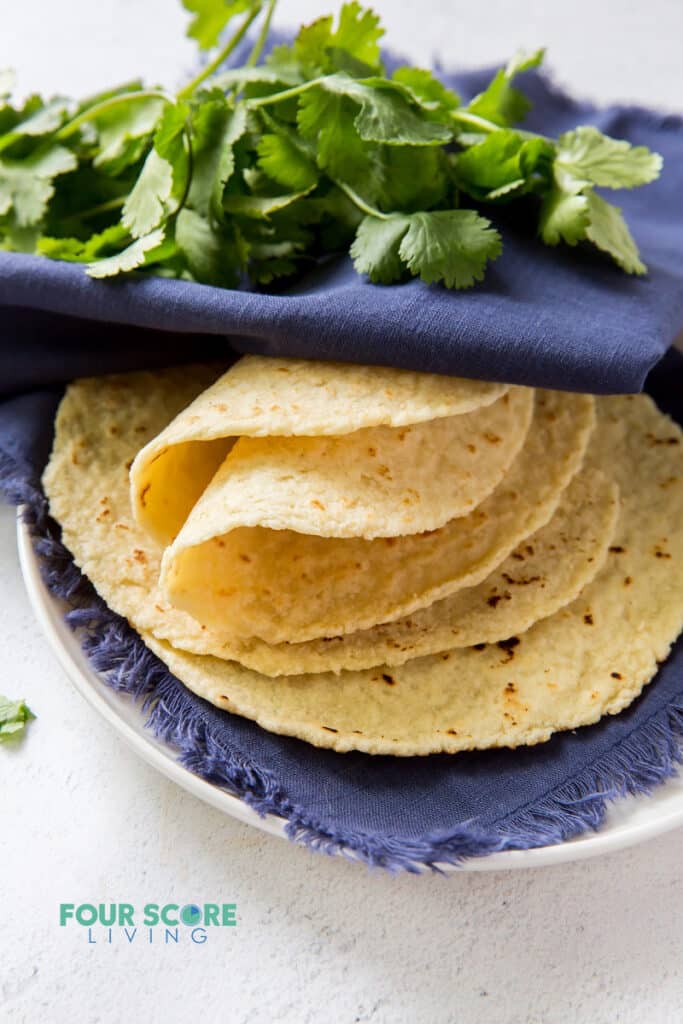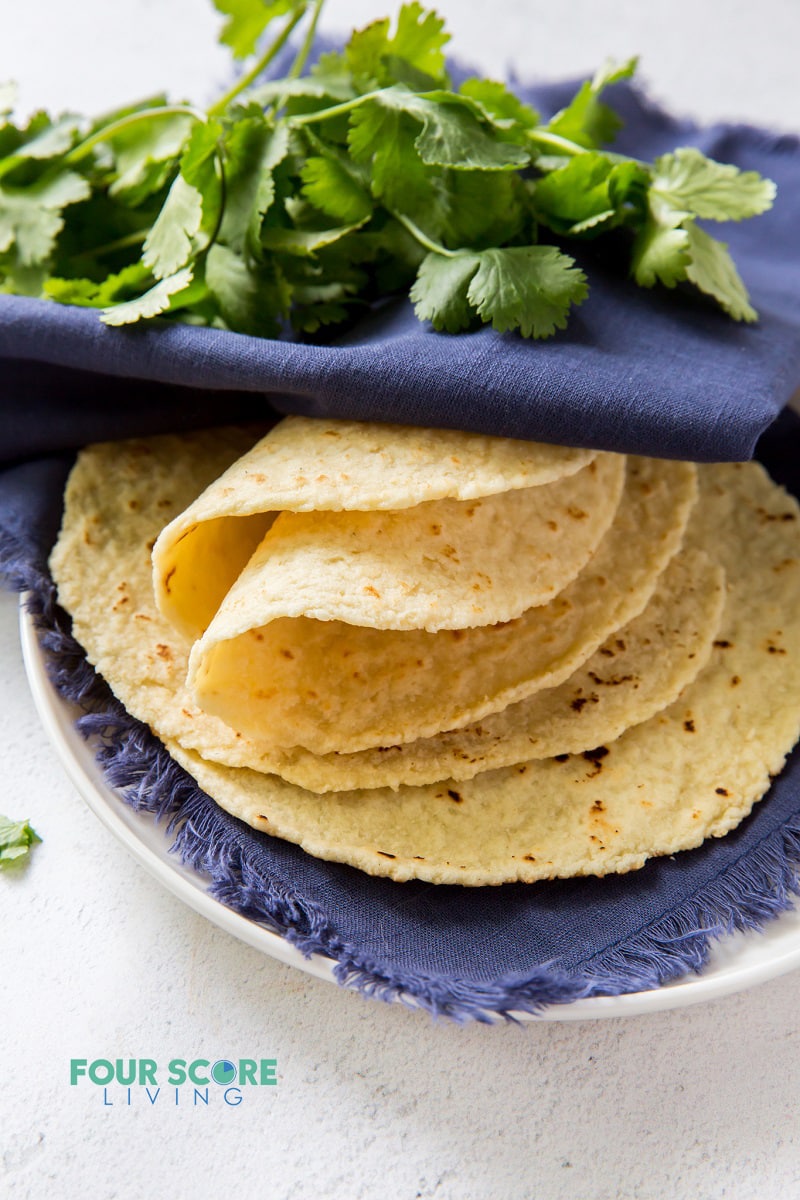 TIPS FOR MAKING PERFECT KETO TORTILLAS
The dough will be sticky. Be very carful removing the dough from the parchment paper. You can just remove one piece of parchment, then put the tortilla in the pan and slowly remove the other piece as it cooks. Just be careful!
Try putting a bit of coconut flour on your fingers to help the dough from sticking to your hands.
Coconut flour burns easily. Make sure to keep your heat at medium to medium high. As soon as you see black spots, remove the tortilla from the heat.
If you have a tortilla press, you can use it for this recipe, but it's not needed for good results. A rolling pin will work just fine.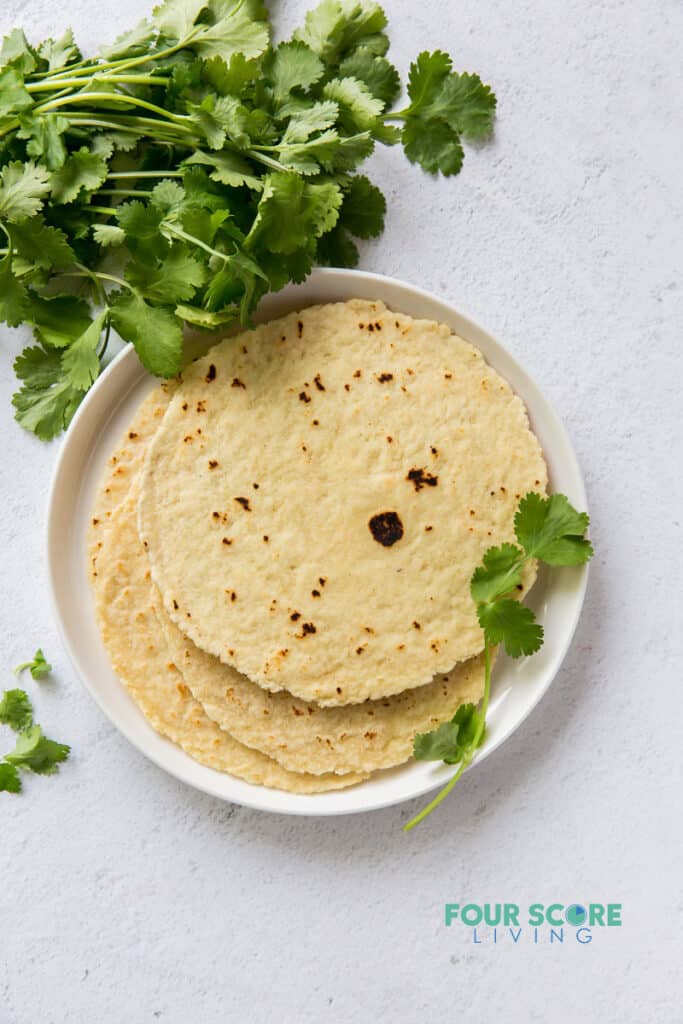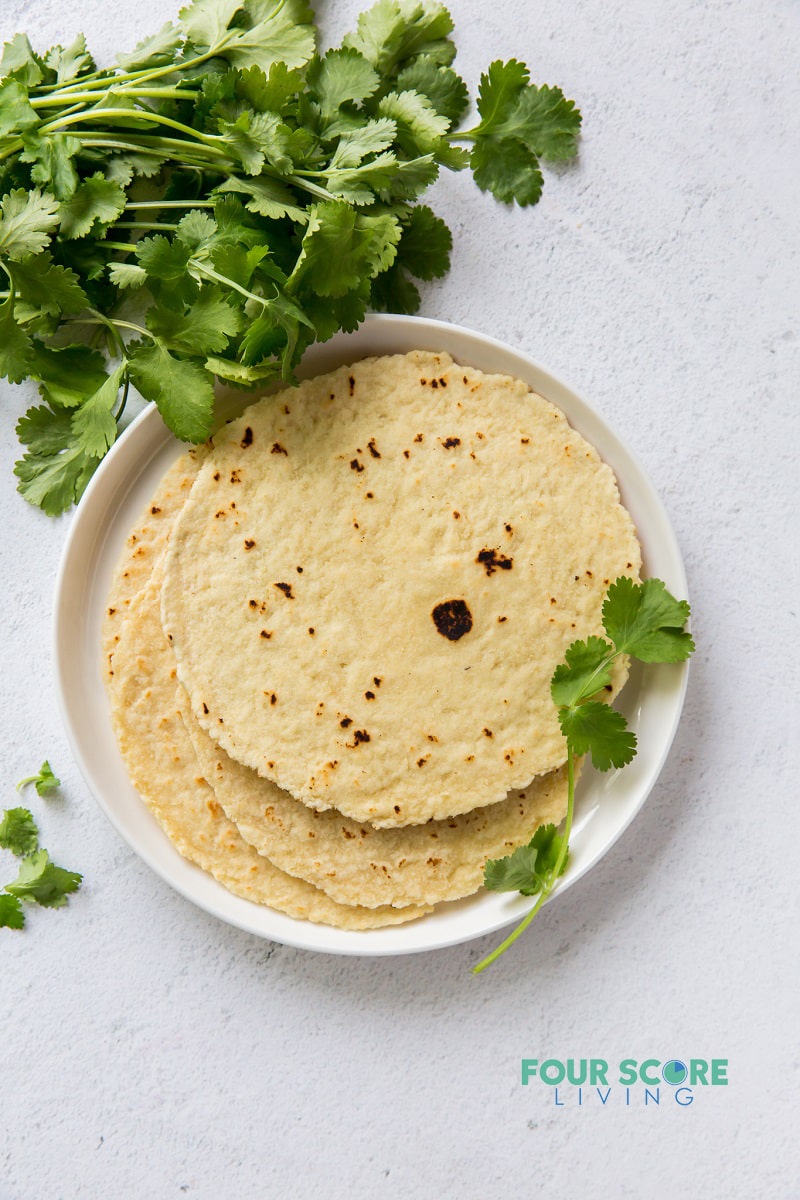 CAN I MAKE KETO TORTILLAS AHEAD OF TIME?
Yes! After cooking your tortillas, let them cool and then store in the fridge for up to 3 days.
Freeze the cooked tortillas, separated by parchment paper in an air tight bag or container for up to 3 months.
CAN I FREEZE KETO TORTILLAS
Yes, you can freeze these keto tortillas. It's best to freeze them after they've been cooked. Layer them in between parchment paper or wax paper, so you can pull them out one at a time, if needed.
HOW TO REHEAT KETO TORTILLAS
You can heat up your tortillas in a few different ways.
I like to use a hot pan on the stove and warm them through one at a time.
You can also microwave them for 20-30 seconds.
HOW MANY NET CARBS IN KETO TORTILLAS
This recipe for low carb tortillas creates 4 keto tortillas, each with 5 grams net carbs. A traditional store bought six inch tortilla has around 16 grams of carbs, making this recipe totally worth it.
KETO TORTILLA BRANDS
There are a few store bought brands that make keto tortillas, but we find them to be overpriced, especially since they are easy to make at home.
If you're looking for convenience and you don't want to make keto tortillas at home, here are a few brands we recommend:
Siete Almond Flour Tortillas
Thrive Organic Coconut Wraps
Mission Carb Balance Tortillas
Maria and Ricoardo's Almond Flour Tortillas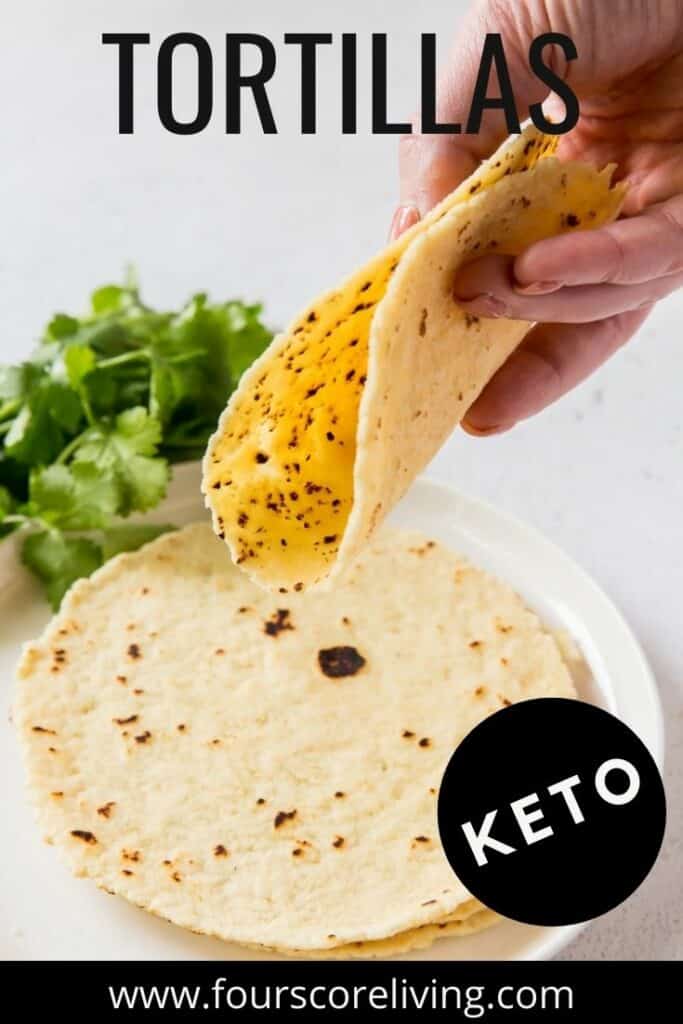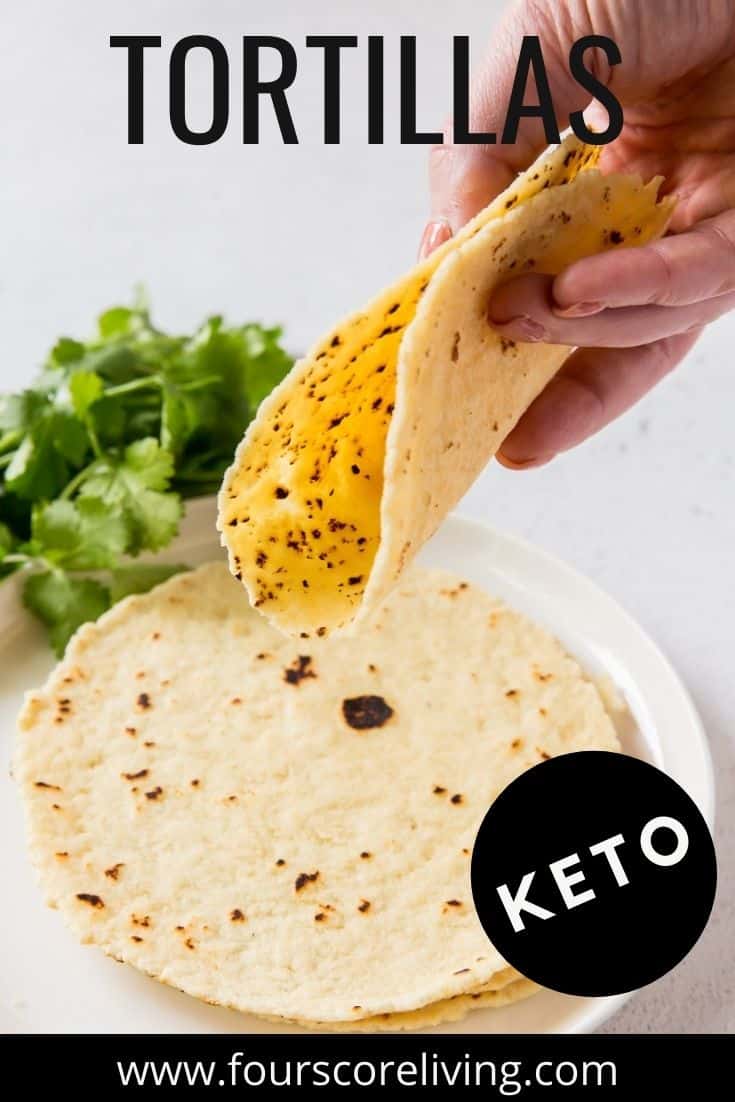 WHERE TO BUY KETO TORTILLAS
Most grocery stores will carry the Mission Carb Balance tortillas, but you'll find other brands of keto tortillas online or at specialty market stores like Whole Foods and New Seasons.
WHAT TO SERVE WITH KETO TORTILLAS
You can serve these keto tortillas with Carne Asada. They are also great for dipping into keto buffalo chicken dip.
You can slice them into strips and bake them and server them on top of Keto Taco Soup.
These low carb tortillas are also incredible served with Chipotle Chili.
We love serving these keto tortillas with tacos, and keto taco pie.
If you don't need to eat keto, you might like these gluten free tortillas.
We hope you enjoyed reading this article. Please help us out by leaving a quick review and star ★ rating below.
LET'S GET SOCIAL, you can follow Four Score Living on Pinterest. You can also leave a comment below if you have any questions.
Did you make this Keto Tortilla Recipe? Please leave a comment below letting me know what you thought.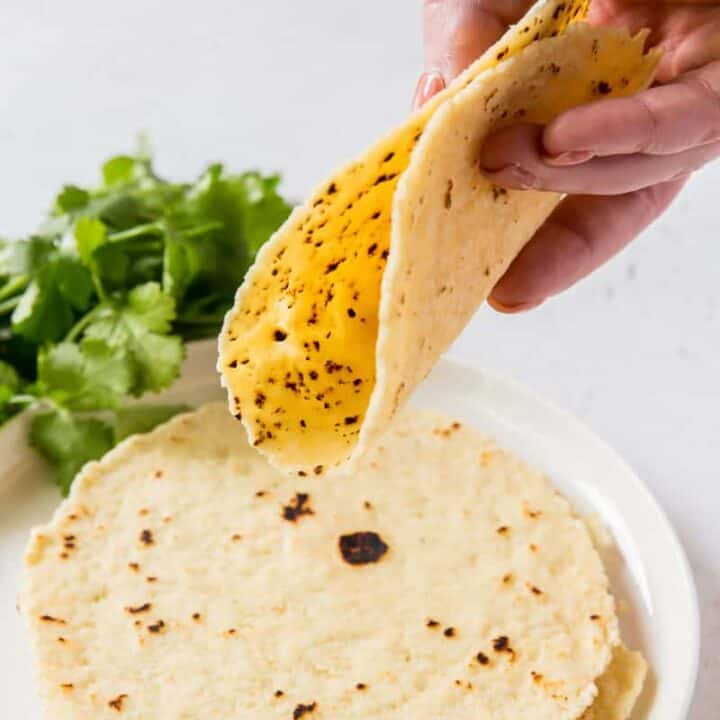 Keto Tortillas
Keto tortillas are thin, pliable, and easy to make with just 8 simple ingredients. Enjoy these low carb tortillas with your favorite taco fillings.
Ingredients
1 cup almond flour
1T coconut flour
1T xanthan gum
½ tsp baking powder
¼ tsp kosher salt
¼ tsp garlic powder (optional)
1 large egg, lightly beaten
3 T water
Instructions
Combine all ingredients in the bowl of a food processor. Pulse for 5 seconds until a ball of dough is formed.
Transfer the dough to a piece of plastic wrap and wrap tightly.
Knead the dough for a minute or two with your hands, then allow to rest for 10-15 minutes.
Divide the dough into 4 small balls. Place one ball between two pieces of parchment or wax paper and roll until it's about ⅛-inch thick, and about 5- 6 inches in diameter. You can also use a tortilla press if you have one. Carefully peel the pressed tortillas from the paper (the dough will be slightly sticky).
Set a large non-stick skillet over medium-high heat. When hot, add tortilla and cook until slightly charred, about 15-20 seconds per side. Repeat until all tortillas are toasted and serve immediately.
Notes
You can use a stand mixer or a hand mixer in place of the food processor. This will require a bit more kneading by hand to get the right dough consistency.
Nutrition Information:
Yield:

4
Serving Size:

1
Amount Per Serving:
Calories:

198
Total Fat:

16g
Saturated Fat:

2g
Trans Fat:

0g
Unsaturated Fat:

13g
Cholesterol:

47mg
Sodium:

226mg
Carbohydrates:

9g
Net Carbohydrates:

5g
Fiber:

4g
Sugar:

2g
Protein:

8g
The nutrition information for this recipe is an approximate total per serving. Please double check the nutrition information for your exact ingredients and brands.
Low Carb Tortillas