Keto Chicken Salad is a staple in our house. Enjoy it with a fork, on top of a salad, or wrapped up in lettuce wraps or low carb tortillas.
This super easy keto chicken salad recipe only uses a handful of ingredients and it's simple to make. You can make this with leftover chicken, or cook chicken just for making chicken salad.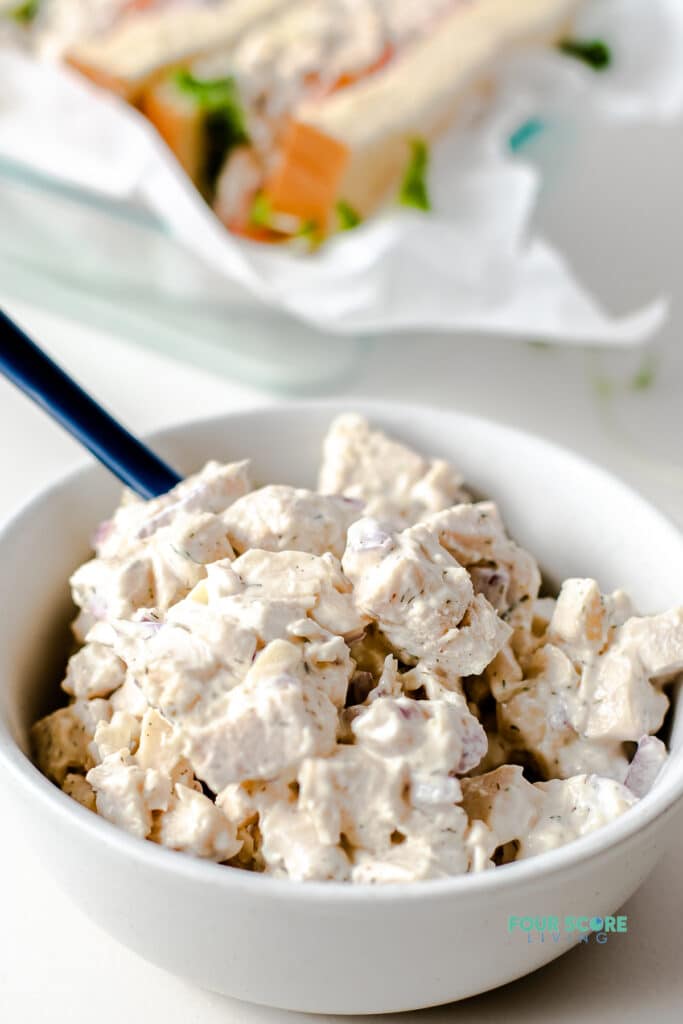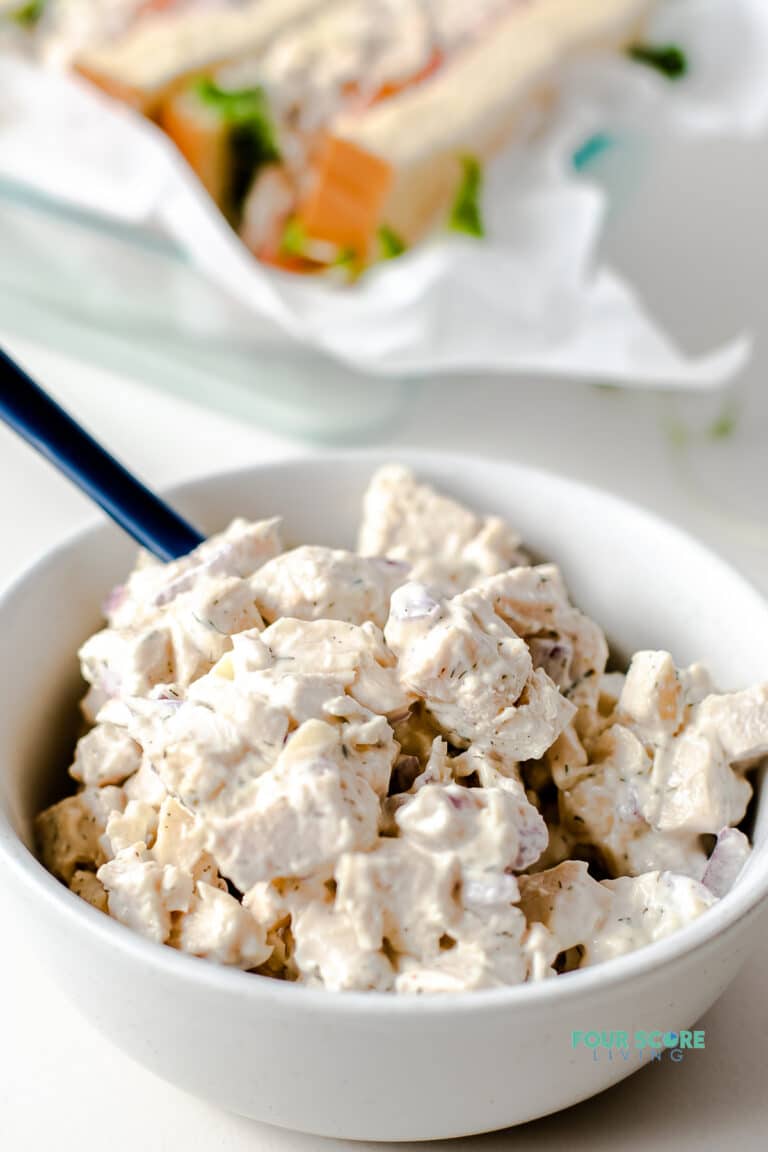 If you love Keto Chicken Salad, you'll also love Keto Egg Salad, and Tuna Salad with Greek Yogurt.
KETO CHICKEN SALAD RECIPE
We are big fans of this keto chicken salad recipe. We tend to make up a batch and keep it in the refrigerator for lunches. Meal prepping with Keto chicken salad is a total breeze! Just add some lettuce leaves to a container with this delicious spread and lunch is ready.
Chicken salad is also a go-to choice for when we are on road trips or enjoying lunch on a hike. You can serve it with a keto wrap or keto tortilla but we love enjoying Keto Chicken Salad with a fork, right out of a bowl, or on top of a bed of greens.
Chicken Salad with a side of Keto Broccoli Salad is another filling and delicious way to meal prep for lunch.
IS CHICKEN KETO?
Yes, chicken is naturally keto and low carb. Chicken salad is also a naturally keto friendly food, so long as you aren't adding sugar. Sometimes stores prepare chicken salad or add ingredients that may container sugar, such as sauces or fruit.
Please be sure to check the ingredients if you are purchasing chicken or chicken salad that is already prepared.
Better yet, make your own chicken salad from scratch at home! You'll save money by making it yourself, and you'll also be able to control exactly what goes into it so that you know that it's a good fit for your dietary needs.
IS CHICKEN SALAD KETO?
If you add only low carb ingredients, then yes, chicken salad is keto. Some recipes for chicken salad add sugar, or use a dressing like miracle whip that includes sugar. We aren't going to make that mistake with this Keto Chicken Salad Recipe!
Make sure to use high quality, keto-friendly ingredients when you make chicken salad keto. Full fat mayonnaise and Dijon mustard are our favorites for making this lunchtime staple.
If you love chicken salad you'll want to try this tuna cucumber salad next.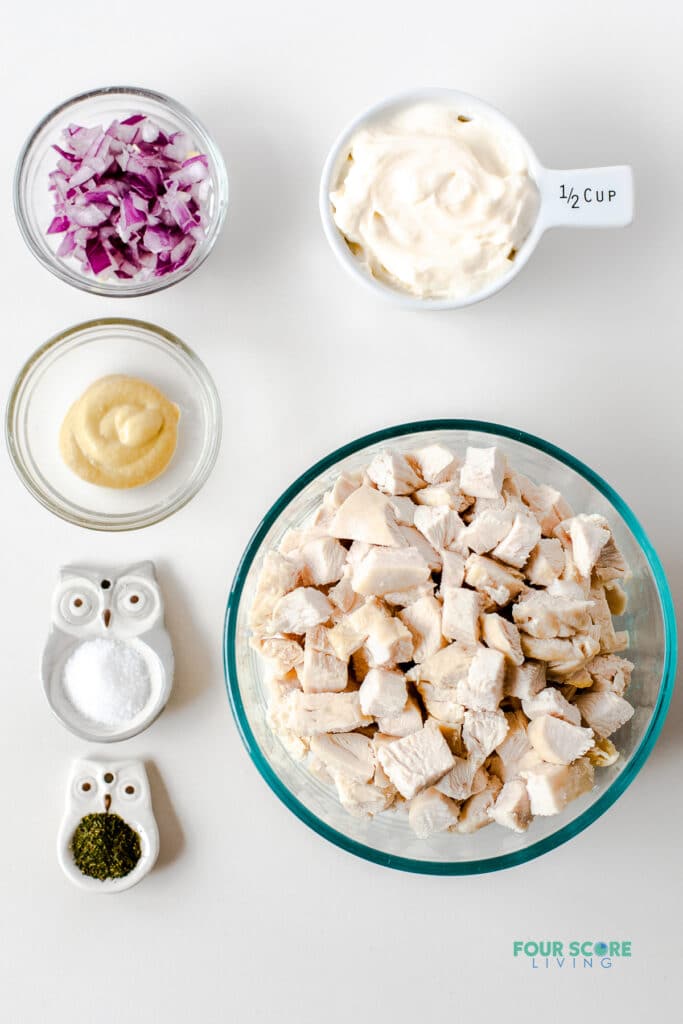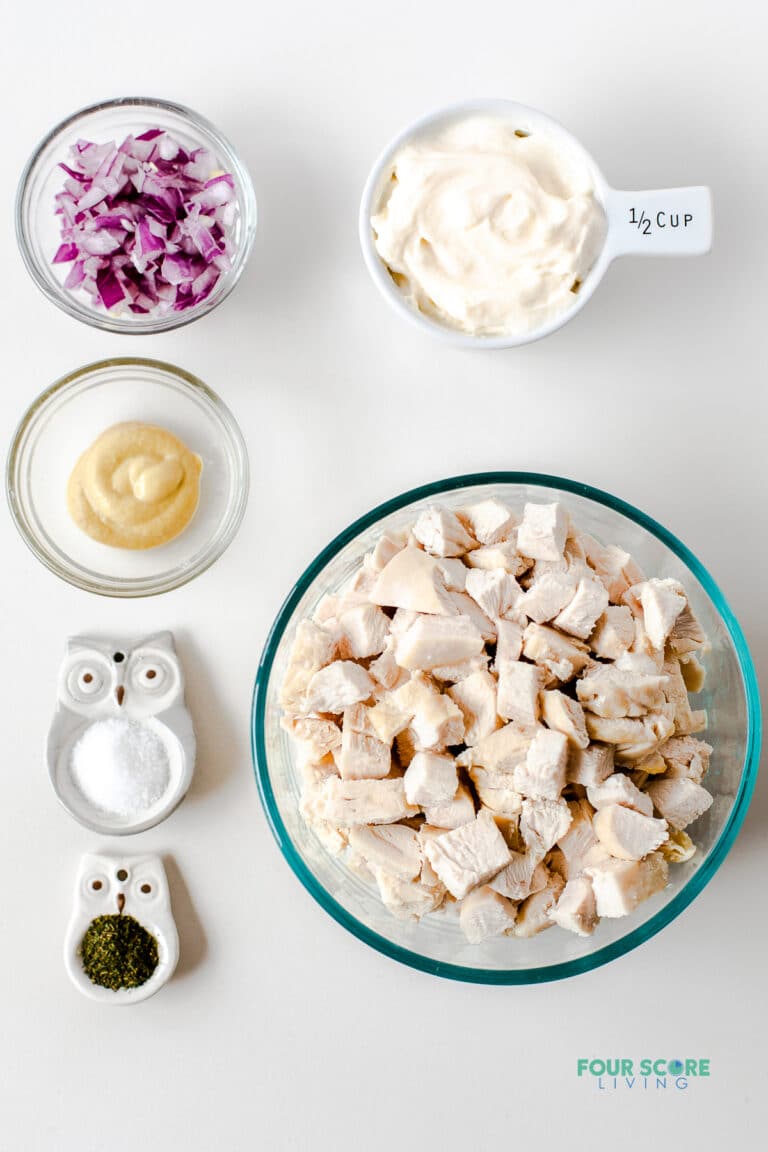 INGREDIENTS IN KETO CHICKEN SALAD
There are only a handful of ingredients in keto chicken salad but they all add the perfect amount of flavor and texture. This keto chicken salad is made with cooked chicken, mayo, Dijon, red onion, salt, and dill.
Cooked Chicken - Use grilled, poached, or baked chicken to make chicken salad. It's a great recipe to use up leftovers, and you can make it with white meat, dark meat, or a combination of both. This Instant Pot whole chicken is really great for making chicken salad too.
Mayonnaise - Full-fat mayo makes this keto chicken salad creamy and rich. Stay away from light or fat-free mayo, as it will typically have sugar added or other ingredients that we don't need.
Dijon Mustard - The fanciest of mustards, dijon is a flavor that goes really well with chicken.
Red Onion - I love the crunch that this adds, as well as the spicy, oniony bite.
Salt - Unless your cooked chicken is already salty, you'll want to season it well.
Dill - This is a personal preference, as I really enjoy the flavor of dill in most mayonnaise based salads. If you aren't a fan like I am, you can leave it out.
If you have any questions about making Keto Chicken Salad, please leave a comment below and I will get back to you.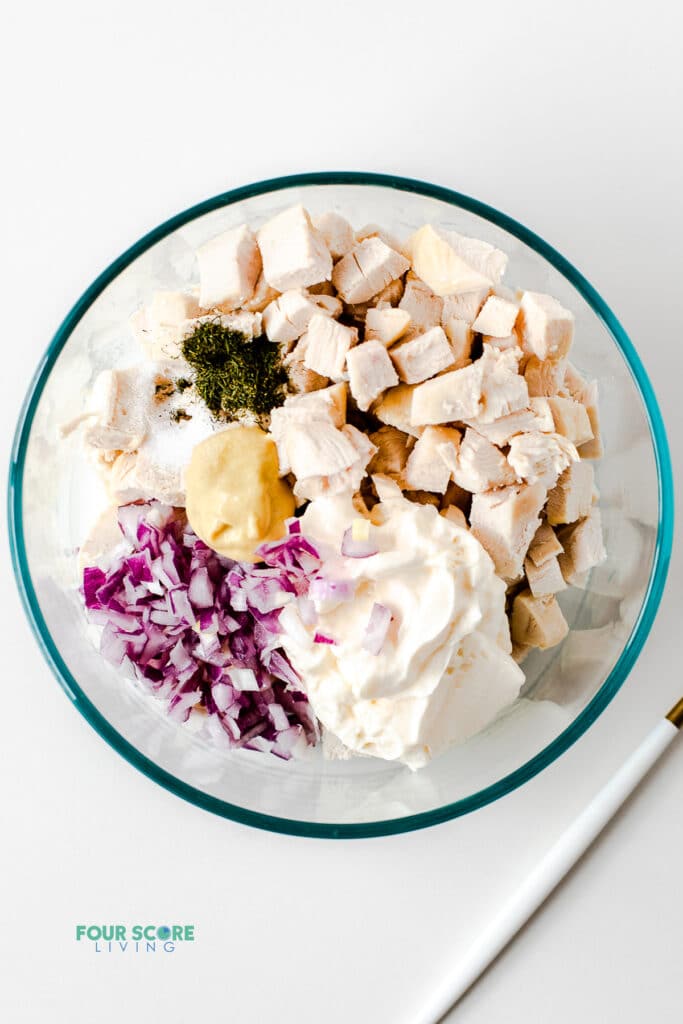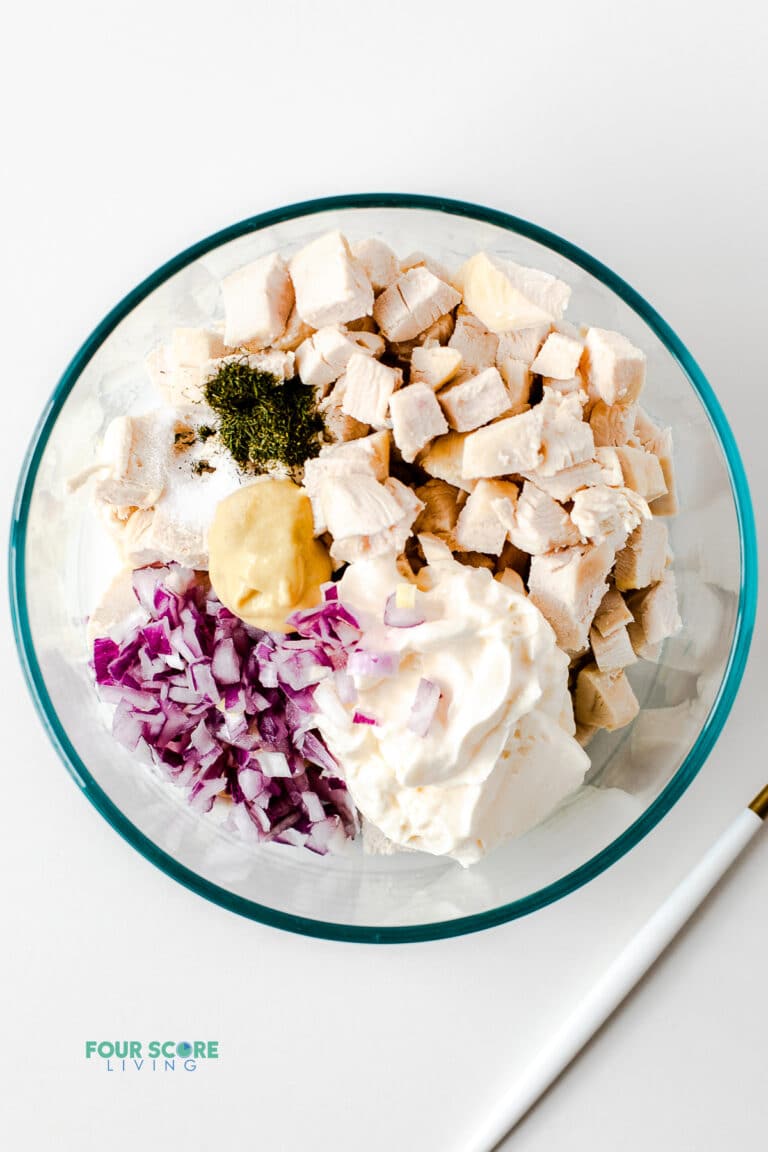 HOW TO MAKE KETO CHICKEN SALAD
If you don't have cooked chicken, you'll need to cook a couple of chicken breasts, chop them up, and let them cool. Once the chicken is cool mix in the other ingredients.
Add diced chicken, mayonnaise, Dijon mustard, salt, diced red onion, and dill to a medium sized bowl. Stir until the ingredients are well combined. Taste, and add additional salt and pepper if needed. Enjoy your keto chicken salad right away, or allow it to sit in the fridge for at least an hour for better flavor.
For the complete list of ingredients and instructions for making Keto Chicken Salad, please see the recipe card below.
KETO CHICKEN SALAD TIPS
Use Leftovers. We often use leftover chicken or rotisserie chicken to make this low carb chicken salad.
Chill. This tastes best after it's had at least an hour to chill out in the fridge, but you can eat it right away if you're in a hurry.
Add Seasonings. You can add any seasonings that you like to your keto chicken salad. Try a pinch of cayenne pepper to add heat. A bit of garlic powder will add warmth and savory flavor.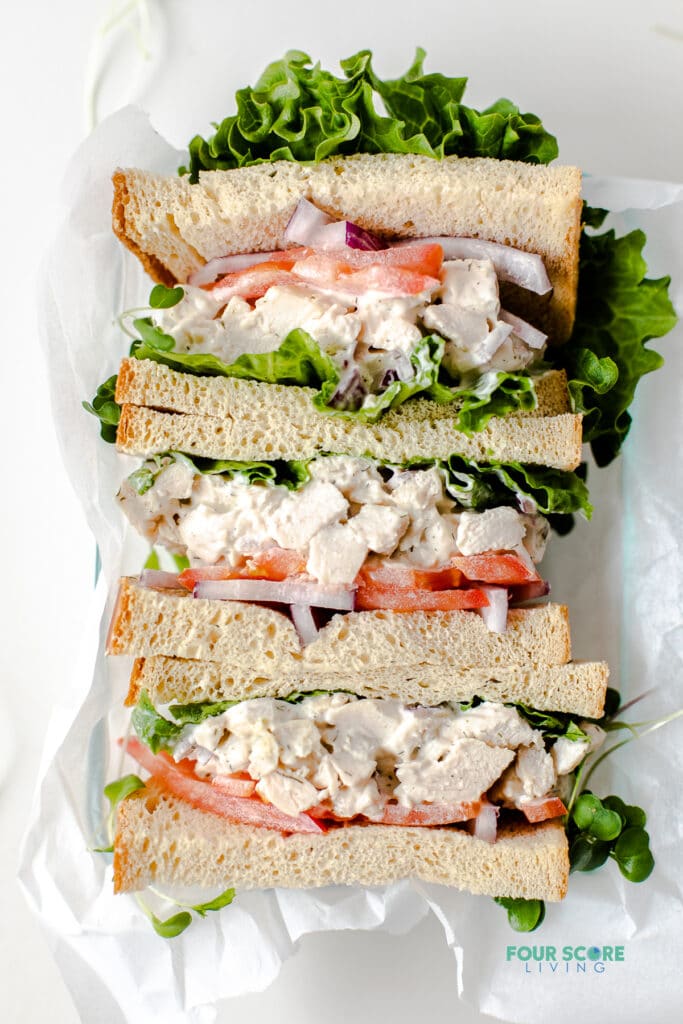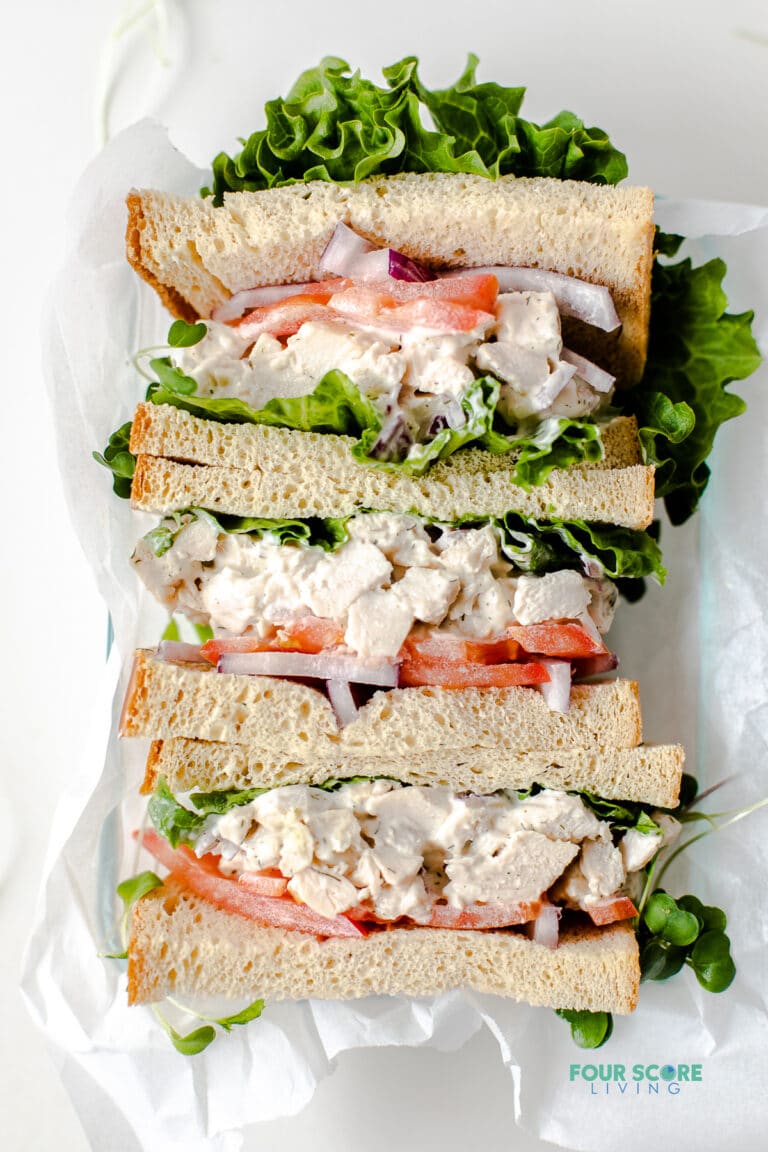 HOW TO STORE KETO CHICKEN SALAD
Store keto chicken salad tightly covered in the refrigerator for up to 5 days. You can also freeze chicken salad for up to 3 months.
IS MAYONNAISE KETO?
Yes, mayonnaise is keto-friendly. Compared to other dressings and sauces, mayo is an excellent choice when it comes to keto-friendly condiments. Make sure to check labels as some mayo brands include sugar. Look for high quality, sugar-free mayonnaise. The good news is that you can have mayonnaise on a keto diet.
HOW TO EAT LOW CARB CHICKEN SALAD
Everything in this chicken salad recipe is low carb, but traditionally chicken salad is served between two slices of bread. The bread is what makes sandwiches a no-go for keto lunch.
You can still serve this low-carb chicken salad between two slices of keto bread, on a keto or low-carb wrap or in a lettuce wrap. Chicken Salad is delicious with our homemade Keto Rolls too.
You can use vegetables to make a chicken salad sandwich! Try enjoying keto chicken salad in between slices of bell pepper or the halves of a cucumber.
We often like to enjoy this chicken salad with pork rinds, cheese chips, or keto tortilla chips.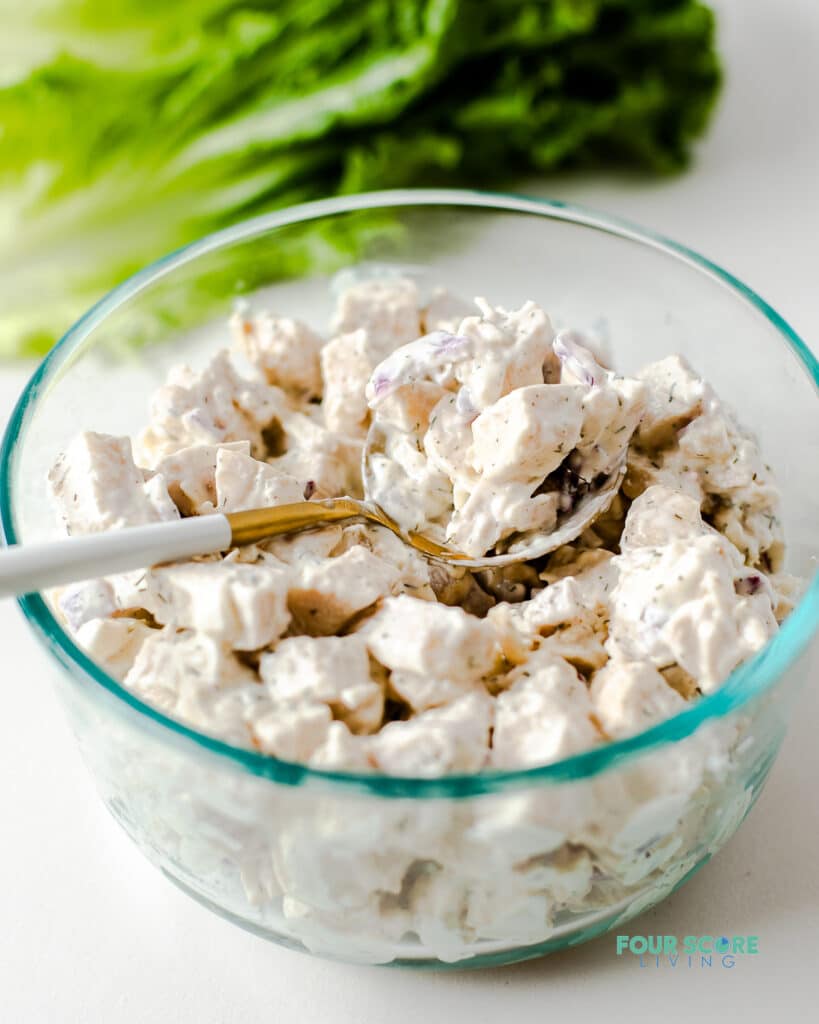 BEST KETO FRIENDLY MAYONNAISE
If you love mayo be sure to check labels while you're shopping to ensure that whichever brand you're buying is keto friendly. Mayo is generally made from eggs, salt, mustard, oil, and an acid like vinegar or lemon juice. Some brands also add sugar for flavor. For example, Hellman's mayo is sugar free, while Kraft Mayonnaise has a small amount of sugar added.
A few of our favorite keto friendly mayo brands are Chosen Foods and Primal Kitchen Mayo. There are many brands labeled "keto" or "sugar free" at the store now. Be sure you aren't overpaying for the labeling. Sometimes you can buy regular brands that are keto already.
You can also make your own mayonnaise if you want to be really sure that your mayo is sugar free.
CAN YOU FREEZE CHICKEN SALAD?
Are you wondering if you can freeze chicken salad? Yes, you can freeze it. The mayo may separate a little and the texture may change slightly, but it is still yummy and safe to eat.
Love protein packed salads? You might also like this Crab Salad with Lemon-Chive Dressing.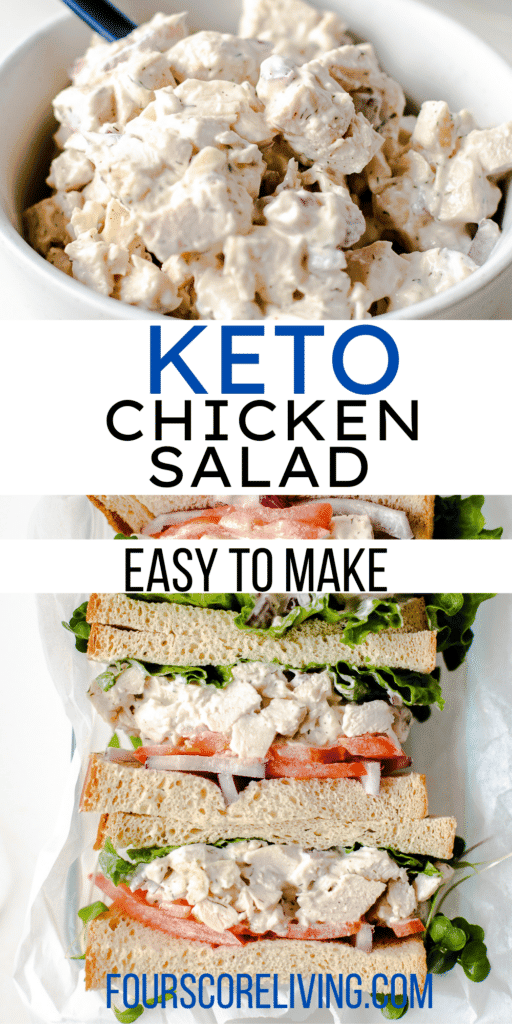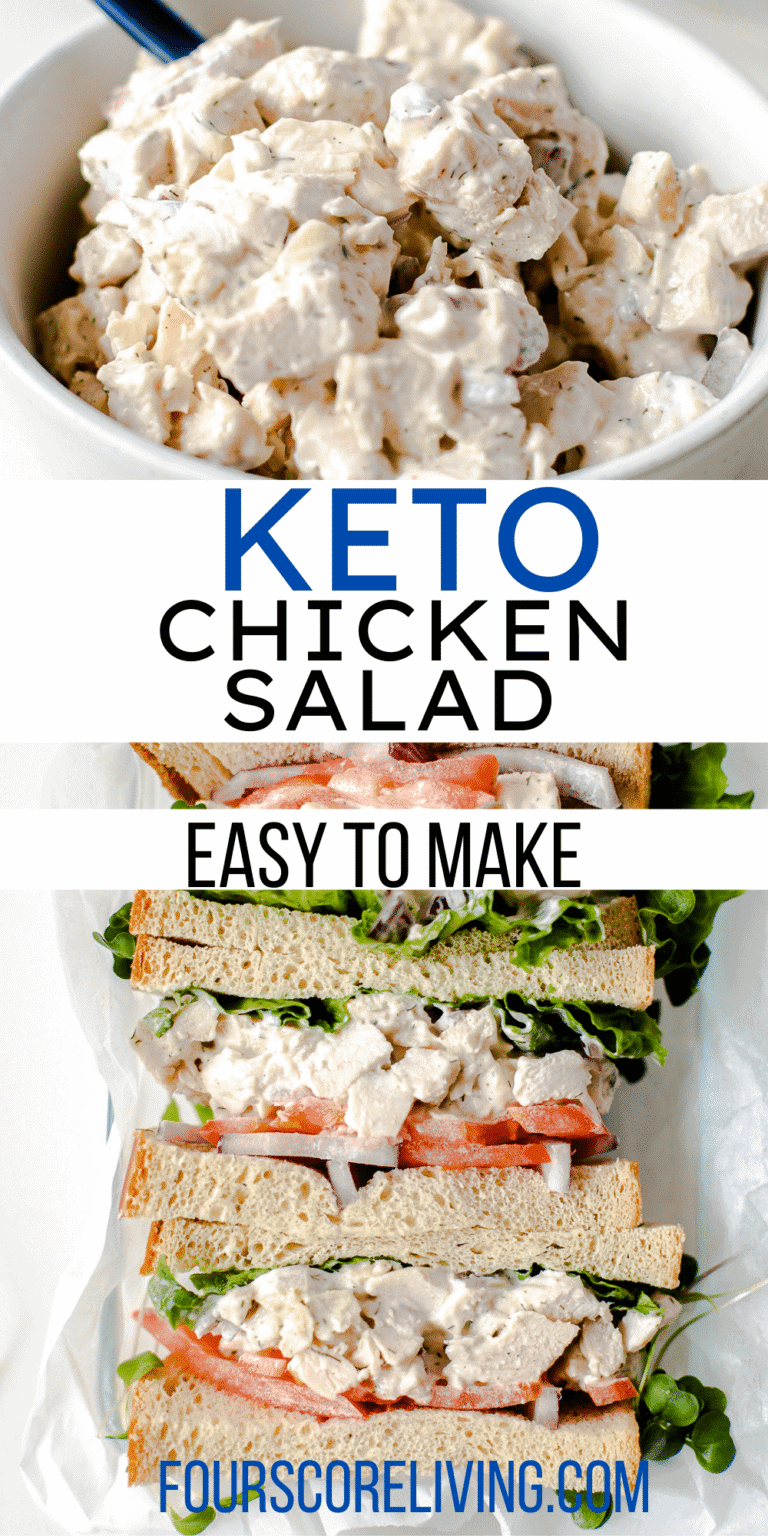 WHAT ELSE CAN I ADD TO KETO CHICKEN SALAD?
Add anything you like to your Keto Chicken Salad, so long as it's low carb. Texture is your friend when it comes to creating the best keto chicken salad.
Chopped hard boiled eggs can be added and will bulk up the salad and add lots of extra protein and fats.
Crunchy veggies like sliced celery, diced bell pepper, radishes, or thinly sliced carrots are a great addition to chicken salad too.
Chopped olives or pickles give chicken salad a tangy flavor that I really enjoy too!
Diced avocado is a creamy addition that adds really interested texture to keto chicken salad, and as a bonus, avocado is an excellent source of Omega-3 fatty acids!
WHAT TO SERVE WITH KETO CHICKEN SALAD
Have a bowl of soup with your keto chicken salad. Together they'll make the perfect hearty lunch or dinner.
Keto Chili is a hearty, meaty dish that is so satisfying. Make yours as spicy or as mild as you like.
MORE KETO LUNCH IDEAS
Need things to pack in your keto lunch box? Try one of these easy Keto meals that is perfect for lunch prep.
Keto Deviled Eggs are a lunch time favorite. Tons of protein combined with big flavor is a winning combination.
Keto Enchiladas make a delicious lunch. Take leftovers from the night before and reheat in the microwave for a hot tex-mex meal.
Keto Quiche is a crustless egg pie that can be reheated, but is equally delicious enjoyed cold or at room temperature. It's the perfect meal prep dish.
We hope you enjoyed reading this article. Please help us out by leaving a quick review and star ★ rating below.
LET'S GET SOCIAL, you can follow Four Score Living on Pinterest. You can also leave a comment below if you have any questions.
Did you make this keto chicken salad? Please leave me a comment below letting me know what you thought.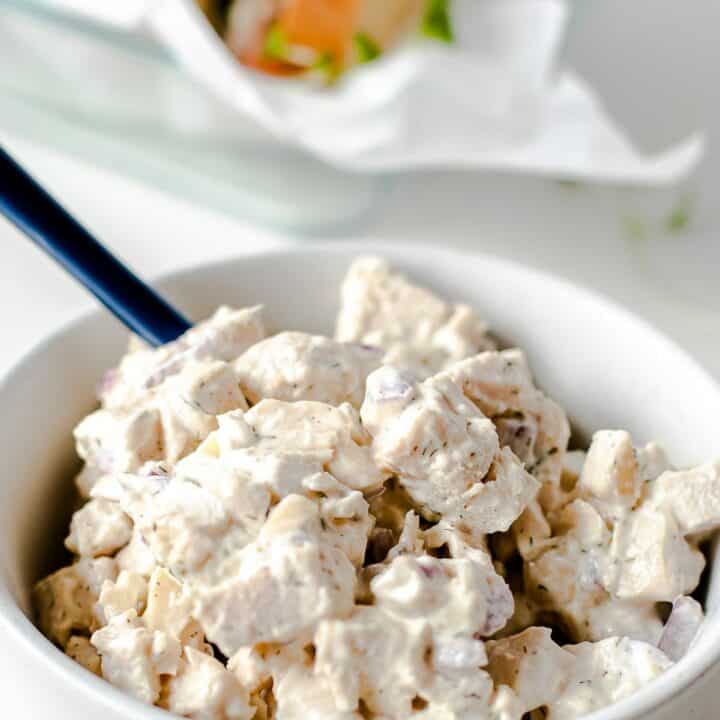 Keto Chicken Salad
Keto Chicken Salad is a staple in our house. Enjoy it with a fork, on top of a salad, or as lettuce wraps. This easy keto chicken salad recipe only uses a handful of ingredients and it's simple to make.
Ingredients
2 chicken breasts, cooked and cubed (about 4 cups)
½ cup mayonnaise (or more if you like)
¼ cup diced red onion
2 teaspoons Dijon mustard
1 teaspoon salt
½ teaspoon dried dill (or more if you like)
Instructions
Add all ingredients to a bowl and stir it until it's well combined.
If desired, add salt and pepper to taste.
Store covered in the refrigerator for 3-5 days.
Notes
Make sure you use a sugar-free mayonnaise. Check the labels to be sure.
You can add more or less mayo to fit your preference.
Feel free to add in any extra veggies, olives, pickles, or other keto-friendly toppings.
Serve this keto chicken salad with keto bread, keto crackers, keto wraps, lettuce wraps, pork rinds, cheese crisps, or enjoy it with a fork.
Nutrition Information:
Yield:

8
Serving Size:

½ cup
Amount Per Serving:
Calories:

147
Total Fat:

11g
Saturated Fat:

2g
Trans Fat:

0g
Unsaturated Fat:

9g
Cholesterol:

31mg
Sodium:

408mg
Carbohydrates:

1g
Net Carbohydrates:

1g
Fiber:

0g
Sugar:

0g
Protein:

10g
The nutrition information for this recipe is an approximate total per serving. Please double check the nutrition information for your exact ingredients and brands.