Keto Egg Salad is a staple in our house. Enjoy it with a fork, on top of a salad, or as lettuce wraps.
This easy keto egg salad recipe only uses a handful of ingredients and it's simple to make.
If you love Keto Egg Salad, you'll also love Keto Chicken Salad – which is also a staple for us.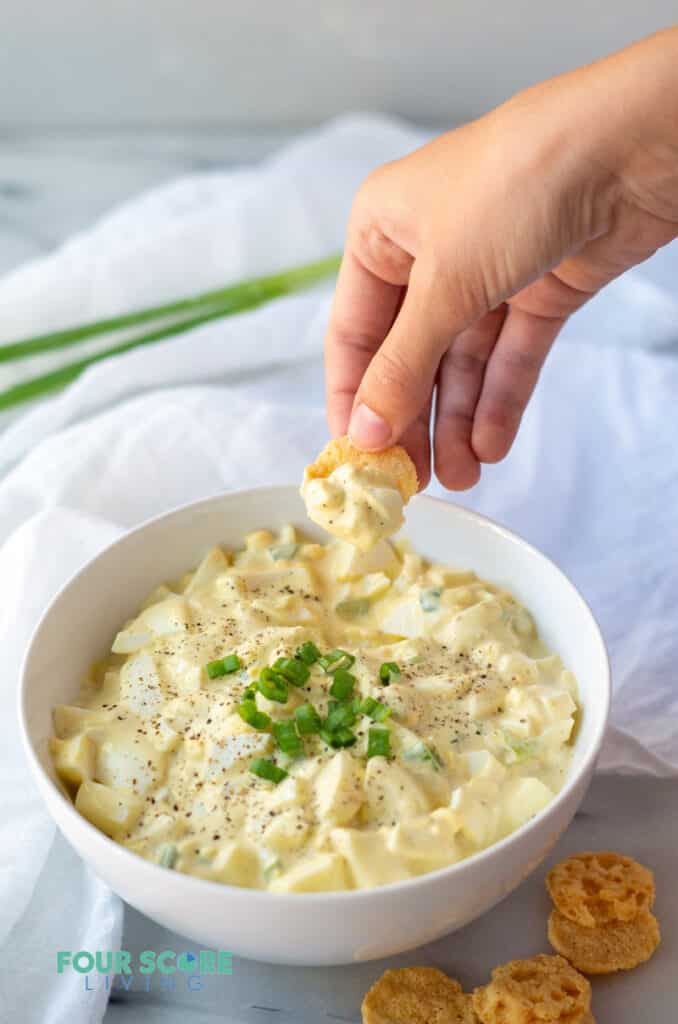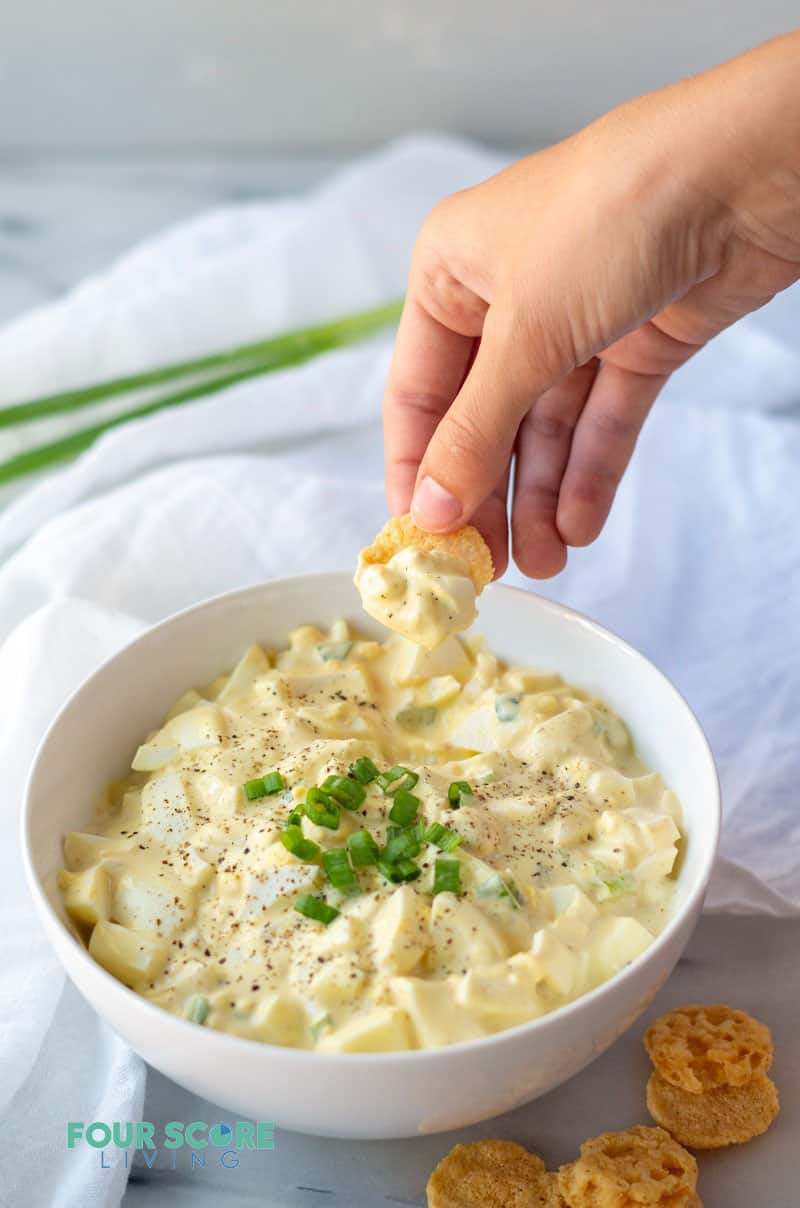 For another great egg recipe try these Keto Deviled Eggs.
Keto Egg Salad Recipe
We are big fans of this keto egg salad recipe. We tend to make up a batch and keep it in the refrigerator for lunches.
It's also a go-to for when we are enjoying lunch on a hike. You can serve it with a keto wrap or keto tortilla but we love enjoying it with a fork or on top of a bed of greens.
Are eggs keto?
Yes, eggs are naturally keto. They are high in fat in protein and there are not carbs in eggs.
Please be sure to check in ingredients if you are purchasing egg salad from the store.
Is egg salad keto?
If you add low carb ingredients, yes, egg salad is keto. Some people add sugar, or use a mayonnaise that includes sugar.
Make sure to use high quality, keto friendly ingredients when you make egg salad keto.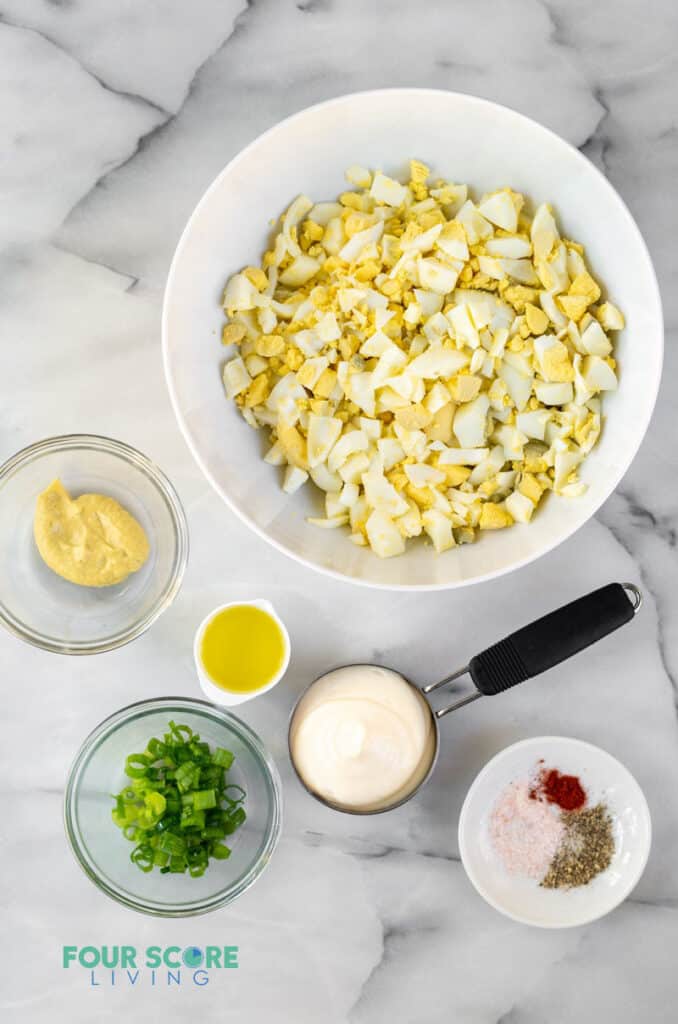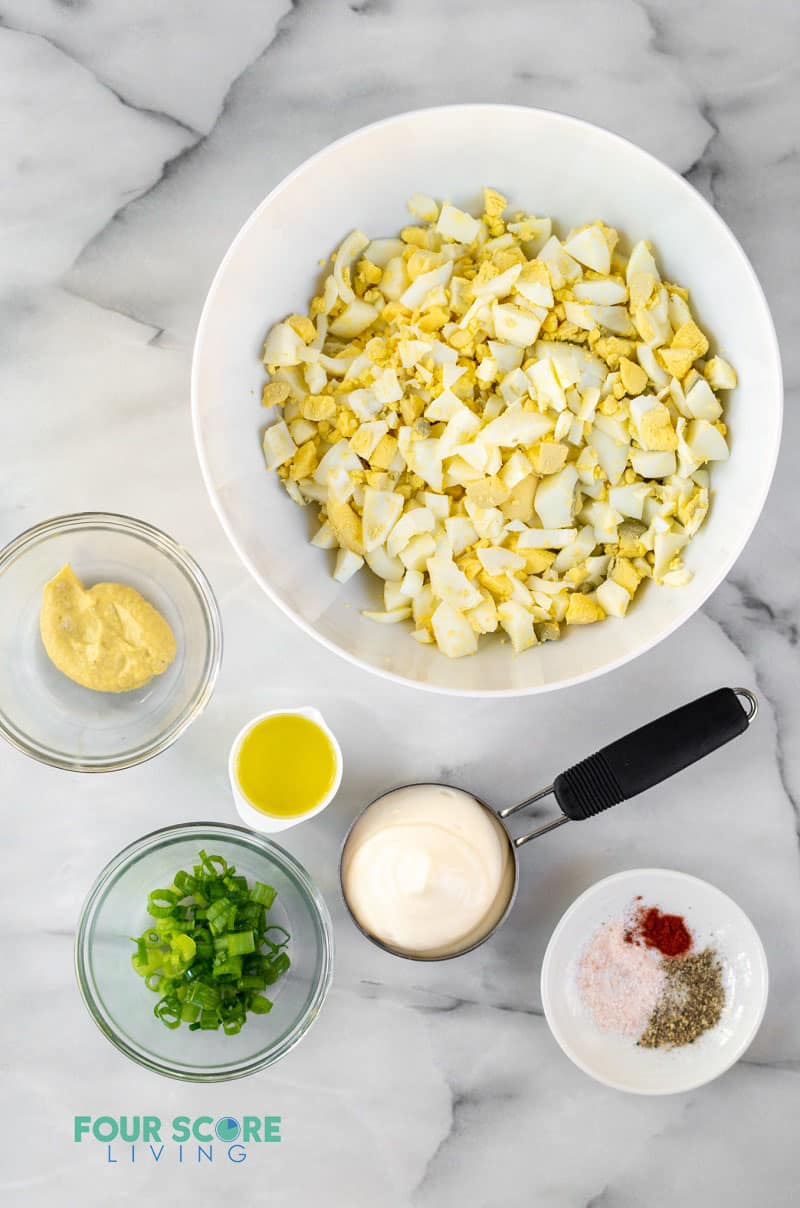 Ingredients in Keto Egg Salad
There are only a handful of ingredients in keto egg salad. This keto egg salad is made with hard boiled eggs, mayo, Dijon, green onion, salt, pepper, paprika, and an optional splash of pickle juice.
If you're not a fan of pickle juice or you like your egg salad on the dry side, you can leave it out.
How to make keto egg salad
Step 1 is to gather the ingredients. If you don't have hard boiled eggs, you'll need to hard boil them and let them cool. Step 2 is to chop the eggs. Step 3 is to add the other ingredients.
Step 4 is to mix everything together. Add additional salt and pepper as needed.
This tastes best after it's had at least an hour to chill out in the fridge, but you can eat it right away if you're in a hurry. Store tightly covered for up to 3 days.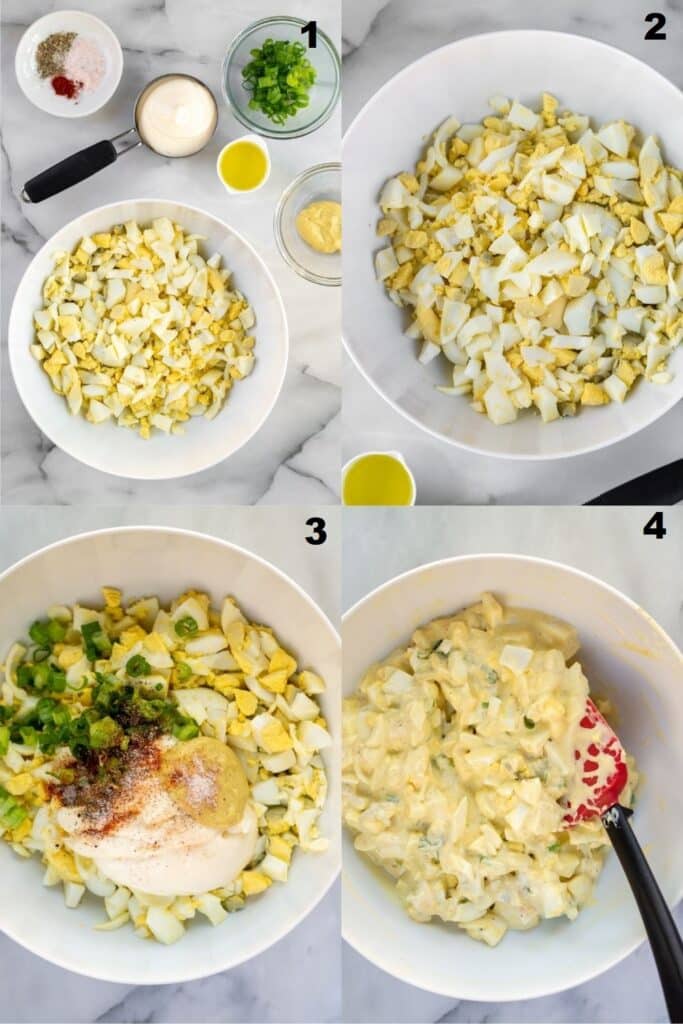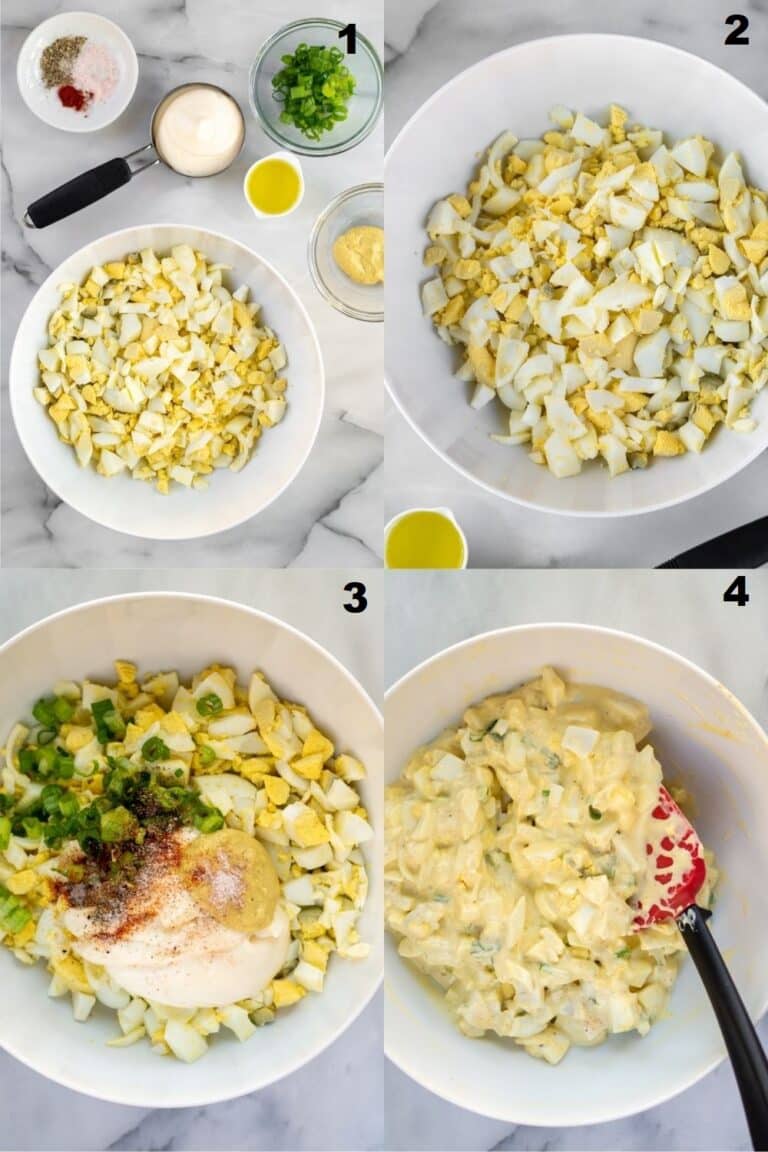 Is mayonnaise keto?
Yes, mayonnaise is keto friendly. Make sure to check labels as some mayo brands include sugar. Look for a high quality, sugar free mayonnaise.
The good news is that you can have mayonnaise on a keto diet.
Low Carb Egg Salad
Everything in this egg salad recipe is low carb, but traditionally egg salad is served between two slices of white bread.
You can still serve this low carb egg salad between two slices of keto bread, on a keto wrap or in a lettuce wrap.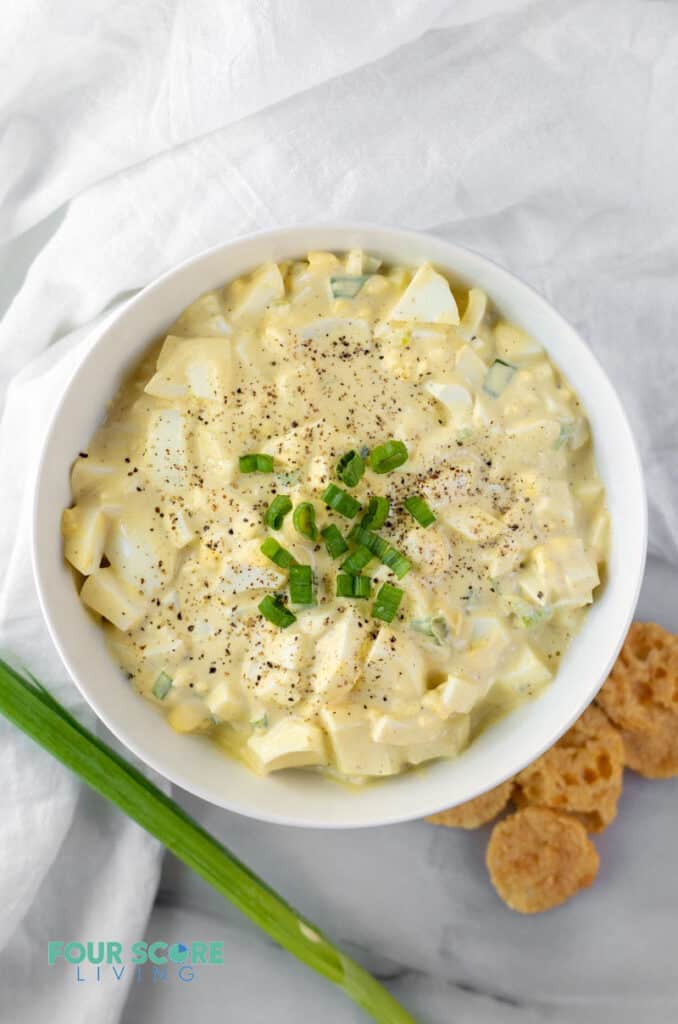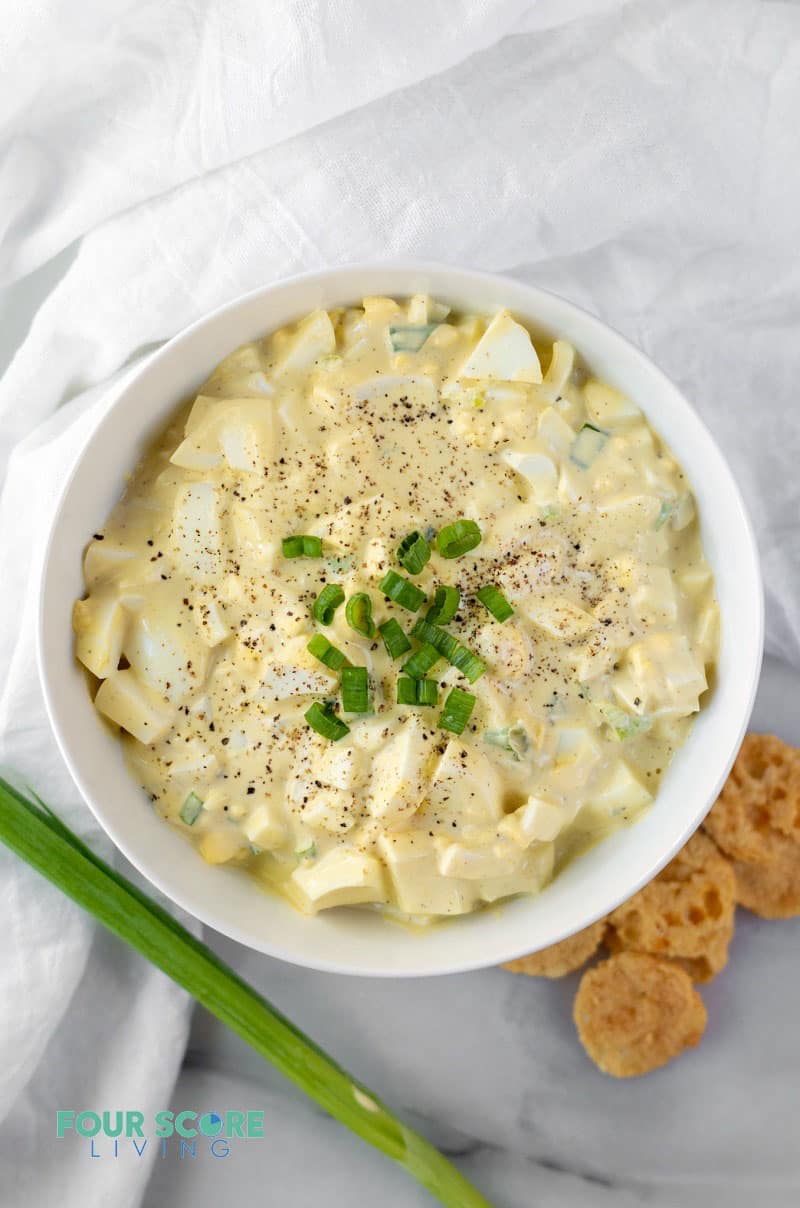 Keto Friendly Mayonnaise
If you love mayo make sure to check labels to ensure it is keto friendly. Mayo is made from eggs, salt, mustard, oil, and an acid. Some brands add sugar. A few of our favorite keto friendly mayo's are Chosen Foods and Primal Kitchen Mayo.
You can always add other ingredients to switch up this low carb egg salad or to give it an additional crunch. Sometimes we add thinly sliced celery or some chopped olives.
We hope you enjoyed reading this article. Please help us out by leaving a quick review and star ★ rating below.
LET'S GET SOCIAL, you can follow Four Score Living on Pinterest. You can also leave a comment below if you have any questions.
Did you make this keto egg salad? Please leave me a comment below letting me know what you thought.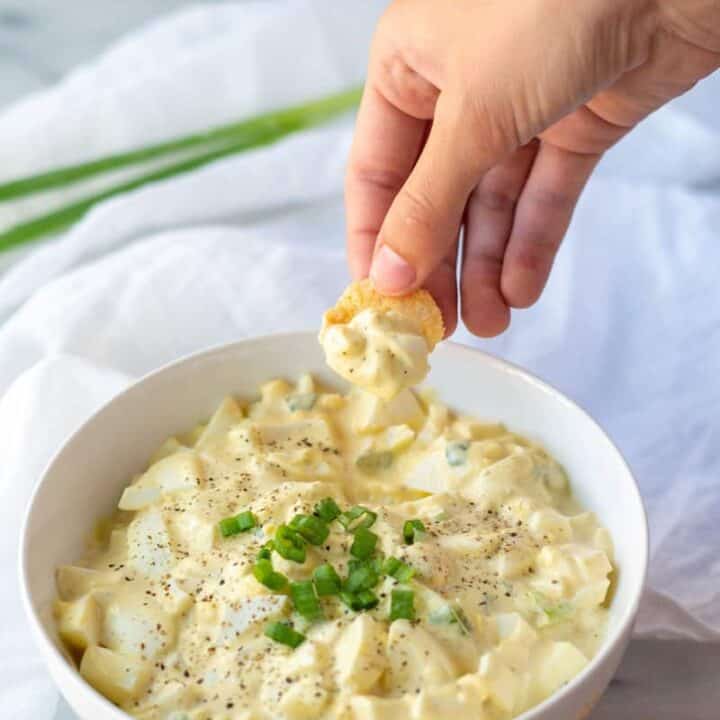 Keto Egg Salad
Total Time:
1 hour
15 minutes
Keto Egg Salad is a staple in our house. Enjoy it with a fork, on top of a salad, or as lettuce wraps. This easy keto egg salad recipe only uses a handful of ingredients and it's simple to make.
Ingredients
8 eggs, hard boiled and chopped
½ cup mayonnaise
2 teaspoons Dijon mustard
¼ cup sliced green onion
¼ teaspoon salt
½ teaspoon pepper
¼ teaspoon paprika
optional: 1 tablespoon dill pickle juice
Instructions
Add all the ingredients to a medium mixing bowl and stir to combine.
If desired, stir in pickle juice or add additional salt and pepper to taste.
Store covered in the refrigerator for up to 3 days.
Notes
If you like your keto egg salad on the dry side, reduce the mayonnaise to ⅓ cup.
Adding the optional pickle juice does increase the liquid in the recipe. If you add the pickle juice consider reducing the mayonnaise to ⅓ cup to balance the moisture.
Check labels on the Dijon and mayonnaise before purchasing.
Nutrition Information:
Yield:

8
Serving Size:

½ cup
Amount Per Serving:
Calories:

175
Total Fat:

16g
Saturated Fat:

3g
Trans Fat:

0g
Unsaturated Fat:

11g
Cholesterol:

192mg
Sodium:

305mg
Carbohydrates:

1g
Net Carbohydrates:

1g
Fiber:

0g
Sugar:

1g
Protein:

7g
The nutrition information for this recipe is an approximate total per serving. Please double check the nutrition information for your exact ingredients and brands.