This is the Keto Bread recipe that you've been looking for! Sturdy, hearty, tasty, low-carb, and perfect for sandwiches or toast, Keto Bread is sure to be on your baking list every week.
Be sure to try our Keto Rolls and Keto Cornbread. Yes, you can have bread on keto, just follow our easy recipes.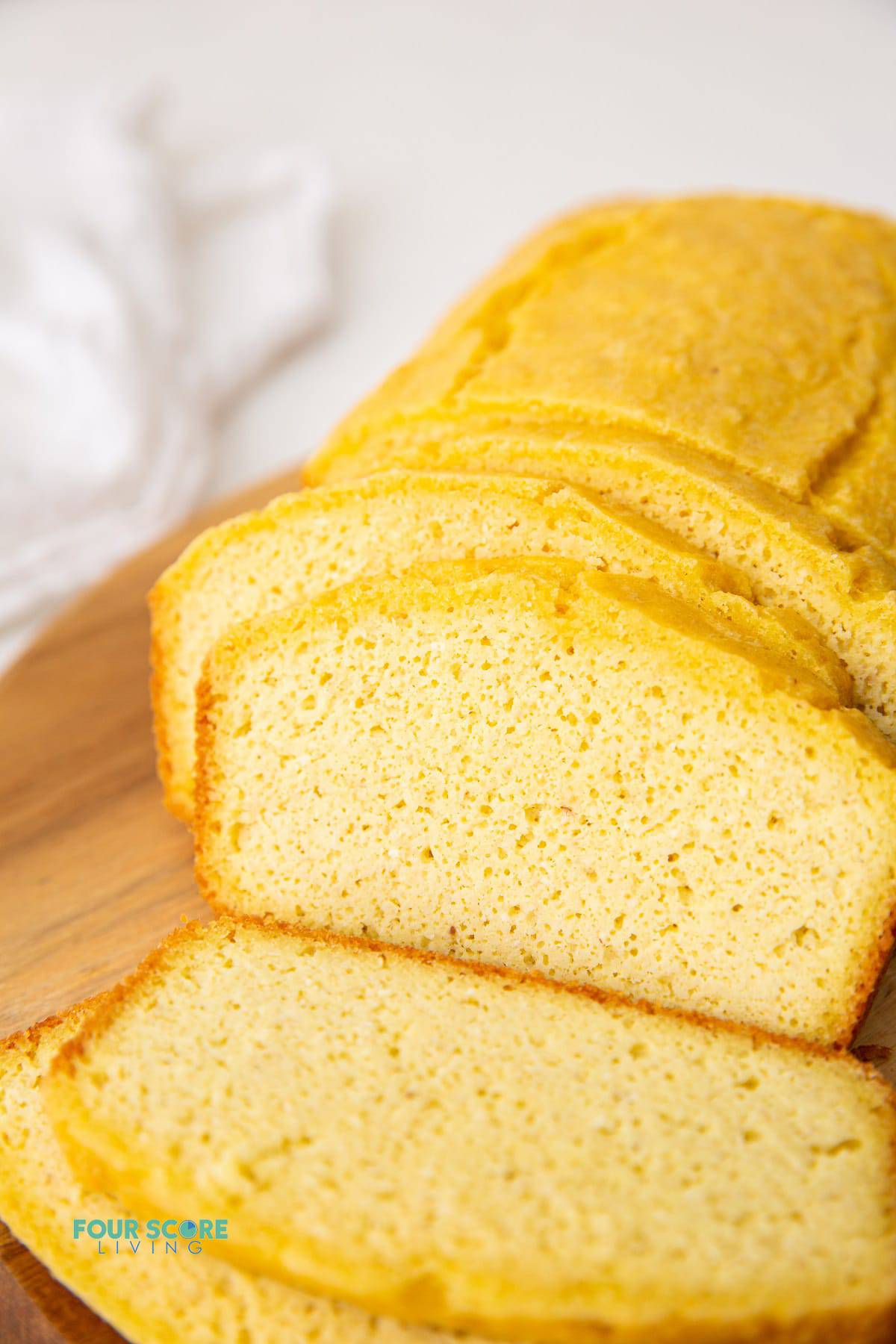 WHY YOU ARE GOING TO LOVE THIS KETO BREAD RECIPE
Aside from this keto bread tasting absolutely perfect, here are all of the other reasons that making Keto Bread from scratch is totally worth it:
Less Expensive: Have you tried to buy low-carb bread at the grocery store? Or maybe a gluten-free loaf from your local specialty bakery? Plan to spend upwards of five dollars for a small loaf. There's no such thing as $1.99 keto bread, sorry. Making keto bread from scratch is going to save you a ton of money.
Convenient: You know when you're hungry and you don't really want to cook anything? Grabbing a sandwich or some toast with almond butter is the easiest and fastest way to solve that problem, so have a loaf of Keto Bread handy.
Satisfying: If you miss bread, or if you miss the things you can eat with bread, you'll be thrilled with this recipe. Now you can enjoy a slice of bread with only 3 grams net carbs per serving. In comparison, a slice of white bread has 17 grams.
Reasonable Serving Size: Other Keto Bread Recipes might give you nutrition information for a loaf a bread cut into 20 or more servings. This recipe gives you 12 servings for the carb count, which means that you can have two slices for one serving!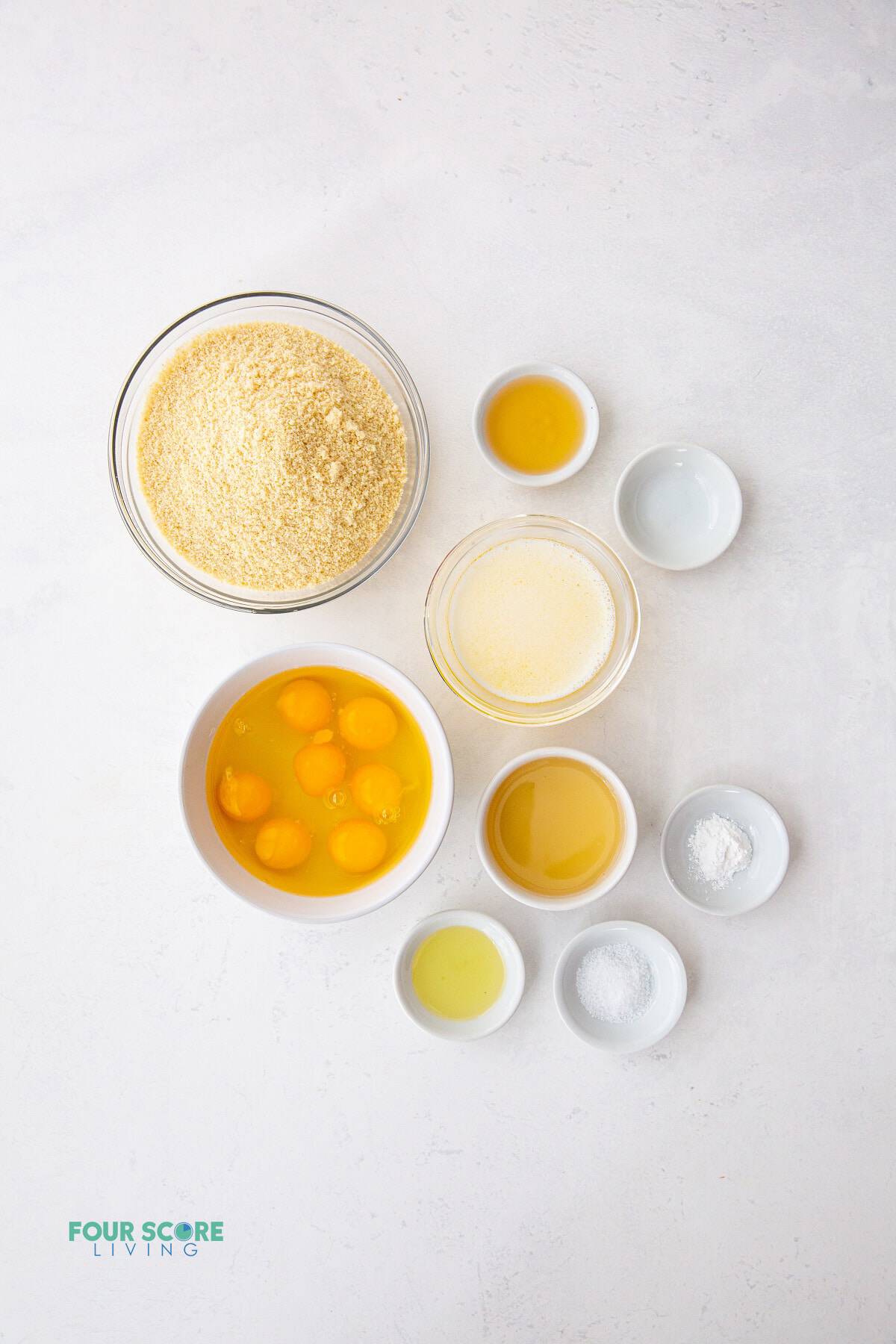 INGREDIENTS IN KETO BREAD
Each of the ingredients in this keto bread recipe are extremely important. Leaving any of them out or changing things too much will not result in the beautiful loaf of bread you see in the images. I've done the recipe testing for you already, so you can just make this recipe exactly as it's written!
Eggs - This protein packed keto bread has seven eggs in it. Large eggs work best, and they should be at room temperature so that they mix up easily.
Butter - Melt the butter to add to the dough. Salted or unsalted butter will work in this recipe, you can adjust the amount of added salt if you need to.
Avocado Oil - While you could use all butter or all oil, I find that the combination of both gives this low carb bread the best texture.
Liquid Stevia - A bit of sweetness helps to balance the richness of the butter, and take away the eggy flavor that you might notice otherwise.
Apple Cider Vinegar - This ingredient may seem out of place, but it makes a big difference in this recipe. Vinegar helps to make the crumb of this bread tender and soft.
Gelatin - Another ingredient you might not expect in a bread recipe, but nobody ever said that keto baking doesn't take some creativity, right? Gelatin, along with the eggs, helps to hold this bread together. It also creates a chewy texture, mimicking what wheat gluten does in regular bread. Dissolve the gelatin in 3 teaspoons of boiling water.
Fine Almond Flour - My preference is to use finely milled almond flour whenever I'm baking. I suggest you use it here. Avoid trying to substitute with coconut flour or another keto flour, they won't work in this recipe that was developed specifically for almond flour.
Baking Powder - You'll get lovely small pockets of air in your bread from this common baking ingredient.
Salt - Seasoning the bread means that you can eat it plain if you want to! You can adjust the amount of salt if needed for your dietary needs.
If you have any questions about making Keto Bread, please leave a comment below and I will get back to you.
HOW TO MAKE KETO BREAD
In a large bowl add the eggs, melted butter, oil, stevia, apple cider vinegar, and dissolved gelatin. Mix well until combined. These are your wet ingredients.
In a medium bowl, whisk the almond flour, baking powder, and salt. This bowl contains your dry ingredients.
Slowly add the dry ingredients to the wet ingredients mixture, stirring until well combined.
Pour the batter into a prepared loaf pan, and bake in a preheated oven as directed in the recipe below. Allow the bread to cool completely before slicing.
TIPS AND VARIATIONS
You can use ½ teaspoon xanthan gum in place of the gelatin if you like. Dissolve it the same way, in 3 tablespoons of hot water.
Top your keto bread with sesame seeds, coarse salt, or bagel seasoning before baking.
Cut keto bread into cubes and toast it to make low carb croutons!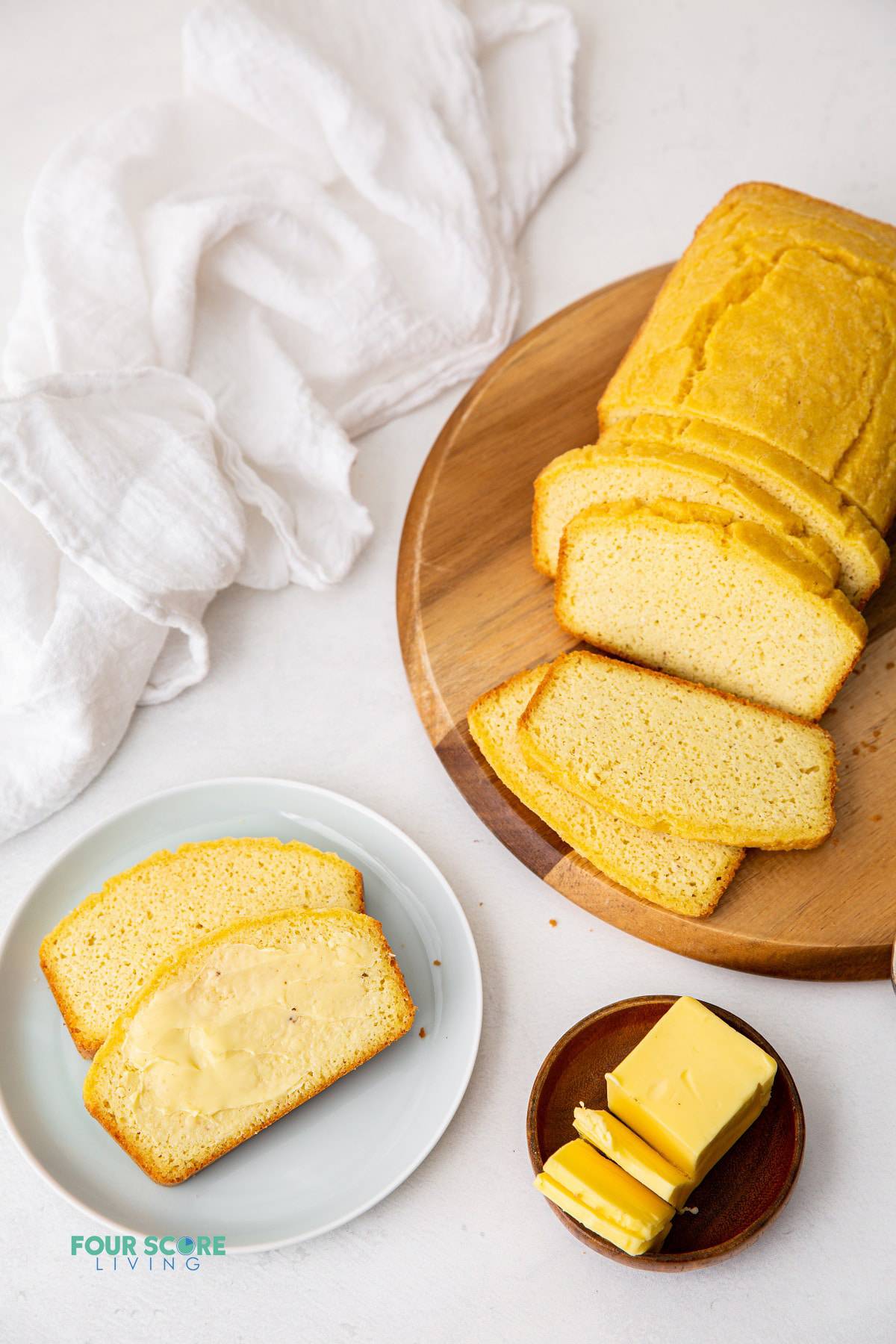 WHAT TO MAKE WITH KETO BREAD
Sandwiches - Holding your favorite sandwich fillings is what this Keto Bread was made to do. Pack your favorite cheeses in between two slices and grill it in butter to make a crispy, hot, keto grilled cheese sandwich.
Mayo based sandwich spreads are generally keto-friendly. Have a Chicken Salad, Egg Salad, or Ham Salad sandwich with crunchy lettuce and a slice of tomato if you like.
Breakfast - Have a hearty meal in the morning using Keto Bread. Top toasted keto bread with butter, nut butter, or cream cheese for a satisfying slice of toast.
Or make Avocado toast. I like to use sliced avocado and everything bagel seasoning on mine. Sometimes I'll add a fried egg too.
Keto French toast is easy to make using this bread. You can follow this gluten free french toast recipe, and enjoy it with Keto Pancake Sryup.
We hope you enjoyed reading this article. Please help us out by leaving a quick review and star ★ rating below.
LET'S GET SOCIAL, you can follow Four Score Living on Pinterest. You can also leave a comment below if you have any questions.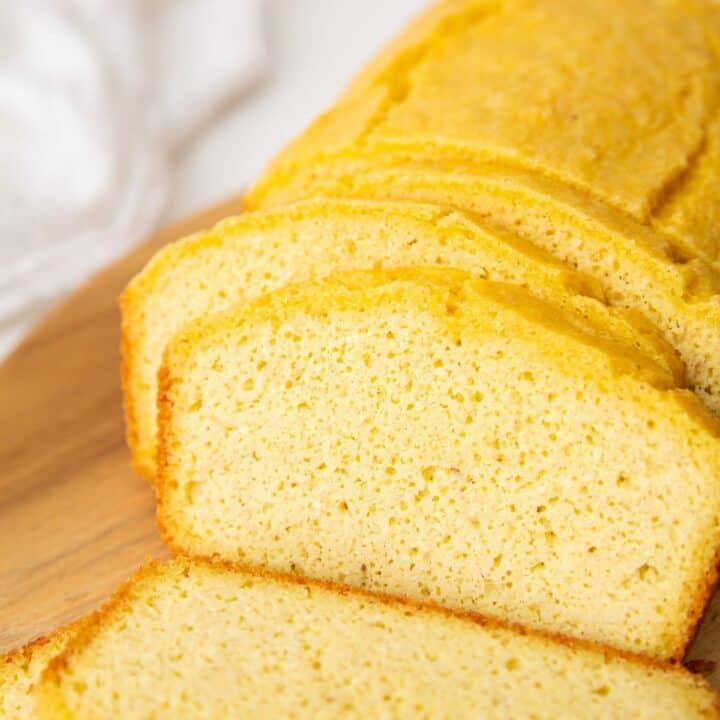 Easy Keto Bread
This is the keto bread recipe that you've been looking for. It's sturdy, hearty, tasty, low-carb, and perfect for sandwiches or toast.
Ingredients
7 large eggs, room temp
½ cup butter, melted
1 tbsp avocado oil
5 drops liquid stevia
1 tbsp apple cider vinegar
1 tbsp gelatin dissolved into 3 tbsp boiling water (or ½ tsp xanthan gum dissolved into hot water)
2 ¼ cups fine almond flour
1 tsp baking powder
½ tsp salt
Instructions
Pre-heat oven to 350°F/177°C. Grease an 8x5-inch loaf pan.
In a large bowl add the eggs, melted butter, oil, stevia, apple cider vinegar, and dissolved gelatin. Mix until well combined.
In a medium bowl, whisk the almond flour, baking powder, and salt.
Slowly add the dry to the wet mixture, stirring until well combined.
Pour the mixture into the prepared loaf pan.
Bake for 40-45 minutes.
Let the keto bread cool completely before slicing.
Store at room temperature for up to 3 days, or sliced in the freezer for up to 3 months.
Notes
Substitutions: I don't recommend making flour substitutions in this recipe. It works perfectly with almond flour.
Measuring Almond Flour: Be sure to measure your almond flour accurately. Scoop the flour into the measuring cup and level. Don't dip the measuring cup into the bag.
Storing Keto Bread: This keto bread can be stored at room temperature and will stay fresh for up to 3 days in an airtight container or ziptop bag. Don't slice the loaf until you're ready to eat it or it will dry out. Just slice what you need when you're hungry.
Freezing Keto Bread: This bread freezes very well! You can freeze the whole unsliced loaf and then thaw when you're ready. This works with half a loaf too, if you don't think you'll eat the whole thing in a few days. You can also freeze slices separately. They can easily be thawed in the microwave or toaster and will taste just-baked. I like to slice the loaf and then place the slices on a baking sheet lined with parchment paper. I freeze the slices for about an hour this way, then transfer them to a ziplock bag. Eat keto bread within 3 months of freezing it for the best flavor.
Nutrition Information:
Yield:

12
Serving Size:

1
Amount Per Serving:
Calories:

244
Total Fat:

22g
Saturated Fat:

7g
Trans Fat:

0g
Unsaturated Fat:

14g
Cholesterol:

129mg
Sodium:

241mg
Carbohydrates:

6g
Fiber:

3g
Sugar:

1g
Protein:

9g
The nutrition information for this recipe is an approximate total per serving. Please double check the nutrition information for your exact ingredients and brands.