Keto Fajitas are a simple and easy way to create a flavorful, high protein, low carb dinner. This chicken is marinated in a delicious blend of spices, lime and seasonings.
Make your own Keto Tortillas to keep the carb count down but still enjoy a traditional taco, or serve open-faced with fresh salad and your favorite toppings.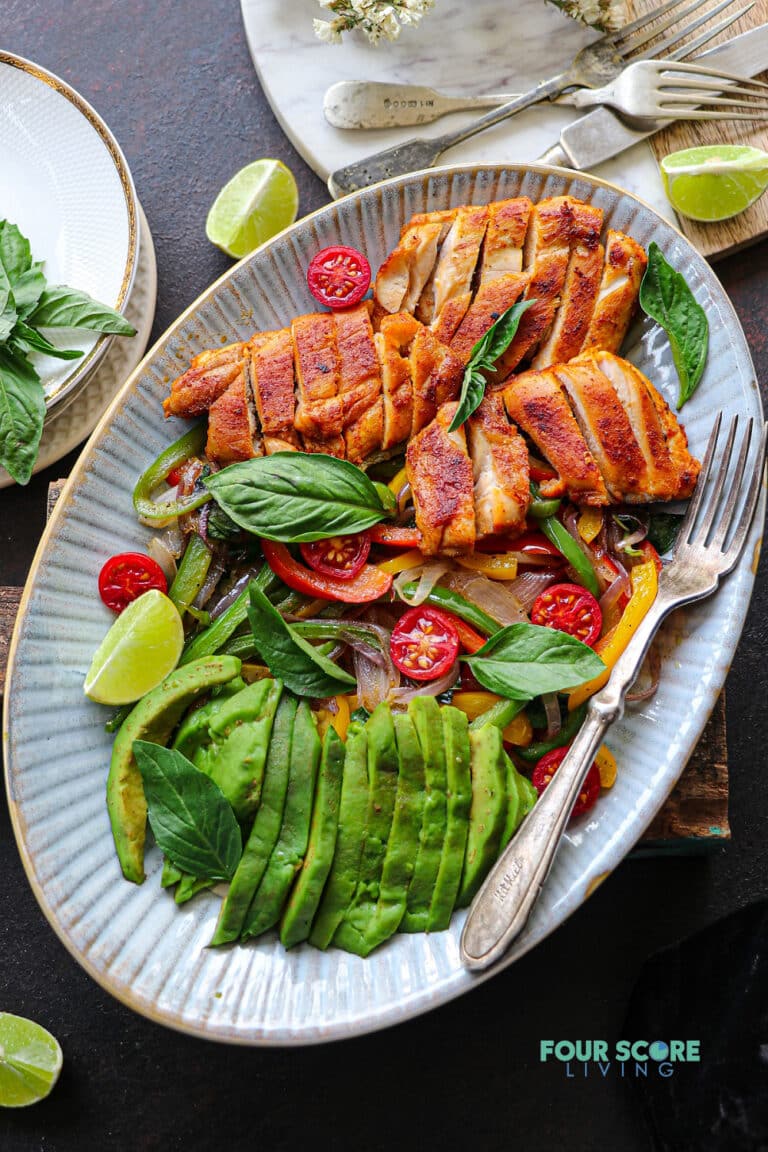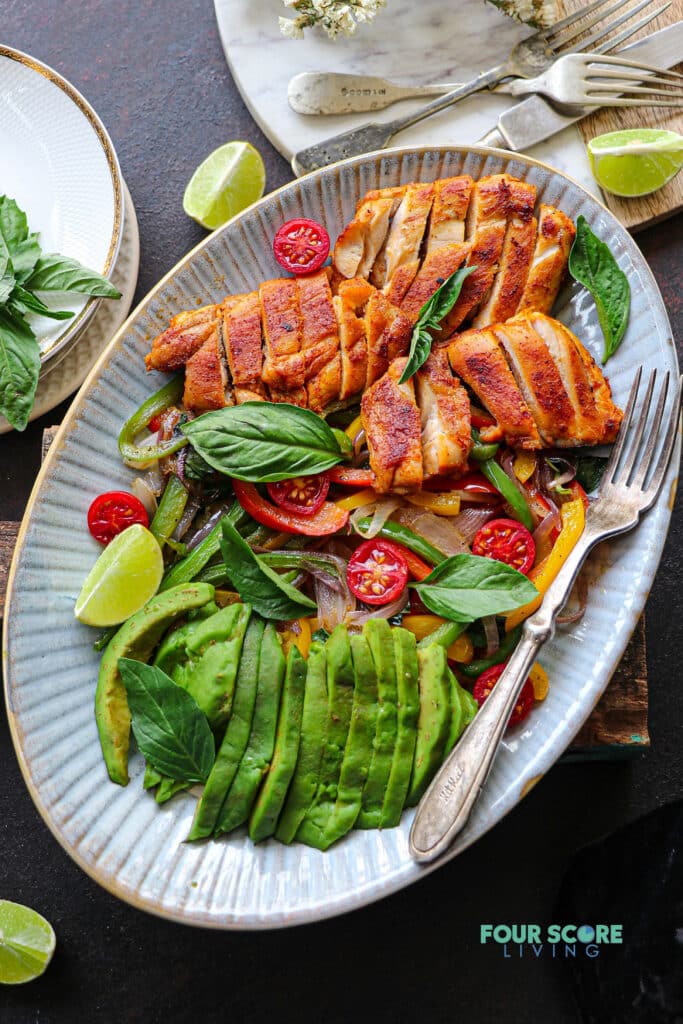 This recipe uses just a handful of simple ingredients, and is cooked on the stove in just a few minutes.
KETO FAJITAS RECIPE
Tacos, fajitas, burritos, chimichangas - you name it, and I like it! Mexican food is one of my favorite things to cook and order out. Keto Chicken Fajitas with peppers and onions have become a dinner time favorite now.
While Mexican food does generally involve high carb ingredients like tortillas, rice, and beans, it's easy to make keto fajitas by making some simple changes to that tradition.
Serve these Keto Chicken Fajitas with lots of fresh vegetables like lettuce, tomato, avocado, and herbs. Add your favorite low carb toppings like creamy Keto Queso, Keto Salsa, and sour cream.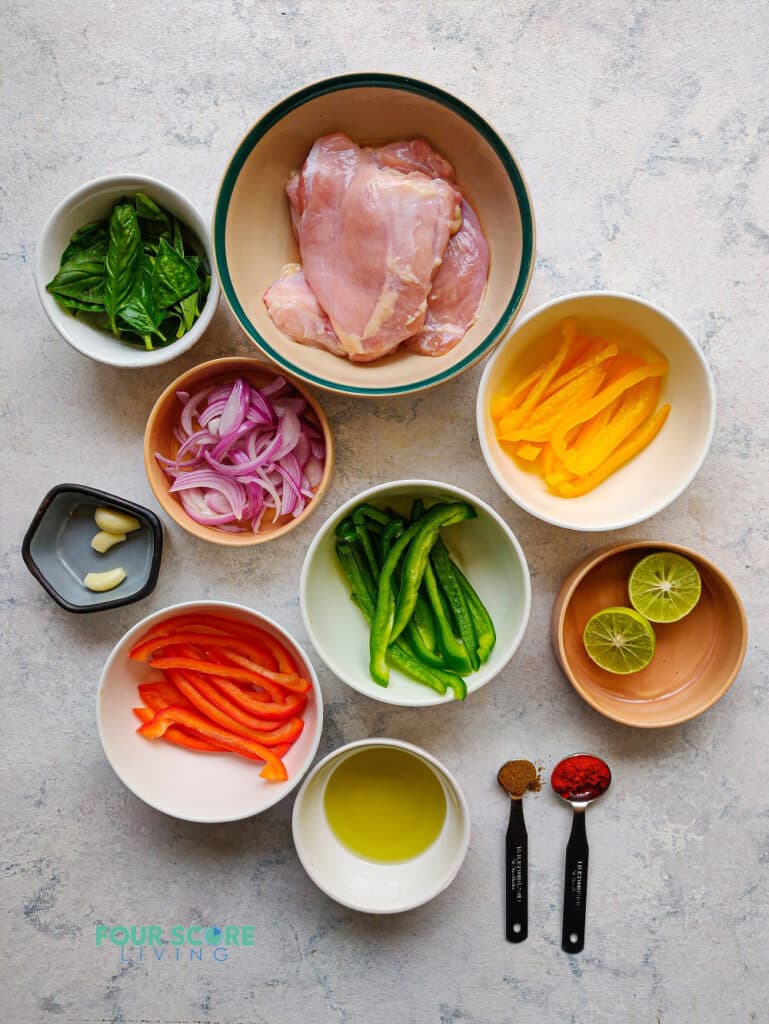 INGREDIENTS IN KETO CHICKEN FAJITAS
Boneless Chicken Breast - You'll need about one pound of boneless, skinless chicken for this recipe
Bell Peppers - For a beautiful, colorful presentation, I used one each of red, yellow, and green peppers. Cut your peppers into thin strips as shown.
Onion - Slice one yellow or white onion into slices similarly sized as the peppers.
Lime Juice - This is the star of our chicken fajita marinade. It adds acidity for both flavor and tenderizing the meat.
Olive Oil - A bit of quality fat in the marinade makes the chicken juicy and tasty.
Garlic- Mince up two cloves of garlic to add extra flavor.
Cumin - I add this spice to almost all of my Mexican recipes. It's warm, smoky and perfect here.
Red Chili Powder - for a bit of heat, this is added to the marinade too. Add more or less to taste.
Salt - Season the chicken according to your own preferences.
Basil - Optional, fresh basil leaves are a delicious addition to keto chicken fajitas and are served on the side.
Cherry Tomatoes - Just a handful of tomatoes really brings out the flavor of the fajita seasoned chicken. These are optional.
Avocados - Who wouldn't love some sliced avocado with their keto fajitas? This adds lots of healthy fats to your meal.
If you have any questions about making keto chicken fajitas, please leave a comment below and I will get back to you.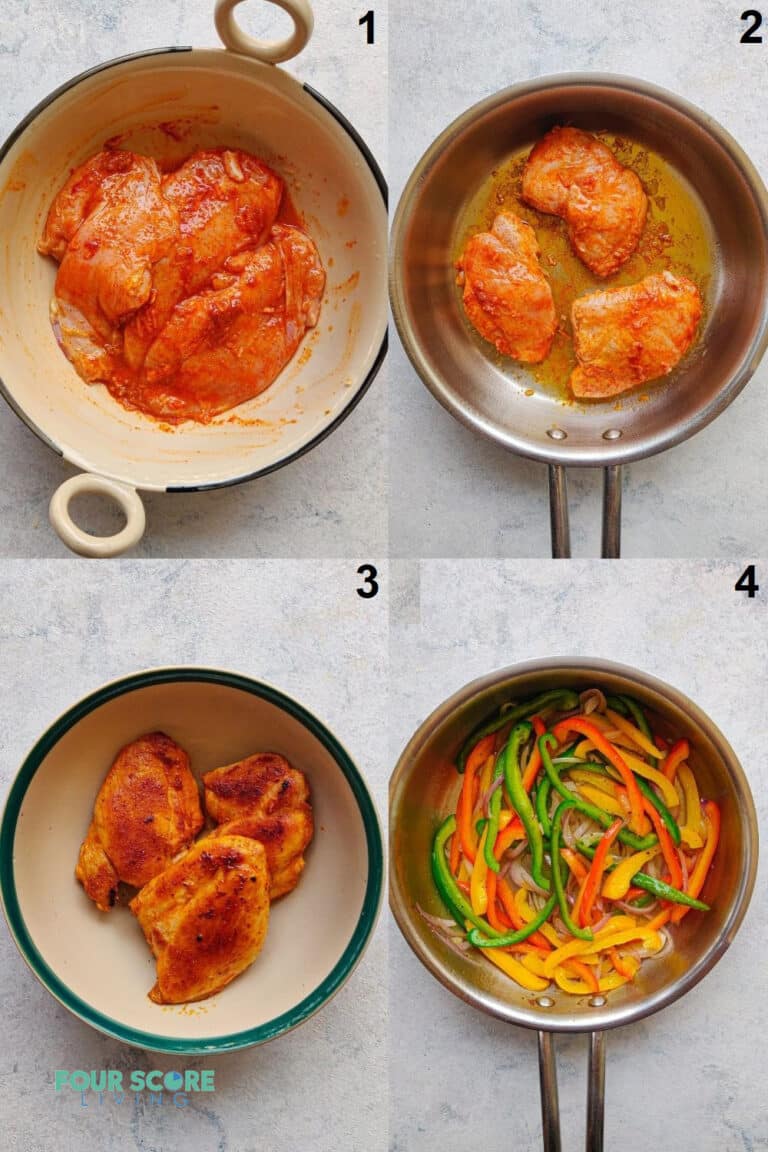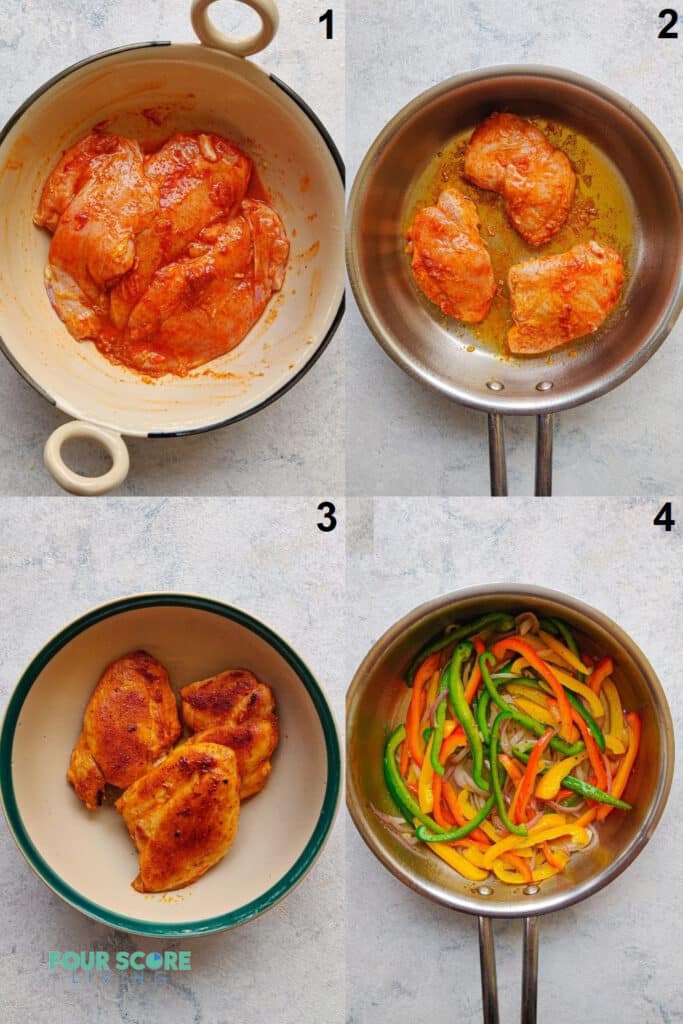 HOW TO MAKE KETO FAJITAS
Add the chicken, lime juice, garlic, 1 tablespoon of olive oil, cumin, salt, and chili powder to a large mixing bowl and mix well. Allow to marinate for 30 minutes.
Heat a large pan on medium-high heat until smoking hot. Add the remaining olive oil to the pan. Add the chicken and cook on both sides until charred and cooked through.
Transfer keto chicken fajita meat to a plate.
Add the onions and peppers to the hot pan. If needed, add more oil. Cook until tender. Transfer to the plate with the chicken.
These numbered steps match the numbered photos above and are for illustration purposes. For the complete list of ingredients and instructions, please see the recipe below.
Serve keto chicken fajitas with sliced avocado, halved cherry tomatoes, and fresh basil leaves. Add your favorite toppings. If desired, serve with cauliflower rice or Keto Tortillas.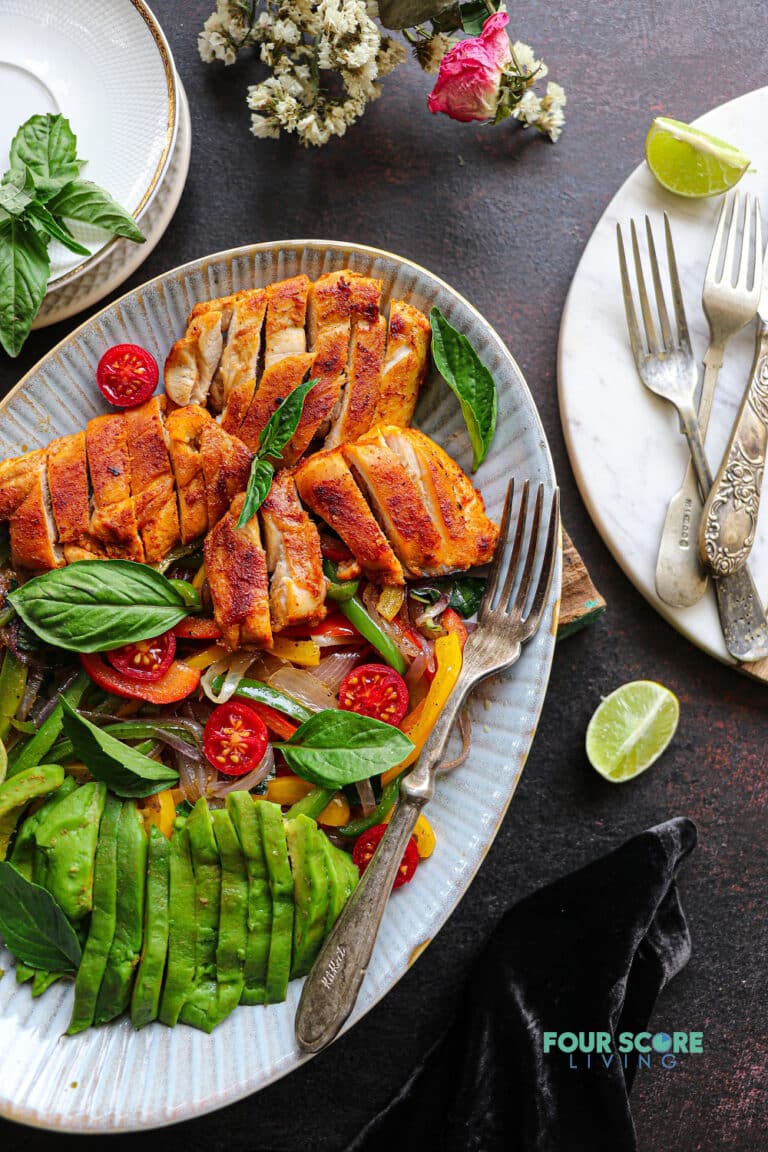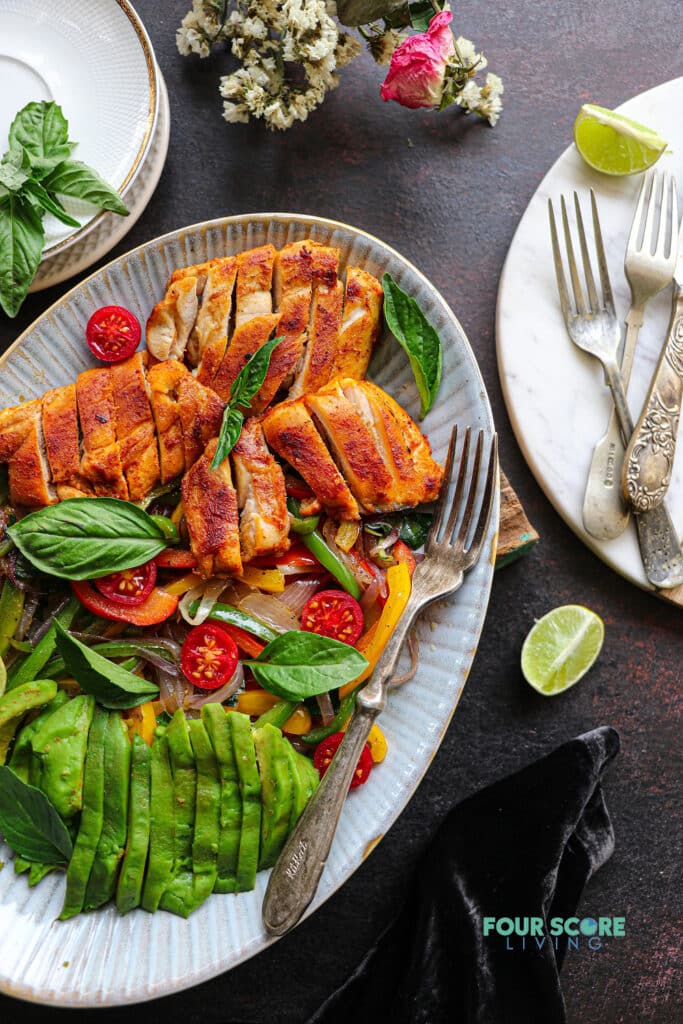 ADDITIONS FOR KETO FAJITAS
You can add low carb veggies to this recipe to give it more bulk and flavor.
Fresh Jalapeno will give some heat to the dish.
Mushrooms, sautéed with the peppers and onions or served on the side would be a delicious addition.
Herbs such as cilantro or parsley can give you plenty of fresh flavor.
Add your favorite cheese if you want to, try cheddar, cotija, or queso fresca.
Guacamole can be used in place of the sliced avocado, and tomatoes can be left out if they don't fit in your carbs for the day.
ARE FAJITAS KETO FRIENDLY?
While peppers and onions do have some natural sugars in them, they are a delicious part of this low carb fajita recipe. If you are concerned about the carbs in these vegetables, you can use less of them.
Skipping the flour tortillas and substituting with Keto tortillas or another low carb option makes this keto fajita recipe very keto friendly. As always, you should choose foods that fit into your specific dietary needs.
CAN I MAKE KETO STEAK FAJITAS WITH THIS RECIPE?
Yes, other proteins will work well with these seasonings too. Try steak strips or shrimp. If using shrimp, reduce the marinating time to 15-20 minutes.
You can use two or more different proteins to make chicken and steak keto fajitas too. Simply cook each meat separately to ensure that they are cooked properly.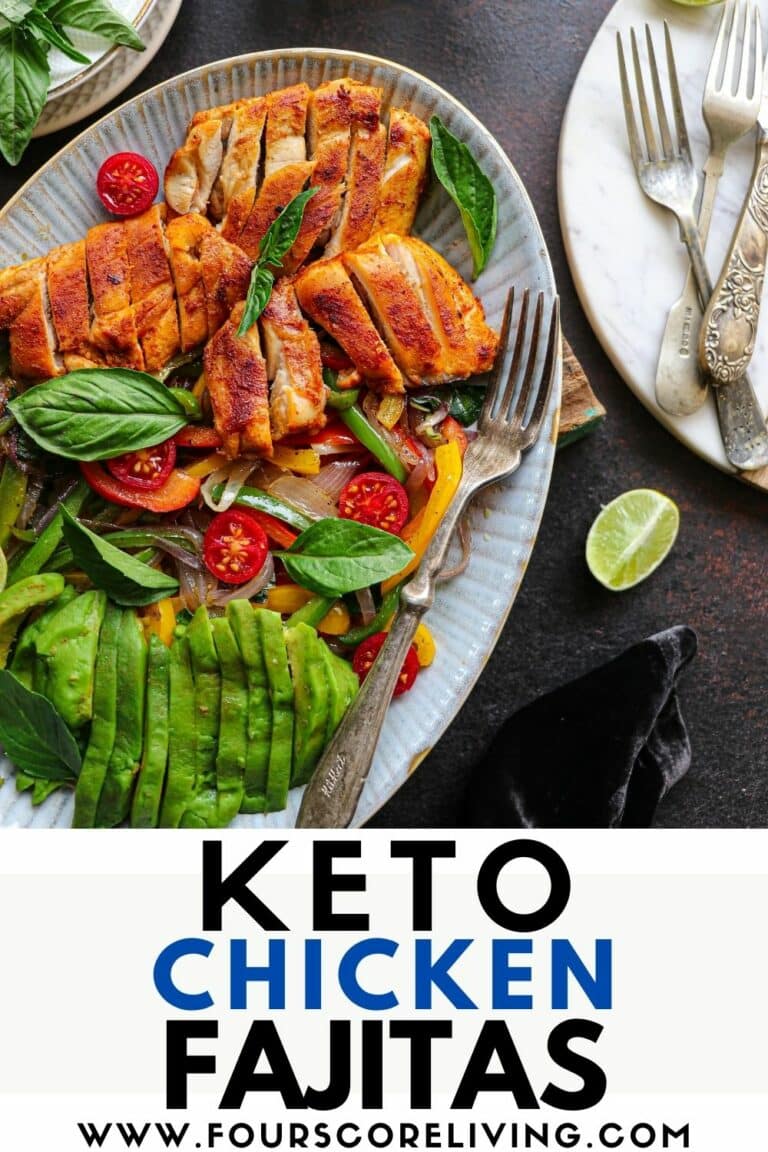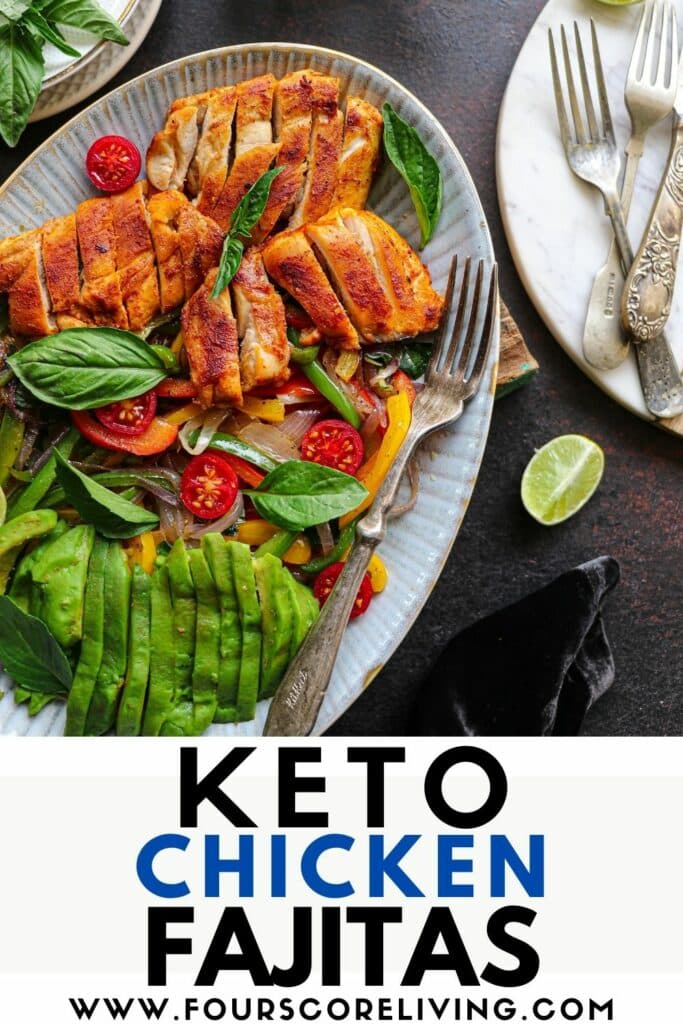 HOW LONG SHOULD I MARINATE CHICKEN FAJITAS?
With this recipe, you should marinate for at least 30 minutes, but can leave in the marinade for up to 8 hours. The lime juice in the marinade will start to break down the chicken a bit too much after that.
CAN I MAKE KETO CHICKEN FAJITA BOWLS?
Yes! This recipe is perfect for making open-face, tortilla-free fajitas, and makes wonderful make ahead lunches for meal prep. Serve chicken and vegetables with cauliflower rice, shirataki rice, over shredded cabbage, wrapped in a lettuce leaf, or just on their own.

Did you make this Keto Chicken Fajitas Recipe? Please leave a comment below letting me know what you thought.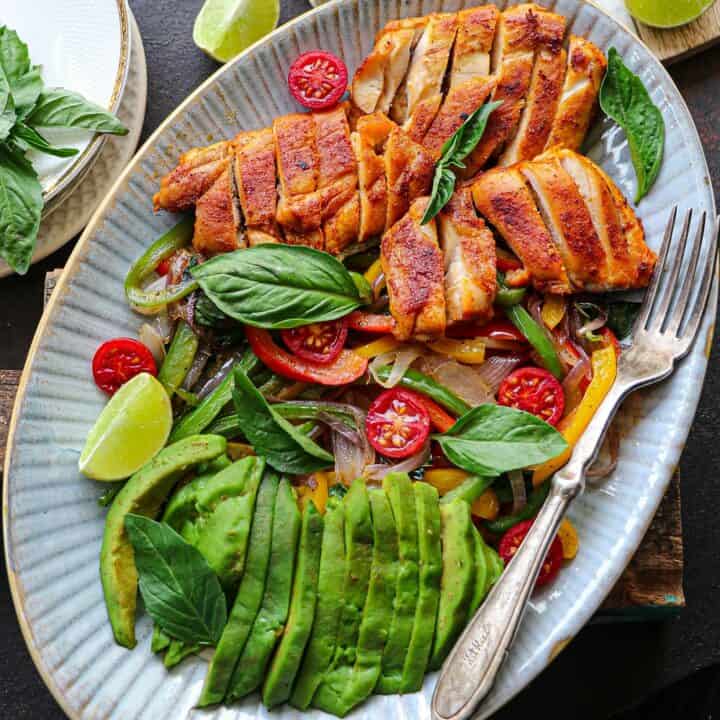 Keto Fajitas
A simple recipe for keto chicken fajitas that's flavorful and filling. These keto fajitas can also be made with steak.
Ingredients
1 pound boneless, skinless chicken breast
1 tablespoon lime juice
2 tablespoons olive oil
2 garlic cloves, minced
1 teaspoon cumin powder
1 teaspoon red chili powder
1 teaspoon salt
3 small bell peppers (red, yellow, green), cut into strips
1 small onion, thinly sliced
Instructions
Add the chicken, lime juice, 1 tbsp olive oil, minced garlic, cumin powder, red chili powder, and salt to a large mixing bowl and mix well. Let it marinate for 30 minutes.
Heat a large pan on medium-high heat until smoking hot.
Add the remaining olive oil to the pan. Cook the chicken on both sides until charred and cooked through.
Once cooked through, transfer the chicken to a plate.
Add the onion and peppers to the pan. Add more oil if needed. Cook for 1-2 minutes. Transfer the peppers and onions to a plate.
Serve with cauliflower rice, keto tortillas and your favorite fajita toppings.
Notes
You can also use boneless, skinless chicken thighs to make these keto chicken fajitas.
Make sure to use a high temperature oil, like olive oil.
You can serve these keto fajitas with your favorite toppings.
Nutrition Information:
Yield:

4
Serving Size:

¼ pound chicken + veggies
Amount Per Serving:
Calories:

205
Total Fat:

16g
Saturated Fat:

4g
Trans Fat:

0g
Unsaturated Fat:

10g
Cholesterol:

42mg
Sodium:

330mg
Carbohydrates:

12g
Net Carbohydrates:

4g
Fiber:

8g
Sugar:

2g
Protein:

39g
The nutrition information for this recipe is an approximate total per serving. Please double check the nutrition information for your exact ingredients and brands.