Tender and fluffy Almond Flour Biscuits are made with just 5 ingredients and they're ready in under 30 minutes.
Topped with butter and jam, these biscuits can be the basis of a delicious and healthy breakfast.
Or serve Almond Flour biscuits as a side dish with soups, stews, or holiday meals.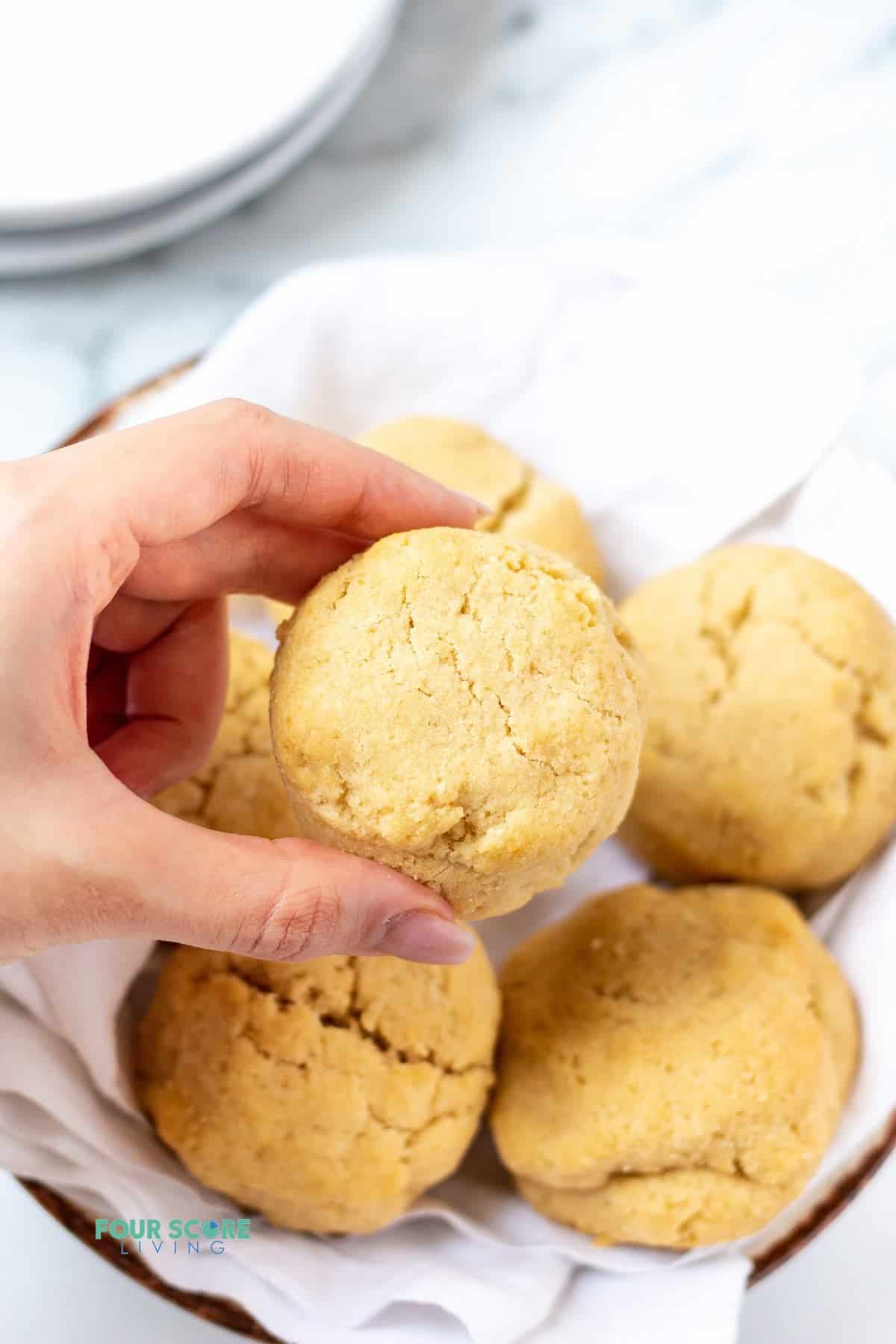 ALMOND FLOUR BISCUITS RECIPE
Almond flour biscuits are a gluten-free and low-carb recipe that can help you to create so many delicious meals.
Use these healthy biscuits to hold eggs and sausage for a tasty breakfast sandwich, or serve them covered in sausage gravy for an old-fashioned breakfast treat.
These biscuits are a simple side dish to enjoy with dinners like Instant Pot Pot Roast or Marry Me Chicken that need some sort of bread to soak up delicious sauce or gravy.
Almond Flour Biscuits will fit in beautifully with all of our other sides at your holiday feast as well, they are incredible with Magic Leek Soup.
This recipe only requires 5 ingredients, and it is paleo, Whole-30, and Keto approved too. If you like baking with almond flour, you'll want to make this almond flour banana bread next.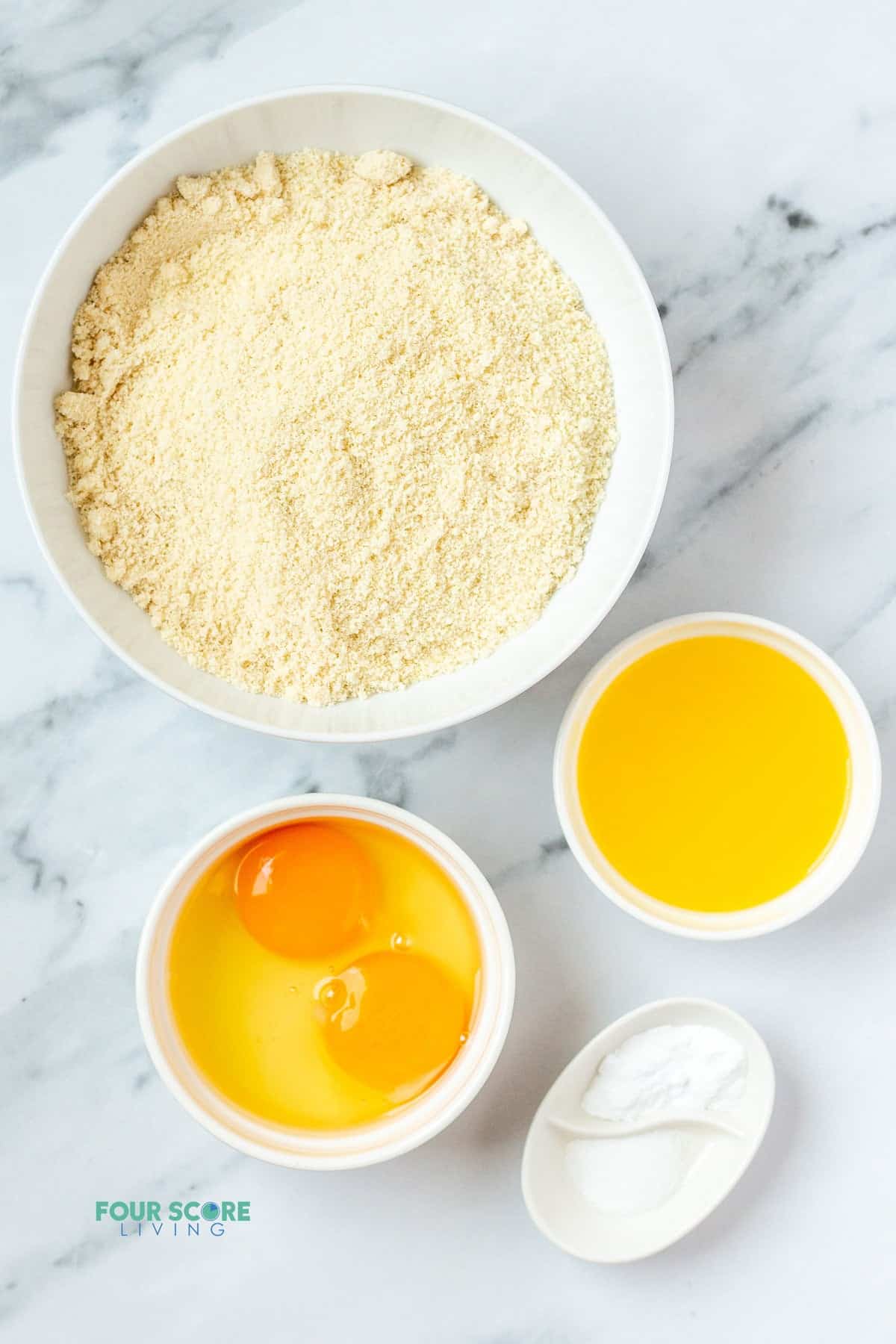 INGREDIENTS IN ALMOND FLOUR BISCUITS
Almond Flour- Use finely ground almond flour in your biscuits to get a tender crumb. Almond meal won't work here.
Baking Soda - This helps the dough to rise in the oven.
Salt - To add balance to the flavors, and a bit of seasoning.
Eggs - Eggs are a major player in this biscuit recipe. They hold everything together and create structure.
Butter - Melt the butter, then give it a few minutes to cool down before mixing it in with the other ingredients.
If you have any questions, please leave a comment below and I will get back to you.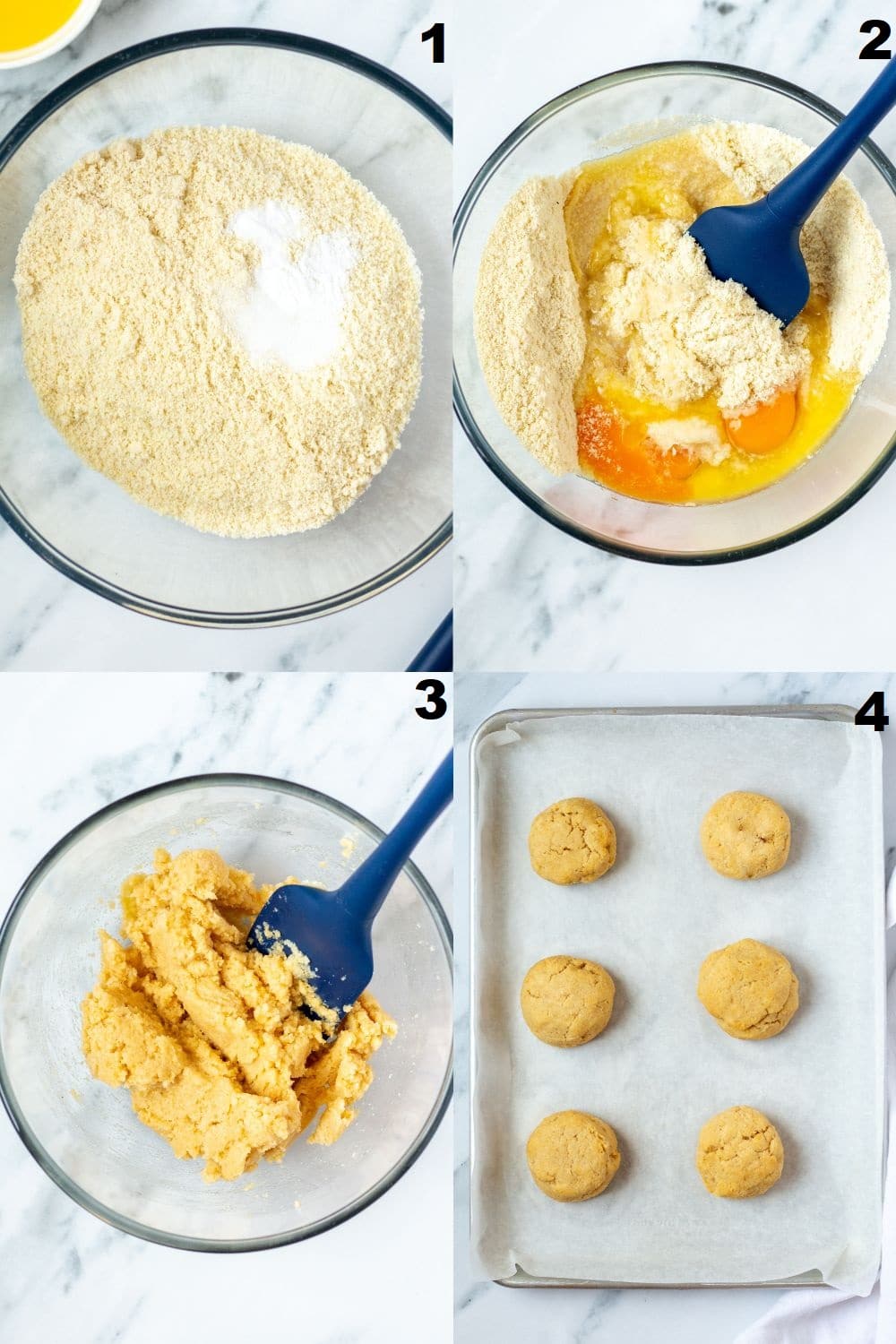 HOW TO MAKE ALMOND FLOUR BISCUITS
In a medium mixing bowl, combine almond flour, salt, and baking soda.
Add eggs and cooled melted butter.
Stir until combined into a dough.
Measure the dough into six equal portions, about ¼ cup each. Use your hands to form round shortcakes from the dough that are about 2 inches thick.
Bake in a preheated oven for 15-17 minutes or until the centers of the biscuits are cooked through and the tops start to crack.
For the complete list of ingredients and instructions, please see the recipe below.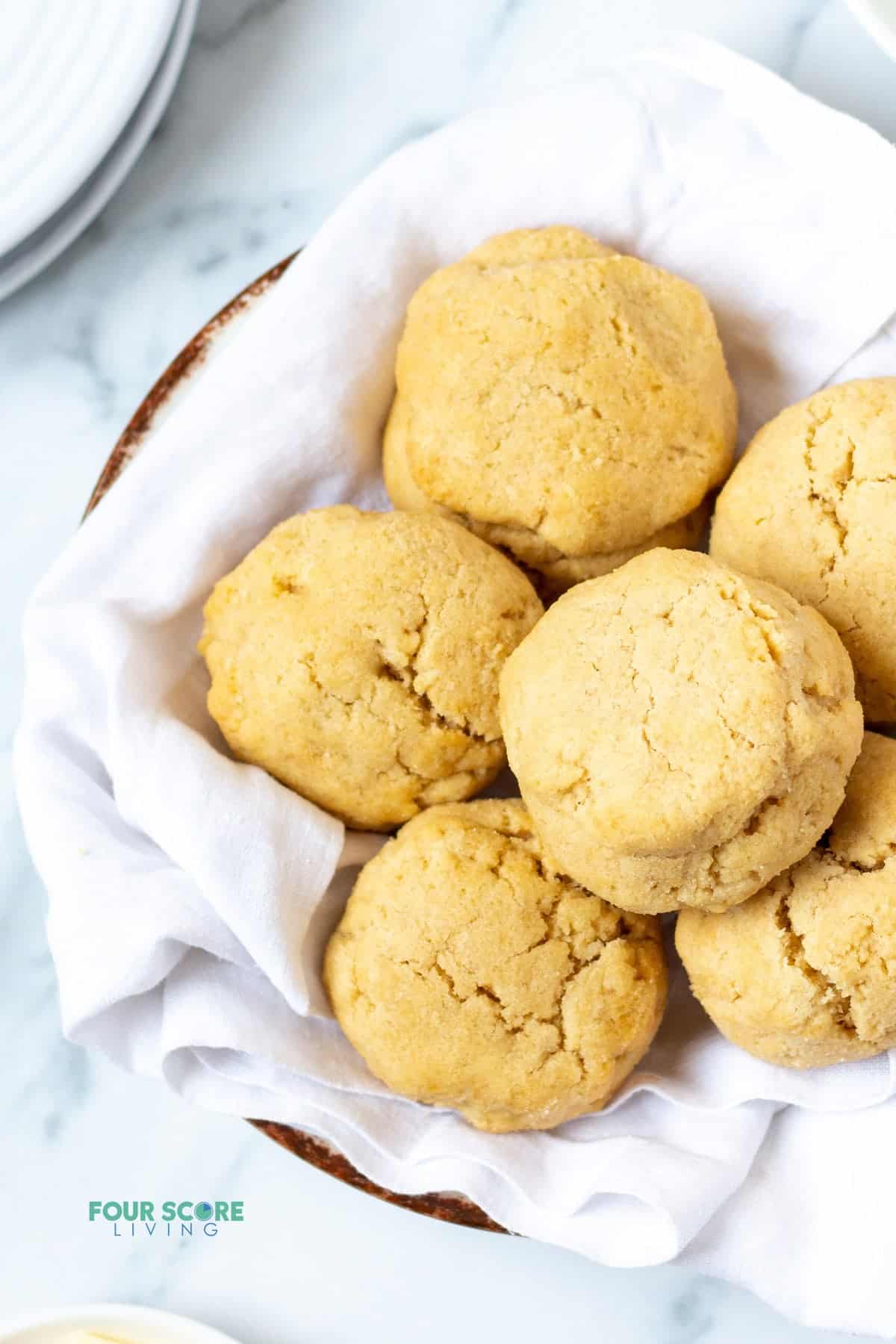 TIPS FOR BAKING WITH ALMOND FLOUR
Working with almond flour isn't difficult, but there are a few things you should know about baking with it, since it's different than regular flour.
If you store your almond flour in the fridge or freezer, allow it to come to room temperature before mixing your batter. Cold almond flour will not absorb the wet ingredients the way we want it to here.
When measuring almond flour, use a spoon to fill your measuring cup rather than scooping down into the container. This will ensure that you are getting a proper measurement and not compressing the almond flour too much.
I always suggest using a finely ground almond flour for baking. You'll get much lighter and fluffier baked goods this way.
CAN YOU EAT ALMOND FLOUR ON KETO?
Almond flour baked goods are a great option for people following a keto diet because almond flour is one of the lowest carb flours available. It's also fairly easy to work with, especially if you follow the right recipes.
HOW TO MAKE DAIRY FREE ALMOND FLOUR BISCUITS
Replace the butter in this recipe with melted and cooled coconut oil or your favorite vegan butter.
CAN I MAKE ALMOND FLOUR DROP BISCUITS?
If you'd prefer your biscuits to have a more rustic look to them you can skip the shaping step and simply scoop the dough onto the baking sheet before baking.
WHY IS MY DOUGH STICKY?
Almond flour doughs can be a bit sticky sometimes. If you're finding this biscuit dough hard to work with, place it in the fridge for 10-20 minutes to allow it to firm up.
CAN I DOUBLE THIS RECIPE?
Yes, this recipe for almond flour biscuits can easily be doubled, tripled, or even more! Simply multiply the ingredients. Bake in batches if you need to.
HOW TO STORE ALMOND FLOUR BISCUITS
The best time to eat these biscuits is right after they've come out of the oven. They'll be warm and soft and perfect.
If you have leftovers you can store them in an airtight container for up to 2 days in the fridge. Reheat them using the microwave before enjoying.
You can also freeze these biscuits for longer storage. Place them in a freezer bag or container and freeze for 1-2 months.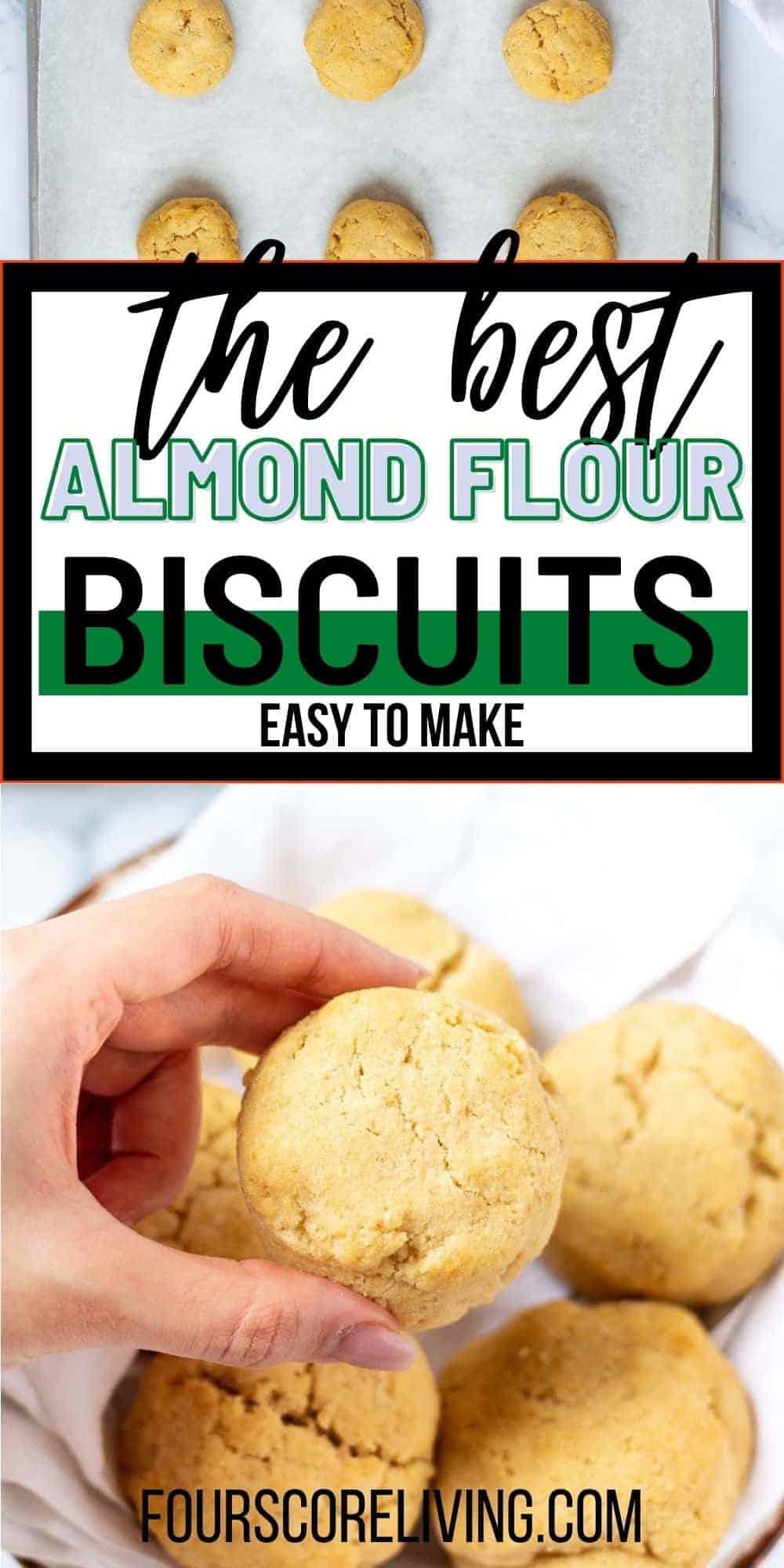 MORE DELICIOUS ALMOND FLOUR RECIPES
Almond Flour Waffles are a low-carb gluten-free breakfast miracle! They are light and fluffy and ready for all of your favorite waffle toppings.
Almond Flour Crepes can be used in sweet or savory recipes and are very simple to make from scratch.
Almond Flour Chocolate Chip Cookies are soft and chewy and packed with chocolate chips.
Did you make these Almond Flour Biscuits? Please leave a comment below letting me know what you thought.
We hope you enjoyed reading this article. Please help us out by leaving a quick review and star ★ rating below.
LET'S GET SOCIAL, you can follow Four Score Living on Pinterest. You can also leave a comment below if you have any questions.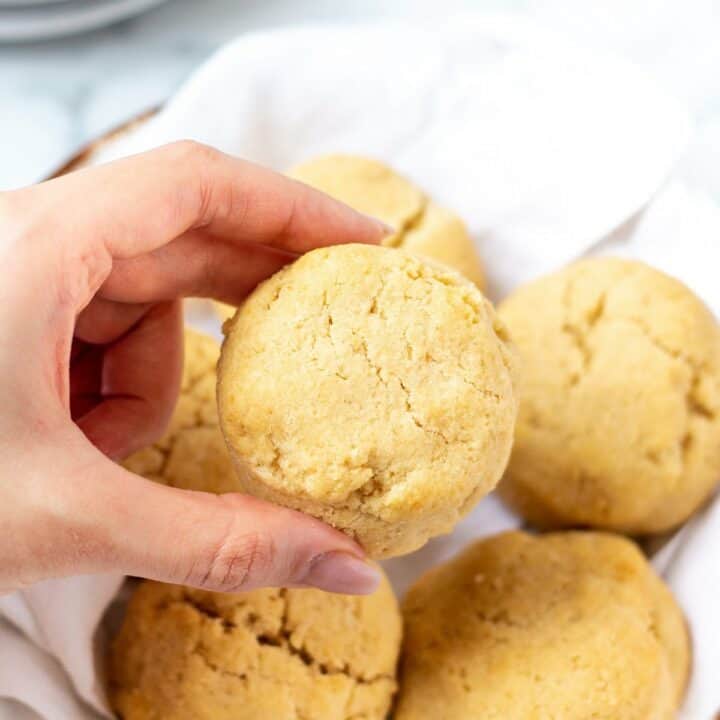 Almond Flour Biscuits
Tender and fluffy Almond Flour Biscuits are made with just 5 ingredients and they're ready in under 30 minutes.
Ingredients
2 ¼ cups almond flour
½ teaspoon baking soda
½ teaspoon salt
2 eggs
4 tablespoons butter, melted and cooled
Instructions
Preheat oven to 350°F/180°C. Line a baking sheet with parchment paper; set aside.
In a medium mixing bowl, combine almond flour, salt, and baking soda.
Add eggs and melted and cooled butter and stir until combined.
Using a ¼ cup measuring cup, measure out the dough. Use your hands to form a round shortcake about 2 inches thick. Place each one onto the prepared baking sheet and press down slightly. Repeat until all dough is used.
Bake for 15 -17 minutes or until the centers are cooked and the tops start to crack.
Remove from the oven and allow to cool completely before serving.
Notes
It's best to form these biscuits by hand so that you can use all of the dough. Rolling the dough with a rolling pin is also an option, but it can be difficult to do with almond flour dough.
These biscuits are best when enjoyed within a day or so of baking them. You can freeze baked biscuits for 1-2 months if you'd like to store them longer than that.
Nutrition Information:
Yield:

6
Serving Size:

1 biscuit
Amount Per Serving:
Calories:

335
Total Fat:

30g
Saturated Fat:

7g
Trans Fat:

0g
Unsaturated Fat:

22g
Cholesterol:

82mg
Sodium:

366mg
Carbohydrates:

9g
Fiber:

5g
Sugar:

2g
Protein:

11g
The nutrition information for this recipe is an approximate total per serving. Please double check the nutrition information for your exact ingredients and brands.