It's easier than you might think to make Keto Chocolate Chips from scratch.
These sugar-free chocolate morsels come together in a few minutes, with just three ingredients, and they're ready to add to your keto baking recipes or to enjoy by the handful.
Try homemade Keto Chocolate Chips the next time you decide to bake some Almond Flour Chocolate Chip Cookies or Keto Chocolate Chip Muffins.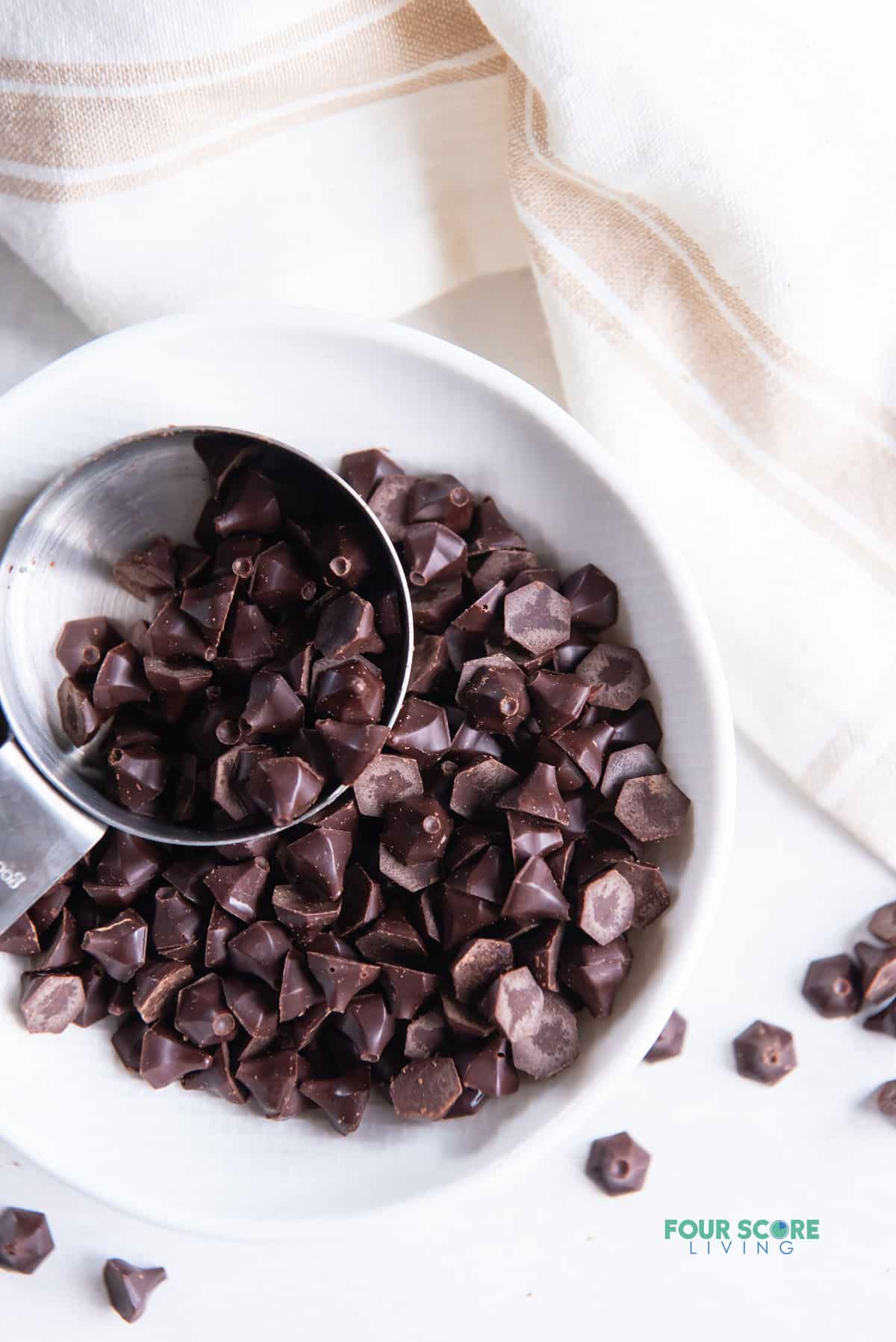 KETO CHOCOLATE CHIPS RECIPE
Wondering why you should make your own sugar-free chocolate chips?
Sure, there are options at the grocery store for keto chocolate chips. We often use Lily's Dark Chocolate Baking Chips or ChocZero Sugar Free Dark Chocolate Chips in our recipes.
But what if you don't want to spend $7 or more on a bag of chocolate chips? And what if you want to be sure that your keto chocolate chips are free from preservatives and added oils?
That's where this recipe comes in! Learning how to make Keto chocolate chips will allow you to be in control of each and every ingredient that goes into them. Plus, you'll spend less money when you make them yourself.
One more thing, these keto chocolate chips are rich and sweet! You could use unsweetened chocolate bars to make chips, but they'll never be as tasty as these are.
Keep reading for the easy recipe!
These chips are delicious included in a Keto Chocolate Chip Mug Cookie, Keto Chocolate Zucchini Muffins, or Almond Flour Scones.
We also include them in this protein cookie dough.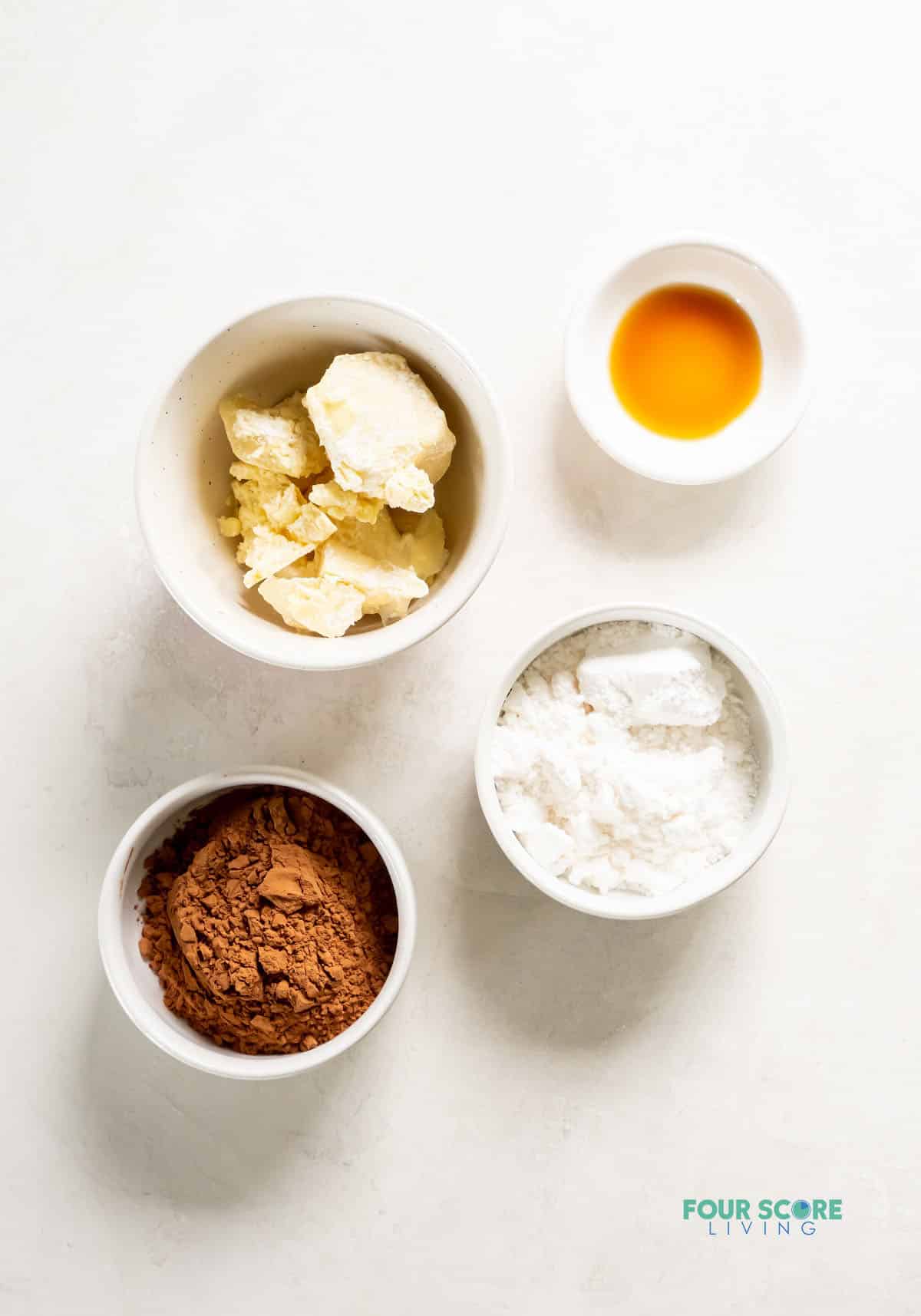 INGREDIENTS IN KETO CHOCOLATE CHIPS
Cocoa Butter - In order to make our own sugar free chocolate, we'll start with the thing that all chocolate makers start with - Pure, raw cocoa butter.
Unsweetened Cocoa Powder - Use the best quality cocoa powder you can. Cacao powder will also work in this recipe.
Powdered Sweetener - You can use your favorite powdered keto sweetener to make chocolate chips. Lakanto Monk Fruit Sweetener and powdered Allulose are our favorites.
Vanilla Extract - This is totally optional. A small amount of vanilla added to the mixture elevates the flavor of the chocolate just a bit.
If you have any questions about how to make keto chocolate chips, please leave a comment below and I will get back to you.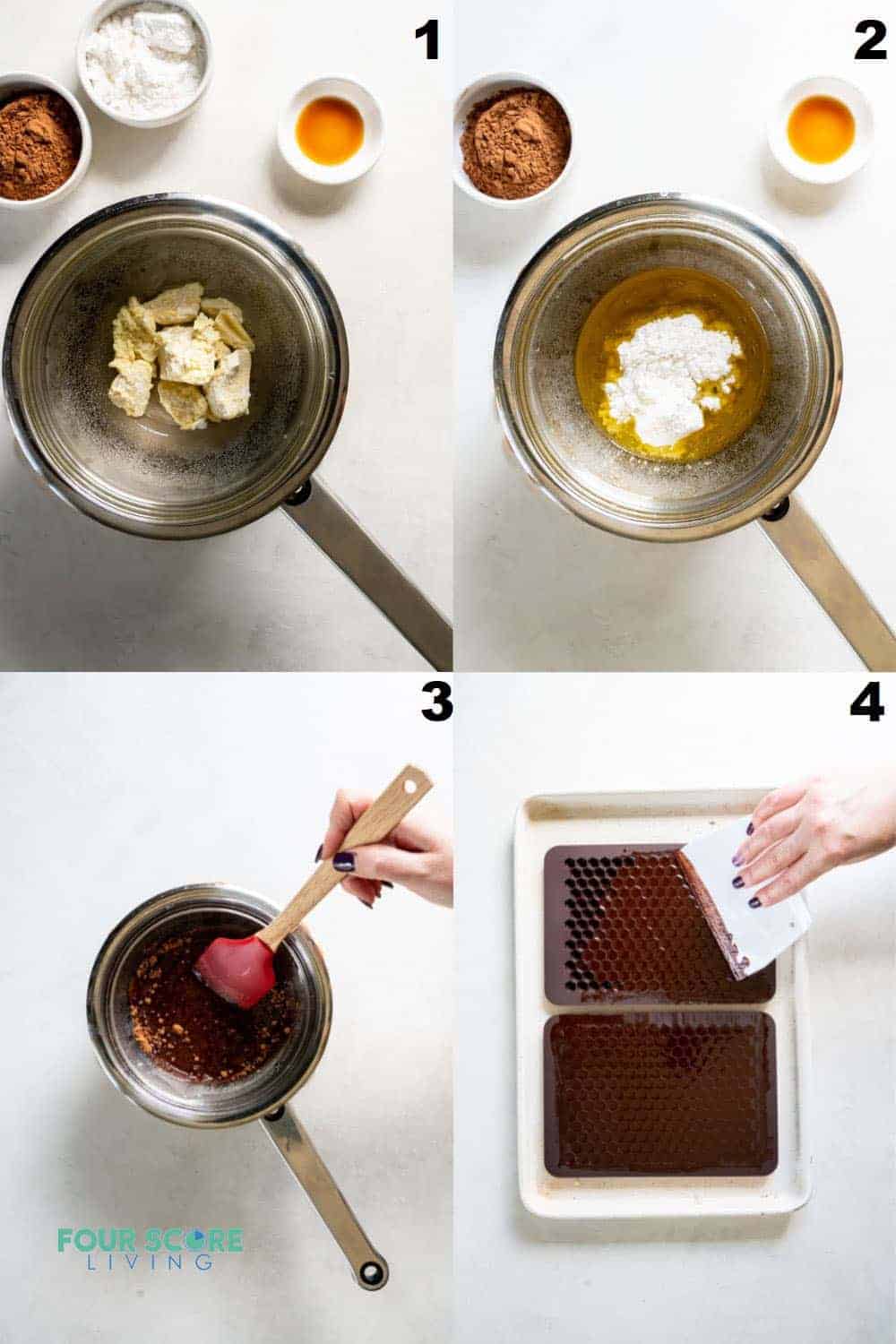 HOW TO MAKE KETO CHOCOLATE CHIPS FROM SCRATCH
Melt the cocoa butter in a double boiler set over low heat.
Add the powdered sweetener, mixing well with a spatula until it fully dissolves.
Then stir in the cocoa powder and vanilla extract, mixing well to incorporate everything together.
Carefully pour the melted chocolate into a silicone chocolate chip mold, spreading it evenly and scraping any excess back into the bowl. Place the molds in the refrigerator for at least an hour to cool and harden.
These numbered steps match the numbered photos above and are for illustration purposes. For the complete list of ingredients and instructions, please see the recipe below.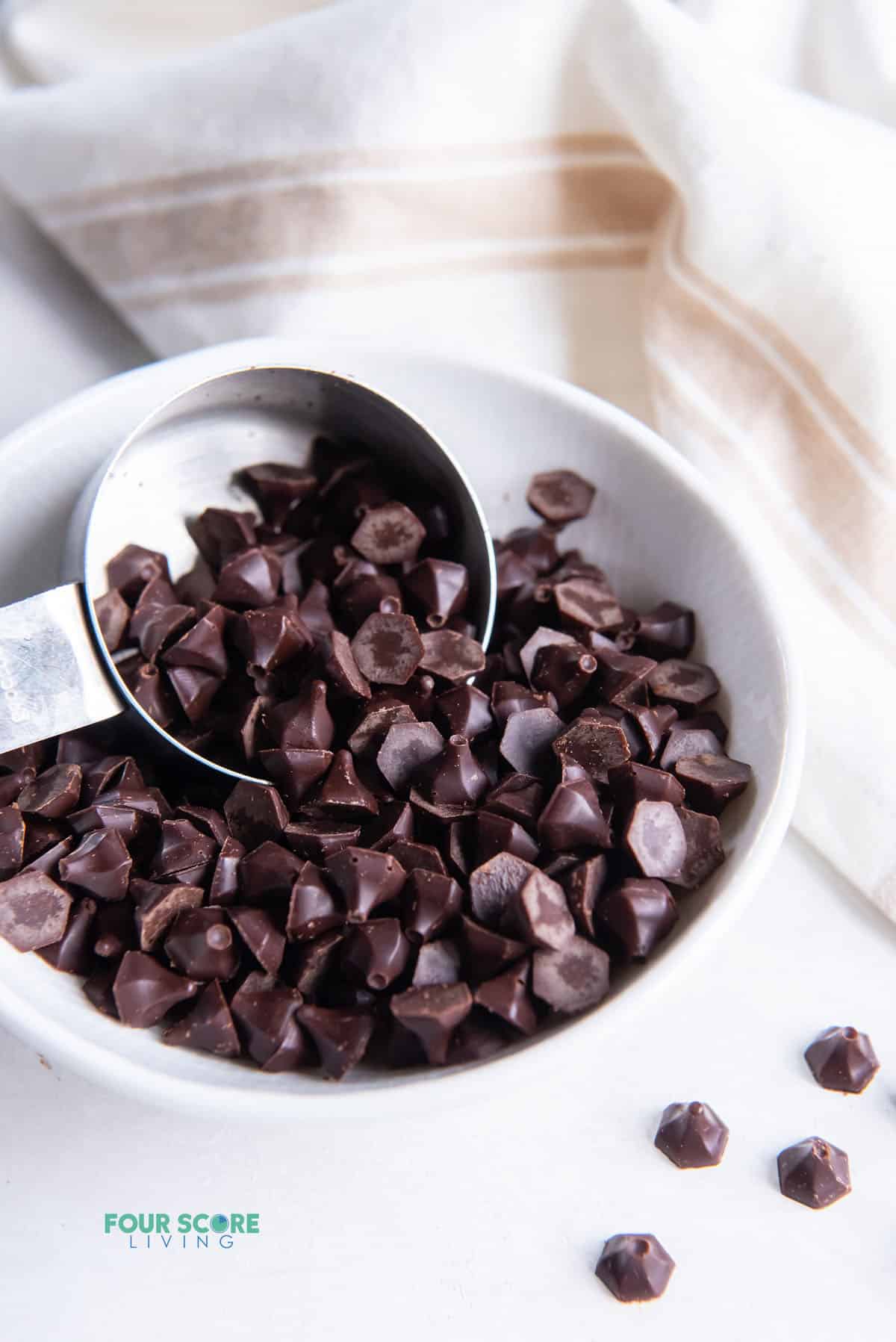 HOW TO STORE KETO CHOCOLATE CHIPS
After the chips have hardened fully, pop them out of the silicone mold (this is the fun part!) and store them in an airtight container or a glass jar in the fridge.
You can also store these keto chocolate chips in the freezer if you prefer. Either way, they will last for several weeks.
WHAT KETO SWEETENER IS BEST FOR CHOCOLATE?
Everyone has their own preferences when it comes to sugar-free sweeteners. We've found that we prefer monk fruit and allulose when making keto chocolate chips. Erythritol can be used in this recipe, but sometimes has a cooling effect that isn't ideal.
WHAT CAN I USE INSTEAD OF A DOUBLE BOILER?
If you don't have a traditional double boiler, you can make one! Use a small saucepan filled less than halfway with water. Place a glass bowl on top of the saucepan, ensuring that the bottom of the bowl doesn't touch the water.
Now you have a DIY double boiler for making homemade keto chocolate chips.
Be careful when using this setup, as the bowl can become quite hot. Use gloves or potholders to handle it.
WHAT IS THE DIFFERENCE BETWEEN COCOA POWDER AND CACAO POWDER?
Both cocoa and cacao come from the same plant, but they are processed differently and have different flavor profiles.
Cocoa Powder is the beans from the cacao tree that have been highly processed using heat and in some cases additives. Additives are typically used to reduce the bitterness of the beans.
Cacao Powder is made from those same beans, but they are minimally processed, roasted at a low temperature, and without anything extra. Because of this treatment, cacao retains more of the nutrients of the plant and has a more potent, bitter, and robust chocolate flavor.
WHERE DO YOU BUY COCOA BUTTER?
You can find cocoa butter in health food stores or you can order it online if it's more convenient. Look for pure, food-grade cocoa butter rather than mixtures sold for making lotions and soaps.
WILL THESE KETO CHOCOLATE CHIPS MELT?
Yes, when enough heat is applied, these chips will melt. They aren't quite as sturdy as commercial chocolate chips that include stabilizing or binding ingredients like soy lecithin.
Cocoa butter is solid at room temperature and does hold up to melting fairly well. These homemade sugar-free keto chocolate chips will melt into your chocolate chip cookies or other baked goods in the very best way.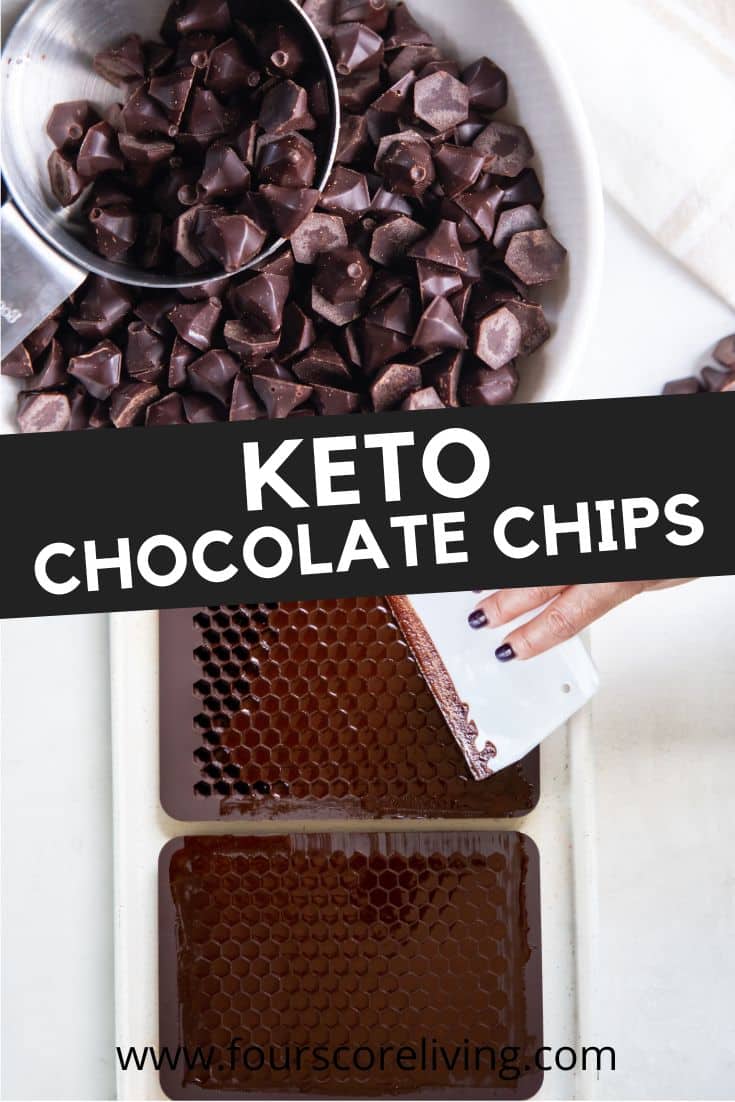 Did you make these keto chocolate chips? Please leave a comment below letting me know what you thought.
We hope you enjoyed reading this article. Please help us out by leaving a quick review and star ★ rating below.
LET'S GET SOCIAL, you can follow Four Score Living on Pinterest. You can also leave a comment below if you have any questions.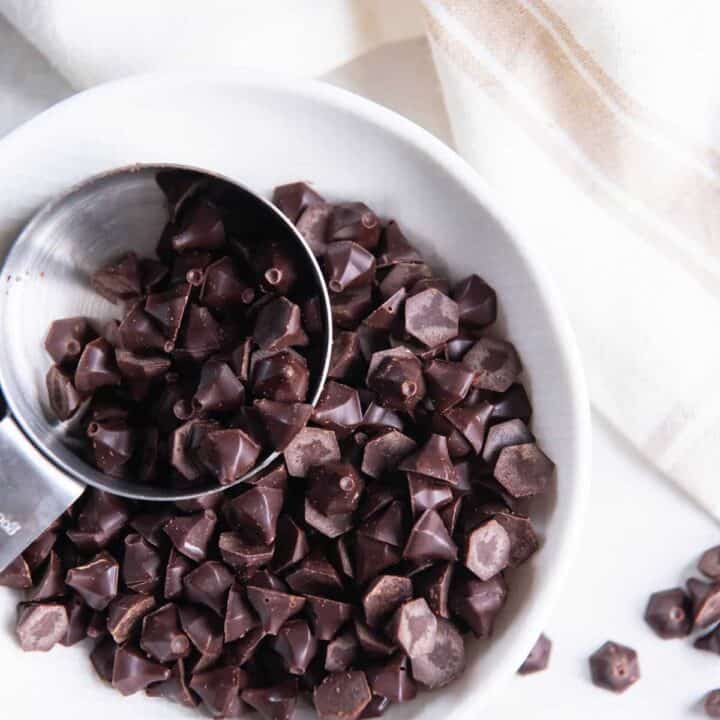 Keto Chocolate Chips
Total Time:
1 hour
10 minutes
Homemade sugar-free keto chocolate chips come together in a few minutes, with just three ingredients. Add them to your keto baking recipes or enjoy by the handful.
Ingredients
½ cup cocoa butter
¼ cup unsweetened cocoa or cacao powder
¼ cup powdered low carb sweetener
½ teaspoon vanilla extract (optional)
Instructions
In a double boiler set over low heat, melt the cocoa butter.
Add the powdered sweetener, mixing well with a rubber spatula until it fully dissolves.
Stir in the cocoa powder and vanilla extract (if using), stirring well to incorporate.
Remove the bowl with the chocolate in it from the heat and carefully pour the melted chocolate into a silicone chocolate chip mold, spreading it evenly and scraping any excess back into the bowl.
Place the molds in the refrigerator for at least 1 hour to let the chocolate cool and harden.
Once the chips are set, pop them out of the silicone mold and store them in a mason jar in the refrigerator.
Notes
Be sure to use a powdered sweetener for this recipe. Lakanto and Swerve both make powdered sugar replacement products, and there are others as well.
In a pinch, you can add granulated sweetener (erythritol, monk fruit, etc.) to a high speed blender or food processor to create your own powdered sweetener.
I highly suggest using a chocolate chip mold to create these chips, but if you don't have one, pour the mixture into a shallow pan instead. Once it's hardened, you can break or cut it into chunks.
Nutrition Information:
Yield:

8
Serving Size:

2 tablespoons
Amount Per Serving:
Calories:

145
Total Fat:

14g
Saturated Fat:

8g
Trans Fat:

0g
Unsaturated Fat:

5g
Cholesterol:

0mg
Sodium:

0mg
Carbohydrates:

5g
Fiber:

1g
Sugar:

2g
Protein:

1g
The nutrition information for this recipe is an approximate total per serving. Please double check the nutrition information for your exact ingredients and brands.