Tender, sweet, and chocolatey, this keto chocolate cake is everything you want a chocolate cake to be, and more.
Keto Chocolate Cake is not just a dream. This cake is the real deal - A low carb, sugar free, grain free chocolate cake can be on your table this afternoon.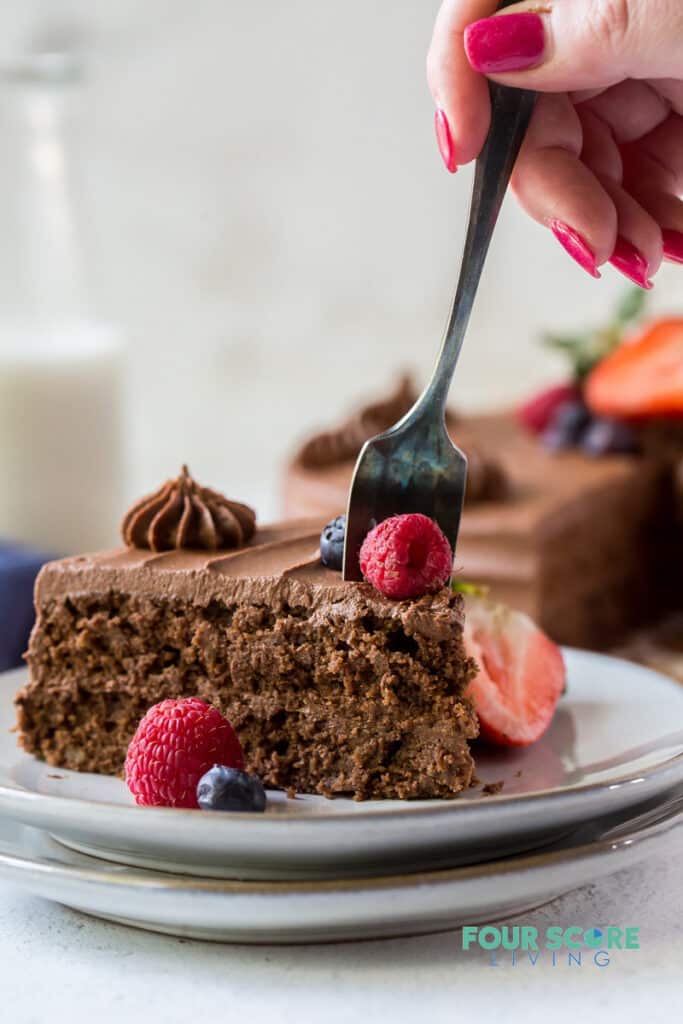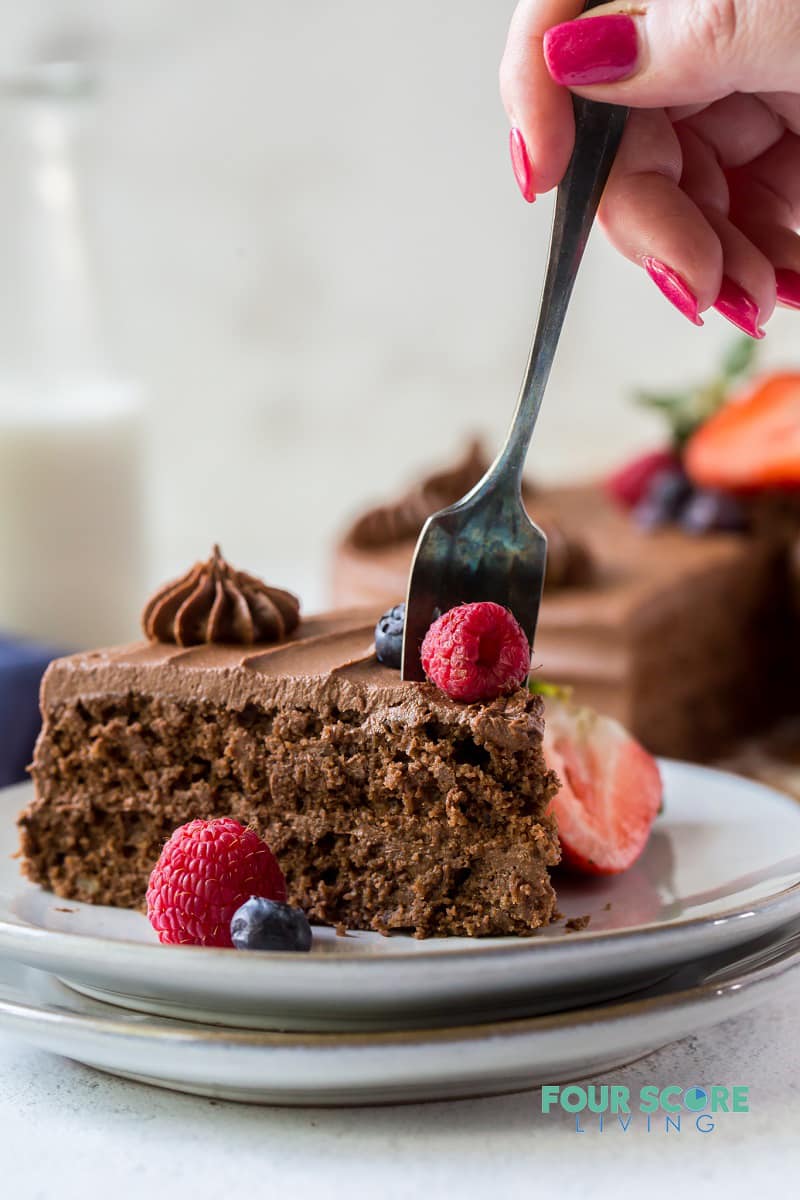 Ice this cake with my Keto Chocolate Frosting and you'll have a delicious and beautiful dessert to impress your friends and family or enjoy all on your own.
Love Cake? Make Keto Lemon Cake and Keto Vanilla Cake too!
KETO CHOCOLATE CAKE RECIPE
I'm sharing my keto chocolate cake recipe, which is the perfect low carb cake recipe for birthdays, holidays, parties, or just because you want some delicious chocolate cake.
I make this often for family and friends and they are always surprised that it's a sugar-free chocolate cake. In fact, this chocolate cake is sugar free, grain free, gluten free, AND keto! It tastes just as good as any chocolate cake out there, and if I didn't tell you, you probably wouldn't even know you were eating something healthy.
They also love it when I make Keto Chocolate Cupcakes. They are quite similar to this keto chocolate cake recipe, but with built in portion control.
Decadent and rich chocolate flavor shines in this cake recipe. We only need to add a small amount of sweetener and vanilla extract to balance it all out.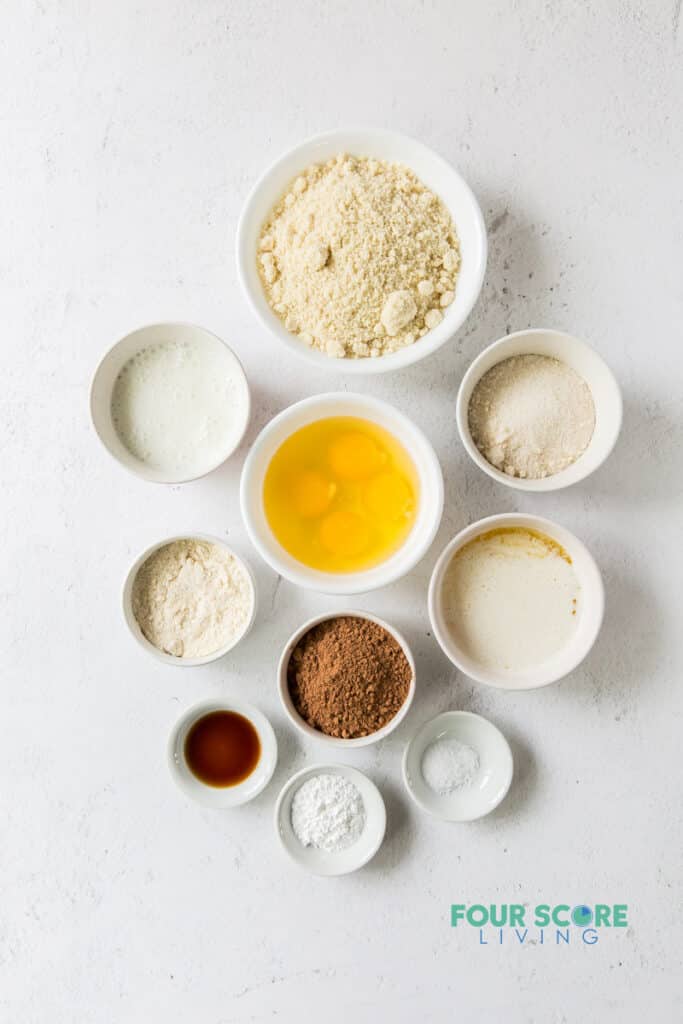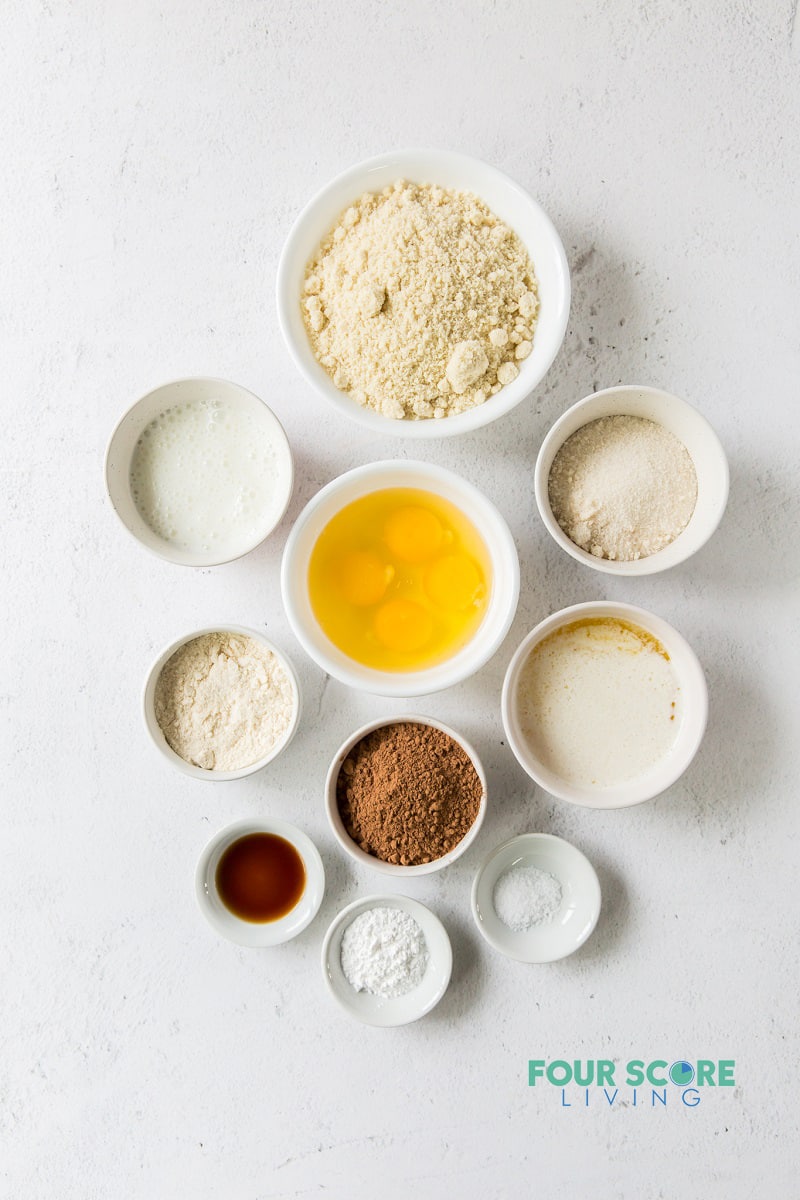 INGREDIENTS IN KETO CHOCOLATE CAKE
Almond Flour - Use a fine grind almond flour for baking this cake to get a tender crumb.
Coconut Flour - I've tested this blend of flours to get the best texture using both almond and coconut flours.
Cocoa Powder - Use the best quality cocoa powder that you can. The better the cocoa powder, the richer the chocolatey flavor.
Powdered Erythritol - This is my go-to sweetener when baking cakes. Use the powdered type for best results.
Baking Powder - Baking Powder gives rise to your batter and creates lovely pockets of air in your cake.
Salt - Salt adds balance to the flavors here.
Eggs - Use large eggs for baking, and let them sit on the counter for 30 minutes or more to come to room temperature before mixing them in.
Buttermilk - This underrated baking ingredient causes a chemical change in the batter that creates more air pockets and therefore a lighter cake.
Butter - Add richness and a bit of fat to the batter with melted butter.
Vanilla Extract - Most delicious baked things include some vanilla. Use a high quality pure vanilla extract for best results.
If you have any questions about this keto chocolate cake, please leave a comment below and I will get back to you.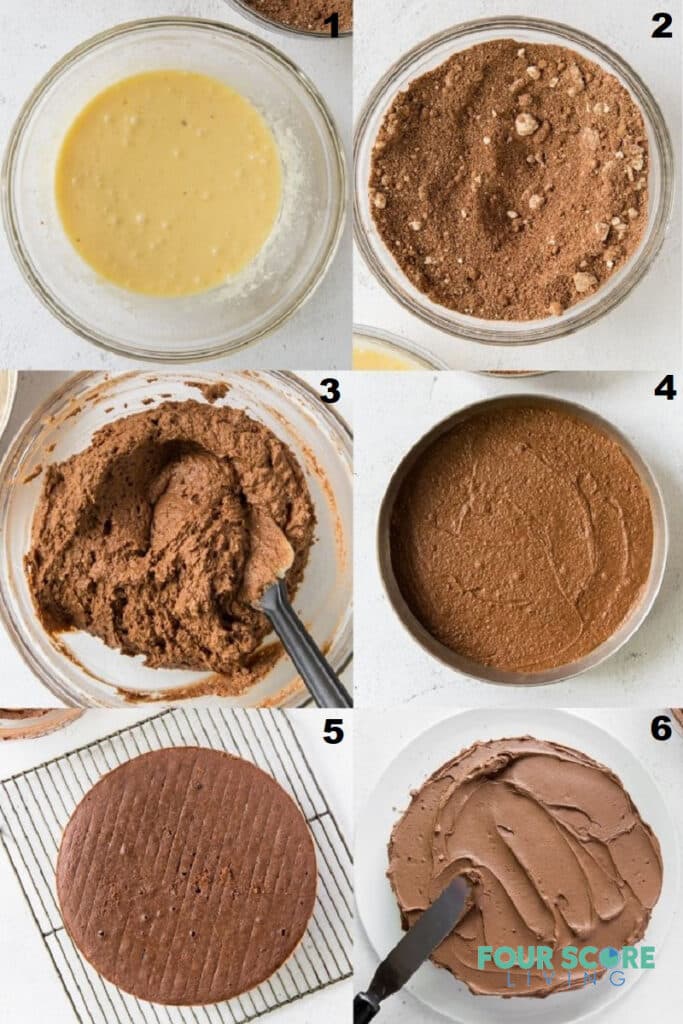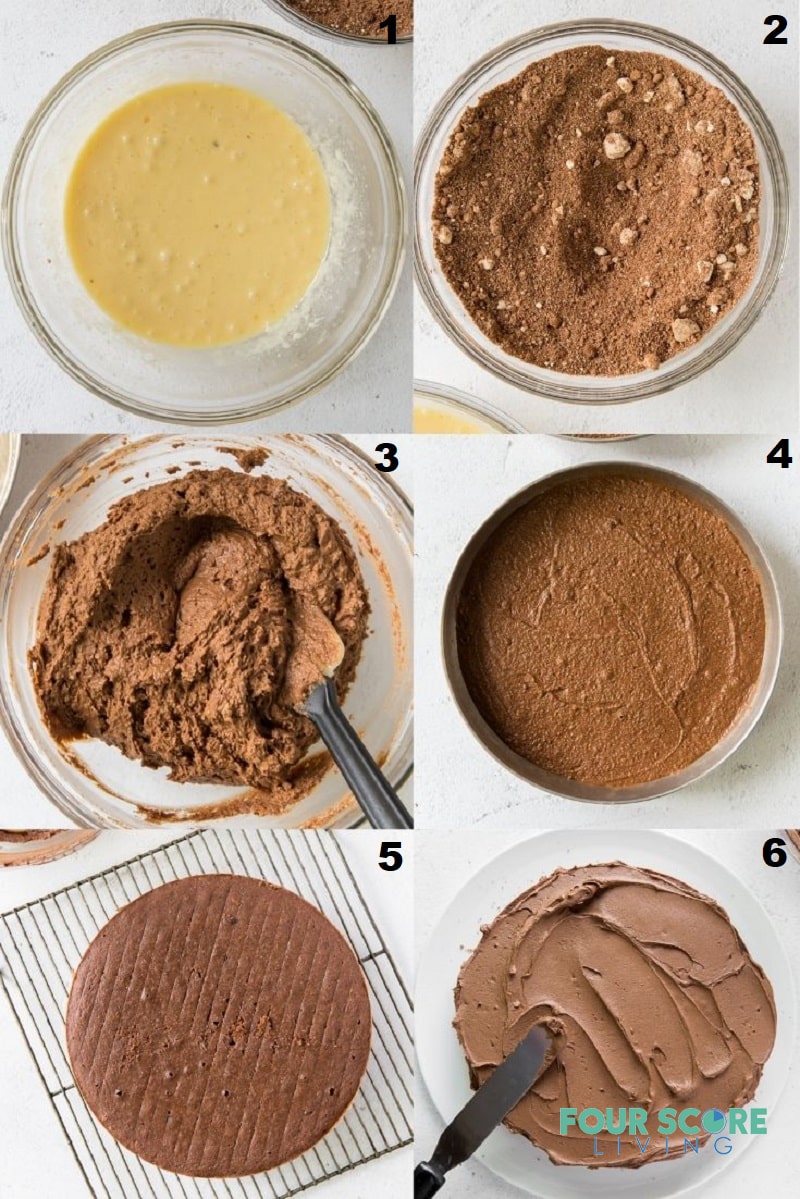 HOW TO MAKE KETO CHOCOLATE CAKE
In a large mixing bowl, combine eggs, buttermilk, cooled butter, and vanilla extract. Mix until thoroughly combined.
In a separate bowl, whisk together the almond flour, coconut flour, cocoa powder, powdered erythritol, baking powder, and salt.
Add the dry ingredients to the wet and mix until well combined.
Place batter into prepared baking pans as explained in the recipe.
Bake as directed, until a toothpick comes out clean.
Allow cake to cool completely in the pan before removing. Frost as desired with Keto Chocolate Frosting.
These numbered steps match the numbered photos above and are for illustration purposes. For the complete list of ingredients and instructions, please see the recipe below.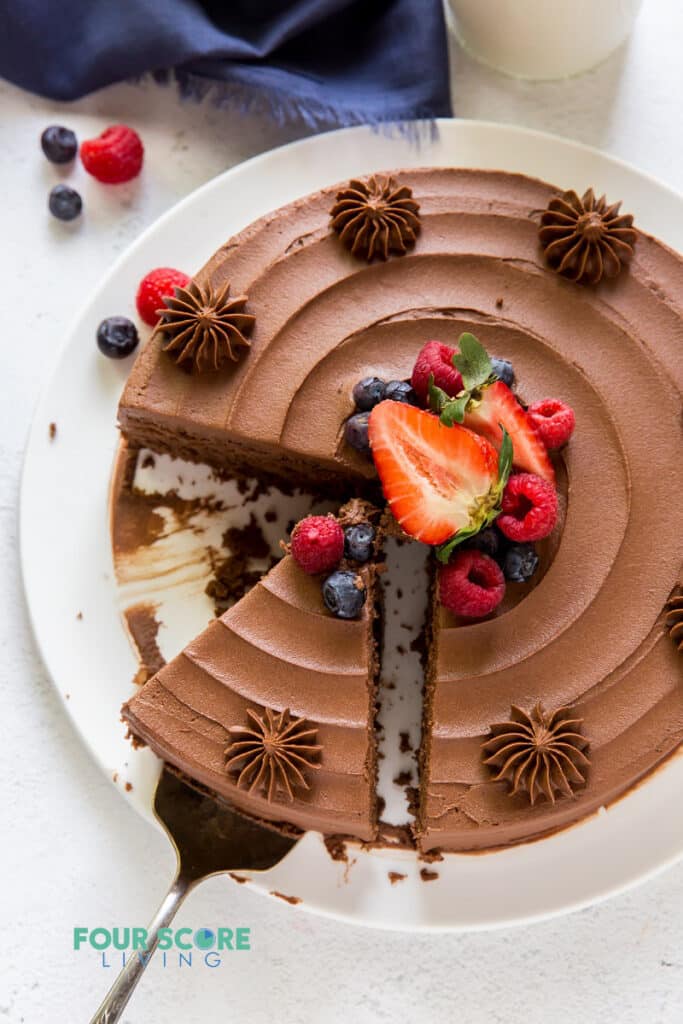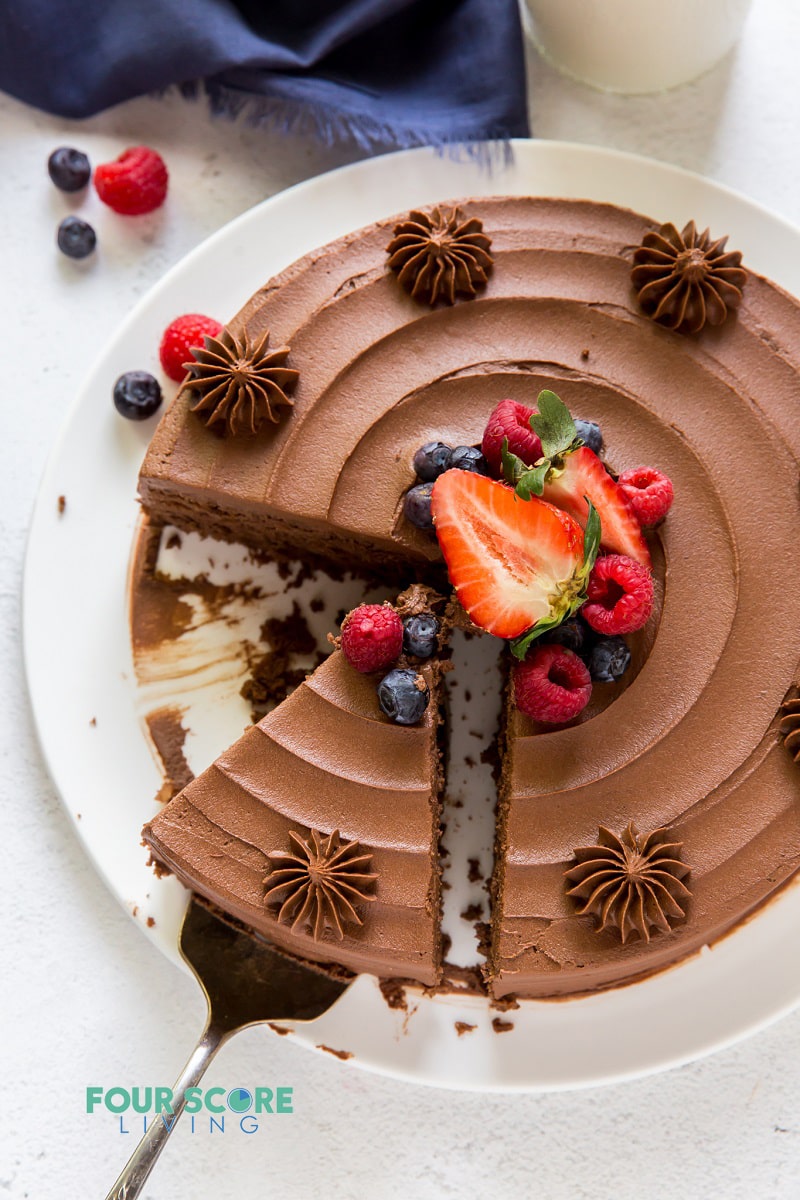 HOW TO MAKE KETO CHOCOLATE FROSTING
A keto chocolate cake needs a delicious, rich chocolate frosting, and I have just the recipe for you.
We have the perfect keto frosting recipe for you to make with this chocolate cake! It's smooth, sweet, chocolatey and irresistible. Just six ingredients are needed to make the most chocolatey, silky keto chocolate frosting. Go get the recipe and then pop back here to finish baking the cake with me!
TIPS FOR BAKING WITH ALMOND FLOUR
Working with almond flour isn't difficult, but there are a few things you should know about baking with it, since it's different than regular flour.
If you store your almond flour in the fridge or freezer, allow it to come to room temperature before mixing your batter. Cold almond flour will not absorb the wet ingredients the way we want it to here.
When measuring almond flour, use a spoon to fill your measuring cup rather than scooping down into the container. This will ensure that you are getting a proper measurement and not compressing the almond flour too much.
I always suggest using a finely ground almond flour for baking. You'll get much lighter and fluffier baked goods this way.
SUBSTITUTIONS IN KETO CHOCOLATE CAKE
I have tested this recipe using the ingredients listed, and can't recommend too many substitutions, since this is the best combination that I could find. Adjusting any of the ingredients in this recipe will effect your final outcome, so be cautious.
If you make substitutions with this recipe, I'd love to hear how it went!
Sweetener Substitutions: I use a powdered Erithritol in most of my keto dessert recipes. I find it easy to work with and the flavor is right where I want it to be. I've had good results using plain powdered erythritol and Lankanto, which is a combination of erythritol and monk fruit. I don't suggest using any type of liquid sweetener, but other granulated sweeteners should be able to be used instead.
Flour Substitutions: The best combination for me and this cake is the almond and coconut flour blend that I've used. I can't give any other options that will work as well.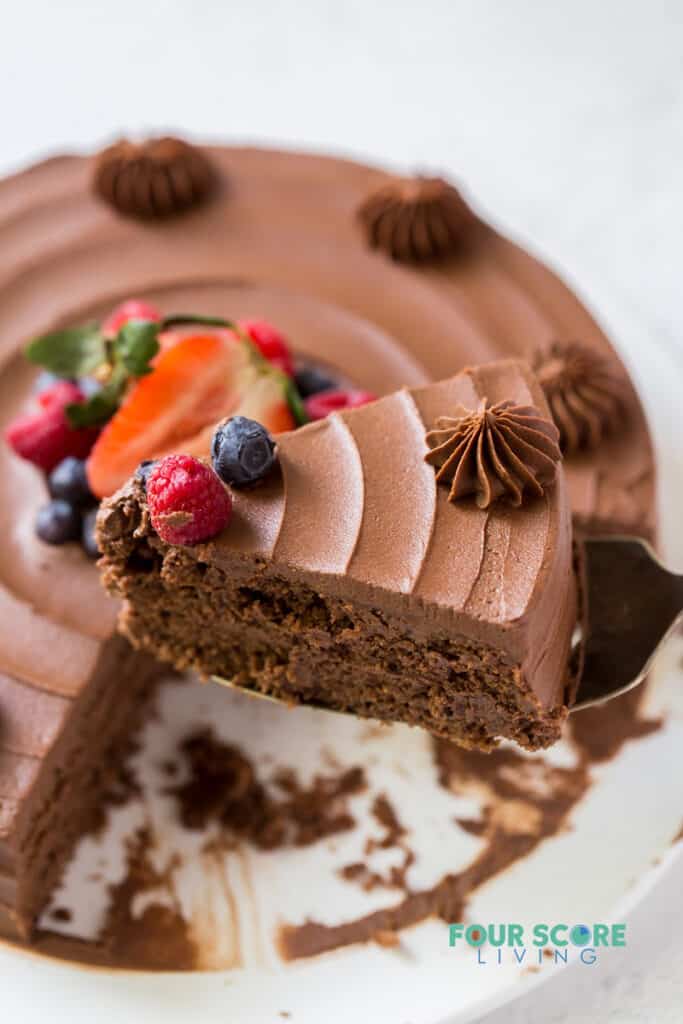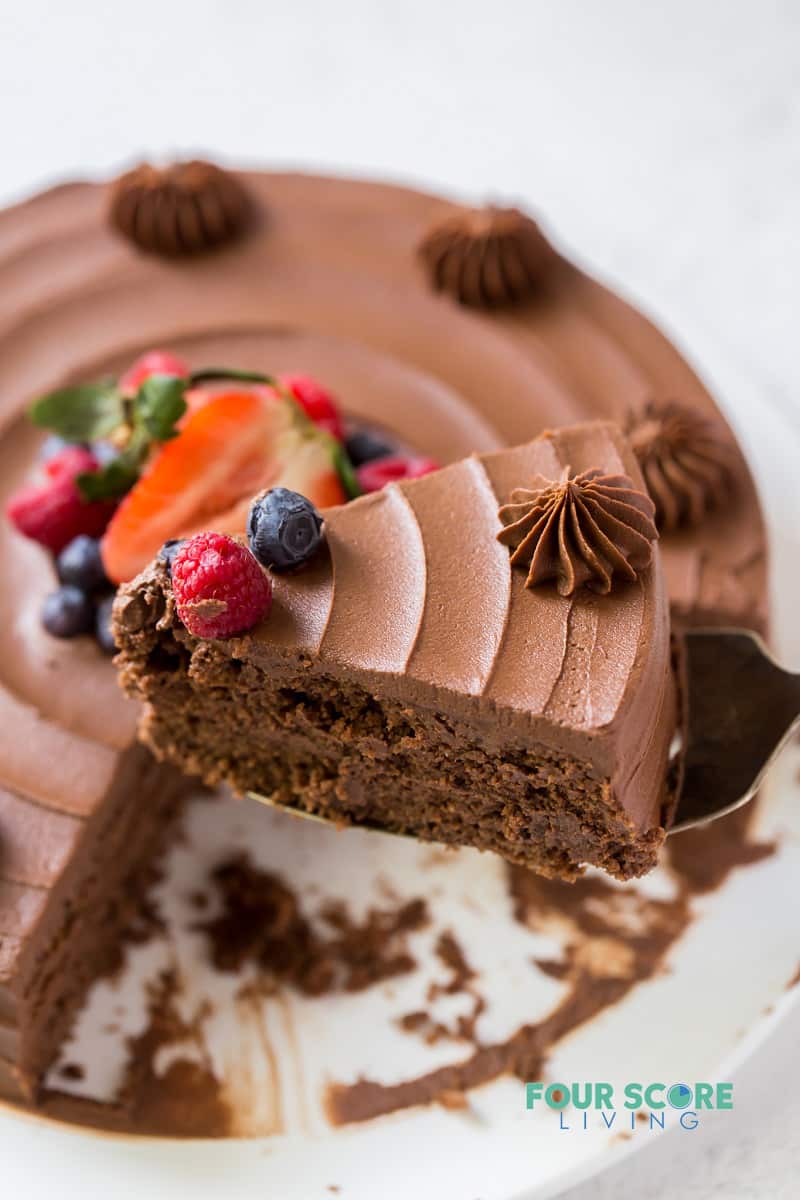 CAN I HAVE CAKE ON KETO?
With this sugar free chocolate cake recipe, you certainly can have cake on a keto diet. Remember that we are aiming for sugar free and low carb.
Bakery or store bought cakes are packed with sugar. Making your own low carb cake is a great way to control the sugar added so that you can enjoy chocolate cake on keto.
If you don't need to eat keto, you might also like this Gluten Free Cake.
Want to make Keto Chocolate Cake in the microwave? Try this Keto Mug Cake recipe.
CAN I MAKE THIS KETO CAKE WITHOUT FROSTING?
You can do whatever you like with your chocolate cake! While the chocolate frosting is amazing, it's not necessary. Try eating this cake with some Keto Whipped Cream and fresh berries if you'd like to enjoy a lighter dessert.
Keto Vanilla Ice Cream is also delicious with a slice of this cake.
HOW MUCH CAKE DOES THIS RECIPE MAKE?
This is a standard sized cake recipe, and the directions will show you how to bake it in two 8 inch round cake pans to make a simple, beautiful layer cake.
You can bake this recipe as a sheet cake instead. Simply bake it in a 9 x13 inch pan. The baking time should be the same, but you may need to add a few minutes to get the center of the cake to set.
HOW FAR IN ADVANCE CAN I MAKE KETO CHOCOLATE CAKE?
You can make the cake layers up to a few days ahead of time. Store them well-wrapped in the fridge until you're ready to frost them.
Cake layers can also be frozen, well-wrapped, for up to three months.
I suggest frosting the cake within a day or two of serving, the frosting tastes better fresh.
CAN I USE ALMOND MEAL TO MAKE KETO CAKE?
Almond meal is never going to be a good choice for baking. It's not milled finely enough and will create baked goods that are dense and heavy rather than light and fluffy.
Buy finely milled almond flour when you plan to bake with it. I like to use Bob's Red Mill Super-Fine Bleached Almond Flour.
MORE DELICIOUS KETO DESSERTS
When I first started eating low carb, I knew that I was going to need some dessert recipes to satisfy my sweet tooth. I found that keto desserts are fun and easy to make, and totally satisfying! Try these tried and tested keto desserts:
Keto Cheesecake is just simply amazing. Just like this chocolate cake, I can bring keto cheesecake to any party and nobody will know the difference between the low carb version and a standard dessert.
Keto Chocolate Fudge is a creamy and decadent treat that I almost always have in the fridge.
If you need a quick and easy chocolate treat, make up some Keto Hot Chocolate in just a few minutes.
We hope you enjoyed reading this article. Please help us out by leaving a quick review and star ★ rating below.
LET'S GET SOCIAL, you can follow Four Score Living on Pinterest. You can also leave a comment below if you have any questions.
Did you make this Keto Chocolate Cake? Please leave a comment below letting me know what you thought.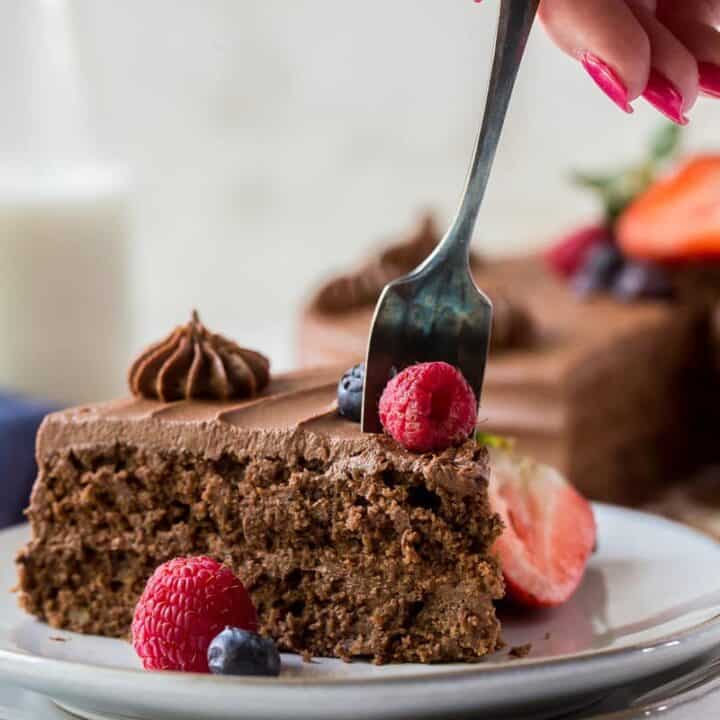 Keto Chocolate Cake
Yield:
1 8-inch 2-layer cake
You can make this tender, sweet keto chocolate cake using a handful of ingredients in only a couple of simple steps. Use my frosting recipe your your favorite frosting recipe.
Ingredients
2 cups fine almond flour
¼ cup coconut flour
½ cup cocoa powder
⅔ cup powdered erythritol
2 ½ tsp baking powder
½ tsp salt
4 large eggs, room temperature
¾ cup buttermilk
½ cup melted unsalted butter, cooled
1 ½ tsp vanilla extract
Instructions
Preheat oven to 350 F degrees F.
Line the bottoms of two 8-inch round cake pans with parchment paper rounds, then spray with nonstick baking spray; set aside.
In a large mixing bowl, combine eggs, buttermilk, cooled butter, and vanilla extract. Mix until thoroughly combined.
In a separate bowl, whisk together the almond flour, coconut flour, cocoa powder, powdered erythritol, baking powder, and salt.
Add the dry ingredients to the wet and mix until well combined.
Divide the batter evenly between the prepared baking pans and bake for 20-25 minutes, until a toothpick comes out clean.
Allow the cakes to cool completely in the pan (at least 30 minutes) before removing. Remove the parchment paper liner and frost as desired with Keto Chocolate Frosting.
Notes
Allow your ingredients to come to room temperature before mixing the batter.
Spoon the almond flour into the measuring cup, and then level it, rather than scooping in to the container.
Powdered sweetener will create a smoother batter.
Nutrition Information:
Yield:

8
Serving Size:

1 slice
Amount Per Serving:
Calories:

358
Total Fat:

29g
Saturated Fat:

10g
Trans Fat:

0g
Unsaturated Fat:

18g
Cholesterol:

124mg
Sodium:

392mg
Carbohydrates:

11g
Net Carbohydrates:

6g
Fiber:

5g
Sugar:

3g
Protein:

12g
The nutrition information for this recipe is an approximate total per serving. Please double check the nutrition information for your exact ingredients and brands.