These Keto Waffles are exactly what you need for a keto breakfast treat!
These keto waffles are crispy on the outside, fluffy and tender on the inside, and delicious topped with butter and Keto Pancake Syrup. Keto Waffles are best enjoyed with a great cup of coffee mixed with Keto Coffee Creamer.
Keto Waffles are going to be on the menu regularly from now on, because you've found the best keto waffle recipe.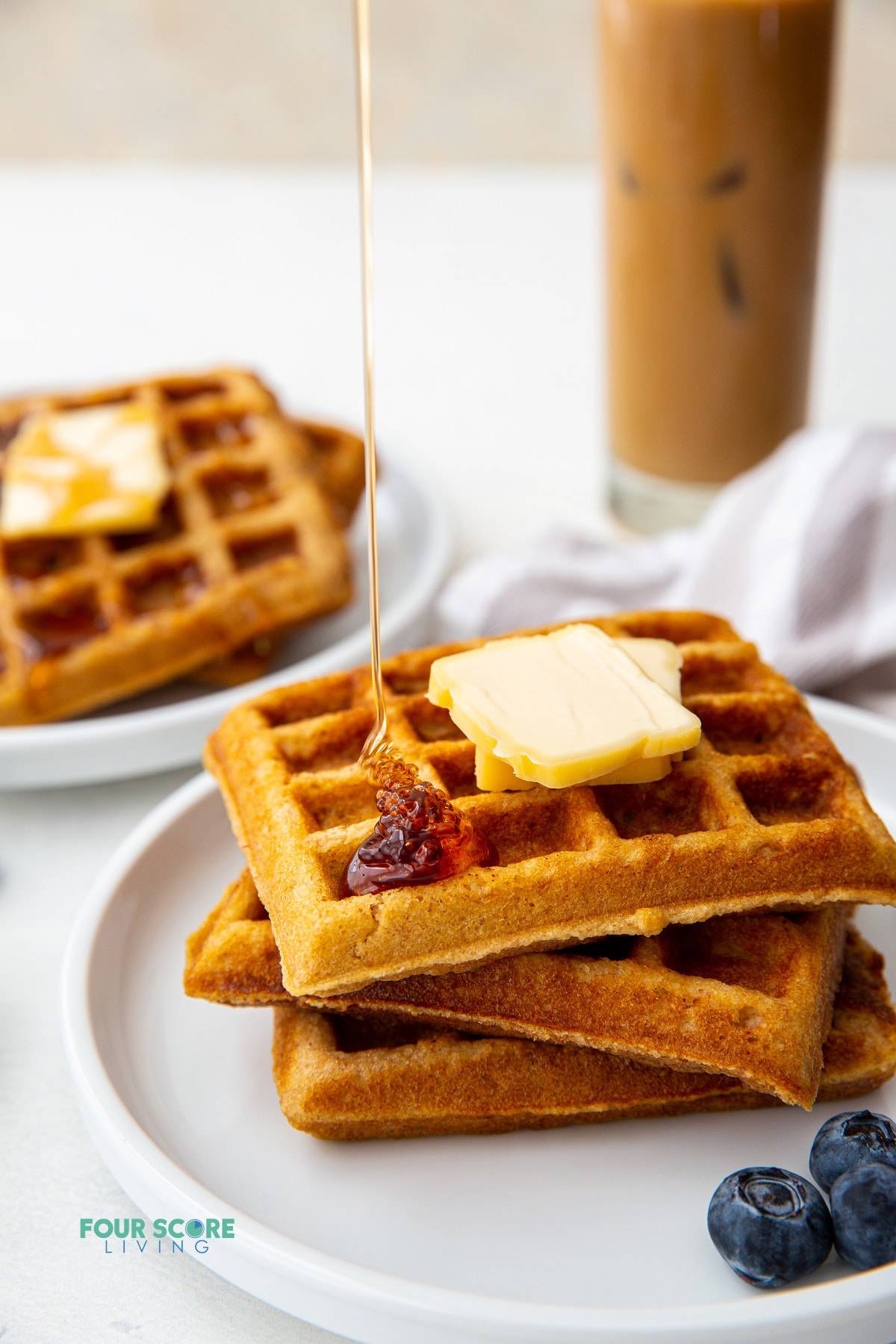 KETO WAFFLES RECIPE
You might think that waffles are something you can never enjoy again while on a keto diet, but you are about to be pleasantly surprised. Low-carb waffles, made with almond flour and keto sweetener are delicious and super satisfying.
Both Keto Waffles and Keto Pancakes are made regularly at my house, usually on Saturday mornings. We alternate between the two breakfast foods, and always like to have fresh berries on the side. Your whole family will enjoy this keto waffles recipe.
You need 8 simple ingredients to make Keto Waffles, and I'm betting that you already have them. Making almond flour waffles is easy, and the step by step instructions are coming up.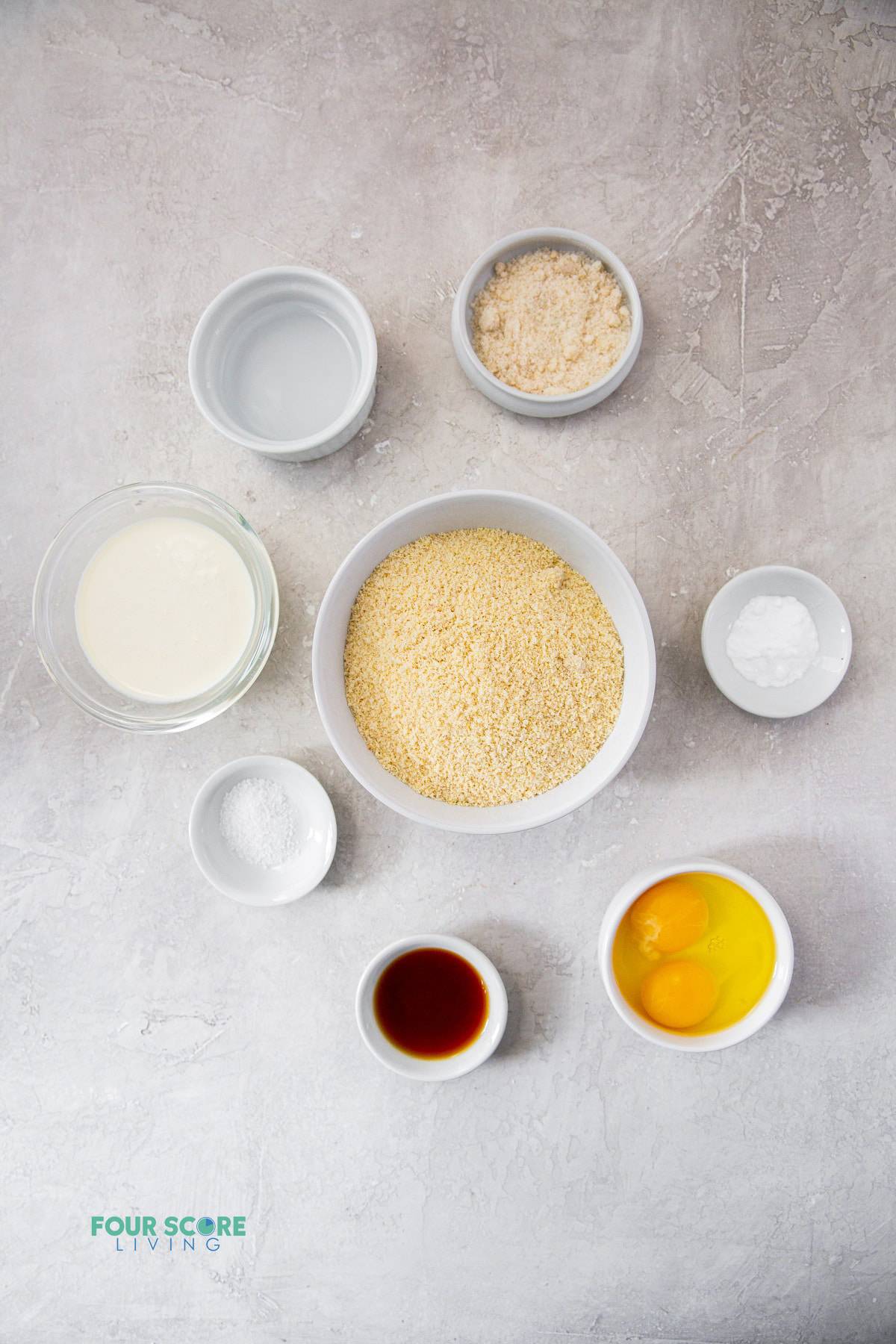 INGREDIENTS IN KETO WAFFLES
Eggs - This keto waffles recipe isn't heavily egg-based like some are, but you do need a couple of eggs to make the batter and help everything come together.
Vanilla Extract - The flavor of vanilla is a must when I make waffles. It smells so good!
Granulated Sweetener - I suggest using Swerve or one of Lakanto's granulated options.
Heavy Cream - Most waffle recipes call for milk, but cream works just the same and has way less carbs.
Water - To give the batter the right consistency for spreading into the waffle iron.
Almond Flour - Blanched, extra fine almond flour recipe will give you the fluffiest keto waffles.
Baking Soda - This common baking ingredients gives the waffles a bit of lift, keeping them fluffy as they cook.
Salt - Just a bit of salt helps to balance the sweetness of the recipe.
Cooking Spray - You'll need to this to grease your waffle iron, unless you're using a very good non-stick iron.
If you have any questions about this keto waffle recipe, please leave a comment below and I will get back to you.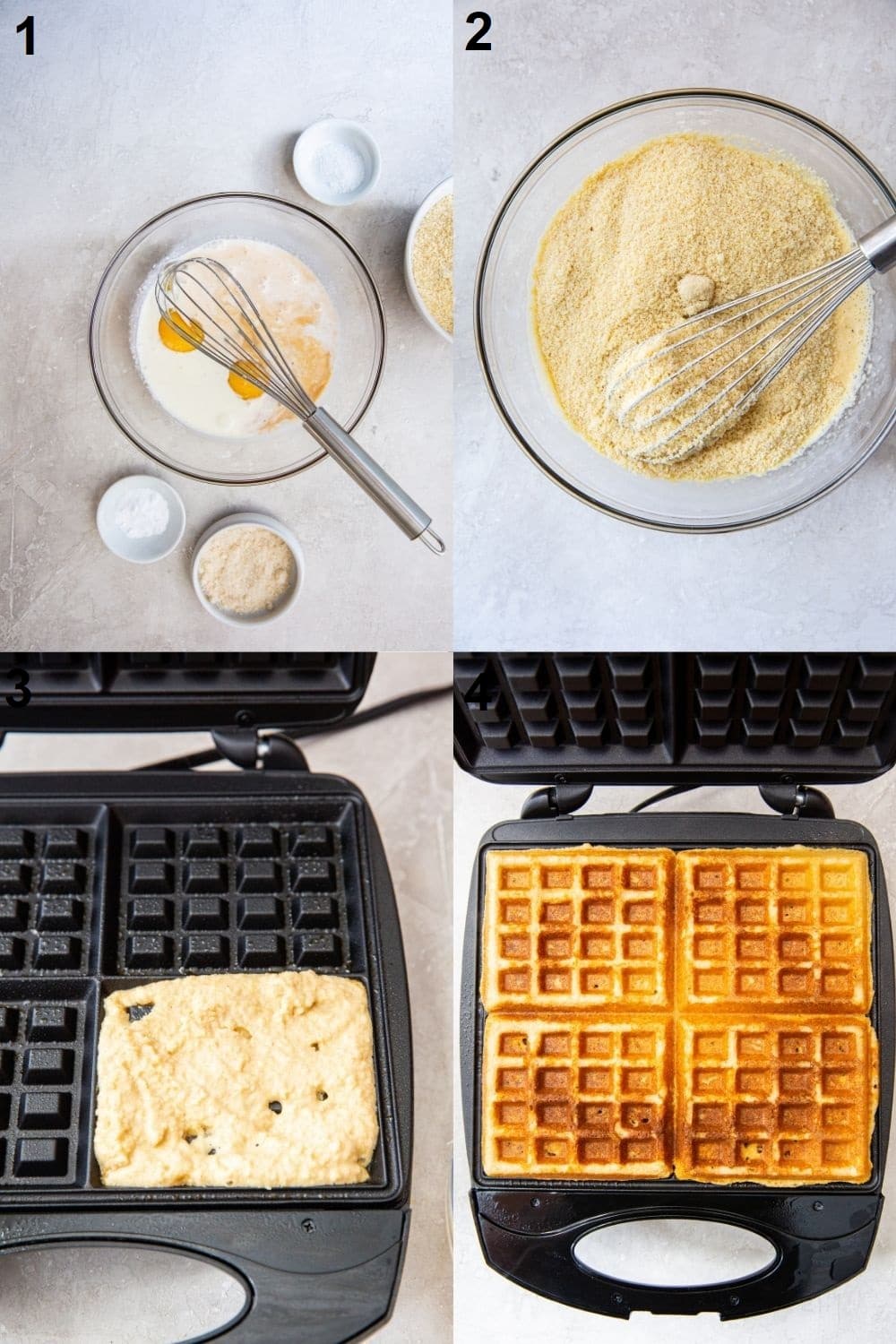 HOW TO MAKE KETO WAFFLES
Preheat your waffle maker while you mix the batter. In a medium bowl, mix together the eggs, vanilla, sweetener, heavy cream, and water.
Slowly add in the almond flour, baking soda, and salt. Stir until the batter is smooth. The batter will be thick, and likely thicker than a traditional waffle flour.
If needed, spray the waffle iron with oil or drizzle with melted butter. Pour about ½ cup of batter into the waffle maker, spreading it out so that it cooks evenly.
Cook keto waffles for 4-5 minutes or until golden brown and cooked through.
These numbered steps match the numbered photos above and are for illustration purposes. For the complete list of ingredients and instructions for Keto Waffles, please see the recipe below.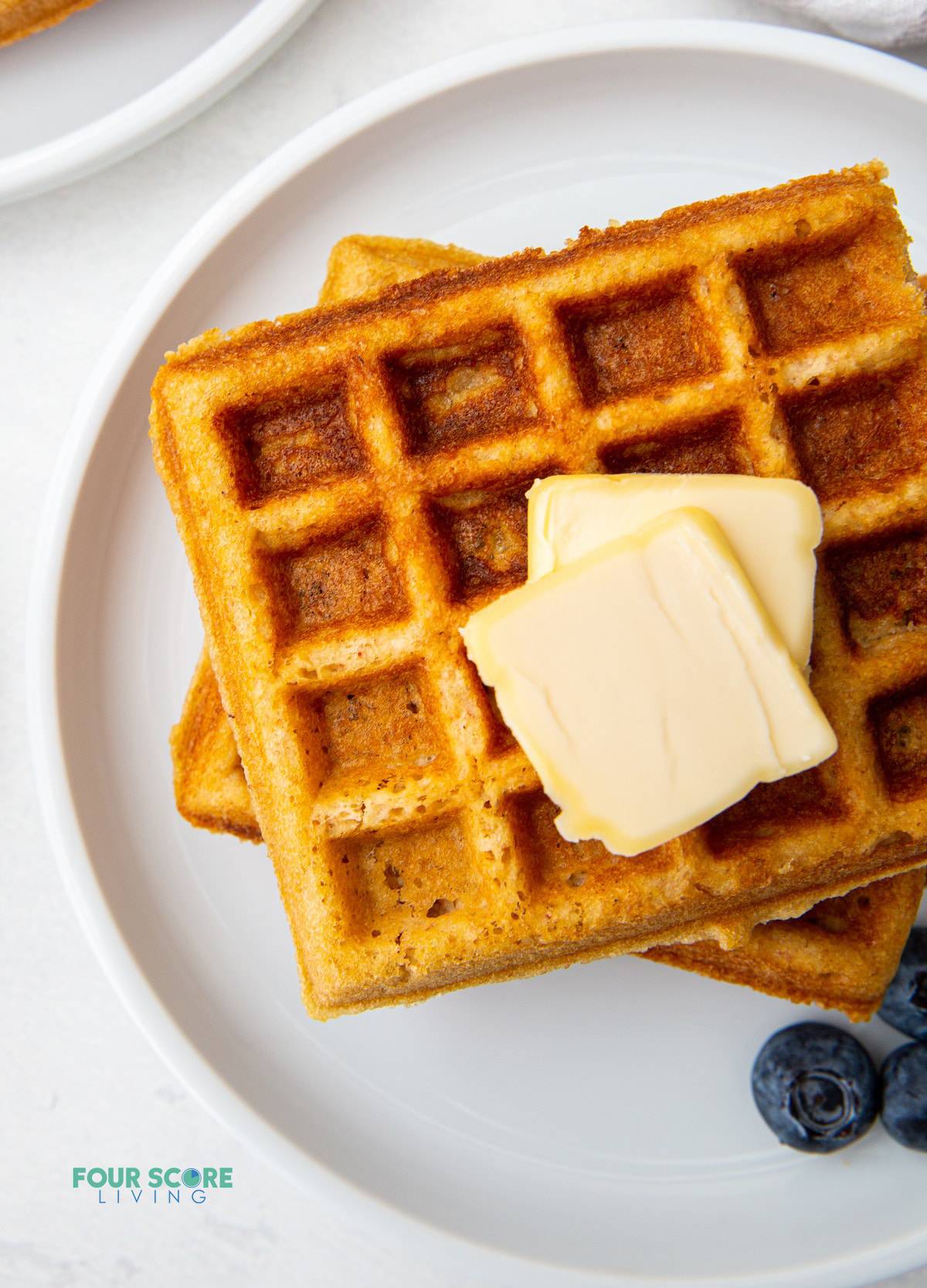 WAFFLE MAKER TIPS
Waffle makers, aka waffle irons, come in many shapes, sizes, and types. The type of waffle maker that you have may change how you make this recipe.
Do you have a non-stick waffle maker? If your non-stick coating is new or otherwise in good condition, you shouldn't need to add any oil or butter when cooking. Sometimes as these things age the coating doesn't work as well. In that case, a bit of oil might be needed.
For a cast iron waffle maker, you will want to liberally grease it with oil or butter before adding your keto waffle batter.
A Belgian waffle maker makes very thick waffles using a special type of batter. I haven't tested this recipe with one of those, so I'm not sure if it will work.
Your waffle maker may make more or fewer waffles than mine did based on its size or shape. Some makers make round waffles, others make a square or rectangular ones. Just divide however many waffles into six equal-sized portions to stick with the macros listed.
WORKING WITH ALMOND FLOUR
Here are my best tips for making waffles with almond flour:
When measuring almond flour, it's important to be careful not to compact it, which means that you shouldn't dip your measuring cup into the bag or canister. Instead, stir your almond flour first. Then use a spoon to scoop the flour into your measuring cup. Level the cup with the flat side of the knife.
If you store almond flour in the fridge or freezer (which is good practice if you don't use it often), you should let it come to room temperature before measuring and baking with it. Cold almond flour behaves differently, and it won't absorb liquid at the same rate.
Choose the right type of almond flour. For baked goods like keto cakes, bread, and waffles, finely milled, blanched almond flour is the best choice. The other type, almond meal, is coarser and includes the almond skins, and is a better option when used in place of breadcrumbs in savory recipes.
WHAT IF THE KETO WAFFLE BATTER IS TOO THICK?
This waffle batter should be thick, but not so thick that it seems like cookie or biscuit dough. If needed, you can add additional water, a tablespoon at a time to get the right consistency.
Almond flour batter can be too thick if the flour isn't measured correctly, so be sure to check out the tips above for next time.
CAN YOU FREEZE KETO WAFFLES?
Frozen Keto Waffles are super convenient, and just like those toaster waffles that you ate as a kid! To freeze these, cook them on the waffle iron first, then place the waffles on a sheet pan to freeze them separately. After an hour or so you can remove them from the pan and place them in a zip-top bag in the freezer.
To reheat frozen keto waffles, use the toaster, toaster oven, or air fryer to get them crispy again. The microwave will work too in a pinch.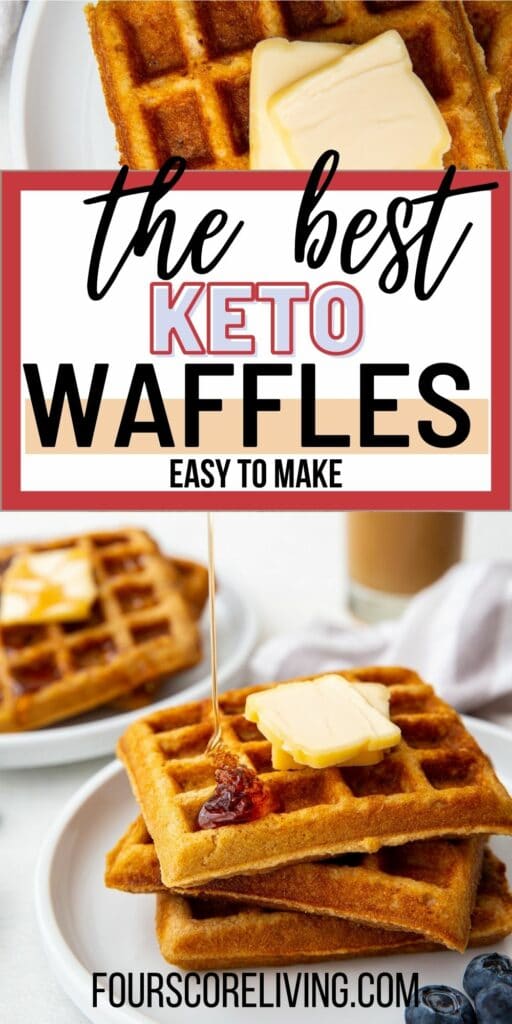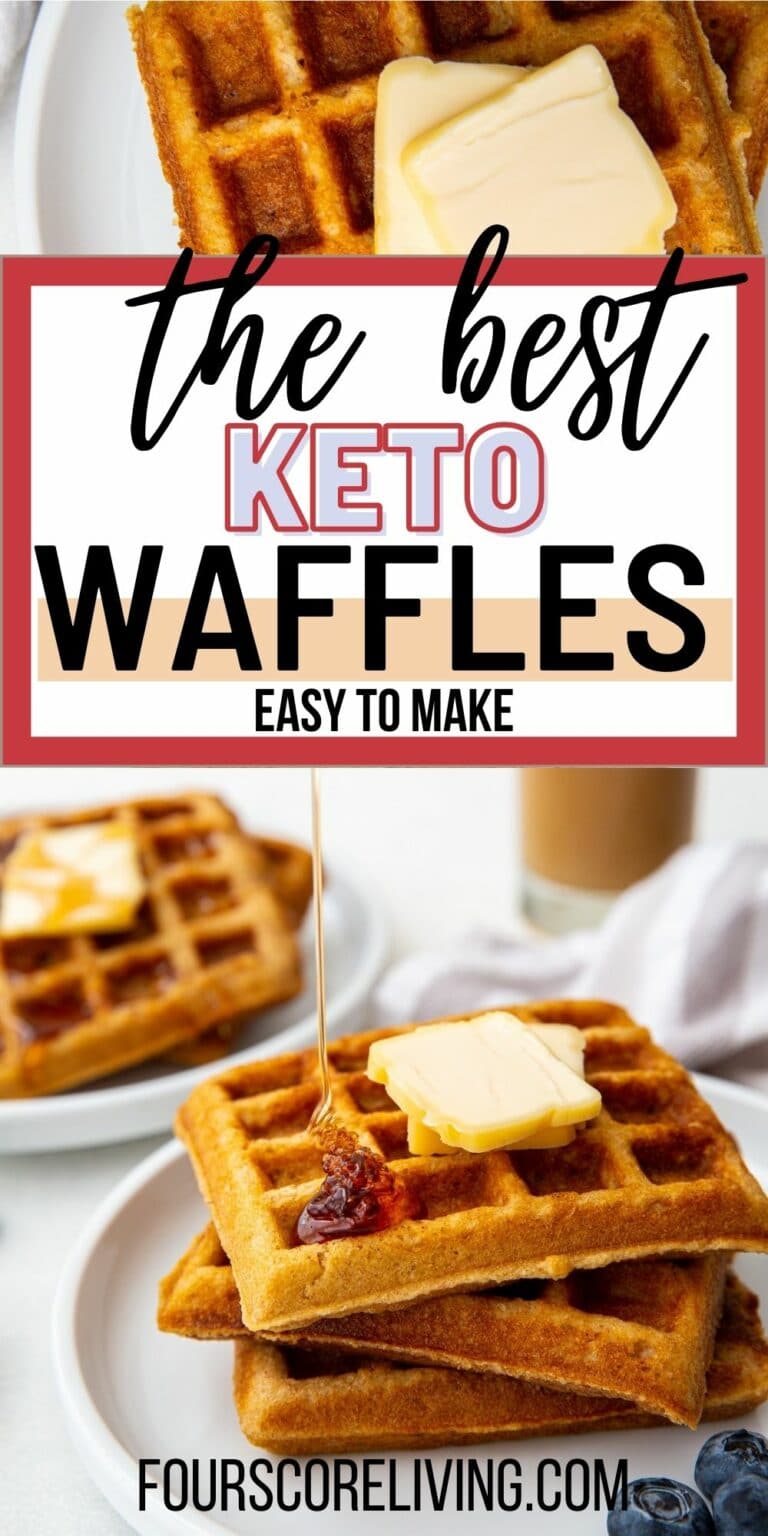 CAN YOU BUY KETO WAFFLES?
Stores are starting to carry keto waffles in the freezer section. Currently there is one brand in particular that I've seen, Birch Benders Keto Waffles. While you can likely enjoy these toaster waffles on your keto diet, they are kind of expensive, coming out at around $1.00 each. I think I'll stick with these easy and inexpensive homemade ones.
ARE THESE KETO WAFFLES THE SAME AS CHAFFLES?
The word chaffles is fun to say, isn't it? This almond flour waffle recipe is not the same thing as a chaffle though. Chaffles are waffles made from cheese and eggs. They are so customizable and can be used a sandwich bread. Give our Keto Chaffles recipe a try.
DO I NEED TO ADD SWEETENER TO KETO WAFFLES?
I like the sweetness that a bit of sugar-free sweetener adds, but it's not necessary. You can leave it out and these waffles will still be completely delicious.
CAN I SUBSTITUTE COCONUT FLOUR IN THIS RECIPE?
No, coconut flour will not work for making this keto waffle recipe. Coconut flour absorbs moisture much more than almond flour does, and won't make a very good waffle batter using this method.
CAN I MAKE BLUEBERRY KETO WAFFLES?
I love blueberries! They are my favorite keto-friendly fruit. I have a delicious recipe for Keto Blueberry Muffins if you like blueberries like I do.
To make blueberry keto waffles, fold in about ½ cup of whole fresh berries to the batter before cooking it.
WHAT CAN I PUT ON KETO WAFFLES?
My favorite topping for keto waffles is my homemade keto syrup! You can also enjoy them with store-bought sugar-free syrup if you like, or sugar-free fruit spread. Keep in mind that not all sugar-free products are keto-friendly though. Check the ingredients along with the carb count.
Fresh Berries are delicious with waffles. I will sometimes mash them a bit to make them nice and juicy. Then I top the waffles with Keto Whipped Cream.
Enjoy your waffles with savory toppings. Cream cheese and smoked salmon are delicious on these, or you can enjoy waffles for lunch dinner topped with Chicken Salad or Egg Salad.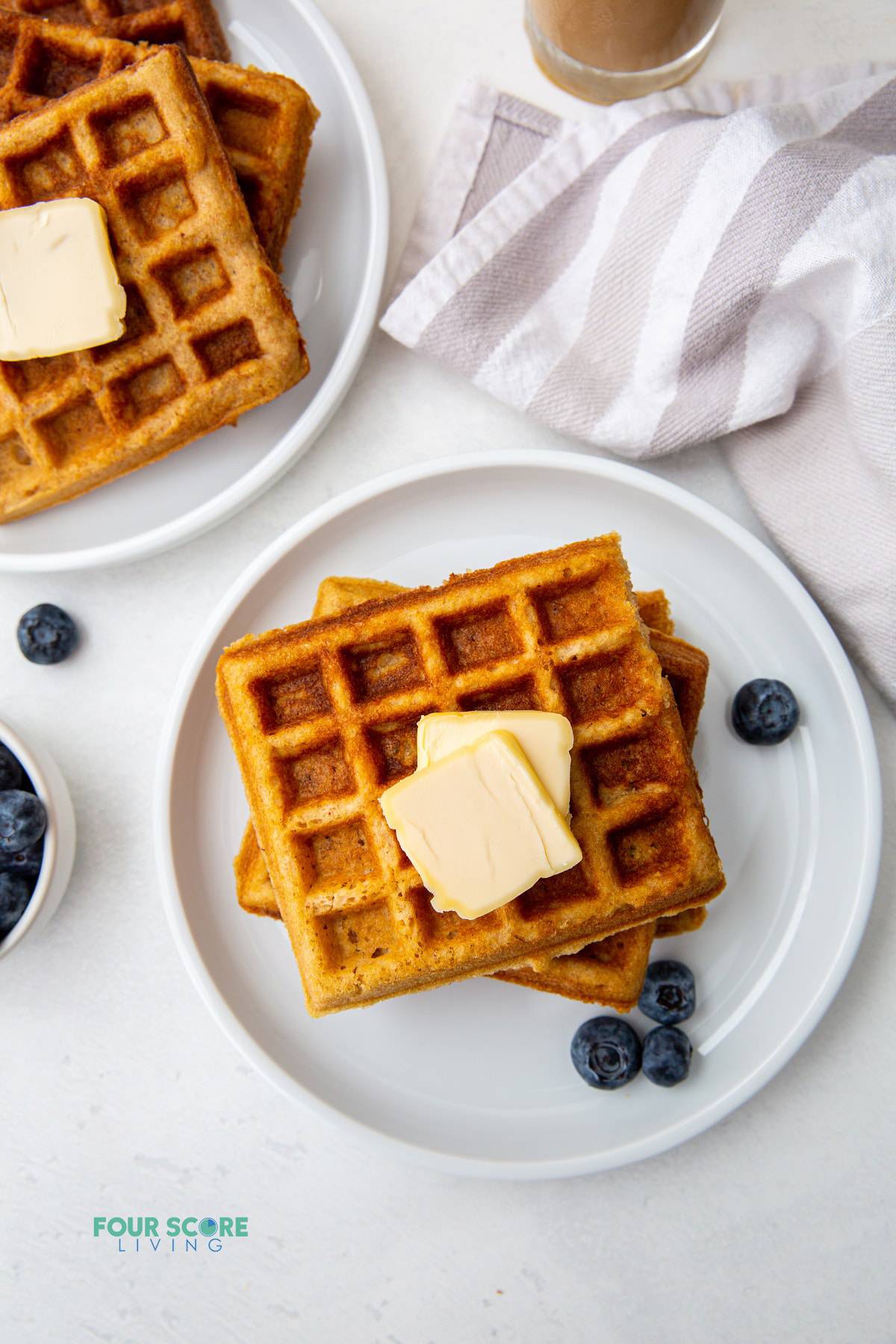 MORE KETO BREAKFAST RECIPES YOU WILL LOVE
Looking for a savory breakfast option? Make my Keto Breakfast Casserole, or a crustless Keto Quiche.
Have a healthy smoothie! Keto Avocado Smoothies and Keto Berry Smoothies are a morning time favorite here.
For extra energy in the morning, try these chocolate and almond Keto Energy Bites.
Did you make this Keto Waffles recipe? Please leave a comment below letting me know what you thought!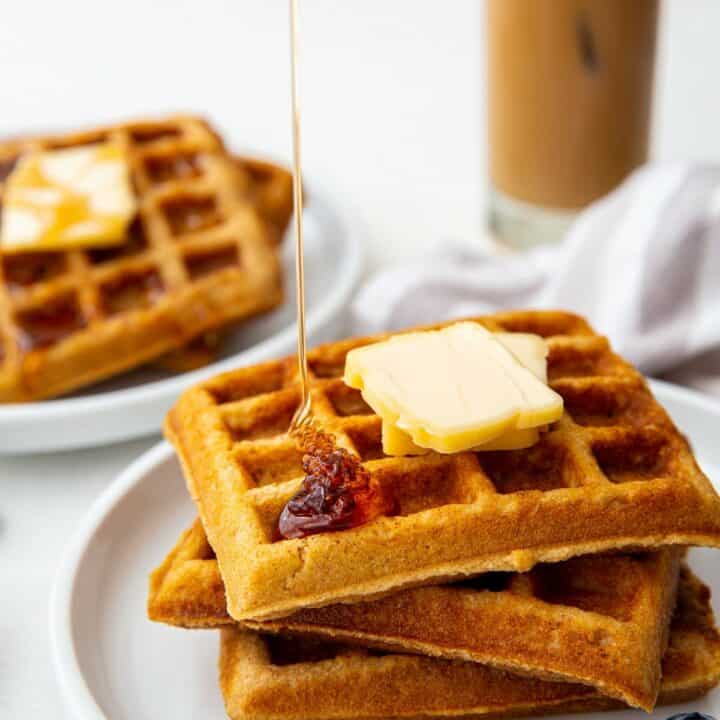 Easy Keto Waffles
Crispy on the outside and fluffy on the inside, these delicious Keto Waffles are the best keto breakfast recipe that the whole family will love.
Ingredients
2 large eggs
1 tbsp vanilla extract
½ cup heavy cream
¼ cup water
1 tsp baking soda
¼ tsp salt
Cooking spray, if not using a non-stick waffle iron
Instructions
Pre-heat your waffle maker.
In a medium bowl mix together the eggs, vanilla, sweetener, heavy cream, and water.
Slowly add in the almond flour, baking soda, and salt. Stir until the batter is smooth. Keto waffle batter will be thick. If it's too thick, add a tablespoon or two of water.
Spray the waffle maker with oil or drizzle with melted butter. Pour about ½ cup of batter in the waffle maker, spreading the batter out so it cooks evenly.
Cook for about 4-5 minutes or until golden brown and cooked through.
Notes
Your waffle iron might be different than mine! Refer to the manufacturer's instructions for questions specific to how to use it. You may also get a different amount of waffles depending on the size of your iron.
Grease the waffle iron with cooking spray, oil, or butter, unless you're using a non-stick waffle iron. In that case, no oil should be necessary.
This recipe was developed to work specifically with almond flour. No substitutions are recommended.
This is a sweet waffle recipe. You can leave out the sweetener to use waffles for savory applications.
Leftover waffles can be stored in an airtight container in the fridge for up to 5 days. Keto waffles can also be frozen for up to 3 months.
Nutrition Information:
Yield:

6
Serving Size:

1
Amount Per Serving:
Calories:

350
Total Fat:

29g
Saturated Fat:

7g
Trans Fat:

0g
Unsaturated Fat:

21g
Cholesterol:

93mg
Sodium:

401mg
Carbohydrates:

10g
Net Carbohydrates:

5g
Fiber:

5g
Sugar:

3g
Sugar Alcohols:

2g
Protein:

12g
The nutrition information for this recipe is an approximate total per serving. Please double check the nutrition information for your exact ingredients and brands.