Keto BBQ Chicken Casserole is a delicious fusion of tangy BBQ sauce, creamy cheese, and the crunch of bacon. This isn't just another dish; it's a unique blend of taste and keto friendly cuisine.
Sitting down to a plate of this Keto BBQ Chicken Casserole is a perfect way to enjoy a flavorful dish while staying true to your low carb lifestyle.
So, if you're looking for a savory and satisfying keto casserole that's packed with flavor, give our Keto BBQ Chicken Casserole with Bacon a try!
Not only will it become a favorite, but it's also a convenient way to use leftover chicken and create a complete meal that the entire family will love with minimal effort.
If you are looking easy, delicious keto weeknight meals try out Keto Chicken Wings and our Low Carb Meatloaf.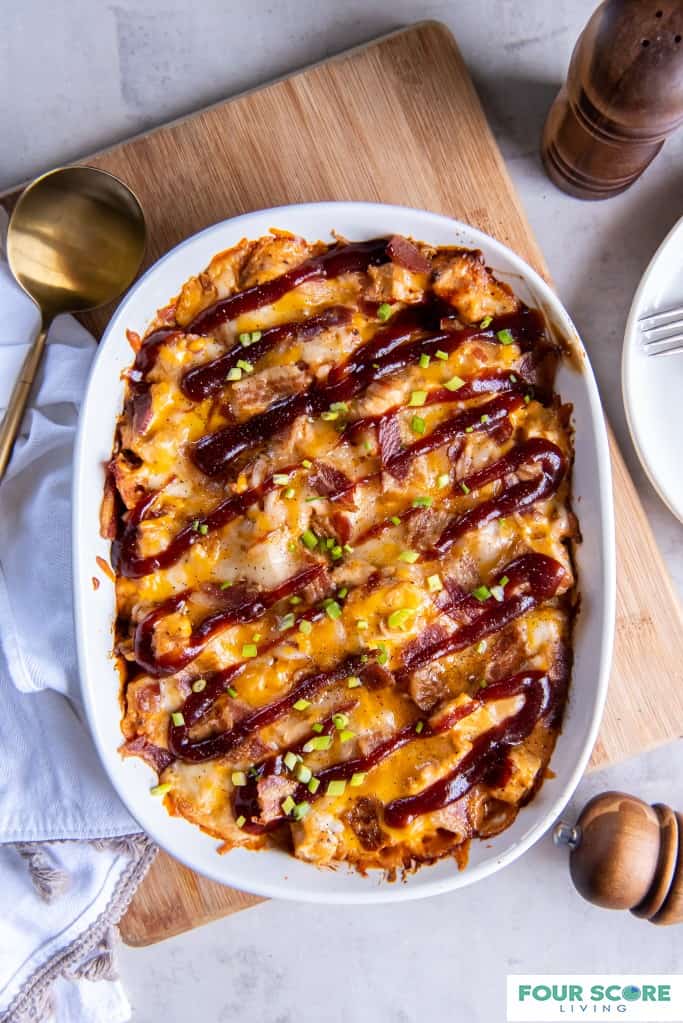 Why you'll love this Keto Barbecue Chicken Casserole
Embracing the keto diet doesn't mean sacrificing taste or convenience. This one-pot dish is a tasty, low carb dinner option and a time-saving solution for busy weeknights. Here's why this BBQ keto chicken casserole recipe is set to become a family favorite:
One Pot, Less Cleanup: With everything cooked in a single casserole dish, you'll spend less time cleaning and more time enjoying your meal.
40-Minute Meal: From prep to table, this easy casserole can be ready in just 40 minutes, making it perfect for satisfying those hunger pangs without the wait.
Leftover Chicken Reimagined: Got some leftover rotisserie chicken in the fridge? This BBQ chicken casserole is an excellent way to give it new life and create a new meal.
Affordable Ingredients: Made with affordable and simple ingredients that are readily available at your local grocery store, this casserole won't break the bank.
Meal Prep Champion: Prepare a batch of this casserole in advance and enjoy hassle-free meals throughout the week.
No Extra Equipment Needed: Grab a bowl and your favorite casserole dish and let's make a keto casserole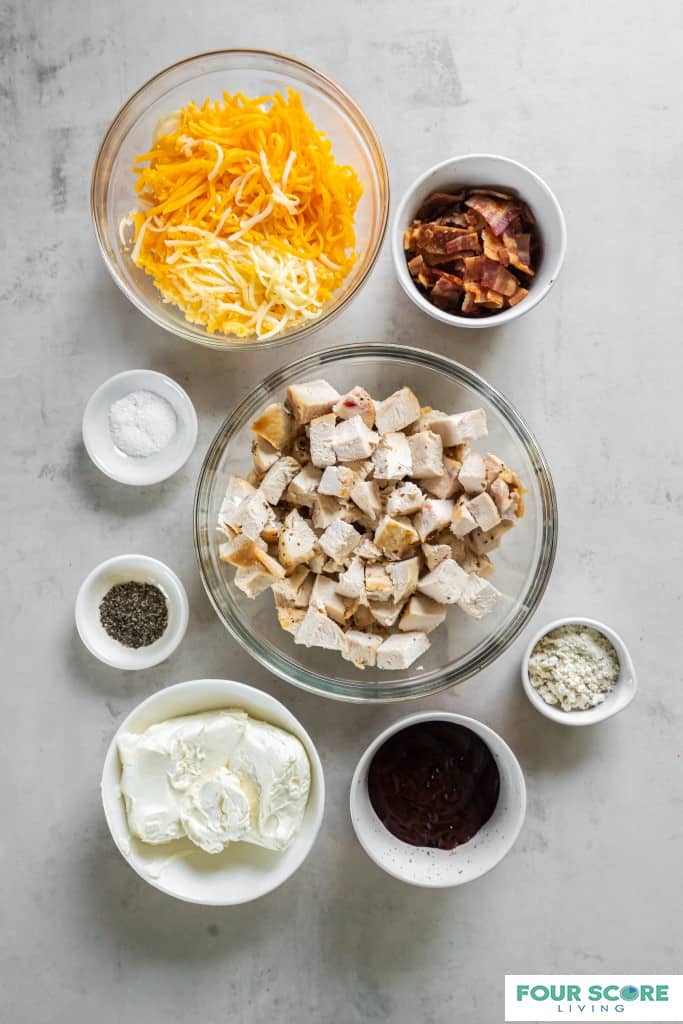 Ingredients in our Keto BBQ Chicken casserole recipe
Cream Cheese: Cream cheese adds a smooth and creamy base to the entire casserole. It adds richness to all of the other flavors.
Low-Carb BBQ Sauce: Pick a sugar-free BBQ sauce that's low in carbs to match your keto diet, or make your own by following our homemade low carb BBQ sauce recipe. This sauce gives the keto casserole a smoky, tangy taste. If you don't want to make your own, G Huges Sugar Free Hickory and Original BBQ sauces are highly rated.
Ranch Dressing Mix: The ranch dressing mix is like a secret spice mix that brings out awesome flavors. It adds savory and herby notes that mix perfectly with the BBQ sauce and creamy consistencies. For an organic option try this Ranch Dressing Seasoning.
Salt: Just a bit of salt is used to give a balanced flavor to the casserole mix.
Black Pepper: Black pepper adds deeper flavor to the casserole.
Cooked Chicken Breast or Thighs: We're adding pieces of cooked boneless skinless chicken breast or chicken thighs. These add protein to this savory casserole and a full, satisfying feel. Chicken is the perfect protein source to pair with the other high fat ingredients. You can use leftover chicken or cook your own and cube it or shred it for use in this casserole.
Cooked Bacon: We use chopped pieces of uncured turkey bacon already cooked for this recipe. Crisp bacon brings a smoky taste and a crunchy bite to this delicious casserole. Learn more about bacon and the keto lifestyle in our article Best Bacon for Keto Diet.
Cheddar Jack Cheese: This Jack and cheddar cheese has a double role in the casserole. Part of it is added for a savory filling. The rest is sprinkled on top to create a golden-brown, crispy finish.
Green Onions: They add visual appeal and flavor with a fresh zing and a green color to this delicious dish.
If you have any questions about this easy chicken recipe, please leave a comment below and we will get back to you.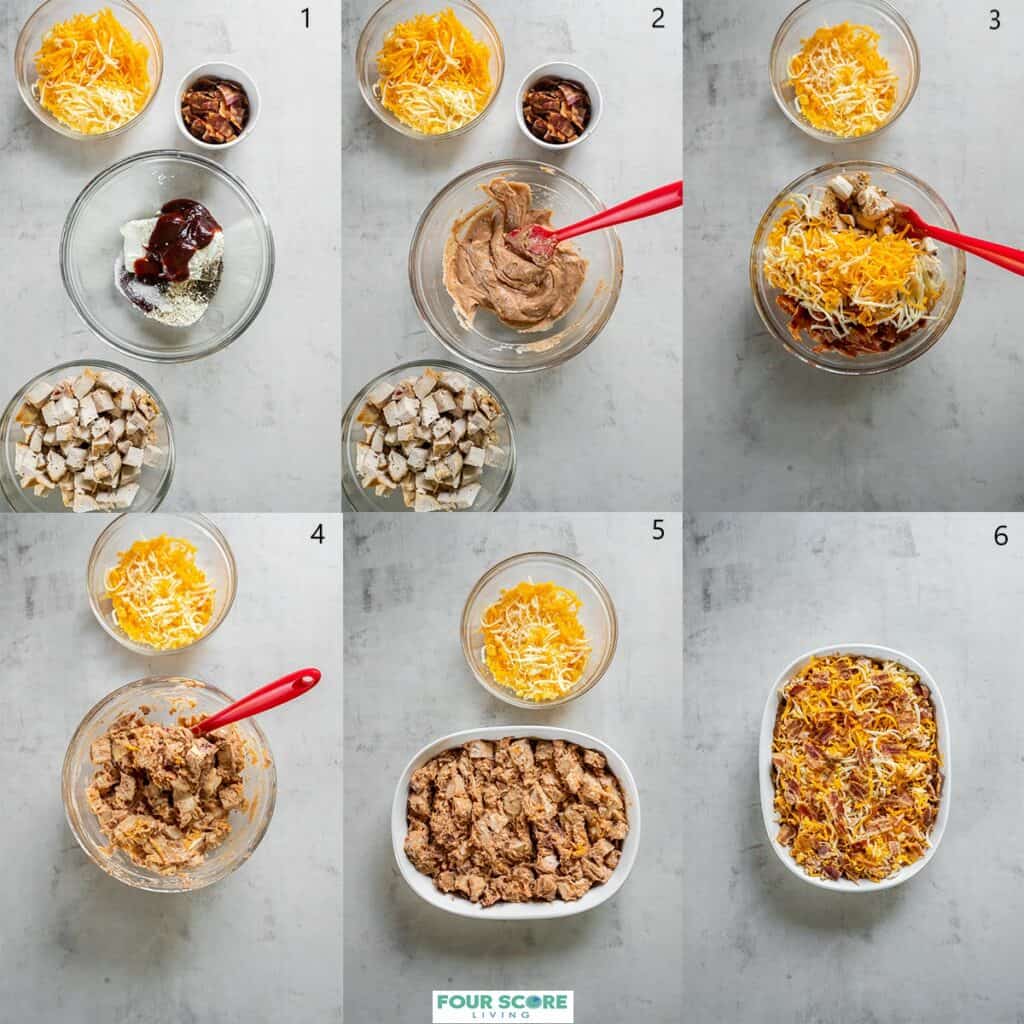 How to make this Keto Chicken Casserole?
Preheat the oven to 350°F (175°C).
Combine softened cream cheese, low-carb BBQ sauce, ranch dressing mix, salt, and black pepper in a mixing bowl. Mix these ingredients well until they form a creamy base.
Gently fold in the cooked chicken cubes and chopped bacon into the mixture. Also, add ½ cup each of shredded cheddar and jack cheeses.
Spread the cheesy chicken mixture evenly into a casserole dish. Top it off with the remaining shredded cheese.
Cover the casserole dish with foil and bake it for 25 minutes.
After 25 minutes, remove the foil and continue baking for 6-8 minutes. This will result in melted, bubbling cheese with a delicious golden brown top.
Once it's out of the oven, drizzle more BBQ sauce and garnish with chopped green onions for color and a hint of fresh herby flavor.
For the complete list of ingredients and instructions, please see the printable recipe card below.
For a dessert option, you might like our Keto Chocolate Mug cake that's ready in 5 minutes, or make ahead these fudgy Keto Brownies.
Variations to this Keto BBQ Chicken Casserole
Here are a few ways to customize your casserole:
Mediterranean Delight: Enhance the dish with black olives, sun-dried tomatoes, and crumbled feta for a Mediterranean flair.
Herb Infusion: Experiment with fresh herbs like thyme or basil to infuse aromatic complexity.
Pesto Fusion: Incorporate pesto for a compelling mix of Italian flavors and BBQ richness.
Sliced Avocado: When serving top with slices of Avocado to increase the fat content for your Keto diet.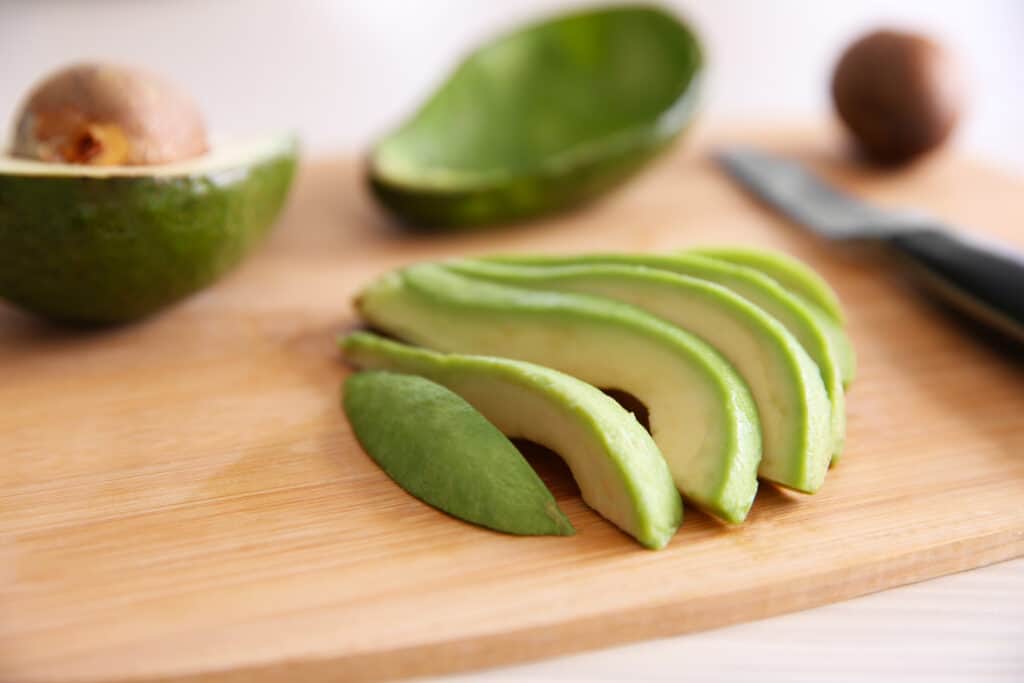 Veggies: Add any keto vegetables like spinach, broccoli, cauliflower, mushrooms, or cauliflower rice for added nutrients and fiber
Spice it Up: Add jalapeños, cayenne pepper, or red chili flakes for a fiery kick that tantalizes your taste buds with a burst of heat.
Cheese Diversity: Experiment with different cheese varieties to infuse unique flavors and textures that take your casserole to new heights.
What to serve with our Keto Barbecue Casserole?
Here are a few sides that perfectly complement the casserole, offering a satisfying dining experience for the whole family: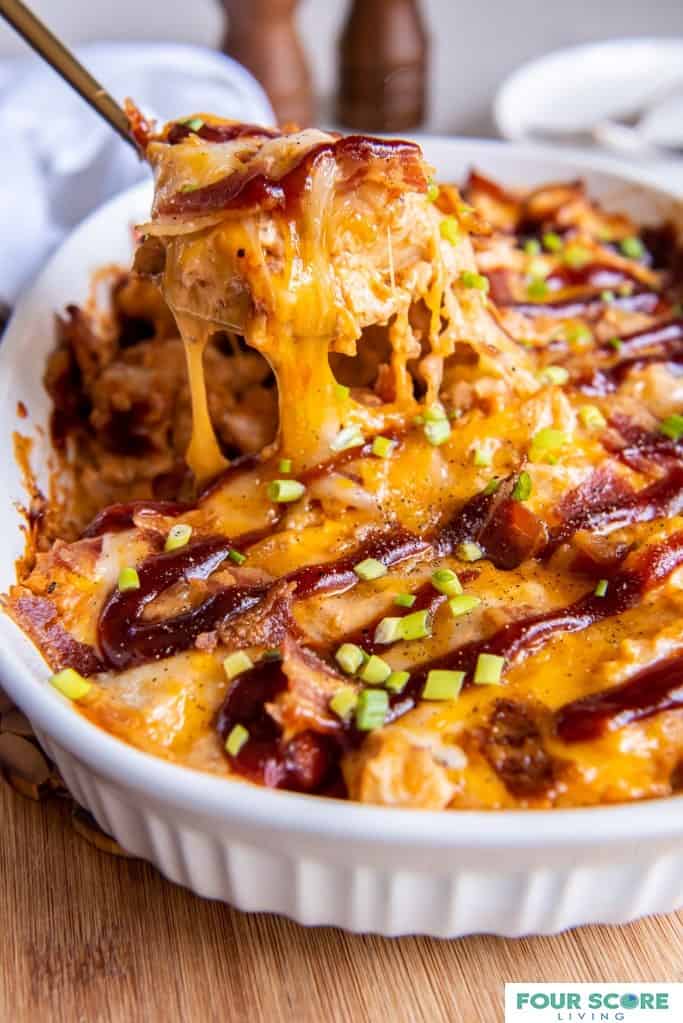 Best tips for making a Keto BBQ Chicken Casserole
Here are some tips to ensure your casserole turns out perfectly:
For a beautiful golden-brown top, set your oven to broil as the final step.
Introduce thinly sliced vegetables like zucchini or bell peppers between layers for added nutrition and color.
Marinate the cooked chicken in a portion of the BBQ sauce before assembling the dish. This enhances the depth of flavor in every bite.
Garnish with fresh herbs like parsley, chives, or cilantro for a burst of freshness that complements the richness of the casserole. Grow herbs indoors on a sunny windowsill for fresh herbs all year round.
Add an extra layer of crispy bacon and shredded cheese just before serving to provide a delightful crunch.
Drizzle a small amount of chicken broth over the mixture before covering it with foil to keep the casserole moist during baking.
If you're poaching chicken for this dish, use a gentle simmer to keep it tender—avoid high heat to prevent toughness.
How to best store your low-carb BBQ Chicken Casserole?
Store your Keto BBQ Chicken Casserole in an airtight container for optimal freshness and taste. It can be safely stored in the refrigerator for up to 5 days.
Cover the casserole with foil when reheating to prevent it from drying out. You can use the oven, microwave, or stovetop for reheating. Adding a little water to the bottom of the pan when reheating this leftover casserole on the stovetop can prevent burning and drying out.
Other Keto Casserole recipes:
Philly Cheesesteak Casserole with Steak - This low carb version of the classic Philly cheesesteak is meaty, cheesy and packed with flavor. This one pot versatile dish is easy to prepare and delicious to serve.
Keto Taco Casserole - Make this meaty, cheesy, low carb taco casserole any time you're in the mood for an easy to make, filling, and delicious meal.
Keto Cheeseburger Casserole - Everything you'd expect on a deluxe cheeseburger. Enjoy this easy to make keto casserole that the whole family will love.
Keto Breakfast Casserole - A hearty, savory dish packed with protein, veggies, and melty cheese to keep you full and happy all day long.
More Keto Chicken recipes:
Marry Me Chicken - Creamy, tangy, savory and delicious, this easy Marry Me Chicken recipe is super simple to make and quite scrumptious.
Keto Chicken Fajitas - Keto Fajitas are a simple and easy way to create a flavorful, high protein, low carb dinner. This chicken is marinated in a delicious blend of spices, lime and seasonings.
Creamy Stuffed Chicken Florentine - This recipe is super creamy and dreamy and it's full of healthy fats and protein. We'd serve it over cauli-rice or hearts of palm pasta.
Keto Chicken Fried Steak - Coated in a crispy Parmesan and pork rind crust and smothered in sausage gravy, you won't believe how filling and delectable this chicken fried steak is.
We hope you enjoyed reading this article. Please help us out by leaving a quick review and star ★ rating below.
LET'S GET SOCIAL, you can follow Four Score Living on Pinterest. You can also leave a comment below if you have any questions.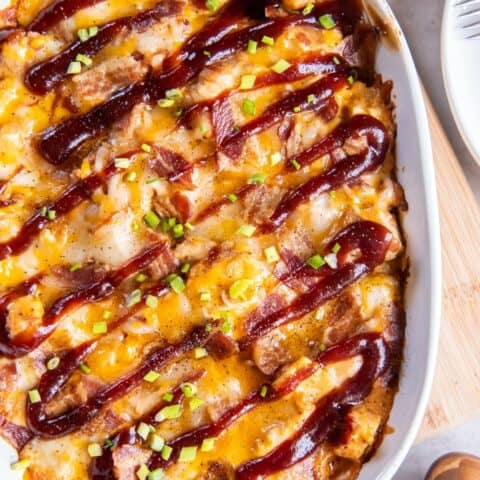 Keto BBQ Chicken Casserole
Tangy, cheesy, and packed with flavor, this one pot keto friendly meal is easy to make and delicious for the entire family. You will love serving this savory and satisfying
dish to a hungry crowd.  
Ingredients
8 ounces cream cheese, softened
1 cup Sugar-free BBQ Sauce
2 tablespoons ranch dressing seasoning
½ teaspoon salt
¼ teaspoon fresh ground black pepper
2 pounds cooked boneless skinless chicken breast or thighs, cubed or shredded
8 slices cooked bacon, chopped
1 cup shredded cheddar cheese
1 cup Monterey jack cheese
Green onions, for garnish
Instructions
Preheat oven to 350
In a mixing bowl, combine cream cheese, BBQ, ranch, salt, and pepper, mixing well. Fold in chicken, bacon, and ½ cup each cheddar and jack cheeses.
Spread the mixture in a casserole dish, top with the rest of the cheese. Cover with foil and bake for 25 minutes. Remove the foil and continue baking for 6-8 minutes, until the cheese is melted and bubbling.
Garnish with a drizzle of BBQ and green onion and serve.
Notes
For a beautiful golden-brown top, set your oven to broil as the final step.
Nutrition Information:
Yield:

6
Serving Size:

1
Amount Per Serving:
Calories:

675
Total Fat:

41g
Saturated Fat:

20g
Trans Fat:

0g
Unsaturated Fat:

0g
Cholesterol:

248mg
Sodium:

1116mg
Carbohydrates:

6g
Net Carbohydrates:

5g
Fiber:

1g
Sugar:

2g
Sugar Alcohols:

0g
Protein:

69g
The nutrition information for this recipe is an approximate total per serving. Please double check the nutrition information for your exact ingredients and brands.