Almonds are a highly nutritious and versatile ingredient. They can be ground into flour, blended into almond milk, or creamed into nut butter. But are almonds keto?
Nuts are a wholesome snack that provide essential nutrients, healthy fats, and are a good source of protein. Some nuts are high in carbs and should be avoided or enjoyed in moderation by those following a ketogenic diet.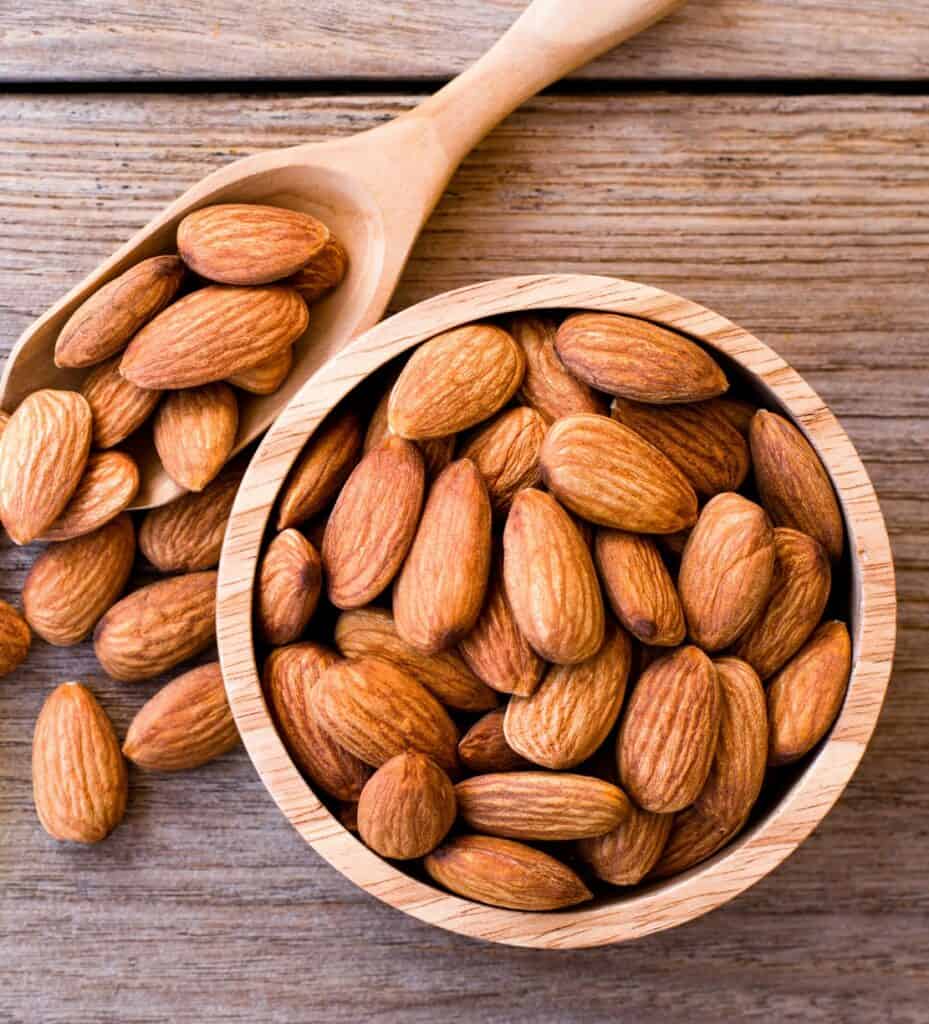 In this guide, we will discuss if almonds are keto, how many carbs are in almonds, provide a list of nuts that are keto compatible, and outline the nutritional content and the health benefits of almonds.
Are Almonds Keto Friendly?
Yes! Almonds are a popular and versatile low-carb nut.
A typical one-ounce serving (just under ¼ of a cup or 80 grams), which is about 23 almonds, has 6.12 grams of carbs, with 3.54 grams of dietary fiber resulting in 2.58 g net carbs.
This popular nut is a nutritious and delicious addition to the keto lifestyle, as almonds can easily align with your keto daily macros.
Raw and roasted almonds, in particular, make excellent keto-friendly snacks. High-carb wheat flour can be replaced with keto-friendly almond flour in recipes and you can enrich your keto diet with almond butter or unsweetened almond milk.
Almonds are truly such a versatile ingredient that can be used in a variety of keto recipes.
Of course, as with most food consumed on keto, moderation is key.
Carbs in Almonds
1 ounce, which is about 23 almonds contains 6.12 g of total carbs. It has 2.58 grams of net carbs and a fiber content of 3.54 grams.
¼ cup serving of raw almonds has 7.6 grams of total carbohydrates, with 3.2 grams of net carbs.
Carbs in Almond Butter
A typical serving size of 2 tbsp (32 grams) of unsweetened almond butter (without salt and other additives) has 7 grams of carbs, 3 grams of fiber resulting in 4 grams of net carbs.
Carbs in Almond Milk
Almond milk is a popular plant-based milk substitute.
One cup (about 240 mL) of unsweetened almond milk has just 1.4 grams of carbs.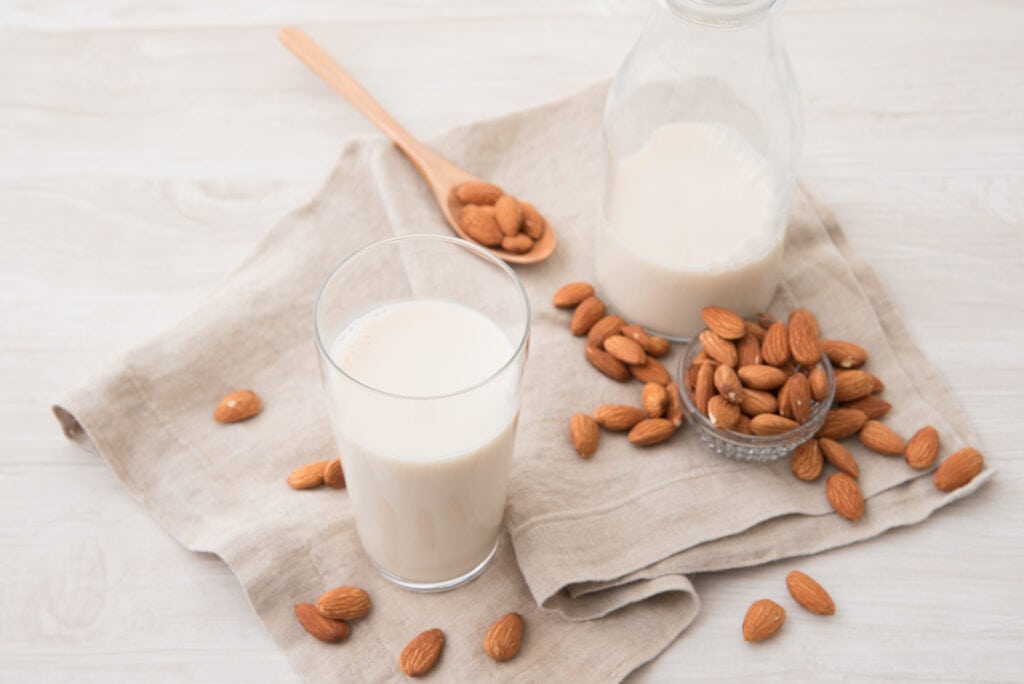 A cup of sweetened almond milk can contain anywhere from 7 to 17 grams of net carbs.
Carbs in Almond Flour
There are 4 grams of carbs in a ¼ cup of almond flour (blanched, superfine), 3 grams of fiber, and hence 1 g of net carbs.
Nutritional information of Almonds
According to USDA 1 one-ounce serving, about 23 whole kernels, of raw almonds contains:
Calories 164 kcal
Protein 6.01g
Fat 14.1g
Carbs 6.12g
Fiber 3.54g
Minerals & vitamins
Calcium 76.3 mg
Magnesium 76.5 mg
Iron 1.05 mg
Phosphorus 136 mg
Potassium 208 mg
Sodium 0.28 mg
Zinc 0.89 mg
Selenium 1.16 µg
Folate 12.5 µg
Choline 14.8 mg
Beta Carotene 0.284 µg
Almonds are a good source of antioxidants, magnesium, copper, essential amino acids, vitamin E, and healthy fats. Their powerful nutritional profile delivers various health benefits to improve overall physical conditioning.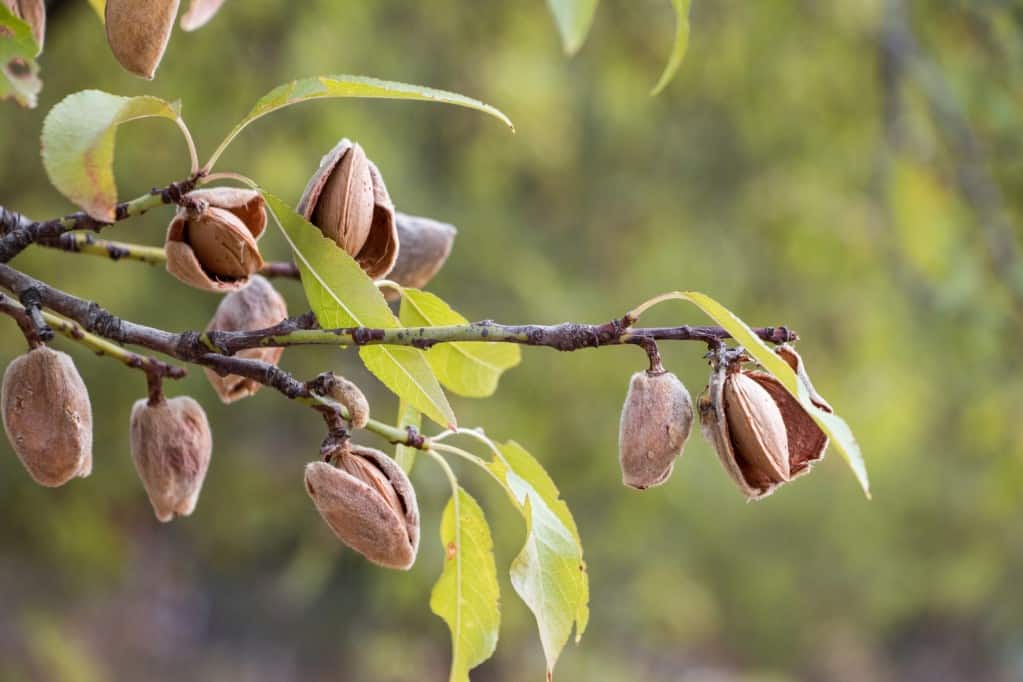 Health Benefits of Almonds
Almonds are among the most widely consumed nuts. Aside from being a great addition to a ketogenic diet, almonds provide many health benefits.
Improve heart health. Numerous cardioprotective properties of almonds help in the prevention of heart disease. Consuming almonds has been shown in studies to reduce LDL cholesterol levels, ease high blood pressure, and even stop LDL cholesterol from oxidizing.
Controls blood sugar levels. Due to their high-fat content, protein, and fiber, almonds are an ideal food choice for individuals with type II diabetes. A clinical trial demonstrated that replacing 20% of daily calories with almonds improved glycemic control among those with type II diabetes.
High in antioxidants. Antioxidants, especially vitamin E, are abundant in almonds. This fat-soluble antioxidant accumulates in your cell membranes, where it functions to guard against damaging oxidative stress. A systematic review concluded that consuming almonds may play a beneficial role in combating oxidative stress.
Suppresses appetite. Almonds are rich in dietary fiber and protein. It's well known that fiber and protein both contribute to feelings of fullness. Snacking on almonds may assist in the avoidance of overindulging at mealtimes.
Help In weight loss. Nuts include some nutrients that are difficult for your body to process and absorb. About six percent of the calories that are found in nuts are not absorbed by the body. Furthermore, there is evidence to show that consuming nuts can slightly boost metabolism.
How Many Almonds Can I Eat On Keto?
Almonds make one of the great keto-friendly snacks. Your daily keto macros and other dietary choices will determine how many almonds you can eat on a keto diet.
However, since most keto diets advise limiting your daily net carb consumption to 20 grams, keto followers can easily have 1 ounce of almonds, or roughly 23 nuts, for 2.6 grams of net carbs.
Ways to include Almonds in Your Keto Diet
Almonds are not just enjoyed as a healthy snack but are very versatile. From adding them to your main dishes to serving them in desserts, here are our suggestions for incorporating almonds into your ketogenic diet:
Quick Snack: Grab a handful of almonds for a quick and satisfying snack, as they provide a dose of healthy fats and protein to keep your energy levels stable throughout the day.
Almond Butter: Enjoy a spoonful of natural almond butter for a creamy, flavorful treat that also delivers a good amount of healthy fats. Make some keto almond butter cookies to stop those cravings in their tracks.
Almond Flour: A key ingredient widely used in most keto baked goods. Use it to make Keto Chaffles, Keto Pizza, Low Carb Stuffing, and even Keto Tortillas.
Salad: Add slivered almonds to your salads for a delightful crunch and nutty flavor, turning your favorite salad into a satisfying and nutritious meal.
Casserole topping: Use slivered almonds as a healthy, crunchy topping for a keto green bean casserole.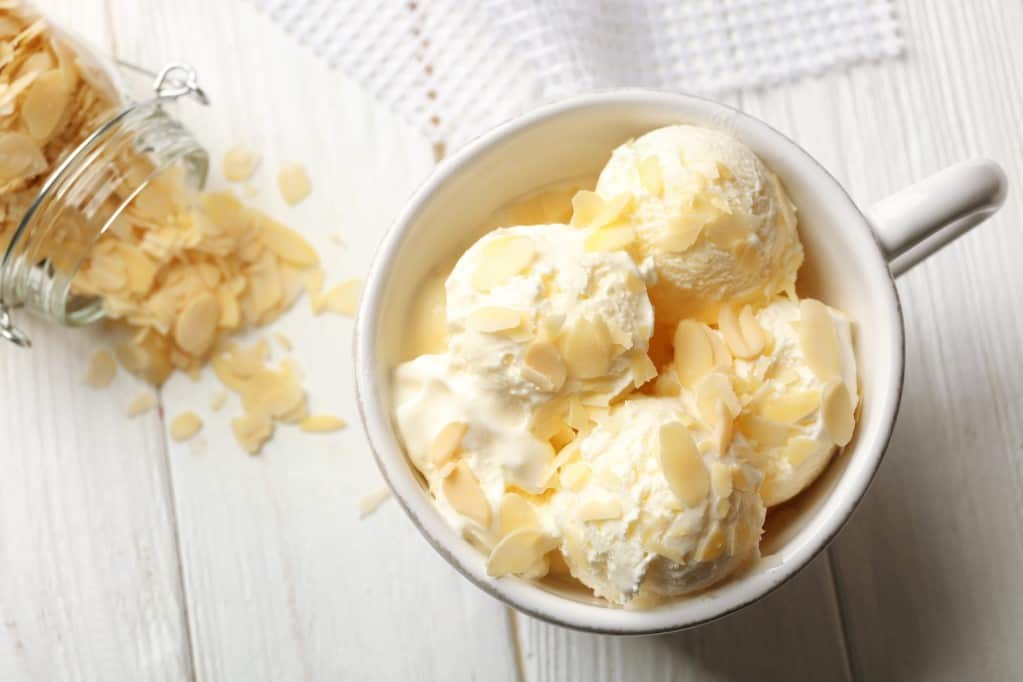 Keto Ice Cream Topping: Crushed almonds make a fantastic topping for keto-friendly ice cream.
Baked Goods: Incorporate chopped almonds into your keto-friendly baked breads, muffins, mug cake, and cookies for added texture and flavor, enhancing the nutritional profile of your treats with healthy fats and protein.
Trail mix: Combine other keto nuts with sugar free chocolate chips to make a healthy snack that tastes like a splurge.
Almond meal: Use almond meal to make a low carb oatmeal.
High Carb Nuts To Avoid On Keto
For those on a ketogenic diet, knowing which are the best keto nuts that align with your low-carb lifestyle is essential. Here's a list of the best nuts ranked by their net carbs, to help you make the best decision:
| | | | | | |
| --- | --- | --- | --- | --- | --- |
| Nut | Net Carbs | Carb | Fiber | Protein | Fats |
| Pecans | 1.22 g | 3.94 g | 2.72 g | 2.6 g | 20.4 g |
| Brazil nuts | 1.40 g | 3.52 g | 2.12 g | 4.05 g | 19 g |
| Macadamia nuts | 1.47 g | 3.91 g | 2.44 g | 2.24 g | 21.5 g |
| Hazelnuts | 1.98 g | 4.73 g | 2.75 g | 4.25 g | 17.2 g |
| Walnuts | 1.98 g | 3.88 g | 1.9 g | 4.31 g | 18.5 g |
| Peanuts | 2.15 g | 4.56 g | 2.41 g | 7.31 g | 13.9 g |
| Almonds | 2.58 g | 6.12 g | 3.54 g | 6.01 g | 14.1 g |
| Pine nuts | 2.66 g | 3.71 g | 1.05 g | 3.88 g | 19.4 g |
| Pistachios  | 5.01 g | 7.93 g | 2.92 g | 5.73 g | 12.8 g |
| Cashews | 7.66 g | 8.56 g | 0.9 g | 5.16 g | 12.4 g |
| Chestnuts | 10.61 g | 12.91g | 2.3 g | 0.69 g | 0.6 g |
As you can see from the above chart, Pistachios, Cashews, and Chestnuts should be avoided or consumed in very small amounts to keep your carb intake within keto friendly limits.
FAQs
The following are some frequently asked questions concerning the use of almonds in a ketogenic diet. Please ask your question in the comments if you can't find the answer in this list.
Carbs in Roasted Almonds
Whole, dry roasted 1-ounce almonds are no different than raw almonds. 6.12g total carbs (2.58g net carbs). You can expect 164 calories, 6.01 grams of protein, and 14.1 grams of fat from this serving.
Activated Almonds
Although minimal scientific data exists to support the theory, some nut lovers advocate that soaking or activating nuts aids in the digestion and absorption of their nutrients. Soaking nuts in water is also sometimes referred to as sprouting nuts.
The Wrap-Up!
Almonds are one of the most delicious and low carb nuts. Their low net carb count and high fat content makes them an excellent choice to consume while following a low carb, high fat keto diet.
To keep carbs low, be aware of the serving size and read the nutrition label on any almond products you purchase. Also, make sure to incorporate a range of nutrient-dense foods in your meals, such as different clean protein sources, low-carb fruits, and veggies to improve your overall health.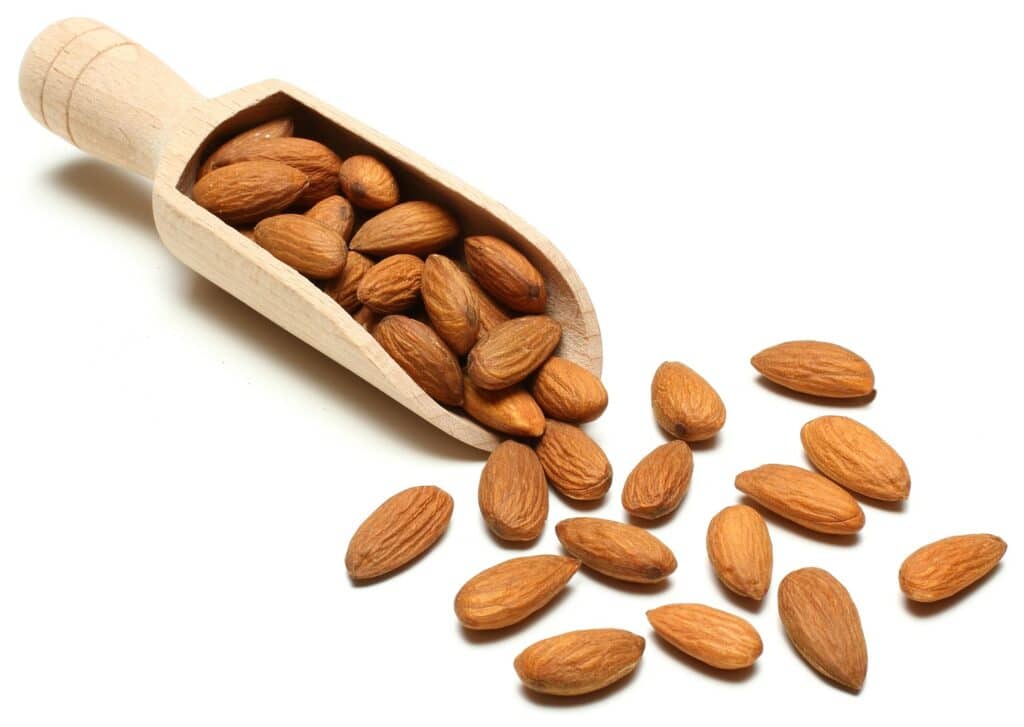 More articles you may like:
We hope you enjoyed reading this article. Please help us out by leaving a quick review and star ★ rating below.
LET'S GET SOCIAL, you can follow Four Score Living on Pinterest. You can also leave a comment below if you have any questions.