In the ever-evolving world of diets and health-conscious eating, finding the perfect balance between taste, nutrition, and dietary compatibility can feel a bit nutty.
For those embracing the ketogenic lifestyle, it's essential to understand the nutritional value of various foods. Nuts, a staple in many diets, often raise questions among keto enthusiasts.
In this comprehensive guide, we will address this question: Are pecans keto-friendly?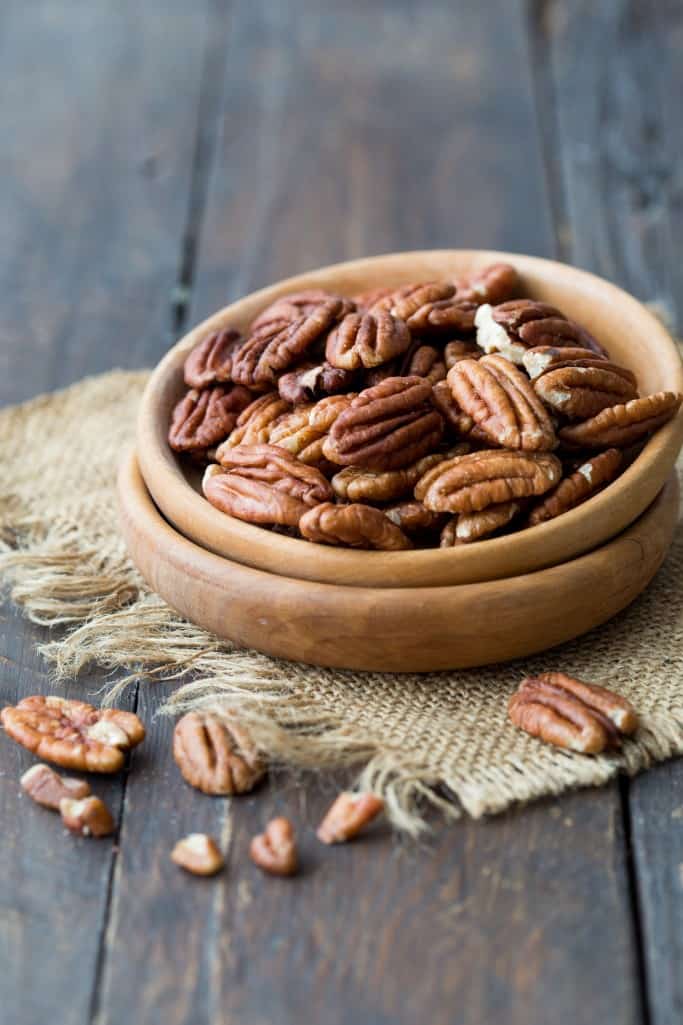 Let's dig into the world of pecans, exploring their carb content, nutritional value, health benefits, and ways to seamlessly incorporate these delicious nuts into your low-carb diet.
Are Pecans Keto Friendly?
Yes, pecans align perfectly with the ketogenic diet which primarily focuses on low-carb, high-fat foods to induce a state of ketosis in the body.
These nuts contain a relatively low amount of net carbs and have a high-fat content, making them an excellent choice for keto dieters.
Carbs in Pecans
Understanding the carbohydrate content of foods when meal planning or snacking is crucial when following a keto diet. Tracking your macros allows you to consume a balanced diet while maintaining ketosis.
Pecans (1 oz serving size or about 19 Pecan Halves) contain 3.94 grams of carbs, with 2.72 grams of dietary fiber, resulting in 1.22 g net carbs. Net carbs are calculated by subtracting the dietary fiber content from the total carbs.
This low net carb count makes pecans one of the best nuts for keto dieters who want to enjoy the nutritional benefits of nuts without compromising their carb limit.
Carbs in Candied Pecans
While plain pecans are keto-friendly, sweetened or candied pecans are high in carbs.
Traditional candied pecans can be loaded with sugar, significantly increasing their carb content to about 13 grams of carbohydrates per ¼ cup serving size.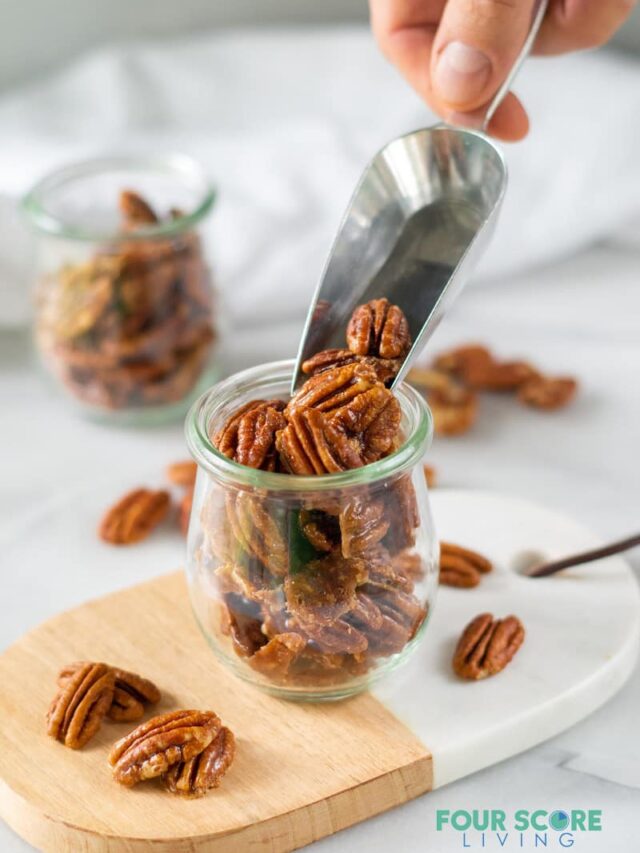 As an alternative to traditional candied pecans, try our keto candied pecans recipe below that uses sugar-free sweeteners instead of regular sugar. In our keto candied pecans recipe, you can expect around 4 grams of total carbs with 2 grams of net carbs per serving.
Carbs in Roasted Pecans
Roasting pecans is a popular way to enhance their flavor. When pecans are roasted, there's a minimal change in their carb count of these low carb nuts.
One ounce of roasted pecans still contains roughly 4 grams of total carbs and 1.22 grams of net carbs, making them suitable for a low carb diet.
Carbs in Pecan Pie Slice
Pecan pie is undoubtedly delicious, but it's far from keto-friendly. A single slice of traditional pecan pie can contain a whopping 30 grams or more of carbs, mainly due to the corn syrup and sugary filling.
It's best to enjoy pecans in their natural form or in keto recipes that use sugar-free sweeteners.
Nutritional Information of Pecans
Besides being at the top of the keto nuts list, pecans also provide a wealth of essential nutrients. Here's the nutritional data of one ounce (approximately 19 pecan halves) of raw pecans:
Calories: Pecans are calorie-dense, providing around 200 calories per ounce.
Protein: Pecans contain approximately 2.5 grams of protein per ounce. While they are not a significant source of protein, they contribute to your overall protein intake.
Fat: Pecans are rich in fats, particularly healthy monounsaturated fats. In one ounce, you'll find roughly 20 grams of fat. These fats are heart-healthy and makes pecans an excellent choice for individuals following a high-fat diet like keto, as fats are an efficient source of energy.
Carbs: As mentioned earlier, pecans contain approximately 4 grams of total carbs, with 2 grams of net carbs per ounce. Their low net carb content is ideal for keto dieters.
Fiber: Pecans provide about 2.7 grams of dietary fiber per ounce. Fiber is essential for digestive health and can help you feel more satiated, resulting in less cravings and increased weight loss.
Minerals and vitamins: Pecans are also a source of essential minerals like magnesium, phosphorus, zinc, and copper, as well as vitamins, including vitamin E and some types of B vitamins. These nutrients contribute to overall health and strengthen your immune system.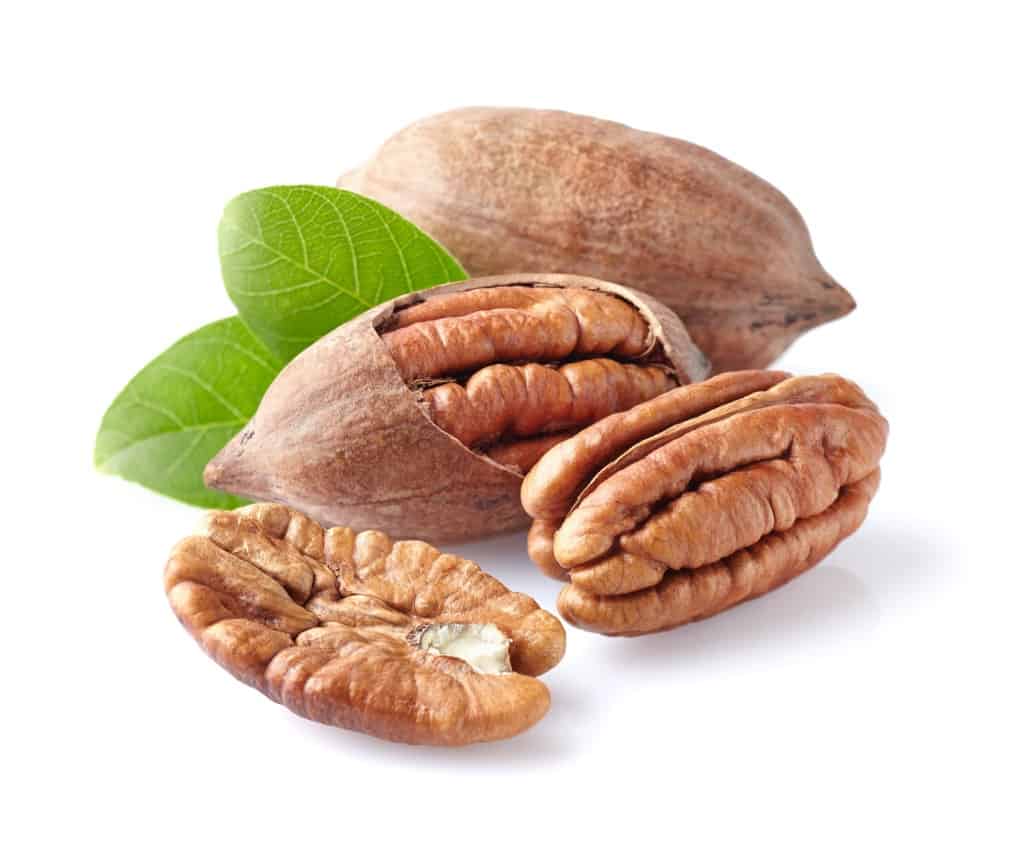 Health Benefits of Keto Pecans
Beyond their keto compatibility, pecans offer a range of health benefits:
Heart Health: Pecans are packed with healthy monounsaturated fats, which have been linked to improved heart health. They can help lower bad cholesterol levels, reducing the risk of heart disease.
Weight Management: Despite their calorie density, pecans' healthy fats and protein can promote a feeling of fullness, with the potential to reduce overall calorie intake.
Blood Sugar Control: Pecans have a low glycemic index, meaning they have a minimal impact on blood sugar levels. This makes them a suitable choice for individuals who aim to stabilize their blood sugar.
Antioxidant Properties: Pecans contain antioxidants, such as vitamin E and phenolic compounds, which combat oxidative stress and reduce the risk of chronic diseases.
Brain Health: The vitamin E in pecans may support cognitive function and reduce the risk of age-related cognitive decline.
Bone Health: Pecans provide essential minerals like magnesium and phosphorus, which are crucial for bone health.
Digestive Health: The dietary fiber in pecans aids in digestion and may help prevent constipation.
How Many Pecans Can You Eat on Keto?
While pecans are indeed keto-friendly and offer a host of nutritional benefits, it's vital to practice moderation when including them in your ketogenic diet. Here's a concise yet informative overview of the recommendations for consuming pecans on a keto diet.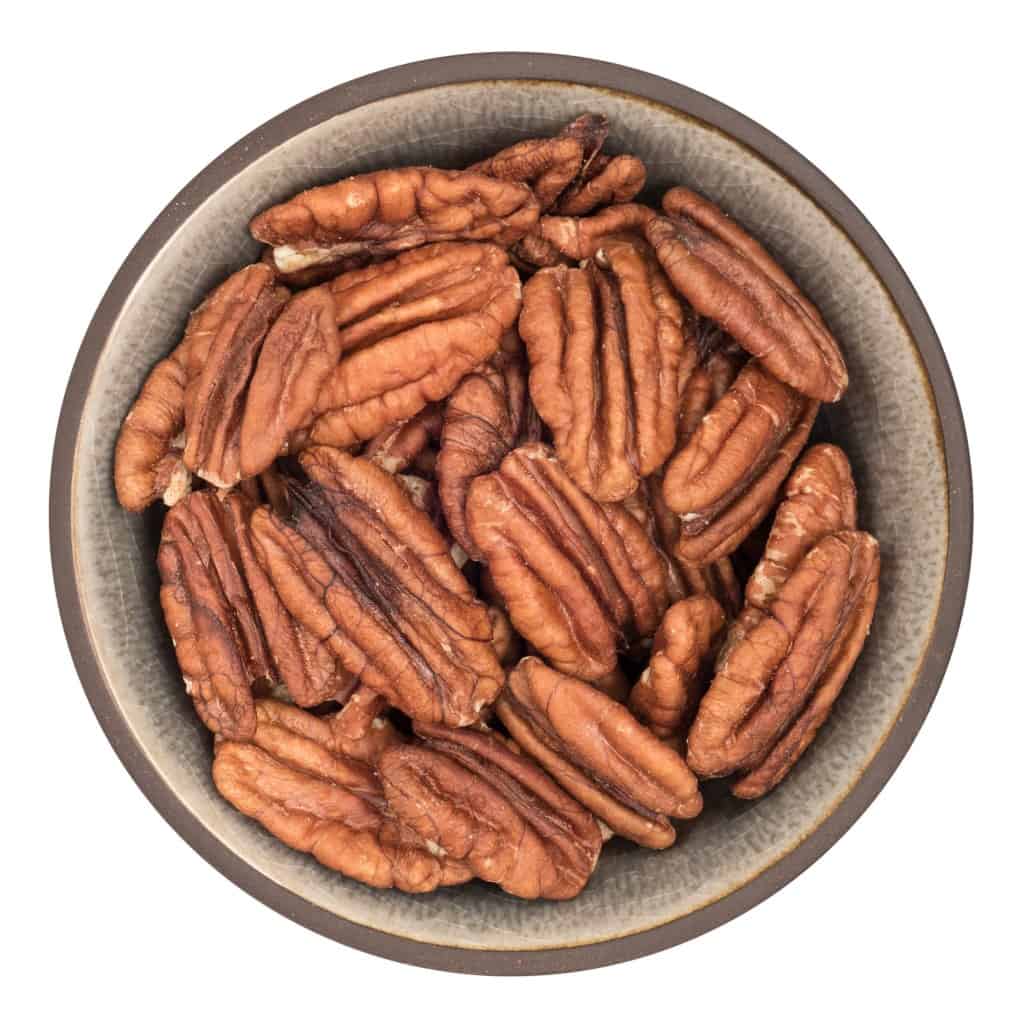 Ideal Serving Size: Enjoy a one-ounce portion for a satisfying pecan snack that will not exceed your daily carb limit. This controlled serving ensures you're mindful of carb intake while enjoying the nutritional benefits of pecans.
Portion Control Matters: Pecans are an energy-dense food. Just one ounce of pecans, equivalent to roughly 19 pecan halves, packs around 200 calories and 2 grams of net carbs. While they are a healthy source of fats, overindulging in calories, even from healthy sources, can hinder your keto progress causing your weight loss to plateau.
Track Your Carbs: One of the key principles of the ketogenic diet is monitoring your daily carbohydrate intake. By tracking your carb consumption, you can easily fit an ounce of pecans into your daily limit without jeopardizing your state of ketosis.
Balanced Meals: When incorporating pecans into your keto recipes, think about how they contribute to the overall balance of your meal. Integrating pecans into well-rounded dishes that include protein and non-starchy vegetables ensures a satisfying, nutrient-rich dining experience.
Ways to Add Pecans to Your Keto Diet
Quick Snack: Enjoy pecans in their purest form as a quick and satisfying snack. A small handful of pecans can provide a satisfying crunch and a dose of healthy fats, making them an excellent choice as on-the-go low-carb snacks.
Salad Topping: Add chopped or crushed pecans to your keto-friendly salads. Pecans can provide a delightful nutty flavor and a satisfying crunch, elevating your salad from ordinary to extraordinary.
Keto Baking: Incorporate chopped pecans into your keto-friendly baked goods. Whether it's low-carb muffins, cookies, or bread, pecans can add both texture and flavor to your creations.
Charcuterie board: Add pecans and other low carb nuts to a keto charcuterie board to make the perfect keto party snack.
Pecan Crusts: Create a keto-friendly pie crust using ground pecans. This adds a unique flavor profile and a satisfying crunch to your favorite recipes.
Pecan Butter: You can purchase pecan butter or make your own homemade pecan butter as a delicious and keto-friendly spread for your low-carb bread or as a dip for veggies. Simply blend roasted pecans until smooth, adding a touch of salt or sweetener to taste.
Create Nut Mixes: If you appreciate variety in your diet, consider creating a personalized mix of keto-friendly nuts that includes pecans. Combining them with other low-carb nuts like almonds, macadamia nuts, brazil nuts, hazelnuts or walnuts allows you to enjoy different flavors and textures while staying within your desired portion size. Add some dark chocolate chips or cacao nibs for a sweet yet keto-compliant treat.
Candied Pecans: Make our Keto Candied Pecans to eat as a low carb snack or as a topping on Keto ice cream.
Keto and Nuts
For those on a ketogenic diet, knowing which are the best keto nuts that align with your low-carb lifestyle is essential. Here's a list of popular nuts ranked by their net carbs, to help you make the best decision:
| | | | | | |
| --- | --- | --- | --- | --- | --- |
| Nut | Net Carbs | Carb | Fiber | Protein | Fats |
| Pecans | 1.22 g | 3.94 g | 2.72 g | 2.6 g | 20.4 g |
| Brazil nuts | 1.40 g | 3.52 g | 2.12 g | 4.05 g | 19 g |
| Macadamia nuts | 1.47 g | 3.91 g | 2.44 g | 2.24 g | 21.5 g |
| Hazelnuts | 1.98 g | 4.73 g | 2.75 g | 4.25 g | 17.2 g |
| Walnuts | 1.98 g | 3.88 g | 1.9 g | 4.31 g | 18.5 g |
| Peanuts  | 2.15 g | 4.56 g | 2.41 g | 7.31 g | 13.9 g |
| Almonds | 2.58 g | 6.12 g | 3.54 g | 6.01 g | 14.1 g |
| Pine nuts | 2.66 g | 3.71 g | 1.05 g | 3.88 g | 19.4 g |
| Pistachios | 5.01 g | 7.93 g | 2.92 g | 5.73 g | 12.8 g |
| Cashews | 7.66 g | 8.56 g | 0.9 g | 5.16 g | 12.4 g |
| Chestnuts | 10.61 g | 12.91g | 2.3 g | 0.69 g | 0.6 g |
Frequently Asked Questions
Are Roasted Pecans Keto Friendly?
Yes, roasted pecans are keto-friendly as long as no high-carb coatings or seasonings are added during the roasting process. Roasting pecans enhances their flavor without significantly altering their nutritional content, making them a tasty and keto-compatible snack.
Conclusion
In conclusion, pecan nuts are undeniably one of the best keto-friendly nuts available. Their low net carbs, high fat content, and various health benefits make them an excellent choice for those following a keto diet.
Just remember to enjoy them in moderation and get creative with how you incorporate these low carb nuts into your keto culinary adventures.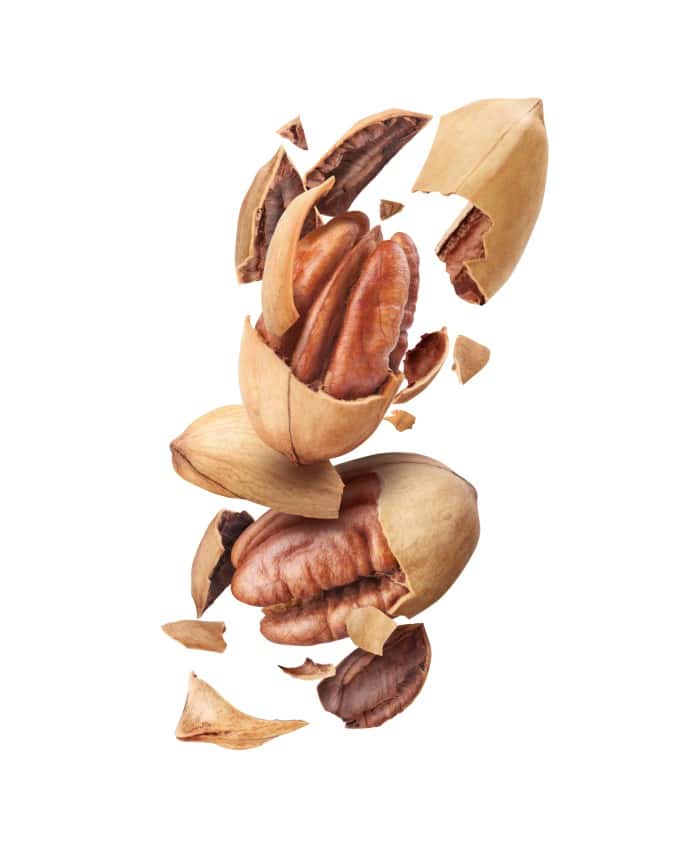 More articles you may like:
We hope you enjoyed reading this article. Please help us out by leaving a quick review and star ★ rating below.
LET'S GET SOCIAL, you can follow Four Score Living on Pinterest. You can also leave a comment below if you have any questions.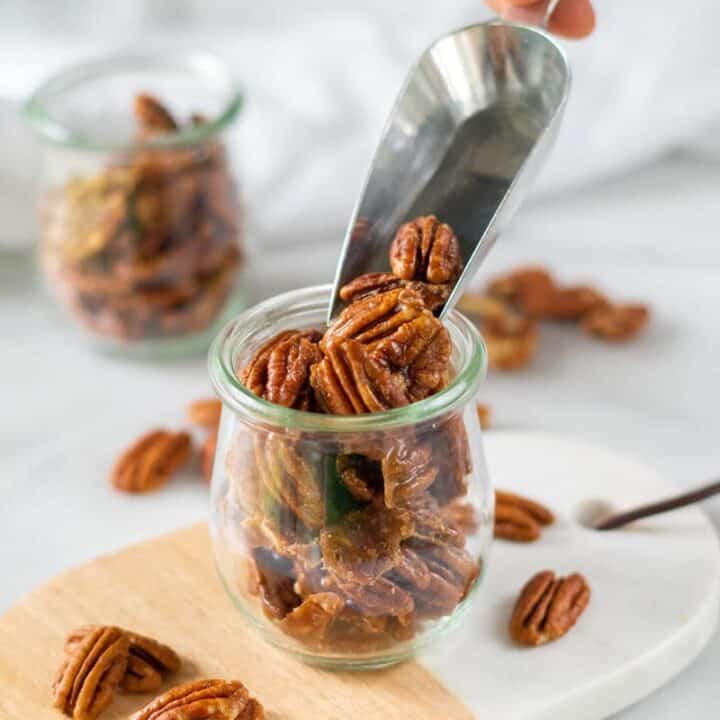 Keto Candied Pecans
Additional Time:
10 minutes
This classic keto candied pecans recipe is easy to make with only 5 ingredients. These keto candied pecans make the perfect gift.
Ingredients
¼ teaspoon salt
¼ teaspoon ground cinnamon
Instructions
Combine all ingredients except the pecans in a small to medium sized skillet and cook over medium heat for 1-2 minutes or until the granulated sweetener dissolves and the mixture is bubbling.
Add the pecans and cook for an additional 3-4 minutes, stirring to coat the pecans in the keto candy glaze.
Remove from the heat, and spread the pecans out on parchment paper to let the pecans cool completely.
Notes
The pecans will be sticky but they will harden as they cool.
You can double or triple this keto candied pecans recipe, if needed. Use a larger skillet.
You can use your nut of choice to make keto candied nuts.
Add a pinch of cayenne pepper for a spicy kick, or use pumpkin spice in place of the cinnamon for a different spin.
Store your keto pecans in an airtight container for up to 3 weeks at room temperature or up to 3 months in the freezer.
These make a great gift! Wrap up servings in small jars or decorative bags for holidays or other occasions.
Nutrition Information:
Yield:

8
Serving Size:

2 tablespoons
Amount Per Serving:
Calories:

109
Total Fat:

20g
Saturated Fat:

1g
Trans Fat:

0g
Unsaturated Fat:

8g
Cholesterol:

0mg
Sodium:

69mg
Carbohydrates:

4g
Net Carbohydrates:

2g
Fiber:

2g
Sugar Alcohols:

5g
Protein:

3g
The nutrition information for this recipe is an approximate total per serving. Please double check the nutrition information for your exact ingredients and brands.