In this comprehensive guide, we'll explore the nutritional profile of Brazil nuts and their compatibility with the ketogenic diet.
Read on to discover the carb content, essential nutrients, health benefits, and tips on effectively incorporating Brazil nuts into your keto lifestyle.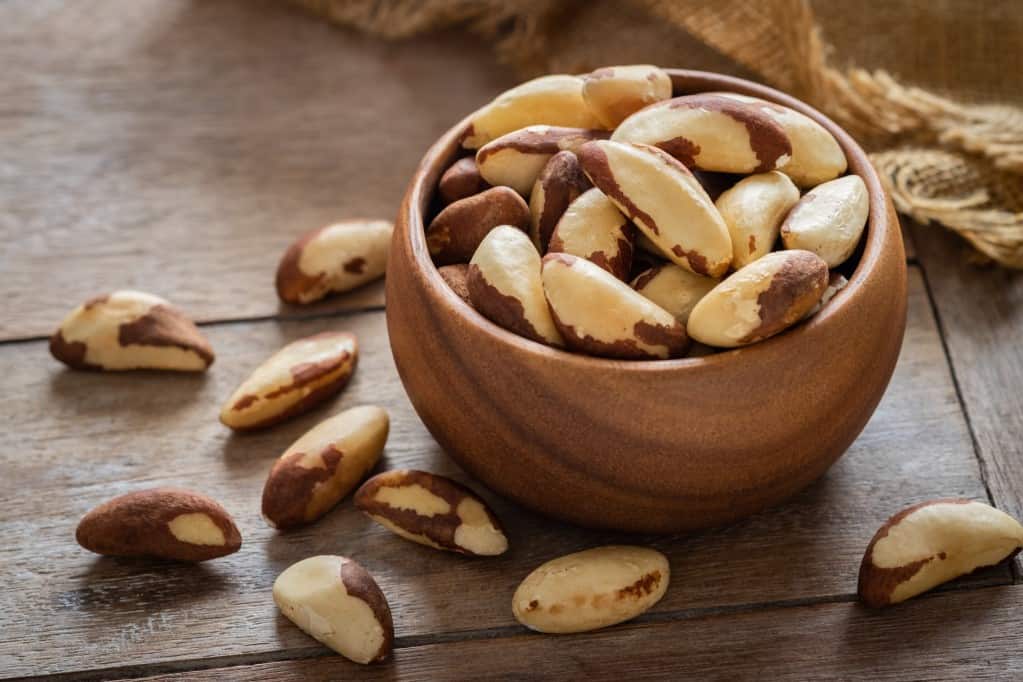 Whether you're a seasoned keto enthusiast or just starting your journey, understanding the macros of nuts and how they align with a low carb lifestyle can be a game-changer.
That's why we also include a chart of nuts ranked by their net carbs to help you make the best choices when following a keto diet.
Are Brazil Nuts Keto Friendly?
The short answer is yes. Brazil nuts are keto-friendly. These nuts are celebrated for their rich, creamy flavor and are an excellent addition to a ketogenic diet due to their low-carb content.
However, like all foods consumed on a keto diet, moderation is key.
Carbs in Brazil Nuts
When you're on a ketogenic diet, it is essential to understand the carb content of the foods you consume. Fortunately, Brazil nuts accommodate the dietary needs of those adhering to a keto lifestyle.
One ounce of Brazil nuts, which is about 6 whole nuts, has 3.52 grams of carbs with 2.12 grams of fiber. Resulting in one of the lowest net-carb nuts (just behind pecan nuts), with only 1.4 grams of net carbs.
This makes them a great choice for those aiming to stay within their daily carb limit.
Nutritional Information of Brazil Nuts
Brazil nuts are more than just low in carbs; they are a nutritional powerhouse. In just one ounce of raw Brazil nuts, you'll find a variety of essential nutrients:
Calories: 186 - Brazil nuts are energy-dense, providing lots of calories, which can be particularly useful for individuals needing extra energy during their ketogenic journey.
Protein: 4.05 grams. They are a good source of protein, making them a satisfying snack that helps curb hunger and aide in muscle repair following rigorous exercise.
Healthy Fats: 19 grams. Brazil nuts are an excellent source of healthy fats, particularly monounsaturated fats, which are heart-healthy fats and contribute to the overall cardiovascular well-being of those following a low-carb diet.
Carbs: 3.52 grams. As previously mentioned, they have very few total carbs, ensuring you can enjoy Brazil nuts without compromising your daily carb limit.
Fiber: 2.12 grams. These nuts also offer some dietary fiber, aiding digestion and promoting a feeling of fullness, which can be especially beneficial for keto dieters managing their appetite.
Minerals: Brazil nuts are rich in essential minerals like selenium, copper, magnesium, and phosphorus, providing a natural source of these nutrients that contribute to various aspects of your health.
Vitamins: They provide essential B vitamins, including B1 (thiamine), B2 (riboflavin), and B3 (niacin), adding a vitamin-rich component to your keto diet that supports your overall well-being.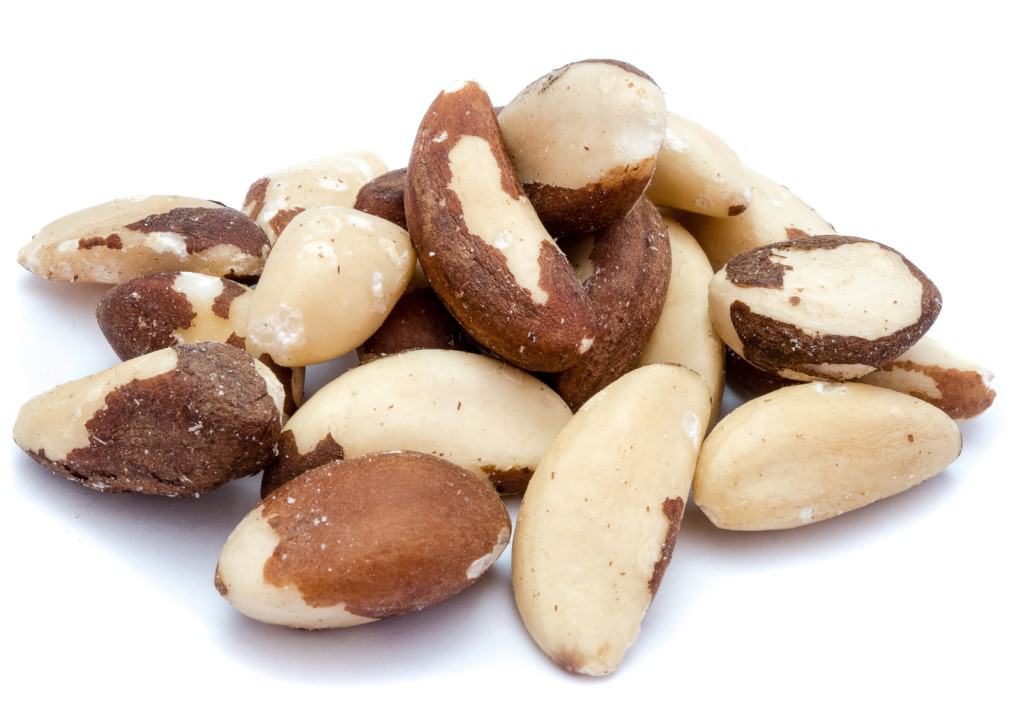 Health Benefits of Brazil Nuts
Brazil nuts are not only keto-friendly but also come with a range of health benefits, including:
May aid in Weight Loss: The fiber and healthy fats in Brazil nuts can help boost metabolism and support weight loss efforts. These nuts are satisfying and can contribute to a feeling of fullness, which can curb overeating and reduce overall calorie intake during your weight loss journey.
Improve Heart Health: The monounsaturated fats in these nuts can improve cholesterol levels and promote overall heart health
Regulate Blood Pressure: The magnesium content in Brazil nuts may help regulate blood pressure. Magnesium is a vital mineral known for its ability to relax blood vessels, which, in turn, can help maintain healthy blood pressure levels, reducing the risk of hypertension.
Improves Thyroid function: Brazil nuts are a natural source of selenium, a trace mineral crucial for many bodily functions, including thyroid health. Selenium acts as a potent antioxidant and supports the proper functioning of your thyroid gland, ensuring a well-regulated metabolism and overall hormonal balance.
Assist with Brain Health: Brazil nuts contain alpha-linolenic acid, a omega-3 fatty acid beneficial for brain and heart health. Omega-3 fatty acids have been linked to improved cognitive function, reduced inflammation, and a decreased risk of heart disease. Brazil nuts provide a convenient source of this essential nutrient.
Antioxidant Power: Brazil nuts are brimming with antioxidants, including selenium and vitamin E, which combat harmful free radicals in the body. These antioxidants protect cells from oxidative damage, potentially reducing the risk of chronic diseases. Vitamin E boosts your immunity and plays a crucial role in maintaining healthy skin, may support eye health, and plays a protective role in neurological function, making Brazil nuts a valuable addition to your diet.
Mood Regulation: The selenium in Brazil nuts is associated with mood regulation by supporting the natural production of serotonin, a neurotransmitter associated with feelings of well-being and happiness. Including these nuts in your diet may contribute to a more positive and balanced mood.
Anti-Inflammatory Properties: Brazil nuts' selenium content and other antioxidants can help combat inflammation. Chronic inflammation is linked to various diseases, and a diet rich in anti-inflammatory foods, like Brazil nuts, can contribute to a healthy immune system.
Bone Health: The calcium and phosphorus found in Brazil nuts are essential for maintaining strong and healthy bones. Incorporating these nuts into your diet can support bone density and reduce the risk of osteoporosis.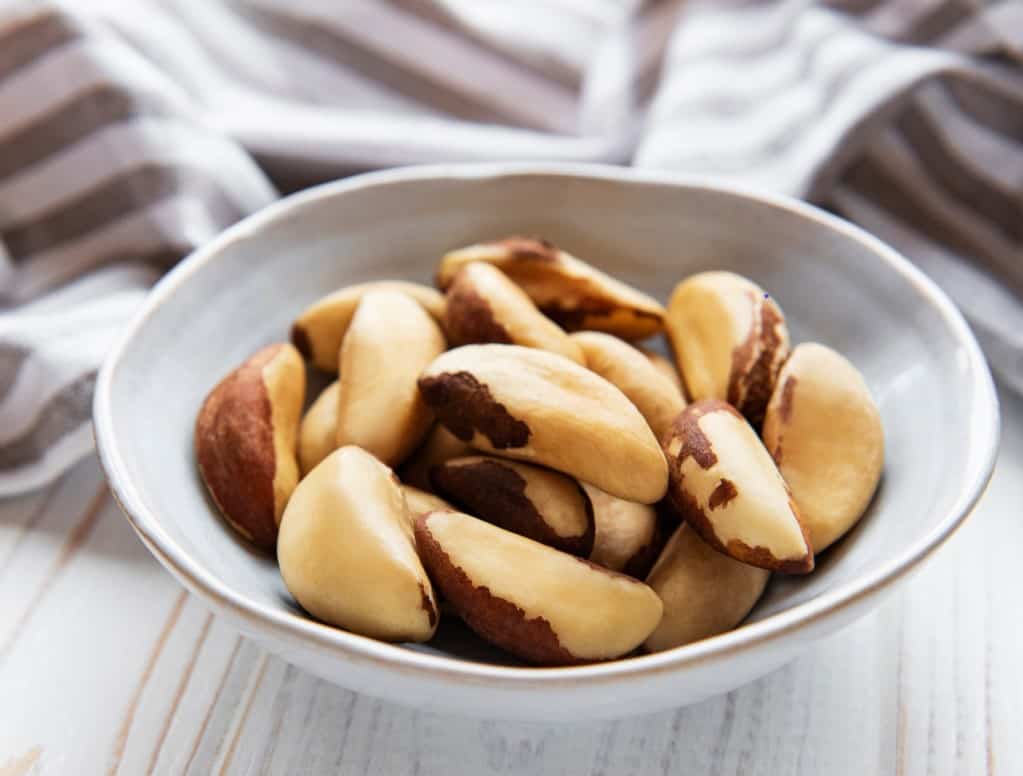 How Many Brazil Nuts Can I Eat on Keto?
While Brazil nuts are undeniably nutritious and low in net carbs, it's essential to exercise moderation. Consuming one ounce (6 whole nuts) a few times per week is generally a good practice.
This approach ensures that you enjoy the benefits of these low carb nuts without overloading your body with selenium, which can have adverse effects when consumed in excessive amounts over time.
Balance is key to maintaining a successful ketogenic diet.
Best Nuts for Ketogenic Diet
For those on a ketogenic diet, knowing which are the best keto nuts that align with your low-carb lifestyle is essential. Here's a list of the best nuts ranked by their net carbs, to help you make the best decision:
| | | | | | |
| --- | --- | --- | --- | --- | --- |
| Nut | Net Carbs | Carb | Fiber | Protein | Fats |
| Pecans | 1.22 g | 3.94 g | 2.72 g | 2.6 g | 20.4 g |
| Brazil nuts | 1.40 g | 3.52 g | 2.12 g | 4.05 g | 19 g |
| Macadamia nuts | 1.47 g | 3.91 g | 2.44 g | 2.24 g | 21.5 g |
| Hazelnuts | 1.98 g | 4.73 g | 2.75 g | 4.25 g | 17.2 g |
| Walnuts | 1.98 g | 3.88 g | 1.9 g | 4.31 g | 18.5 g |
| Peanuts  | 2.15 g | 4.56 g | 2.41 g | 7.31 g | 13.9 g |
| Almonds | 2.58 g | 6.12 g | 3.54 g | 6.01 g | 14.1 g |
| Pine nuts | 2.66 g | 3.71 g | 1.05 g | 3.88 g | 19.4 g |
| Pistachios | 5.01 g | 7.93 g | 2.92 g | 5.73 g | 12.8 g |
| Cashews | 7.66 g | 8.56 g | 0.9 g | 5.16 g | 12.4 g |
| Chestnuts | 10.61 g | 12.91g | 2.3 g | 0.69 g | 0.6 g |
Ways to Include Brazil Nuts in Your Keto Diet
Now that you know Brazil nuts are a keto-friendly option, here are some creative ways to incorporate them into your daily meals:
Quick Snack: Enjoy them as a quick and healthy snack in their purest form. Brazil nuts offer a satisfying crunch and a rich, creamy taste that can curb your cravings while providing a dose of healthy fats and essential nutrients. Just a handful of these nuts can keep you energized and focused throughout the day.
Salad Topping: Add chopped and roasted Brazil nuts for a delightful crunch and nutty flavor. Beyond their delicious taste and texture, Brazil nuts elevate the nutritional profile of your salads. Their healthy fats and protein content make your salad a well-rounded and satiating meal, perfect for keeping you in ketosis.
Keto Ice Cream Topping: Crushed Brazil nuts make a fantastic topping for keto-friendly ice cream. Not only do they enhance the overall texture and taste of your ice cream, but they also provide a satisfying contrast to the creaminess of the dessert. This addition tantalizes your taste buds and ensures you're indulging in a keto-approved treat.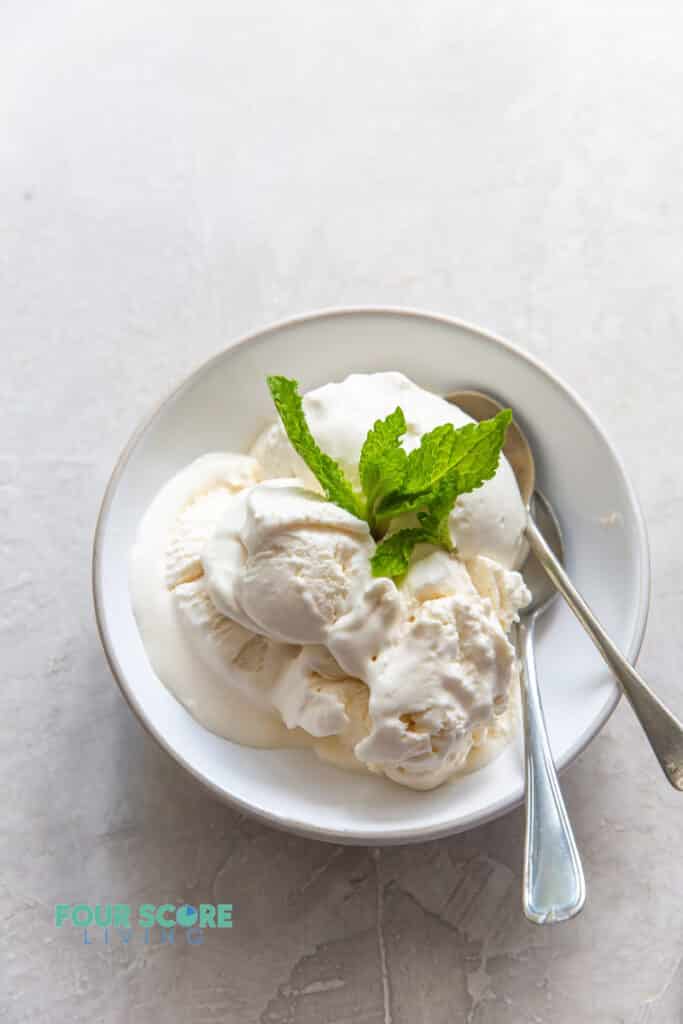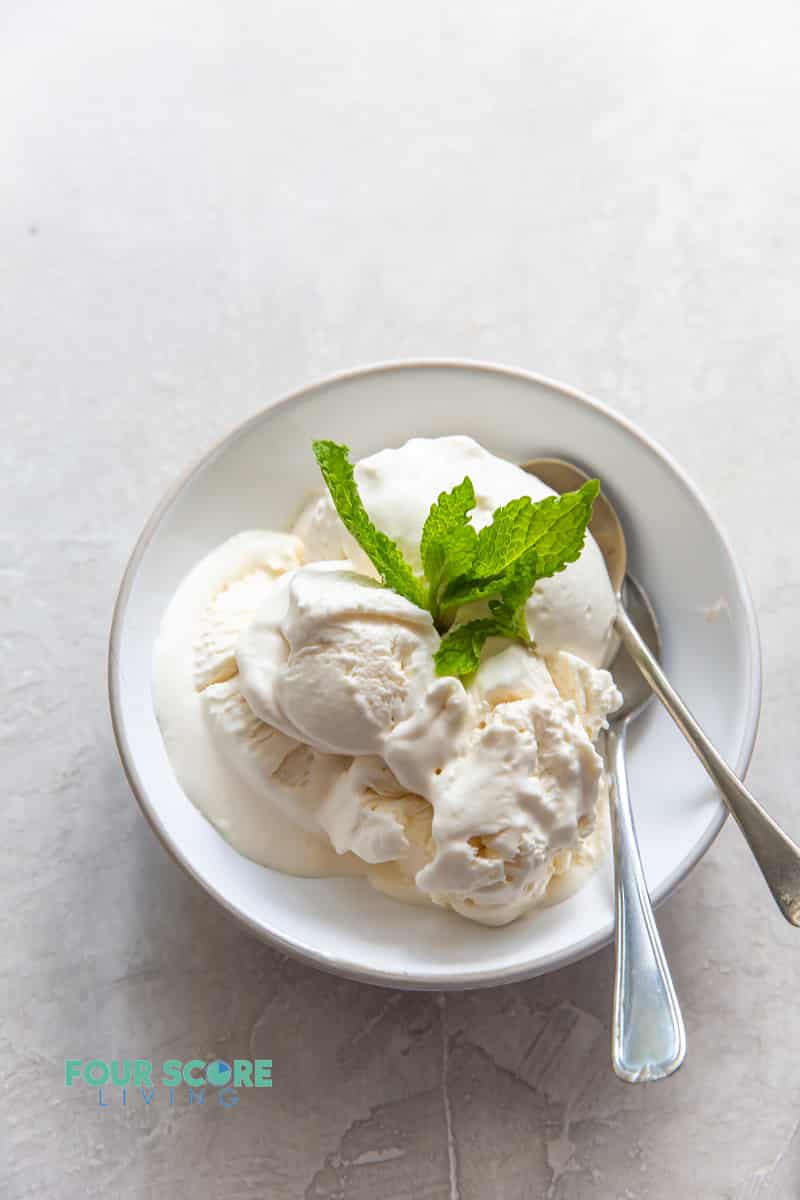 Trail Mix: Create your keto trail mix by combining Brazil nuts with other low-carb nuts like macadamias, almonds, walnuts, hazelnuts and pecans. Enhance it with unsweetened coconut flakes and dark chocolate chips with a high cocoa content. This homemade trail mix is perfect for snacking on the go, providing a balance of fats and proteins to keep your energy steady throughout the day.
Baked Goods: Incorporate chopped Brazil nuts into your keto-friendly baked goods for added texture and flavor. Whether making keto cookies, muffins, or bread, adding Brazil nuts introduces a unique dimension to your creations. Their natural richness pairs exceptionally well with the earthy flavors of almond and coconut flours, common ingredients in keto baking. Plus, adding Brazil nuts will enhance your baked goods in both taste and nutrition.
Nut Butter: One lesser-known option is to make Brazil nut butter. Blend these nuts into a creamy spread and add a pinch of pink Himalayan salt to enhance the flavor of this savory protein source. Use this Brazil nut butter as a dip for keto-friendly crackers or a luscious topping for keto pancakes. It's a simple and versatile option for enjoying the goodness of Brazil nuts.
Conclusion
In summary, Brazil nuts are an excellent choice for keto dieters. They are low in net carbs and packed with essential nutrients and health benefits.
Just remember, as with all foods on a keto diet, portion sizes and balance are key. So embrace the nutty goodness of Brazil nuts when exploring new food choices to elevate your keto journey.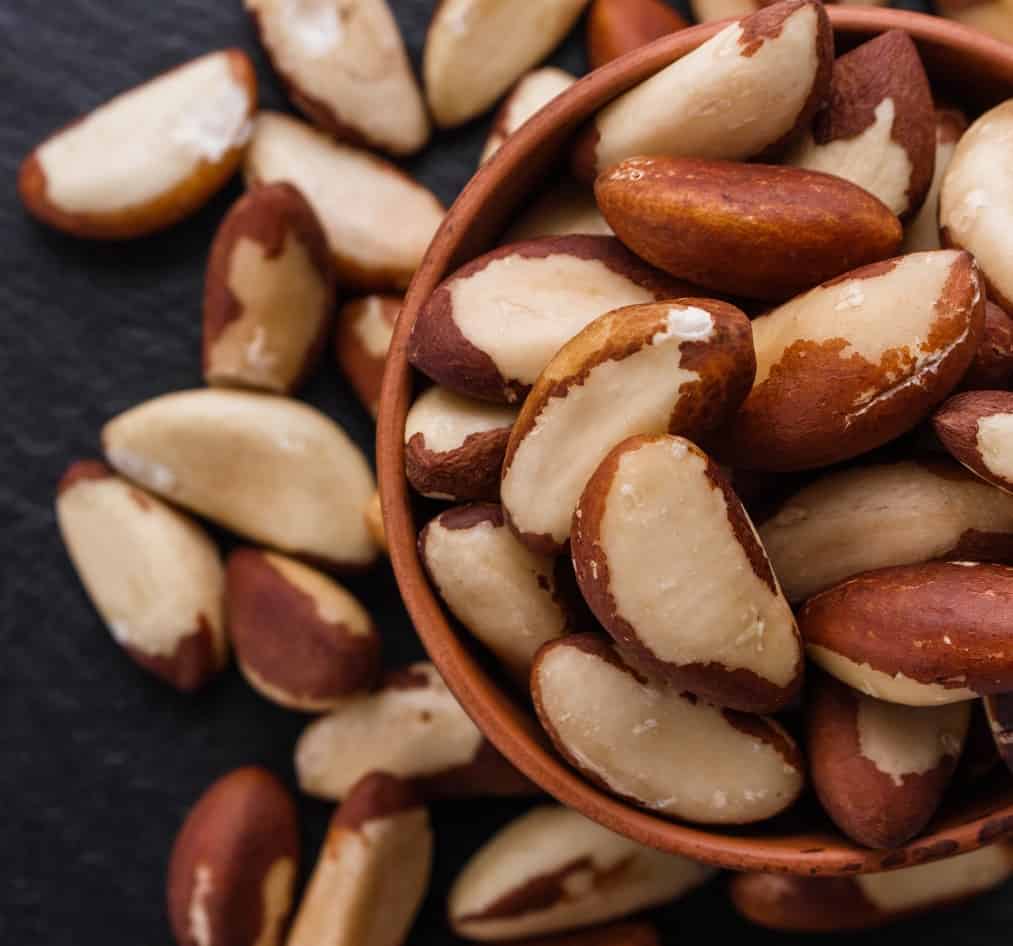 More articles you may like:
We hope you enjoyed reading this article. Please help us out by leaving a quick review and star ★ rating below.
LET'S GET SOCIAL, you can follow Four Score Living on Pinterest. You can also leave a comment below if you have any questions.