This comprehensive guide will explore the wonders of jicama, a unique root vegetable that has gained popularity among health-conscious individuals, particularly those following a ketogenic diet.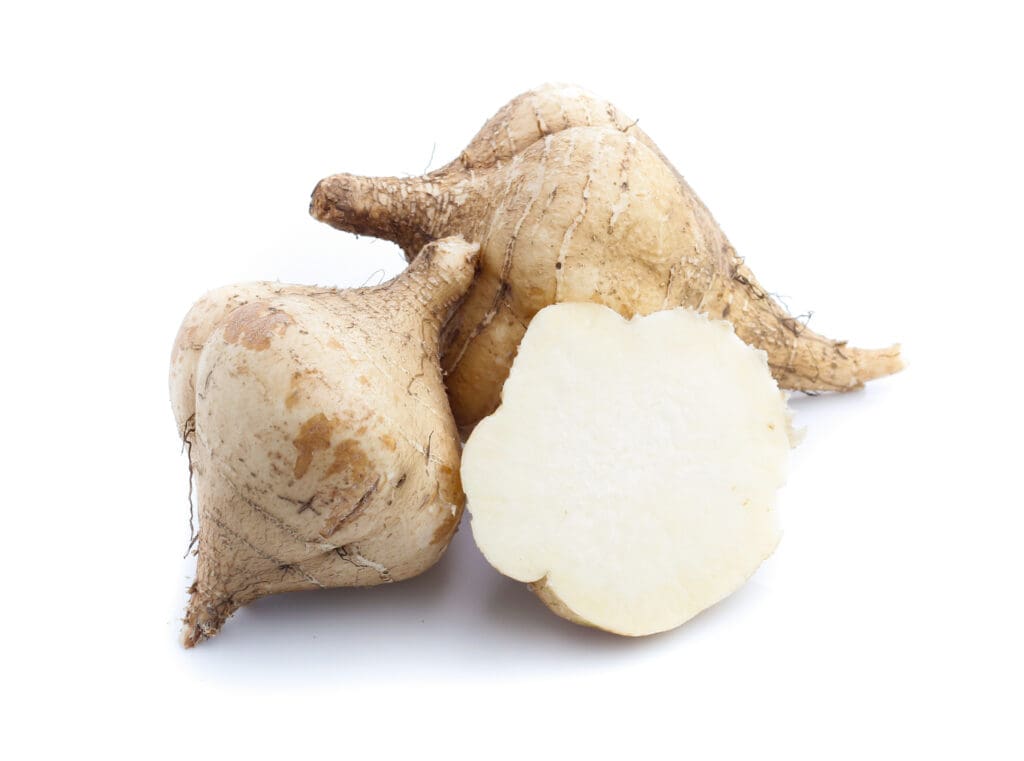 We'll delve into the suitability of jicama for keto, unveil its nutritional content, discuss its health benefits, and provide ideas on how to incorporate this versatile root vegetable into your low-carb lifestyle.
We also include keto jicama recipes and a chart ranking the best keto root vegetables by their net carbs.
Is Jicama Keto Friendly?
Yes! Jicama is keto-friendly, making it an excellent addition to your ketogenic diet. Its low carbohydrate content, combined with a range of health benefits, makes it a superb choice for those enjoying the benefits of a keto lifestyle.
Carbs in Jicama
When it comes to determining the keto-friendliness of a food item, carbohydrates are a critical factor. The good news is that jicama is remarkably low in net carbs, making it a standout choice for keto enthusiasts.
A 1-cup serving of raw jicama contains approximately 11 grams of total carbohydrates. However, it becomes perfect for a low carb diet as it contains 6.4 grams of dietary fiber.
On the keto diet, we're primarily concerned with net carbs, calculated by subtracting the grams of fiber from the grams of total carbs. In this case, you are left with just 4.6 grams of net carbs per cup.
This net carb count makes jicama an ideal choice for keto dieters. It allows you to enjoy a substantial serving without significantly impacting your daily carb limit.
What is Jicama and What Does Jicama Taste Like?
Jicama (pronounced "he-kah-ma") is a root vegetable native to Central and South America. It goes by various names, including Mexican turnip, Mexican yam bean, and Mexican potato.
Taste: Jicama has a mild, slightly sweet flavor with a hint of nuttiness. It's often described as a cross between an apple and a water chestnut. This unique taste profile makes it a versatile ingredient in savory and sweet dishes.
Texture: One of the most appealing aspects of jicama is its crunchy texture, similar to that of a crisp apple or raw potato. This makes it an excellent choice for snacking and adding a satisfying crunch to your salads, coleslaw, and other keto recipes.
Nutritional Information of Keto Jicama
Here are the nutrition macros for a 1-cup serving of raw jicama:
Calories: Approximately 49 calories per cup. These low calories make jicama an ideal choice for those aiming to manage their weight while enjoying a satisfying and flavorful addition to their meals.
Protein: With about 1 gram of protein per cup, jicama contributes a modest amount of this essential macronutrient. While it's not a significant protein source, it can complement other protein-rich foods to support muscle health and growth.
Fat: Jicama contains almost 0 grams of fat. For those on a high-fat or ketogenic diet, it is best to pair jicama with healthy fats from other sources to meet your dietary goals.
Total Carbohydrates: A 1 cup of jicama provides 11 grams of total carbohydrates.
Fiber: 6.4 grams of fiber in 1 cup of jicama. This high fiber count makes it a valuable addition to your low-carb diet, helping maintain blood sugar levels.
Vitamins & Minerals: Jicama is rich in essential nutrients, a good source of vitamin C for immune support, vitamin E, potassium for fluid balance and heart health, and manganese for bone health and metabolism regulation. These nutrients enhance jicama's appeal as a keto-friendly and health-promoting food choice.
Health Benefits of Jicama
Beyond its low-carb status, jicama boasts an array of health benefits that align with the goals of a ketogenic diet. Here are some notable advantages:
Rich in Dietary Fiber: Jicama's high fiber content aids in digestion, helps regulate blood sugar levels, and contributes to a feeling of fullness. This can be especially beneficial for keto dieters in curbing appetite and managing daily carb intake.
Nutrient-Rich: Jicama offers essential vitamins and minerals, such as vitamin C, which supports the immune system, and vitamin E, an antioxidant that combats free radicals and supports heart health. (What Is Jicama?, 2023)
Heart Health: The combination of low-net carbs and fiber can contribute to better heart health by helping to regulate cholesterol levels and blood pressure. (Groves, 2023)
Immune Support: The vitamin C content in jicama is vital for a healthy immune system, offering protection against illnesses and boosting your body's ability to fight infections.
Gut Health: Fiber-rich foods like jicama promote a healthy gut microbiome, essential for overall well-being. A balanced gut contributes to better digestion and may even aid weight management. (What Is Jicama?, 2023)
Antioxidant Properties: Jicama contains antioxidants that combat oxidative stress and free radicals, which can help reduce the risk of chronic diseases. (Bonvissuto, 2022)
Weight Management: Jicama's high fiber content promotes a feeling of satiety, which can aid in weight management by reducing overall calorie consumption.
Low Glycemic Index: Due to its low net carb count and fiber content, jicama has a low glycemic index. This means consuming jicama will not spike blood sugar levels, making it suitable for those with diabetes or those aiming to stabilize their blood sugar.
Ways to Include Jicama in Your Keto Diet
Now that we've established Jicama's keto-friendly status and recognized its health perks let's explore exciting ways to incorporate this versatile vegetable into your low-carb diet. Here are some delightful ideas:
Jicama French Fries: Replace traditional high-carb potato fries with keto jicama fries. Slice jicama into thin strips, season with your favorite keto-friendly spices, and bake or pop in the air fryer until golden and crispy. Dip them in a low-carb sauce for a satisfying snack or side dish.
Jicama Seasoned potato wedges: Cut jicama into thin wedges and boil for about 8 minutes in a pot of water. A second option to soften the jicama is to microwave the wedges for 8-10 minutes. Bake at 400 F in the oven (approximately 35 minutes) or an air fryer (approximately 7-10 minutes) until crisp and tender. Season with salt, pepper, garlic salt, Italian seasoning, chili powder, or a pinch of cayenne pepper. Enjoy!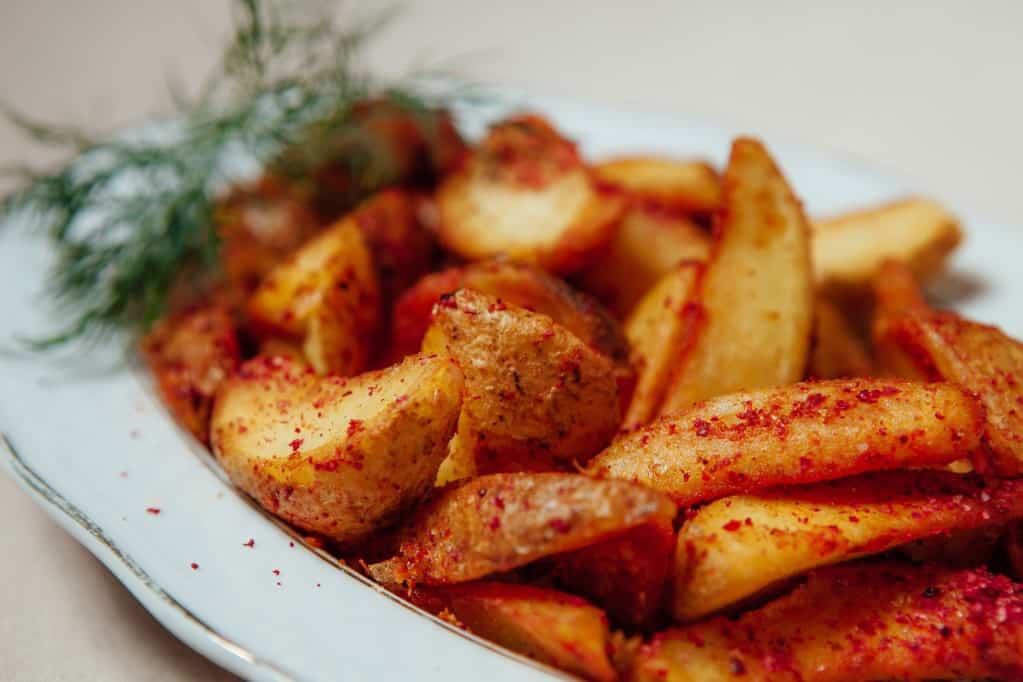 Raw in Salads: Add jicama to your salads for an extra crunch. Its mild flavor pairs well with various greens and protein sources, creating a refreshing and filling keto-friendly salad.
Pico de Gallo: Create a keto-friendly pico de gallo by combining diced jicama with tomatoes, onions, cilantro, lime juice, and a touch of jalapeño for some heat. Use this as a zesty topping for grilled meats or salsa for dipping low-carb tortilla chips.
Avocado Cucumber Jicama Salad: Mix diced jicama, avocado, cucumber, and red onion. Drizzle with a keto-friendly dressing made from olive oil, lime juice, and your choice of seasonings. This salad is delicious and packed with healthy fats and fiber.
Jicama Slaw: Create a vibrant slaw by shredding jicama and mixing it with shredded cabbage, carrots, and a keto-friendly coleslaw dressing. This side dish is both crunchy and refreshing.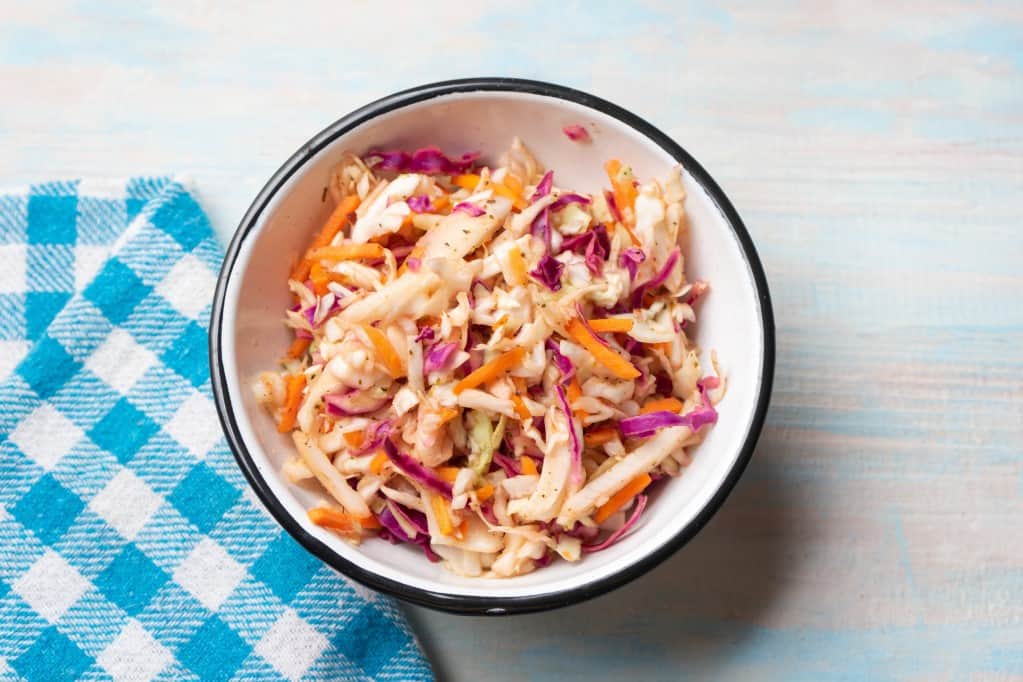 Jicama Salsa: Dice jicama finely and combine it with diced tomato, red onion, cilantro, lime juice, and a pinch of chili powder for a tangy keto salsa that pairs perfectly with grilled chicken or fish.
Cheesy Jicama side dish: Cut jicama into ¾ inch cubes and boil or microwave for 10-12 minutes to soften. Allow the softened cubes to begin to cool, and season with salt and pepper. Toss the jicama cubes with enough mayonnaise to coat. Fill the bottom of an oven-safe dish with a layer of jicama, and add a layer of your favorite shredded cheese on top. Spoon a second layer of jicama onto the cheese and generously sprinkle cheese over the top. Cover dish with foil and bake at 400 F for approximately 40 minutes until jicama is soft and cheese is melted. Season to taste. Garnish with fresh herbs or chopped red onion if desired. Enjoy!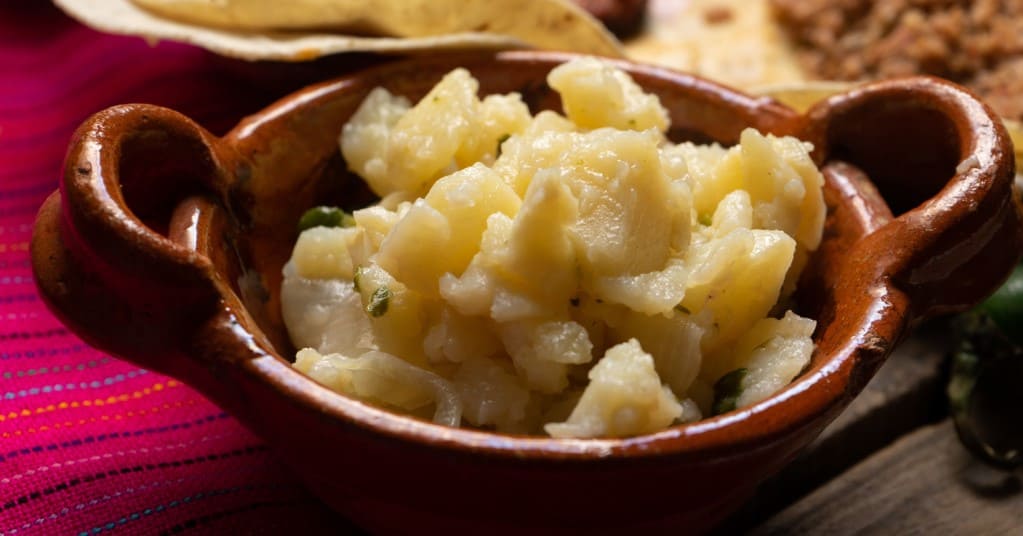 These creative ways to enjoy jicama will keep your keto meals exciting and flavorful.
Chart of Best Keto Root Vegetables
For a comprehensive view of keto-friendly root vegetables, refer to the chart below:
| | | | | | |
| --- | --- | --- | --- | --- | --- |
| Root Vegetables | Net Carbs per 3.5 ounces (100 grams) raw | Calories | Fiber | Protein | Fat |
| Cauliflower | 1 gram | 25 | 2 | 1.92 | 0.28 |
| Radish | 1.8 | 16 | 1.6 | 0.68 | 0.1 |
| Jicama | 3.92 | 38 | 4.9 | 0.72 | 0.09 |
| Celeriac | 4.1 | 42 | 1.8 | 1.5 | 0.3 |
| Turnip | 4.2 | 28 | 1.8 | 0.9 | 0.1 |
| Rutabaga | 6.3 | 38 | 2.3 | 1.1 | 0.2 |
| Pumpkin | 6.76 | 26 | 0.5 | 1 | 0.1 |
| Carrots | 6.78 | 41 | 2.2 | 0.93 | 0.24 |
| Kabocha Squash | 7 | 49 | 1.9 | 1.8 | 0.2 |
| Butternut Squash | 10 | 45 | 2 | 1 | 0.1 |
| Acorn Squash | 12.5 | 56 | 2 | 1.1 | 0.1 |
As the chart demonstrates, jicama is one of the lowest-carb root vegetables, making it an excellent choice for those following a keto lifestyle.
FAQ
Is Jicama Healthy?
Absolutely! Jicama is a nutritious vegetable with essential vitamins, minerals, and dietary fiber. It's a healthy choice for keto dieters looking to maintain a low-carb, nutrient-rich diet.
How to Cut Jicama?
Take a whole jicama and peel its tough skin with a vegetable peeler or a sharp knife. Once peeled, you can slice, dice, or julienne it according to your recipe.
Is Jicama High in Carbs?
No, jicama is not high in carbs. It contains just 4.6 grams of net carbs per cup, making it an excellent option for those on a low-carb or ketogenic diet.
Is Jicama Good for Weight Loss?
Yes, jicama can benefit weight loss due to its low-calorie and high fiber content, which promotes a feeling of fullness. It can help you manage your carb and calorie intake while staying satisfied.
The Wrap up!
Jicama is undeniably keto-friendly, thanks to its remarkably low net carb content. Beyond its carb count, it offers a range of health benefits and a unique flavor and texture that can elevate your ketogenic meals.
Whether you enjoy it as low carb jicama fries, chopped into fresh salads, or in other creative ways, jicama is a valuable addition to your keto journey.
Embrace this versatile root vegetable and savor its many culinary possibilities while staying true to your low-carb goals.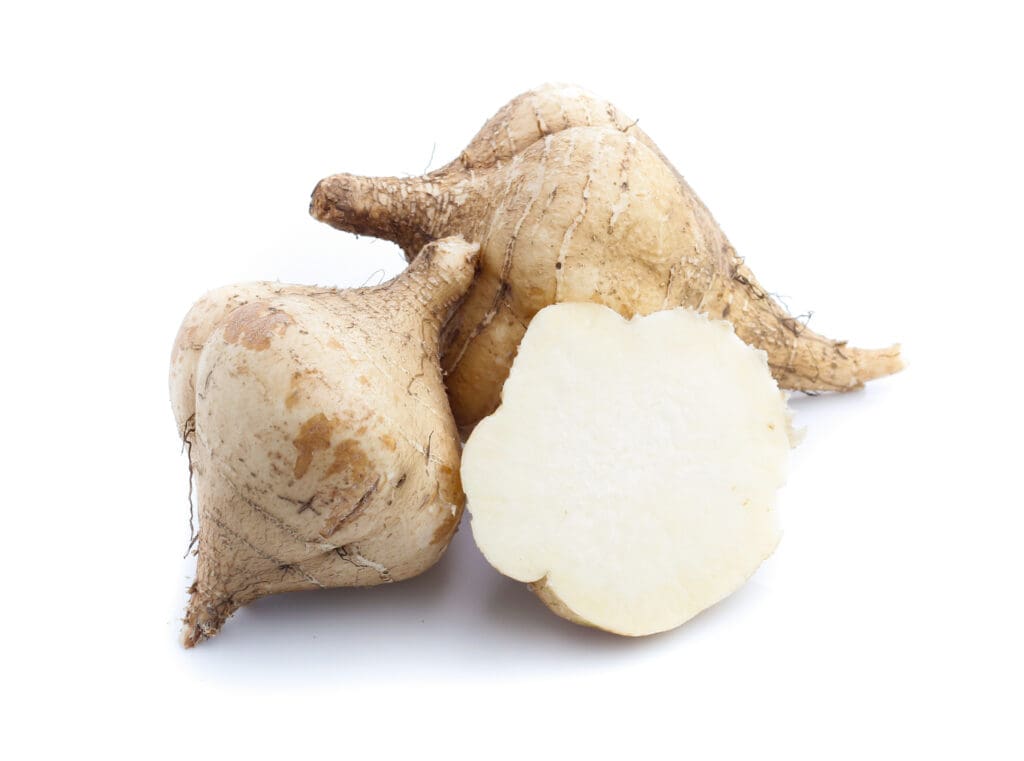 More articles you may like:
We hope you enjoyed reading this article. Please help us out by leaving a quick review and star ★ rating below.
LET'S GET SOCIAL, you can follow Four Score Living on Pinterest. You can also leave a comment below if you have any questions.